A fishing net is a safe and efficient tool for getting a fish out of the water and into the boat, or onto the shore. Without one, you must put a lot of stress on your line to leader the fish out of the water. Hoist the fish by the line risks breaking the line and losing the fish. Grabbing the fish with your hands can only be easily done when the fish is really tired. This is bad for the fish when releasing it and is bad if you want to quickly catch the fish. Nets can be less stressful on the fish if used properly. Dropping a heavy fish from a high bridge, pier, and some boats could seriously injure it. Also too much touching by hand will remove the protective slime covering that helps the fish ward off harmful viruses and bacteria.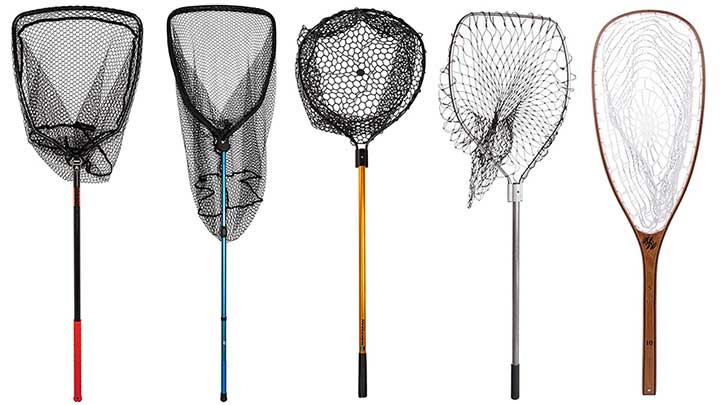 Selecting the right fishing net can come down to several factors. Mainly the size and species you are targeting and the desired reach of the net. If you plan to catch and release, there are netting materials safer for fish such as knot-less designs and those made of rubber that won't rub as violently against a fish's delicate skin. Longer or shorter handles give the angler better control or longer reach based on landing conditions. A really good net can be expensive, so the shaft and hoop materials of the one you choose should be able to handle the corrosive elements where you fish, and compact enough to safely transport and stow.
There are an abundance of net options including fixed, two-piece, and telescopic shafted landing nets.  Here is a detailed list of landing nets to use for all different size fish including trout, bass, salmon, walleye, musky, fluke, and striped bass.
Here Are the Best Fishing Nets
---
1. SF Fly Trout Landing Net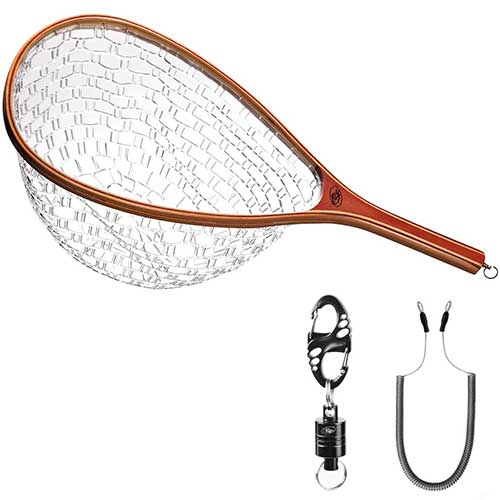 Estimated Price: $40-$50
Specifications
Length: 24.4 inches.
Hoop Size: 9.4 x 16.1 inches.
Net Material: Soft Clear Rubber.
Weight: 12.4 ounces.
The SF fly fishing nets are one of the most popular landing nets specifically made for trout. These come in a teardrop or square-shaped head. The nets material is a clear soft plastic that will do minimal damage to the fish. This is important cause removing scales and slim from the fish's skin can result in the fish dying. In many cases, trout will be released and it is important to do so without harming the fish.
Included with the net are a coiled lanyard and magnetic clip release. When trout fishing it is common to connect the net to fishing waters or a fishing vest. Landing trout is often done with one person so being able to pull the net off the body with one hand is important. The handle and ring of the net are made from durable bamboo which is very aesthetically pleasing.
Trout are not typically very large fish so this net size will work for most trout. Once the fish is in the net the hook can be grabbed with a pair of pliers without grabbing the fish itself. This will help to release the fish without causing undue harm. The net only weighs 12.4 ounces, so it is easy to carry on you while fishing. It can also be placed in a backpack.
---
2. Trademark Innovations Fly Fishing Landing Net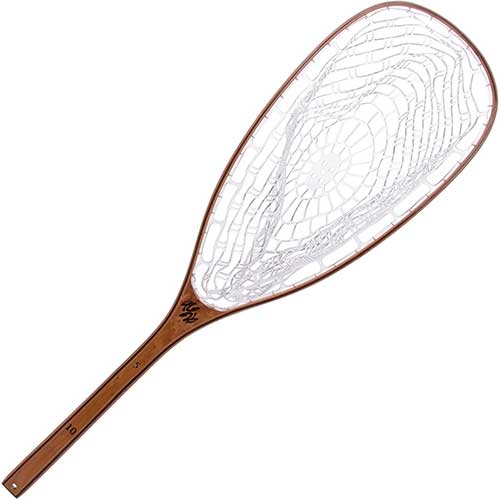 Estimated Price: $40-$45
Specifications
Handle Length: 15 inches.
Hoop Lenght: 10 inches.
Net Material: Rubber Mesh and Burl Wood.
Weight: 8 ounces.
Trademark Innovations calls its 35 total length net its "flagship" for catching trout when fly fishing. This net has nice dimensions for targeting large ones with its 20-inch hoop and 15-inch handle. The burl wood has beautiful marbled features, gives good lifting strength and durability, with a slick-looking gloss.
Besides the manufacturer's mark, the handle also has markings of 5 and 10-inches along its 15-inch shaft. This is a great feature for fishermen who like to measure their catch. The clear colored netting material is soft enough to safely hold trout, yet tough enough to last for many outings.
This net is made by a company not well known for fishing gear, but it has grown in popularity. The quality and craftsmanship, especially when compared to the price, is the reason. Its solid wood handles aren't the most comfortable or slip-resistant, but it is aesthetically pleasing and strong.
---
3. Fishpond Nomad Native Landing Net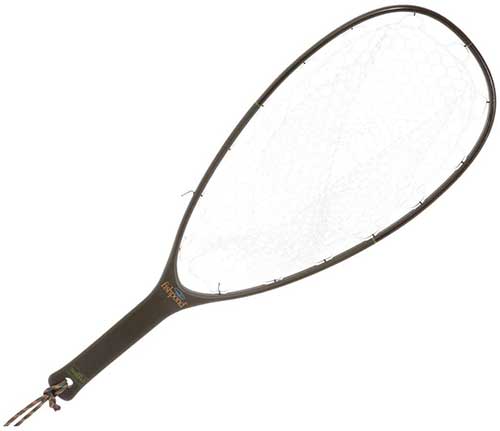 Estimated Price: $126
Specifications
Length: 25.5 inches.
Hoop Size: 8.5 x 17 inches.
Net Material: Clear Rubber Mesh.
Weight: 13 ounces.
The Fishpond Nomad landing net is a beautiful composite of fiberglass and carbon fiber. This is great for fly fishermen that want to wear their net at all times. It is small in size to benefit your traveling and lightweight needs while wading streams or walking banks, yet strong enough to last through many seasons of catching fish.
The Nomad is waterproof and weatherproof. At 13 ounces it is both lightweight and incredibly strong due to its carbon fiber and fiberglass fabrication. There is a matte finishing on the handle to give your hand the comfort and strength it needs to match. This is done with a rubbery paint, called RiverKoat, which feels great and had a good grip.
A rubber netting material is extremely durable, especially from rot and wear. It also is a very fish friendly option for cradling fish as sensitive as trout, while also being less prone to tangling and hooks working their way into. The price tag is what you should expect to pay for a high-quality net, and it absolutely delivers the proper performance.
---
4. Frabill Small Landing Net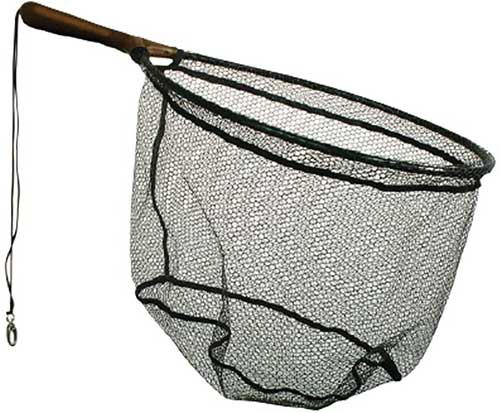 Estimated Price: $17
Specifications
Handle Length: 7.5 inches.
Hoop Size: 17 x 22 inches.
Net Material: Nylon Micromesh.
Weight: 14.4 ounces.
The Frabill trout landing net comes in a rectangular or teardrop shape frame.  It is made with a 3/16 inch nylon mesh. This is good for landing trout, bass, and crappie. The small mesh size also makes it great for kids to use to catch creatures like frogs, snakes, crayfish, and minnows. Catching minnow for bait is a great idea when fishing for freshwater and saltwater fish.
The exact weight of this net is not listed but it is around one pound. It also has a lanyard and clip to attach the net to a loop on waders or a fishing vest. These small hand nets are typically used in rivers, streams, ponds, beaches, or lakeshore where the angler is close to the water. When fishing from a boat it is better to get a net with a longer handle. If the net is going to be used to catch and release trout then a rubber mesh net is a better option. This is a great net to catch fish that will be kept. As a kid these small mesh hand nets really allowed us to catch lots of fish and amphibians.
---
5. Oddspro Bass and Trout Landing Net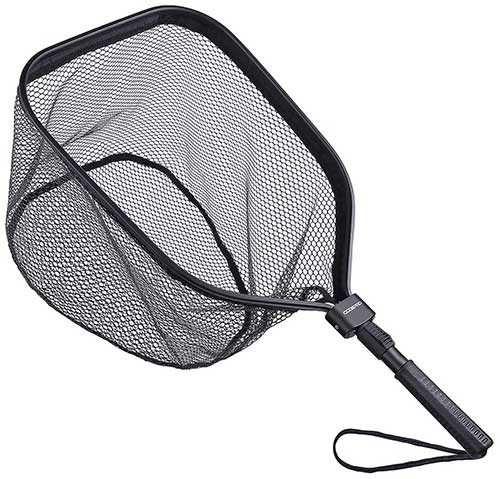 Estimated Price: $18
Specifications
Length: 24.6 inches.
Hoop Size: 17 x 11.5 inches.
Netting Material: Rubber Coated Nylon.
Weight: 11.2 ounces.
The Oddspro bass and trout landing nets are versatile enough to handle most freshwater fishing circumstances. Its dimensions and rubber-coated nylon are especially ready to tackle trout but have no problem helping you scoop up bass and crappie with ease and safety. The retractable handle also has a slip-resistant coating to keep it firmly in hand for all the maneuvering you'll likely utilize while bank fishing, wading, or kayak fishing.
The 1/4 inch oval holes in the net meshing is a great size for not hurting the gills of smaller and delicate fish like trout, while also reducing enough water resistance that you can quickly and cleanly scoop them up. A folding handle allows the handle to be stored within the net making the length 17 inches. This is great for compact storage on a boat or for placing it in a backpack. With a weight of just over eleven ounces, it is great for carrying around easily in a kayak or pack. The fiberglass and carbon fiber compound material in the hoop and handle afford this lightness, while also making it quite durable. This net also works well for catching baitfish and other creatures.
---
6. Ed Cumings Fish Saver Landing Net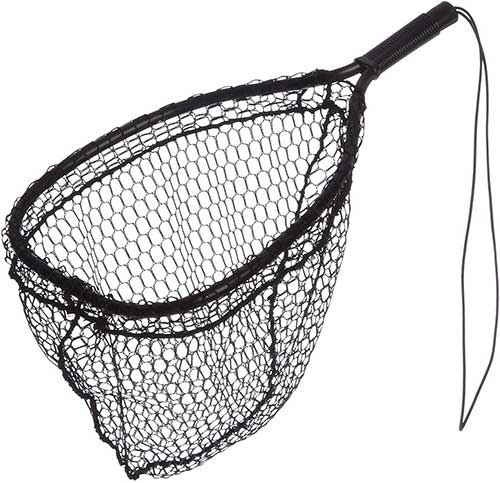 Estimated Price: $17-$25
Specifications
Length: 19.5 inches.
Hoop Size: 14 x 11 inches.
Net Material: Nylon.
Ed Cumings has been making fishing nets for a long time, and their B-135 fish saver landing is a basic net for catching trout, crappie, and bass. The metal is black anodized for resistance from oxidation, and the black nylon mesh material is excellent for strength and ease of use in the water.
The mesh has spacings of only 1/2 an inch throughout, which is good for not allowing smaller catches to swim through and become injured. The hoop diameter, and especially the deep depth of a foot, means you can scoop up most any sized trout without worrying it can jump out.
The net's shorter size will be useful to kayak fishermen but could be a good option for wading since you will be a lot closer to your catch. The nylon material is not the greatest for abrasion protection on delicate trout, although the small 1/2 inch openings will reduce other possible injuries. Nylon is not as good at resisting hook and tackle tangling, either, but for the price, you'll still have a functioning tool. It is a good option for fish that you intend to catch and keep.
---
7. Plusinno Bass and Trout Landing Net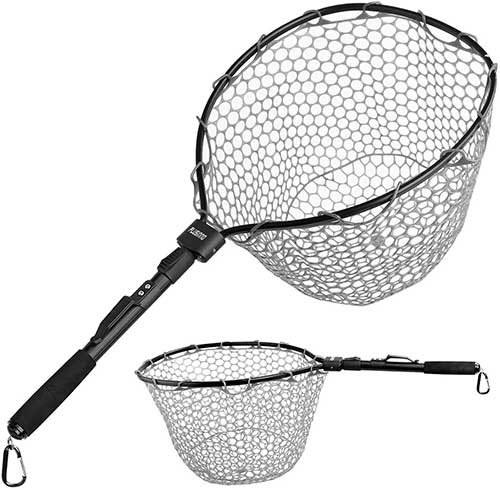 Estimated Price: $24-$35
Specifications
Length: 17-28 inches.
Hoop Size: 16 x 13 inches.
Net Material: Rubber Mesh.
Weight: 15.2 ounces.

Plussino's bass and trout landing nets has a folding handle for compact storage. It has an extendable that god from 17 inches to 28  inches when extended. This makes it great for kayak anglers and anyone trying to save on space. With a belt clip, lanyard, and double magnetic release carrying system, it is safely toted around while bank fishing. With a weight of under one pound makes it is easy to wear on waders on carrying in a backpack.
The rubber mesh material offers you durability against rot and tangling while also offering the fish protection from abrasion. The wide net diameter and depth help ensure you will be able to scoop up most sized trout and bass easily. Other nets handles are a bit stronger but the ability to fold is a great feature. With EVA foam grips it is pretty slip-resistant and comfortable. The net also comes in a version with a 17 x 12-inch hoop size. That nets mesh material is nylon with small holes. This is good to use as a landing net and work to catch minnows, salamanders, newts, frogs, and crayfish for fun.
---
8. Ego S1 Genesis Compact Guide Series Nets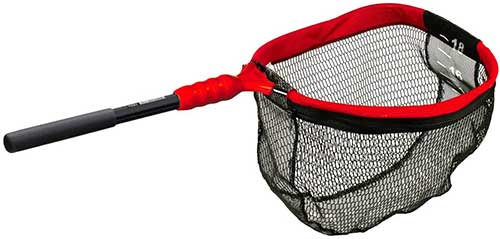 Estimated Price: $90
Specifications
Length: 13 inches.
Hoop Size: 17 x 19 inches.
Net Material: Rubber Coated Nylon.
Weight: 1.85 pounds.
An Ego S1 Compact Guide Net is a great option if you are looking for a high-end medium-sized fish bag. It works great to keep in a kayak, canoe, or attached to yourself while wading and walking the banks. The handle is aluminum, which is strong and lightweight. It is made with a PVC coated net which has a ruler on the inside so you can measure your fish without injuring them.
Not only is the handle light and strong because of its aluminum construction, but it is also detachable for easier storage. There are several attachment pieces offered by Ego as accessories, like a boat hook and lure retriever. The netting material itself is detachable by a waterproof zipper system, making replacing it so much more simple. The ruler in the bag measures fish up to 36 inches, so most of your catches will be untouched and released back into the water with minimal stress. If you need something compact but on the high-end side to last a long time, this net from Ego is one of the best.
---
9. Measure Rubber Net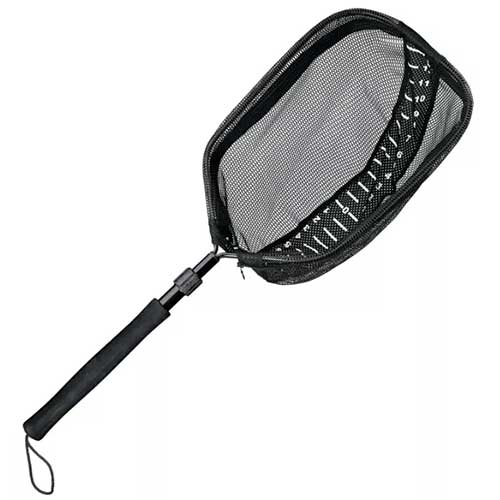 Estimated Price: $35-$50
Specifications
Length: 7, 9, 15-24 inches.
Hoop Width: 8, 9, 11 inches.
Net Material: Rubber Mesh.
Measure Net is a cool company run by passionate anglers and conservationists. The Measure Net rubber net is just what it sounds like, a rubber net that measures your catch. The benefit of a rubber net is that it is safer for the fish by not rubbing off their protective slime coating. A built in ruler inside means you never even have to touch the fish. It is a great catch and release system. Some anglers really hurt fish trying to get a length or weight measurement.
The nets come in a few different sizes with the largest able to measure a fish up to twenty-eight inches. The way it works is as the fish is resting in the net, you add whatever number its tail is on with the number at its head together, and that sum is its total length in inches. The large size of Measure Net also has a telescopic handle, so it can be a great boat net. They are made with trout in mind but will work just fine for many freshwater species.
---
10. Frabill Wading Net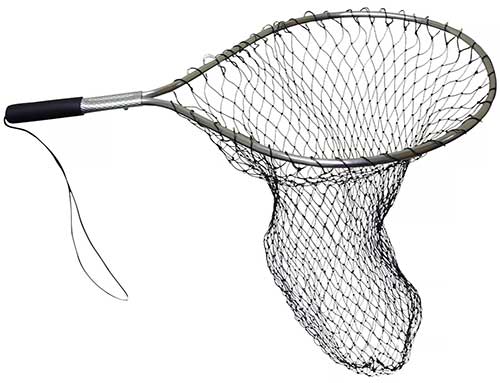 Estimated Price: $17
Specifications
Handle Length: 8 inches.
Hoop Size:  17 x 19 inches.
Net Material: Polyurethane.
The Frabill Wading Net is built for utility and leaves out any pretty frills. Whether you're canoeing, kayaking, walking the bank, or wading in the river, this net with an 8-inch handle and 17 x 19-inch hoop dimension is great for one-handed use. It is also very deep, with a close-knit mesh netting of 30-inches, so feel free to use it on those real lunkers.
The net has a polyurethane material bag, so it is very durable against rot and heavy-weights. Likewise, its aluminum framing is strong and helps keep weight down. The attached lanyard means it is very easy to strap onto a fishing vest or pack without fear of losing it while you bushwack to your favorite fishing hole. Its rubber gripped handles make it easy to hold in wet conditions. At a price of well under twenty bucks, this is an option with no frills but good value.
---
11. Plusinno Floating Landing Net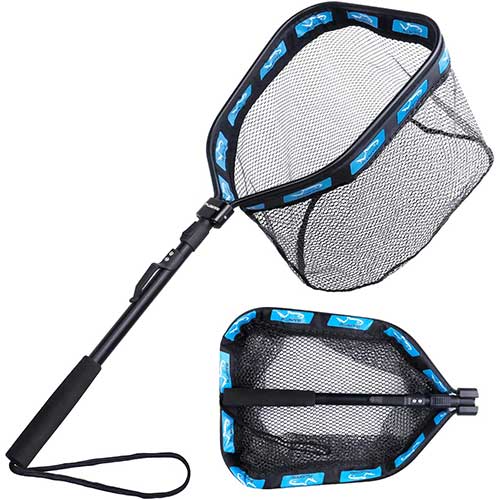 Estimated Price: $22-$39
Specifications
Length: 32.5 inches.
Hoop Size: 15.8 x 11.8 inches.
Net Material: Rubber Coated Nylon.
Weight: 12.5 ounces.
Every piece of fishing equipment is at risk of being lost to the murky deep. However, the Plussino's landing net floats which help prevent the net from being lost if it is dropped in the water. Nets can slip out of the hands of kids and experienced anglers. The non-absorbent rubber mesh and foam padding around the hoop make it very buoyant, which should be an especially welcome feature for wading and kayak fishermen.
Keeping in the mindset of wading and kayak fishermen, this net is also only 12.5 ounces and foldable. This makes it easy to transport and stow away. The handle is made out of aluminum, so it is tough enough to resist saltwater corrosion. Attached is a lanyard, but also a sturdy belt clip to help you out. It's a nice looking and a well-made option for someone looking to get a good deal.
---
12. Frabill Trophy Haul Bearclaw Landing Net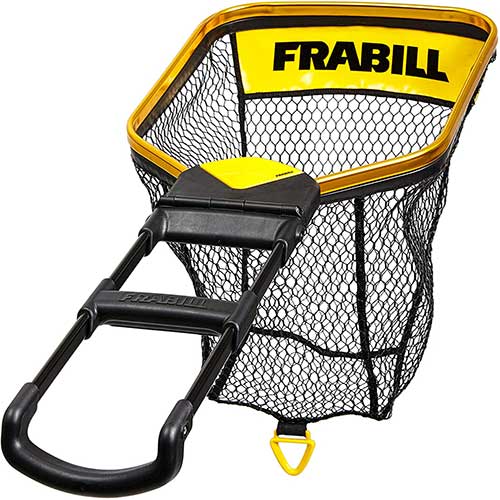 Estimated Price: $90
Specifications
Handle Length: 18 inches.
Hoop Size: 14 x 18 inches.
Net Material: Rubber Coated Nylon.
Weight: 34.7 ounces.
Frabill has an interesting and innovative design especially for kayak fishermen with its Trophy Haul Bearclaw landing net. The handle is designed for easier one-handed use. It has a forearm and hand bar system that makes it much easier to get a secure grip on the net with one hand. The bars both have rubber padding, allowing you to just reach out and take your catch out of the water.
The net has a flat bottomed mesh design. This is known for not only being less stressful on the cradled fish but less stressful on you when removing the hook. The hoop ring is also reflective, which will help out with your scooping aim in those low light conditions. Frabill is one of the most well known and best-respected companies making fishing nets today. That legacy certainly continues with such a cool and useful product like Bearclaw landing net.
---
13. Magreel Telescopic Landing Net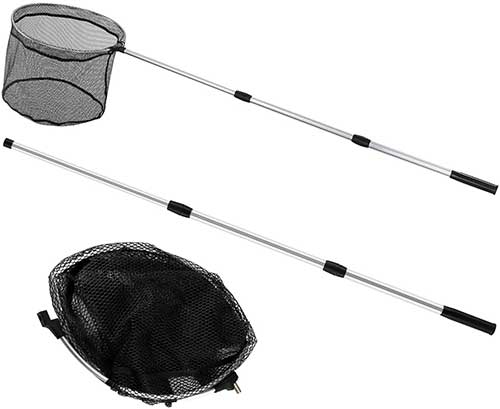 Estimated Price: $25
Specifications
Length: 37.6-68.5 inches.
Hoop Size: 15.75 inches.
Net Material: Rubber Coated Nylon.
Weight: 18.3 ounces.
The Magreel Telescopic landing net could probably be just what you need if you are looking for a durable net with some reach. With a fully extended length of over five and a half feet, you can net fish from elevated docks, piers, and large boats. This net locks into four different lengths, making it quite unique as well as versatile.
The netting material is a very sturdy nylon rubber mesh, and the hexagonal pattern is close-knit enough to give your caught fish safety from abrasions or gill damage. The mesh size is small so it has high water resistance and is best for catching fish near the surface. The aluminum handle should make you confident enough to use it in freshwater or saltwater.
It not only collapses, but the net can unscrew off the handle. This makes it is less likely to get damaged in storage or transport. All of its length adjustments coupled with the wide hoop diameter and depth make it a good net for many popular fish species. At just over a pound in weight, it is actually much lighter than many other nets with similar specs. This is also a good net to catch crabs, frogs, and baitfish.
---
14. Ego Kryptek S2 Slider Compact Landing Net

Estimated Price: $110 – $140
Specifications
Handle Length: 29-60 inches.
Hoop Size: 17, 19, 22, or 24 inches.
Net Material: Clear Rubber Mesh
Weight: 2.15 pounds.
The Ego S2 slider compact landing net line is the follow-up to Ego's wildly popular, high-end S1 slider nets. It has all new features that many anglers will appreciate.  This includes an extending and retractable system, and a screw-on handle tip that lets you exchange more than 30 net heads and accessories. These are cleaning tools, boat hooks, lure retrievers, and more.
The netting material is varied to meet any fisherman's needs, and are made in Ego's proprietary Kryptek Camo finish. This helps the net enter the water with stealth which can be beneficial. Its flat bottom is great for leaving the fish unhurt and resisting hook tangling. The hoop itself is a strong and durable aluminum for the lifting power and corrosion-resistance you need no matter where you fish.
There are 19 combinations of handle lengths and netting materials. With the easy extending and retracting system you will always be prepared and ready to land big fish in any condition. Ego offers a 2-year warranty on all of their products as well as the S2 landing nets. This allows anglers to have confidence the net will for multiple seasons.
---
15. Wakeman Retractable Rubber Fishing Net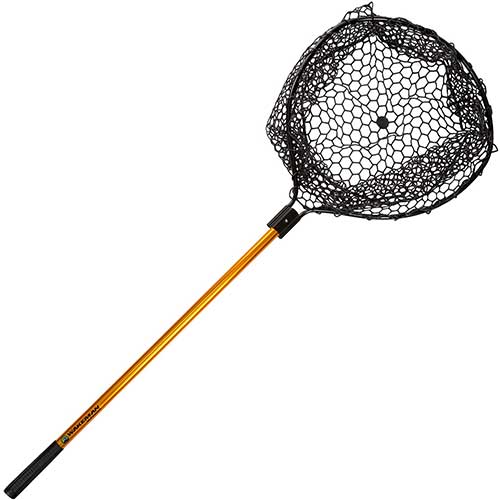 Estimated Price: $40
Specifications
Length: 56 inches.
Hoop Size: 20 x 19 inches.
Net Material: Rubber Mesh.
weight: Around 4 pounds.
Wakeman's retractable rubber fishing net has good dimensions in hoop diameter and length of reach. A sturdy flat bottom for fish cradling care, and a corrosion-resistant aluminum handle make this good for freshwater or saltwater. At a full length of over four and a half feet, the added length is good when fishing off of a dock or boat.
While rubber netting material has become probably the most popular for its tangle-free properties and fish protection, it is quite heavy. The nets total weight is just under four pounds. That is a lot heavier than most nets and adds some further struggles with its water resistance. This means the netting speed is going to be highly affected. Its ability to retract is a good feature for storage, but the reasonable price might be the most attractive asset. Even though the net is heavy it still works well for scooping up fish.
---
16. Bass Pro Shops XPS Conservation Landing Net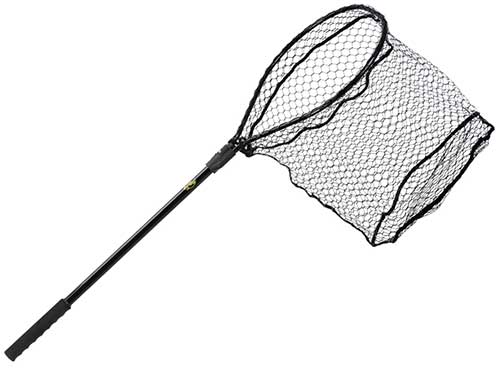 Estimated Price: $25-$40
Specifications
Handle Length: 30, 36, or 48 inches.
Hoop Size: 18 x 19 or 22 x 26 inches.
Net Material: Rubber Coated Nylon.
Bass Pro Shops offers a great value with their XPS Conservation Landing Nets. The handles are available in three different fixed lengths and are collapsible for easier transport and storage. The netting material is dipped nylon, which is a heating process that adds an adhesive for the rubber to be applied on the outside. This is a good way to make it extra strong while still binging safe for a fish's delicate skin.
The hoop frame is made from aluminum, which is corrosion-proof and fairly strong. Bass Pro Shops went ahead and made the handle shaft out of a fiberglass composite, which gives it a bit more durability for lifting those fish out of the water day in and day out. Rubber handgrips provide you with better control and comfort while using the net.
Besides the dipped nylon being better on the fish's skin, the flat bottom will cradle them gently for safer hook removal. The black finish is less visible underwater so as not to spook any of its friends. This net has the durability and dimensions to be an all-around tool for many species and environments.
---
17. KastKing Madbite Folding Landing Nets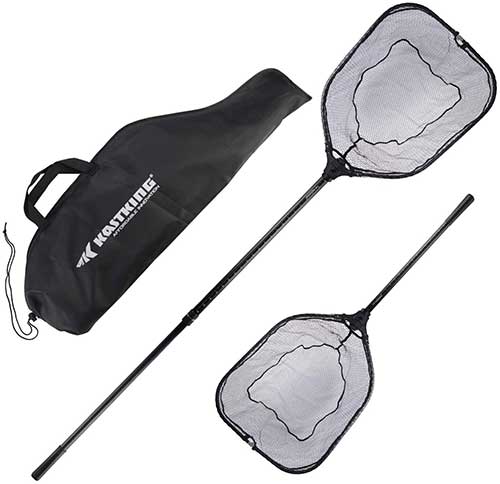 Estimated Price: $40-$48
Specifications
Length: 45 or 76 inches.
Hoop Size: 20 x 16 inches.
Net Material: Coated Nylon.
Weight: 1.4 – 2 pounds.
KastKing Madbite folding landing nets have improved the strength generally found in other folding nets. This is done through stronger components, especially by using graphite in one of the folding yolks, aluminum on other potential weak points, and stainless steel screws to prevent rust from working its way in.
It has long-reaching lengths, especially the largest of the two is 76 inches long. The net to fold in half is a convenient bonus of compact storage. It also comes with a carrying bag for extra protection during transport. The smaller model weighs only 1.4 pounds, and the larger one comes in at 2 pounds.
The netting material is a durable and rot proof rubber coating which will be easier on the fish and stop your hooks from getting tangled in it. KastKing offers low-cost functional products and this net is a popular choice for freshwater and saltwater fishing.
---
18. Ranger Nets Tournament Series Landing Net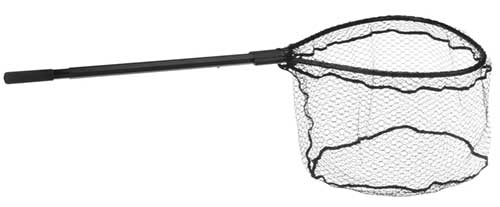 Estimated Price: $63-$75
Specifications
Handle Length: 29-45 inches.
Hoop Size: 20 x 20 inches.
Net Material: Rubber Coated Nylon.
When you are targeting big fish you need a big net, and the tournament series nets from Ranger have got you covered. They use anodized aluminum throughout, which many anglers consider to be the best material in the fishing industry to provide strength, corrosion resistance, and lightweight. The rubber used for the netting is a step above what you will find in some other brands as it is lighter and less bouncy.
With the large 20 x 20-inch hoop diameter, Ranger struck a balance in the 3/4 inch openings in the meshing. This allows the net to find less resistance in the water as you quickly scoop up your catch without worrying that the fish might get tangled. Available in rubber or rubber-coated nylon, both are knotless designs that also provide more comfort for the fish. This also helps save time will less tangled hooks in the mesh.
The aluminum handles are beefy and strong enough to lift those king salmon, musky, or big bass that it's built to handle. The extendable and retractable length makes it easy to store in the meantime. It is a professional sportsman grade net that is built to last. At well under a hundred dollars it should prove a worthy investment.
---
19. True Blue Ranger Tournament Series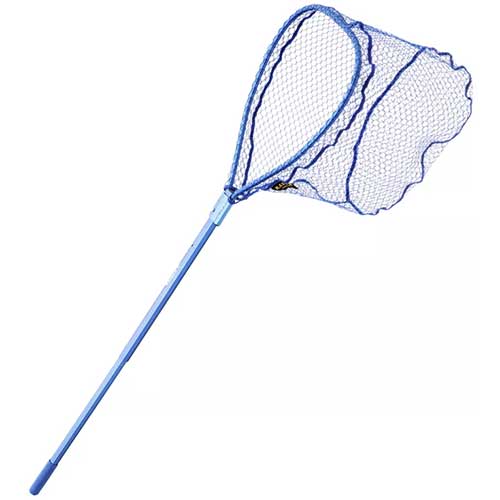 Estimated Price: $75-$110
Specifications
Handle Length: 54-84, 29-45 inches.
Hoop Size: 20 x 20, 25 x 25, 28 x 30, 34 x 30 inches.
Net Material: Rubber Coated Nylon or Rubber.
The True Blue Tournament Series Landing Nets by Ranger Nets are constructed out of an extremely durable blue anodized aluminum and your option of rubber-coated nylon or all rubber netting material. They are collapsible for easy transport and storage but align themselves securely when extended so you never have to worry about them falling on you at the wrong moment.
The netting is the flat bottom style, which cradles the fish more safely, but also allows your hands more safety while removing hooks. The rubber on the mesh is also safer for you and the fish as it resists tangling. These are tournament grade nets, so you can bet that they go through the water with very little resistance for fast fish landing. With the reinforcements around all the potential breakage spots, these are great quality nets designed for professional anglers and should last for years.
---
20. Bubba Landing Nets

Estimated Price: $125-$215
Specifications
Hoop Width: 16, 20, 24 inches.
Handle Length: 30, 40, 44, 36-53 inches.
Net Material: Soft Rubber.
Weight: Around 29 ounces.
This new line of Bubba landing nets have the variety to meet almost any needs and are of high quality. Bubba is most known for its non-slip grips, and that will definitely be found on these nets. The high-grade materials used throughout are equally as impressive. The PVC-coated-nylon mesh material is rated up to 75 pounds, so there are not many popular species you will need to worry about falling through. With a hoop made out of aircraft-grade aluminum and a shaft of carbon-fiber at 2 mm thick, this line of nets is designed for serious anglers to have successful fishing trips.
Bubba nets are very saltwater applicable, as their variety in lengths and hoop sizes are nicely accommodating. The materials used should last for years even against some tough corrosion and abuse. They are also designed to fit into most rod holders, and I'm sure most fishermen will have no issues proudly displaying them on their boat. The price somewhat high for a net but quality nets last longs and will likely have fewer issues.
---
21. Promar Swing Landing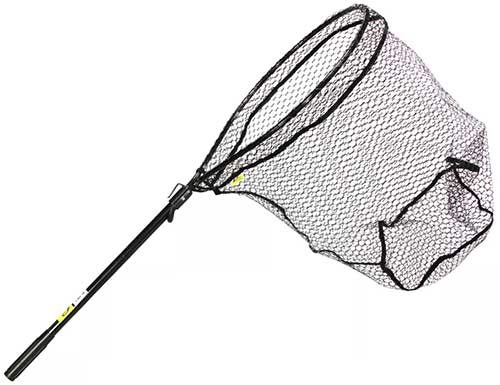 Estimated Price: $29
Specifications
Handle Length: 22 inches.
Hoop Size: 17 x 20 inches.
Net Material: Rubber Coated Nylon.
Most kayak and wading nets are already as small as they are going to get. However, the Promar Swing Landing Net has a folding design that saves even more space and quickly deploys to full length when needed. It is also durable and lightweight, which adds to its already great value.
The handle and hoop are constructed out of aluminum, so it's light yet has high strength and corrosion resistance. The black coating also matches the netting material, which is rubber-coated nylon. This material makes this a very safe and humane bag for trout catch and release fishing. When the mesh is folded down for space conservation, simply picking it up and flicking the wrist opens it up to its full deep 30-inch depth, ready to scoop up your catch. It is a great net for everyday fishing use and is found at a reasonable price point.
---
22. Cuda Telescopic Net

Estimated Price: $72-$114
Specifications
Length: 4.75 to 6.75 feet.
Hoop Size: 20 x 19 inches.
Net Material: Polyester with PVC Coating.
Weight: Around 5 pounds.
Cuda Telescopic Nets are strong and simple. Each model has two lengths ranging from 4.75 to 6.75 feet, allowing fish to be needed from boats with high sides. Famous for their saltwater angler products, these nets from Cuda have hoop and shaft material made out of high-grade aluminum. This provides high strength and corrosion resistance for any body of water.
The netting material is polyester with PVC coating, giving it strength as well as the quick dry ability to keep it from rot and wear. One of the coolest features is that a waterproof zipper system holds the net onto the hoop, making replacing it much easier. A corded wrap on the handle provides you with a firm grip, and you are sure not to want to lose hold of this great net because it should last for many seasons.
---
23. Frabill Conservation Series Flat Bottom Net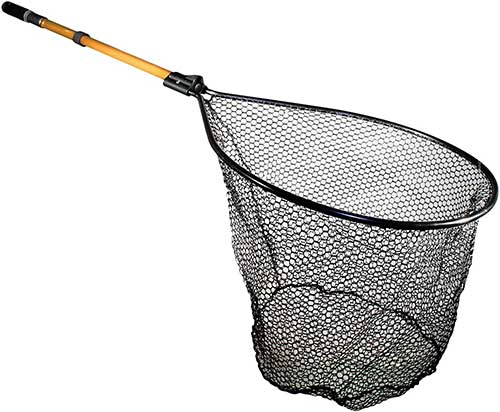 Estimated Price: $83-$95
Specifications
Handle Length: 2-4 or 3-6 feet.
Hoop Size: 20 x 23 or 23 x 26 inches.
Net Material: Rubber Coated Nylon.
Weight: Around 2 pounds.
Frabill's Conservation Series Nets are among the most popular with avid anglers who practice catch and release. This is because they are some of the best quality nets on the market and best for ensuring the fish can live a long life after it has been caught. The telescopic shafts give you the right distance in multiple situations and Pow'R Lok Yoke System means they will extend and retract flawlessly every time.
The coated nylon nets are very resistant to tangling and soft on fish's skin. Your hooks are less likely to penetrate the meshing, so no more annoying time spent dealing with treble hooks caught up in your net. The stainless steel hardware holding it all together won't rust as easily as other materials, which will extend its life. These are great for responsible fishermen in freshwater or saltwater environments.
---
24. Stow Master Saltwater Series Landing Net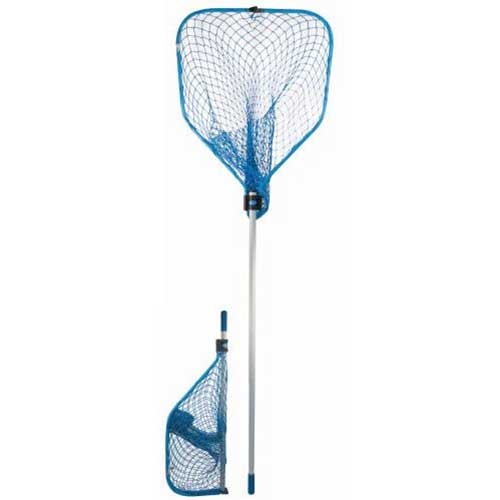 Estimated Price: $250
Specifications
Length: 94 inches.
Hoop Size: 30 x 32 inches.
Net Material: Thick Nylon.
Weight: Around 4 Pounds.
If you need a heavy-duty net that you can also break down for safer transporting and storage, then the Stow Master Saltwater Series Precision Landing Net might fit all of your needs. With a huge extended length of 94 inches, this telescopic net collapses to just 16 x 44 inches, so you can tuck it safely away. It is also strong and light, as the handle and hoop arms are made of aircraft-grade aluminum, which can take the corrosive conditions of saltwater use in the ocean.
Whether you are fishing for redfish or salmon, the Stow Master has the length and strength required. The shaft is ridged for more hand control but also reinforced at a 1.25-inch thickness to handle your trophy catch. The bag is deep and nylon dipped in rubber for extra fish protection and strength. In silver and blue coloring, it stands out nicely on the water, but its performance is what should get the most attention.
---
25. Ed Cumings Octagonal Salmon Landing Net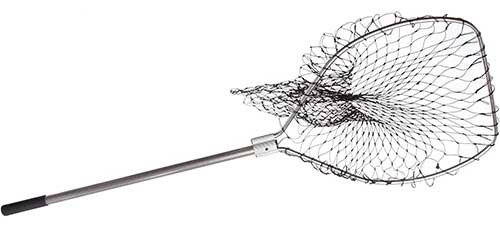 Estimated Price: $50-$67
Specifications
Length: 36 inches.
Hoop Size: 21.5 x 27 inches.
Net Material: Polyethylene.
The Ed Cummings Octagonal Salmon Landing Net features the strength and maneuverability design with salmon and steelhead fishermen in mind. The aluminum handles are rugged enough to handle all medium-sized fish, in freshwater or saltwater, as is the deep and strong polyethylene netting material.
The aluminum handles have a diamond pattern, and the EVA foam grips give even more comfort and control in your hands. It is also a two-piece design and easily slips apart when you need for easier transport and storage, but stays securely together when using. For extra durability, you can get the black anodized model, as well as nylon mesh. The yoke is reinforced, but Ed Cummings offers a lifetime warranty should it break, further enhancing the value. This is the basic net used by many salmon angles and typically lasts for many years. Salmon that are released should not be netted but release in the water by the boat. This greatly increases their survival chances.
---
26. Drifter Predator Series Musky Net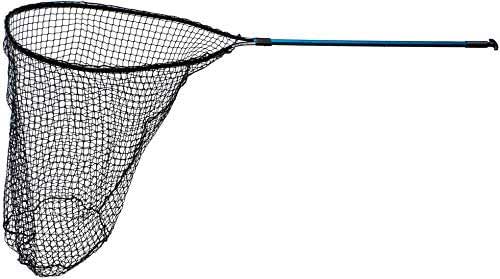 Estimated Price: $160-$200
Specifications
Handle Length: 48 inches.
Hoop Size: 37 x 35 inches.
Net Material: Rubber Coated Nylon.
Weight: Around 8 Pounds.
With a weight capacity of up to seventy pounds, the Drifter Predator net series are some of the strongest landing nets on the market. The rubber coating of the mesh is made from a special formula to not only reinforce its strength but provide a soft landing zone for every catch. It also resists rot and wear in harsh conditions. They are designed with trophy musky and bass fishermen in mind but are perfect for use on a wide array of species.
Anodized aluminum is considered one of the best materials to use on a lot of fishing equipment. These Drifter nets utilize it on their handles and hoop frames, keeping weight down but strength up. Everything is also reinforced with T-Handles on the butt end of the shaft, you should have no problem netting and lifting big fish into the boat.
You can select from four different handle colors which are red, blue, black, or gold, to match your other gear. There handle can retract into the hoop area of the net to make storage and transport easier. If you hunt big game and need something heavy-duty that will last a long time, this is a great option.
---
27. Blisswill Large Folding Landing Net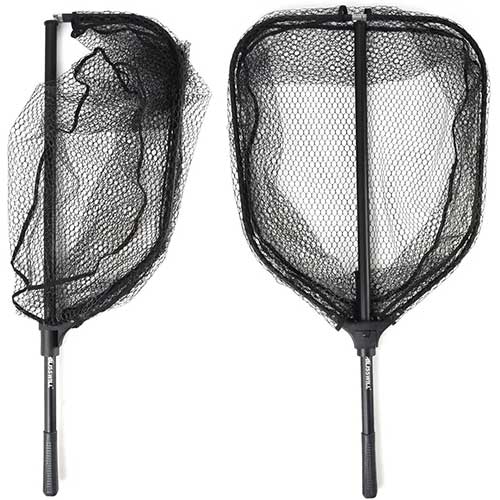 Estimated Price: $44
Specifications
Length: 66.5 inches.
Hoop Size: 39.7 inches.
Net Material: Rubber Coated Nylon.
Weight: 1.76 pounds.
The Blisswell large folding landing net is a great option if you require a big net but don't have much space to safely transport and store one. It features a coated nylon netting that is both deep and wide for large catches, while also being less prone to hook tangling. The handle is aluminum, so you know it will be safe from corrosion on any body of water, including the ocean. The hoop frame is made with E-glass, which is a high-grade type of fiberglass.
You might know S-glass and E-glass as types of fiberglass used in fishing poles. S-glass is usually used in cheaper rods, and E-glass adds better strength and flex. This will come in handy when scooping up those heavy fish with the Blisswill net. It has a weight rating of forty pounds, and the aluminum pole is reinforced to handle the strain. The net is also retractable and foldable, and the net is capable of folding in half at the hoop frame. The net is heavy-duty and since it folds in half it is easier to transport in your car or stow away neatly.
It can be extremely hard to find a heavy-duty net for trophy-sized fish that breaks down for convenience under a hundred dollars. Finding one that actually holds up to the pressures of the fishing day in and day out is even harder. This Blisswill net has proven itself to many anglers and is a good option for netting large fish.
---
28. Frabill Power Catch Weighted Nets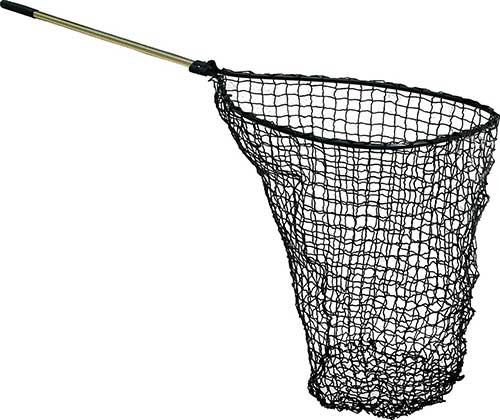 Estimated Price: $105-$130
Specifications
Handle Length: 48 inches.
Hoop Size: 32 x 41 inches.
Net Material: Rubber Coated Nylon.
Weight: Around 15 pounds.
Frabill is one of the most popular makers of fish landing nets, and their power catch weighted nets are heavy duty. Their teardrop style weighted nylon hoops are deep and strong, allowing you to catch those monsters in freshwater and saltwater. Frabill's exclusive Brute Hoop construction gives the net easy penetration through the water with the powerful backbone necessary to come out victorious in the struggle every time.
Transport and storage of these finely built nets is a breeze. The proprietary Pow'R Lok yoke system allows for a collapsible shaft that never sticks or fails. Even if it did, Frabill offers a lifetime warranty, so they have you covered.
As the name implies, these nets are for catching big, powerful fish. The nylon netting material gives the strength necessary to do this, and the weighting in the mesh means the net will always enter the water open and ready to scoop up your catch. Frabill markets their power catch line as the strongest nets in the United States, and you will probably agree.
---
29.
Frabill Bait Net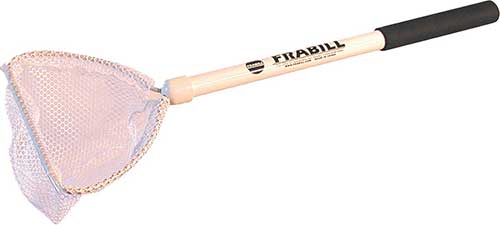 Estimated Price: $13-$18
Specifications
Length: 24 inches.
Hoop Size: 8 x 6 inches.
Net Material: Nylon Mesh.
Weight: Around 8 ounces.
The Frabill bait net is typically used to scoop up minnows, pilchards, herring, goggle eyes, and crabs out of a livewell. This net is long and has a big enough hoop to easily catch the bait. For small live wells and shrimp Frabill makes a small floating bait net that works well. Sometimes the smaller bait nets are actually easier to use. The key is to get one that is durable and well made. Low-quality bait nets will break after a few uses. This net has a sturdy handle, metal ring, and a strong nylon mesh for the netting material.
Bait nets like this allow the bait to be caught in a live well and then placed on a hook. Sometimes throwing some live baits overboard will keep a school of tuna or mahi-mahi near the boat. The net can also be used by kids to catch minnows, frogs, tadpoles, crayfish, and crabs. Live bait is typically purchased at a bait store, caught in a fish trap, or caught using a cast net.
---
30. Frabill Bridge and Pier Hoop Net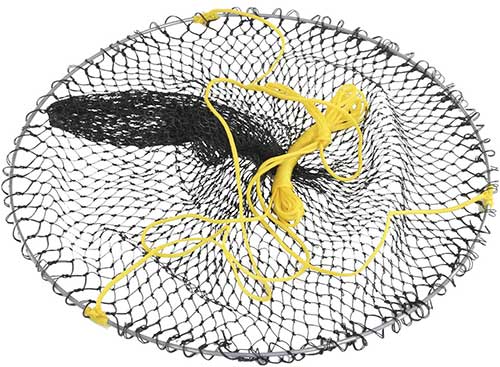 Estimated Price: $43
Specifications
Rope Length: 50 feet.
Hoop Size: 36 x 36 inches.
Net Material: Nylon.
Weight: 2.90 pounds.
The Frabill bridge and pier hoop net will give you more of a chance to land your catch when fishing from elevated platforms. It also provides the fish more protection as you hoist it up and lower it back to the water. The 36-inch diameter hoop is steel, giving you a strong and wide platform to get around the fish, and the 36-inch deep poly mesh will safely secure it. The 50 feet of rope that comes with it should be plenty of length for fishing off of most bridges and piers.
The spacing between the mesh is a well-balanced one and a half inches wide, reducing the water-resistance enough to manipulate it through still waters or current. It is not foldable, which might be a drawback for some, but its size and quality will handle some big catches. I have used the net for catching striped bass off piers and it worked great.
---
Useful Information on Fishing Nets
Hoop Shapes and Sizes
There are many options in the shape and size of the hoop for landing nets, each designed to be most efficient for landing particular species of fish. The smaller diameter hoops are usually for catching trout in streams, but fishermen targeting trophy-sized musky or catfish will need something in the larger range. An actual hoop net is used to lang fish from elevated structures like bridges and piers.
A teardrop-shaped hoop offers a lot of versatility but is most efficient when wading in streams and catching small to medium-sized fish like trout. There are octagonal shaped hoops that distribute those dimensions out a bit more, which is better for larger species. A flat-fronted, horizontal hoop will maximize the area of scooping ability, and are good for livewell nets. These help to pin the fish up against the side when they are in bait tanks.
Handle Length and Material
The shorter the handle, the easier it will be to net a fish one-handed, which is common for wading when you have to keep a hold of your rod with the other hand. This type of fishing also requires that the net be attached to your body or clothing when not in use, so the shorter the better.
A telescopic handle will give you the benefit of easier stowing when not in use and provides a longer reach. However, with more complicated parts comes the need for sturdier components. All of its screws and locking mechanisms should be rust-resistant, that way it extends and retracts properly when you need it. For fishing on big boats, you might be more comfortable with a fixed-length handle, long enough to reach over the side in high waves and deep water.
There are some very fashionable wooden nets popular with fly fishermen. As nets get bigger they tend to be heavier so most anglers prefer lighter aluminum models. Aluminum is very strong for its weight, and also does not warp or rust in the water. There are also carbon fiber or fiberglass composite options that give a lot of the same benefits.
Fishing Net Accessories
Many accessories can potentially come with a landing net or can be bought afterward. These include carabiner, magnets, and belt clips for smaller models that you need to attach to your body or clothing. Also, a carrying bag for the kind that breakdown or are telescopic will keep them safer when transporting or in storage. Some expensive models even have detachable heads with other pieces to screw on, like lure retrievers, boat hooks, and even deck brushes.
---
Frequently Asked Questions About Fishing Nets
How do you properly land a fish with a net?
The very first fundamental thing to know when netting your catch is that fish cannot swim backward. Trying to net a fish from behind, therefore, is inefficient, as it will always try to swim away from it. The best method, then, is to scoop it head-on, when it is too tired to out-maneuver you and use its own momentum to get it in the bag.
A powerful fish with a lot of energy is hard to net. That is why it is best to tire it out a little before attempting to do so. This is done by pulling it up towards the surface and turning its head with your rod, applying counter pressure to where it is trying to go so that it is expending energy. You should want it at the surface, but never too much that it is able to jump out of the water, as this is the moment when it is most likely to become unhooked when there is no water resistance stopping it from furiously shaking its head and throwing the lure.
If you have a fishing partner it's easier to net fish as a team. While you are fighting the fish and tiring it, they wait until the fish is in the right position to net it. The best method is to bring it alongside the boat, parallel towards the netter. The rod should be swept just above the netter's head, bringing the fish face-first into the waiting mesh. The net should then be simultaneously turned flat and jerked upward horizontally and swung over and into the boat. A fish can also be gently released by putting both back into the water and pushing the net down so that the mesh is turned inside out, pushing the fish out of it.
Do fishing nets hurt fish? 
A fishing net is safer for landing fish than pulling it up by the hook and line alone. The fish's mouth will be less likely to be ripped by the hook, or injured by flopping against the hull of a boat or hard land and structures.
There are some common netting materials popular with fishermen that improve the fish's safety even further. Mesh that is knotless has less abrasiveness so that it doesn't scratch off any of the fish's scales when flopping around. A flat bottomed net also helps prevent it from becoming tangled in the mesh while flopping. Rubber and rubber-coated nylon are agreed upon as being the safest material for knotless nets, as it does not wipe off the fish's protective layer of slime, which it needs to ward off harmful viruses and bacteria in the water.
Do you need a net for bass fishing? 
It is recommended to use a net for bass fishing. Bass put up a strong fight, sometimes even when lifted out of the water, and this thrashing and weight will put a lot of strain on your tackle. The line could snap, or become weakened so that it snaps on your next cast or catch. Your pole, too, could be in danger of breaking. Having to hold a fish and simultaneously remove a hook while it is thrashing could cause you to be injured.
It is not uncommon for a bass to thrash around in someone's hand hard enough that it is dropped. A large bass does not need a great height to fall from in order to get hurt, and any hard surface beneath it could be very injurious. Using a net is better for you and the fish.
What is the safest way to release a fish?
Fish obtain oxygen by filtering it through their gills, and every second you have them out of the water the less they have. They are, however, pretty hardy creatures, and as long as you take your pictures and high-five your friends fast enough will be fine once they are back in the water.
There are some things you can do to make sure they are alright once put back. If the fish does not immediately swim off with a splash, you need to revive them. Coldwater works best for this, as cold water holds more oxygen than warm, but put them gently into it and hold them face forward into the current, and get water to flow over the gills. Do not push them back and forth or drag them backward as this will kill the fish. Having water flowing forward over the fish allows the gills to work and puts oxygen into their blood and brain. After a few seconds of doing this, they will usually revive and swim off on their own if not too far gone.
If the water is not flowing then having the boat move forward slowly is a good idea. Eventually, they should get enough oxygen and the fish should come back to life. If fish are caught in deep water 60 feet or greater a fish descender might be needed to release them safely.
What kind of fish do you need to use a landing net with?
Trout, walleye, northern pike, musky, carp, catfish, salmon, fluke, striped bass, and others are all commonly caught using a net. If you plan to keep a large fish a net or gaff is typically used. Also, if the hook can not be taken out with the fish in the water a landing net is typically used to bring them onboard.
Almost any fish you can think of can benefit from the proper use of a net. However, there are some large sharks and other species that do much better without being brought onboard. Also, if you are targeting small fish with ultralight gear, you do not have to worry too much about using a net. Just be as gentle with them as possible and unhook them quickly to release them back into the water so that they can grow and propagate for future fun.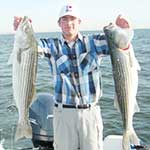 Captain Cody has worked on charter fishing boats in the Florida Keys, Virgin Islands, and Alaska. Growing up in Pennsylvania Cody has also done extensive freshwater fishing including bass fishing tournaments. Cody strives to provide detailed information about the best fishing gear and tactics to help both novice and experienced anglers have a more productive and enjoyable time on the water. Cody also has a background in aerospace engineering and neuroscience but really only takes pride in being good at one thing and that is fishing!