Catching spiny lobster in Florida is a very fun and popular activity. Most of the time when I see tourists visiting the Florida Keys they do not explore much on their own. After spending hours watching every fish swim by a great fishing spot, I see people get out of their car, walk a short distance, take a picture. After that, they get back in their car and seem to have little interest in exploring the ocean.
This is not the case during the mini lobster season or when people are catching lobsters during the main season in Florida. It is actually quite the opposite. Murky shark-infested water with strong current and people are jumping in without hesitation to try and catch that delicious lobster.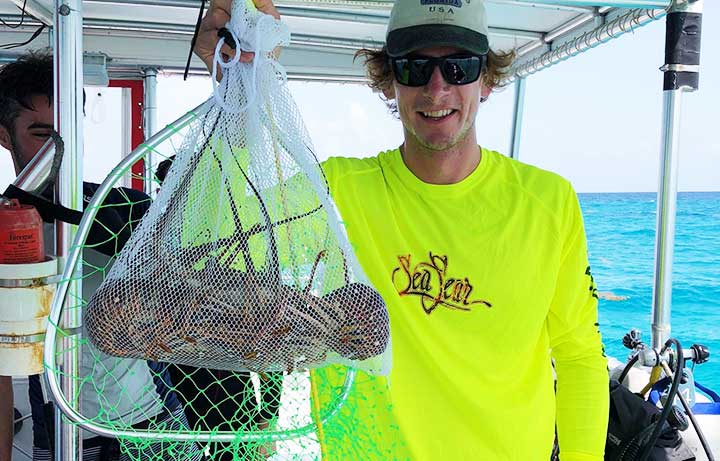 There are two main recreational ways to catch lobsters. Method one is to snorkel or scuba dive and catch lobsters with small nets during the day. The second method is by using bully nets and scooping lobsters from shallow water during the night. In Florida, there is a mini two day season in late August that is only open to recreational lobster caching. About 10 days later the commercial lobster season opens for lobster boats to set lobster pots to commercially catch spiny lobster. This season lasts for about 8 months from early August to the end of March. People can still dive and use bully nets to catch lobsters during the regular lobster season as well. Below I will discuss the basic methods used to catch lobster. Hopefully, this helps you catch more spiny lobsters!
Here Are the Best Ways to Catch Spiny Lobster
---
1. Diving For Lobster
Lobsters can be caught with a tickle stick and a net. This is typically done while diving on reefs on the Atlantic ocean or diving wrecks and structure in the Gulf of Mexico side of the Florida Keys. When diving near coral make sure you do not touch or bump into the coral. Do not damage coral to catch a lobster, it is not worth it.
The basic strategy to catch lobster is to use a tickle stick to scare them out of a hole or ledge they are hiding in. Then slightly distract the lobster while slowly putting the net behind the lobster. Scare the lobster back and it will go right into the net. Do not try and scoop the lobster from the front. Lobster can swim backward very fast and you will not catch lobster this way.
Spiny Lobster Dive Kit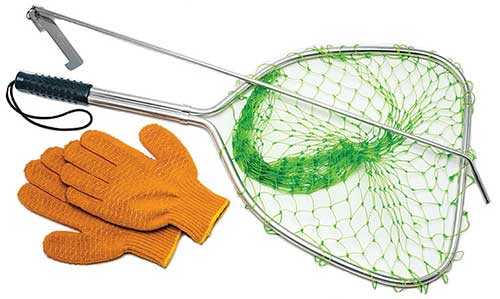 Shop or Read Reviews
This is the most common lobster kit and comes with a net, tickle stick, measuring gauge, gloves and a mesh bag for holding the lobster. This is what we would use during mini-season in the Florida Keys.
Lobster Dive Kit with Net Gloves Gauge and Tickle Stick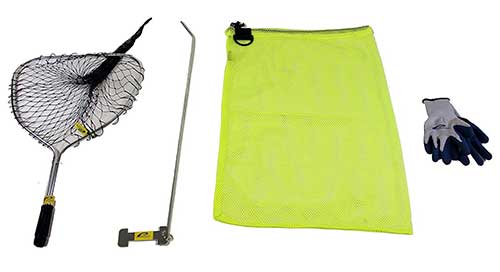 Shop or Read Reviews
This is very similar to the lobster kit above. It comes with different gloves and a black mesh net.
Lobster Snare


Shop or Read Reviews
The Green Lobster Snare is 24-inches long. The snare works by placing the cable around the lobster and pulling the top of the handle back and the wire tightens around the lobster. This snare also locks and releases with a button. If done incorrectly this can hurt the lobster, which is bad if the lobster is short or has eggs and has to be released. Using a net is the preferred way to catch lobster while diving. Spearfishing for lobster in not allowed because the each lobster needs to be checked for size and for eggs.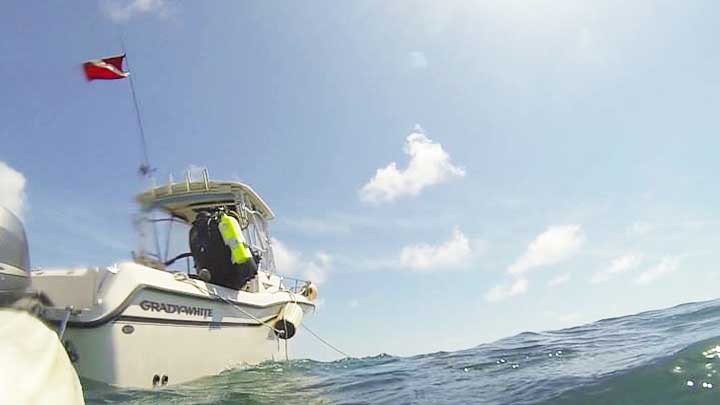 ---
2. Bully Netting for Lobster
Bulling netting lobster is done at night. Lobster are nocturnal and they come out of hiding at night. When bully netting, searching for lobster is typically done in the flats which are shallow areas of turtle grass one to four foot deep. You can also walk the flats searching for lobster but this can be difficult to not spook the lobster before you can catch it. Plus there may be sharks and jellyfish in the area. Typically bully netting is done from a small boat with bright lights.
Bully nets are only six feet long so the water must be shallow. To catch a lobster first find it, slowly place the net a few feet above the lobster. Then quickly place the net over the lobster. Pull the net sideways for about two feet to sweep the lobster into the netting and then bring the net up. Small boats that have commercial permits and know where the lobsters are can catch over 100 lobsters in a night.
Bully Net 36 Inch Ring

Shop or Read Reviews
This is a 6-foot bully net with a 36-inch net circumference. The metal ring on the net comes parallel to the handle. The ring should be bent 90 degrees to be perpendicular to the handle. This makes it so ring lays flat on the ground when bringing the net down toward the lobster
Underwater Dive Flashlight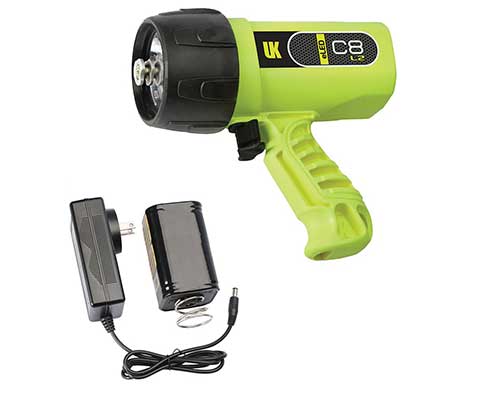 Shop or Read Reviews
This underwater dive flashlight has two settings – 400 or 900 lumens. The run time is 20 hours or 5.8 hours respectfully. This light comes with a rechargeable battery back and is great for spotting lobster!
Dive Flashlight with Lobster Gauge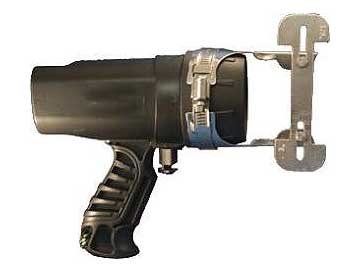 Shop or Read Reviews
The lobster gauge and attachment on the underwater dive flashlight is handy for checking the lobster size. The gauge has a 3-inch and a 3-1/4 inch lobster measuring slots.
LED 20-Inch Light Bar


Shop or Read Reviews
This LED 20-inch light bar can be attached to the boat to provide light to search for spiny lobster at night.
Submersible Lobster Light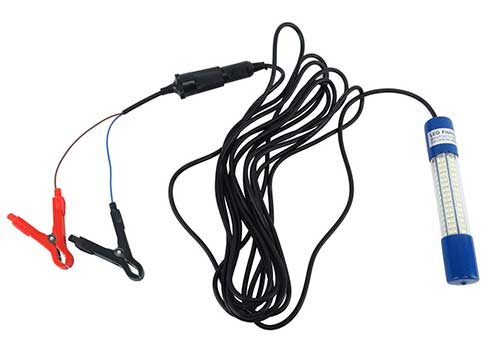 Shop or Read Reviews
A submersible underwater light is handy to help find lobster. This light comes with battery clips and attachment cord to power light from a cigarette outlet plug. or directly on a 12-volt battery.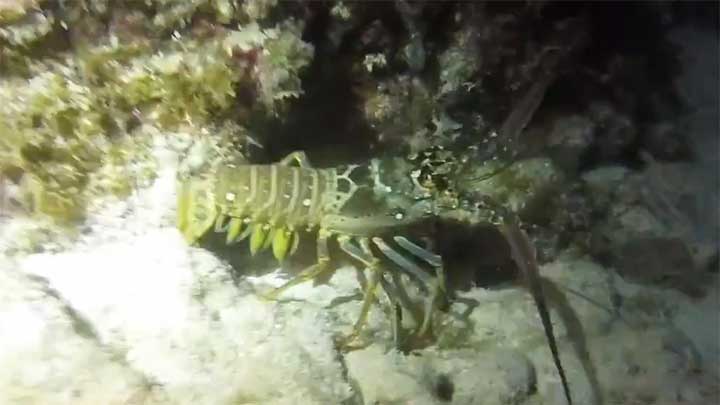 ---
3. Hoop Nets For Lobster
In California hoop netting for lobster is popular. A hoop net is placed in the water with bait. When a lobster comes for the bait the net is pulled up trapping the lobster. This is done at night time from small boats.
Lobster Hoop Net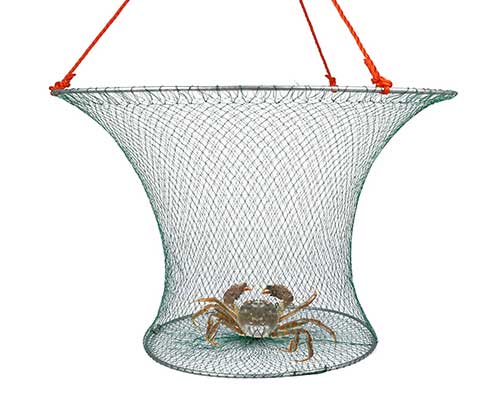 Shop or Read Reviews
The lobster hoop net with rope is a great way to catch lobster. This double-ring net has an outside diameter of 23.6 inches.
Hoop Net Bait Kit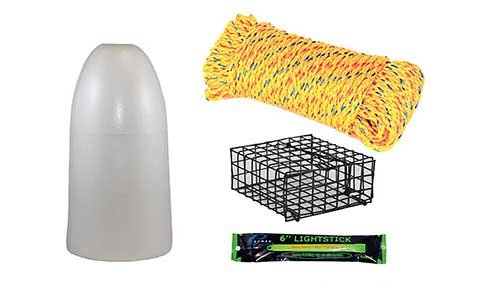 Shop or Read Reviews
This metal bait cage and also comes with a float and glow stick. This is to be used with a hoop lobster net. Using a bait cage is a popular way to set bait in traps and hoop nets.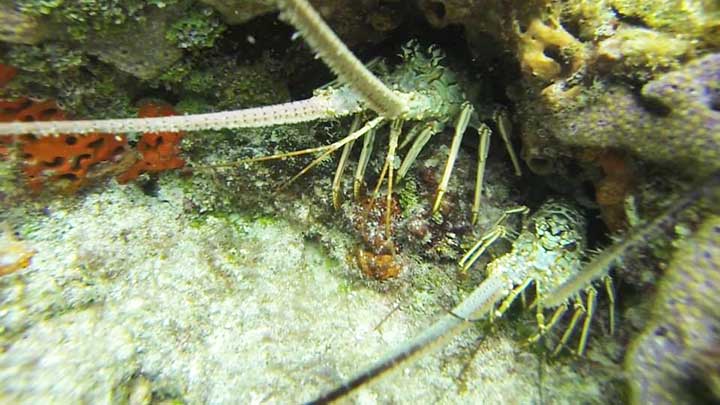 ---
4. Lobster Pots
Lobster pots can be made from metal or wood. Most pots are custom made to local specifications. For wooden pots weight such as metal or concrete is used to sink the pot. Lobster pots in Florida can only be used by boats with lobster permits for the boat and for each lobster pot. New pots are not typically sold to the public because they are built by commercial lobster fishermen. Here is some of the basic gear people use to place lobster pots.
Spiny Lobster Pots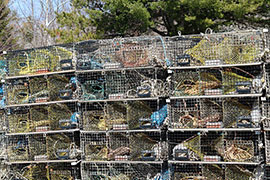 Metal mesh lobster pots or wooden lobster pots are used to commercially fish for spiny lobster. Pots are set in the ocean and are checked and re-baited at least once a week. Some boats check the pots every day.
Lobster Float Buoy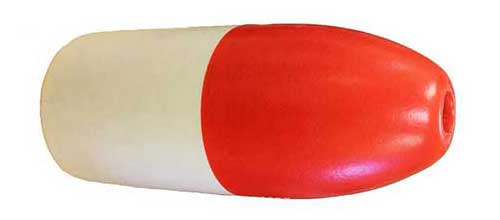 Shop or Read Reviews
An 11-inch or 14-inch float is used to mark where the lobster pot is located. Each company should also number each buoy marker.
Lobster Pot Rope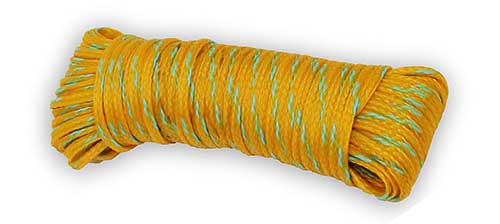 Shop or Read Reviews
A rope is used to attach the lobster pot to the float above.
Lobster Line Weight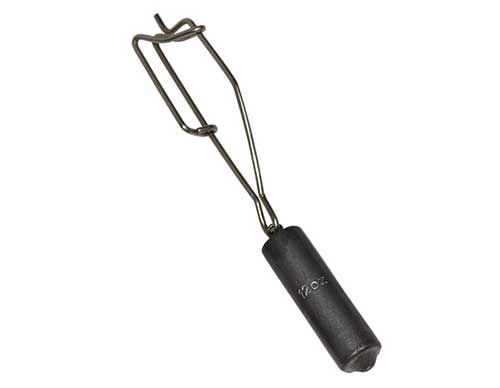 Shop or Read Reviews
A lobster line weight should be used if the line length is not very close to the depth of the lobster pot. Placing the weight on the line makes it so any slack in the line is not laying on top of the water where it will be more likely be caught in or cut by a boat prop. During the lobster season, there are lobster and crab floats everywhere on the reef and nearshore where there is lots of boat traffic. Having weight on the line is very important because boats frequently pass very close to the lobster pot floats.
Lobster Float with Lead Line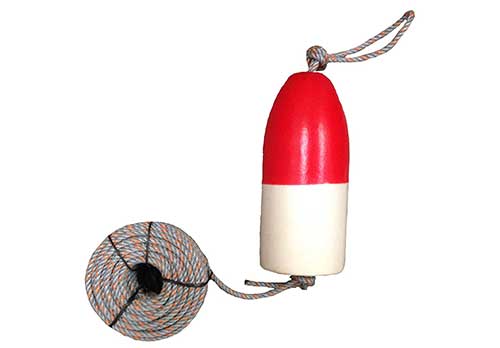 Shop or Read Reviews
Using a lead core line attached to the float also helps prevent the line from laying on the surface of the water.
---
5. By Hand with Lobster Gauge
When diving you can catch lobster by hand without any gear and bring them back to the boat or shore. A gauge is still needed and required by law to make sure the lobster is a legal size to keep. In Florida, the lobster carapace must measure 3-inches. In California, the lobster carapace must measure 3-1/4 inches long. Make sure you check the regulations in the area being fishing. Lobsters are measured from the eye socket to the end of the carapace which is the end of the hard body where the tail begins.
It is illegal to keep a lobster that has eggs. Lots of lobsters have eggs. To check look under the tail. The bottom of the tail will be covered in dark brown eggs if it has them. Make sure to measure lobster and check for eggs before bringing the lobster into the boat if you are scuba diving or snorkeling.
Spiny Lobster Gauge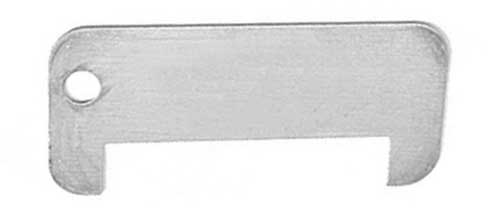 Shop or Read Reviews
This is a metal lobster gauge for measuring the lobster carapace. A metal gauge is better than a plastic gauge because it will stay true over time.
Mesh Lobster Bag with D-ring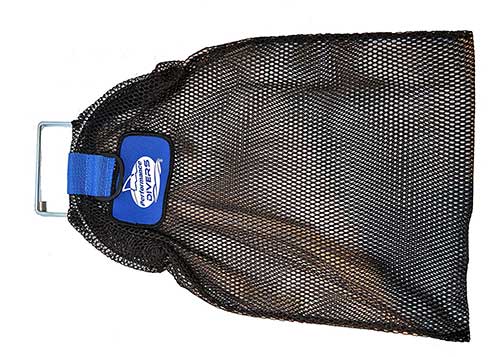 Shop or Read Reviews
A lobster bag consists of a galvanized wire handle with a D-ring and a mesh storage area.
When freediving a mask,  snorkel, and fins should be worn.  A dive belt and weights can also be worn to make diving easier if you are an experienced diver or if you are wearing a wetsuit and need weight to be able to swim beneath the surface.
Thanks for visiting Global Fishing Reports. I hope these suggestions help you catch more lobster!
If you have any suggestions for the best way to catch spiny lobster, leave a comment below!
---
Popular Posts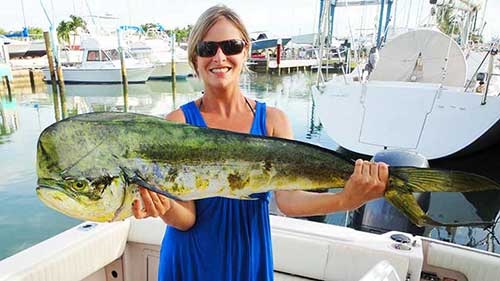 27 Best Mahi-Mahi Lures by Captain Cody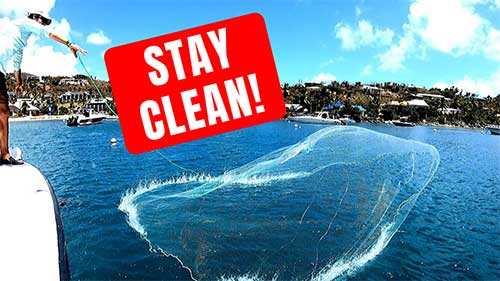 23 Best Cast Nets by Captain Cody
Captain Cody has worked on charter fishing boats in the Florida Keys, Virgin Islands, and Alaska. Growing up in Pennsylvania Cody has also done extensive freshwater fishing including bass fishing tournaments. Cody strives to provide detailed information about the best fishing gear and tactics to help both novice and experienced anglers have a more productive and enjoyable time on the water. Cody also has a background in aerospace engineering and neuroscience but really only takes pride in being good at one thing and that is fishing!