Wahoo are one of the most exciting fish to catch. During the first run after a bite wahoo peel line off the reel as if it were a giant shark.
Wahoo are found in tropical and subtropical waters around the world in water as shallow as 50 feet deep.
Wahoo as generally scattered about and not in large schools. These fish are often found in the same waters as tuna, mahi and billfish and bite on similar baits.
This can be problematic because wahoo have sharp teeth and typically require a steel leader to be caught. They primarily eat fish and squid. High speed trolling for wahoo is a popular fishing method used to catch wahoo.
This can be utilized when traveling to and from fishing spots. Capable of reaching speeds of 60 mph wahoo can easily hit lures traveling at 18mph. When traveling in typical 2-4 foot waves, 18mph is an average transit speed so being able to fishing for wahoo during these times makes good use of what would otherwise be wasted fishing time. Trolling this fast is not a trivial task however and heavy lures and reels with quality drag are needed.
Wahoo can also be caught vertical jigging or trolling deep diving plugs. Below I listed the top five lures for wahoo and describe the fishing techniques to use each lure. These methods are productive and fun ways to catch wahoo!
Here Are the Best Wahoo Fishing Lures
A skirted squid bait with a heavy lead head it the easiest way to get started fishing for wahoo. Attach the rig to a hefty pole and a 30-80 class reel and you are ready to go wahoo fishing. A 50 class reel is a great size! Troll speeds of 14 to 18 mph are typically used with the lure 400 to 600 feet behind the boat. Ideally, the lure is really far back and surfacing occasionally but generally under the water. If fishing for wahoo is only done during transit one or two poles is probably all that can be quickly set out. If targeting wahoo for the day as many as six lines can be used.
A Wahoo Elimator is 13 inches long with a 1.5 pound head, 400lb cable and two 10/0 hooks.
Wahoo Wackers and other large squid baits are a great way to catch Wahoo. Make sure the baits are setup with cable (see recommended setup below).
If targeting both wahoo and other fish such as tuna cable should at least be used to attach the hooks within the squid bait. To get the rigs below the surface heavier weights are used closer to the boat and lighter weights are used further back. Up to a 48-ounce weights are used with short lines under around 200 feet and 16-ounce weights are used on far lures set out 400 feet or more. This won't set the lures really deep but will get them under the water for the wahoo to see while also traveling at high speeds.
A 25 foot 250-pound mono shock leader is also a good idea when trolling with braided line. This leader is placed between the in-line trolling lead and the lure. This helps the setup have some stretch when the wahoo first bites.
I really like the C&H Wahoo Wacker lure (purple and black skirt). It's 11 1/2 inches long and has a 6-ounce head weight.
Recommend Setup for the 3 High Speed Trolling Lures Above:
I recommend using the in line trolling weight below with 900lb cable and 300-pound ball bearing swivels.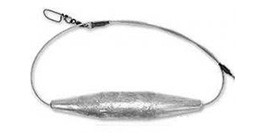 MagBay fishing shock cord, 4 leaders, 400 lb mono with heavy duty swivels. This shock cord is run between the trolling weight and the lure. If you are running without added weight and are using braided line it is still a good idea to all a shock line before the lure.
This Jet lure is 6 inches long and weighs 2.19 ounces. It is rigged with 5 feet of 90 lb coated wire and a size 8/0 hook. This skirted bait is available in a variety of colors.
The wahoo catcher works great on wahoo and mahi even with the wire leader. Works well at speeds ranging from 5 to 10 mph. This is a good lure to send out past other trolling baits when wahoo are around.
Next Up: Deep Diving Plugs
These lures can be trolled fast or slow. The 30s and 40s can be trolled at the higher 15 mph range but this is not required. A 7 to 12 mph trolling speed is better when traveling fast to a location is not the goal. Wire can be added at slow speeds but just using a big swivel to attach the lure offers some protection for the teeth of a wahoo while still being able to troll at high speeds.
The next lure can be used on a down rigger or on a planer at speeds up to 12 knots.
Yo Zuri Bonita's come it two sizes 6 3/4 inch, 6 3/8 ounce and 8 1/4 inch, 10 7/8 ounce. This lure is rigged with two single hooks on stainless steel ball bearing swivels.
The yo Zuri Bonita was one of the first high speed trolling lures. It can be trolled from 6 to 17 mph. A wire can be connected to the lure using a strong snap swivel. This lure can be pulled with or without an inline trolling weight. Since it can be trolled at high speeds it can also be used when trolling skirt lures at high speeds. The dark colors purple and red work particularly good on wahoo. This lure works good on big tuna as well when a steel leader is not being used.
Next Up: Deep Drop Jig Baits
Shimano Butterfly Flat-Fall Jigs, 80 grams up to 250 grams white silver and chart white.
Wire assist hooks are needed to protect against the teeth of a wahoo when jigging. A wire leader is also a good idea because fish almost always strike head first and the line is tied near the eye. A short 6 to 12-inch leader is all that is needed. A steel leader might not be needed if the line is tied to the rear end of the jig with the hopes of the wahoo biting during the drop. However, the jig would be backwards during the retrieve so adding a wire leader is the best option. Using wire assist hooks is important and needed when jigging for wahoo!
Most wahoo that I have seen caught were done so using trolling techniques with lures in the top 50 feet of water.
Jigging for Wahoo is a lot more work but is a challenge that many serious wahoo anglers enjoy. Wahoo are often found in depths up to 500 feet around structure such as wrecks, reefs humps or under sargassum weed and debris that is holding mahi mahi.
When fishing these areas always be checking the finder for fish in the 100 to 500 feet of water. If a fish is marked it is worth jigging. Dropping straight down and then reeling up quickly during the retrieve is the most efficient way to deep drop. Make sure a fast retrieve spinning reel is being used.
Jigging in areas that also hold tuna, kingfish and amberjack is a good idea because their will likely be more action. Jigging is often done in combination with chunking over wrecks and deep reefs when anchored up and flying kites for fish near the surface.
Thanks for visiting Global Fishing Reports. I hope these suggestions help you
catch more wahoo!
If you have any suggestions for top wahoo lures and baits, leave a comment below!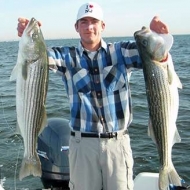 Captain Cody has worked on charter fishing boats in the Florida Keys, Virgin Islands and Alaska. Cody grew up in Pennsylvania and has also done extensive freshwater fishing including bass fishing tournaments. Cody strives to provide detailed information about the best fishing gear and tactics to help both novice and experienced anglers have a more productive and enjoyable time on the water. Cody also has a background in aerospace engineering and neuroscience but really only takes pride in being good at one thing and that is fishing!