Once a tripletail are located they are an easy and fun fish to catch. Typically you can see the fish in the water and pitch the bait to them and watch the fish strike.
A big tripletail will put up a good fight on spinning tackle. The difficult part of catching tripletail is finding them in miles and miles of blue ocean.
Typically fisherman are traveling to a fishing spot to catch pelagic fish species such as mahi-mahi, tuna, swordfish, or marlin and find tripletail along the way.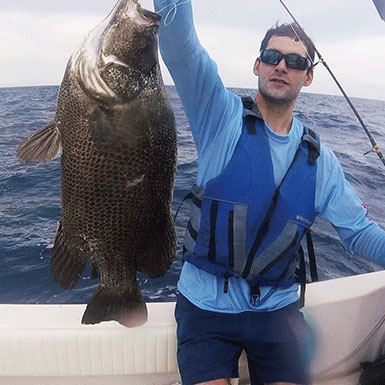 The key to locating trippeltail is finding debris in blue water. The debris could be a bucket, crate, pallet, piece of wood or clump of weed. If you find this type of debris in water with little debris or weeds for miles than there is a good chance that tripletail and other fish will be hanging out underneath the debris. Sometimes people think of debris as trash.
Once you find tripletail and schools of mahi mahi swimming around nearby you realize that you actually found treasure and the fishing is about to get exciting. Tripletail do not spook easily and the boat can drift close to the debris and fish. Drift close, find the biggest fish in the area, pitch a bait right in front of the fishes mouth and the tripletail will typically bite. If not, keep an eye on the debris and do more drifts with different baits until the fish does bite.
Fishermen get very excited about finding debris that might have tripletail because these fish are fun to catch and are delicious to eat. Tripletail have white flaky meat similar to a flounder or halibut. Tripletail also have very tough skin and scales so make sure you have a sharp knife when cleaning the fish. Below I will discuss the best lures and bait to catch tripletail.
Here Are the Best Tripletail Lures and Baits
1. Squid with a Circle Hook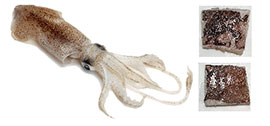 A piece of fresh squid is the best bait for tripletail!
The best bait I have found for tripletail is a small 1 inch piece of squid on a small hook. This can be hard to cast so light spinning tackle is best. Cast the squid right in front of the tripletail and it will typically takes the bait!
Owner Mutu Light Circle Hook size 4/0 works good with squid and live bait.
2. Live Bait on a Float

If live bait is available this another good option.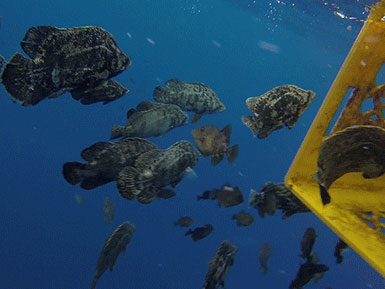 Put the bait three feet off a float so the bait cannot swim deep or get far away from the piece of debris being fished. Good bait includes shrimp, pilchards, pin-fish and ballyhoo.
A two inch slip peg float helps keep the bait near the surface where the tripletail usually are located.
Owner Mutu Light Circle Hook size 4/0 works good with live bait such as shrimp, pichard, pinfish and ballyhoo.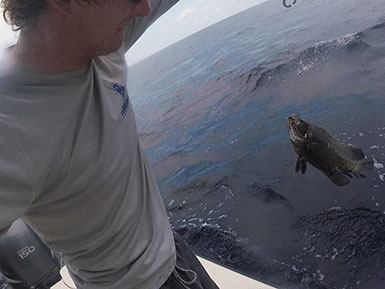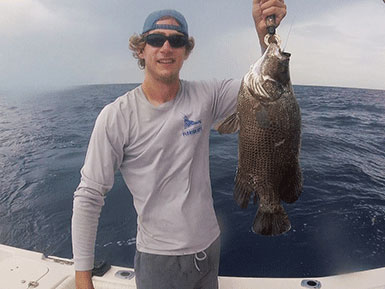 3. Ballyhoo on a J Hook
Often times when fishing for tripletail the primary target fish is mahi mahi. A J-hook and ballyhoo are always ready to go when fishing for mahi mahi. I found cutting a 1 inch piece of ballyhoo works better than pitching a whole ballyhoo to a tripletail. Pitching a whole ballyhoo near the debris as a first cast is good idea though because you never know what other big fish might be in the area.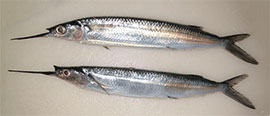 Cut a small one inch piece of ballyhoo as a pitch bait.
Mustad 3407 J Hook is the classic saltwater fishing hook. Size 6/0 would work for both mahi mahi and tripletail.
4. Baitfish Fly or Shrimp Fly

Flies would be a very fun and productive way to catch tripletail. The fish are typically are near the surface and will chase small baits in the area. A shrimp or small fish fly would be good choices to try.
Clouser Minnow and Deceiver Baitfish flies. These are meant to look like small baitfish.
Shrimp, squid and crab flies. Flies include bunky shrimp, mantis shrimp and pink squid.
5. DOA Shrimp Jig
Sometime fresh bait is not available and lures are needed. A good choice would be a DOA shrimp or small jig. Tripletail can swim deep so having someone dropping a jig in the area is always a good idea, you never know what other fish could be hangout out deep even if it is not a tripletail.
DOA clear shrimp 1/2 ounce.
Spro bucktail jig 1 ounce, jig can be tipped with shrimp or squid.
Lastly be patient when fishing for tripletail and enjoy the experience. If you catch one or two on dead bait switch to a fly for a challenge. If kids are on the boat have light tackle is available to make the fishing easier and more enjoyable.
Thanks for visiting Global Fishing Reports. I hope these suggestions help you catch more tripletail!
If you have any suggestions for top tripletail lures and baits, leave a comment below!
Captain Cody has worked on charter fishing boats in the Florida Keys, Virgin Islands and Alaska. Cody grew up in Pennsylvania and has also done extensive freshwater fishing including bass fishing tournaments. Cody strives to provide detailed information about the best fishing gear and tactics to help both novice and experienced anglers have a more productive and enjoyable time on the water. Cody also has a background in aerospace engineering and neuroscience but really only takes pride in being good at one thing and that is fishing!