I have fished for halibut in Juneau Alaska and Sitka Alaska. Halibut are the prized fish of the North Pacific Ocean.
Halibut get huge, fight hard and are great eating fish! Fishing for halibut can be difficult or easy depending on location, time of year and currents. What makes fishing for halibut difficult is that they are usually very deep and like to bite in strong currents. This means that a lot of weight is needed.
Drift fishing or anchoring with chum are the two main methods used to fish for halibut. Anchoring is the preferred method because a good scent trail can bring the halibut to the boat from miles away.
Below, I have listed my favorite baits, lures, and rigs, and how tips on how to catch halibut.
I would suggest drift fishing in a new area until a few halibut are caught and a pattern can be established where the fish are located. Halibut are typically found in sand flats and gravel flats located near what people in Alaska call rock piles but what I would typically refer to as a hump or underground mountain.
The current around rock piles can cause eddies that trap bait. The halibut stay near the bottom often behind some bottom structure in this area and try to ambush prey. Halibut tend to sit on one side of the rock pile, typically the up current side of a rock pile. If you find a good spot where halibut are biting it will probably only be good in that specific spot when the tide is flowing in the same direction.
When drifting using heavy jigs or mooching rigs with herring can be used. When anchoring it is good to keep lots of smelly baits down. Baits can include herring, pollock, ling cod heads, salmon bellies, salmon guts, pink salmon or octopus. If only one or two poles are used a chum bag on the bottom is a good idea to keep a scent line going. Having someone jigging also helps keep action in the water which helps attract fish. Moching while anchored is also a good idea, you can catch salon on the way down and halibut once the rig is on the bottom. Listed below are the top five lure and baits for halibut. Large non-pelagic rockfish, lingcod are often found in the same area as halibut and these baits work well for them.
Here Are the Best Halibut Lures, Baits, and Rigs
1. Mooching Rig with a Large Weight

A mooching rig on the bottom is probably the best halibut rig out there to catch halibut that are under 38 inches in length.  A hoochie can be added to the rig or it can be fished with a herring. If the current is very strong like it is in Juneau Alaska you will need to add more than the typical 6-ounce weight of a mooching rig.
2. Spreader Bars or Halibut Rig

Having a rig down with a large weight and large circle hook is a must when fishing for halibut. Mostly because you can put lots of smelly bait on the hook to get the fish traveling your way. If you are in an area with lots of small halibut this can help weed through the small ones and only have the bigger fish eat the bigger bait. Typically it is good to have two big baits on the bottom at all times and then fish more rods with smaller jigs and mooching rigs. The large weight and circle hook can be on a spreader bar rig. The easier way to make a halibut rig is to place the large weight on a swivel between two knots on 12 inches of gangion line. That gangion is attached to a barrel swivel which is tied to an 18-inch monofilament leader line.     
Swim Jigs are great baits for halibut fishing especially when drifting. Large jigs usually catch large fish so adding a teaser allows for the smaller halibut to be caught. A teaser is added by tying a hook on the leaser about two feet above the jig. This is done by tying a dropper loop into the leader line.
4. Heavy Halibut Jigs
Heavy jigs work great for halibut. A teaser as described above can also be used with these jigs. Tipping the jigs with bait such as a strip of salmon belly or strip of the cod belly is helpful because it adds scent. A piece of herring can also be used but would be more likely to come off the hook.
Thanks for visiting Global Fishing Reports. If you have any questions about how to catch halibut feel free to leave them below.
If you have any suggestions for top halibut lures and baits, let me know below.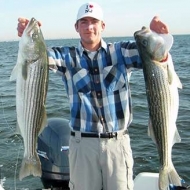 Captain Cody has worked on charter fishing boats in the Florida Keys, Virgin Islands and Alaska. Cody grew up in Pennsylvania and has also done extensive freshwater fishing including bass fishing tournaments. Cody strives to provide detailed information about the best fishing gear and tactics to help both novice and experienced anglers have a more productive and enjoyable time on the water. Cody also has a background in aerospace engineering and neuroscience but really only takes pride in being good at one thing and that is fishing!