Global Fishing Reports provides information on where and how to catch fish. This is done in articles and in youtube videos made by captain Cody. If you want to submit a fishing report you can contact captain Cody and globalfishingreports@gmail.com. The reports should include photos and details about a specific fishing trip.
If you are interested in learning how to catch different types of freshwater fishing check out the articles about bass, crappie, and trout.
To learn how to catch saltwater fish check out the articles on mahi-mahi, wahoo, tuna, and salmon.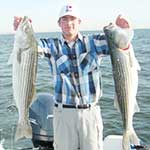 Captain Cody has worked on charter fishing boats in the Florida Keys, Virgin Islands, and Alaska. Growing up in Pennsylvania Cody has also done extensive freshwater fishing including bass fishing tournaments. Cody strives to provide detailed information about the best fishing gear and tactics to help both novice and experienced anglers have a more productive and enjoyable time on the water. Cody also has a background in aerospace engineering and neuroscience but really only takes pride in being good at one thing and that is fishing!