Personal Locator Beacons (PLBs) emit a distress signal in the event of an emergency offshore or on land. PLBs are generally thought of as small handheld Emergency Position Indication Radio Beacons EPIRBs. The main difference between the two is that an EPIRB is registered to a vessel and PLB is registered to a person. A PLB is a small device that has to be manually activated and can emit a distress signal for a minimum of 24 hours. EPIRBs are larger, can automatically deploy and activate if a boat sinks, and emit a distress signal for a minimum of 48 hours.
People have started to call devices with other handheld GPS technologies PLBs as well. These devices are also registered to a person and can send a distress signal in an emergency. These devices include Garmin inReach units, Spot satellite messengers, AIS man overboard beacons, and VHF handheld Marine Radios. Some of these technologies require monthly fees and some do not require monthly fees.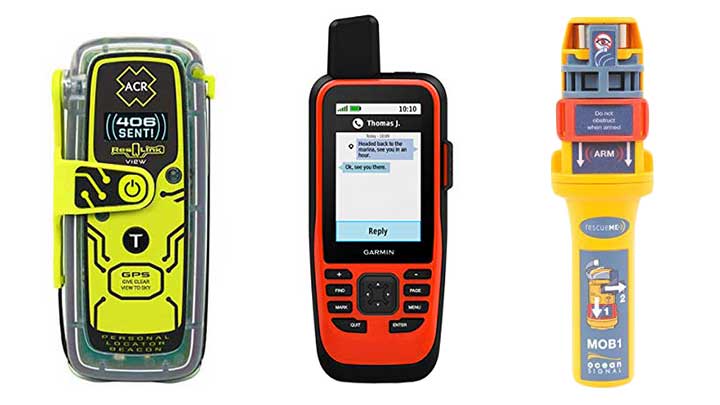 For boating and fishing, I recommend having a PLB that emits a 406 MHz distress signal using satellites and a 121.5 MHz homing signal. This type of beacon is registered with NOAA and does not require any subscription fees. The distress signals are monitored by government organizations around the world.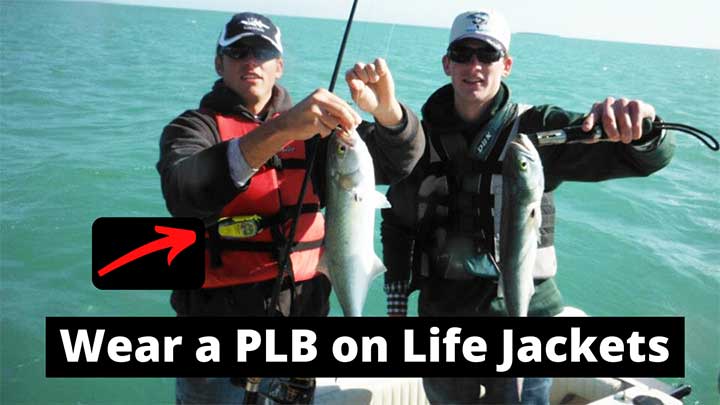 In the photo, my brother and I are fishing in Florida. He is wearing a PLB on his life jacket. In this case, it is placed through the strap of the life jacket. PLBs also fit well in zipper pouches on life jackets. Wearing a PLB is ideal because in the event a person falls overboard help can be quickly contacted. This is a must-have device when fishing on a boat offshore.
Here Are the Best Personal Locator Beacons (PLBs)
---
1. ACR PLB 425 View ResQLink Buoyant Rescue Beacon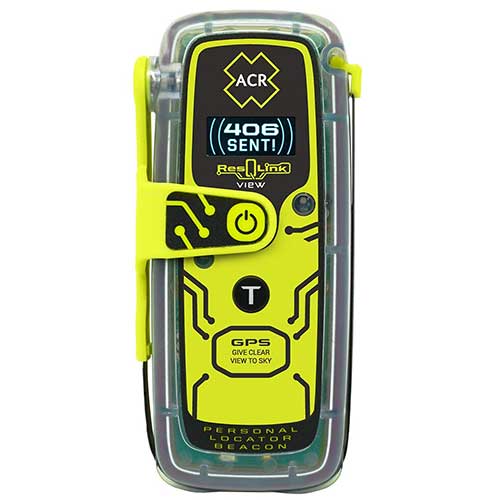 The PLB View is the latest model by ACR and is the best PLB on the market in my opinion. This beacon emits a 5 Watt 406 MHz distress signal and a 50 mW 121.5 MHz homing signal. This unit contains a built-in display that provides the status of the signal and GPS coordinates during an emergency. When testing the unit the display is also helpful.
The battery life is 28 hours and is certified for 5 years. This PLB is waterproof at 33 feet for ten minutes. Its dimensions are 4.25 x 2.03 x 1.49 inches and the weight is 5.22 ounces. There are loops on the PLB so the device can be put on straps of a life jacket.
This beacon is the smallest floating PLB on the market. The rescueMe PLB 1 is considerably smaller but does not float. Registration of the beacon is free and there are no added expenses after the initial purchase except a factory replacement of the battery every 5 years.
We typically just buy a new unit every few years and keep the old units on the boat as back-ups. Typically a better smaller unit comes out every 5 years anyway. The ACR PLBs have a track record of being reliable and are small enough to easily wear on a life jacket. Even if you are not wearing the life jacket at all times having these on a life jacket in an open area makes them much more accessible in the event of an emergency.
The 406 MHz distress signal contains the device location within 100 meters and the serial number of the PLB. The ground station is able to look up who that device belongs to and try to contact the registered person and their emergency contacts to verify the emergency. Typically rescue crews can be contacted and be on the way to assist people within 30 minutes from the initial distress call. EPIRB and PLB rescue beacons have been used in over 30,000 rescues.
In the video above I show how to use a PLB in the event of an emergency. I also discuss competing technologies such as Garmin inReach, Spot, and AIS systems. How to test the unit to verify it is working properly is also presented.
Coast Guard Inspected Vessels that carry more than 6 people and are licensed to go more than 3 miles offshore are required to have a category 1 EPIRB. Recreational boats and most charter fishing boats are not required to have an EPIRB or PLB. It is however very important to have at least one rescue beacon on the boat. Ideally, the boat would have a category 1 EPIRB and a PLB for each person on board.
---
2. ACR PLB 400 ResQLink Buoyant Rescue Beacon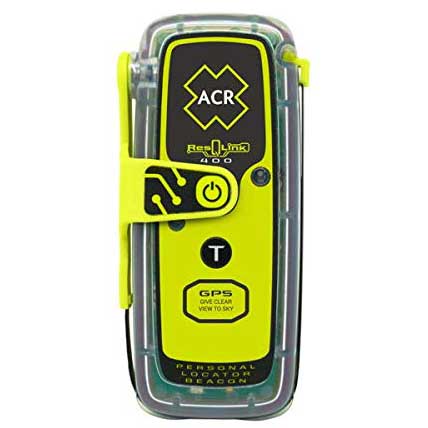 This PLB 400 is very similar to the PLB View above but does not have a built-in digital display. The battery life is a minimum of 24 hours compared to 28 hours for the PLB View. Dimensions and weight are the same for both units at 4.25 x 2.03 x 1.49 inches and the weight is 5.22 ounces. The battery is certified for 5 years. This PLB is waterproof at 33 feet for ten minutes.
The unit is the new version of the widely used ACR PLB 375 that is no longer being manufactured. An IR and visible light strobe are built into the front of the unit. This help rescue crews find the device location once at a viewable distance.
The device and sends a 5 Watt 406 MHz distress signal and a 50 mW 121.5 MHz homing signals for 24 hours. The homing signals allow avionics equipment in a rescue helicopter to know the direction of the signal. Rescue crews can then head straight in that direction. Once the signal flips it means they passed the location. At that point, crews begin to look for people in distress. Having a strobe or flare helps in low light and adverse weather conditions.
Two clips come with the device. One is a belt clip that allows the PLB to be worn on the waistband or clipped on a pocket. The second clip has a clamp that can be connected to the inflator tube on lifejackets. Placing the PLB in a zipper pouch of a life jacket is a great way to wear the device.
In the video above a center counsel boat sinks in rough seas at an inlet. Watch how fast the boat capsizes and sinks. There would be little or no time to get rescue equipment. That is why it is important to be wearing a life jacket with a PLB in the pocket. I will go over other reasons to have a PLB later in this article.
---
3. Ocean Signal PLB RescueMe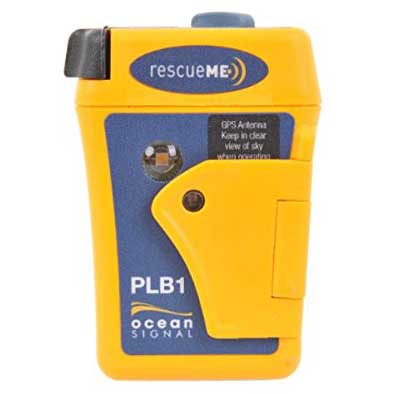 This ocean signal rescueMe PLB has Dimensions of 1.3 x 2.0 x 3.0 inches and the weight is 4.1 ounces. The battery life is a minimum of 24 hours when in use and the storage life is 7 years. This PLB is waterproof to 49 feet deep. The device emits a 5.0 Watt 406 MHz signal with GPS coordinates and a 25-100 mW 121.5 MHz homing signal.
This PLB has a 66 channel GPS receiver and operates on the Global Cospas Sarsat rescue system. This has similar functionality and specifications to the ACR PLBs. The advantage of this device is that it is the smallest PLB in the world. This makes it easier to contentiously have on your person while on a boat. The PLB does not float on its own but has a flotation pouch to fit the PLB into which enables it to float. This seems like a great option for PLB.
I think the ACR PLB is a better overall device but the size of this one makes it a good option. These devices are only useful if you have them with you during an emergency. The small size of this device makes it so it can be easily carried without causing any major inconveniences.
The black knob makes it so the antenna can be easily pulled out to deploy. The gray knob on top can be hand-wound to contract the antenna back into the case. A spring-loaded flap covers the activation button preventing inadvertent use.
In the video below a boat capsizes after hitting something while boating in the ocean. An ACR PLB was used to send a distress signal. A Cost Guard helicopter crew came to assist the boat. It is interesting to watch the Coast Guards response. Both the Coast Guard and people in distress did a great job.
---
4. McMurdo PLB Fast Find 220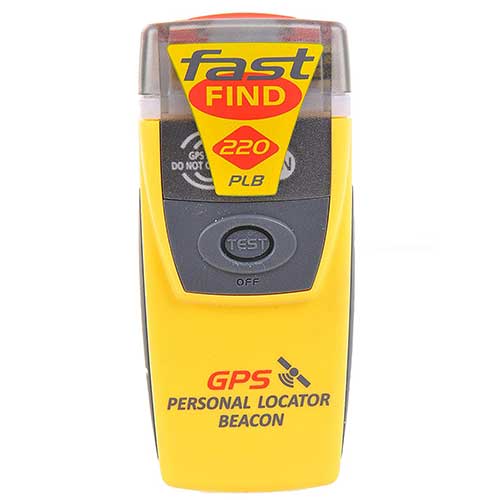 McMurdo Fast Find 220 PLB. Dimensions are 1.34 x 1.85 x 4.17 inches and the weight is 5.4 ounces. The battery lasts for a minimum of 24 hours when in use and had a battery storage life of 6 years. The device is waterproof to 30 feet for 5 minutes. This beacon emits a 5 Watt 406 MHz distress signal and a 50 mW 121.5 MHz homing signal.
This is another good option for a PLB and is widely used in Australia. The device has US programming and can be registered with NOAA. It has similar specifications to the ACR PLBs. The device does not float. However, it does come with a floating pouch that the PLB can be stored in. The cap has been reported to be difficult to remove in emergency situations.
In my opinion, this is a well designed PLB but does not have any standout features compared to the other devices mentioned above.
---
5. Micro PLB Personal Locator Beacon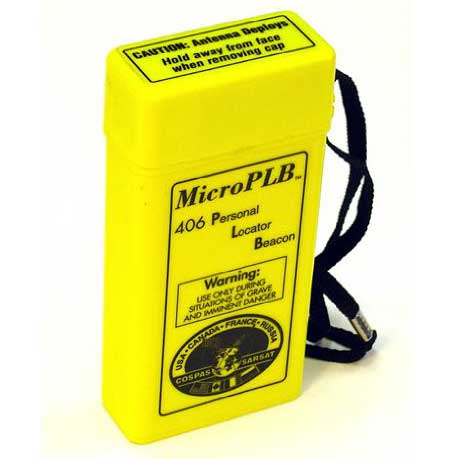 The mico PLB has a 48-hour minimum operation time and a 5-year shelf life. This PLB weighs 8.11 ounces and has dimensions of 4.75 x 2.3 x 1.1 inches. Distress signals are a 5 Watt 406 MHz GPS signal and a 121.5 MHz homing signal. The water-resistant specification is no leakage at a 1-meter depth of water for 1 hour.
The Micro PLB was the first available for sale in 2003. It is built by Microwave Monolithics Incorporated that is based in Simi Valley, CA. This PLB is frequently marked for its small size showing it has a very similar profile to a pack of cigarettes. MicroPLB was the first PLB ever certified for civilian use by the COSPAS-SARSAT satellite network.
---
6. GME PLB AccuSat 406 GPS PocketPro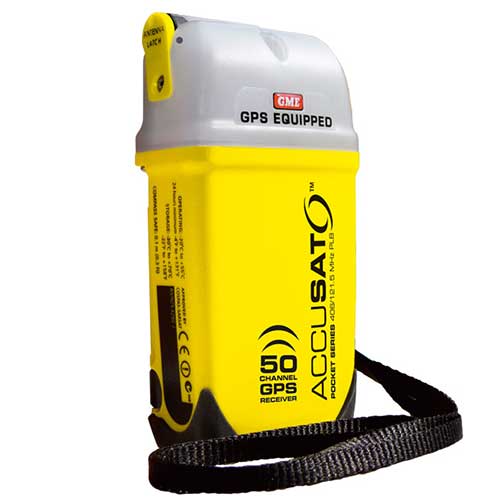 The AccuSat PLB is built by the Australian company GME. This PBL has a minimum operational time of 24 hours and 7-year battery life. Distress signals are sent at 5 Watt 406 MHz and 50mW 121.5 MHz. The waterproof specification is IP67 which is submersion at 1 meter for 30 minutes.
This is an older model PLB and at 8.82 ounces is heavier than all the other PLBs on the list. The 50 channel GPS receiver is more than the 16 channel in the original AccuSat. However, most PLBs today have 66 channel GPS receivers.
---
7. Garmin Marine 86SCI Floating Handheld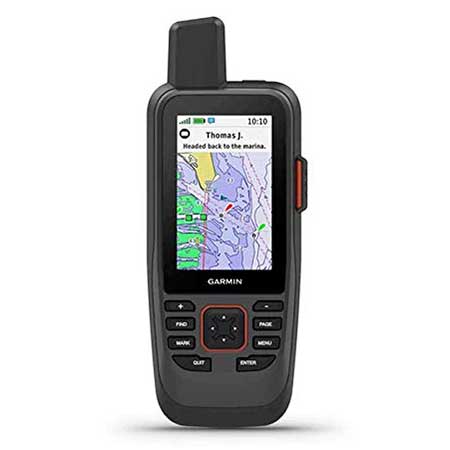 This Garmin Marine 86Sci is a buoyant two-way satellite messaging device. A subscription fee is required. Dimensions are 7 x 2.74 x 1.7 inches and it weighs 9.59 ounces. The rechargeable battery life varies based on the setting but is around 35 hours in a 10-minute tracking mode and 200 hours in expedition mode. This device has an IPX7 rating which means it is suitable for splashes, rain, snow, and showering but not being submerged in water. Measured diagonally the size of the display is 3 inches. A powered mount and mounting hardware come included.
Specific features of the Garmin 86Sci make it well suited for a marine environment. The large profile allows the device to float. Preloaded G3 coastal charts provided detailed depth counters using both Garmin and Navionics data. Garmin One Chart and new chart guarantee have to be purchased separately if desired. Carts that come with the device should work for most people. Lastly, the device is compatible to work with other Garmin chart plotters and instruments. Although this a good device to have in a marine environment it is not a good replacement for a 406 MHz PLB. One of several reasons is that the battery on the Garmin could be zero and not work in an emergency. Having a dedicated battery with a five-year shelf life is an important feature for an emergency rescue beacon.
There are three other versions in the Garmin 86 series. The differences are that the 86i is compatible with but does not include the G3 charts. Garmin 86s and 86sc do not have two-way satellite messaging and do not have the SOS distress feature. There may be other small differences as well.
Garmin Marine GPSMaps
Blue chart G3 is the latest marine chart for handheld devices. Depth shading can be user-defined for up to 10 depth ranges. Counter lines can be set as small a 1 foot. These are map features we have come to love on fixed mount navigation displays on boats. The handheld unit works as a great back navigation source when traveling in shallow unmarked waterways. With the fixed mount and proper wiring, it can even work as a small primary navigation unit.
Garmin Network Connections
The Garmin 86Sci can interface with Garmin chart plotters and instruments. It can even work as a remote control for the Garmin autopilot and Fusion Marine products. Real-time boat data can be displayed on the unit's screen. An additional app does need to be downloaded to the device for the autopilot feature. Notifications can be sent from a compatible smartphone to the device. Updates can be pushed to the device over BLUETOOTH. When synced with Garmin Explore management can be done of waypoints and tracks. The autopilot feature can be a nice way to control the boat when on the front or back deck and not immediately near the controls.
Features Available for All Garmin Handheld Units
Garmin Two Way Satellite Messaging
Custom text messages are a nice way to communicate with friends and family. In non-emergency situations, a friend can be contacted without involving emergency rescue crews. Tracking allows friends and family to track the user's location and find them in the event the user is unconscious and can not send a distress signal. Satellite text message services are a great alternative to expensive satellite phones.
Garmin devices use the private Iridium satellite network that includes 66 low earth operating satellites and has 9 in-orbit spares. This offers decent global coverage for these devices. Messages are not sent instantly and coverage can be blocked by heavy canopies, trees, steep terrain, and valleys.
Garmin SOS Distress Signal
The SOS button on this device is behind a plastic cover so the button is not accidentally pushed. In an emergency, once the button is pushed it sends a distress message with the device location to a ground station. When possible the nature of the emergency should also be sent after the initial distress signal. The emergency services can also respond back with updates and advice for your situation. This is an advantage over 406 PLB where emergency control stations do not have a way to respond back to the user. However, since 406 PLB and EPIRB devices are only to be used in life and death situations the distress signal is taken seriously and help is typically sent ASAP.
Garmin handheld devices do not send a 121.5 MHz homing signal. This band frequency had historically been used by satellites to triangulate the position of a beacon. This signal is not used by satellites anymore but is used by avionics equipment in helicopters to quickly locate the beacon that emits the signal. This is one disadvantage of a Garmin device compared to 406 style beacons during rescue situations.
Garmin Weather Reports
Garmin devices also have basic and premium weather report options. The basic report is a 48-hour report broken down in 2-hour increments for day one and 6-hour increments for day 2. Premium forecasts provide a 7-day report in 1-2 hour intervals for the first day, 3-6 hour intervals for day two, and then 12-hour intervals.
Premium forecasts also have a Marine option. These include a 7-day forecast in 4-hour intervals. The wind direction, wind magnitude, wave height, ocean current, and visibility details are provided for the selected location. Premium weather reports cost $1 per report. Standard weather reports cost 1 text message against your plan. Weather reports are very nice when boating. However, most of them can be found free using VHF radio weather channels.
Garmin Handheld Tracking
Tracking intervals can be set at low 2 minutes with the expedition subscription and 10 minutes with the basic subscription. A 4-hour interval is the longest interval but tracking can also be turned off to save battery. There is a power save mode that does not send the signal if the device has not traveled more than 100 meters in 4 hours.
Garmin has a computer interface the displays the tracking information on a detailed map. When messages are sent the text can also be read with the map interface. This allows family, friends, or a company to track the location of the device. It also allows you to go back later and see where you traveled.
Garmin Handheld Subscription Costs
An annual safety Garmin subscription cost varies from $11.5 dollars per month which include 10 text messages and costs 50 cents for each text message after that. The annual expedition plan costs $65 dollars per month and includes unlimited text messaging and two-minute tracking intervals. The only additional cost would be for premium weather reports. Annually the subscription cost varies from around $144 to $600. Freedom monthly subscription plans without annual contracts are also available at higher monthly costs.
The tracking interval on the plans is 10 minutes or greater or 2 minutes or greater. In most cases, people are not going to want to track users in time intervals of less than 10 minutes. The main problem with short tracking intervals is that it uses the battery much faster. Therefore the tracking interval is not a major deciding factor when selecting plans.
---
8. Garmin InReach Mini 2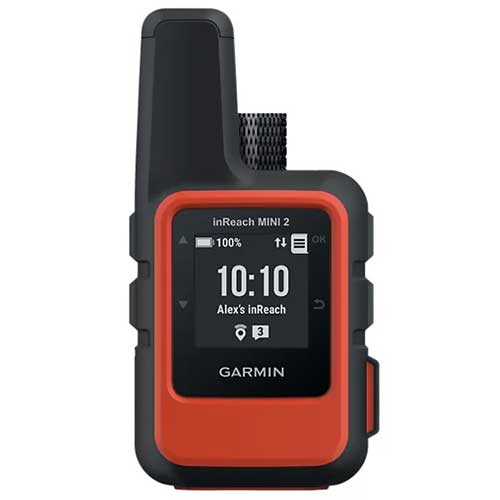 The Garmin inReach Mini 2 is able the send two-way text messages and interactive SOS messages using the Iridium satellite network. Monthly subscription fees are required. The device is 4 x 2 x 1 inches and weighs 3.5 ounces. Battery life varies based on the settings but is around 50 hours in a 10-minute tracking mode. The device is less than half the weight of the other inReach devices but the battery life is also less than half. This device has an IPX7 rating which means it is suitable for splashes, rain, snow, and showering but not being submerged in water. 
Many features of the inReach Explorer+ are also available on inReach Mini. Basic and premium weather can be sent to the device upon request for a fee as discussed in the Explorer review. GPS based tracking intervals let you share your location with friends and family. The position is sent at a preset time interval or when a text message is sent. Preset messages are free for all subscription levels and when sent will also show the device location. This is a way to build a track history without having a set interval selected. This can significantly save battery life because if a message does not send when tracking is enabled the device continuously tries to send the message which can drain the battery quickly. Charging the device is done via the micro USB power cable or optional in-vehicle 12-V charger.
---
9. Garmin GPSMAP 66i GPS Handheld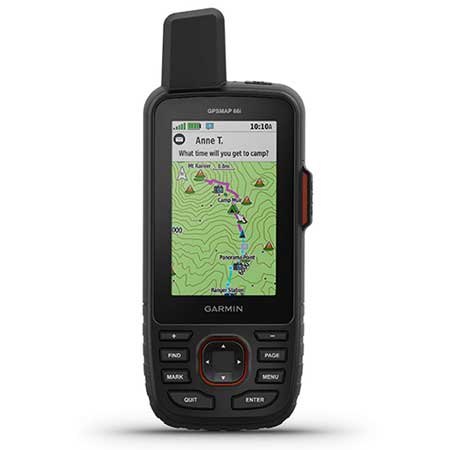 This Garmin Marine 66i is a two-way satellite messaging device. A subscription fee is required. Dimensions are 6.4 x 2.6 x 1.4 inches and weigh 8.5 ounces. The rechargeable battery life varies based on the settings but is around 35 hours in a 10-minute tracking mode and 200 hours in at 30-minute tracking intervals. This device has an IPX7 rating which means it is suitable for splashes, rain, snow, and showering but not being submerged in water. The display is 3 inches measured horizontally. A powered mount and mounting hardware come included.
This is basically the same unit as the marine 86Sci reviewed above but has a smaller profile so it does not float. Preloaded TOPO maps come installed on the device rather than Marine charts. It also does not interface with other Garmin marine products.
Sensors in the device include a barometric altimeter and a 3-axis tilt-compensated compass. The device can also be paired with a mobile phone to access all the device features and send messages with your phone's keyboard and contacts. This makes messaging a much faster process.
---
10. Garmin InReach Explorer+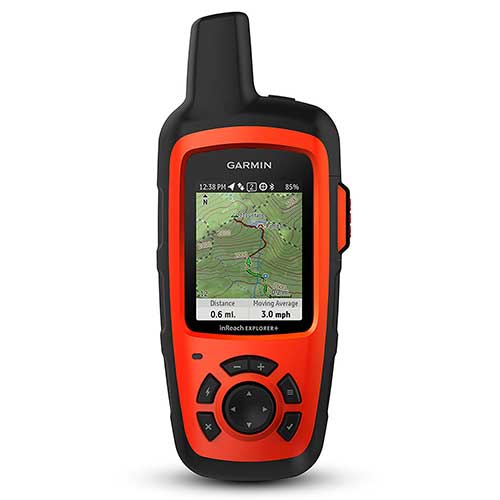 This inReach Explorer+ had dimensions of 1.5 x 2.7 x 6.5 inches and weighs 7.5 ounces. The display size is 1.4 x 1.9 inches. It has a rechargeable lithium-ion battery that lasts 75 hours at 10-minute tracking intervals and 30 days at 30-minute tracking intervals. The SOS button sends distress signals to a private GOES International Emergency Response Coordination Center who then contacts emergency services. This device has an IPX7 rating which means it is suitable for splashes, rain, snow, and showering but not being submerged in water. This device transmits to the privately-owned low earth orbiting Iridium satellite system.
The main features of Garmin inReach devices are satellite text messaging, remote tracking of the device, navigation, and weather reports. Messaging and tracking features of this unit are very useful but this is not a good replacement for a 406 style PLB or EPIRB during a true emergency. The battery of an inReach device could be zero and not work during an emergency. A stand-alone rescue beacon that has a 5 plus years shelf life is important to have during many types of emergency situations. Also having a satellite messaging device like an inReach is a good idea when going on multi-day trips in locations where typical communication methods are not an option.
Garmin inReach Maps and Tracking
InReach Explored also has GPS navigation and preloaded TOPO maps of the united states. Detailed maps of certain areas and other locations around the world can be uploaded online. There are better stand-alone GPS units that are better for primary navigation like the Garmin eTrex 30. Another benefit of using a standard alone unit is to not drain the battery of the inReach satellite messenger device.
My dad went Elk hunting last year by himself in a remote area that did not have cell phone reception and I kept in contact with him using this device. He sent custom text messaging twice a day and had 4-hour tracking intervals setup.
The location is only able to be tracked when a message is sent or when a tracking interval has been reached. He set the tracking points to updated every 4 hours to save battery. Using the device in advance, he realized that short tracking intervals quickly drained the battery. Since he was on a multi-week hunting trip extending the battery life was important. The device operates on a custom size rechargeable battery which is actually really annoying. He had to purchase external charge packs and solar panels for the needed extended use of the device in remote areas.
I tracked my day with the computer website for the device. The interface was pretty easy to use but it was sometimes difficult to get the latest points to update.
---
11. Garmin InReach Se+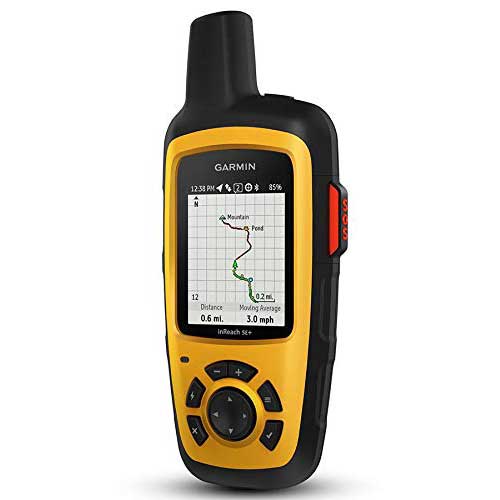 This inReach Se+ is a very similar unit to the Explorer+ reviewed above but has fewer features. The features not included in this unit include preloaded maps, on-screen GPS routing, barometric altimeter, and accelerometer. This device is about $150 cheaper and if it is only used for satellite messaging not having the other features might not be an issue. Since we review the many features of inReach devices above the feature lost will be discussed to help determine if they are needed.
When properly calibrated the barometric altimeter can determine the attitude plus or minus 50 feet when at altitudes between -2,000 to 30,000 feet. I am not sure why this is needed as most GPS units provide an accurate elevation based on GPS data.
The SE plus does not have preloaded DeLorme TOPO maps. On the Explorer+ device, a topographical map of the entire United States is preloaded. Waypoints can be added using the SE+ add there are basic goto waypoint navigation functions. The Explorer+ has onscreen GPS routing and a built-in digital compass. An accelerometer within the Explorer+ helps determine the orientation and is better at holding an accurate bearing. If you have used handheld GPS units before you know that you have to be moving steadily to get proper device heading information.
All of these features are handy when hiking. However, if the device is only used for boating the Se+ having a lower cost makes it a good option. Most boats have dedicated navigation and chart plots with detailed depth contours. The SE plus or other hand help GPS navigation units are still important to have as a backup navigation unit when traveling offshore. Make sure to save the entrance to the marina in the handheld unit before departing.
---
12. Spot X Satellite Messenger PLB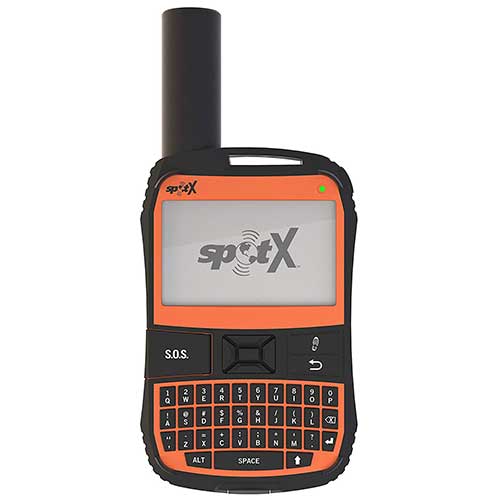 This Spot X can send two-way text messages and SOS distress messages to rescue centers. A monthly subscription fee is required. The dimensions of the device are 6.54 x 2.9 x .94 inches and the weight is 7.0 ounces. The waterproof rating is 1 meter for 30 minutes. Tracking intervals can be set at 2.5, 5, 10, 30, and 60-minute intervals.
Battery life varies based on operating conditions. With 2.5-minute tracking intervals, the battery is said to last less than 24 hours. With 10-minute tracking intervals, the battery is said to last about 10 days. If the device can not find its position because it does not have a clear view of the sky the battery will drain much faster.
Spot Distress Signal
SOS two way message coverage includes most of North America, South America, Europe, South Africa, and Australia. Hawaii is not in a coverage area. Spot Devices works off the Globalstar low-earth-orbit satellite system which is a privately owned satellite network. The network consists of 24 second-generation satellites. Out of the rescue networks available, this uses the fewest satellites.
Spot X Subscription Costs
Subscriptions cost vary with annual plans costs ranging from $12 a month with 20 custom text messages to $30 a month for unlimited text messages. A $20 activation fee is also required with annual plans. Flex plans are available from $15 and month for 20 custom messages to $40 a month for unlimited messages. A $20 activation fee and a $25 flex charge is required at the start of flex plans.
---
13. SPOT 3 GPS Messenger PLB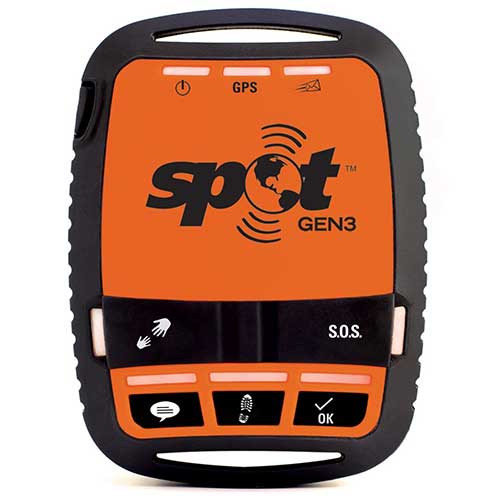 The SPOT 3 Satellite GPS Messenger sends one-way messages and SOS distress signals. A subscription fee is required. Dimensions are 3.43 x 2.56 x 1 inch thick and the device weighs 4.0 ounces. Batteries included are 4 AAA Lithium 8x batteries. NiMH AAA rechargeable batteries from Energizer can also be used. The device is waterproof at 1 meter for 30 minutes.
Tracking data can be sent at 2.5, 5, 10, 30, or 60-minute intervals. The SOS button sends distress information to the GOES International Emergency Response Coordination Center which then provides your GPS coordinates to emergency services. This only works if you have paid for the subscription service. Tracking can be set to send when moving and to not send when you stop moving. This helps to save battery and not send many tracking points for the same location during periods of rest.
Check-in options let you send a pre-programmed message with up to 10 contacts and the message includes your location. This check-in message gets sent when pressing the checkmark button. Another custom message can be sent to pre-programmed contacts using the message bubble button. A help message can be sent to pre-programmed contacts by pressing the hands reaching button. The hiking boot footprint initiates tracking. Lifting the SOS cover and pressing the button sends the distress signal to the Emergency Response Center.
Spot 3 Subscription Costs
Annual subscription costs are $12 a month and a $20 activation fee is also required with the annual plan. The flex plans cost $15 a month and a $20 activation fee and a $25 flex charge are required to start using the plan.
---
14. Ocean Signal DSC AIS RescueMe MOB PLB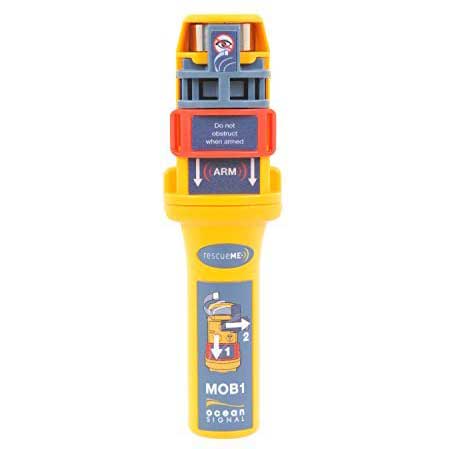 The Ocean Signal MOB1 sends an Automatic Identification System AIS and Digital Selective Calling (DSC) distress signal when activated. This device signal can be received by most modern AIS receivers and AIS enabled plotters in the area of about 5 miles but depends on the conditions. The DSC signal can activate an alarm through your vessel's VHF radio but other boats with VHF radios will not be alerted of the distress signal.
There is a GPS receiver in the device to determine and transmit its location. An integrated strobe helps to get a visual of the person in distress in low light and low visibility situations. The battery life for the device is 7 years and the operation life is a minimum of 24 hours. There is a 5-year warranty with the device but only two years when used in a commercial environment. A clip that connects to the inflation tube of a life jacket is also included. The weight of the device is 3.25 ounces and the dimensions are 5.3 x 1.3 x 1.0 inches.
These are commonly put in life jackets and can be set up to automatically activate when the life jacket inflates using a trigger on the back of the device. This device sends the first alert within 15 seconds of activation.
In remote areas, the best chance of being rescued in a man overboard situation is by your own vessel. The faster the crew is aware a person fell overboard the more likely they will be able to quickly retrieve the individual. The MOB1 has a feature that actives the DSC alarm over VHF radio alerting the crew of the situation.
Man Over Board Device Testing with AIS and DSC Radios
The device should be programmed with the radios MMSI and tested for proper compatibility. Then they should be installed on life jackets. On the manufactures website, there is a list of class D DSC radios that have been tested to work with the MOB1.
AIS and DSC tests can be carried out no more than three times a year. The DSC test sends a single transmission to verify that they communicate. Using an AIS test activates the GPS and sends a transmission that will show up on the chart plotter and contain the words MOB test. Doing this when first getting the device helps to verify everything is working properly.
---
15. ACR AIS Link MOB Man Overboard PLB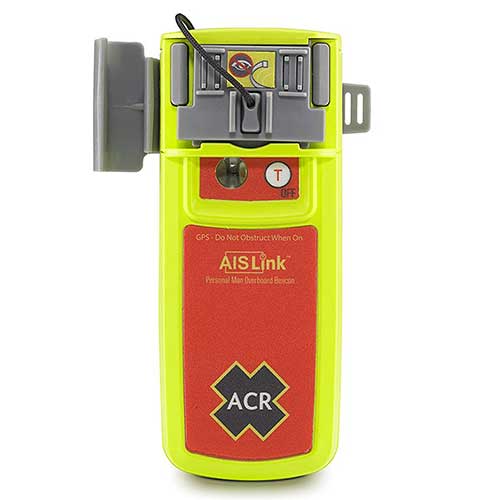 This ACR AIS Link is a Man Overboard distress beacon. The battery life is 7 years and the operation life is a minimum of 24 hours. A 5-year warranty is provided from ACR and the device is waterproof to 10 meters. The dimensions are 4.25 x 1.81 x 1.06 inches and the weight is 3.25 ounces. 
Advanced Automatic Identification System (AIS) technology in the device is integrated with Digital Selective Calling (DSC). AIS transceivers typically send the vessel name, course, speed, and navigation status to commercial vessels, shore traffic monitoring centers, and recreational boats with AIS transceivers. The transceiver display shows a detailed map that plots the position of the vessels.
A GPS receiver in the MOB beacon determines its position and sends the distress signal over VHF radio frequencies. A DSC alarm can be transmitted to your vessel's VHF radio. An integrated high-intensity strobe within the device helps to get a visual when getting close to the person in the water.
When commercial fishing in remote areas AIS beacons are the fastest way to find a man overboard. These are a good option when fishing on a boat with multiple crew members. The beacon does have to be worn all the time. If you fall overboard and the beacon is on the boat it will not do any good. If you boat by yourself or the boat does not have a transceiver a PLB is a better option. The AIS beacon would only be useful in those cases if a commercial vessel happed to be in range and saw the distress. In many locations offshore this would not be likely to happen.
---
16. SARLink Dual-Mode Rescue Communication Device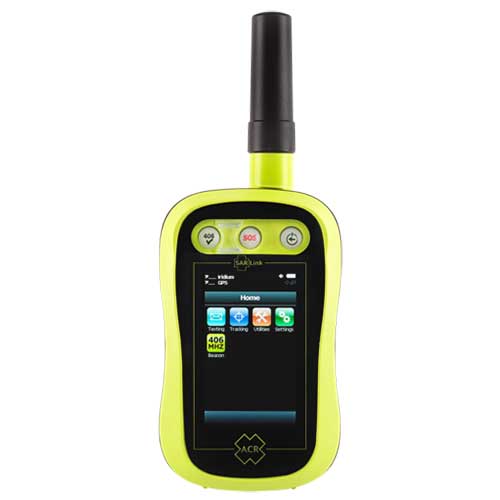 Dimensions are 1.5 x 3.12 x 8.12 inches and the weight is 12.5 ounces. The unit has two batteries. A rechargeable Lithium-Ion battery is used for message and tracking features and a dedicated Lithium battery is used for the 406 MHz locator beacon which lasts a minimum of 24 hours at 5W. The dedicated battery needs to be replaced ever 7-years. A waterproof rating of the device is for submersion in 3.2 feet of water for 30 minutes. A 5W 406 MHz distress signal is sent with device information and with GPS coordinates. Link Margin Uplink rates average 7dB and Downlink rates average 13dB. It has a 3-inch touch screen display.
This is the first device that offers the 406 MHz distress signals via the Cospas Sarsat rescue system as well as custom text messaging and tracking via the Iridium satellite network. One major catch is that this unit is not a commercially available product and is only available to government agencies. Tracking intervals can be set from once per minute to once per day. Canned and custom text messages can be sent. In order to use tracking, two-way text messaging and the Iridium distress alert features a subscription needs to be purchased from an Iridium Airtime Service Provider. To use the 406 Locator Beacon functions the device should be registered with NOAA.
The SARLink seems like a device that properly handles messaging, contentious tracking, and 406 PLB functions all in one device. The device does not transmit the 121.5 MHz homing signals like other PLBs. This seems like a great device and hopefully, they allow civilians to purchase the device soon. Other PLBs do handle more extreme operation conditions and having a stand-alone EPIRB or PLB on the boat would still be a good idea. This would certainly have an advantage over other messaging and tracking devices if it becomes commercially available.
---
17.
Submersible PLB
Maring Rescue GPS Radio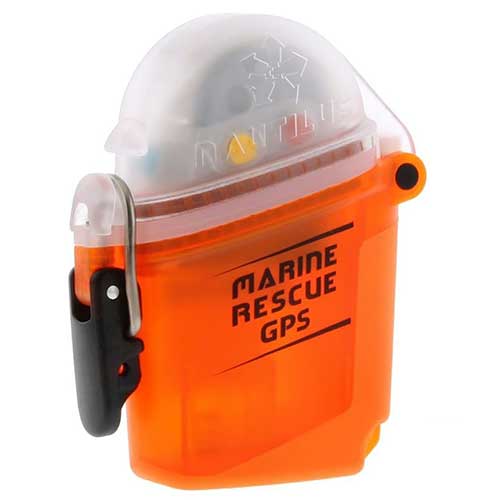 The Nautilus Lifeline is waterproof to 425 feet with the cap closed. This device can be taken with you while scuba diving. Dimensions are 3.8 x 2.9 x 1.5 inches and it weighs 4.6 ounces. A GPS receiver is built in to allow accurate position information to be sent.
The unit comes programmed with the MID number and automatically works with all AIS-equipped ships. Your vessel MMSI number must be loaded using the optical sensor to activate DSC functionality. The device has 5-year battery life and floats.
This unit works in the same way as the other AIS devices reviewed. The Nautilus is half the size of the original submersible unit but the old model offered two-way VHF communication. This is a good unit to take with when scuba diving. The drawback of this technology is that a commercial vessel needs to be in the area to see the distress message in many cases. Diving with 406 PLB in a submersible container is typically the best option for scuba divers. When diving with my Dad one of us has the Nautilus Lifeline and the other has a PLB in a submersible container.
---
ACR GlobalFIX V4 EPIRB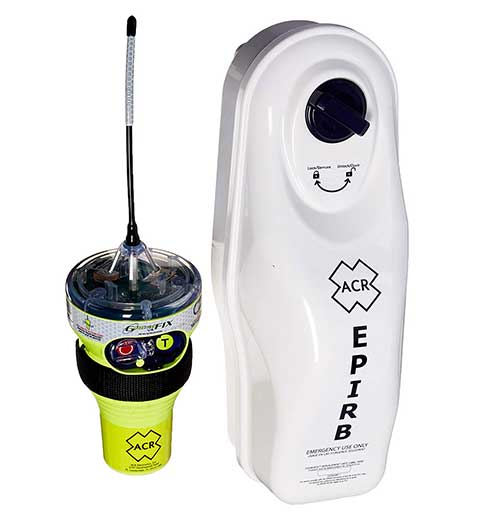 The ACR GlobalFIX V4 is a category 1 EPIRB. This device has the same technology as the PLBs above but can automatically deploy and activate if a boat sinks. Also, the minimum operation time of the battery is 48 hours. The battery is user-replaceable and has a 10-year self-life.
Its dimensions are 4.3 x 8.1 inches and the weight of the beacon is 1 pound 11 ounces. Distress signals are a 5 Watt 406 MHz GPS signal and a 50 mW 121.5 MHz homing signal. This is registered to a vessel and not a person. However, I included it in this list for completeness. A person can easily manually activate this device just like PLB in the event of an emergency.
This EPIRB comes with a category 1 bracket that helps protect the device from the environment. The bracket has a hydrostatic release that deploys the device if it sinks to a depth of 4.9 to 13.1 feet. Once in the water, it floats to the surface and automatically activates. A water detection sensor is what activates the device. The device will activate any time it enters the water unless it is still in the bracket. Taking the device out of the bracket and holding the red button for one second activates the EPIRB manually.
Having a device that automatically deploys is important in the event of a boat crashing or flipping in rough seas. Many people do not keep a PLB on them at all times and some accidents happen too fast to get to rescue equipment. A category once EPIRB is not a full-proof plan either because the device can get trapped or not properly deploy. In a situation where people fall overboard wearing a PLB will be helpful and having an EPIRB on the boat will not be helpful.
---
Standard Horizon Floating VHF Marine Radio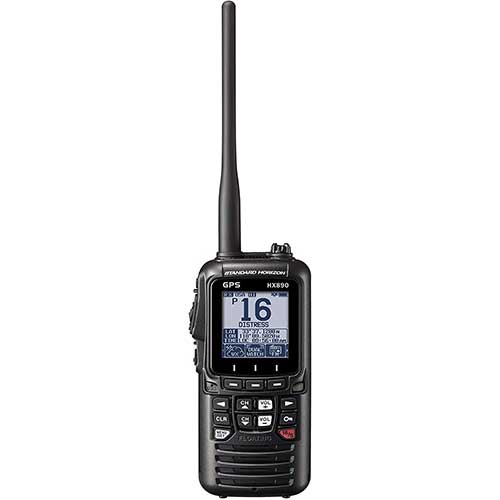 This Standard Horizon HX890 handheld radio floats and has a GPS receiver. There are Man Over Board and DSC distress functions on the radio. If the device enters the water there is a strobe light that is automatically activated. The radio is considered submersible with an IPX8 rating, which means it is waterproof at 4.92 feet for 30 minutes. The battery life is 10-hours and is rechargeable. A 12-volt quick charger is included with the radio. Transmit power levels can be set at 1W, 2W, or 6W.
The MOB function of the radio allows for a position to be saved at the time the button was pressed. The navigation feature will then bring you back to that position. For situations where the person with the radio fell overboard the DSC distress message is what would be used.
In order to send a DSC distress call, the MMSI number must be programmed. To transmit a DSC distress message lift the red spring-loaded distress cover. Then press and hold the distress key until the unit alarms. The HX870 is capable of transmitting and receiving distress messages from all DSC radios. If the GPS unit is active the latitude and longitude will be included in the distress message. The unit then waits for an acknowledgment of the distress. If an acknowledgment is not received the distress call is repeated every 4 minutes. This unit can also answer and navigate to distress calls. Check out the marine radio page to see more marine radio options.
---
HDVSEATEK Scuba Dive Canister for PLB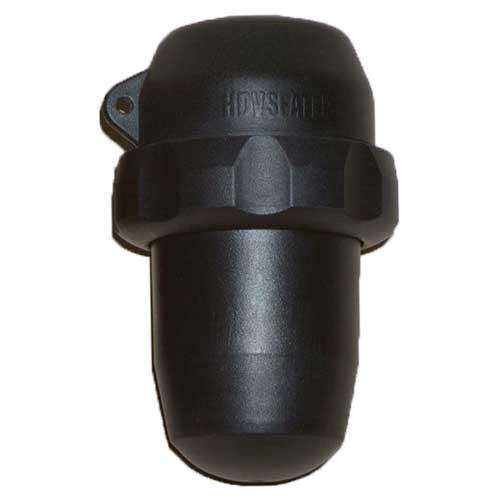 The HDVSEATEK is a submersible dive container for PLBs and rescue beacons. It is submersible to 229 feet deep. This is made from lightweight glass-filled Nylon. No maintenance is required and the canister will not corrode. This makes opening the canister easier in an emergency. Opening the locking ring requires little force. The manufacture sells these on eBay.
This is the only submersible container that is still sold for PLB devices for scuba diving and snorkeling. There are two size options but most of the 406 PLBs fit in the small size canister. Only the GME PLB requires a large canister. For Gamin satellite messengers I am not sure which size is needed. The larger canister would likely be needed for most of them. A carry pouch for above water carrying of the pod is also included.
A diver can easily get swept away by strong currents that prevent the diver from reaching the boat again. Having a PLB or submersible dive radio on your person while driving could save your life. When we dive one person has a radio and the other person has a PLB in the waterproof canister.
I would highly recommend having a PLB in a dive canister when diving. Having spent lots of time on and near the water, I can tell you that divers do go missing because of strong currents and are difficult to locate. When diving often times there is no one left on the boat. If the boat anchor or mooring breaks free the divers would surface without a boat or any way to signal for help. Having a way to communicate the position could save your life.
Mcmurdo Dive PLB Canister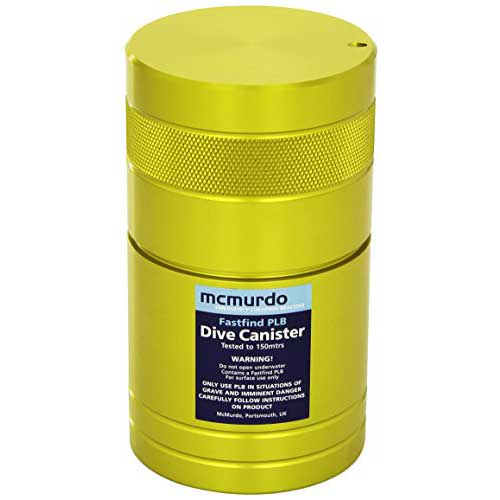 Mcmurdo Dive PLB Canister is Made from high-strength Aluminum. Dimensions are 3.68 x 6.38 inches and the weight is 1.98 pounds. This can be taken to a depth of over 450 feet. This dive canister is intended to carry a PLB with a diver while scuba diving. It is a really smart idea to dive with a GPS communication device, especially a 406 PLB.
This dive canister is not manufactured anymore. Often time you can find used ones for sale on eBay.
---
Stohlquist Piseas Life Jacket For PLB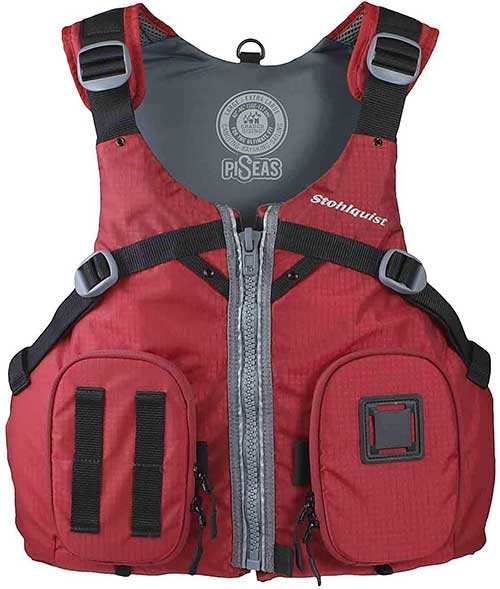 The Stohlquist Piseas life jacket is a Type III life jacket with 16.25 pounds of flotation. Sizes options are large extra-large, and double extra-large. Colors available are red or khaki.
The two zipper pockets in the front are good for holding a PLB. On the front of the jacket, there are several loops or straps to hold a strobe. This is a comfortable life jacket to wear while kayaking, fishing, or boating.
---
Reasons To Carry a PLB
Have a PLB When Boating By Yourself
It is especially dangerous to be boating and fishing by yourself. If you fall overboard there is no one driving the boat and no one is present to assist you or call for help. If you are fishing by yourself I would highly recommend wearing this PLB all the time!
One common way people fall overboard is when they are peeing. In one year I had three people fall off my boat when they were peeing. Luckily the water was warm and we were just drifting so it was easy to get them back on board. If you were trolling by yourself and fell overboard there is no way you could swim fast enough to get back on the boat. Having a device on you that is able to quickly transmit your position is very important.
Bring a PLB When Scuba Diving or Snorkeling
As discussed above having a PLB in a dive canister or Submersible radio is very important when diving. There are a large number of possible scenarios where a diver can be separated from the boat. Without a way to communicate your position it is very difficult to get the help you need.
Diving and snorkeling is an activity that should be taken seriously. When diving with experienced crew accidents can be minimized. However, preparing for the worst-case scenario is always the best idea. Even when snorkeling and spearfishing you can get separated from the vessel and having a PLB with you could save your life.
Have A PLB When Boating on Someone Else's Boat
When I fish on other people's boats I will bring my own PLB because there is no guarantee that vessel operators have good safety equipment onboard. An emergency can happen on any boat in any condition. If the boat does not have proper safety equipment it can be difficult to contact help. Most boats have basic radio communication but accidents can happen too fast for this to be effective. Cell phones do not work further than about 7 miles offshore. Satellite rescue beacons are the best way to send a distress call with position and identifying information.
Bring a PLB When Traveling to Different Countries

Traveling to different countries is awesome and there are many unique offshore locations worth exploring. In certain countries, there are little to no safety regulations. There might not even be life jackets, radios, or cell phones. PLBs that send 406 MHz distress signals offer a reliable way to send for help from anywhere in the world.
Have a PLB When Hiking in Remote Areas 
More and more of the Unites State is getting good phone reception. However, there are still many wilderness areas that have canyons, hills, and mountains that block line of sight cell phone communication. Bringing a two-way satellite messenger is the best way to contact help in an emergency. Make sure that it is a true emergency though. Make an effort to independently get help and handle the situation when possible.
---
Frequently Asked Questions
Do I need a PLB?
During an emergency offshore or in remote areas a PLB can be the best way to quickly send a distress signal telling rescuers your position and that you need assistance. If you are in a situation where you realize that a PLB is needed to save your life but do not have one it is too late. The device needs to be on your person or in a location where it can be quickly accessed in an emergency situation. There are several types of PLBs on the market and each one has advantages based on the situation. Some offer two-way Satellite communication but required a subscription fee. Others send distress signals to government authorities and do not require a fee. AIS Man overboard beacons send signals to AIS-equipped vessels in the area and a DCS message back to your boat.
What is a PLB?
When most people say PLB they are referring to a handheld device that uses the same technology as an EPIRB. This device is registered with NOAA and during an emergency, with the push of a button, the GPS position and user identifying information are sent via satellites to emergency services. The devices also typically have a built-in strobe and a homing signal. The definition has been extended to include other handhelds devices that can send a distress signal that includes the GPS position of the device. Some of these PLBs use private satellite networks and require a subscription but also offer two-way satellite text messaging. The last type of PLB gets the GPS position of the device but only sends the signal locally to AIS equipment on commercial vessels. The AIS system can also send a DCS distress signal to the originating vessel alerting and alarm on the VHF radio.
How long does a PLB last?
The length that a PLB lasts depends on the type of device. Stand alone 406 PLBs that are only used for rescue situations typically have a battery shelf life of 5 years. The distress signal can be sent for a minimum of 24 hours. When using a satellite text message SOS rescue beacon the battery could be drained and not work at all. However, depending on the settings a charge typically lasts 24 hours or more. If the device is powered off they can keep a charge for up to a year in some devices. AIS PLBs also have a battery shelf life of about 5 years and an operational life of a minimum of 24 hours.
How do you use a Personal Locator Beacon?
Locator Beacons are typically worn on a person that can be on a life jacket, in a pocket, or in a backpack. In the event of an emergency, the antenna is deployed. The activation varies based on the device and specific instructions can be found in the user manual. For the ACR PLB view and PLB 400, the red button is pressed down for 2 seconds. This activates the device and it starts to acquire a satellite position. Once the GPS position is found which takes about two minutes it sends a distress signal over satellites to an emergency ground station. The device should be registered with NOAA and so emergency services can look up who is in distress and know the location of the distress.
At the control center, they will try and contact you via cell phone and contact your emergency contacts. If they determine it likely an emergency they will contact local rescue resources like the Coast Guard to send assistance. For emergencies on the water, help is typically sent within 30 minutes. Once rescue personnel is on the way they need to get updated position information from the device. The user needs to keep the antenna dry and pointed at the sky. There is a visual strobe and a 121.5 MHz homing signal that gets sent from the device that can help the rescue team locate the beacon faster. There is no charge for rescues as long as it was a true emergency.
Other Rescue beacons operate differently so the instructions need to be reviewed in the owner's manual. Some devices use an SOS signal over private satellites and others only send distress locally to AIS equipment.
What is the difference between a PLB and an EPIRB?
The primary differences between a PLB and EPIRB are the size, operating time, and registration type. EPIRBs are registered to a vessel, operate for a minimum of 48 hours, and can automatically deploy and activate if a boat sinks. PLBs are registered to an individual, operate for a minimum of 24 hours, and have to be manually activated. EPIRBs and 406 PLBs also send out a 121.5 MHz homing signal and have a strobe light. There are other types of personal rescue beacons and man overboard locators that are often called PLBs but use different technology.
Will I be charged to use a PLB? 



A 406 style PLB and EPIRB devices are registered to NOAA for free and use government control centers and rescue teams. When using these devices in real emergencies the user is not charged. It is important to note that the device can not be used negligently. Just because you are uncomfortable or have a minor problem does not mean that you should use an emergency distress beacon. All basic forms of communication should be tried first in non-emergency situations. This includes cell phones, radios, or satellite text messaging devices. If it is a life or limb situation the PLB should be used immediately assuming more immediate help is not available.
SOS style rescue devices like the Garmin handhelds and Spot satellite messengers require a monthly fee to send a distress signal. Distress signals are sent over private satellite networks and are initially sent to private control centers. The control center can then contact government agencies to assist with the rescue.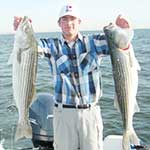 Captain Cody has worked on charter fishing boats in the Florida Keys, Virgin Islands, and Alaska. Growing up in Pennsylvania Cody has also done extensive freshwater fishing including bass fishing tournaments. Cody strives to provide detailed information about the best fishing gear and tactics to help both novice and experienced anglers have a more productive and enjoyable time on the water. Cody also has a background in aerospace engineering and neuroscience but really only takes pride in being good at one thing and that is fishing!