Mahi mahi are also called the dolphinfish or dorado in Portuguese. This is a tropical fish that seasonally migrates up to thousands of miles each year. This is one of the fastest growing fish in the world growing up to 1 inch per week and gaining up to 3 pounds per month. Mahi live in surface waters and eat fish, crabs, squid and shrimp.
Mahi mahi are found scattered in the open ocean generally in warmer waters such as the gulf stream. The general strategy to find mahi is once traveling past 100 feet of water to start looking for Sargassum Alge weed lines, debris, fish surfacing or diving birds. When one of these is found there is a good chance mahi mahi will be around if it is the correct time of year. Unless there is significant activity the serious search for mahi starts further offshore past 250 feet of water. Once a good location is found the baits can be pitched or trolled close to the surface structure or activity. A six to seven mph troll speed is typical for mahi mahi. This can vary based on weather conditions and size of the boat. Some lures need to be in locations fish can spot them easily to attract fish. This is done by placing them far back or outside of the turbulence area of the wake. Mahi can swim at over 50 mph so don't be afraid to try faster if fish are not hitting lures at slow troll speeds. Once a fish is caught cut baits can be pitched to to ohter mahi that may accompany the hooked fish. Live chumb and cut chumb can be added to increase the activity of the mahi mahi!
There are lots of great lures and baits for mahi. In some locations additional attractants are adding to the trolling setup such as hookless spreader bars and dredges. I will discuss the top five trolling baits because these are a simple and effective way to catch mahi mahi.
Stubby Bubblers, Lil Stubby and Jets

C&H Stubby Bubbler pink white 5 1/2 inch also comes in blue pink with silver Mylar.
C&H Lil Stubby 5 1/2 inch, 2 ounce trolling lure.
Boone Gatlin Jet rigged purple black 7 inch,  2-3/4 ounce trolling lure.
The blubbers, stubbies and jets are typically ran a short distance behind the boat skipping in and out of the water creating bubble trails and lots of surface action. Make sure these lures stay weed free. Grabbing the fishing line a popping the lure can help trigger strikes. This also help you realize when the lure picks up weeds.
back to menu ↑
Daisy Chain

Daisy Chain 3 squid teasers with a skirted bait.
It is a good idea to run two daisy chains on the far sides of the spread of lures and mid way back. When the front squid is bouncing in and out of the water is it is a good distance back. These large lures help attract fish to the trolling area and frequently produce fish. Most other predator fish such as wahoo, sailfish, tuna and marlin will also bite this so it is a great lure to be trolling.
back to menu ↑
Williamson Big Game Catcher

Big game catcher 8 inch lure comes in a variety of great colors. Blue white is a great color for mahi mahi.
This is a large bait but don't let that shy you away as this lure consistently catches mahi. This is another lure that to put mid way back in the spread.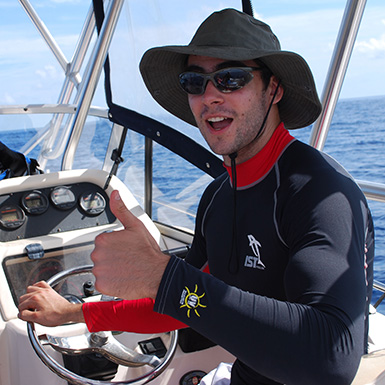 back to menu ↑
Billy Baits and Iland Ilander JR

Billy Baits Mini Turbo Slammer 5 ½ inch 5/8 ounce, in pink, purple and blue.
Iland Ilander JR 6 3/4 inch 13/14 ounce with bullet head, works good with rigged ballyhoo.
Billy baits are great to run far back in the spread. Any skittish fish that is are not willing to get close to the boat can still find these trailing in the back. They are small and will catch any size fish. The Islander Jr is a very popular mahi lure and is often rigged with ballyhoo. It can be fished anywhere in the spread.
back to menu ↑
Williamson Ballyhoo Combo
Williamson Ballyhoo Combo has a scoop head sailfish catcher in combination with an artificial ballyhoo. The lure weight is 15 ounces with a 6 foot 100 pound leader line and comes in a variety of great colors.
All of the above skirted lures can be run rigged with ballyhoo to add scent and appeal to the lure. The artificial ballyhoo is also effective at attracting fish. With real ballyhoo if it is not rigged perfectly the lure can spin which no fish will ever bite. Also you have to deal with the bait falling apart or having the tail bitten off. With a artificial ballyhoo it make fishing easier especially for the recreational fisherman.
Don't forget that pitching bait to mahi is also a great strategy for schoolies and is fun way to catch fish. A size 4/0 to 6/0 circle hook with fluorocarbon leader and a piece of cut bait from pilchards or ballyhoo is perfect. Try to keep the school around the boat by chunking cut or live bait and keeping a fish on the line once a fish is caught.
Thanks for visiting Global Fishing Reports. I hope these suggestions help you catch more mahi mahi!
If you have any suggestions for top mahi mahi lures and baits, leave a comment below!