Mahi-mahi are also called the dolphinfish or dorado in Portuguese. These are tropical fish that seasonally migrates thousands of miles each year.
This is the fastest growing fish in the world growing up to 1 inch per week and gaining up to 3 pounds per month. Mahi-mahi live in surface waters and eat fish, crabs, squid, and shrimp.
Mahi-mahi are found scattered in the open ocean generally in warmer waters near the gulf stream. The general strategy to find mahi-mahi in south Florida is to travel past the reef into blue water 200 feet or deeper in depth but the mahi-mahi will be near the surface. Once you are in Mahi waters look for Sargassum Alge weed lines, debris, fish surfacing or diving birds. When one of these is found there is a good chance mahi-mahi will be around if it is the correct time of year. Once a good location is found the baits can be pitched or trolled close to the surface structure or activity. A six to seven mph troll speed is typical for mahi-mahi. This can vary based on weather conditions and the size of the boat. Some lures need to be in locations fish can spot them easily to attract fish. This is done by placing them far back or outside of the turbulence area of the wake. Mahi-mahi can swim at over 50 mph so don't be afraid to try faster-trolling speeds if fish are not hitting lures at slow trolling speeds.
Some boats catch three mahi-mahi all day and others catch 60 mahi-mahi. The big difference is capitalizing once one fish is caught while trolling. Keep the fish in the water about 20 feet behind the boat until a second mahi-mahi is hooked. The second mahi-mahi should be caught by pitching a ballyhoo hooked through the nose close to the other mahi-mahi that is on the line. Once a second mahi-mahi is hooked the first mahi-mahi can be brought in. This cycle is repeated until the school of mahi-mahi leave. If the school is close to the boat a whole dead squid is a great bait to use. Dead bait is typically all that is needed but if the school of the mahi-mahi are not biting using live pilchards or cigar minnows for bait is a great option to have. Once live bait is used that particular school of mahi-mahi may not bite dead bait anymore so it is a good idea to start out pitching dead bait. Some days the mahi-mahi are skittish and picky with baits other days they will bite an empty hook!
There are lots of great lures and baits for mahi-mahi. In some locations, additional attractants are adding to the trolling setup such as hookless spreader bars and dredges. The reason for having good mahi-mahi lures onboard is to hook the first fish and then bring the school close to the boat and pitch baits to them.
Here Are the Best Mahi Mahi Fishing Lures and Baits
1. C and H Stubby Bubbler
Price: Around $16
This stubby bubbler can be run a short distance behind the boat or way back creating awesome bubble trails. This lure has a plastic head and is light-weight which makes it great for staying weed free. This lure also catches tuna and marlin so it is a great lure to have in the spread when fishing offshore!
This C&H Stubby Bubbler is pink and white and is 5 1/2-inches in length. It also comes in blue pink with silver Mylar which also works great.
Price: Around $11
C&H Lil Stubby is 5 1/2 inches and weighs 2 ounces. This lure is light weight is good a staying weed free and work at any distance behind the boat. It does not look that great in my opinion by it definitely works. Blue or pink colors are my favorites for dolphin.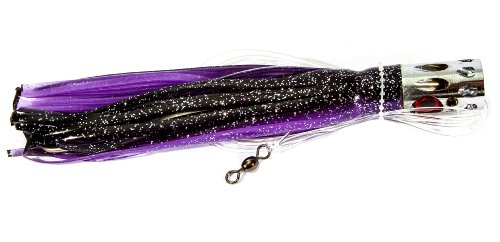 Price: Around $15
The Boone Gatlin Jet rigged purple-black is 7 inches long and weighs  2-3/4 ounces. This lure has a metal head and sinks deeper in the water creating awesome smoke trails under the water. This a great lure when there are little to no weeds around. Since it is a heavier trolling lure than the stubby bubbler it tends to pick up more weeds. 
4. Daisy Chain Trolling Lure​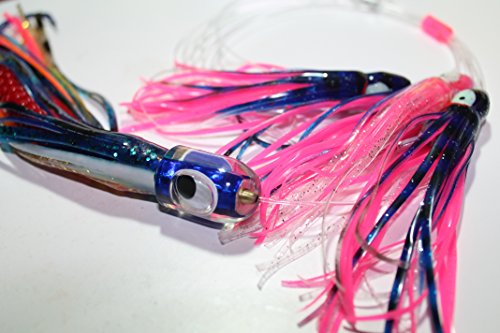 Price: Around $26
It is always a good idea to have a daisy chain in the trolling spread. Either on the far outrigger or on the shogun line way out the back. When the front squid is bouncing in and out of the water is it is a good distance back on the outrigger line. These large lures help attract fish to the trolling area and frequently produce fish. Most other predator fish such as wahoo, sailfish, tuna and marlin will also bite this so it is a great lure to be trolling.
This daisy chain had 3-squid teasers and a skirted bait. If there are lots of weeds in the area it is also a good idea to have a lightweight daisy chain as well. These can be custom made by adding beads rather than weights in the squid teasers. 
5. Billy Baits Mini Turbo Slammer​
Price: Around $12
Billy baits are great to run far back in the spread. Any skittish fish that are not willing to get close to the boat can still find these trailing in the back. They are small and will catch any size fish. The Islander Jr is a very popular dolphin lure and is often rigged with ballyhoo. It can be fished anywhere in the spread.
The Billy Baits Mini Turbo Slammer is 5 ½ inches and weighs 5/8 ounce, the color is pink and silver, and purple and blue mylar are the best color options for mahi-mahi.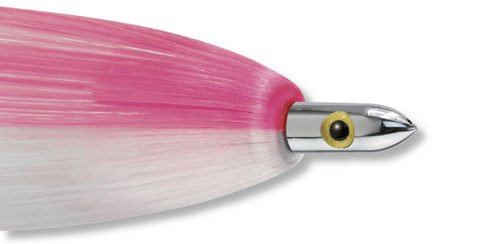 Price: Around $25
The Iland Ilander JR is 6-3/4 inches and is 13/14 ounce with a bullet head. This lure works well with rigged ballyhoo. The blue-white color works great for mahi-mahi.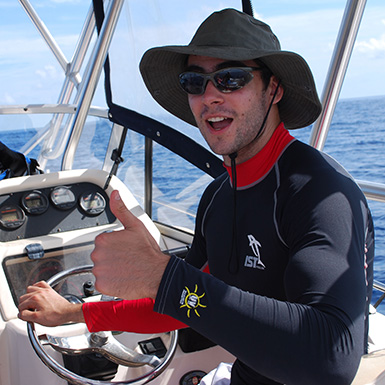 7. Williamson Ballyhoo Combo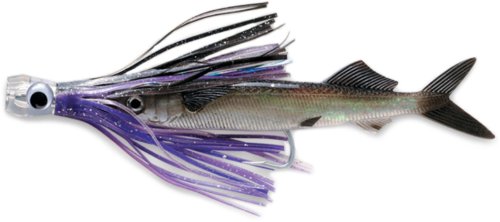 Price: Around $15
The artificial ballyhoo is great for the recreational fisherman and is effective at attracting fish. If dead ballyhoo is not rigged perfectly the lure can spin and fish will never bite a spinning bait. Also with dead bait, you have to deal with washout which is when the belly of ballyhoo breaks apart which makes the bait not troll properly. This is why salt is applied to the belly of dead ballyhoo. Dead ballyhoo can also be bitten in half and then trolled for a long time without a chance of catching a fish. An artificial skirted ballyhoo might not be as good as a freshly baited skirted ballyhoo but it is much easier for the recreational fisherman to use and still works great.
The Williamson Ballyhoo Combo has a scoop head sailfish catcher in combination with an artificial ballyhoo. The lure weight is 15 ounces with a 6-foot 100-pound leader line and comes in a variety of great colors.
8. Ballyhoo, Naked or Skirted
Mustad 7/0 Hook for Ballyhoo Rig
Price: Around $2
When making a ballyhoo rig for mahi-mahi 80-pound fluorocarbon leader line is used. A hook is tied to one end and the other end is tied with a perfection loop so the leader can easily be changed out. The line on the pole has a barrel snap swivel on it that can easily be connected to the perfection loop. This makes changing out baits fast when the mahi-mahi are biting.
To make a ballyhoo rig for trolling you start with dead ballyhoo that was previously frozen. Keep the ballyhoo as cold as possible and in an ice salt brine. At a minimum salt the bellies of ballyhoo.

Price: Around $9. Rigging wire is wrapped around the hook and then around the ballyhoo. There are many good YouTube videos about how to make a ballyhoo rig.

Price: Around $12. A chugger head is a great lure to place over the dead ballyhoo to make a skirted ballyhoo rig. This adds surface action to the lure and makes the ballyhoo troll more easily in the water without spinning. The skirt also helps the bait not get washed out as quickly.
How to catch Mahi-Mahi
The key to catching the first mahi-mahi of the day is finding the birds. Sometimes finding good weed lines or debris works but I feel much more confident that I am going to catch fish when I find a warbird which is also called a frigate bird hovering low near the water. Once a school of fish is found troll near the fish without running over the school with the boat until a fish is hooked.
Once one fish is caught keep it in the water about thirty feet behind the boat until a second fish is hooked. Pitch the bait just behind the fish on the line with a ballyhoo, squid, pilchard or cigar minnow.
Pitching a full-size dead squid or ballyhoo is a great option when there is a school of mahi-mahi near the boat. If the mahi-mahi are small a piece of cut bait can be used.
Pitching live cigar minnows or pilchards is the best bait to use when mahi-mahi are behind the boat. Shown here is a cigar minnow. These can be caught in grass patches on the reef by putting chum in the water and throwing a large cast net. See our cast net page for more information about cast nest.
A size 4/0 to 6/0 circle hook with fluorocarbon leader should be used with the pitch bait. Try to keep the school around the boat by chunking cut or injured live bait into the school.
When trolling only four lines are typically set out, even on charter fishing boats. Skirt baits are typically trolled directly behind the boat about 25-50 years back. A naked ballyhoo is trolled using the outrigger on one side and a skirted ballyhoo is trolled using the second outrigger on the other side. The outrigger lines are set about 50-100 yards behind the boat. Make sure that lures do not have weeds on them at all times. You will not catch a fish if the lure has weeds on it. Sometimes the lures have to be continuously reeled in to remove the weeds. Running the lines a bit closer to the boat using lightweight lures helps to reduce the number of weeds that get caught on the line.
Thanks for visiting Global Fishing Reports. I hope these suggestions help you catch more mahi-mahi!
If you have any suggestions for top mahi-mahi lures and baits, leave a comment below!
Captain Cody has worked on charter fishing boats in the Florida Keys, Virgin Islands and Alaska. Cody grew up in Pennsylvania and has also done extensive freshwater fishing including bass fishing tournaments. Cody strives to provide detailed information about the best fishing gear and tactics to help both novice and experienced anglers have a more productive and enjoyable time on the water. Cody also has a background in aerospace engineering and neuroscience but really only takes pride in being good at one thing and that is fishing!