Sportfishing has seen a huge boom in popularity recently, with new innovations and technology in the industry keeping pace. We tend to clamor over the things that get us to the fish like the new boats, fish finders, lures, rods, and reels. However, the important tools post-catch, like pliers, hardly get a second thought. Having some type of pliers is very important. A lot of time is wasted fumbling around with hooks lodged stubbornly in fish, clothing, even skin, and not spent actually fishing.
Removing the hook quickly and effectively also give the fish the best chance at survival.  Most pliers come with a sheath and lanyard for quick access, which also helps to quickly release fish back into the water without injury. Different combinations of features may be integrated, like line and wire cutters, split ring noses, crimpers, and spring-loaded grips to make them easier to use one-handed.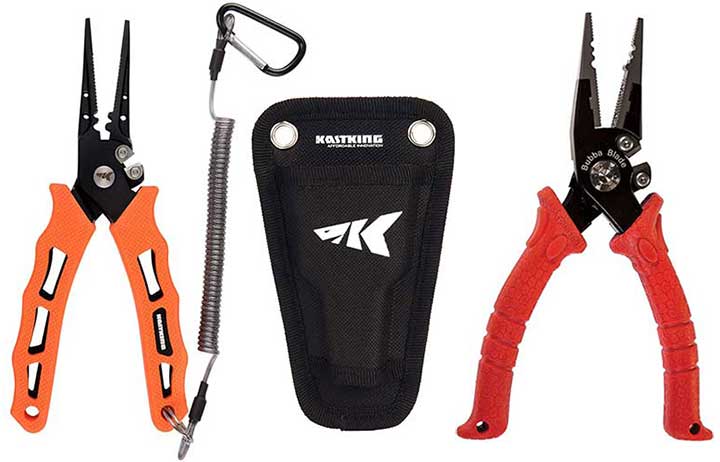 The materials in manufacturing have improved, too. Some of the more expensive pairs use aluminum or titanium for extra strength and are much lighter weight compared to traditional steel. Cutters made from tungsten carbide provide sharper and smoother cuts for braided line and wire leaders.
Other tools such as de-hookers, lip grippers, and hook extractors help to remove hooks swallowed deep down a fish's throat or gut can be used alongside pliers. No matter what style of fishing you do, there are hundreds of types of fishing pliers available today designed to meet any fisherman's budget and applicatory needs.
Here Are the Best Fishing Pliers
---
1. Van Staal Titanium Fishing Pliers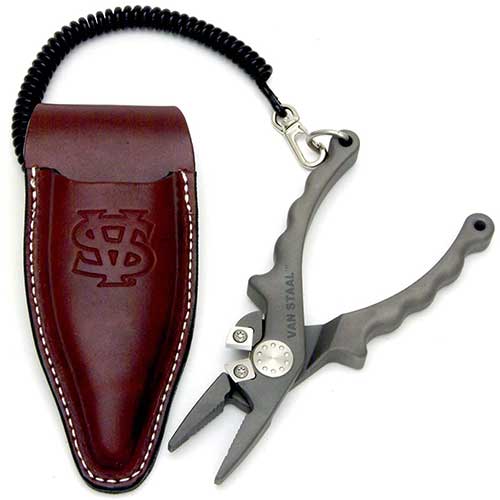 | | |
| --- | --- |
| Material | Titanium |
| Size | 7-inches |
| Weight | 10 ounces |
Van Staal Titanium fishing pliers are the best fishing pliers. These are light-weight titanium pliers built for performance and longevity. Some people just cannot justify dropping hundreds of dollars on a pair of fishing pliers. However, when thinking in the long run, others would rather spend more money up front and not have to use rusty pliers that need to be replaced year after year.
These come in a 6-inch or 7-inch size option. Channel-cut jaws provide grip to prevent hooks from slipping. The powerful tungsten cutters make clean line cuts for monofilament and braided lines. Screws allow the cutters to be replaced if they get dull or damaged. The line-keeper feature prevents the line from falling out of the cutting zone, which is satisfying enough, but the smoothness and grip during cutting from the precision bushings are what screams quality and functionality the most. Even the complimentary add-ons to these pliers are great. The accompanying leather case is beautiful and stands out, while the coiled lanyard had a good stretch and does not retain any memory after being extended.
It would be nice if these pliers had a split ring nose but most of the time this is not needed. Some non-slip grips on the handles would be nice, too, but the titanium material is built to last. Van Staal is widely regarded as the best maker of fishing pliers in the world, and it probably comes as no surprise that they are number one on this list.
---
2. Ego Ti22 Titanium Pliers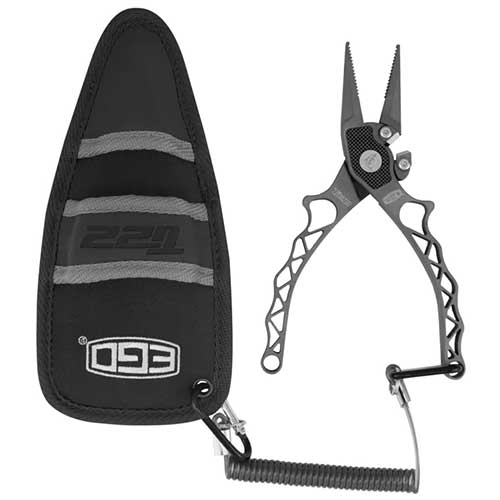 | | |
| --- | --- |
| Material | Titanium |
| Size | 7.5-inches |
| Weight | 8.8 ounces |
The Ego Ti22 Titanium Pliers are great for saltwater or freshwater fishing and are available from Bass Pro Shops. Their titanium build offers the trifecta of plier perfection: lightweight, strength, and 100% rust proof. Ultra-strong teeth give maximum hook grip, while precisely engineered tungsten cutters provide the smoothest of snips to any fishing line, and are replaceable, too. No cushy handgrips, but the contoured handles and thumb posts provide great control and support. It even comes with a saltwater friendly sheath and lanyard to make sure this investment doesn't get lost at sea.
Ego as a company cares about customer satisfaction. They offer a limited lifetime warranty and are known to live up to it. The skeletonized handles keep weight down and look stylish to some people. These are great pliers that you can depend on. The people who made these pliers truly want to be the best at what they do, and it shows. These are great for both freshwater and saltwater applications.
---
3. Danco Titanium Fishing Pliers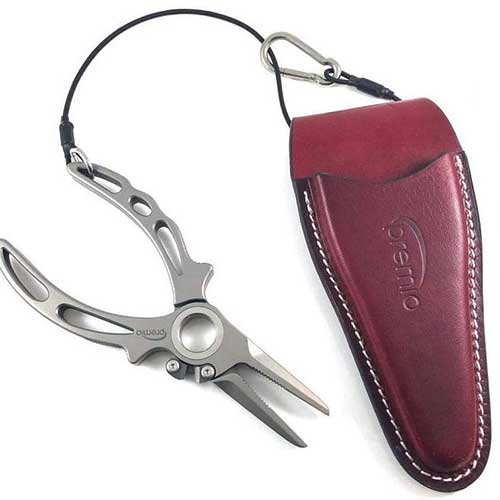 | | |
| --- | --- |
| Material | Titanium |
| Size | 7.5-inches |
| Weight | 5.9 ounces |
The Danco Titanium pliers are marketed as a high-quality, cheaper competitor to the legendary Van Staal brand. These are reasonably priced titanium pliers. The skeletonized design makes them lightweight. With fully replaceable titanium cobalt cutters and a nice leather pouch, this is a high-quality step up at a reasonable price point. The lanyard and release clip is not ideal but the pliers and leather sheath are well made.
They definitely hold up against rust, and the craftsmanship is evident by how beautifully flush the jaw heads line up together. These also come in a 5.5-inch and 6.5-inch size. Overall, if used on small to medium-sized fish tackle, these will work well. When fishing in a saltwater environment these are designed to last just make sure to rinse them down with freshwater at the end of the fishing day.
---
4. Penn Saltwater Fishing Pliers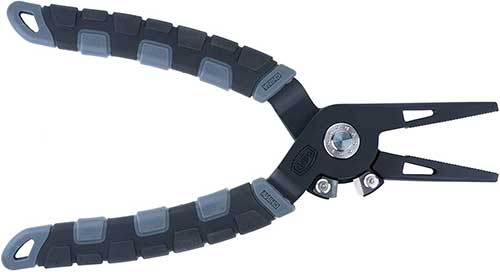 | | |
| --- | --- |
| Material | Black nickel, titanium coating |
| Size | 6.5-inches |
| Weight | 10.6 ounces |
A lot of people are fans of Penn's reels and will be pleasantly surprised by the durability of their pliers. The corrosion-resistant stainless steel coated in black nickel-titanium really keeps the rust away and provides the hardness and strength needed to get the job done. The grip material of the pliers adds another bonus, with the raised bumps on the handle making for a much more secure grip in wet conditions than metal handled pliers.
I like the knot cinching feature on the jaws for being one-size-fits-all. Other brands riddle their pliers with so many holes to fit one exact hook. These pliers work for small and large tackle. The overall durability is decent and they can be used for both freshwater and saltwater. A lanyard and sheath are not included but this is a good pair of pliers to add to the tackle box.
---
5. Accurate Piranha Fishing Pliers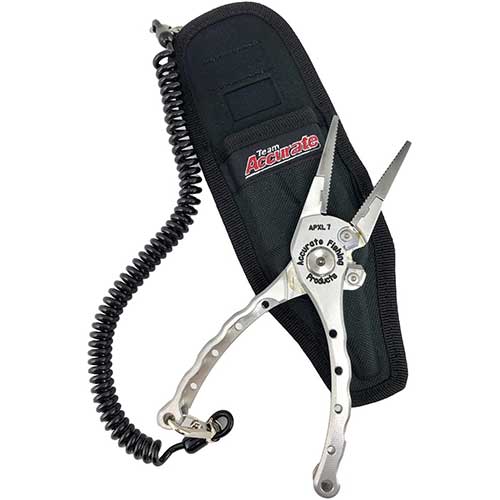 | | |
| --- | --- |
| Material | Aluminum |
| Size | 7-inches |
| Weight | 6 ounces |
Bass anglers may not be familiar with the Accurate brand, but they are highly respected in the offshore world. The heavy-duty machining that has gone into these aircraft-grade aluminum pliers allows for them to be impressively lightweight. At 7-inches long the pliers only weigh 4.2 ounces. The integrated tungsten carbide cutters cut clean through heavy braid without leaving frayed edges, and stay sharp even after the repeated severing of light wire. However, I do not recommend cutting wire at it dulls the cutter eventually making it difficult to cut braided lines.
The handles are metal, but their ergonomics provide a pretty good grip even when wet and slippery. The spring-loaded design is high quality, too, and helps to quickly open the jaws to cut the fishing line and grab hooks. They don't have the split-tip for my split rings, but Accurate sells a replaceable jaws kit with a pair of jaw heads that do, and only two screws make it easy to swap out. The lanyard and sheath are also included with the pliers.
---
6. Offshore Angler Aluminum Pliers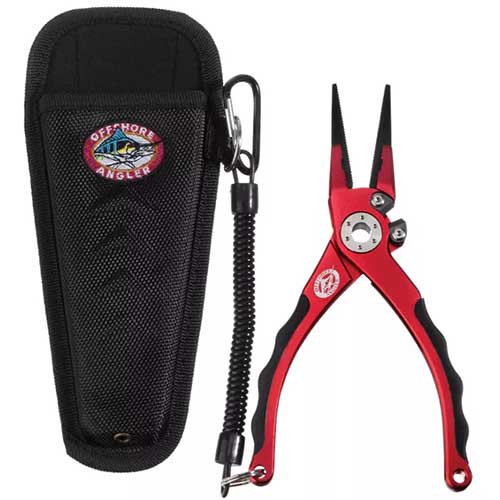 | | |
| --- | --- |
| Material | Aluminum |
| Size | 7.3-inches |
| Weight | Around 6 ounces |
Aluminum pliers are becoming more and more popular due to there light weight and corrosion resistance. This pliers has stainless steel inserts for the jaws and tungsten cutters for the line cutters. I have the pliers and use it when freshwater and saltwater fishing. For freshwater fishing I leave it in the tackle box and for saltwater fishing we keep in on the lanyard near the back of the boat. It does have a sheath with a clip that can be attached to clothing even without wearing a belt.
Overall I have not had any issues with this pliers. For freshwater fishing I use it to remove hooks from fish. In saltwater I typically use a dehooker. The aluminum pliers should still be rinsed off each day after fishing on the ocean. They do hold ho much better then stainless steel pliers. I use to start each morning opening and closing the jaws of my steel pliers just so it would work again. Some oil help but I do not even use oil on aluminum pliers and they still work great. Aluminum is not as strong as steel so these will not work as a pry bar but should hold up under normal fishing use cases.
---
7. Berkley Aluminum Fishing Pliers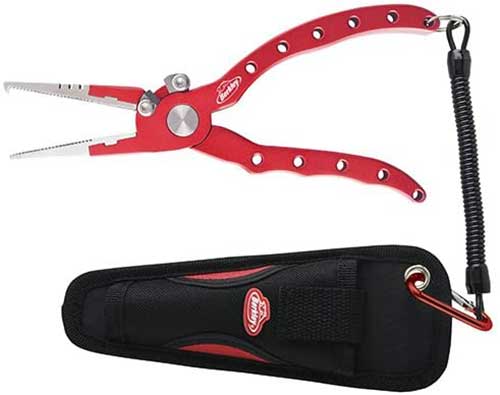 | | |
| --- | --- |
| Material | Anodized aluminum, stainless steel jaws |
| Size | 5, 7, and 9-inches |
| Weight | 4-6 ounces |
Berkley is so popular because the products work and are value-oriented. Their products also look good enough to fit in with the more high-end fishing gear they compete against. With corrosion-resistant stainless steel jaw inserts and anodized aluminum body, these resist rust while adding the ability to change out the parts that might break or dull. Out of the box, the cutters do work well through a braided line and monofilament line.
The cutters work at first even cutting small wire, but this will dull them rather quickly. The sheath is of decently durable material, but the lanyard is impractically short. An extended piece of cord could be added or the lanyard could be removed. The unit as a whole is more durable than many other brands of pliers at the same price. If the stainless steel jaw inserts get damaged a replacement set can be used to fix them.
There are three sizes offered by Berkley, 5, 7, and 9 inches. Only the 5-inch has the split ring nose for changing out hooks. Overall, the price is a good value and the reliability of Berkley does make fishing more enjoyable.
---
8. Bubba Blade Side Cutter Pliers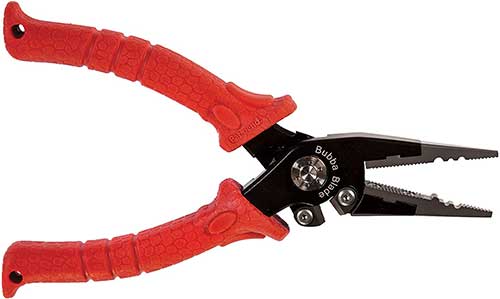 | | |
| --- | --- |
| Material | Tungsten Cutters, Aluminum, Stainless Steel |
| Size | 7.5-inches or 8.5-inches |
| Weight | Around 10 ounces |
These are Bubba Blade spring-loaded pliers with side cutters. A lot of people really stand by the Bubba brand which became popular for their fillet knives. The patented "No-Slip-Grip" handles everyone loves for control and safety on the Bubba Blade knives had been carried over onto their pliers. The grip feels great in the hands and is less likely to slip in wet conditions.
These are rated to work in a saltwater environment. The tungsten cobalt cutters cut through any mono and braided lines with ease. However, over time these can dull and the hardware can be replaced using an Allen key. The Buba Blade pliers are made with an aluminum frame but have high carbon stainless steel jaws with a Ti-Nitride Coating. If the jaws get damaged they can also be replaced.
---
9. Bubba Blade Long Nose Fishing Pliers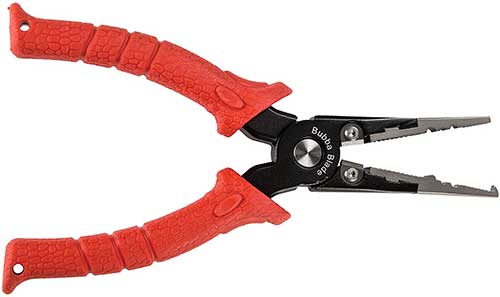 | | |
| --- | --- |
| Material | Aluminum, Stainless Steel, Tungsten Cutters |
| Size | 6.5-inches or 8.5-inches. |
| Weight | Around 9 ounces |
Bubba's long nose fishing fliers feel good with their non-slip handles and spring-loaded design. The jaws are stainless steel and titanium bonded for extra strength. As usual with this brand, the cutters work mighty fine against all types of fishing lines. The aerospace-grade aluminum body provides lighter weight but is not as rigid or strong as titanium or steel.
These pliers do come with a split ring tool. The cutters are built into the pliers which is the more traditional style. It comes with a sheath and lanyard, which is very useful compared to other sheaths. The pliers are not indestructible and are not as tough as they might look. Overall these are average quality pliers that can be used for light freshwater or saltwater fishing.
---
10. Rapala Mag Spring Pliers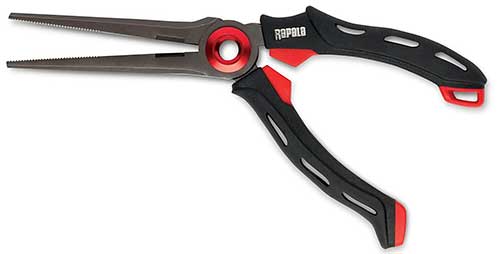 | | |
| --- | --- |
| Material | 420 Stainless Steel |
| Size | 4-inch, 6-inch, or 8-inch |
| Weight | 5.76 ounces to 8 ounces |
The Rapala Mag Spring pliers are spring-loaded with a slight offset to the grips. Rapala is known for making quality fishing products at a reasonable price. Encased magnets work like springs, pushing the pliers open. This solves the problems low-end pliers have of the springs either falling off, rusting, or both. Having jaws that push open makes it much easier and faster to grasp onto objects with the pliers. The handles are soft and offer a good grip even in wet conditions. There are line cutters but this is not a great primary way to cut fishing lines.
The pliers are available in 6-inch and 8-inch sizes depending on the size of the fish being released. Having jaws that are offset from the handles is a useful feature when it's hard to see the hook down the fish's throat. Made with stainless steel and tin-nickel alloy, the pliers are decently sturdy enough to tug on metal all day. If used in a saltwater environment, they will rust so ensure to rinse properly each day and limit saltwater exposer. However, these should hold up nicely in a freshwater environment, just make sure to store them in a dry place.
---
11. Gerber Needle Nose Pliers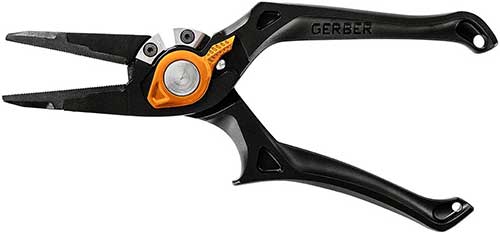 | | |
| --- | --- |
| Material | Forged aluminum |
| Size | 7.5-inches |
| Weight | 12 ounces |
Gerber always puts a lot of thought into their tools, and it really shows in their Magniplier line of fishing pliers. The Barehand handle is unique, as it's offset to give a better line of sight while working the jaws. A finger choil handle design provides a good grip and control. Both the jaw tips and carbide cutters are easily replaceable, but the cutters are also reversible, which is great because those tend to dull faster. A plunge lock mechanism in the center will keep the pliers closed when not in use, and can be engaged with one hand.
The extended length of the needle-nose provides great reach, and Gerber's SaltRx coating is an excellent anti-corrosive. The jaw tips do not fully close, but this is on purpose to ensure the cutters fully do. These do close enough to still grip most hooks. A lanyard and sheath come included, and overall these are a beautiful set of pliers. The plunger lock is thin as is the pin within it which helps keep the pliers locked shut. The durability is questionable but should hold up in freshwater environments.
---
12. Cuda Long Needle Nose Pliers

| | |
| --- | --- |
| Material | Full-tang steel |
| Size | 10.25-inches |
| Weight | 8.8 ounces |
Cuda is a company that not only has a cool name, but they also make great gear for saltwater fisherman. Cuda makes some nice mid-range pliers, and the lower-priced ones have exceptional quality for the low price point. These long needle nose pliers are great for removing hooks from fish.
The titanium bonded full-tang steel means they are one solid piece all the way from the jaw tips down to the handles, which is visible beneath the Cuda Scale Pattern. This increases their overall strength and rigidity and gives these pliers a bite that lives up to the fish they are named after, the barracuda. The handles are actually quite pretty and have a good grip, enhancing their aesthetic appeal and functionality.
The cutters slice through monofilament and fluorocarbon lines nicely out of the box, but not braid quite as well. Pliers with built-in cutters tend to get dull over time so it is good to have alternative ways to cut fishing line. The jaws of the pliers are spring-loaded which makes them easy to open and quickly get ahold of the hook.
---
13. Cuda Dehooker 8.5 inch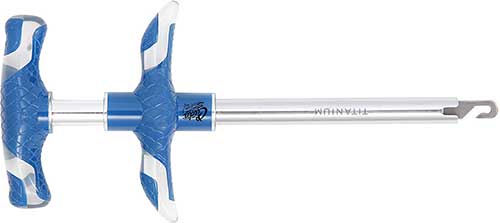 | | |
| --- | --- |
| Material | Aluminum alloy, titanium bonded |
| Size | 8.5-inches or 18-inches |
| Weight |  5.3 ounces or 9.12 ounces |
The Cuda Dehooker is another option for removing hooks from fish. A dehooker is sometimes the best way to remove a deep hook with minimal injury to the fish. In fact, sometimes a dehooker is required by federal law, as when targeting reef fish off the coast of Florida, like snappers, amberjacks, and groupers. Consistent with their other products, Cuda makes a beautiful and durable tube-type one from aluminum alloy and a patented titanium bond.
Two sizes are available, an 8.5 inch that will handle most Inland species, and an 18 inch model for those big-toothed brutes caught at seas such as sharks and barracuda. The tube-style is great for visibility deep down a fish's throat, and the squeeze-grips that lock the latching device onto the hook lets a lot of pressure be used when necessary.
Cuda's fish scale pattern looks really good and allows for a non-slip grip on the handle. The metals used are lightweight, strong, and corrosion-resistant. If another reason is needed to purchase this dehooker, Cuda also offers a lifetime warranty.
---
14. Leatherman Wingman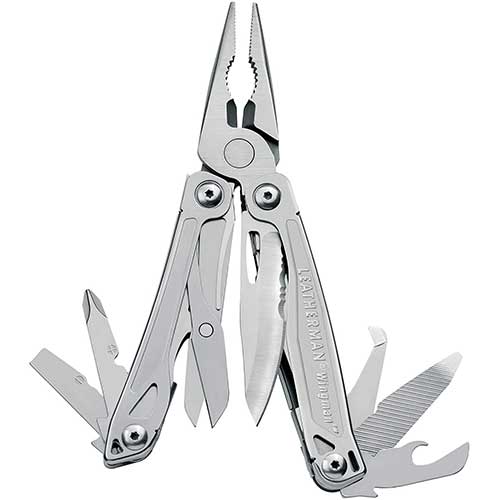 | | |
| --- | --- |
| Material | 100 percent stainless steel |
| Tools | Wire cutters, needlenose pliers, scissors, knife |
| Weight | 7 ounces |
Leatherman makes great multi-tools for all kinds of applications, and just so happen to work as awesome fishing pliers, too. The Leatherman Wingman comes with 14 tools, including spring-action pliers, spring action wire cutters, and spring-action scissors, which are all indispensable tools when fishing. Every individual tool is designed to be accessible and used one-handed, so they are a great option to wear or to keep in the tackle box.
At only 7 ounces, these are a great tool that won't weigh you down, either. Leatherman is an established brand that uses quality materials and manufacturing processes. They use heavy-duty stainless steel for hardness that keeps the edges sharp on its tools, while also providing some decent corrosion resistance. On freshwater lakes and streams, the Wingman will hold up well. It should not be used if it will be sprayed with saltwater as it is difficult to properly clean after each use. Stainless steel pliers and knives will rust if saltwater is not properly removed. A leatherman's toughness combined with its compactness makes it ideal for fly fishermen.
---
15. Knipex 8-inch Needle Nose Pliers

| | |
| --- | --- |
| Material | Chrome vanadium steel |
| Size | 8-inches |
| Weight | 7.1 ounces |
Knipex Needle nose pliers are not specifically "fishing pliers", but they do work great for this purpose. This is the style of fishing pliers I grew up using. It is not fancy but gets the job done. The cutters work for cutting monofilament and fluorocarbon but are not the best for braided line. This type of pliers does tend to get rusty so it is important to rinse and oil the bearing. If the pliers rust completely stiff the pliers are then garbage. As long as there is some movement moving the plier back and forth with some oil will typically make them usable again.
Made in Wuppertal-Cronenberg, Germany, you can trust German engineering to be oriented towards value without skimping on quality. The Knipex 8-inch model has elastic precision tips that are strong and flexible enough to not break even with lots of twisting and bending. The serrated grip on the jaws prevent slipping, and the integrated side cutters are designed to sever hard wire of a maximum diameter of 2.2 mm. These will also work on the fishing line and leaders. The soft handles provide a comfortable secure grip.
The steel used in manufacturing is of good quality. It is made with 0.8 percent carbon with some chrome and vanadium thrown in. These pliers are resistant to rust, so with some cleaning and oiling after getting wet they should last a long time. If you are looking for a good pair of pliers for the tackle box but do not want to pay too much, a good needle nose Knipex pair is a reasonable option. This is especially true for freshwater fishermen.
---
16. Penn Crimper Fishing Pliers

| | |
| --- | --- |
| Material | Nickel with a titanium coating |
| Size | 14-inches |
| Weight | 17.6 ounces |
These Penn crimp pliers are constructed out of stainless steel with a black nickel-titanium coating. The jaws are not used to remove hooks but are used to smash down crimps that are used in place of tying fishing knots. Offered in 6.5 or 8 inches, these are commonly used by saltwater anglers to add hooks and swivels to fishing lines that are over 80-pounds and higher in line strength.
While black nickel on its own does not have much success resisting corrosion, the added titanium in the coating prevents rusting quite well in these moderately priced crimps. The jaws have holes for four standard crimp sizes. The handles allow for enough power to properly secure the crimps. Always test the strength of the crimp before setting out the line. Especially if it is the first time using the crimper with a given size line and crimp. Some people do lose nice fish because the crimps were not done properly.
The bypass cutters are midway up the jaws. These will cut monofilament, fluorocarbon, multi-strand wire, and single-strand cable. If you fish for big game fish having crimpers is very important. Crimps allow for sleek leaders to be secured while maintaining high overall line strength. These crimpers also tend to last for many years. Typically we make the fishing rigs in advance so we are ready to fish as soon as we get to the fishing grounds.
---
17. Rapala Mini Pliers and Side Cutters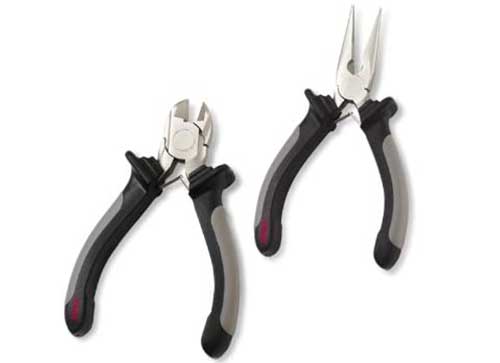 | | |
| --- | --- |
| Material | Carbon steel with nickel plating |
| Size | 4-inch side cutter, 5-inch pliers |
| Weight | 4.8 ounces |
This set comes with Rapala mini pliers and Rapala side cutters. While reviewing fishing pliers, a common complaint is the integrated cutters are not working well, or lack cutters altogether. One option to overcome these limitations is to purchase a combo set. Bass Pro Shops has a 5 inch curved version of this pliers.
These being two individual tools is not necessarily a bad thing, because they come with a dual sheath that can be worn on a belt and weigh little more than half a pound altogether while providing two working features. And the cutters do indeed work, not only for mono and braid but on wire leaders, too.
Made from carbon steel, both pieces are stronger than most stainless types used and the nickel plating helps greatly in preventing rust. Properly rinsing and oiling the plier will make them last longer. The short length of the pliers might not work for all situations. However, for freshwater fish, they are almost always sufficient. The line cutters are one the best ways out there to cut the fishing line. They work as good or better than knives, scissors, or toenail clippers.
---
18. Piscifun Fishing Pliers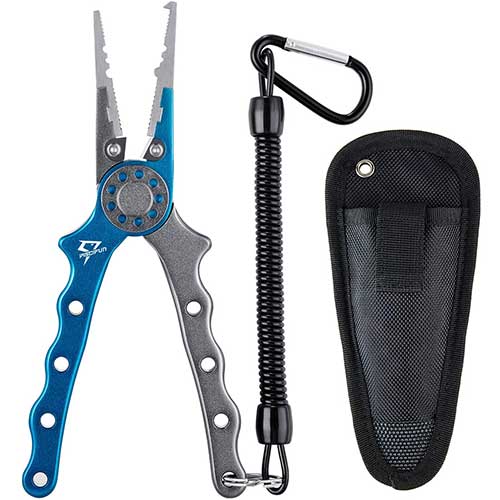 | | |
| --- | --- |
| Material | Anodized Aluminum |
| Size | 7.1-inches and 7.9-inches |
| Weight | 3.72 and 3.79 ounces |
These Piscifun pliers are a decent entry-level set for those trying to invest more money somewhere else, like a new rod and reel. The jaws are titanium coated stainless steel, so the power is there to remove hooks while being highly resistant to rust in fresh or saltwater conditions. The carbide cutters work great, cutting smoothly through heavy braided lines, and are fully replaceable through the manufacturer. The split ring tip is a useful feature and makes changing out hooks on split rings so much easier. Using your fingernails for this task is difficult and does always work.
A thin design and lightweight make it easy to carry them on a boat or when bank fishing. They come with a sheath that can be strapped on a belt or to a retractable lanyard. Being able to quickly access the pliers with one hand is important for releasing fish in a safe timely manner. They also have a good look which makes them an option to use for charter fishing operations.
While the company description states that these pliers are hard to bend, the aluminum handles, unfortunately, can bend in extreme use cases. They will get longer life being used on more common sports species like bass and panfish. The metal can get pretty slippery when wet so make sure to have a secure grip or wear gloves in wet conditions.
---
19. Berkley XCD Long Reach Pliers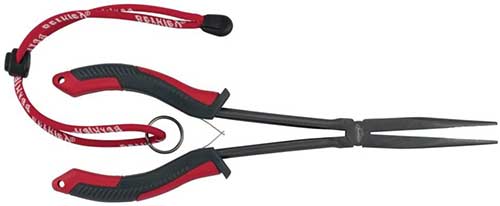 | | |
| --- | --- |
| Material | Carbon Steel. |
| Size | 11-inches |
| Weight | 13.44 ounces |
The Berkley XCD Long Reach pliers are good for removing hooks when the fish swallows them. Features of these pliers include an 11-inch overall length, lanyard, and a spring-loaded handle. It is made with carbon steel and a corrosion-resistant coating. These will work well in freshwater and should be rinsed thoroughly with fresh water if used in a saltwater environment. Berkely also has straight nose pliers, side cutters, and split ring pliers available in this listing.
If a fish is hooked in the lip most pliers will work to remove the hook. However, when a fish is hooked in the gut it sometimes requires long needle nose pliers to reach the hook. Some anglers just leave the hook and cut the line but that can result in killing the fish. We almost always try and remove the hook. If there is not a barb it is easier to remove a hook from a gut hooked fish. Sometimes the barb can be smashed down or cut off with a wire cutter even after the fish have been hooked. During bass fishing tournaments, this is important cause dead fish do not count.
---
20. KastKing Speed Demon Fishing Pliers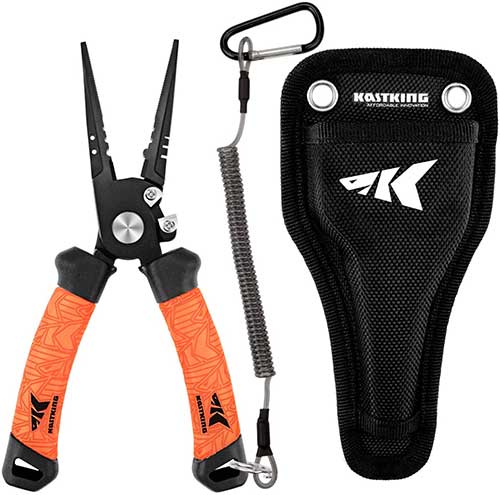 | | |
| --- | --- |
| Material | Stainless Steel, Carbide Cutters, Teflon Coated |
| Size | 7.5-inches or 8.5-inches |
| Weight | Around 9 ounces |
The KastKing Speed Demon fishing pliers stand out for their fierce orange super polymer grip handles. The comfortableness allows work to be done quickly without the annoying slippage of metal grips, and the color lets them be found better if dropped or set aside. The issue I do have with the grips, however, is that they are not glued down and have a tendency to slip off, which can be frustrating.
Available in a 7.5 or 8.5-inch split ring nose, the fine serrating on the jaws make gripping hooks more fail-proof than other models without it. The steel design is very rigid, and a good corrosion-resistant coating means these can be brought along on salt-soaking fishing adventures.
I don't know what KastKing was thinking with the accompanying sheath, though. The pivot point is supposed to make for easier take out and put away, but it swivels so much that the pliers can end up on the floor rather than on the hip. Have your own holster or be prepared to make modifications with that piece of equipment.
---
21. KastKing Intimidator Fishing Pliers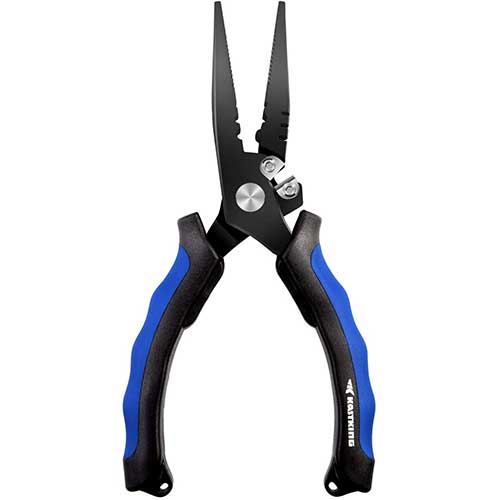 | | |
| --- | --- |
| Material | Steel with Teflon Coating |
| Size | 5 inches |
| Weight | 3.5 ounces |
These KastKing Intimidator fishing pliers are very intimidated by rust. The company holds no secrets when they market them as only freshwater applicable. The soft grip handles are a good surprise for pliers at this price, as well as the spring-loaded jaws, so they are nice to have around for light-duty applications. They will get the job done for lakes, ponds, creek escapades. Being only 5 inches in length it is easy enough to tuck them away securely in pockets or small tackle boxes.
If you are an angler who likes ultralight fishing, even if it's only from time to time, these pliers will come in handy. There are several versions of these pliers available and features include split ring nose, size cutters, spring-loaded handle, and crimp slots.
---
22. KastKing Cutthroat Fishing Pliers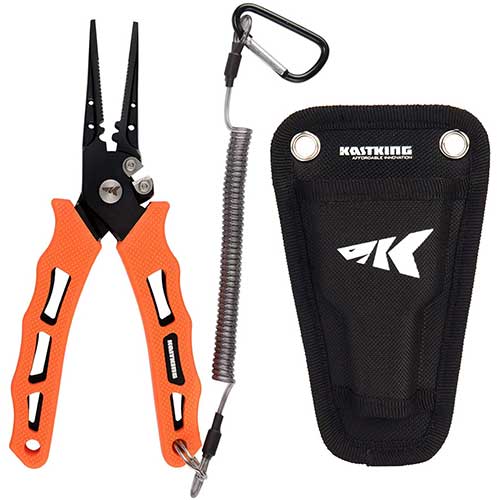 | | |
| --- | --- |
| Material | Stainless Steel with Teflon Coating |
| Size | 7.2 inches |
| Weight | Around 9 ounces |
KastKing is a brand that some people like due to its affordability and the average quality of the products. This pair of pliers is alright but does not hold up as well as others on the market. They claim to be made from 420 stainless steel with Teflon coating but rusts pretty quickly. They should only be used for freshwater applications.
The steel is rigid and less prone to bending than some aluminum pliers. Available in either straight nose or the split ring nose design, they're slender enough to work with panfish. The comfy rubber grips help out a lot when used frequently. The holes in the jaws can be useful. You can put the end off the hook in there and pull with the pliers to cinch down knots. This allows for better knots than pulling them by hand.
The sheath the pliers come with leaves a lot to be desired. It swivels and has a tendency to never be vertical but this can be modified. Rusting can be reduced by cleaning and oiling the pliers. Overall these pliers are meant for the budget-conscious fisherman but don't set your expectation too high.
---
23. Shimano Black Nickel Long Nose Pliers

| | |
| --- | --- |
| Material | Black Nickel |
| Size | 7, 8, or 11-inches |
| Weight | 8 to 10 ounces |
The Shimano black nickel long nose pliers are available in three sizes. While fishing for fish with sharp teeth it can be nice to have long pliers to give your hands more space from the fish. These are basic pair of pliers from Shimano and are not capable of cutting wire leaders as most basic pliers are not.
The long nose is the stand out feature of these pliers. Also, they have some soft grips on the handles that work well when wet. This is not a split ring nose, crimpers, or side cutter. The steel is pretty strong but the black nickel is quite worthless at resisting rust. However, if they are rinsed properly and oiled they can be a very useful pair of pliers to have with you when going fishing.
---
24. Sea Striker Needle Nose Pliers

| | |
| --- | --- |
| Material | Carbon Steel |
| Size | 6-inches and 8-inches |
| Weight | 5 to 7 ounces |
These Sea Striker needle nose pliers are a low-cost option that can get the job done. The serrated jaws allow for a good grip on hooks and are rigid even when twisting hard. There have built-in cutters that work ok on monofilament but are certainly not the best. Sometimes the cutters just smash the line rather than cutting it.
In a freshwater environment, these will slowly get rusty. A little oil helps them last a lot longer. When using them in saltwater they will need a daily rinse and oil. These are more suited for use around the house but are certainly better than not having a pair of fishing pliers. It is also important to have a pair of wire cutters to cut steel leaders. Wire cutters can also cut hooks in half to safely remove them from fish that get gut hooked. Otherwise, the barb can cause damage when pulling it through the stomach.
---
25. Jekosen Mini Aluminium Fishing Pliers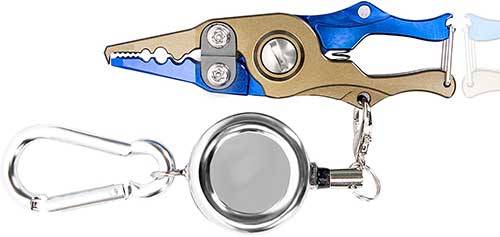 | | |
| --- | --- |
| Material | Anodized Aluminum, Tungsten Cutters |
| Size | 3.15-inches |
| Weight | Around 3 ounces |
Jekosen is a relatively new fishing company that specializes in heavy-duty reels and lures for saltwater. They also make cool accessories for all types of fishing. These mini pliers have a split ring nose and strong tungsten cutters that work well and smoothly on any type of line. Less than 3 ounces and fitting in the palm of my hand, the anodized aluminum frame is still strong, and the screws and inside spring or stainless steel. The black titanium plating treatment on the cutters enhances their strength and durability.
For someone with large hands, the smallness of these pliers might make them a little awkward to grip and squeeze. However, the spring-loaded and anti-slip design of the handles makes it less difficult. These go hand-in-hand with ultralight fishing and can also be pinned to a fly-fishing vest or belt loop. It comes with a carabiner-style 24-inch retractable nylon tether for quick access and release, but its size makes it so it can easily fit in pockets as well. Keeping it on the retainer helps ensure the user will not drop it in the water.
---
26. Celsius Floating Fishing Pliers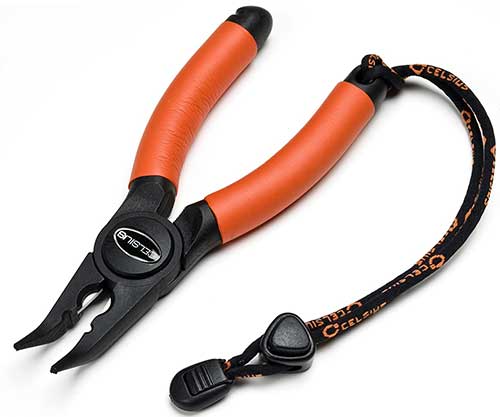 | | |
| --- | --- |
| Material | Plastic with Tungsten Cutters |
| Size | 6-inches |
| Weight | Around 3 ounces |
Celsius make the best floating pliers which are good for kids to use. The main advantage of floating pliers is that if you drop them in the water they will not sink. Kids are more likely to drop a pliers in the water but it certainly can happen to adults. That is why many pliers are on lanyards. There are sharp tungsten carbide cutting blades built-in to allow the fishing line to be cut. Another nice feature is the soft-grip handles.
Plastic pliers are not a rigid as metal pliers so some fitness is required when using them. The grip of the jaws does not allow the wrenching on hooks like you can with metal pliers. The curved design on the jaws was a good idea as this allows for a better pulling angle and power than plastic straight heads would. Since they are lightweight they are early to keep on your person. Also, the plastic does not rust so these are a good option to put in a kayak when fishing on the ocean.
---
27. Booms Hook Remover Extractor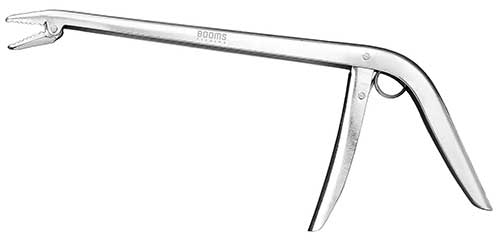 | | |
| --- | --- |
| Material | Stainless Steel |
| Size | 11.5-inches |
| Weight | 3.8 ounces |
This Booms hook remover extractor is an alternative to pliers. The extractor has a simple design that allows hooks to be grabbed even when hooked deep in fish with medium sizes mouths. It's basically a grabber like you see people use to pick up trash without bending over. However, it has smaller jaws for grasping onto fishing hooks. It claims to be stainless steel but is still very susceptible to rust. The metal does not always have smoothed edges so use with caution as cutting a finger is possible.
The 11.5-inch length of the extractors allows it to go deep into a fish while still allowing some space on the finger if the fish has teeth. For small fish like bluegill, the jaws are a bit too big to fit into the mouth of the fish swallowed the hook. It is better suited for fish from crappie, trout, and larger freshwater fish. In general, a pair of pliers is better but it never hurts to have additional tools at your disposal.
---
Useful Information About Fishing Pliers
Types of Fishing Pliers
There are a few basic types of fishing pliers but many different combinations of features may be present in each individual pair. It is easiest to begin with the most simple variable in fishing when determining the best type for you, which is the two kinds of water- fresh and salt. A regular set of steel needle nose pliers could last a long time when used for freshwater fishing, but generally more expensive metals like titanium and aluminum are corrosive proof or resistant enough for the sea.
The key feature for all pliers is the jaws to grip and pull a hook out of a fish. Other features that are integrated onto pliers are a split ring nose for opening split rings, cutters for line or wire, and crimpers for sleeves and leaders. The materials and metals used for these features vary, some better and more expensive than others. Secondary features applied to pliers in any combination are usually spring-loaded handles, soft handgrips, and holes for attaching a lanyard.
Another option that is not pliers but serves the same basic purpose is known as a de-hooker. These are important for dislodging hooks too far into a fish that pliers cannot reach, and the two main types of these are the tube-type and T-handled rod. Both are basically long rods with an open loop at the bottom you trace the line down with until it is around the shank of the hook. With the T-handled rod, a combination of pulling and using gravity and the fish's weight removes the hook. The tube-type has handles that squeeze a tube down over the open loop, applying more pressure onto the hook to pull it out.
How To Clean and Oil Fishing Pliers
 Maybe you have a titanium pair of Van Staals and haven't cleaned them in five years, and they still work perfectly. That's what I'd expect for $400. But you can still take care of a much more minimal investment by periodically cleaning and oiling your steel pliers to help maximize their life.
Pliers are more susceptible to rust than other tools because of the inner hinges and joints, which can become locked up after a while. The cutters especially may be the first to suffer. A good thing to do once stiffness begins to set in is to apply some cutting oil and work them back and forth. Any rust will begin to be worked out visible, and blowing some WD-40 into it will help push out the remainder.
To get rid of light rust, mix two cups of white vinegar in a bucket of water and put the pliers in to soak for six hours. If there are any type of soft grips on the handles you should rig up a way to keep them out. After six hours, drop-in 500 grams of table salt and stir. Then leave to soak for 24 more hours. The next day, a rusty paste will be visible, which should be gently scrubbed off with ScotchBrite or steel wool.
WD-40 can be used to displace any water within the joints and springs, but use a longer-lasting lubricant after. Something like 3-In-One multi-purpose drip oil works great to penetrate into tight spaces and remove excess dirt and grime.
Information on Cutters
 A pair of pliers with attached cutters are great, especially if you're not on a boat and need to carry less. Not all cutters work the same, however, and if you browse through product reviews, these tend to get the biggest complaints.
A big thing to be aware of is that there are two types, side cutters, and line cutters. The side cutters are for cutting steel wires and hooks, while the line cutters are only designed for severing mono, fluoro, and braided fishing lines. Different things go into making the two cutters work, mainly the material of the blades and the pressure from the grips. If the strength of the pliers and the pressure allowed from squeezing the grips are not stronger than what they are cutting, the pliers will lose that battle of wills. Sometimes blades get chipped and pliers become misaligned in that contest.
The old adage "you get what you pay for" holds true for pliers, and the more expensive ones usually feature cutters with tungsten blades. All blades will dull over time, however, the more expensive pliers will also feature replaceable blades, and sometimes jaw heads as well.
---
Frequently Asked Questions About Fishing Pliers
 What are split ring fishing pliers?
 The split ring feature on fishing pliers is the perpendicular obtrusion on the tip of the jaw head. It is designed to open the coiled ring where treble hooks and j-hooks are secured to lures. The split ring tool makes it much easier to open the ring which is similar to a key ring. Anyone who has used their fingernails to do this knows the true happiness of having pliers with this feature.
What are good pliers for fly fishing?
 Besides rigging, cutting, and removing hooks, a good pair of pliers should be durable, easy to use one-handed, and function well. Especially when fly fishing trout, being quick and gentle will help the fish survive when released back into the water. Some of the best brands that are built to function consistently well in this regard are Simms Guide Pliers, Van Staal Pliers, Gerber, and Cuda Pliers.
What pliers are the most corrosion-resistant?
Titanium and aluminum Pliers are the most resistant to corrosion. Both offer high strength at low weight. Aluminum is lighter, but because of titanium's inherent strength, you actually need less of it, and titanium is less likely to break than aluminum pliers. Titanium and aluminum actually produce an oxide in harsh conditions, such as from saltwater, which unlike the damage caused by iron oxide in other metals known as rust gives them an extra barrier of protection. Overall, titanium is stronger, more durable, and light enough to be the superior metal for a pair of pliers.
Are expensive fishing pliers worth the money?
Fishing is a sport that relies heavily on skill and patience and very little on luck. Good tools that are dependable enhance your skill level, and frustration is the arch-enemy of patience. Buying a cheap pair of pliers is a gamble, they might work decent enough and last a while. However, it is more likely that you will have to keep replacing them over and over as they fail on you at the time you need them most.
Most expensive pliers come with a warranty that lasts years, which already provides its own peace of mind. Pliers deal more with the patience side of fishing. If you want to quickly release a fish and get your line back in the water consistently, and spend less time buying pliers than using them, then yes, expensive pliers are worth the money. Pliers also make a great fishing gift.
Do fishing pliers float?
There are a few brands that design their fishing pliers to float, but none are of extraordinary quality. Typically plastic pliers are not strong enough to perform the difficult tasks that could arise with any given fish catch. Some people actually add a float to the lanyard to ensure that the pliers do not get dropped into the water and sink. Another alternative is a coil lanyard attached t the person. In general, pliers do not float so make sure not to set them on the edge of the boat where they then might slide into the water.
Do fishing pliers come with a warranty?
Some companies do actually offer a warranty when you buy a pair of pliers, and it can range from a few days to an entire lifetime. It probably comes as no surprise that it is often the more expensive brands that have the longest warranty and the less expensive ones with shorter or none at all.
Brands like Danco and Cuda give a limited lifetime warranty, for example. They generally both state that any defects in parts and manufacturing will be fixed or replaced, but that they are not responsible for inevitable wear and tear. Wear and tear means blades dulling, paint and finish peeling or cracking, and corrosion.
The good benefit of buying pliers from an expensive but trusted brand is that they often go above and beyond the conditions stated in their warranty, and are extremely customer service oriented. As an example, I know a guy who bought an expensive beautiful pair of pliers and then immediately proceeded to drop them over the side of a boat into the deep blue sea. But because they fell off of the lanyard which the company included with his purchase, they replaced his pliers with the exact model.
What are the best pliers for removing deep gut hooked fish?
When a fish swallows the hook and it becomes lodged in its gut, you must remove it, or else either the fish could eventually die. It is not good to unintentionally harm fish that will be released. That is why there exists a tool known as a de-hooker.
A de-hooker works much more efficiently and safely to remove gut hooks, and that is because of their design. They are mostly long, skinny rods with an open-loop (like a hook, but not sharp) at the bottom. You don't even necessarily need to see the hook itself, but by tracing the fishing line down into the fish with the open-loop, you will eventually come into contact with it, and rest the loop around the book's shank. At that point, you are in a position to pull on the de-hooker and remove the hook.
This tool is required by federal law in some places, like parts off the coast of Florida where reef fish are protected. In addition, sometimes a fish descender is required to help with pressurization. These tools help ensure more fish survive if you reel them up from a great depth and return them. Tools like these make for healthier populations of fish so that fishermen can return again and again, and enjoy the greatest sport on earth.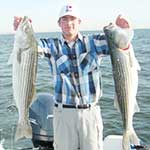 Captain Cody has worked on charter fishing boats in the Florida Keys, Virgin Islands, and Alaska. Growing up in Pennsylvania Cody has also done extensive freshwater fishing including bass fishing tournaments. Cody strives to provide detailed information about the best fishing gear and tactics to help both novice and experienced anglers have a more productive and enjoyable time on the water. Cody also has a background in aerospace engineering and neuroscience but really only takes pride in being good at one thing and that is fishing!