Bluefish are extremely hard-fighting fish and their ferocious nature makes them the piranha of the ocean. These are fun fish to catch! Bluefish typically swim in schools so when you start catching bluefish there is often lots of excitement. These fish have sharp teeth so it is a good idea to use a wire leader when fishing fresh bait. Bluefish respond well to chum during the day or night and are often targeted by party boats.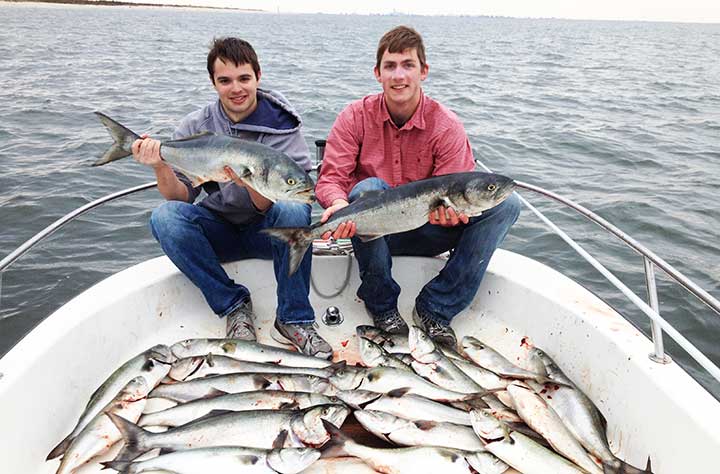 The size of bluefish vary greatly and can be commonly caught from 6 inches to 20 pounds. Bluefish is an abundant fish although there were population concerns in the early 1990s. These fish migrate all along the east coast of the USA from the tip of Maine to the Flordia Keys, inshore and offshore! Bluefish are also prevalent in the Gulf of Mexico.
Here Are the Best Bluefish Fishing Lures and Baits
---
1. Diamond Jig Bluefish Lure

The Silver Diamond Jig comes in weights from 2 ounces to 6 ounces. The tube skirts of the jigs come in red, green, or white, and a single hook. The red skirt works best when fishing in shallow water less than 20 feet deep. Tube skirted lures are commonly used when bluefish are feeding on sand eels.
If you are not sure what depth the bluefish are at a diamond jig is a good option. These are fished by casting a short distance out and letting the jig sink all the way to the bottom and then retrieving the lure quickly. Reeling it in part way and then dropping it back to the bottom multiple times during the retrieve works well if the boat is drifting and the fish are close to the bottom.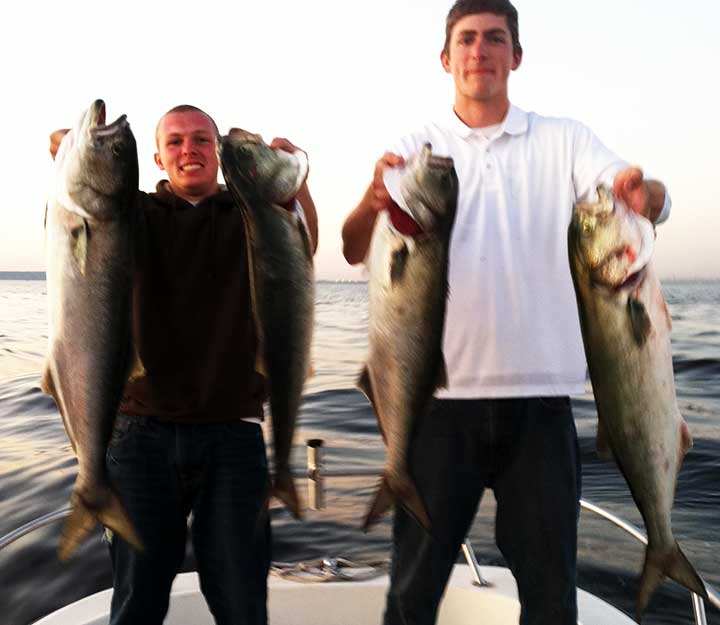 ---
2. Acme Kastmaster with Bucktail Bluefish Lure

The Kastmaster spoon with a bucktail weighs 2 ounces. When fishing in shallow water or when there is surface action a Kastmaster spoon is a great choice. These can be reeled slowly to get deeper in the water column or fast near the surface. These can also work well when trolled.
A plug like a bomber would work well when there is surface action. However, the weight of a Kastmaster makes it so the lure can be cast further than most plugs. Bluefish teeth can really scratch up expensive plugs so that is another reason why spoons are a good option when targeting bluefish.
Kastmaster spoon with tube tails works great for casting from the surf, casting from a boat, or trolling from a boat. This makes it a top lure for bluefish in any situation! Having a quality surf fishing reel allows heavy lures to be cast a far distance when surf fishing.
---
3. Deadly Dick Striped Bass Spoon

The Deadly Dick is a long slender spoon that is very popular to use for bluefish. It comes in sizes of 2.75 inches 3/8 ounce, 3.5 inches 7/8 ounces, 4-inch 1.25 ounces, 4.25 inches 1.75 ounces, 5.5-inch 3.3 ounces, and 6.8 inches 5 ounces.  Color options are red, blue, silver, and green all of which have a silver body.
It is heavy enough to be fished like a diamond jig and light enough to be cast and retrieved like a lure. The lure is rigged with a swivel and single treble hook.
---
4. Tsunami Zig Jig Pro Bluefish Lure

This Tsunami Zig Jig Pro is 2.25 inches long and weighs 7/8 ounce or 2.75 inches long and weighs 1 ounce. It comes rigged with two Mustad treble hooks. Color options are chartreuse head chrome body, red head white body, red head silver body, and red head chartreuse.
The metal body is durable and can hold up to the sharp teeth of bluefish. Since the lure is very heavy for its size it can slowly sink deep in the water. It can also be trolled or cast and retrieved at high speeds.  The lure swims with a side-to-side motion that creates both vibrations and darting action.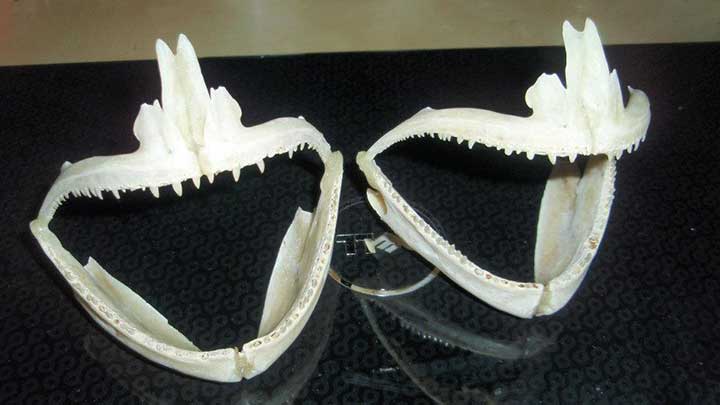 Just in case you do not believe me about bluefish teeth here are two jaws that we preserved. Notice the teeth are connected into the jaw bone, unlike shark teeth which are completely in cartilage. These jaws are from two older bluefish and were actually missing about 25% of their teeth, mostly in the lower jaws, which I found interesting.
---
5. Snagging Rigs​ for Bluefish Fishing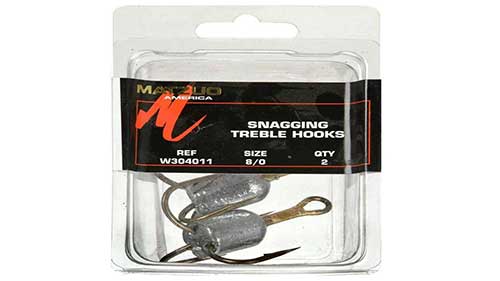 One fun way to catch big bluefish is to snag a bunker with a snagging rig and then have the bluefish come and eat the injured fish. This works for striped bass as well. The bait ball of the bunker needs to show signs that predator fish are around for it to work well though. If the bunker is splashing out of the water they are likely being chased by predator fish. Once a bunker has been snagged the bail of the reel needs to be opened so the bunker sinks below the school to where the predator fish are lurking. Smaller 6/0, 7/0, and 8/0 treble hooks work well for snagging and then trying to fish with the snagged bunker. If you are just trying to snag a bunker to keep for cut bait then you can use larger 10/0 or 12/0 weighted treble hooks.
This is a fun way to fish with this method but is actually quite difficult in practice because the snagged bunker can swim or drift too far away from the school of the bunker. If the snagged bunker does not catch a fish after about 30 seconds, reel it up and try again. The snagged bunker can also be cut up and used as cut bait.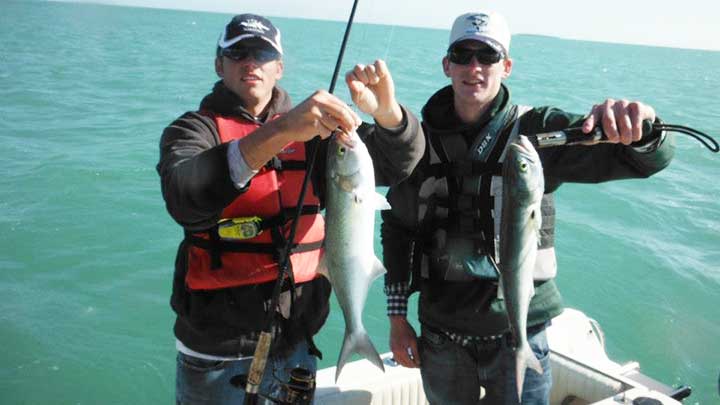 ---
6. Storm Swim Shad Bluefish Jig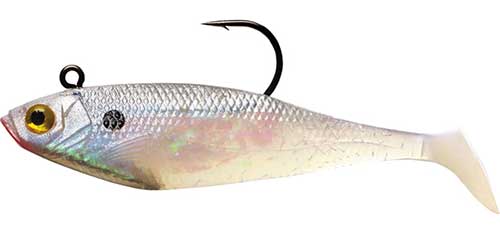 The swim shad is a go-to for stripers and bluefish. Bluefish teeth can tear into the rubber and frequently bite of the tails of swim shad. Otherwise, it would probably be ranked higher on this list. It can be reeled in quickly near the top of the water or jigged on the bottom which makes this a very versatile lure. Peal white and shad and god color patterns for bluefish.
These come in sizes 03  3-inch .25 ounce, 04 4-inch .4375 ounce, 05 5-inch .625 ounce,  and 06 6-inch .875 ounce. Use storm shad size that corresponds to the size of bait in the area. In general, for bluefish, less than 2 pounds a three-inch is a good size and for bluefish over 2 pounds, a 6-inch swim shad is a good choice. These are very similar to the Tsunami swim shad jigs which are heavier and also work great.
---
7. Tsunami Swim Shad Striped Bass Jig

The Tsunami swim shad is a weighted jig that can be cast and retrieved or jigged. It comes in sizes of 3-inch 3/8 ounce, 4-inch 1 once, 5-inch 1-3/8 ounce, 6-inch 2-3/8 ounce, 6-1/2 inch 4-1/4 ounce, 7-inch 3 ounces, and 9-inch 6-1/4 ounce.
Good color options for bluefish include pearl spot, chartreuse, black back, and blue back. Bluefish can chew up this bait but they usually last long enough to catch several fish.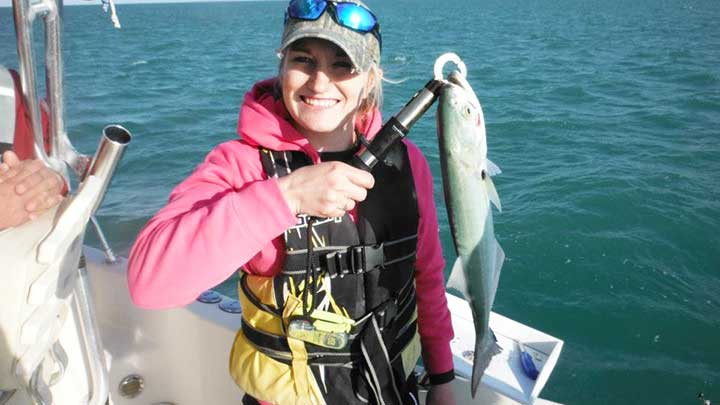 ---
8. Spro Bucktail Striped Bass Jig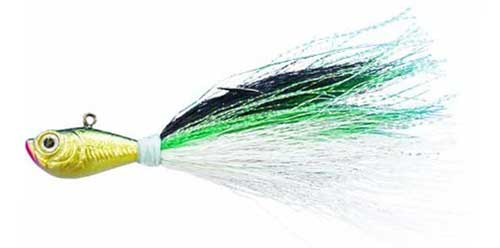 The Spro Bucktail can be fished very similarly to a swim jig but the advantage is bluefish teeth are less likely to damage the lure. It comes in sizes of 1/4 ounce, 1/2 ounce, 3/4 ounce, 1-ounce, 2-ounce, 3-ounce, 4-ounce, and 5.5-ounce. Bass Pro Shops sells Intent Tackle Bucktail jigs which are similar to Spro Bucktail jigs.
Good color options for bluefish are sand eel green, white, chartreuse, and red-white. A scented curly tail can be added but might get damaged from bluefish teeth. Bucktails are also commonly used to catch striped bass and fluke.
The video below is of surf fishing and shore fishing for bluefish in New Jersey. The anglers were using bucktail jigs with large gulp curly tails. When fishing from the shore is it is good to use surf fishing reels.
---
9. Berkley Powerbait Power Minnow Scented Jig

The Berkley Powerbait Power Minnow is a small scented jig that looks like a minnow. It comes in a 2-inch 1/32 ounce size and a 3-inch 1/8 ounce size. The two-inch version comes with 2 jig-heads and 10 bodies while the three-inch version comes with 2 jig-heads and 8 bodies. Bass Pro Shops sell just the bodies in quantities of 18, 15, or 10 depending on the length.
A good bait for small snapper blues is small minnows. This jig looks very similar to live minnows. It is a great bait to use around lights at night time. Catching small snapper bluefish is mostly for fun but they can be kept to eat or used as bait.
---
10. 9er's Umbrella Rig Bluefish Trolling Lure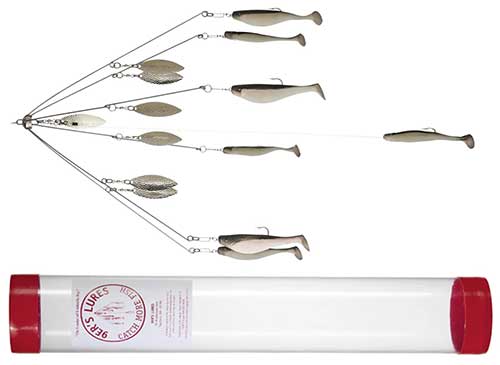 The 9er's umbrella rig works great at catching striped bass and bluefish. It comes with 7 swim body shads that all have hooks. There are also 7 sliver flasher spinner blades to help create vibrations and flash to attract fish.
This is a large 6-arm rig but stores very nicely in the clear plastic tube. It is not uncommon to catch more than one bluefish at a time with this rig. The only real problem with this rig is that bluefish can bite off the tails of the swim shad and damage their bodies with their very sharp teeth.
A sturdy pole and conventional fishing reel is needed to troll with an umbrella rig. A 20-class trolling reel is the minimum size that should be used.
Extra Weight
for Umbrella Rigs

A one-pound trolling weight can be used to get an umbrella rig to a deeper depth while still being able to keep a fast trolling speed. Bluefish can be found near the bottom, suspended in the water, or near the surface. The trick is finding where the bait is located.
---
11. Four Arm Umbrella Rig for Bluefish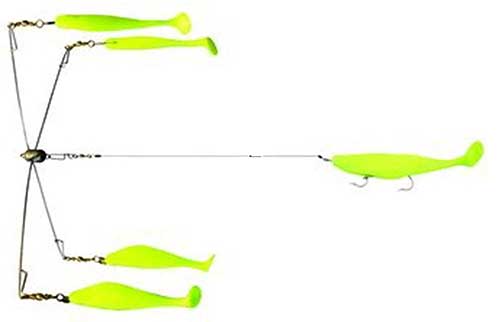 When fishing for striped bass with umbrella rigs a major concern is bluefish tearing up the rig. Umbrella rigs are expensive and bluefish can damage the swim shads very quickly. They can bite off the tails, cut into the swim shad, and cut off the monofilament lines. That being said they do catch lots of bluefish!
This four-arm umbrella rig has four swim shad without hooks and one with hooks. I would recommend bringing extra swim shad, hooks, and swivels! The 9er's umbrella rig has an advantage because every swim shad has hooks. There is no guarantee the fish is going to bite the trailing shad. The larger rig also allows more than one fish to be caught at a time.
Extra Shad Bodies for Umbrella Rigs
No matter what umbrella rig is being used it is smart to have extra shad swim bodies.

Shown above is a six-inch swim shad body, without a hook! These are used to make an umbrella rig or replace the swim shad that had been cut or torn by a fish. Common colors are black-white, white, white-red, and chartreuse.
To save money you can build your own umbrella rig. First, a 4-arm umbrella rig is needed. The ball-bearing swivels are connected to the arm and to size 8/0 Mustad 2407 saltwater hooks. The swim bodies above are placed onto the hooks. Finally, a center stinger rig on a monofilament or fluorocarbon leader is also added to the rig.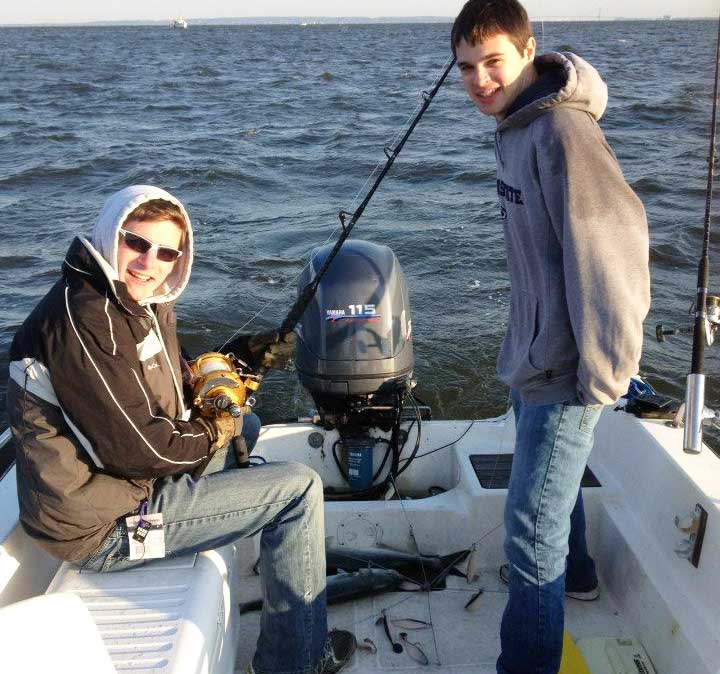 ---
12. Bomber Silver Mullet

The silver mullet Long Shot Bomber comes in 5-inch, 6-inch, and 7-inch sizes. I would recommend the 5-inch for bluefish as there are often smaller bluefish around that are still fun to catch. The 5-inch size is 3/4 ounce and the 6-inch is 13/16 ounce. If you are casting far in the surf the 7-inch would be a good option as it weighs 1-3/4 ounces which will cast the furthest.
A bomber is perfect when bluefish are in shallow water or near the surface. If you see bait braking near the surface this is a great lure to use. Sometimes the bluefish are feeding on mackerel, bunker, or sand eels. This lure is a decent match for all of these types of bait. Big bluefish can cut this lure up with their teeth but it should still work after that. If there are stripers around this is also a great lure. It works well from a boat or when surf fishing for bluefish.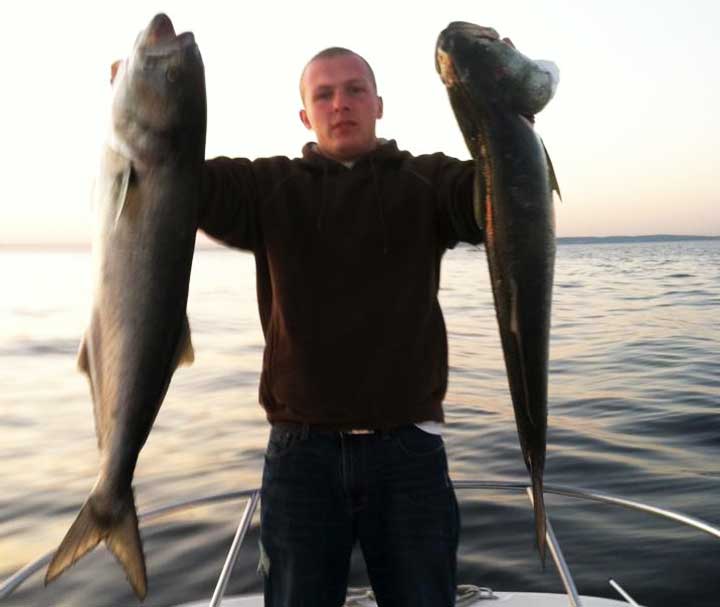 ---
13. Black Bomber Bluefish Lure

The black Bomber is also a Long Shot Minnow Bomber. I listed this lure twice since anglers should have a black and bright-colored bomber for bluefish. In low light conditions and at night, a black bomber is a great lure to fish with.
This Bomber comes in sizes of 5-inch 3/4 ounce, 6-inch 13/16 ounce, and 7-inch 1-3/4 ounce. When surf fishing for bluefish having a heavy lure allows for further casting. This is also a great lure to fish with at night for striped bass.
---
14. Chug'N Spook Topwater Lure

This Chug'N Spook is 5 inches in length and weighs 1 ounce. A read-head with a white body is a popular color pattern for all types of saltwater fish. It is a topwater lure that can be fished like a popper. When retrieving the lure in can also be switched back and forth with the walk the dog style motion.
Features of the lure include 3D eyes, a built-in rattle, and saltwater-grade treble hooks. Bluefish are often very aggressive and are very fun to catch with topwater lures.
---
15. Rapala X-Rap Twitching Mullet

The Rapala X-Rap twitching mullet comes in two sizes. A 06 2-1/2 inch 5/16 ounce size and a 08 3-1/8 inch 7/16 ounce size. Good color options for bluefish include mullet olive green, ghost red, sardine blue, and mullet silver.
When fishing near the shore there is often schools of small peanut bunker. This lure is a good size match of the baitfish and is a good option to use to catch bluefish and striped bass. The single hooks are strong and can make the hook removal process easier.
---
16. Sebile Magic Swimmer Slow Sinking Bait

The Sebile Magic Swimmer looks like a bunker which is a favorite food for bluefish. It is 6-1/2 inches in length and weighs 1-1/2 ounces. Color options are bunker, fire tiger gold, ghostescent, green mackerel, holo greenie, and natural gold shiner.
The lure slowly sinks in the water so it can be fish shallow with a fast retrieve or slow at mid-depths. This lure is popular and also comes in a floating and fast sinking version. It is a jointed lure with good swimming action. There is a bait-keeper on the back which can hold a soft plastic curly tail for increased action.  Some anglers remove the back hook.
---
17. Live Bait or Cut Bait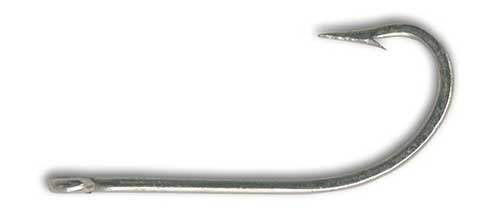 Cut bait is is one of the best bait options for bluefish because it consistently works! A 6/0 Mustad hook is a great size for an average 1 to 5-pound bluefish.
If a properly sized piece of cut bait is put in front of a bluefish it is going to bite. Small bluefish can be caught using a small piece of fish, squid or shrimp. For bigger bluefish, I would recommend a piece of baitfish or about 1/4 of a bunker. When bluefish are small under 2-pounds a wire leader is probably not even needed if a 20-pound or stronger fishing line is being used. For bluefish over two pounds using a wire, leader is a good idea.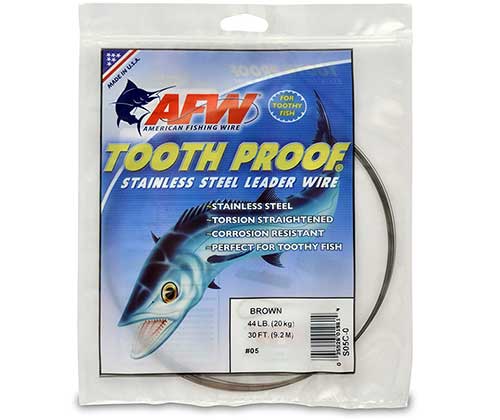 AFW steel wire is a great way to make cheap bluefish rigs and special tools are not required. Pliers to cut the wire, a swivel, hook, and piece of wire are all that is needed. For bluefish #4, 38-pound wire is best.  Use #7, 69-pound wire if you think something bigger might eat the bluefish! Number #10 124-pound wire is perfect for sharks rigs. The length of the wire should be about 12 inches.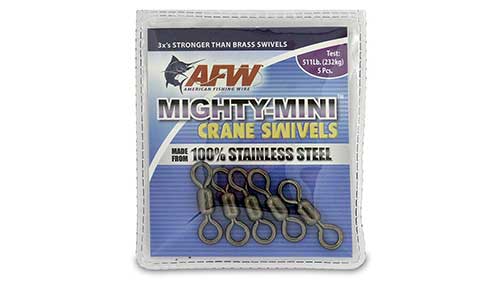 A barrel or crane swivel is used to connect to the wire using a haywire twist. The other end of the swivel should be tied to the fishing line with a palmer knot or uni knot.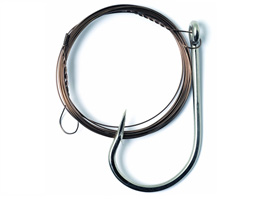 This is what the rig should look like only it will be much shorter. A 2 to 30-inch length of wire is best for bluefish. The swivel would be within the loop on the opposite end of the hook.
How To Make a Bluefish Rig
In the video above I show how to make a bluefish rig using wire. It also shows how to tie fishing knots that all good fishermen should know how to tie.
---
How to Catch Bluefish
The best method to catch bluefish depends on the location being fished, the size of the bluefish, and the type of bait the fish are currently feeding on. The bait that will always work is a chunk of baitfish. When trolling for striped bass bluefish are also frequently caught.
Artificial lures such as stick baits, surface poppers, swim jigs, bucktail jigs, diamond jigs, and spoons are also effective lures to use. Bluefish can be very aggressive like a pack of piranhas. When the fish are biting well is important to use durable baits that will not get destroyed by their sharp teeth.
---
Frequently Asked Questions
Are bluefish good eating?

Yes, bluefish are good eating. Bluefish that are less than 5 pounds are the best to eat. There are dark bloodlines in the fillets that should be completely removed. We once kept a large number of bluefish battered and fried them and have had a neighborhood cookout and everyone found them delicious. It is important to cut the gill once the fish is caught to remove the blood from the fish. Bluefish are also commonly smoked.
Is a steel leader needed for bluefish?

When fishing for bluefish over 2 pounds it is a very good idea to use a steel leader. Yes, you can catch bluefish without a leader but the line can get damaged or cut. When fishing for striped bass I typically use a 50-pound fluorocarbon leader. It is rare for a bluefish to cut the line but almost every time the line is damaged and needs to be re-tied. When using a thin line with expensive lures a small piece of wire can be added to protect from bluefish biting off the lure.
What are the best baits for bluefish? 
Since bluefish have a wide range of diets that varies based on the location and size of the fish. Basically, though they will eat any common baitfish. These baits include bunker, mackerel, silver-sides, sand eels, pilchards, mullet, shrimp, ladyfish, eels, and squid. When fishing for bluefish these baits can be dead or alive.
Bluefish is actually a baitfish for large predator fish like sharks, swordfish, and tuna. When fishing for bluefin tuna it is common to use bluefish as bait.
How fast should you troll for bluefish?
The trolling speed for bluefish depends on the type of lures being used. For trolling spoons on a downrigger good trolling speeds are 2.5-4 miles per hour. When trolling with umbrella rigs 2-3.5 miles per hour is a common troll speed. The ground speed varies based on the direction of the current. When trolling for any fish it is typically better to troll slower but into the current.
Can bluefish bite off your fingers?
While hopefully never confirmed I imagine a bluefish could bite off a finger under the right conditions. When fishing with large baits bluefish bits cut right through fish like a razor. There is a picture of the teeth and jawbones posted earlier in this article. Those jawbones from two approximately 20-pound bluefish that we caught in New Jersey.
The teeth of bluefish are actually built into the jawbone not in cartilage-like sharks. This makes the teeth very rigid. If the fish was flopping back and forth while calmed down it will definitely do serious damage. Anytime I catch a bluefish I pick it up from the mouth using a fish lip gripper. This allows good control of the fish.
What is the best time of day to catch bluefish? 
Like most saltwater fish the bite is mostly dependent on the tides and whether the fish are actively feeding. Fish bite best with moderate tidal motion. Bluefish bite during the day and at night. During the night is best to use chunks or fish by lights for bluefish. Party boats often fish for bluefish using both lights shining into the water and with chum. Always be on the lookout for any surface activity or birds feeding on bait that is being pushed near the surface by predator fish.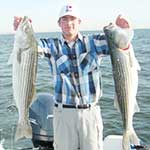 Captain Cody has worked on charter fishing boats in the Florida Keys, Virgin Islands, and Alaska. Growing up in Pennsylvania Cody has also done extensive freshwater fishing including bass fishing tournaments. Cody strives to provide detailed information about the best fishing gear and tactics to help both novice and experienced anglers have a more productive and enjoyable time on the water. Cody also has a background in aerospace engineering and neuroscience but really only takes pride in being good at one thing and that is fishing!