Crappie are common in lakes everywhere, often swim in schools and can be a very fun fish to target if the right tactics are utilized. In the summertime, crappie frequently surface feed in lakes during the early morning and starting about 1 hour before sunset.
The crappies that are surface feeding can be of all sizes and feed on larvae and insects and cannot typically be caught with large lures. As we will discuss, there are still strategies to catch surface feeding fish.
Crappies also feed heavily at night, so blow baits are a great option when fishing for crappie at night.
Typically, crappies are right up against downed trees, brush piles, or any other significant structure. Water temperature variations do move the depth of structure that will be holding fish. Side scan sonar is a great tool to help find structures that hold fish. Crappie will typically stay stationary near structure and ambush their prey such as shad, minnows, and cray fish. When fishing for bass I know the areas in the lake where crappies are even going to bite my larger bass lures. Once locations that hold crappies are found they can be caught consistently.
Spider rigging is very popular for people who target crappie. An array of about 8 fishing poles that are 12 to 14 feet long are spread out around the front of the boat. Each pole is generally set at different depths. Typically minnows with at hook, jigs, jigs tipped with minnows or jigs tipped with crappie nibbles are used. Slider weights are used to set the lines deeper.
Here are the best crappie lures and jigs.
1. Berkley Crappie Nibbles
Price: Around $5
Crappie nibbles come in chartreuse , pink,  white, yellow and glow in the dark PowerBait.
This bait can be used without a jig similar to how PowerBait is used to fish for trout. A small hook or treble hook would be used with a ball of Crappie Nibbles. Generally, this bait is used by placing a nibble on tips of jigs or placed within tube jigs to add scent. This will very likely increase the number of fish you catch. This is especially true when fishing for Crappie at night. Tipping jigs with minnows might be slightly better but for the convenience and portability of the PowerBait this is generally the best option. Casting Crappie nibbles on a hook is a good option when crappie are surface feeding. They are likely not feeding on fish so lures do not tend to work and a Crappie Nibble is a good option to try.
2. Johnson Beetle Mini Spinner Bait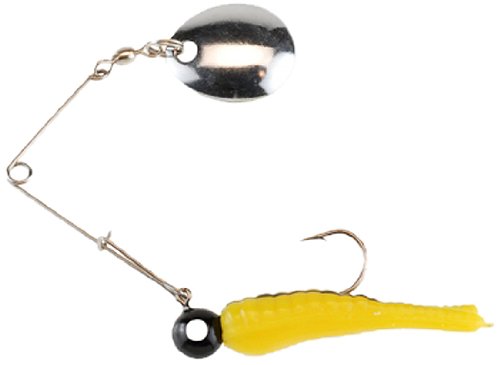 Price: Around $5
Johnson Beetle comes in weights of 1/32 oz, 1/16 oz, 1/8 oz and 1/4 oz. 1/16 oz and 1/8 is a good size for crappie with jig lengths from 1 inch to 2 inches.
This is a great little spinner that is a must-have for a tackle box. It will catch most freshwater fish and works especially good on crappie. Black works well in low light conditions and murky water and white works good during the day. This lure can have the rubber jig swapped with a gulp shad to add scent to the lure. This is especially important when fishing at night.
3. Scented Minnow Crappie Jigs
Price: Around $6
I really like Berkley Gulp Alive Minnows, especially the 1 inch Emerald Shiner colored soft bait.
The gulp minnows come with just the minnow bodies and the jig heads need to be purchased separately.
4. PowerBait Power Minnow
Price: Around $5
The PowerBait Power Minnow is a 1/16 oz 2-inch jig that comes in three colors, black shad, firetiger, and smelt.
The PowerBait Minnow comes with two jigs and 10 shad bodies per pack.
5. Bobble Garland Baby Shad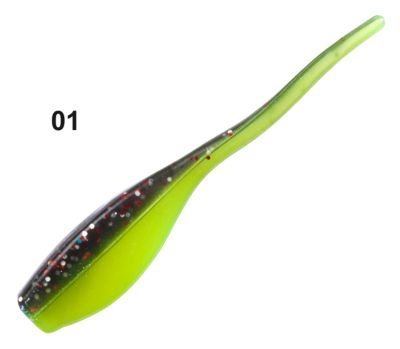 Price: Around $7
Bobble Garland Baby Shad are very widely used crappie jig. These small baits are good for catching non-aggressive and can be fished year round. They are not scented and tipping them with a minnow or Crappie Nibbles is a good idea. Monkey Milk and Blue Thunder are two popular colors.
Bobble Garland Baby Shad Crappie Baits are 2 inches in length and come in over 50 patterns including glow in the dark patterns.
6. Gene Larew Mo Glo Jighead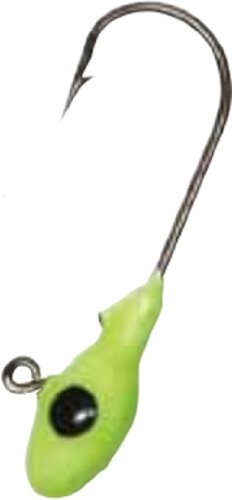 Price: Around $10
This is a glow 1/16 ounce jig head which works great with the Berkley Gulp Minnow. Typically 1/16 oz or smaller jig head is good when using the 1-inch Gulp Minnow. Size 1/16 oz or 1/18 oz jigs are generally used for crappie fishing. 1/4 oz jigs can be a good idea while drifting quickly or when fishing water deeper than 8 feet.
7. Small Mepps Spinner with Fly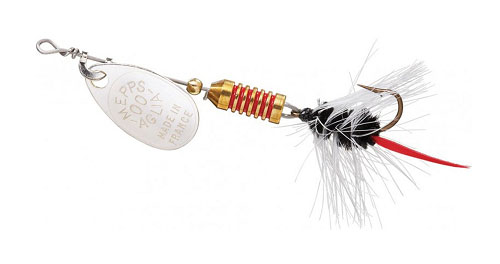 Price: Around $8
A fly spinner is a great option when there is surface action. Inline spinners do not go deep but work good when wanting to cover shallow structure near shore quickly. I am a huge Mepps fan and crappie love this small size zero all the way up to size 3. They do have paper thin mouths so fight them less aggressively then you would a big bass.
Size 0, 1/12 ounce Mepps spinner with a fly. This has a single bronze color brass blade and brass beads.
Equipment used for spider rigging
Serious crappie fishermen will use the spider-rigging method for drifting and trolling for crappie. The basic equipment needed includes rod holders and lots of long poles. A fish finder and trolling motor with auto-pilot are typically used to navigate the bottom structure.
Millennium Spyder fishing rod holder
Price: Around $150
Four pole Millennium Spyder fishing rod holder for spider rigging. All aluminum with a 24-inch crossbar. Easily adjustable height without tools and independent vertical rotation for each pole holder to easily change depths or each pole independently. The crossbar can also rotate 360 degrees.
Berkley C-Serise Crappie spinning pole
Price: Around $45
Berkley C-Serise Crappie spinning pole for spider rigging setup. Poles come in 11 feet, 12 feet, and 14 feet lengths. They also come as two and three piece poles for easier transport.
These are the basic items needed to get into spider fishing for crappie. There are many great instruction videos online about techniques and ways to easily know the depths of each pole relative to the bottom.
Thanks for visiting Global Fishing Reports. If you have any questions about how to use the suggested baits above or any general questions about how to catch crappie feel free to leave them below in the comments section.

If you have any suggestions for top crappie lures and baits, leave a comment below!
Captain Cody has worked on charter fishing boats in the Florida Keys, Virgin Islands and Alaska. Cody grew up in Pennsylvania and has also done extensive freshwater fishing including bass fishing tournaments. Cody strives to provide detailed information about the best fishing gear and tactics to help both novice and experienced anglers have a more productive and enjoyable time on the water. Cody also has a background in aerospace engineering and neuroscience but really only takes pride in being good at one thing and that is fishing!