It is required that recreational boats over 65 feet have a VHF marine radio. It is very important that all boats, even a canoe or kayak have a VHF radio when in open waters. The ability to call for help could save your life in the event of an emergency offshore. It is also a great way to communicate with other boats in the area. VHF radios today have many advanced features that make them more useful than ever.
Features of many radios include frequency scanning, weather reports, GPS integration, and an ability to send a distress signal. Some radios can even be registered with a Maritime Mobile Service Identity (MMSI) number so the USCG knows who is sending the distress signal. Keeping the radio on 16 also allows the Coast Guard to be able to contact other boats which could be beneficial in many situations. Channel 16 is also the hailing and distress frequency.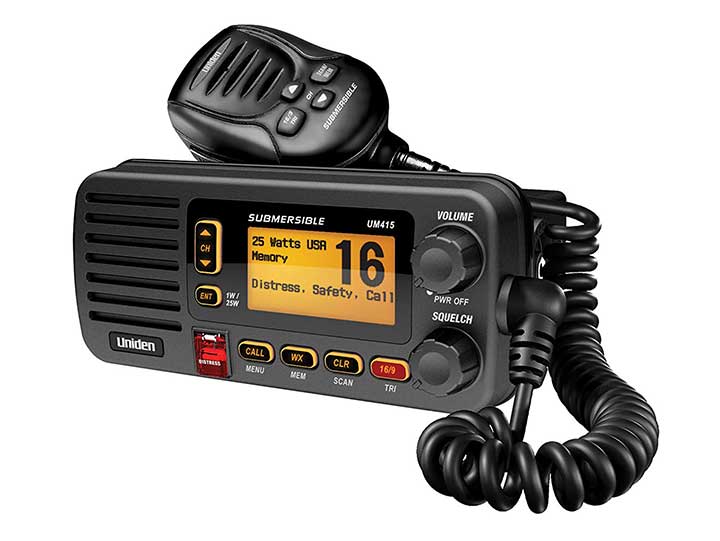 Some work in required to setup fixed mount marine radio. The radio has to be mounted and connected to power and the antenna needs to be mounted. Once the radio is set they last for many years and are very nice to have. If you have a small vessel or want a quick solution a handheld VHF radio is a great option. Handheld radios are also great to have a backup safety piece of equipment in the event of an emergency.
If there is an emergency and you need to use the radio here are important details to tell the USCG. State clearly the nature of the emergency, the number of people on board the vessel, the name of the vessel, and most importantly where you are located. If the radio is properly setup pushing the distress signal can automatically send the exact location of the boat. Many people do not set this up however and need to read GPS coordinates from the fish finder, handheld GPS or even using a cell phone. It is always good to have a plan in place with multiple ways to get help. Another great way to contact help in an emergency is with a Personal Locator Beacon.
In this guide, we will discuss the best marine radios, why you need a marine radio, how to use them, what to look for, and how they work. I'll be going over some of the most popular handheld and fixed-mounted VHF marine radio units.
Here Are The Best VHF Marine Radios
---
1. Standard Horizon Explorer GPS Fixed Mount Marine Radio

Shop or Read Reviews
Price: Around $215​
My Review: I'm a huge fan of this radio and I think many people agree, especially since its a best seller across several online platforms. At first glance, it may seem better to save a few bucks and go with a slightly cheaper model, but this is a great unit that is widely used.
The 3-inch LCD is among the best in the business and provides tons of information with an incredible backlight that is easy to read even in direct sunlight.
The Digital Selective Calling (DSC) positional request system allows you to make a GPS request or share your GPS data with other vessels with the touch of a button. When wired up to your GPS unit, the DSC position request will be automatically displayed on the GPS chart plotter, if compatible, via 2 NMEA wires. The radio is class D VHF that encompasses a separate Channel 70 receiver. This ensures you're capable of receiving DSC calls even when listening on other channels.
These units are RAM3+ compatible, meaning they are capable of being connected to a RAM3+ remote microphone. This means that you can have microphones at two different locations on the boat without having two radios. Often times radio calls from inside the cab are missed when outside on the deck. The second handheld microphone also has audio speakers.
Speaking of microphones, this marine radio utilizes the Clearvoice noise reduction system. This removes background noise like wind, mechanical noise, etc.
Channel names can be added to each frequency. This is handy because it can be hard to remember what channels are supposed to be used. Also, you can name channels that your friends on the water are typically on.
The radio comes equipped with the standard 10 NOAA weather channels which are easily navigated by using the WX key. You'll also be able to set up customizable weather alerts and audible tones.
---
2. Uniden UM415 Class D Fixed Mount Submersible Radio

Shop or Read Reviews
Price: Around $290
My Review: Available in both black or white, the UM415 is an excellent value in terms of fixed-mounted marine radios. Digital Selective Calling (DSC) can be set up to send vessel and position information when pressing the distress button.
The water-resistant rating is JIS-8 which means the radio is submersible to a depth of 1-meter for 30 minutes. This radio is capable of both 1W and 25W transmitting configurations and includes the S.A.M.E weather emergency alert system. It has a front-facing full class D DSC button protected by a flip cover.
This radio encompasses several great features such as Triple Watch Plus which allows the monitoring of Channel 16 and Channel 9 plus other custom selected channels. Targeted SAME weather alert system is very convenient and accurate and includes tide reports. The Quik Command One-Touch Ch 16/9 Channel selectors on the microphone, making switching to emergency channels extremely fast. Additionally, the channels and scan can be selected from the microphone.
The LCD display has a dimmer and adjustable LCD contrast settings. The dimmer is helpful when boating in low-light and night conditions. With some radios, I actually have to place objects over the radio to keep my night vision when driving boats at night.
---
3. Cobra MRF45D Class D Fixed Mount Marine Radio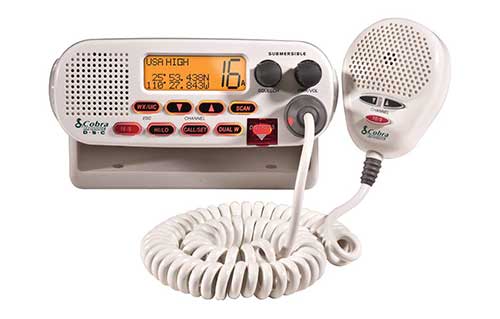 Shop or Read Reviews
Price: Around $135
My Review: The Cobra radio is very compact when it comes to fixed-mount radios. However, it is not a rugged as other radios but would work well in the inside environments. The waterproof rating for the unit is JIS7 waterproof, which means that it is immersion resistant but not submersible. It does say submersible on the front of the unit but technically that is not correct.
The microphone is exceptional and utilizes noise-canceling technology to ensure your outgoing communications aren't droned out by the wind or engine noise. It is DSC capable with the standard one-touch distress button located on the front panel and it will transmit your communications in either 1W or 25W power configurations.
Furthermore, you'll get the typical 10 NOAA weather channels with audible storm alerts and the standard international coverage scheme with 3 channel maps. This unit from Cobra utilizes Dual-watch technology that allows you to monitor Channel 16 and another channel of your choosing simultaneously.
---
4. Standard Horizon HX870 Floating Marine Radio

Shop or Read Reviews
Price: Around $200
My Review: The HX870 is a class D handheld radio that supersedes the old version, the HX851. This radios floats, making them an excellent choice for kayakers and boaters. The waterproof rating is IPX8, which means the radio is submersible in water depths greater than 1 meter. The battery life is 10-hours battery due to a hefty 1800mAH Li-Ion Battery. Also included is a 12-Volt DC 3hr quick charger.
This radio has an automatic water detection module that will, upon being in contact with water, flip on its emergency strobe light function. Having a strobe is very important for day and night rescue situations. At night without a strobe, it can be very difficult to locate vessels and people in open water.
The Standard Horizon HX870 is equipped with DSC and features a powerful WAAS GPS receiver with 66 Channel integration. This is all interfaceable through the oversized full dot-matrix LCD screen that measures roughly 2.3" diagonally. These screens are used for their incredible detail but extremely low cost to battery life.
Some VHF radios have a blue or orange background, which many people seem to enjoy, however, these monochrome screens tend to save a lot of battery so I think it's a fair tradeoff. Although the screen lacks color, the keypad does utilize a faint red illumination to ensure accurate and easy usage in the dark.
This handheld allows you to choose to transmit power levels at 1W, 2W, or 6W, which is incredibly useful for both short to mid-range communications. Battery life is pretty good on this unit too with many reports in unison agreeing that it is one of the longest-lasting handheld devices on the market.
For the price, this is probably the best bang for your buck and overall, I'd say this is the best handheld VHF radio for the average joe. There are a few radios out there that include better features or have some ease-of-use tidbits that are useful, but this radio seems to be the most durable and dependable with everything you need.
---
5. Icom IC-M73 Handheld Marine Radio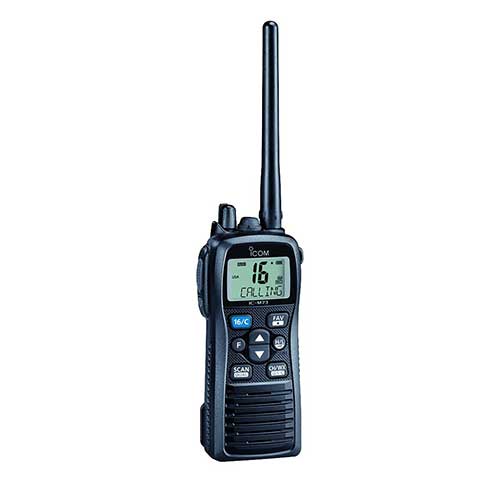 Shop or Read Reviews
Price: Around $185
My Review: This radio does not float. However, it is submersible and can be submerged in 1.5m (4.9ft) of water for 30 minutes. Battery life is rated at 18 hours under normal operating conditions. This is longer than most handheld radios! It might not float but has a large capacity lithium-ion battery.
The IC-M73 can be operated at 6W of transmitting power, which seems to be the new industry over the older, more traditional 5W maximum. Simply put, that one extra watt doesn't really seem to help in range, despite the description of the product claiming so, but it does help your audio traffic punch through busy channels and white noise.
This is also the loudest handheld radio. Icom achieves this incredible volume level by using a BTL (bridge-tied load) amplifier, which they claim doubles the audio. Something else that is really nice about this particular radio is the dual/tri-watch function that allows you to monitor several channels, such as channel 16 simultaneously with other channels.
---
6. Standard Horizon HX300 Floating Marine Radio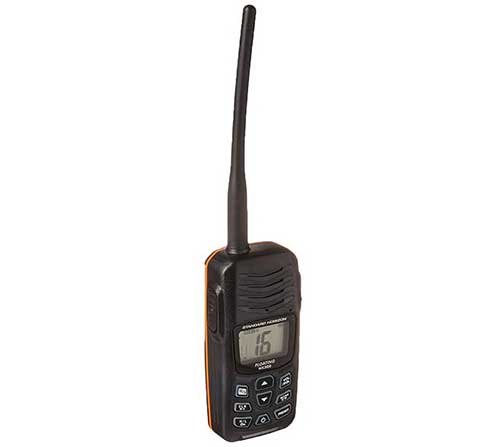 Shop or Read Reviews
Price: Around $115
My Review: This radio is the smallest floating marine radio on the market. It is small enough to fit in your pocket. Included is a USB charger and cord, you can plug it into any USB port to charge and receive a full charge in roughly 3 hours. We've talked about a similar model to this, the HX870 floating marine radio which probably has a better overall performance but the size of this radio makes it a great option.
Its transmitting power is capped at 5W, which may seem like a slight disadvantage to the many 6W models on the market. However, the distance a handheld radio will transit is mostly limited by antenna height, not transmission power. It is equipped with a 1650mAH 3.7V Lithium-ion battery that gets about 10 hours of usage.
This unit waterproof rating is IPX8, which means the radio is submersible in water depths greater than 1 meter. The radio is equipped with NOAA weather channels, customizable weather alerts, and utilizes all of the traditional US and Canadian channels.
The screen is a very tiny monochrome LCD with orange key illumination built-in. Just like the HX870, this radio does have a water-activated strobe beacon.
I recommend this to anyone on a budget or looking for something extremely small. If you're venturing out in a large vessel, you should look to a mounted VHF radio or something with more features, like the HX870, but if you're taking out a kayak or something similar, this unit is fantastic and will certainly save a little space.
---
7. Cobra MRHH350FLT Floating VHF Marine Radio

Shop or Read Reviews
Price: Around $115
My Review: The waterproofing rating is JIS7 / IPX7 which allows safe submersion at 3 feet for up to 30 minutes. Not quite a good as units with an IpX8 rating but still very waterproof.
The power transmission levels available are 1, 3, and 6W which is on par with some of the best handheld devices on the market today and will safely cover at least 3 miles with ease. It comes equipped with tri-watch, which essentially means it'll scan three different channels simultaneously.
You'll get the typical 10 NOAA weather channels in addition to all of the standard US and Canadian channels. If there is a severe weather alert, this device will play a loud tone alerting you to possible dangerous changes in the weather.
This radio utilizes a noise-canceling microphone and water purging speaker to ensure excellent audio quality, even when floating in the water.
---
8. Uniden MHS75 2-Way Submersible VHF Marine Radio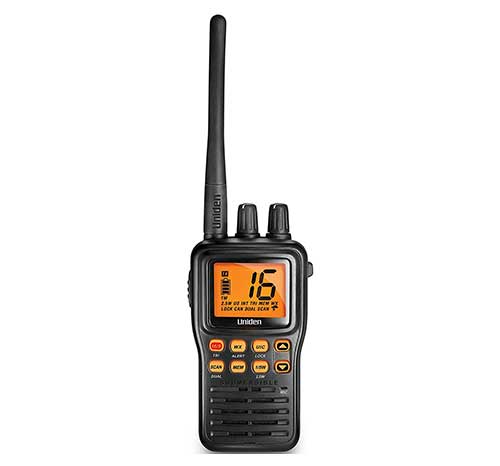 Shop or Read Reviews
Price: Around $85

My Review: This radio comes with a JIS8 waterproof rating. which means the radio is submersible for up to 30 minutes at five feet. The unit comes with a belt clip, wrist strap, DC charger, and lithium-ion battery. This radio offers great overall value but does not float.
The maximum transmitting power level is 5W, which as we discussed before is not a big deal. This lowe power option of this unit is 2.5W. Using lower power is a good idea when communicating over short distances. It saves battery life and interferes less with other people that might be using the channel in the area.
This radio has the tri-watch feature, which means it'll monitor multiple channels including Channel 16 and Channel 9 with another channel of your choosing. This radio is usable on all of the standard American and Canadien channels. But wait, there's more. There's also a quad-watch function as well as a dual-watch.
The LCD screen on this unit seems to be a respectable size among VHF radios and is one of the easiest to read in direct sunlight. Just like some of the more expensive radio's on this list, the MHS75 allows for the standard 10 NOAA weather channels and NOAA weather alerts with very loud audible alarms when the weather changes for the worst.
Battery life is good, coming in at roughly 12 hours on a single charge. The unit comes with a DC cigarette lighter charger and the radio will audibly alert you when the batteries are dangerously low.
This radio offers all the standard features and packs them into a very rugged and compact aluminum shell. The Uniden MHS75 is a great overall handheld marine radio. If you do not think that the ability to float is an important feature than this a great radio to get.
---
9. Uniden Atlantis 155 Floating Marine Radio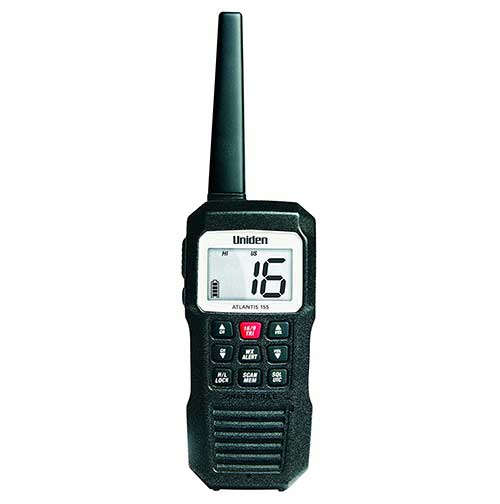 Shop or Read Reviews
Price: Around $61
My Review: The Atlantis 155 floats and is submersible with the highest IPX8 / JIS8 rating. The speaker also clears itself of water after being submerged. This radio is powered with 4 rechargeable AAA batteries.  Also included is a DC charging cable. This is definitely the best value marine handheld radio that floats and has the highest submersion rating. Also, the ability to use standard AAA makes it a great option for an emergency backup marine radio.
The transmit power is user-selectable to 3W or 1W of power. That is the only drawback to this unit, most handheld marine radios have a standard 5 watts of transmission power. The battery life lasts about ten hours. The unit comes with a 3-year waterproof warranty.
---
10. Cobra Electronics MR HH150 Floating Marine Radio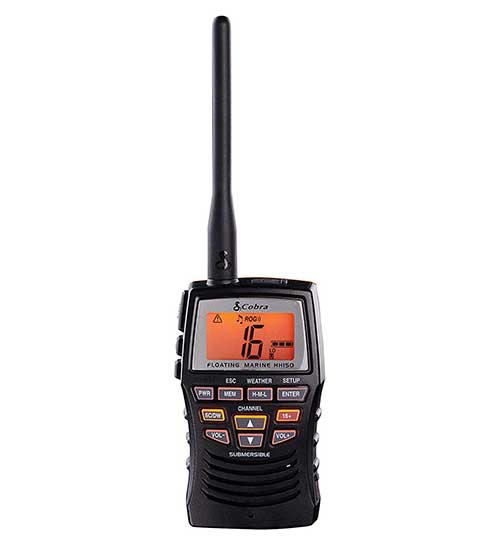 Shop or Read Reviews
Price: Around $80
My Review: This Radio uses rechargeable AAA batteries which are included. Standard AAA batteries also work with this radio so if the radio is dead in an emergency it can be repowered quickly.  The HH150 has a waterproof rating of rated JIS7 which is submerged in one-meter depth of water for 30 minutes. This unit weighs 8 ounces and does float!
Also included with this radio is a belt clip, wrist strap, and 12-volt power cord. The radio does have a max transmission power or 3 Watts but can be sent at low, medium and high output power for short and long-range communication.
As with most marine radios, weather alerts are given with tones and visual alert. NOAA weather can be access on 10 NOAA weather channels.
---
Why Every Watercraft Captain Should Have a Marine Radio
Safety first, right? Right! Communication has been the deciding factor of life and death in countless scenarios since the dawn of humanity and although many things have changed over the years, having a direct line to other humans to call for help has remained relatively the same.
Every sob story of a tragedy out on the water usually begins with a lack of preparation and disrespect to the environment. There is a myriad of threats that simply just don't seem like they could ever happen to you. You'll be fine, right? You know how to navigate rogue waves, you know your boat, you know how to repair things, you're a strong swimmer, right?
Unfortunately, we lose far too many people that are "fully capable" of taking care of themselves each and every year. Having a radio onboard isn't a sign of weakness, it isn't a sign of fear, it isn't a sign of dependency. It's a sign of intelligence.
Marine radios give us the ability to communicate with the Coast Guard and also other vessels if needed. The Coast Guard has a very expensive and very expansive network of communications towers around the world that grants anyone with radio access to help when they need it.
Furthermore, having a radio allows you to pick up on distress calls and come to the aid of a fellow fisherman. Accidents happen and sometimes some quick heroics are necessary, even from you!
Using a marine radio is also handy in communicating with harbors, docks, locks, bridges, marinas, etc. If you're sailing international waters, you'll need a radio to communicate with the local coast guard and law enforcement, especially if you plan to dock in a foreign country.
As a final note to consider, most marine radios are fully capable of receiving weather broadcast reports when/if they are in the range of on entity broadcasting such information. These reports can also provide vital warnings such as natural disasters or conflict.
Marine Radios Explained
Before we get to the nitty gritty intricacies of how they work, we must first define the two types of marine radios available to you.
Handheld: Pretty self-explanatory, these are radios that look a lot like a walkie talkie and are meant to be held in your hand, clipped on your belt, or kept in your bag in case of emergency. Having portability and a small form factor does come at a cost, though. These usually have less range and fewer options than a fixed radio but are especially useful if you plan to use multiple different watercraft.
Fixed Mount: These are radios that you would install permanently somewhere easily accessible in your watercraft. These usually come with a detachable corded radio and the radio unit itself sits on a swivel. Fixed radios typically have the option to be used with an extended antenna, giving you further broadcasting range.
A marine radio is classified as a Very High Frequency (VHF) radio, which essentially means it has access to an all-inclusive radio frequency band between 156MHZ and 174MHz. This range of frequencies is regarded as the maritime mobile band and is an international idea, meaning the same rules apply despite where you are in the world.
How to Utilize Marine Radio Technology
VHF radios operate on an international standard and have very distinct rules and regulations as to how they are used in communication. Channel 16 (156.8 MHz) is the international distress and communications channel.
Channel 16 can be used in a wide variety of applications, most of which are used to establish a baseline of communication that then moves to a more private channel. For the most part, channel 16 is used for urgent communication in which one or more parties are in distress, requiring the assistance of the Coast Guard and/or nearby vessels.
International regulations require all vessels to achieve a constant state of "radio watchkeeping", which essentially means they are open to communication and monitor channel 16 at all times while sailing. This may only be circumnavigated when actively communicating on another channel.
It is standard to move communication off of channel 16 as soon as possible, most likely within the initial point of communication to leave the channel clear for other users who may also be in distress.
Sending a Distress Signal
When an emergency arises that is life-threatening, you have two options in order to ask for help from other vessels and the Coast Guard. First, if you have a DSC enabled radio on hand, activating the automatic distress transmission system would be the first thing you can do.
If you receive no response or do not have a DSC enabled device, using Channel 16 to broadcast your distress is your best option. The proper procedure for broadcasting such an event on Channel 16 is as follows: Call out "Mayday" three times followed by your ships name, your coordinates, and the issue at hand.
A distress signal would sound like this: "Mayday Mayday Mayday, Seastar. Position 20°35′ North and 77°51′ West. Our vessel is sinking".This entire message can be repeated three times. If someone is severely injured, including brief information about the injury may help rescuers be prepared for treatment once they arrive. Furthermore, including information about how many people are on board may also be imperative to rescue efforts, especially if people are overboard or the vessel is sinking as it will allow the responding crews to continue searching for people until they find everyone.
When a distress signal is sent via DSC, the device will include the ships MMSI number and attempt to include coordinates and other GPS information if possible. You have to connect your GPS and DSC devices and set them up accordingly for your DSC to automatically broadcast this information. Distress signals can be sent in both single-frequency and multi-frequency configurations.
A single-frequency distress signal is issued across a single band. The system will then await a response for a maximum of four minutes before issuing another distress signal. This will be repeated five times until switching to a multi-frequency configuration.
A multi-frequency distress signal is sent on all medium and high frequencies in an attempt to receive any and all responses. Since this uses your return antenna for each sending without a time lapse between transmissions, you will be unable to receive transmission while attempting a multi-frequency distress signal.
Distress signals can come in both a specific designation and a general or non designated transmission. A designated distress signal will send out information pertaining to one of ten pre-defined groupings with the aim of identifying the source of distress.
Designated distress signals are as follows: Man overboard, violent incursion and/or piracy, vessel disabled, punctured or sinking, listing, fire or explosion, flooding, collision, grounding, and abandoning ship.
A vessel who receives a distress signal that is outside the range of a coast station is required to relay the distress alert to the utmost level of their capabilities. When a coast station receives a DSC distress alert, the station will immediately send an acknowledgment and the sending unit will both cease repeating and tune in on the designated channel for the distress message to be sent.
Digital Selective Calling
Seagoing vessels that utilize a permanently mounted radio are now required by international regulation to be equipped with Digital Selective Calling (DSC). DSC can be utilized across medium or high-frequency channels and is a core integration of the Global Maritime Distress Safety Program (GMDSS). All fixed-mount VHS radios manufactured since 1999 come with DSC.
DSC is essentially an automatic distress signal that attempts to alert anyone and every one possible with information regarding your problem.
By using a narrower but more powerful band, DSC eliminates receiver squelch and has a 25% increase in speed and range over traditional analog signals. DSC requests contain the ships Maritime Mobile Service Identity (MMSI) and may also contain a ships GPS location.
DSC greatly enhances the safety features of a marine radio by allowing a single push button distress signal to be sent out immediately, over great distances, that contains vital information for emergency response units to track, locate, and communicate with the vessel in need.
Many ships equipped with DSC use a separate VHF radio and MF/HF DSC controllers that allows a dedicated reviewer to monitor Channel 70. This way, your primary receiver is always in use for regular communications while your DSC dedicated receiver is always monitoring and ready to call for help.
Marine Mobile Service Identity Number
The Maritime Mobile Service Identity (MMSI) number is a 9 digit number unique to your vessel that is assigned to your radios DSC system. This basically attaches information about you and your vessel to a profile that the Coast Guard can easily access in case of an emergency, greatly increasing the effectiveness of help during distress.
You can register for your personal MMSI here. It'll cost about $25.
Setting Squelch 
A telecommunications squelch is essentially a noise gate that regulates and suppresses what your radio will and will not pick up. This ensures the radio remains silent and usable when not receiving an actual transmission, effectively reducing channel noise.
An open channel without suppression will create a white noise type transmission that is constant and unnecessary, not to mention annoying and distracting.
To properly set squelch, turn the SQL knob until you faintly hear a white noise sound, then back it off ever so slightly. Setting your squelch too low may result in lower performance of the receiver, meaning weak transmissions from far away may not be picked up on your radio.
False Mayday Calls
Yes, using a marine radio to call out a false distress signal is illegal and punishable by up to six years imprisonment and fines up to $5000 USD in civil court and fines up to $250,000 USD in criminal court. Simply put, do not call for help unless your distress is legitimate.
On top of all of that, you may be required to reimburse the Coast Guard for the time and assets used to respond to your false call. If you're curious how much this may cost a criminal, you can check out this website for further information.
Radio Etiquette
Using a VHF radio comes with a certain level of responsibility and communicative skill set. Keeping messages short but informational is actually much more difficult than most people realize. Oversharing details on vital channels not only bugs other nearby vessels but could impede their ability to communicate and even issue a distress signal.
The proper way to address a vessel is by beginning the transmission on channel 16 (when there is no other radio chatter) with the name of the boat you wish to communicate with followed by your boat name like this: "Seastar Seastar. Galileo. Over".
To respond: "Galileo, this is Seastar". Proper radio etiquette mandates that you only retry your acknowledgment after a full two minutes have passed with no response. Furthermore, you are permitted a maximum of three attempts to get the vessels attention with the 2-minute intervals and after that, you should wait a minimum of 15 minutes before making another attempt.
Once the vessel responds, a channel designation should be given in an attempt to move from channel 16 to a non-commercial ship-to-ship communication channel. These are channels 68, 69, 71, 72, and 78A. It may be tempting to call these out as "Sixty-eight", but its actually proper to communicate them as each number individually, like "six-eight" to avoid confusion.
Once you have tuned in to the communication channel, you would once again acknowledge the other vessel to ensure you're both on the correct channel and then commence with your conversation.
Remember, anyone with a VHF radio in range can follow your communication and listen in on your conversation so keep it clean and respectful and be mindful of the details you share.
Always ending your conversation in "out" allows anyone else awaiting the use of that channel the opportunity to essentially claim it for their communication purposes.
If leaving channel 16 lands you on a communication channel already occupied by other vessels communicating, you can either wait for the "out" signal of the vessels occupying that channel or you can resort back to channel 16 and designate another communication channel for you and your vessel of interest to attempt.
Never attempt to communicate other than to "call" another vessel or send a distress signal on channel 16. Channel 9 is an alternative channel to channel 16 designating for calling.
Technically, profanity over the air is illegal so watch your language. If you can't say it in a high school classroom, you can't say it on a VHF radio, even if you think you and the vessel you're communicating with are on a channel alone.
Transmission Power and Antennas
Transmission power dictates how far you can send and receive radio transmissions. This is measured in wattage and is usually a variable setting located on the front of your radio. Most fixed-mount VHF radios are capable of operating from 1 to 25 watts and handheld units are generally capable of up to 5 watts.
Choosing a power level is basically related to how far your transmissions need to travel. If you're communicating with a vessel that is nearby, perhaps only 1 watt is necessary. This ensures that your communications are not broadcasted far out into the sea where other vessels will unnecessarily hear them. If you're making a distress call, you'd likely want to use the maximum power output of your device to reach as many vessels as possible.
Keep in mind that the quality and height of the antenna will be the number one attribute of effective range. The further your antenna can "see", the more range your radio will have regardless of the wattage it is set to.
Higher power levels may help your radio transmission navigate radio noise and impeding traffic.
For a typical adult standing on the deck of the boat, the viewable distance to the horizon is roughly three miles. Since VHF radios work based on a line of sight and fail to transmit to receivers without a line of sight, three miles will likely be your limit, unless you have a tall antenna perched up high aboard your vessel. The higher the antenna, the further out it is capable of reaching.
I won't go too far into detail with antennas because I feel like that's a topic for another guide all on its own, but as a general rule of thumb, the taller the antenna, the more coverage you will have. Make an investment into a nice VHF radio is a fantastic choice, pretty much a necessity, but if you don't have a tall antenna, its range will be severely crippled.
Not having an extended antenna doesn't always mean you'll be capped at the 3-mile limit, though. If the vessel you're attempting to contact is outside of 3 miles, but has a 15ft tall antenna, you'll likely still be able to communicate with that vessel since the line of sight will still be present. Remember, it's less about the total range and more about seeing over the curvature of the Earth.
Some people like to mount their antennas at an angle. This is called a "canted mount" or "raked mount". This is also called a silly waste of potential performance. Why? Because the higher your antenna, the better its performance, period.
The higher in elevation the end of the antenna that sticks up into the air and allows for more oversight into the distance, the better your range will be. A canted antenna will only have the performance of how tall it is from the surface of the water, no matter how long the actual antenna is. Straight up and down is the best way to mount an antenna and if you really want to squeeze every ounce of range out of it, you'll mount it on the highest point of your boat.
Check out this website for Coast Guard VHF coverage maps.
---
Popular Posts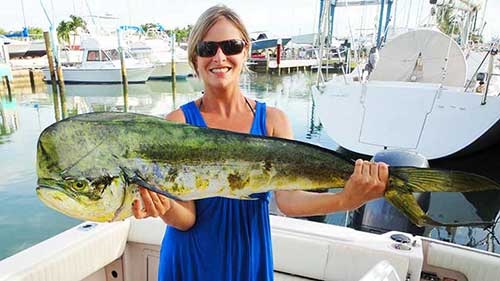 27 Best Mahi-Mahi Lures by Captain Cody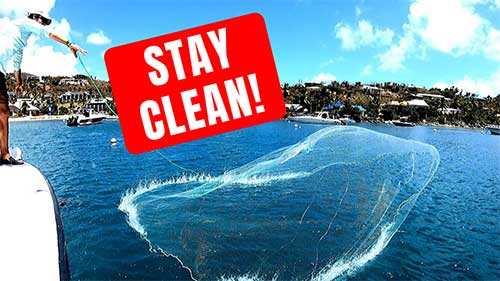 How to Throw a Cast Net + Best Nets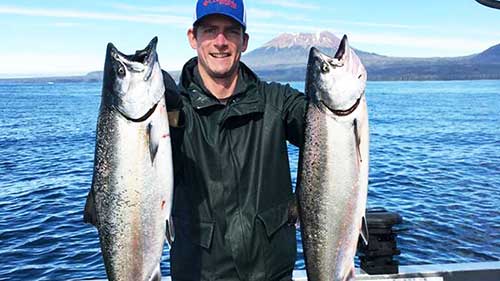 Best Salmon Fishing Lures by Captain Cody
Captain Cody has worked on charter fishing boats in the Florida Keys, Virgin Islands and Alaska. Cody grew up in Pennsylvania and has also done extensive freshwater fishing including bass fishing tournaments. Cody strives to provide detailed information about the best fishing gear and tactics to help both novice and experienced anglers have a more productive and enjoyable time on the water. Cody also has a background in aerospace engineering and neuroscience but really only takes pride in being good at one thing and that is fishing!