Having the proper fishing rod allows for fish both big and small to be caught in a fun and safe way. The three most common rod types are spinning rods, baitcasting rods, and conventional trolling rods. The type of rod has to match the type of reel. The rod's size and strength should match the size of the fish being targeted. Using light tackle is a fun way to catch smaller fish and a heavy tackle is needed when catching large fish. It is also important to select a rod that allows for far casting, controlled jigging, or for lures to be trolled behind the boat.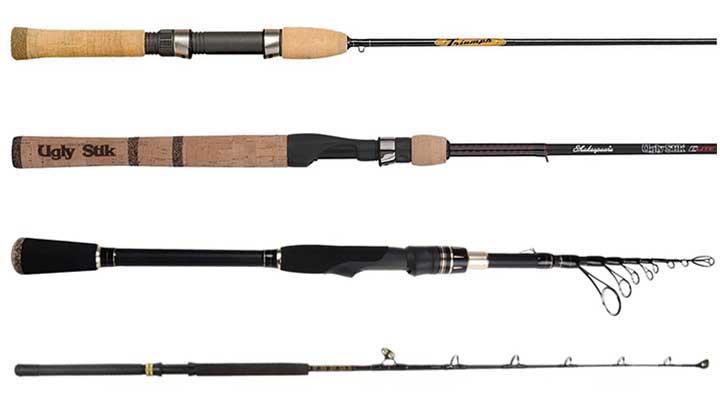 Picking the right fishing rod is critical to success on the water. Even if the only way you plan to catch fish is with a worm and bobber, the wrong pole will not allow it to be cast far out and will likely result in fewer fish being caught. There are many misconceptions about the materials used in rod construction, and the rod's power and action ratings.
In this article, a detailed review of the 30 best fishing rods will be discussed in detail. These will cover the most popular styles for both freshwater and saltwater. Details to pay attention to are the type or rod, number of pieces, length of the rod, power rating, action rating, and the materials used in construction
Here Are the Best Fishing Rods
---
1. St. Croix AVID Series Spinning Rod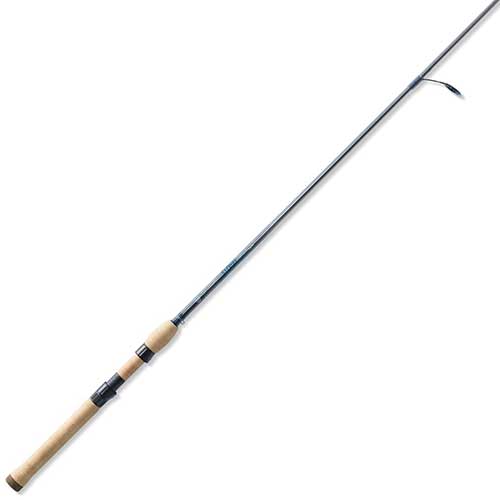 | | |
| --- | --- |
| Estimated Price | $166-$235 |
| Type | Freshwater Spinning Rod |
| Construction | One or Two-Piece |
| Length | 6-foot to 7-Foot |
| Power | Medium-Light, Medium, Medium-Heavy |
| Action | Fast, Extra Fast |
The St. Croix Avid Series Spinning Rods have reached iconic status. Light, strong and sensitive, these SCIII blanks are a workhorse in the angling community, and their ultralight models are about the best you can find on the market today. The black-framed Fuji Alconite Concept guides are also light and sensitive and will hold up against corrosion or braid. St. Croix's standard Fuji reel seats and premium cork handles are a given, but the 15-year warranty means they predict the rod will last you a decade longer than some of their cheaper products.
The ultralight powered model feels practically weightless, yet the action is crisp and there is no "wimpy" feeling whatsoever. The IPC technology reduces all transitional points in the rod to make this balance of lightness, strength, and action possible. While a lot of other cheaper rod companies state their action as ultralight, often they are too stiff to truly be so. The price of St. Croix's Avid series is significant, but they are truly some of the best and truest ultralight action rods on the market. This rod is primarily a freshwater rod but thier is a similar St. Croix Avid Inshore for saltwater use.
---
2. St. Croix Triumph Spinning Rod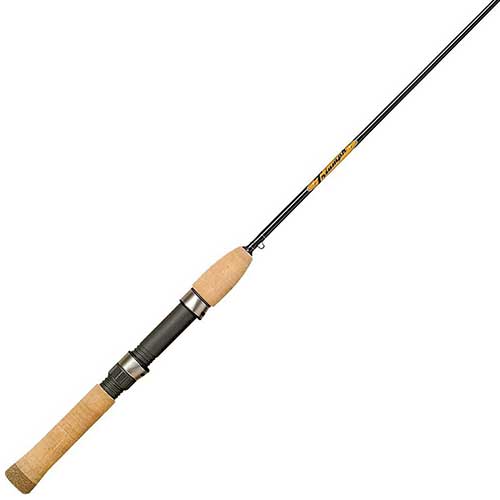 | | |
| --- | --- |
| Estimated Price | $100-$125 |
| Type | Freshwater Spinning Rod |
| Construction | One or Two-Piece |
| Length | 5-foot to 7-foot 6 inches |
| Power | Ultra Light to Medium-Heavy |
| Action | Moderate and Fast |
The St. Croix Triumph is a high-end spinning rod great for freshwater fishing. It will work for saltwater but there is a St. Croix Triumph Insore designed and built for saltwater. These rod tips have a lot of action, making them great for small lures used in creeks and ponds. Make sure to get a rod that is sized appropriately for the target species. The ultra-light rods are great panfish, crappie, and trout. For serious bass fishing, a medium-light or stiffer rod that is 6-foot or longer should be used.
These rods are built with durable sensitive graphite the connects to premium cork handles. It is possible that a tip on the rod will break which would be frustrating on an expensive rod. However, these come with a 5-year limited warranty and St. Croix is known for great customer service. For anglers that really enjoy light tackle fishing with spinning rods this a great rod to use.
---
3. St. Croix Premier Spinning Rod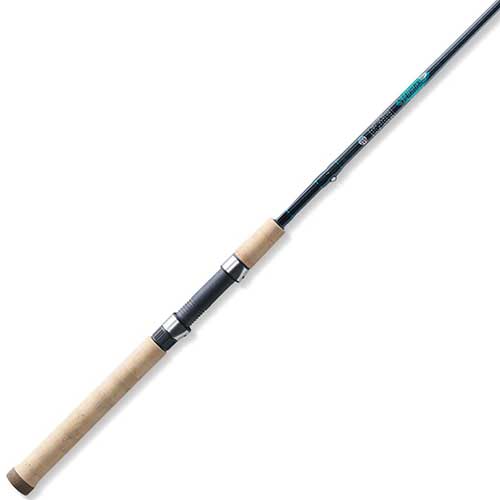 | | |
| --- | --- |
| Estimated Price | $135-$195 |
| Type | Freshwater or Saltwater Spinning Rod |
| Construction | One-Piece |
| Length | 4-foot 6 inches to 8-foot 6 inches |
| Power | Various from Ultra Light to Med Heavy |
| Action | Fast and Moderate |
The St. Croix Premier is marketed as a more affordable entry in their product line. It is the company's most popular seller and most fishermen's introduction to the brand. They come in several different lengths starting at 4 foot 6-inch all the way up to an 8 foot 6-inch model. The rods are made with SCII composite graphite fiber blanks cut in and an advanced manufacturing process that allows the action to be highly sensitive. Aluminum oxide guides, genuine Fuji reel seats and premium cork grip handle also increase the rod's durability and sensitivity.
The St. Croix Premiere is a beautiful rod, lightweight with precision tapering and great action. It is an expensive rod but is not unbreakable so realize you are getting a high-end rod for bass fishing or light tackle inshore fishing. This is not a surf rod designed to cast 4-ounce weights. It will work great with a fishing line in the 4-20 pound range. If it does happen to break the good news is it comes with a 5-year limited warranty. These are great rods for everything from bluegill, bass, trout, crappie, walleye, flounder, yellowtail snapper, and small grouper.
---
4. St. Croix Panfish Series Fishing Rod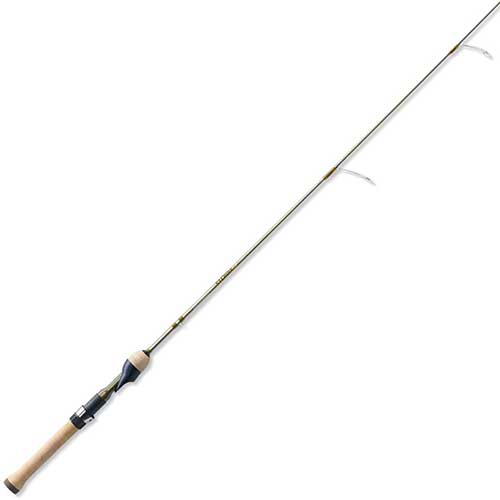 | | |
| --- | --- |
| Estimated Price | $115-$175 |
| Type | Ultra-light Spinning Rod |
| Construction | One-Piece |
| Length | 5-foot 6 inches and 6-foot 4 inches |
| Power | Ultra Light, Light |
| Action | Moderate, Fast |
St. Croix Panfish Series Spinning Rods are just about the most sensitive rods ever made for the trout, creek chubs, perch, crappie, or other panfish species. The blanks are constructed from a composite of SCII and SCVI. It has amazing bite detection coupled with high strength making it a fabulous fishing rod for light tackle. Two coats of Flex-Coat finish come standard as with all St.Croix rods for enhanced durability.
While it is a fantastic panfish rod, I would prefer that the guides were bigger and of better material than stainless steel. While they hold up well against any corrosion, stainless steel can develop grooves from braided lines causing the line to fray. However, with smaller line sizes it common to use a monofilament or fluorocarbon line so the stainless steel eyes work well in most cases.
When fishing for smaller species of fish using light tackle really can make it more enjoyable. Also using a thin fishing line and small lures is often the most productive way to catch fish. Having a high-end rod can help in this process to help feel the smallest bite and keep proper tension on the fish.
---
5. Fenwick HMG Spinning Rod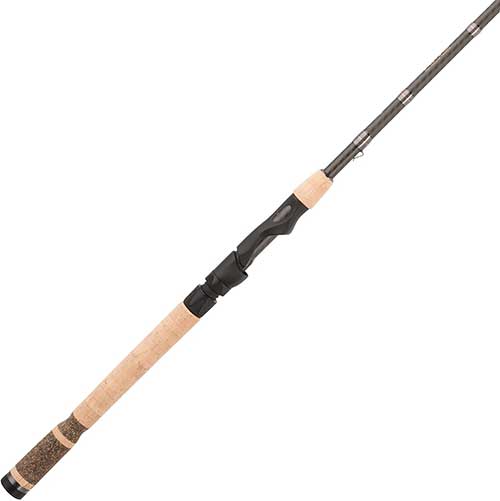 | | |
| --- | --- |
| Estimated Price | $100-$160 |
| Type | Freshwater or Saltwater Spinning Rod |
| Construction | One or Two-Piece |
| Length | 6-foot to 7-foot. |
| Power | Ultra Light to Med Heavy |
| Action | Fast, Moderate, Moderate fast |
The Fenwick HMG is versatile from panfish to small tarpon. The HMG was the world's first fully graphite rod 45 years ago, and now it is redesigned with carbon bound blanks spiraled with Carbon thread for improved strength and durability. It has a sea-guide reel seat with a locking design that securely seats almost any reel. The Fuji line guides have Alconite inserts that hold up well during saltwater use and work great with braided and monofilament lines.
The premium-grade cork handles are beautiful on this rod, and Fenwick makes some of the best looking cork grips around on all of their rods. There is a wide range of power available in these rods make them applicable for all kinds of fishing. The actions, too, are finely tuned. These rods are a joy to use from catching trout to snook. For the price, this is a good value, and the high performance and durability in them might convince you to get a few more.
---
6. Ugly Stik Elite Spinning Rod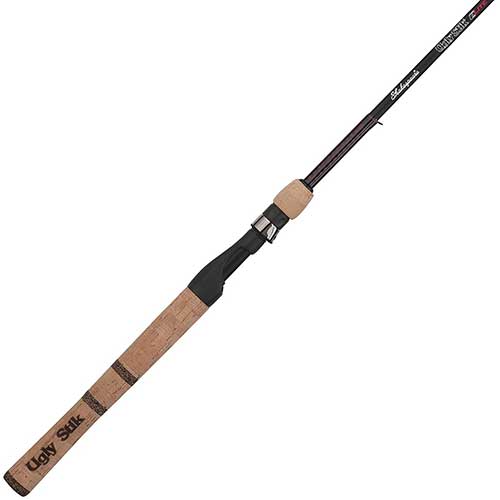 | | |
| --- | --- |
| Estimated Price | $50-$60 |
| Type | Freshwater or Saltwater Spinning Rod |
| Construction | One or Two-Piece |
| Length | 4-foot 6 inches to 7-Foot 6 inches |
| Power | Ultra Light to Med Heavy |
| Action | Moderate Fast, Fast, X-Fast |
The Ugly Stik Elite Spinning Rod series are durable rods that can be used for freshwater or saltwater fishing. The eyes on the rod are all metal and do not have ceramic inserts. This makes them more durable but can cause a braided line to fray over time. For this reason, the rod is great only when the plan is to use a monofilament line. A braided line will work most of the time without issue just pay attention if the line starts to fray as the metal eyes might have developed a sharp edge.
The rod has 35 percent more graphite which makes it strong, lightweight, and sensitive. It has premium cork handles which makes it look and feel great. The variety of rod lengths, powers, and actions means it fits many fishing styles. Durability is the reason why Ugly Stick rods are so popular and this rod has a 7-year limited warranty.
The older Ugly Stik's being so strong were naturally heavier than most other rods, and that's one reason you don't see many tournament anglers using them. Cork handles are great for high sensitivity to allow for small bites to be felt through the rod. The longer pole lengths are advertised as saltwater applicable, but large saltwater reels might not fit into the reel seats. If you want a rod that is built to last and still have high sensitivity this is a good option.
---
7. Ugly Stik GX2 Saltwater Spinning Rod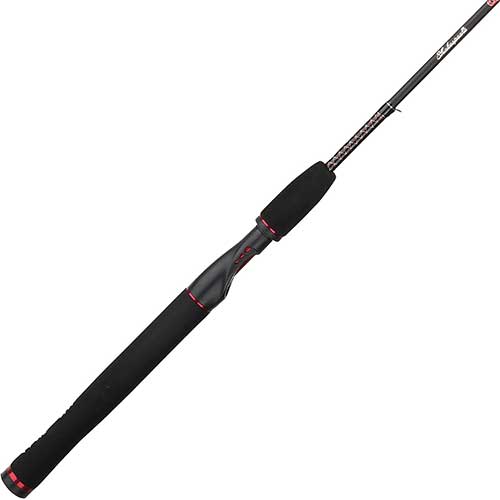 | | |
| --- | --- |
| Estimated Price | $40-$50 |
| Type | Saltwater Spinning Rod |
| Construction | One or Two-Piece |
| Length | 5 Foot to 9 Foot |
| Power | Light to Heavy |
| Action | Slow to Extra Fast |
The Ugle Stick GX2 is a spinning rod made for saltwater fishing. It has stainless steel eyes without inserts which can cause a braided line to fray over time. For this reason, it is recommended to use a monofilament line with this rod. A braided line will work but the braid may dig into the steel over time which can cause rough-surfaces that cause the line fray.
Ugly Stik is a legendary brand that still holds up to the hype in its modern GX2 form. The strength of these rods are famous and that has not been lost. The GX2 has found a balance between sensitivity and durability, combining graphite with fiberglass for overall better performance. With comfortable EVA grips and two-piece construction, it is easy to handle and transport. The clear tip end responds well to any small nibble, and the stainless steel guides fight off rust and corrosion.
The mass-production of the Ugly Stik comes with pros and cons. The pros are that this rod fits into several different fishing styles and techniques, in both fresh and saltwater applications. The modest price adds to its value. The biggest con is the stainless steel eyes as discussed. If there is any issue the rod does come with a 7-year warranty which can help take away any worries.
---
8. Ugly Stik Tiger Elite Spinning Rod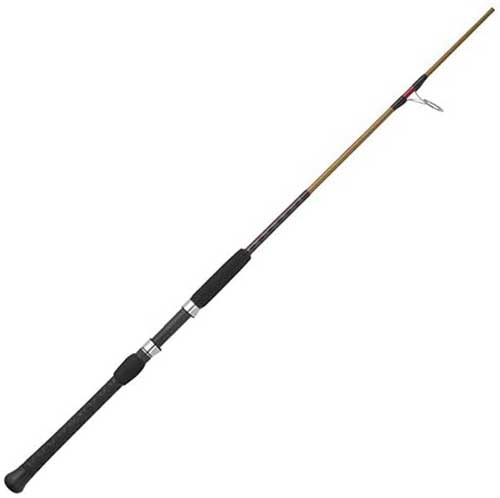 | | |
| --- | --- |
| Estimated Price | $80 |
| Type | Saltwater Spinning Rod |
| Construction | One-Piece |
| Length | 6-foot 6 inches to and 7-foot |
| Power | Moderate |
| Action | Medium, Medium Heavy, Heavy |
The Ugly Stick Tiger Elite is a good mid-size saltwater spinning reel. While the one-piece stainless steel guides are fairly corrosion-resistant, the biggest problem comes from the damage they might take from braided lines. Thin braided lines can leave grooves in the eyes which can eventually fray and cut your fishing line. So this is another rod that is good to use with a monofilament fishing line. Ugly Stik likely uses the stainless eyes due to the durability and elimination of the inserters coming resulting in a broken rod. However, with the popularity of braided lines, I am surprised the rod does not and ceramic inserts.
I know a lot of people who really enjoy fishing with the Ugly Stik brand, and I have seen them hold up to some serious use. The action on this particular model is designed for jetty and plug fishing, but it works pretty well in different settings and styles, like pulling up big cats from freshwater lakes and streams. Shakespeare, who makes the Ugly Stik, put some thought into being able to market this pole as very multi-species applicable so it will work for a wide range and styles of fishing.
---
9. Penn Carnage II and III Spinning and Trolling Rod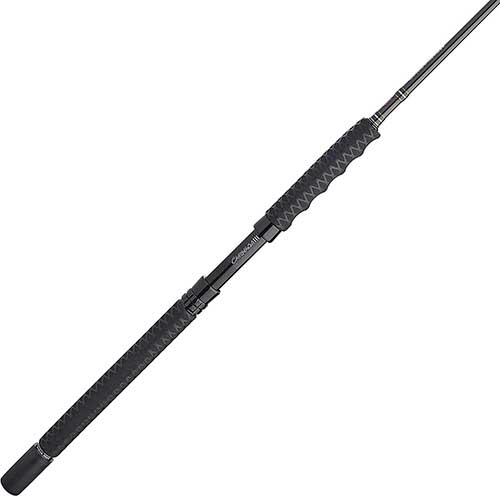 | | |
| --- | --- |
| Estimated Price | $180-$240 |
| Type | Spinning and Trolling Rod |
| Construction | One or Two-Piece |
| Length | 6-foot to 7-foot 6 inches |
| Power | Moderate, Moderate Fast |
| Action | Heavy, Medium-Heavy |
This Penn Carnage II boat spinning rod can handle just about any saltwater fish. A great feature of this rod is the Fuji K guides with Alconite inserts which make this a great reel to use with braided lines. This a great rod for large spinning reels like the Penn Slammer III or large Spinfisher V reels. What makes this a boat rod is that it has an aluminum gimbal that secures the pole in a rod holder or fighting belt. A cap can be placed on the butt to make it more comfortable to use without a fighting belt. There are also Penn Carnage II jigging and surf fishing rods that come with a rubber butt.
It is made with SLS3 composite blanks topped with layers of glass and carbon fibers. This is a stiff strong spinning rod that is also sensitive when jigging or using live baits. The thinness and slower action of the rod then provides a better balance to be used with today's improved reels. Spinning reels today are smaller yet can apply high drag pressure. This coupled with the high line capacity of braid makes it so sharks and large tuna can be caught on spinning rods. This stiffness of these rods allows for a good balance of lifting power and shock absorption in a fight with large fish. While the price may seem expensive if you are targeting large fish is it important to have the right tackle that will be able to catch them.
---
10. St. Croix Mojo Bass Baitcasting Rod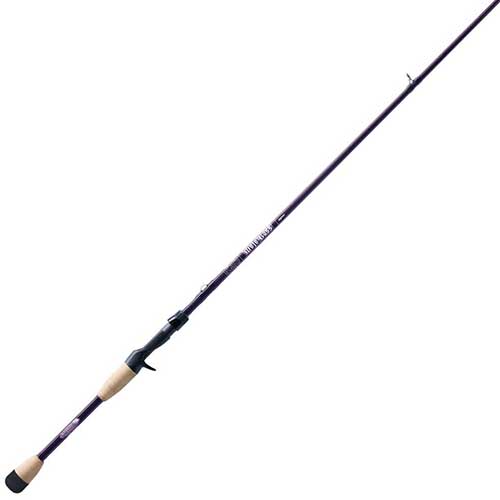 | | |
| --- | --- |
| Estimated Price | $145-$165 |
| Type | Baitcasting Rod |
| Construction | One or Two-Piece |
| Length | 6'8″, 7′, 7'1″, 7'4″, 7'5″, 7'6″, 7'10", 7'11" |
| Power | Med, Med Heavy, Heavy |
| Action | Moderate Fast, Fast, and X-Fast |
The St. Croix Mojo Bass is a top-quality baitcasting rod used mostly for freshwater bass fishing. It comes in one-piece and two-piece versions with power and rod tip actions for every type of lure and style of fishing. If you do not know exactly what rod you want a 7-foot medium-heavy power with fast tip action is a great all-around bass fishing rod. There are rods that allow for delicate casting of light lures and rod stiff enough to cast heavy Alabama or umbrella rigs.
The rod is made of graphite and has aluminum-oxide insets in the eyes. This makes it a good rod to use with monofilament or braided lines. Other features include a hook ring near the handle and a quality cork handle. It might seem expensive for a freshwater rod but you are sure to get years of use out of it since it has a 5-year limited warranty. If you do a lot of fishing with a baitcasting reel this is a great rod to help make the most out of your time on the water.
---
11. G. Loomis E6X Bass Casting Rod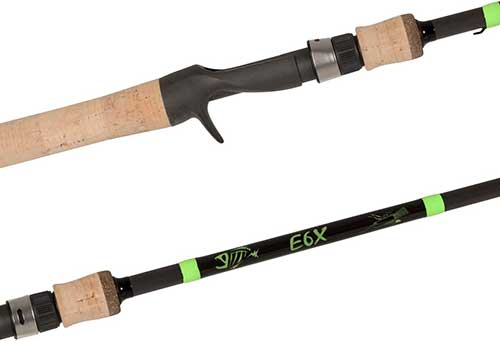 | | |
| --- | --- |
| Estimated Price | $230-$260 |
| Type | Baitcasting and Spinning Rods |
| Construction | One-Piece |
| Length | 6'0″, 6'6″, 6'8″, 7′, 7'1″, 7'5″, 7'6″ |
| Power | Med, Med Heavy, Heavy |
| Action | Mod Fast, Fast, X-Fast |
G. Loomis E6X Bass rods have 11 different rod styles with various lengths, power ratings, and tip actions. Each rod is categorized as being ideal with certain types of bass lures. For baitcasting rods, this includes swimbait, spinnerbait, flipping, jig-worm, crankbait, and the popular mag bass. Spinning rod configurations include shaky head, spin jig, drop shot and jig-worm. In reality, these rod classifications are just based on rod length, sensitivity, and stiffness.
It is not uncommon for a serious bass fisherman to have four or more rods each ready to go with specific types of lures. When trolling around the lake certain ledges may be better or a heavy jig and then a shallow area may be better for soft plastic work. Having multiple rods saves time since lures do not have changed and the best rod and reel setup can be used based on the lure weight.
These rods are designed for heavy-duty use, and not only bass anglers enjoy them. Musky and pike fishermen, as well as saltwater anglers, have found them able to hold up to tough elements while delivering great performance. These rods work great with braided lines, aluminum oxide inserts, Fuji guides, and Fuji reel seats. Other features include cork handles and consistent wall thickness for high strength for the entire length of the rod.
---
12. Duckett Fishing Inshore Series Casting Rod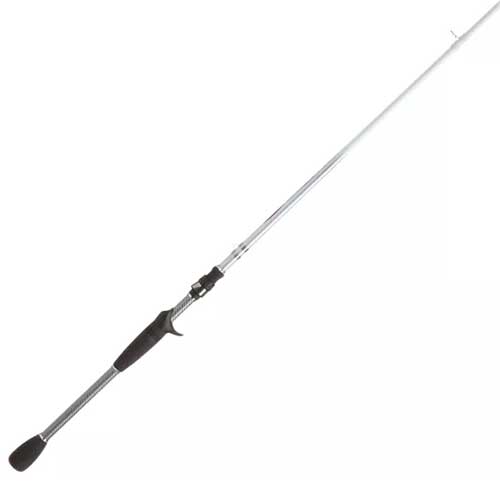 | | |
| --- | --- |
| Estimated Price | $100-$150 |
| Type | Saltwater Casting Rod |
| Construction | One-Piece |
| Length | 7-foot and 7-foot 6 inches |
| Power | Medium, Med Heavy, Heavy |
| Action | Moderate Fast, Fast |
The Duckett Fishing Inshore Series are awesome casting rods to use for saltwater fishing. Made with Sensi-Touch blanks using pre-impregnated composite fibers, it strikes a top-of-the-line balance between being light and durable. Duckett halo-sands each blank for increased sensitivity, too. The craftsmanship is obvious just from the true parabolic bend, which provides the best you can ask for when it comes to castability and increased hookups.
Duckett knows you value your investments, and they provided a triple coated thread wrap and extra epoxy to ensure the saltwater doesn't damage the rod. It is built to last all around, from the durable EVA handle to the Fuji line guides with Alconite inserts. Designed for inshore fishing, it's a great rod for jigging in the ocean, bay, flats for fishing from shore. Duckett is a trusted company and this premium rod is a bit more expensive than others but is built to last in all fishing conditions.
---
13. Lew's Tournament Performance TP1 Series Casting Rods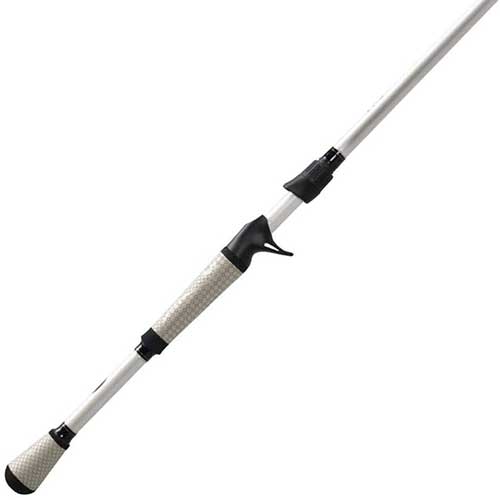 | | |
| --- | --- |
| Estimated Price | $100-$190 |
| Type | Baitcasting Rod |
| Construction | One-Piece |
| Length | 5'9″, 6'8″, 6'10", 6'11", 7′, 7'3″, 7'6″ |
| Power | Medium Light, Med, Med Heavy, Heavy |
| Action | Moderate, and Fast |
The Lew's TP1 Series Baitcasting rods are one-piece IM8 blanks, which means that they are durable, strong, lightweight, and sensitive. Lew's rod's hand grips always stand out and these are no different. The rods have Winn Grips with patented Dri-Tac technology split grips you recognize all the time at the lake. The custom guide system prevents wind knots and makes for better casting. Also exclusive to Lew's are their skeletal graphite reel seats, which bring the overall weight down and have good durability and sensitivity.
I'm sure you've heard of Lew's other line of rods, the Speed Stick, and the same guide system that gives that name to them is on the TP1 models. The first guide ring is designed to work as a funnel, called the "launch guide", which supports the line more efficiently as it is cast out and into the other guide rings, making for cleaner, smoother, more accurate, and faster casts. This is especially important when casting light lures. Besides the great castability, the TP1 line is technique specific. Being that these are rods are made with high-quality blanks, they are a great option for an angler looking for a higher level performance out of their baitcasting rod.
---
14. Abu Garcia Veritas Baitcasting Rod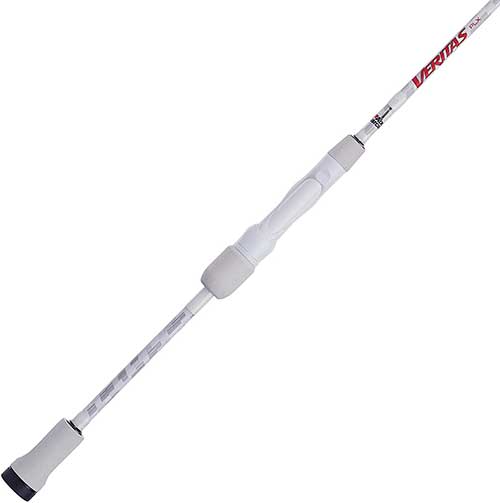 | | |
| --- | --- |
| Estimated Price | $100- $150 |
| Type | Baitcasting Rod |
| Construction | One or Two-Piece |
| Length | 6'6″, 6'9″, 6'10", 7'3″, 7'11" |
| Power | Medium Heavy, Heavy |
| Action | Moderate Fast, Fast |
Abu Garcia Veritas baitcasting rods are made in 30-Ton graphite blanks with SubLayer Armor, a composite that helps increase the strength while decreasing weight. The baitcasting reel seat tightens from the bottom on the exposed blank creating a secure connection with great sensitivity. Titanium alloy line guides with Zirconium inserts are durable and light, while the ROCS guide train helps to cast lighter lures further. High-density EVA grips feel good and give great control.
The Veritas paired with the Abu Garcia Black Max reel makes an excellent mid-level setup. This would also make a great first baitcasting rod. Veritas rods are a workhorse and have good sensitivity and power for pitching jigs, dragging worms, chunking frogs, or the deepest cover style of fishing. It is a little pricey for an entry-level, and there are rods not much more expensive with better sensitivity and hook setting power, but this rod will last a long time if taken care of.
---
15. Daiwa Tatula Elite Baitcasting Bass Rod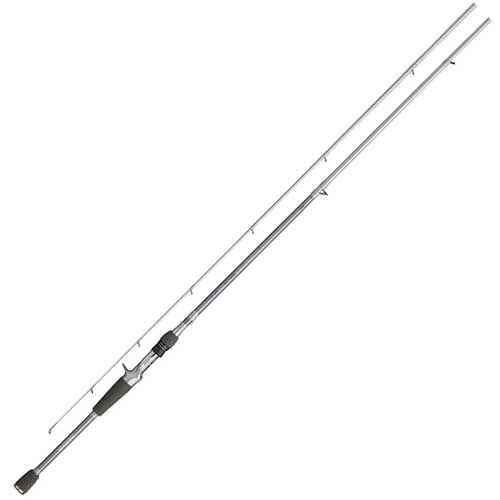 | | |
| --- | --- |
| Estimated Price | $100 – $170 |
| Type | Baitcasting and Spinning Rods |
| Construction | One-Piece |
| Length | 6'9″, 7'1″, 7'6″, 7'9″, 8 |
| Power | Med, Med Heavy, Heavy |
| Action | Reaction, Fast |
The Daiwa Tutula Elite Series has over 25 different variations of rod type, length, power, and action. There are both baitcasting and spinning rods in the series all of which are geared toward bass fishing. The rods are categorized by lure type or style including long cast frog, worm-jig, swimbait, search bait, crankbait, topwater, flipping, spinning, and universal. Daiwa had several top tournament bass anglers custom design these rods and made high-performance blacks to meet their requirements.
These rods are durably under the rigors of day in day out, heavy-duty use. The guides are made with carbon frames with aconite ring inserts which help make the rods rigid, sensitive, and have low line friction. Although designed for bass fishing the corrosion-resistant guides and EVA foam handles make it a good rod for saltwater fishing as well.
---
16. Fiblink Surf Fishing Rods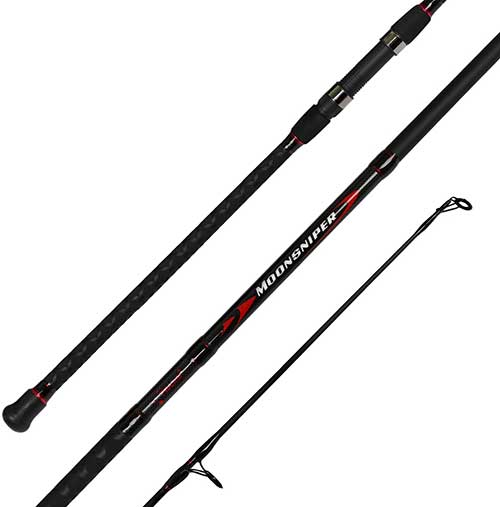 | | |
| --- | --- |
| Estimated Price | $52-$75 |
| Type | Surf Spinning Rod |
| Construction | Two-Piece, Four-Piece |
| Length | 9 foot to 15 foot |
| Power | Med Heavy, Heavy |
| Action | Moderate Fast |
These Fiblink surf fishing rods come in two-piece to four-piece. Surf rods have to belong in order to achieve far casting distances. One problem this creates is transporting long rods. Having a four-piece option makes this much more manageable. The two-piece rod comes in total rod lengths from 9-foot to 13-foot. While the four-piece rod comes in lengths from 13-foot to 15-foot and break down into section lengths from 3.25 feet to 3.75 feet respectfully.
Surf fishing rods need to be strong to cast heavyweights but still flexible to load up and spring the weight a further distance. The rods typically will have a lure weight rating which is important to follow. Doing so will allow for the furthest casting at a given weight without breaking the rod. These Fiblink rods feature corrosion-resistant graphite blanks with stainless steel guides that have ceramic inserts. A rubber shrink tube handle and tapered rear grip provide a nice comfortability when slinging out a fishing line with a rod this length.
Using the rod lets you appreciate the precision Fiblink used in pairing the right weight to strength ratio, and the overall balance with a surf rod at this price. The lightweight aluminum reel seats secured from the bottom securely hold both small and large surf fishing reels. These are average quality surf rods that are built strong enough to cast weights from 3/4 ounce to 8-ounces.
---
17. Okuma Longitude Surf Fishing Rods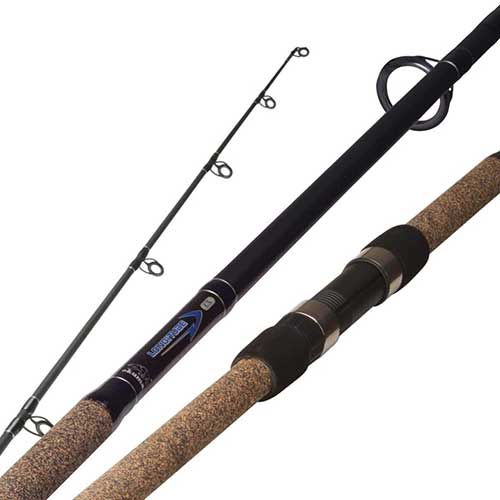 | | |
| --- | --- |
| Estimated Price | $75 – $100 |
| Type | Surf Spinning Rod |
| Construction | Two-Piece |
| Length | 8′, 9′, 10′, 11′, and 12′ |
| Power | Medium, and Heavy |
| Action | Moderate Fast, Fast |
The Okuma Longitude series are two-piece rods designed for surf fishing. Lengths range from 8-12 feet with a power rating or medium to heavy and fit surf spinning reels. The medium power rod is 8 feet in length with a lure weight rating from 1/2 ounce to 3 ounces. This a good rod for casting plugs, lures, and live baits from the shore. The heaviest power rating allows for 3-8 ounce lures to be cast which is ideal for casting surf fishing rigs with lead weights far out from the beach.
These rods are made with high-density graphite that provides good stiffness and sensitivity. The stainless steel guides are connected at two points and have aluminum oxide insert rings for smoother casts. The guide materials are resistant to saltwater corrosion but should be rinsed after use. The reel seats are made of graphite and have stainless steel hoods on the caps. The rod handles are cork wrapped to provide a nice grip ad the end has rubber butt caps. It is a little heavy, which should be expected for the price, but its strength and durability it is a good trade-off. This is an exceptional value compared to most similarly priced surf rods.
---
18. G Loomis Salmon Mooching Rod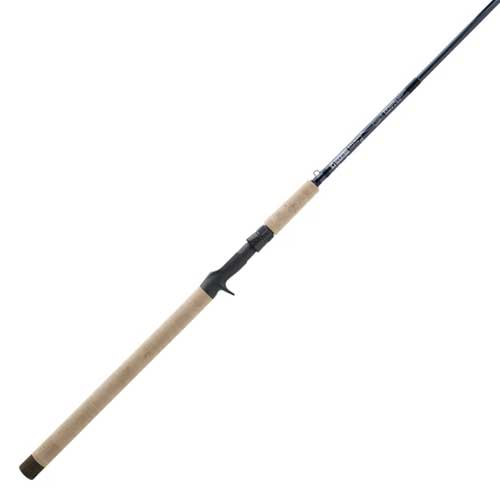 | | |
| --- | --- |
| Estimated Price | $360-$400 |
| Type | Conventional Rod |
| Construction | Two-Piece |
| Length | 10-foot 6 inches |
| Power | Heavy |
| Action | Moderate |
This G. Loomis Rods is specifically designed for salmon mooching and also work with downriggers. Salmon mooching is done by casting out a 6-ounce weight with a herring attached to the leader. It is allowed to sink to as deep as 250 feet and is then retrieved. This is similar to vertical jigging but is done with a smooth and consistent line retrieval. The mooching rig also works as a flatline while trolling to set a line from 10-20 feet deep.
The length of the rod gives you a higher clearance of the line from the boat when fishing in heavy currents. It also works well to set lines on the downrigger when trolling for salmon. Detecting a bite when mooching can be difficult due to slack in the line and because salmon swim upward after feeding. Having a sensitive rod allows sublet changes in the line to be felt. The premium cork handles cover the long butt, giving a maximum grip even when fishing in wet conditions. The price of these rods can add up when you are getting 12 rods for the boat but many charter boat operations and avid anglers will make the investment. It is also important to get a quality salmon fishing reel.
---
19. Penn Rampage Jigging Rod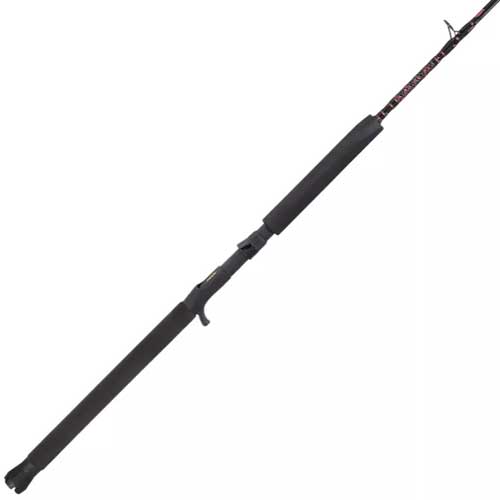 | | |
| --- | --- |
| Estimated Price | $90-$100 |
| Type | Conventional Jigging Rod |
| Construction | One-Piece |
| Length | 5'8″, 6'2″, 6'6″ |
| Power | Med, Med Heavy, Heavy |
Versatile for various saltwater fishing techniques, the Penn Rampage Jigging Rod is specifically designed for straight up-and-down jigging with convention reels. It is built with one-piece tubular graphite blanks that are lightweight yet very tough. The stainless steel Fuji line guides have aluminum oxide inserts that hold up against braid and salt spray. It is built with a graphite reel seat and has a rubber gimbal base to secure the rod in a fighting belt rod holder. This is a short powerful rod with lengths from 5.5 feet to 6.4 feet. The rod works well with 20 class and 30 class reel sizes.
Although made for jigging it will also work for trolling offshore. For jigging having sensitivity with lifting power is ideal for bringing up both small and large fish. This is a rod that is built to last years even with heavy use. For angels that like stand-up fishing on the reef and offshore this is a great rod for the price.
---
20. Ugly Stik Bigwater Trolling Rod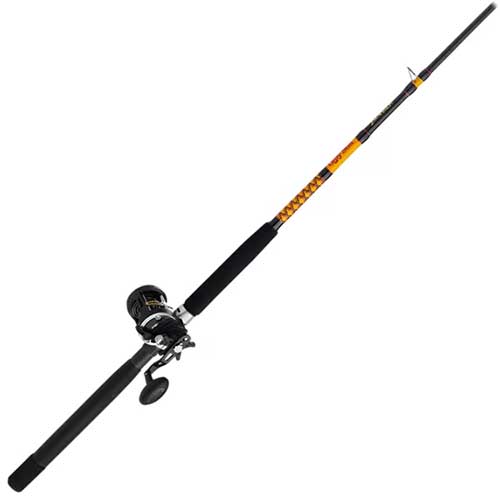 | | |
| --- | --- |
| Estimated Price | $60-$110 |
| Type | Conventional Rod |
| Construction | Two-Piece |
| Length | 5 Foot to 9 Foot |
| Power | 7′, 8'3″, 9′, 10′ |
Bigwater Trolling Rods from Ugly Stik is a versatile rod that works with conventional reels. The rod and reel comb has a low-cost add-on reel and the rod is really what you are getting with the setup. It is a very durable rod that will work for everything from freshwater walleye to ocean trolling for salmon, striped bass, and mahi-mahi. It has one-piece solid stainless steel line guides without ceramic inserts. That is the only negative of this rod. It will work well with a monofilament line but a braided line can dig into eyes creating rough metal that can fray a line. Often the rod works with braid no problem but it is a possible issue.
Bass Pros Shops also has Ugly Stik Bigwater stand-up conventional rods with roller line guides for large 50-80 class reels. There are also Bigwater spinning rods made in lengths from 6-foot to 12-foot. That makes it so Bigwater rods will work well on all types of fishing reels.
The graphite and fiberglass construction makes a tough rod as you would expect from Ugly Stik. With a 7-year warranty, Ugly Stik is trying to deliver a better value than any other rod on the market. People stay loyal to the brand because they know it performs well and catches fish. They do not deliver the lightweight and sensitivity blanks like high-end rods will but many fishermen accept the trade-offs.
This is a good trolling rod to catch fish up to around 50 pounds. Then a trolling rod with a bent butt design or roller guides is typically the way to go. However, the price and other pros of this rod make it a good value for someone who doesn't want to pay an arm and leg and wants to catch fish. The combo comes with an starter reel but I would recommend swapping it out with something of higher quality.
---
21. Fiblink Big Game Trolling Rod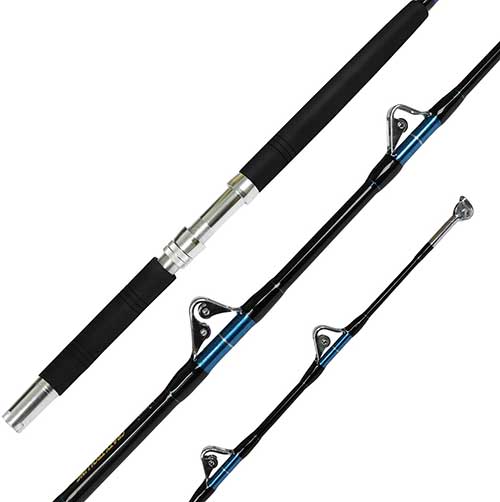 | | |
| --- | --- |
| Estimated Price | $55-$150 |
| Type | Big Game Trolling Rod |
| Construction | One or Two-Piece |
| Length | 5-foot 1 inch |
| Power | Heavy |
The Big Game Trolling Rod by Fiblink is a great value heavy-duty trolling rod. It will work with 20-class, 30-class, 50-class, and even 80 class reels. It has heavy-duty rollers to reduce friction and prevent guides from getting hot or causing line fray.
The rod is super-strong off-shore saltwater designed configuration made with E-glass graphite composite blanks. This extra toughness combined with its parabolic bend makes it more than capable of fighting big saltwater fish. Aluminum is used on other components, which are a good option for keeping down weight and staving off corrosion. It has an aluminum gimbal butt section which holds it straight in rod holders. The reel is secured to the rod with an aluminum alloy reel seat. Fiblink offers a similar rod with a bent butt.
It comes as a one-piece or two-piece rod. For big game rods, the one-piece is prefeed but the two-piece allows for easier transport especially when traveling. The one-piece is 5-foot 1-inch while the two-piece is 6-foot or 7-foot 6 inches. The EVA grips are common for saltwater rods and provide good comfort and control. Having a fighting chair or fighting belt of some sort is important when using this style of rod.
---
22. Penn Ally Trolling Rods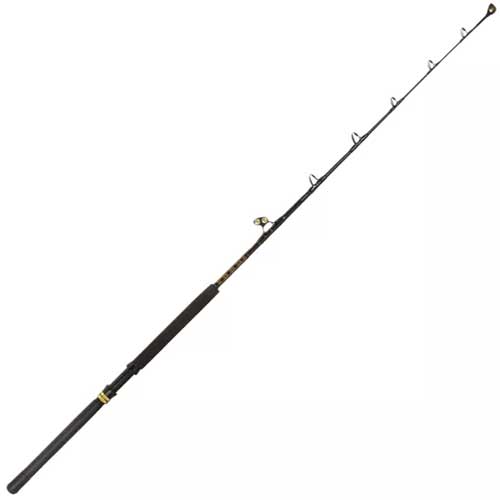 | | |
| --- | --- |
| Estimated Price | $150 – $180 |
| Type | Big Game Trolling Rod |
| Construction | One-Piece |
| Length | 6-Foot |
| Power | Med Heavy, Heavy |
| Action | Moderate, Moderate Fast |
These Penn's Ally series are the best trolling rods for offshore fishing.  There are straight butt and bend butt options that both have high strength and durability. With a tubular glass blank and solid glass tip you can catch big game fish like mahi-mahi, tuna, sharks, wahoo, and marlin without worrying about your rod breaking. This rod is made for 30 class to 80 class size conventional reels.
The Fuji roller guides with aluminum oxide insert greatly reduce strain on your line. This allows a reel with quality drag to work properly and provide consistent line tension. An aluminum gimbal and reel seat gives piece-of-mind from corrosion resistance and that everything will be firmly planted during the fight. EVA grips are great for comfort and grip, as well as resistance against salt and sun. For a quality big game rod, it is worth the price and is a great option for someone looking for a rod to go with a big conventional reel.
---
23. Okuma Celilo Ultralight Spinning Rod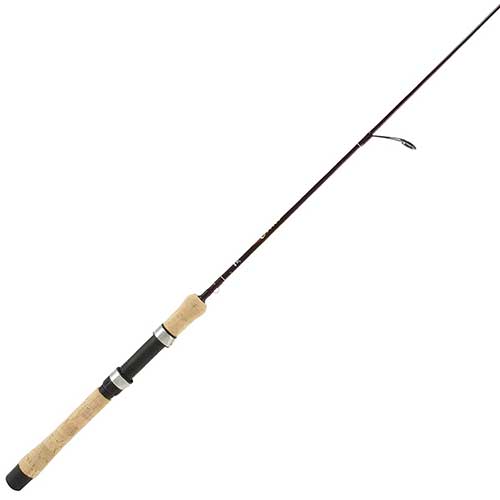 | | |
| --- | --- |
| Estimated Price | $25 – $50 |
| Type | Ultra Light Spinning Rod |
| Construction | One or Two-Piece |
| Length | 4'6″, 5'0″, 5'6″, 6'0″, 6'6″, 7'6″, 8'0″ |
| Power | Ultralight |
The Okuma Celilo is an above-average quality ultralight rod found at a reasonable price. Okuma put a lot of work into the design and marketing of this rod for trout fisherman. It has sensitive graphite composite blanks which provide far casting of light lures and fluid range of bending motion. The guide inserts are a step above stainless steel being made with aluminum oxide which holds up against corrosion. It is made with the traditional style spinning reel seat and had cork grips.
The two-piece model is nice when traveling and for putting in a car to always have on hand when driving around. It is multi-species versatile and is ultra-light which makes it a thrill when catching hard-fighting freshwater fish like smallmouth bass. These rods are durable and have an incredible amount of sensitivity for bite detection, and for the money are a great rod to use for light tackle fishing. Another nice feature is the hook keeper near the handles which allows fluorocarbon leaders to be longer without the line to line knot passing through the eyes.
---
24. Piscifun Serpent IM7 Spinning Rod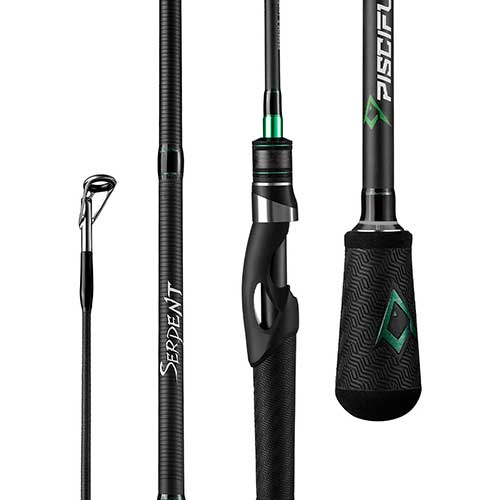 | | |
| --- | --- |
| Estimated Price | $60-$70 |
| Type | Freshwater Spinning Rod |
| Construction | One or Two-Piece |
| Length | 6'10", 7′, 7'1″, 7'3″, 7'4″, 7'6″, 7'9″ |
| Power | Medium, Med Heavy, Heavy |
| Action | Moderate Fast, Fast, X-Fast |
Piscifun's Serpent IM7 Spinning Rod is marketed as a value-oriented product, delivering high performance at a reasonable price. The rod blank is IM7 Toray carbon fiber, built with an x wrapping process to reduce weight and increase strength and sensitivity. If you are not familiar IM ratings they describe the sensitivity of a rod. Common values are IM6, IM7, and IM8 with IM8 being the most sensitive. These ratings are not calibrated between brands however most rods with IM ratings are going to going to be highly sensitive and great for feeling small bites.
It has Fuji ling guides with two points of contact between the frame and inserts for increased durability. The golf-style grips allow for sure handling and comfort. Piscifun advertises these rods as tournament-level performance, and they did put in some nice work in making them a fun rod to use for the avid fisherman. The quality treated epoxy and anti-line twist top guide help in reducing the likelihood of the front tip breaking.
They do feel a little stiffer than they should, or what a higher-grade pole would at the same specifications. The weight of them is also a bit on the heavy side, and I doubt too many tournament anglers would want to lift this over their heads for eight hours. That being said it is a decent rod for the money due to its durability and high sensitivity.
---
25. Cadence CR5 Ultralight Spinning Rod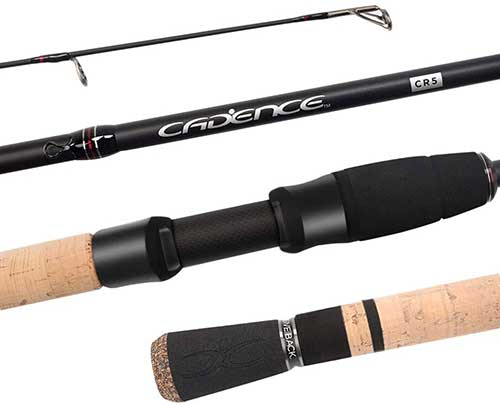 | | |
| --- | --- |
| Estimated Price | $60 |
| Type | Freshwater or Saltwater Spinning Rod |
| Construction | One or Two-Piece |
| Length | 4'8″, 5'6″, 6'0″, 6'6″, 7'7″ |
| Power | Ultralight, Medium Light, Medium, Medium-Heavy |
| Action | Moderate, Mod Fast, Fast |
Cadence's CR5 line of spinning rods are made with 30-ton graphite for strength, reduced weight, and have a decent amount of sensitivity for detecting bites. The shorter of the two is a one-piece stick, while the 5 foot 6-inch version comes as a two-piece setup. The guides are durable stainless steel with SIC inserts for a corrosion-resistant setup that won't fray lines. It has a Fuji reel seat which provides an ergonomic comfy grip that is a hybrid of cork and EVA foam.
This ultralight setup can be used as a freshwater or saltwater rod. The aesthetics, feel, and balance of the rod are all very nice. These rods are fairly stiff for a given power rating and are intended for light tackle fishing. Overall this is an average quality rod. The reel seat has a tendency to work itself loose during use. I have a habit to check this as a charter captain to make sure the reel does once come off for the clients. All in all, this an average quality rod for freshwater or inshore light tackle fishing at a reasonable price.
---
26. KastKing Crixus IM6 Spinning Rod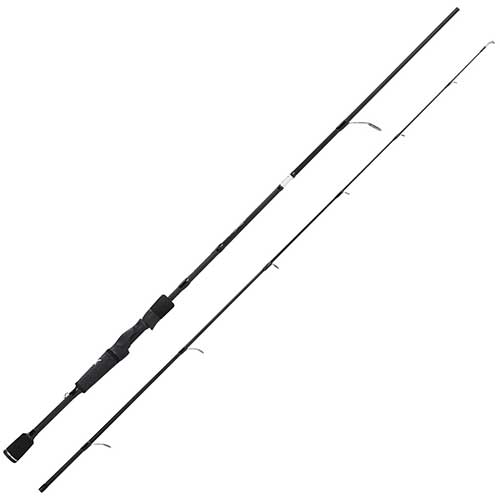 | | |
| --- | --- |
| Estimated Price | $40-$50 |
| Type | Baitcasting or Spinning Rod |
| Construction | Two-Piece |
| Length | 5'6″, 6′, 6'6″, 7′, and 7'6″ |
| Power | Light, Med Light, Medium, Medium-Heavy, Heavy |
| Action | Moderate Fast, Fast |
The KastKing Crixus IM6 is a popular spinning rod and also comes in a baitcasting configuration. These rods have sizes that are good for freshwater fishing and many of the Crixus rods are made for bass fishing. The rods will work for inshore and reef saltwater fishing but realize these are bass size rods that will catch fish up to around 20 pounds.
The IM6 blanks have a high-density graphite core inside of carbon tape for reinforcement, which comes out to an average weight rod with good sensitivity. The guides are stainless steel with Zirconium Oxide ring inserts, which is a nice ceramic material against corrosion and works well with monofilament and braided line. It has slip-resistant EVA grips and the back handle has a water-wicking surface to help keep the grip dry.
The spinning rods come in some thoughtful power modes, from light to heavy, which are all set at a reasonable price. The grips and the balance also feel good, and the casting is great. This is the initial impression when first tried. However, a closer inspection shows some manufacturing defects could be present. The one I tried had a tip misaligned with the rest of the rod and the last guide also was loose, and eventually fell off. Another issue users have is the tip breaking, sometimes on the first day of use. The warranty is lifetime but only if it is due to manufacturing defects at KastKing's discretion and they charge a $20 shipping return fee no matter what.
---
27. KastKing Blackhawk II Telescopic Fishing Rod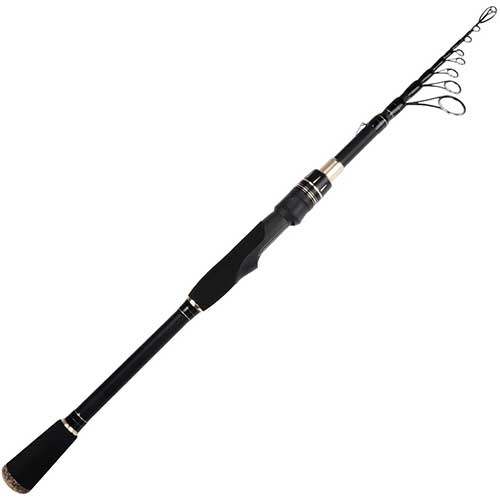 | | |
| --- | --- |
| Estimated Price | $50 |
| Type | Telescopic Spinning Rod |
| Length | 6-foot 6 inches to 8 feet |
| Power | Med Light, Med, Med Heavy, Heavy |
| Action | Mod Fast, Fast |
This Kastking Blackhawk II offers telescopic baitcasting and spinning rods. The extended lengths range from 6-foot 6 inches to 8-foot which are perfect sizes for bass fishing. There are also inshore baitcasting and spinning models for saltwater use. When possible rinse the rod with freshwater after using it in saltwater.
Telescoping rods technology has gotten much better and these rods fish very similarly to on-piece rods. The blanks are made with layers of carbon and the floating line guides improve rod stiffness and bend when under tension. The handle is very similar to traditional rods and features graphite reel seats and EVA handles.
The Blackhawk II has a collapses length of less than two feet making it a great rod for backpacking, hiking and traveling. Being able to keep your whole rig inside of a backpack instead of a two-piece strapped to the side means it won't get hung up on trees and break while walking. Collapsing and extending is not overly difficult but should be extending or collapsing each section starting at the base. Pulling from the tip or swinging the rod open like a lightsaber will not properly secure each section. If you notice the rod is dirty make sure to clean it off with water or a damp cloth.
---
28. Plusinno Telescopic Fishing Rod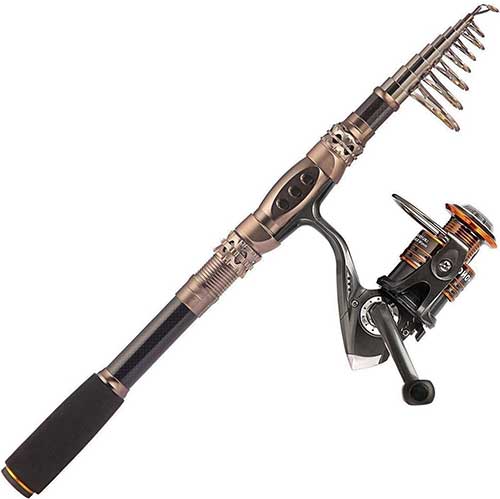 | | |
| --- | --- |
| Estimated Price | $42-$62 |
| Type | Telescopic Spinning Rod |
| Length | 5'9″, 6'8″, 7'8″, 8'8″ |
| Power | Medium |
The Plusinno telescopic rod comes as a combo with both the rod and reel. The rod comes in four different lengths ranging from 5-foot 9 inches to 8-foot 8 inches. A 3000 size reel is provided regardless of rod length. This is a good reel size for bass fishing or light tackle saltwater fishing. It is constructed with carbon fiber and fiberglass. The reel seat is a light, corrosion-resistant machined aluminum, and the guides are stainless steel with Zirconium oxide ring insets.
There is an option for a kit that comes with a nice travel case that holds the rod, reel, and some tackle. To fit in the case the reel handle has to be removed but this is a quick process that does not require any tools. This is not a high-end rod or reel but is durable and works great to catch fish when traveling. If you love fishing but don't have room for full-size rods then this is a good option.
---
29. Offshore Angler Ocean Master Travel Spinning Rod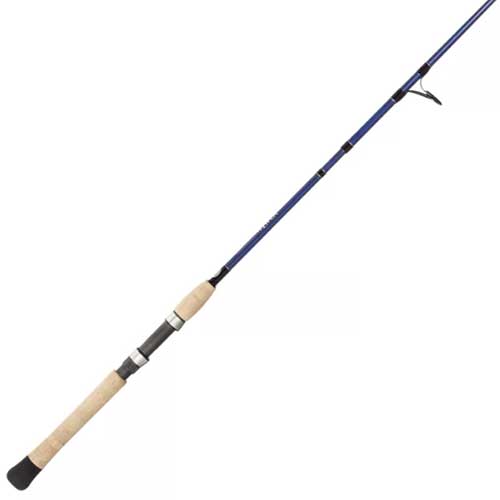 | | |
| --- | --- |
| Estimated Price | $170 |
| Type | Freshwater or Saltwater Spinning Rod |
| Construction | Three-Piece |
| Length | 7-foot |
| Power | Med Light, Med, Med Heavy |
| Material | IM8 graphite |
The Offshore Angler Ocean Master Travel spinning rod is for anglers who want to travel or backpack with a high-performance rod. It is made with 3-piece IM8 blanks built with carbon coil technology for increased strength. Fuji line guides with Alconite inserts make for better casting performance. The traditional graphite reel seats help to keep the weight low while. It has a rigid lightweight travel case to protect the rod during transport. Each rod section is 28 inches in length.
Having a good travel rod can be more important than having a one-piece rod. Once pice rods are difficult to bring when driving in a car, flying on a plane, or even on a hiking trip. There is always a chance that you will find some water or want to explore some fisheries along a hiking route. Whether it's a lake, ocean, creek, or small pound. This model by Offshore Angler is a really good option for anywhere, though it is specifically made for coastal waters.
The graphite is good quality for strength and durability, and the guides provide the same castability and corrosion resistance you would get in a good quality one-piece set up. Having IM8 blanks also allows for high sensitivity in a 3-piece setup. The rod has the backbone for big fish, but it is a little stiff. I would recommend going with the medium power if you want to use it in freshwater waterways.
---
30. Shakespeare Youth Rod for Kids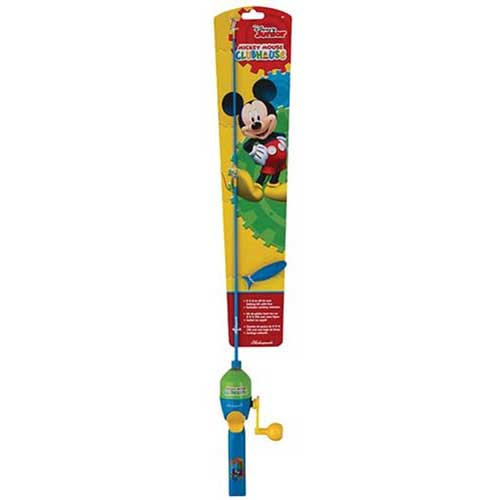 | | |
| --- | --- |
| Estimated Price | $15 |
| Type | Small Spincast Rod |
| Construction | One-Piece |
| Length | 2-foot 6 inches |
| Power | Ultra-light |
This Shakespear Mickey Mouse fishing rod is great for young kids. The rod is 2 foot 6 inches in length and comes with a small spincast reel. It comes with a light line around the four-pound test but works to catch bluegill, sunfish, crappie, perch, and trout. Line up to 10-pound test can be spooled on the reel. This rod is reel is actually famous in our family for catching a large bass. One day the bass pulled the rod and reel into the water and we luckily hooked the line with another rod and reeled in the big fish.
This rod is not a toy and it can catch fish. It won't last for years but the kids will grow out of it anyway so it serves its purpose well. For kids that are fishing often there are better spincast rods and reels on the market. This is a good option for the first rod for young kids and toddlers. Adding a bobber makes it much easier to cast far distances. I would recommend using a bobber with a piece of worm or bread a foot or two from the bobber.
---
Information About Fishing Rods
Power of Fishing Rods
A lot of people think that power and action ratings on a rod are the same thing. However, there are really two important distinctions important to know when selecting one for any particular technique. It's easier to think of it as action means the way the tip of the rod flexes, and power is how stiff the rod's back is when being flexed.
Power ratings mostly come in ultralight, light, medium-light, medium, medium-heavy, and heavy. Ultralight rods are very flexible, while heavy rods hardly flex at all. Depending on what lures or bait you are using, and which species of fish you are targeting, is the main determinant of the proper power your rod should have. Generally the bigger the fish, the stronger the backbone needed in a rod to set a hook in its mouth and then control its direction as it thrashes and fights.
The larger the fish, the bigger the tackle used to catch it, also. Heavy lures cannot be properly cast on a light rod because they can't support it well enough, just as light lures cannot be thrown with heavy rods because there is not enough flex to load up the energy necessary to do so.
Action of Fishing Rods
Action ratings typically come in slow, moderate, and fast, and deal with the flex at the tip of the rod. It's easiest to think of it as how fast or slow a tip returns back to being straight after flexing. You can test this out yourself by bending the rod tip and then letting go. Obviously, the less tip that is bendable means it will snap back straight faster, and the more of the tip you can bend means it would be slower to stop vibrating and straighten out.
Any action and power rating can be combined, and the many combinations are each designed for particular techniques used to catch fish. Crankbaiting for bass, to use one example, is usually most successful with medium power, slower action rod. This is because you need the flexibility in the rod's backbone to load enough energy for a long cast of a typical bass crankbait, and the longer tip bend in order for the fish to get the lure further into its mouth before you set the hook. A fast-action will cause less of the tip to bend, which will pull the lure away from the fish too quickly when you try to set the hook.
IM6, IM7, IM8 Sensitivity Ratings
The truth is, IM6, IM7, and IM8 means nothing. At least, it has no "real", uniform meaning. These are ratings for graphite strength and sensitivity that used to mean something and now is just thrown around a lot with no single, definitive meaning. Other rod makers use ratings like 24-Ton carbon or 30-Ton carbon, and still some others use High Modulus or Intermediate Modulus, and, truly, everyone is confused.
It might help to understand something about some of these. Carbon modulus is talking about the stiffness of a rod the more modulus the stiffer. There is another measure that goes with modulus, and it's called strain rate. The acceptable strain rate for a fishing rod needs to be something like 648,000 to 700,000. But as the modulus increases, the strain rate decreases, because the stiffness leads to brittleness. You can hear some of this jargon when you research rods on certain rod maker's websites and read them talk about how their rod uses high modulus, but it has to be mixed with other materials to offset the brittleness, etc.
Apparently, from interviews I have found with famous rod makers, there was some rod company back in the day who made graphite/carbon blanks, and through trial and error finally developed one they liked and called it IM6, and a better one IM7, and so forth. Other rod makers just picked up the term since it was the first term. I suppose in an effort at uniformity and to simplify the language. One rod's IM6 is most likely completely different than another's, so it doesn't tell you much.
Million Modulus and Tonnage Rating
A real rating of graphite is million modulus and tonnage. Abu Garcia uses Tonnage I know because all my rods by them say 24-Ton graphite or 30-Ton graphite. The general estimate seems to be that IM6 and 24-Ton are roughly the same ratings. The higher the tonnage, the higher the IM number: 30-Ton being IM7, and so on. And so the rod gets lighter with a higher modulus as well, and better composites, which all equals more expensive. It is all very confusing because there are no standardized ratings, but, in general, a higher IM number means a better rod that is lighter and more sensitive, while being mixed in a way to not be too brittle.
Once Piece vs Two Piece Fishing Rods
A one-piece rod is always going to be superior to a two-piece rod, but there are situations where the two-piece comes in handy, and they are still fun and work, regardless.
First, a one-piece is a solid blank, which means it's sensitivity and strength are just always going to be better. There are more dead areas on a two-piece, where vibrations are dissipating before they make it all the way down to your fingers.  If a cautious fish is holding the lure in its mouth but hasn't fully committed yet feeling every vibration can help. A two-piece rod has more potential breaking points, namely the part where it's already broken, and still has to bend when flexed.
There are situations where without a two-piece you just don't get to fish at all, however. Like when hiking mountain trails and a two-piece rod can be strapped to the side of a pack. This allows you to fish in every creek and lake you see along the way. Sometimes there is no way to travel with a large once pice rod. Another option when traveling or backpacking is to use a telescopic rod.
---
Frequently Asked Questions
Is an expensive fishing rod worth it?
High-end rods can be worth the money but it also possible to do serious fishing with budged rods. The feature that most improves as the price goes up in casting and spinning rods is the sensitivity. Strength is an important thing in a rod, too, but heck, there's all kinds of cheap materials that could be used to make a rod practically unbreakable, it's the sensitivity that's the hard part, and costs more to produce.
Today's rods mostly use carbon fiber, graphite, and fiberglass, in different mixtures and combinations. Fiberglass is found more heavily in cheaper rods but is the stronger of materials. Graphite is used to a heavier degree in high-end expensive poles, and gives much better sensitivity for detecting bites and feeling cover and debris in the water. The construction process and balance struck between these materials in a rod determine the price, and the more sensitivity combined with strength makes the pole more expensive, but there is only so far this can go with present technology.
Anyone will immediately feel the difference in sensitivity when they go from using an average Ugly Stick to a high-end St. Croix Avid Series. Custom rods beyond the high end are hard to tell the difference and are only appreciated by anglers that want a rod for a specific type of fishing or specific lure.  The average weekend fisherman might not even use expensive rods as intended, resulting in not getting the benefit out of the rod. High-end rods will have more quality guides, reel seats, and handles but none of these things on their own make much of a difference in fishing success.
Are telescopic fishing rods any good?
Telescopic rods will work to catch fish but are not as good as a one-piece or two-piece rod. Most top rod manufacturers do not make telescopic rods. However, they do make multi-piece rods which break down into two or more pieces, and function and last much better than telescopic rods.
That's not to say that there aren't a few on the market that work better than others, such as the telescopic rods made by Shimano and KastKing. I get the appeal of telescopic rods. They are great for long-distance hiking, camping, or to use on vacations at good fishing spots. When doing serious fishing is better to have rods designed for the purpose. Telescopic rods are not going to work with commercial reels for trolling offshore. From the shore, they can still cast far and will certainly catch more fish than not having a rod.
There are ways for a telescopic rod can break. All of those collapsible pieces mean more sections of the rod that must fend for itself during flex and strain, which the action and power are handicapped. So they will not have the finesse to when pitching, flipping, or dancing flukes around cover. Dirt and debris can also get into the joints so proper care should be talked of the rod. Sometimes though you just want to fish and the compactness of a telescopic rod allows this to happen.
How long should my fishing rod be?
What you're fishing for, how you're fishing for it, and where are the determining factors of how long your fishing rod should be. I will discuss this in ideal terms because you can make do with what you have a lot of the time.
Let's say for example that you're at a lake, you are targeting bass, and they are active on the surface so you want to throw topwater frogs. The technique for walking a frog calls for the "drum beat" pattern of holding the rod tip low and striking it down towards the water, and the lake has a lot of water that needs to be worked over in your search for a bass.
On the one hand, a shorter rod is easier to walk a frog with because you don't want to slap the water with the pole and ruin the action; on the other hand, a lot of water to cover means longer casts will be more efficient, and a longer pole means longer casts. You will have to compromise somewhere, and I personally do in that situation with a rod between 6'6″ and 7′ long is great for bass fishing.
For saltwater spinning rods are typically around 7 feet long. Surf rods are from 8-foot to 18-foot. Trolling rods can be from 5-foot for big band pieces such as tuna to 12-foot when trolling and mooching for salmon. It is also important that the reel seat be able to hold the size and type of reel that will be used.
Why do fishing rods break?
Nobody wants to admit it, but the vast majority of the time it is from user error. A good rod, as long as the tackle specifications are followed, the technique used is applicable to its power and rating, and it's designed for the species targeted, should not break. It probably won't unless it has been damaged at some point or your hook-setting fundamentals are bad.
Good rods are both surprisingly strong and surprisingly fragile. They will work flawlessly over and over throwing out lures, being abruptly bent when you set the hook, and wrenched on as you fight that fish towards you, but if you cast wrong and a weight knocks against that pole hard enough, or you crack it on a branch, or you're "high-sticking" on your hook sets and fish play, it's shocking how the rod just splinters.
This is one reason why it's so hard to read reviews of poles and then pick one to purchase because all of them feature a whole bunch of people saying theirs broke the first or second cast. You let them tell these stories and the entire rod making industry are just a bunch of inept crooks. Seek out reviews from real fishermen, like on this site, and trust in the quality names of companies who have been making rods for a long time.
Make sure your rod is always secure when not in use, and that it can't move around or anything move around it. Use only the line and lure weights as specified, and make sure your fundamentals in casting, lure presentation, and hook setting are practiced and correct. Your rod shouldn't break unless there was a defect from the factory, and then you should have a warranty in place to replace it.
Are graphite rods better than fiberglass?
You have to use the right tool to get the job done, and depending on what kind of fish you're trying to land is what determines when a graphite rod is better than a fiberglass one, or vice versa.
Graphite in a rod allows it to be more sensitive, therefore making it better at detecting small bites and more finesse fishing approaches. It also has a more direct hook set. Fiberglass, on the other hand, is a stronger material that is less brittle and prone to breaking than graphite rods, but is a lot less sensitive. It's more flexible nature gives it more play, which is good for long fights with big fish. Graphite would be less forgiving if a big fish took a large run.
More play, however, means less muscle. Fiberglass rods usually have a parabolic bend, where the rod bends more down towards the butt end of the pole, and this doesn't provide as much torque as graphite would for turning a fish's head and controlling its movement. Graphite does have more lifting power than fiberglass.
Fiberglass rods are generally less expensive than graphite ones. That doesn't mean it's material isn't valued in a fishing rod, however. Their slow-to-medium action is great for soft presentations of lures, and for working around rocks or heavy cover. The slower action also means they won't rip out of fishes mouth as hard as graphite, which is good for use with paper mouth species like crappie, and crankbaiting for bass. The durability of fiberglass rods also makes them a valuable point when making purchasing decisions, especially for young and novice anglers.
What's the best fishing rod for bass?
The best fishing rod for bass depends on the fisherman using it. If I was just to assume that we were talking about a professional tournament bass angler, I would say we'd obviously narrow the list to high-end names in the rod making industry like St. Croix, Penn, Lew's, Duckett, etc. The pick would be whatever their most expensive graphite composites are. But then all the pro anglers still use different gear specific to their skills and styles.
I suppose it would make more sense to come up with the best all-around kind of fishing rod. That would be something like a medium power, fast action, high modulus graphite rod. This would be something available from all of the top rod makers, but for example, I will say the St. Croix Legend Tournament Series rods.
The medium power would give the rod more versatility to present a wider array of lures, and the action would be good enough to work them. But, if you are more into pitching jigs, a medium-heavy or heavy powered rod would be the best, also with fast action.
The high modulus graphite is best for bass fishing because of its balance of strength and sensitivity. It provides enough torque to wrench bass out of the thick cover they like to hide in, and allows you to feel their bites and the lake bottom or cover you are working the lure in.
What is the best fishing rod for beginners?
If you have the money, get a beginner a top of the line rod model. If they are a small child or you don't want to spend a lot of money, then you should get a decent, fiberglass rod. Most beginners use spinning rods which are easy to cast far distances without bird-nesting the reel.
Something by Ugly Stik, or Shakespeare, who make Ugly Stiks, are usually made out of fiberglass blanks which are low priced. These are still good and strong enough for beginners to learn proper fishing techniques while allowing more forgiveness from error.
A good baitcasting rig would be a moderately priced 24-Ton graphite rod from Abu Garcia. It is a durable rod that will hold up for a long time during the learning process. The important thing for any beginner is to have a good understanding of the components and how a rod works to help them become more successful.
What is a surf fishing rod?
A surf rod is typically 8 to 18 feet long and used for fishing in saltwater while standing on the beach, the surf, a pier, dock, or rocks. The long length of the rods is necessary to make long casts, up to a hundred yards or more, past the breaking water where saltwater fish like to hang out. Fish can often be found much closer, in knee-deep water, as well. They usually have an extended butt section for better control when casting and fighting a fish.
A good surf rod typically uses the same blank materials used throughout the rod making industry, such as fiberglass, carbon fiber, and graphite. A one-piece surf rod is similarly stronger and more durable, but because of their extremely long lengths are available in two-pieces or more for easier storage and transport.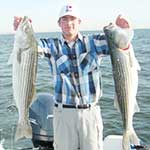 Captain Cody has worked on charter fishing boats in the Florida Keys, Virgin Islands, and Alaska. Growing up in Pennsylvania Cody has also done extensive freshwater fishing including bass fishing tournaments. Cody strives to provide detailed information about the best fishing gear and tactics to help both novice and experienced anglers have a more productive and enjoyable time on the water. Cody also has a background in aerospace engineering and neuroscience but really only takes pride in being good at one thing and that is fishing!