The map search function is currently in development. The video below shows how it will work. This was worked great for desktop users and ok for mobile users. This platform will be updated and optimized to work with smartphones in the near future.
Here a link to a video showing how it works.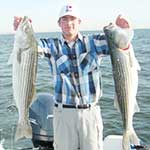 Captain Cody has worked on charter fishing boats in the Florida Keys, Virgin Islands, and Alaska. Growing up in Pennsylvania Cody has also done extensive freshwater fishing including bass fishing tournaments. Cody strives to provide detailed information about the best fishing gear and tactics to help both novice and experienced anglers have a more productive and enjoyable time on the water. Cody also has a background in aerospace engineering and neuroscience but really only takes pride in being good at one thing and that is fishing!