Trolling motors are a great way to power a small johnboat, canoe or kayak. Larger pedal-operated trolling motors are used extensively on bass boats and ocean shallow running boat to fish near the shore. A trolling motor allows the boat to quietly sneak into the best fishing spots.
Without a trolling motor, fishermen have to rely on drift fishing. This is a big disadvantage because the boat is simply taken in the direction of the wind and current. Sometimes the boat ends up in shallow water that is difficult to navigate out of with the large primary motor.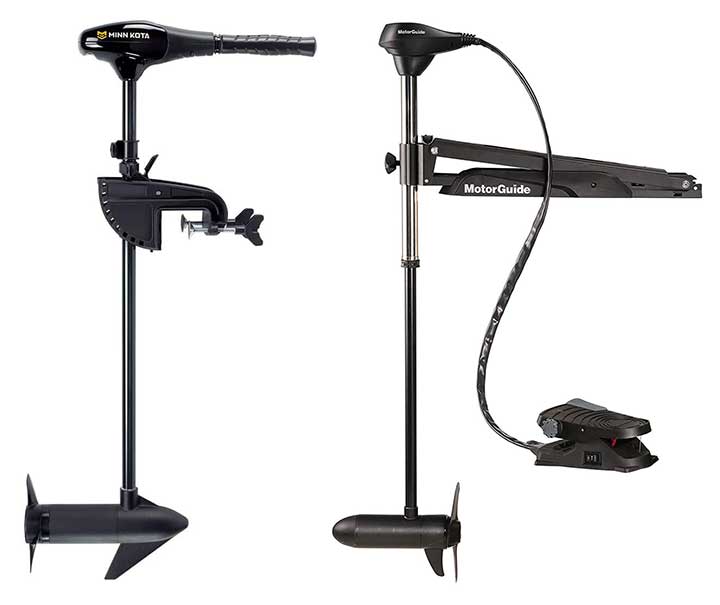 There are several important decisions that will have to be made when selecting a trolling motor. First deciding how much thrust will be needed to propel the vessel is important. Next how it will be mounted. The mounting option fro trolling motors includes bow-mounted, transom-mounted, and primary motor mounted.  Control options for trolling motors include hand-controlled,  cable steered, cable controlled, and Technologically Controlled.
The amount of power supplied to the motor is delivered by electric batteries. The batteries need to voltage and current. The amount of current stored in batteries is measured in amp-hours. The large capacity batteries will be able to run longer without being recharged.
The voltage requirement varies based on the max thrust of the motor. Trolling motors with 55 pounds of thrust can use a single 12-volt battery. The second level of motors with 55-80 pounds of the thrust recommend using 24 volts requiring two batteries. For large motors with 80-112 pounds of thrust, it is recommended to have 36 volts for power requiring three batteries.
Here Are the Best Trolling Motors
---
1. Minn Kota Endura (Captain's Budget Pick)

Shop or Read Reviews
Price: Around $100
My Review: Oddly enough, the electric trolling motor market is pretty much dominated by one company. Minn Kota purpose-builds several top-selling trolling motors for pretty much every scenario and watercraft type and in all reality, most people reading this list will likely end up with one of their products.
The lower end of the Minn Kota spectrum brings us to the Endura, which is a transom-mounted unit sporting five different thrust options.
You can find them in 30, 40, 45, 50, and 55lb thrust configurations, all with a very robust composite 30", 36" or 42" shaft and 6" telescoping ergonomic handle. This unit utilizes a lever locking mount and your choice of 5 forward speeds and 3 reverse speeds.
The Minn Kota composite shaft is well known for its incredible durability. It's true what they say about it, it'll bend but it won't break. That means these are capable of taking some hits, running aground, or just taking a general thrashing and holding up. You'll also get the Weedless Wedge 2 prop, which was designed to eliminate the chopping battery fatigue that many other props in the market had issues with.
This is an excellent piece for those of you who are serious about your gear but economically conscience, not looking for any of the extra goodies, just needing something that gets the job done and will last. Minn Kota offers a lifetime warranty on the shaft, probably because it's one of the toughest shafts on the market, and a two-year warranty on the rest of the package.
Why I like it:
Five thrust output options consisting of your choice between 30, 40, 45, 50, and 55lb thrust outputs
8 speed (5 forward and 3 backward)
30", 36" or 42" Minn Kota ultra-durable composite shaft and the Weedless Wedge 2 propeller
---
2. Newport Vessels Kayak Series

Shop or Read Reviews
Price: Around $140

My Review: The Newport Vessels Kayak series is available in either 36lb or 55lb thrust options and comes with a 24" fiberglass shaft. If you read the name, you already know this is purpose-built for kayakers and is far too small for most boats.
This is likely the best option for kayakers all around as it's well built, economically friendly, and easily propels a kayak with tons of gear and a full-size beer gut anywhere you need to go.
This thing is equipped with anti-corrosion coatings and seals making it resistant to saltwater.
The motor encasement and internals are all crafted from lightweight aluminum and stainless steel. You'd mount this on the rear (transom) of the kayak and since it comes with an adjustable handle height, it's pretty much perfect for any kayak of any size. With a 2 year warranty, I highly suggest you give this a go if paddling isn't your thing!
Why I like it:
Available with either a 36lb or 55lb thrust output
24" fiberglass shaft purpose-built for kayaks
8 speed (5 forward and 3 backward)
---
3. U-BCOO 8 Speed Trolling Motor

Shop or Read Reviews
Price: Around $150

My Review: This is an incredibly cheap option for those of you looking for a backup or small trolling motor. I wouldn't recommend this for daily use or competitive fishing, but it does work well on really small watercraft, such as kayaks and canoes.
With the U-BCOO, you'll get a choice of 46, 55, or 60lbs of thrust in a unit that costs under $200. With this, you'll be plunging that budget motor into the water with a 28.5" composite shaft hanging off of a nylon bracket.
The motorhead consists of die-cast aluminum which is surprisingly lightweight, close to the aluminum motorheads I've used and it's all controlled via a 5" telescopic handle.
For the price, this isn't a bad little unit. Remember, you get what you pay for, so I wouldn't recommend you take this out and thrash it too hard, as it's not really built for that. This is an excellent choice for those of you on the fence about getting a trolling motor and you're not sure what to expect. Think of this as a budget starter trolling motor.
Why I like it:
Thrust options: 46lbs, 55lbs, 60lbs
8 speeds (5 forward and 3 backward)
Saltwater usable due to anti-corrosive materials
---
4. Newport Vessels NV-Series

Shop or Read Reviews
Price: Around $200

My Review: This is one of the most popular budget transom mountable trolling motors. Newport is a well-known brand in the lower price tiers but delivers an excellent quality product that I simply cannot pass up the opportunity to talk about. If you're the barebones kind of guy looking for a "get it done" solution, this isn't a bad place to start.
With five different thrust options, I'm sure most of you using smaller watercraft will be able to use this unit in some way or another.
Those options consist of a 36, 46, 55, 62, and 86lb thrust output. Dipping the blade in the water is a 30" adjustable fiberglass shaft, which isn't quite long enough for full-size boats but perfect for small skiffs, kayaks, etc.
Newport covered their saltwater basis by utilizing stainless-steel, zinc, and magnesium-based hardware that should hold up well against corrosion. If you do ever have a problem, all Newport products are covered under a two-year warranty.
Why I like it:
Five different thrust options consisting of a 36, 46, 55, 62, and 86lb thrust output
30" adjustable fiberglass shaft
8 speeds (5 forward and 3 backward)
---
5. Minn Kota Endura Max Trolling Motor

Shop or Read Reviews
Price: Around $220

My Review: This unit is almost entirely the same as the regular Endura but comes with the Digital Maximizer system.
Without saying the same things over again, I'll just talk about the Digital Maximizer and let you decide which model you'd like to go with.
The difference in price is roughly $50, and some of you may not need the extra features of the Max, that's why I decided to add both of them to the list!
The Digital Maximizer is a software that automatically adjusts the speed of the trolling motor based on a predetermined speed. This, in theory, increases your battery life 5x. If you're like me and you plan to fish all day instead of just a couple hours here and there, this is a vital feature. I felt like the cheaper Endura without the Digital Maximizer did suffer from battery life, while paying the extra money to get the Endura Max was definitely worth the power efficiency.
Why I like it:
The Endura Max is available in 40, 45, 50, and 55 thrust output options lacking the option for 30lbs that the base Endura has
Either a 36" or 42" shaft with a telescoping tiller
---
6. Minn Kota Edge Trolling Motor

Shop or Read Reviews
Price: Around $430
My Review: The Minn Kota Edge is a purpose-built Bow mountable trolling motor that comes available in several different models. First off, we have your choice of either 45, 55, or 70lb thrust output options. Then you'll need to choose whether or not you want the foot controller or not. If you decide not to get the foot controller, I'd suggest just buying an Endura or Endura Max if they have the thrust output you need.
After all of that has been decided, you'll need to choose a shaft length, with options at 36", 45", 50", and 52". The foot control cord is roughly 4' in length and the entire setup needs a bit of space, likely too much for extremely small watercraft but perfect for regular sized bass boats and up.
Why I like it:
Foot control with 4' cable
Thrust options consisting of 45, 55, or 70lb outputs
Comes with a latch and door bracket
---
7. MotorGuide X3 Trolling Motor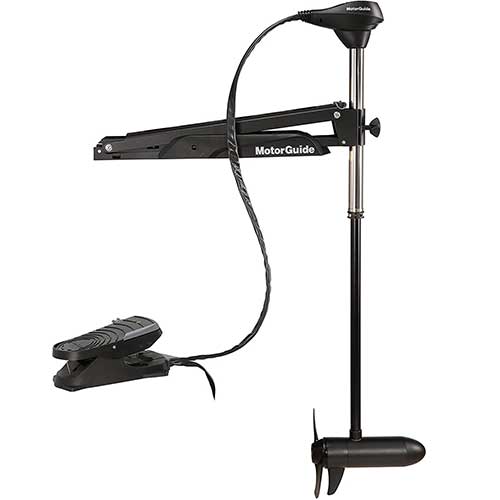 Shop or Read Reviews
Price: Around $520

My Review: If you don't like Minn Kota, it's fairly difficult to get away from them, however, the MotorGuide X3 is a very suitable competitor.
The X3 is a bow mount with foot control and comes equipped with the MotorGuide Proprietary Variable Ratio Steering (VRS) system.
This is widely known as one of the most accurate foot-controlled systems in units priced under a thousand bucks.
The entire unit is constructed of aircraft-grade aluminum and uses stainless-steel hardware, making it fairly corrosion resistant and ready to plunge into saltwater. The X3 was clearly built with sound reduction in mind. They utilized composite bushings and locking pins to ensure quiet operation the entire thing is just a breeze to use.
Why I like it:
Variable Ratio Steering (VRS) system helps navigate tricky obstacles, wind, rough water, etc
Five forward speeds and 1 reverse speed
Available in 55lbs of thrust with a variable-length 45" composite shaft
---
8. Minn Kota Riptide Powerdrive

Shop or Read Reviews
Price: Around $900

My Review: Before we get started, let me make this clear.
The Powerdrive and the Terrova are very similar in appearance and functionality, but to make things simple, the Terrova is a much more expensive, much better-polished product.
If budgeting is a concern, the Powerdrive gets the job done without breaking the 4 digit mark while the Terrova, if you have the extra money, is far superior in deployability control.
Now that we have that covered, if you're still sticking around to read about the Powerdrive, let's get to it!
The Riptide Powerdrive is a 55lb or 70lb thrust capable trolling package that can be found in either a 54" or a 48" shaft configuration. Of course, both of these shafts are the indestructible lifetime guarantee composite "bend but not break" Minn Kota shafts.
The Powerdrive does come equipped with the I-Pilot feature, which is powered by GPS and enables many powerful functions such as spot-lock, autopilot, and are controllable by the I-Pilot handheld remote. Now, the Powerdrive does not allow the use of both a foot pedal and the remote simultaneously, that functionality is reserved for the more expensive Terrova model.
The Powerdrive is deployed by hand, without the use of the Minn Kota deploy assist and if you're not using the I-Pilot function with its remote, you'll have to operate the trolling motor by hand, there is no foot pedal integration with this model, which is really where a lot of people decide to spend the extra money to get the Terrova. If a foot pedal isn't your thing, it might be a good idea to save the money and go for the Powerdrive, it all depends on your style of fishing.
The I-Pilot system also allows co-pilot with the use of BlueTooth integration on your smartphone, allowing you to make quick and easy adjustments from your phone. The Spot-lock is accurate up to 3' and doesn't care about wind or waves, as it'll automatically calculate your position using GPS and adjust for it accordingly.
The Riptide is specifically designed for saltwater use. Things can be confusing for new anglers in this regard as there is a Riptide version of both the Terrova and the Powerdrive, but some people mistake the model for being Riptide instead of a Terrova or Powerdrive. Terrova and Powerdrive are the models and Riptide simply signifies if the unit is anti-corrosive and suitable for saltwater implementation. If the unit you're looking at doesn't say it's a Riptide model, it won't come with an anti-corrosive coating. The one I reviewed is the saltwater capable unit, the Riptide Powerdrive.
Just like the Ultrex, there is an I-Pilot and an I-Pilot Link version. You can read up more about the difference in the Minn Kota Ultrex review.
Why I like it:
Riptide anti-corrosive coating ensures compatibility with saltwater
Weedless Wedge 2 prop for use in windy and wavy environments
I-Pilot and Spot-Lock functionality and remote with smartphone Bluetooth capabilities
---
9. Minn Kota Riptide Terrova

Shop or Read Reviews
Price: Around $1800

My Review: The arguably slightly better but much more expensive Terrova is an excellent upgrade choice over the Powerdrive due to its ability to be used in tandem with both a foot pedal and it's handheld I-Pilot remote.
This trolling motor has the same basic functionalities as the Powerdrive with the added features of a foot pedal and lift assist. Keep in mind, I am reviewing the Riptide version of the Terrova, which is the version purpose-built for saltwater use and is anti-corrosive.
Another difference here between the Powerdrive and the Terrova is its thrust and shaft options. With the Terrova, you get to choose between a 54"/80lb, 60"/80lb, or 72"/80lb models, which is notably more powerful than the cheaper Powerdrive.
Just like the Ultrex, there is an I-Pilot and an I-Pilot Link version. You can read up more about the difference in the Minn Kota Ultrex review.
If you've got the extra cash, your watercraft is on the heavier side, and you really need the lift-assist feature, the Terrova is a no brainer over the Powerdrive. To me, the names are a bit misleading, as the Powerdrive is actually less powerful than the Terrova, kind of odd, right? I'd expect the Powerdrive to be one of the more powerful units in the Minn Kota lineup, but in fact, it's not even second! Either way, both options are great and both have their place in varying budgets. If money is no option, check out the Minn Kota Ultrex, as it's even more powerful than both of these units and offers some advanced control features.
Why I like it:
Riptide anti-corrosive coating ensures compatibility with saltwater
Weedless Wedge 2 prop for use in windy and wavy environments
I-Pilot and Spot-Lock functionality and remote with smartphone Bluetooth capabilities
---
10. Minn Kota Ultrex I-Pilot

Shop or Read Reviews
Price: Around $2200

My Review: This is pretty much the trolling motor to have if you absolutely want to have your hands on the leading edge of everything. Widely reviewed and praised by many professional fishermen, the Ultrex encompasses a grocery list of features that are sure to put your boat exactly where you need it, when you need it, and keep it there for as long as you need it.
The Ultrex comes with a handy dandy foot pedal that, in my opinion, and many other professional anglers, has some of the most advanced control mechanisms on any trolling motor to date.
The foot pedal has several incredible features that really spoil you including lift assist, spot-lock, steering lock, and the most sensitive footpad ever found on a trolling motor. It's so sensitive that some people actually complain about it at first, having to spend some time with it before they get used to how smooth and easy it is to use!
The Ultrex is available with a 52" composite shaft, which is guaranteed for life, that implements the Minn Kota "bend but not break" technology, allowing this unit to handle a beating without failure. The available thrust options are either an 80lb or 112lb output, which is far overkill for small watercraft but perfect for good control in rough conditions on pretty much anything from a bass boat to a pontoon.
The I-Pilot feature is really where the money is at. I-Pilot utilizes GPS functionality for its co-pilot and spot-lock features. It'll also record your travels and automatically position your boat within a 3' radius, one of the most accurate systems on the market. Windy or wavey? It doesn't matter, the I-Pilot will calculate its position automatically and ensure you stay hovering over that honey hole. Spot-Lock can also be adjusted in any direction by 5', allowing easy incremental adjustments.
I-Pilot gets even better, though, because the I-Pilot will report battery life and estimated time remaining based on real-time data from usage, conditions, etc. Of course, the Ultrex also comes equipped with the Minn Kota Digital Maximizer, which has proven capabilities of increasing battery life up to 5x over units without this feature.
For those of you who always have your phone on you, the I-Pilot has smartphone integration, allowing full access to its controls in the palm of your hand.
The Universal Sonar 2 (US2) feature is a handy method of mounting a transducer by allowing you to completely conceal the wiring of pretty much any transducer you choose to implement.
A note regarding the "Link" version:
The I-Pilot Link Ultrex is a bit more expensive and its additional features are only usable if you link the device to a compatible Humminbird fish finder module. The Link feature essentially allows the Humminbird module access and control over the trolling motor, giving you additional navigation, auto-pilot, and spot-lock capabilities as well as utilizing a sonar unit attached to the trolling motor. As a last tidbit on this, the controllers between the Link and non-Link equipped models are different, so be wary of which you buy as the non-link controller is smaller and doesn't have a touch screen interface as the Link controller has. The I-Pilot Link can be found here.
Why I like it:
Available in either 80lb or 112lb output thrust options with a 52" shaft
Minn Kota Universal Sonar 2, I-Pilot, Spot-Lock, Lift Assist, Co-Pilot, Digital Maximizer, and a large easy to read LCD screen
This is the most feature-rich electric trolling motor on the market to date and comes with both a foot control pedal and a remote
---
Electric Trolling Motors
Electric trolling motors are very useful when fishing in shallow water fish like bass, crappie, and tarpon. Trolling motors are not actually used to troll lures but rater to get into shallow locations quietly and without risking hitting the bottom with the main motor.
When using a trolling motor it is important to have the properly sized battery. Check out the trolling motor battery page for more information.
Trolling Motors Explained
A trolling motor is an all-in-one removable unit encompassing a small motor attached to a prop at the end of a shaft. These motors are designed to offer the operator advanced control and precision over their watercraft. Many people use them for fishing in instances of navigating small watercraft without a primary source of power or navigating boats more precisely through difficult obstacles.
For example, one may have an outboard motor attached to their boat, but to fire that up and use it to maneuver around closely packed trees in the water may result in scaring the fish away and may also cause a few more bumps and rubs against the trees than you would like. Using a trolling motor in this situation keeps the noise level significantly lower than what your full-size motor would produce and allows you to navigate in smaller, more precise increments around the trees in the area.
Another great example of utilizing a trolling motor is on watercraft which does not have the capabilities of using a traditional motor and prop system. Watercraft such as canoes, kayaks, rowboats, etc will benefit greatly from the use of a trolling motor. Most of us love fishing and therefore would rather use our time and energy on the actual act of fishing itself instead of rowing all day to get to your honey hole. Using a trolling motor makes it easy to navigate these watercraft without exhausting yourself.
Most trolling motors have the ability to be deployed or retracted. This allows you to dip that motor in the water only when you need it and retract it when boating around to reduce the drag it would cause.
Many people also keep a trolling motor retracted on their watercraft as a backup option in case their primary source of power becomes damaged or fails. Being stuck in the middle of a lake with a failing motor is never fun, but coming prepared with a trolling motor ensures you get back to the dock safely and timely. Since trolling motors are fairly light, highly durable, and don't take up much space, it's rather easy to come prepared with one as an emergency backup.
Another major advantage of using a trolling motor is in situations where wake or gas combustion motors are prohibited. So long as you're using an electric powered trolling motor, most places will allow this over the use of a gas-powered motor, giving you more options in where you can fish.
Trolling motors are comprised primarily of four basic components: The shaft, the motor, the propeller, and the battery. Each of these has many subsets that will cause variations in the way the trolling motor is utilized and how it will perform, so understanding each of them and choosing a conglomerate of the four that are built for your boat size and your needs is of the utmost importance when shopping for a trolling motor. We'll talk about these more in-depth throughout the guide!
Mounting Positions and Configurations
Before we get started on the specific components you should plan for, let's figure out where we're sticking our trolling motors. Where you choose to mount your trolling motor will usually depend on your method and type of fishing, your boat construction, and mounting availability.
Furthermore, there are a few more aspects to mention about mounting that you need to consider. Not all mounts are created equally and, of course, you generally get what you pay for. Many of the most popular brands of trolling motors will come with a mounting package alongside the trolling motor itself.
Mounts can range in quality and features, for example, some mounts are pretty much permanent installations where your trolling motor would sit in that position and would remain there regardless of using your boat or not. Other mounts offer release mechanisms that perhaps allow you to turn a few knobs to release the trolling motor, allowing you to store it somewhere else, like in a locked shed so someone doesn't come along and steal your trolling motor off your boat when its in storage or docked.
Quick-release models usually use a lever locking system that allows you to quickly attach and detach the trolling motor. These are especially useful as backup units like we talked about before, where you may not use your trolling motor every time you take the boat out, but you want the option to do so if the need arises and you need to quickly deploy the motor without the hassle of installation.
Primarily, there are three main sections of the boat you can utilize a trolling motor:
Bow Mount Trolling Motors
Mounting your trolling motor to the front, or the bow of the boat is widely agreed upon as the top option for control and precision in movements. This allows the trolling motor to pull the boat instead of pushing it, giving you greater control over how the boat handles wake, waves, currents, etc. Mounting a trolling motor in this fashion typically requires a mount fastened to the front of the boat with some kind of bolt-on bracket.
Bow mounting works best on watercraft that have open bows such as most sail-boats, Jon boats, skiffs, fishing boats, etc. Obviously, if you have a bow that isn't easily accessible, bow mounting wouldn't be a good idea as most trolling motors would require you to manually engage them, deploy them, and perhaps even control them by being near them.
Transom Mount Trolling Motors
The transom, otherwise known as the rear portion of your watercraft is an excellent place to mount a trolling motor easily and for some people, maybe the only option you have. These are best used on small watercraft, like a canoe, dinghies, or single person boats. You get pretty general control that you'd expect from a traditional motor, just with much less noise and power. These are also mounted using a bracket that would attach to the exterior of your watercraft using brackets.
Transom mounting should work for pretty much everyone that has a little extra space on the rear of their watercraft. Furthermore, this is an excellent option for boaters looking for an auxiliary or emergency backup operation.
Primary Motor Mount Trolling Motors
In this configuration, your trolling motor would be mounted to the cavitation plate on the outboard or inboard motor. These likely won't be retractable or deployable, meaning they are always in the water ready to use, but results in more drag on the boat overall, even when not in use. A huge advantage to this mounting configuration is the fact that your trolling motor package won't take up any valuable deck space. This is especially handy if you take multiple people boating and fishing with you or you have a small craft with lots of gear.
Obviously, this isn't an option on watercraft that does not have a primary motor, such as a canoe, paddleboat, or a traditional sailboat. Furthermore, if gas mileage is something you like to consider, then you have to understand that adding more drag coefficient to your boat will reduce your gas mileage slightly. These are typically mounting types that do not allow for quick release mechanisms, thus meaning your trolling motor is essentially a permanent addition to your watercraft, not easily removed.
Control Configuration
Back in the day, using a traditional trolling motor meant holding on to a little paddle or handle and sitting right next to where the trolling motor is mounted, ensuring it stays put and steering it accordingly. Nowadays, we get some options that are rather handy and much friendlier!
Primarily, there are three control configurations you can choose from:
Hand Controlled Trolling Motors
The traditional "old fashion" method. You'll be grasping a tiller handle to control the movement, depth, and steering of your trolling motor. Many people like these despite more technologically advanced units being available for their easy to use controllability, simple set up and deployability, and overall cost-effectiveness.
Using this method, however, means your hands will always be occupied, meaning you can't work on your fishing setups, take selfies on the lake, or anything else, as you'll be driving the unit with your hands. This also means you have to sit or stand right next to the trolling motor, which means you also have to select a mounting option that allows for this.
Cable Steer Trolling Motors
These are trolling motors that utilize a cable attached to a foot pedal to allow the steering and power output to be controlled by the user without the need to manually control the motor itself. These were the cream of the crop for many years, especially among Bass fisherman who needed a hands free solution and an easy way to utilize the precise movements of their trolling motors.
Cable Controlled Trolling Motors:
Despite being a bit outdated, it still offers several advantages. First off, many fishermen enjoy the quicker and more precise movement over electronic controlled units. Since the motor's controls are directly tied to the cable, any movement in the foot on the pedal results in immediate results without delay. Second, electronically controlled units utilize a series of servos to control the motor, which means additional electronic noise and more moving parts to service and maintain.
Technologically Controlled Trolling Motors
These are considered the leading edge in the world of trolling motors. These basically work by using electrical impulses, both wired and wireless, to communicate your needs with the motor. These offer the most flexibility by allowing you to walk around and control your trolling motor from anywhere in the boat. The top brands typically give you both an electronically controlled foot pedal and a wireless remote, which can easily be hung around your neck with a lanyard, giving you control over the motor no matter what you're doing or where you're at.
Furthermore, these units are now coming equipped with tons of technological advancements such as autopiloting, GPS auto-positioning, circling patterns, jogging, etc. The higher-end models even allow you to plot a course and allow the unit to automatically make adjustments and continue on the course without any further human interaction. Some trolling motors can be used with onboard systems such as navigation computers, advanced fish finders, chart plotters, and even your mobile device!
Many anglers feel that the delay in response between their interaction, whether via the electronic foot pedal or the remote control, is significant enough to warrant sticking to a cable controlled unit. Furthermore, these units require electronic servos that generally make some kind of unnatural electronic sound and may require more maintenance than other units.
Thrust Requirements
Choosing a trolling motor that has enough power for your watercraft is one of the most important buying decisions. Simply put, if you buy a trolling motor that lacks the power to move your boat, you'll blow your money on something that won't be effective and on the flip side, if you overcompensate, you'll needlessly spend extra money on additional power that you don't need.
As a very rough general rule, you could abide by the 2lbs of thrust for every 100lbs that your watercraft weighs. Weight is tricky, though, as your boat likely won't weigh the same at all times. You can't just use the weight number in your boat's manual, either, as your gear, personnel, food, fish that you catch, fuel, etc will all factor in against the capabilities of your trolling motor. Many people make the mistake of preparing for the weight of their boat but forget to compensate for additional people and gear, which quickly ads up. If the average person weighs roughly 200lbs, that's an additional 4lbs of thrust per person that you will absolutely have to have available, otherwise your trolling motor may struggle or fail to perform.
The NADA boat directory details the weight of thousands of different boats. Check it out if you're unsure of how much your boat weighs.
Aside from just weight, there are many other factors that may result in diminished performance, warranting a much more powerful unit. Let's say that you've calculated for weight, and you've decided you need 100lbs of thrust just based on the weight of your watercraft, people, and gear. That's fine and dandy if the weather is calm and the waters are stagnated. In most cases, this won't be the case, and your trolling motor will have to either drag or push all of that weight while also fighting the wind, currents, wake, etc.
As a second rule of thumb, I'd probably add at least another 10% to your thrust needs to compensate for environmental factors and to have available the extra thrust in the event you invite additional people or bring on extra gear. Remember, these are general figures and will vary based on the type of watercraft, weather, and many other factors.
Remember, it is better to have and not need than to need and not have. With that said, though, you don't need to go out and blow tons of money on the most powerful unit as you likely won't use it to its full potential, wasting money that you could spend on other gear.
If you want to know the horsepower for comparison or curiosity, a fairly general idea is that 75lbs of thrust equals up to roughly 1 horsepower.
Voltage Requirements
Simply put, you need to power your trolling motor and that power is measured in voltage. Trolling motors use one or more 12-volt deep cycle batteries. The trolling motor battery page had more information about selecting the best deep cycle battery.
The thrust output of the trolling motor and will generally fall into one of three categories:
55lbs of thrust or less can be used on a single 12-volt battery.
55lbs – 80lbs of thrust generally required 24 volts of output, requiring two batteries.
80-112lbs of thrust usually requires 36 volts of output, requiring at least 3 batteries.
These are rough estimates, though, and as electrical systems and trolling motor become more efficient, these figures may change. The trolling motors guide should tell you what you need, just remember to budget in additional batteries for those of you who require large amounts of thrust!
Shaft Length Requirements
Shaft length varies across models and some models may even be adjustable or rely on different mounting procedures. Either way, you'll want the center of your motor submerged roughly 12 inches to get the most out of the motor. An industry standard is 42", but this may not work for everyone.
A shaft length guide created by Minn Kota is useful when selecting shaft length. Optimum lengths will vary based on your mounting area, type of trolling motor, watercraft size, etc, so using the guide in the link above will likely be better than a general piece of advice.
Saltwater vs Freshwater Trolling Motor Models
Some may argue there is no difference here, and they would be kind of right in most situations. In theory, so long as you have enough thrust for the weight of your boat and the conditions it'll be in, your trolling motor should suffice in either salt or freshwater.
There's a caveat to this, though, and that is durability over time. We know salt is incredibly corrosive and you have to safeguard your gear against it far more than you would in freshwater. Trolling motor manufacturers are well aware of this, and with that said, trolling motors rated for saltwater comes with much better build materials to protect from corrosion and have thicker seals to ensure durability, usually at a greater cost.
---
Popular Posts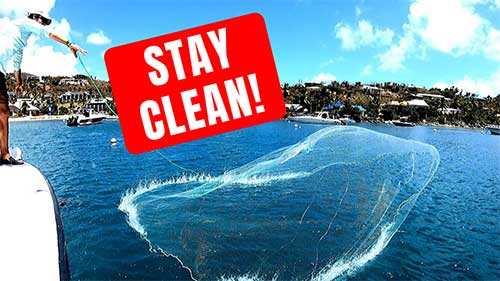 23 Best Cast Nets by Captain Cody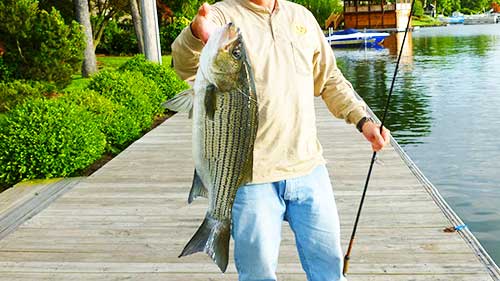 Best Hybrid Striped Bass Lures by Captain Cody
Captain Cody has worked on charter fishing boats in the Florida Keys, Virgin Islands, and Alaska. Growing up in Pennsylvania Cody has also done extensive freshwater fishing including bass fishing tournaments. Cody strives to provide detailed information about the best fishing gear and tactics to help both novice and experienced anglers have a more productive and enjoyable time on the water. Cody also has a background in aerospace engineering and neuroscience but really only takes pride in being good at one thing and that is fishing!