Daiwa makes medium to high-end fishing reels that are often a more cost-effective alternative to other brands. The Daiwa company has been making fishing reels sine 1955 and has is headquarters located near Los Angeles California.
Daiwa has two styles of reels that I see being widely used by anglers. The first is the Daiwa Tanacom electric reel. This is one of the most affordable electric reels on the market and it makes it possible to fish deep and catch fish in a style similar to commercial operations.
The second Daiwa reels that I see frequently being used are the line counter reels such as the accudepth and sealine. These are being used in both saltwater and freshwater. Daiwa also makes high end spinning reels, conventional reels, and baitcasting reels. Here is a list of the best Daiwa fishing reels.
---
Daiwa Spinning Reels
1. Daiwa Bg

Shop or Read Reviews
Price: Around $75
My Review: The Daiwa Bg is a great high-end saltwater spinning reel at a reasonable price. This reel on par with high-end Penn and Shimano spinning reels. For most inshore and reef fishing the 6500 is a great option with 33lbs of drag on a small reel.  For fishing offshore, the 8000 size reel is a great option with high line capacity and also 33 pounds of drag.
A large spinning reel like this is great for catching tarpon, mahi-mahi, fluke, striped bass, and tripletail just to name a few. In addition to saltwater fish it can also be used for large freshwater species like catfish and hybrid striped bass.
This spool has a rubber backing and is ready for braided or monofilament line. This reel had six ball bearings and has an infinite anti-reverse system. The reel handle can be reversed to with left-handed anglers.
2. Daiwa Crossfire

Shop or Read Reviews
Price: Around $20

My Review: The Daiwa Crossfire is your average freshwater spinning reel at a very low price point. For typical freshwater fishing, I would recommend getting the Crossfire 3000. It weighs 10.6 ounces and is good for medium to medium-light fishing action. The drag is only 8.8lbs but could still be lined with 20-pound braid and used to catch big fish. This is a perfect reel of bass fishing.
There is not a rubber backing to the reel so some monofilament backing line should be added to the reel before being topped off with braid to prevent the line from spinning on the spool.
---
Daiwa Conventional Reels
3. Daiwa Saltist

Shop or Read Reviews
Price: Around $150
My Review: The Saltist Ultra high-speed reel has a level wind and 15.4 pounds of drag. This reel has a fast retrieve and gears also have high winding power. The 30HA reel can hold 280 yards of 50lb braid or 230 yards of 25 pound Mono. This reel would be great for salmon trolling or for trolling on the reef offshore. Fast retrieve gains 35 inches of line per handle turn.
This reel contains a level wind that puts the line evenly on the spool without having to guide it by hand. This is a great size reel for trolling for fish such as salmon, walleye, striped bass, etc.
4. Daiwa Seagate Levelwind

Shop or Read Reviews
Price: Around $135
My Review: The Daiwa Seagate with level wind is a great option for trolling and bottom fishing rods. Having a level wind makes fishing easy without having to push the line back and for while reeling. The size 50 reel can hold 650 yards of 50-pound braided line. The max drag for this reel is 20 pounds. This is a good all-around reel for trolling and jigging and had a soft-touch reel handle.
5. Daiwa Seagate

Shop or Read Reviews
Price: Around $125
My Review: The Daiwa Seagate conventional fishing reel does not have level wind and is great for jigging and bottom fishing.  This reel comes in sizes 20, 30, 35, 40 and 50 depending on the size fish being targeted. The max drag for the reels is 15.4, 15.4, 19.8, 19.8 and 19.8 respectfully. With 50 pound braid, the reels hold 200, 280, 360, 490 and 630 yards respectfully. This is a great reel for jigging, similar to avet reels.
---
Daiwa Baitcasting Reels
6. Daiwa Megaforce Baitcasting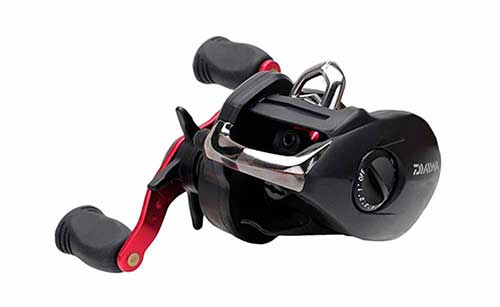 Shop or Read Reviews
Price: Around $65
My Review: Megaforce is a quality baitcasting reel at a reasonable price. The twitching bar allows for slack to be brought in quickly or for action to be added to the lure such as a jig or soft plastic. This reel as a super-fast 7.3 to 1 retrieve speed. Max drag is 8.8 lbs. The reel comes in left-handed and right-handed setups.
7. Daiwa Tatula Baitcasting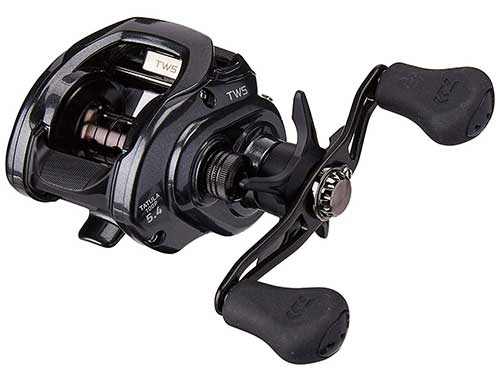 Shop or Read Reviews
Price: Around $170
My Review: The Daiwa Tatula is a very popular baitcasting reel and is used by many pro anglers. It is a high-end reel and comes in left or right-hand reel configurations. The retrieve speed options for the reel are 6.3, 7.3 or 8.1 to 1. The max drag is 13.2 lbs.  This reel had a level wind for easy retrieval. The reel can also be adjusted to account for different weight lures when casting. This reel is known for smooth casting with no backlash.
---
Daiwa Electric Reels
8. Daiwa Tanacom 1000 Electric Reel

Shop or Read Reviews
Price: Around $550
My Review: The Daiwa Tanacom is a great value electric reel. Deep dropping is a great way to catch tilefish, snowy grouper, barrelfish, queen snapper, and swordfish. The power cable for the reel can be easily connected to and 12-volt battery. This reel can be used to deep drop to over 2000 feet. The line capacity is 550 yards of 80 lb braid. The max drag is 48 lbs which is quite impressive. Many fishermen do not deep drop due to the cost of the electric reels.
At around $500 this reel makes it possible to fish deep at a reasonable cost. This is a very popular reel as is used on many charter fishing boats. The battery does need to be charged to the full 12 volts for the reel to retrieve properly. If you are just getting started into fish deep this reel is a great option. When deep dropping it is common to have a 2 to 8-pound cylindrical weight just below a chicken rig with multiple baited hooks. The weight is often bounced off the bottom to attract fish. Depending on the size of the fish the bites can be subtle to see but with practice, it can be a very fun and productive way to fish.
9. Daiwa Tanacom 500 Electric Reel

Shop or Read Reviews
Price: Around $500
My Review: The Tanacom 500 is a new reel on the market and has many great potential uses for electric reels that are not currently being utilized. This reel is pretty small and can still hold 440 yards of 50lb braided line. With this price point, it can now be possible for multiple poles to be fished deep while actually holding the rod and feeling the bite. This would be a perfect reel for fishing for halibut and cod at 300 plus feet deep with multiple rods. With the size being so small it can be used for stand up fishing.
---
Daiwa Line Counter Reels
10. Daiwa Sealine Line Counter Reel

Shop or Read Reviews
Price: Around $85
My Review: The Daiwa Sealine with line counter and level wind is a popular line counter reel for both saltwater and freshwater. Sizes of the reel include 17, 27, 47 and 57. The corresponding drag is 8.8, 16, 16 and 20 pounds. The corresponding line capacity is 180, 210, 280 and 580 yards of 20-pound mono. This reel is also available with a left-handed reel and a wide spools to hold more fishing line. Line counters are great for flat lines, mooching and trolling.
This is a good reel for freshwater salmon fishing and walleye fishing. Having a line counter is very helpful at know line depths. This reel will also work in the ocean for pacific salmon.
11. Daiwa Accudepth Plus-B

Shop or Read Reviews
Price: Around $75
My Review: Daiwa Accudepth series reels comes in a few sizes. The 17 has 8.8 pounds of max drag and the 27 has  15.4 pounds of max drag. This is a great line counting reel for fish such as walleye, perch, or trout. The line counter is great because once you catch one fish at a certain depth you can keep dropping back that same depth for a good chance of catching more schooling fish.
---
Popular Posts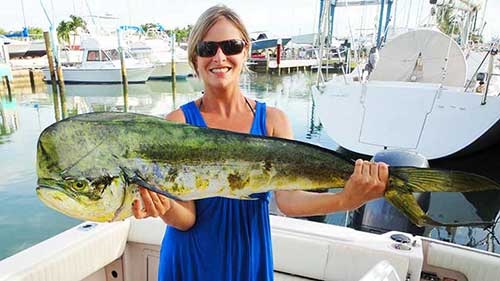 27 Best Mahi-Mahi Lures by Captain Cody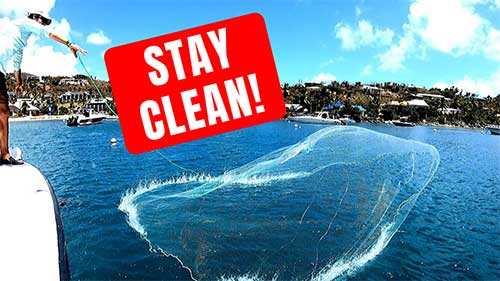 23 Best Cast Nets by Captain Cody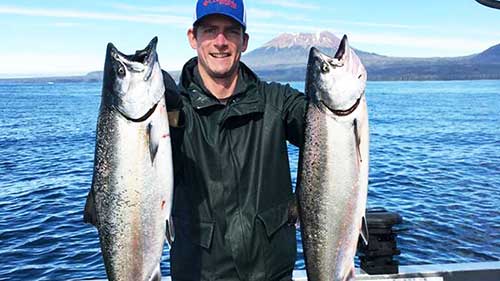 17 Best Salmon Fishing Lures by Captain Cody
Captain Cody has worked on charter fishing boats in the Florida Keys, Virgin Islands, and Alaska. Growing up in Pennsylvania Cody has also done extensive freshwater fishing including bass fishing tournaments. Cody strives to provide detailed information about the best fishing gear and tactics to help both novice and experienced anglers have a more productive and enjoyable time on the water. Cody also has a background in aerospace engineering and neuroscience but really only takes pride in being good at one thing and that is fishing!