Having a quality pair of sunglasses is a must when fishing or boating. The number one rule of buying sunglasses is making sure they offer 100 percent UVA and UVB protection. However, not all sunglasses that offer 100 percent UV protection are created equal. The second rule of buying sunglasses for fishing and boating is that they need to have polarized lenses. Even low-cost polarized sunglasses are better than high-end non-polarized sunglasses when fishing.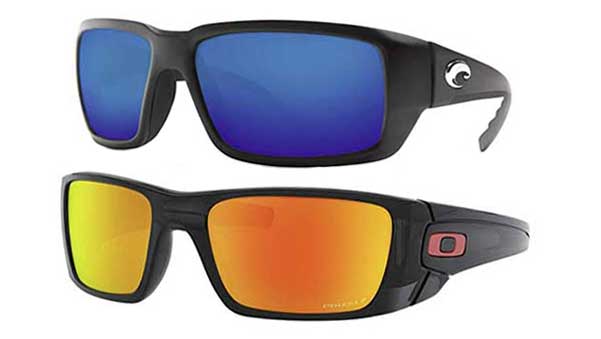 Having polarized sunglasses is extremely important when fishing for trout, salmon, grayling, bass, mahi-mahi, and tripletail. I have been boating where I can see fish 80 feet down and am trying to point out sharks and dolphins to other people on the boat. When I take off my polarized sunglasses, I realize all the other people are seeing is surface glare on the water. Having the right sunglasses makes the environment more visible, clear, have higher contrast, and allows for a better experience on the water.
When spending long days on the water people get exposed to more sunlight than almost any other activity. Not only are you in the sun all day but the reflected light on the water can hit you with 65 percent more sunlight. Excessive UV light exposure may lead to eye damage and contribute to the development of cataracts. Wearing a hat and quality sunglasses can help minimize these risks.
Personally, I like wearing black sunglass frames with blue mirror lenses. The black frame helps minimize the reflection of light from the sunglasses onto my nose. The blue lenses block out the largest amount of yellow light and allow for high contrast vibrant colors. In the reviews and further down this article I describe in detail which lens color is best for specific lighting and water conditions.
Here Are The Best Polarized Fishing Sunglasses
---
1. Costa Del Mar Fantail Polarized Sunglasses (Best Men's Sunglasses)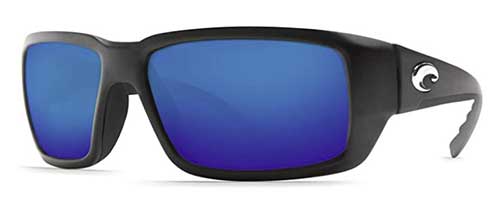 Buy from Amazon
These Costa Sunglasses come in 400 and 580 series glass and plastic lenses. Lens color options include blue mirror, copper, gray, green mirror, silver mirror, gray silver mirror, and tortoise Amber. Over 30 frame color options are also available. Fantail allows for a fit securely which is good for the active and windy conditions on a fishing boat. As with all Costa's, these have a limited lifetime warranty.
The Costa 580 series blue mirror lenses are the holy grail of offshore fishing glasses lenses. When fishing for tuna, mahi-mahi, and wahoo blue mirror lens are a great choice. These lenses block out yellow light below 580 nanometers and bosts the amount of red, green and blue light naturally. This allows for maximum contrast and minimizes glare. Originally 580 lenses were about twice the cost of 400 series lenses but today the cost is not significantly more. If you spend a large amount of time in sunny conditions on the water these are fantastic sunglasses to wear.  When using the sunglasses for fishing and looking into the water the 580 is a noticeably superior product. If you just use them on land the difference is not as noticeable.
The 580 series polarized lens also absorbs harmful high energy blue light (HEV). This light is known to cause macular degeneration, pterygium, cataracts, and other eye diseases.
Deciding between the glass and plastic lenses is mostly a personal preference. The glass lenses are very scratch resistant. However, glass lenses can shatter and be a safety concern. Personally, I like wearing lightweight plastic lenses. The 580 series lens has a C-wall which offers a molecular bond that is scratch resistant.
The green mirror is another high contrast lens that is a good choice for fishermen and works well in the flats, inshore, and in streams. Silver mirror and gray work well with variably light conditions such as overcast and partly cloudy skies. These lenses are a good overall color for offshore and land-based activities.
Lastly, the sunrise silver mirror is a light yellow lens that is great for providing a polarized view of the water during low light conditions. These are perfect for sunrise, sunset, and heavy overcast periods.
The video below is a short presentation about blue mirror Costa lenses.
---
2. Costa Del Mar Blackfin Polarized Sunglasses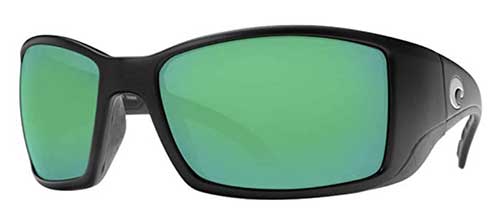 Buy from Amazon
The blackfin model is another top-selling Costa frame.  Lens color options include green mirror, blue mirror, copper, gray, silver mirror, and sunrise. Glass and plastic lens options are available in the 400 and 580 series. There are 14 frame color options available.
These are the classic frames that you see professional fishermen wearing that helped grow the Costa name and reputation. They don't have the extreme hook at the ends as the Fantail does, but they do make an attempt to remain ergonomic and the elegant curvature at the ends allows for a secure comfortable fit. Just like the Fantail, these use top tier construction materials such as the 580 polycarbonate lenses and bio-based nylon frames to achieve top-class durability and maintain fairly low weight profiles.
The video below is a short presentation about green mirror Costa lenses. Green mirror lenses work great for tarpon the flats, inshore, and to catch trout in streams.
---
3.
Costa Del Mar Tuna Alley

Polarized

Sunglasses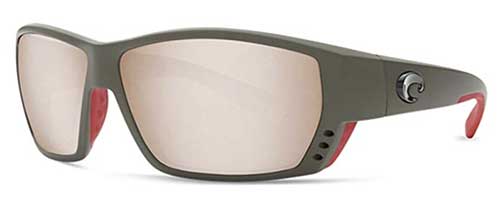 Buy from Amazon
The Costa Del Mar Tuna Alley comes with over 20 different frame color options. Lens options include matte black sunrise, matte black copper, green mirror, silver mirror, gray, sunrise silver mirror, crystal blue, blue mirror, green mirror, gray, copper silver mirror, copper, tortoise gray, and white copper. Most of these color options are available in both plastic and glass. 
This frame is good for large heads. The hinges are made with corrosion-resistant stainless steel. The plastic frames have a three-hole venting system for added coolness. The hydrolite nose pads allow for both comfort and grip to help prevent the glasses from sliding forward.   
The video below is a short presentation about copper silver mirror Costa lenses. Silver mirror and gray work well for land-based activities and for variable light conditions such as partly cloudy skies.
---
4. Costa Del Mar Isabela (Best Women Sunglasses)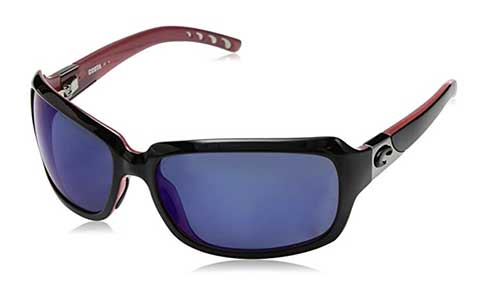 Buy from Amazon
Isabela polarized sunglasses come in 12 different frame color patterns. Lens color options include gray, blue mirror, copper, silver mirror and blue mirror. These come in a standard lens and a 580-nanometer polycarbonate lens which is lightweight, scratch-resistant and provides high clarity. The frames and lenses are prescription ready.
While women can buy men's sunglasses the size and style are not typically what they want. Costa makes great polarized sunglasses just for women. These glasses are the best for both style, fit and performance. The Isabela is one of the most popular high-end women's frames on the market. When sunny days at the beach or days fishing offshore are in the plans these are great sunglasses to bring along
There are many women-specific sunglasses that can be bought at gift shops or department stores but are not on the same level as this pair of high-end Costa's. When you are wearing Costa's it is not a status statement.  Wearing nice sunglasses makes for a more enjoyable time by properly protecting your eyes.  It also allows you to see the environment in a vibrant and clear way with top quality polarized lenses.
The video below is a short presentation about gray Costa lenses.
---
5. Costa WaterWoman Polarized Sunglasses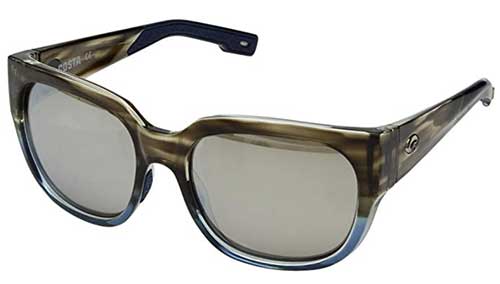 Buy from Amazon
Costa WaterWoman sunglasses come in colors of shiny palm tortoise-copper, shiny wahoo-copper silver mirror, shiny palm tortoise-green mirror, matte shadow tortoise-glass 580 lens, shiny blonde, and crystal-copper silver mirror lens. Gray silver mirror lenses come in matte shadow tortoise-gray and shiny blonde crystal frames. Gray lenses come in blonde crystal, shiny palm tortoise, and shiny wahoo frames.
These frames are great for small and narrow faces. If most Costas frames are too large for your face then these are a great option. Frames are made of lightweight and strong plastic. Lenses are made with lightweight polycarbonate or scratch-resistant glass material.  Hydrolite nose pads allow for a comfortable and secure grip to help prevent the glasses from sling forward. Halyard wire, bowline silicon, and neoprene retainers can also be worn to secure the frames.
---
6.
Costa Del Mar Brine Polarized Sunglasses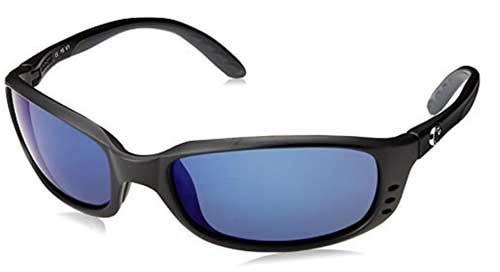 Buy from Amazon
Brine frames come in black, crystal bronze, gunmetal, tortoise. Lens color options include blue mirror, green mirror, copper, silver mirror, and gray. Most of these lens colors can come with glass or polycarbonate materials.
Brine are one of the most popular Costa frames. These are considered unisex glasses but are not as narrow as women's sunglasses. Costa lists them both on men's and women's sunglasses page. The hydrolight nose pads allow for a comfortable grip that helps prevent the glasses from sliding forward. The plastic frames have a three-hole venting system for added coolness.
---
7.
VATTER Sports Sunglasses

 

(Best Kids Sunglasses)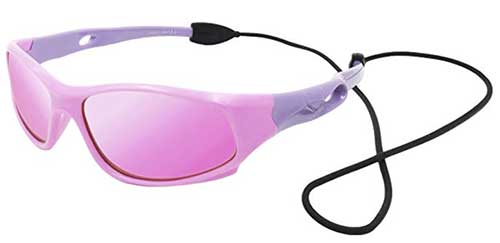 Buy from Amazon
Vatter frames come in color options of black, blue, blue-red, pink-green, pink-purple, white-blue, and white-red. Lenses are available in black, red, and pink.
Kid's eyes are not as strong as adult eyes at filtering your harmful UVA, AVB, and UVC light. For this reason, wearing quality sunglasses is important. I initially did not want to put U400 sunglasses in this article but almost all kid's polarized glasses are rated at UV400. From what I read the harmful UV rays are below 400 nanometers and these glasses are rated to remove 100 percent of this type of UV.
For high end kids sunglasses Oakley Flak glasses are made for kids and are a great option. My nephews ages 7-11 actually wear smith sunglasses that fit them well.  If kids get high end sunglasses in is important to get a sunglasses retainer or croackie that allows them to float if then end up in the water. This also allows them to where them around their neck when not in use. The HD-9 later TAC polarized lens filter prevents glare from water, snow, and road surfaces. These glasses also come with an eye-wear rope strap to prevent the loss of the glasses. The frames are made with a soft silicone material that is nearly unbreakable.
---
8. Smith Outiler 2 Medium Size Sunglasses


Buy from Amazon
Smith Outlier 2 sunglasses are medium fit. These are men's sunglasses but they will also work for boys and ladies. Smith is known for making quality sunglasses and googles for action sports. My dad bought these not knowing who they would fit and they actually fit my nephews pretty well. They were a bit large but it is difficult to find quality sunglasses for kids. Most parents buy expensive sunglasses for themselves but do not realize kids actually have eyes that are the most susceptible to UV damage. Sure kids might break them but getting some good sunglasses retainers and case can help keep them in good shape.
The frames come in black, black ice, matte crystal deep forest, matte thunder, and moss green. Lens shades are polarized black, polarized blue mirror, green mirror, and blue mirror. Make sure to select the lenses that are polarized. These Glasses are stylish and work great for seeing into the water when fishing.

---
9. Maui Jim Big Wave Polarized Sunglasses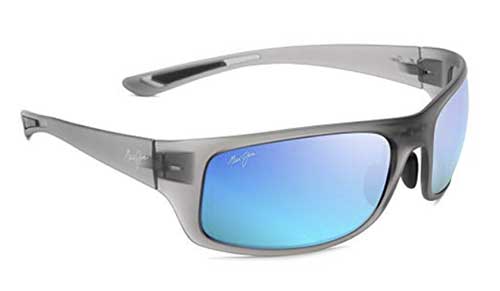 Buy from Amazon
Maui Jim Big Wave frames come in matte black, olive tortoise, and translucent matte grey.  The polarized lenses and are available in two colors and are constructed with the Maui Jim super-thin glass, which is said to be roughly 30% thinner and lighter than the glass other manufacturers use. Lens tints are blue, grey, or copper.
These are the kind of glasses you'd buy if you live in the sun day in and day out and really want top-quality shades with no exceptions.  The neutral grey lens provides light reduction which is very useful in bright, direct sunlight. Bronze lenses feature a warm tint which is great in changing light conditions. Lastly, the blue Hawaii lenses feature a blue mirror applied to the front of the neutral grey lens which provides color enhancement and clarity.
Maui Jim Sunglasses are designed and tested in Hawaii. Feasters of the lenses include PolarizedPlus2, UV protection, blue light protection, and skin cancer foundation seal of recommendation.
---
10. Wiley X P-17 Polarized Sunglasses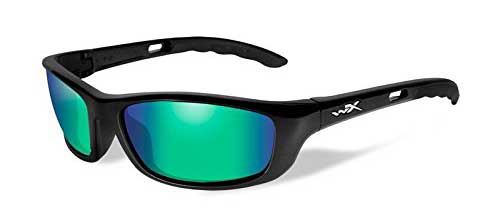 Buy from Amazon
Wiley X is known for making ballistic glasses often worn by the military and airsoft communities These meet ANSI Z87.1 industrial standard code for high-velocity impacts. The shatterproof lenses are placed in extremely robust nylon frames.
The 8-layer polarized lens blocks 100 percent of harmful UV rays below 400 nanometers.  The P-17 frames are made for outdoor actives with a secure rubberized non-slip grip which is great for the active and windy conditions on a fishing boat.
---
11. Oakley Fuel Cell Polarized Sunglasses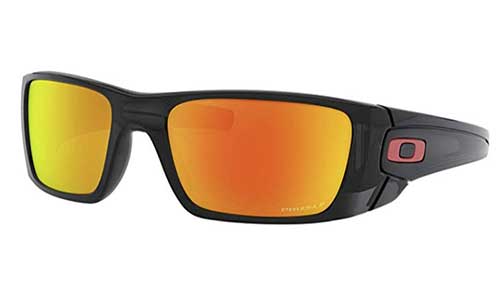 Buy from Amazon
Oakley Polarized Fuel cell frames come in black, camo, or white. Lens color options include Prizm ruby, bronze, Prizm bronze violet, grey, Prizm deep h20, Prizm jade, Prizm sapphire, warm grey, ruby iridium, and black iridium. The lenses block 100 percent of harmful UV light up to 400 nanometers. Oakley proprietary O-Matter frame construction is lightweight, flexible, and durable.
The Fuel Cell model comes with the HD polarization coating, which is one of the best coatings for visual clarity for sunglasses. They are tough too and come with a Z87.1 optical impact certification. Furthermore, the actual lenses themselves are the Plutonite lenses, which are said to be capable of filtering out UV rays and blue light, which is great when looking at GPS screens or something similar for long durations of time. This model also comes with the option to add a tertiary lens coating and the Iridium lens coating. This further reduces glare and amplifies color, which is worth it as it makes a huge difference when used for inshore fishing, it is like you have X-ray lake vision!
---
12.
Oakley Valve Polarized Sunglasses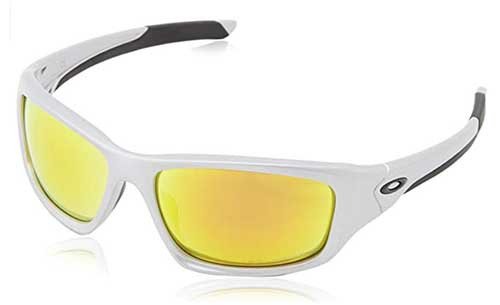 Buy from Amazon
Oakley Valve frames come in black, cool grey, matte fog, matte smoke grey, polished black, and silver. Lens color options include grey black iridium, deep blue, dark bronze, grey, black iridium, positive red iridium, and fire iridium polarized.
Frames and lenses are prescription ready. The lenses block 100 percent of harmful UV light up to 400 nanometers. HDO gives a less distorted view of the entire field of view without magnifying objects. The fire iridium lenses are great for low-light conditions.
---
13. Strike King Okeechobee Sunglasses (Budget Choice)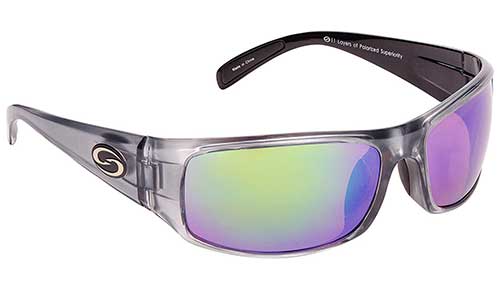 Buy from Amazon
These Strike King frames come in clear grey, dark amber, matte black, rubberized matte black, and white-black frames. Lense options include amber base-white blue mirror, grey base-white blue mirror, gray, and grey-blue.
The hydrophobic lens coating offers 100 percent UVA and UVB  protection. A dual-layer polarization system works as a good defense against reflection.
The frame is a hardened plastic that is light but also very durable and the bi-gradient mirrored lenses themselves are constructed of polycarbonate, meaning they're shatterproof. They implement a similar wrap-around style as do most of the glasses on our list and all in all, these are an excellent low priced option for some very tough and nice looking shades.
---
14. KastKing Hiwassee Polarized Sunglasses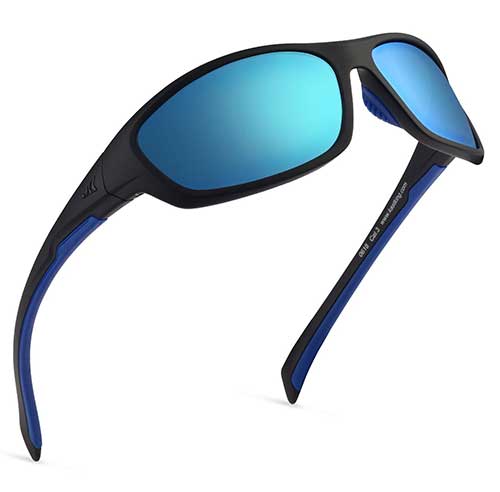 Buy from Amazon
KastKing sunglass frames come in gloss demi, matte blackout, matte smoke crystal, matte midnight blue, matte black, and matte smoke crystal. Lens options include chartreuse mirror, smoke base-ice mirror, smoke, copper base-steel mirror, amber base scarlet mirror, copper, and smoke base-cobalt mirror.
KastKing is a well-known budget-level brand among many different fishing products so its no surprise they have a decent line of eyewear to add to their product list. The Hiwassee glasses are built atop Grilamid material which is essentially a really strong type of nylon. This material allows them to be extremely light while supporting their shape and providing for a sturdy platform. The lenses seem to be fairly high quality and sport a 5 layer lens coating system encompassing two UV 400 layers for exceptional protection and a PVA filter for optimum color reflection.
It also includes a molded ABS hard case and a microfiber pouch. In all reality, for the price, these are a great value. They are super light, incredibly comfortable, and offer some pretty decent lens coatings that we are only just now starting to see in these lower price ranges.
---
15. DUCO Carbon Polarized Sunglasses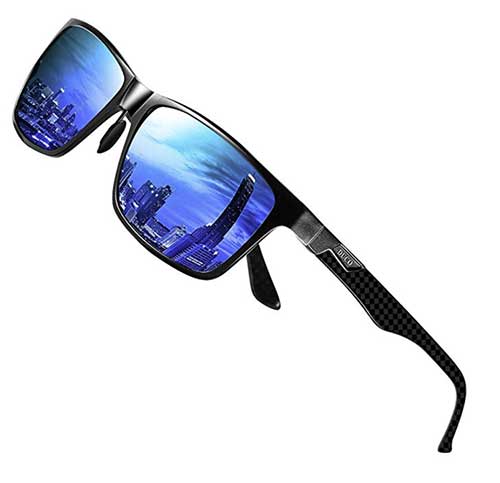 Buy from Amazon
DUCO Carbon frames come in black, black-red, and blue. Lens color options include grey, silver, temple Revo blue, Revo red, and black.
These are a bit of a different flavor than most of the other sunglasses on the list and that's due to their aluminum and magnesium frame with carbon fiber temples. Yeah, they are cheap Chinese imports but are not a bad value. The simplistic design and carbon fiber attributes are quite stylish
Resin lenses allow good visual quality and are shatterproof. The lenses also do exceptionally well at getting rid of that horrendous glare with their polarized filters.
---
16.
Hulislem Sport Polarized Sunglasses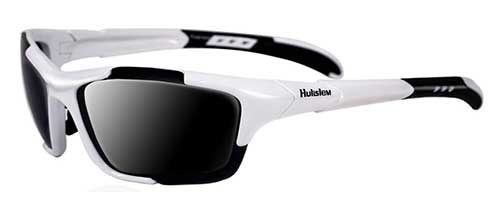 Buy from Amazon
Hulislem Sports Frames come in black-blue, plack-purple, grey-smoke, matte black-smoke, matte blue-smoke, white-black, and white-blue. The lenses have a UV 400 mirror flash coating. This block harmful UVA, UVB, UVC, and blue light below 400 nanometers.
This is a pair of low-cost and lightweight polarized sunglasses. The frames have a snug three-point fit to help ensure optical alignment.
These are not the greatest polarized sunglasses and I would recommend spending the extra money to get a more quality pair of sunglasses. That being said these are a popular low-cost budget option.
---
17.
Merry's Unisex Polarized Aluminum Sunglasses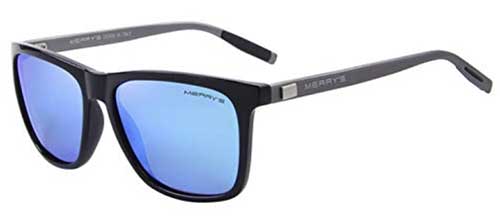 Buy from Amazon
Merry's frames come in black, black-silver, and black-white. Lens color options include a black, blue, green, red, and pink mirror.
These unisex frames are constructed with aluminum and plastic. Also included are a sunglasses case, cloth, pouch, and polarized test card. Other features include HD visual, strong impact, full glare barrier, UV400 protection, and true colors.
---
Sunglasses Retainer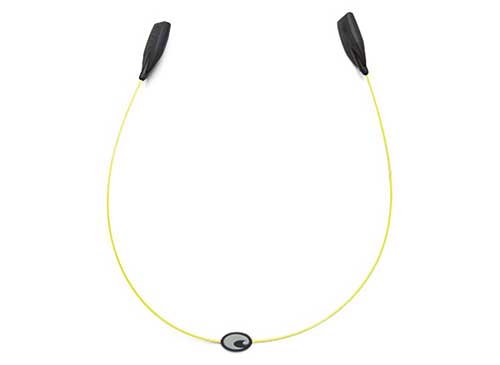 Buy from Amazon
This retainer is made for Costa sunglasses but can work for any frames that come to a point. The rubber ends slide over the tips of the frames. These are nice so you can take off your sunglasses when going indoors and they stay around your neck. It is also nice when you are done using them from the day they can be hung up so the lenses will not get scratched up. These retainers last about 1 year when used frequently. If you are on a boat these are great. Sunglasses do not fly off as often as hats but it can happen. Having a retainer for sunglasses help keep the lenses in better shape and will reduce the likelihood of them being lost or broken.
---
How to Choose Sunglasses for Fishing
Polarization
The light reflected off the water from the sun travels back in a uniform horizontal pattern, causing significant glare, blurring and even blinding your ability to see through the water. A polarizing filter reduces and blocks these lightwaves by redirecting incoming horizontal light waves and scattering it outwards.
Polarized sunglasses differ from their non-polarized counterparts in that they selectively filter out glare induced horizontal light beams instead of simply decreasing all spectrum of light equally. Regular glasses work by just reducing how much light there is total, while polarized glasses allow in a surprisingly high amount of light, simply filtering out the light we don't want.
It's important to note, however, that polarization does not equal UV protection. The UV protection level is designated by other aspects of the lenses, which is another reason why those cheap knock-off "polarized" lenses are no good. They use a cheap filter to kill off a slight amount of glare, while not offering any UV protection or successfully removing all of the glare. Most high-quality brands like Costa or Maui Jim have lenses that do well in both reducing glare and offering protection from UV rays.
As I've mentioned a few times already, polarization filters are not created equally. Generally, there are two types you're likely to come by unless you get some weird Chinese cheap glasses that no one has ever heard of before. The two types differ in thickness are come as follows: 0.75mm or 1.1mm.
The thicker the lens filters are, the better they are. Thicker polarization filters offer better durability in terms of being scratched and damaged but aren't proven to provide any significant advantages in overall glare reduction. Of course, thicker polarization coatings are going to drive the cost up, but for me personally, I'd always opt for the thicker filters in terms of fishing. Your glasses are likely to fall off from time to time, get dropped, or get scraped up by your fishing gear. Having that thicker coating is like having a screen protector on your phone.
As a bonus, polarized glasses also offer incredible reductions from shiny things. Gone are the days that your buddies fancy chrome-trimmed fishing boat blinds you!
So, why aren't all sunglasses simply equipped with top tier polarization? Aside from the fact that better polarization equals a higher cost, there are some real disadvantages to polarized sunglasses, most of which have nothing to do with fishing.
A few examples of disadvantages come in with reading liquid crystal displays (LCD). Some of you may have an LCD screen on your fish finders, GPS units, or as some kind of entertainment unit on your boat. Furthermore, gas pumps and ATM machines will also among the affected displays. Reading LCD screens are going to be more difficult with polarized glasses on and there's really not much you can do other than take them off briefly to attain the information you need.
Another major disadvantage to polarization is the penetration and production of light when used while looking through a polycarbonate windshield. Vehicles like motorcycles and boats typically use polycarbonate in the windshields, which produces very odd-looking colors and a blurry effect when used while wearing polarized sunglasses.
Lens Material
In the world of fishing sunglasses, you get two options: Glass or polycarbonate.
Both options are available in polarized or none-polarized options and both can be found in the same price ranges.
Glass is likely the most popular and offers the most clarity. Surprisingly to a lot of people, glass is actually more resistant to scratching than polycarbonate. On the flip side, glass is nowhere near as durable overall as polycarbonate and is at risk of shattering, whereas you can't shatter a polycarbonate lens.
Polycarbonate lenses enjoy a few benefits such as lighter weight, which makes a huge difference for fitment and how well they stay where you put them. Polycarbonate can survive falls, bumps, dings, etc far better than glass lenses.
Lens Color and its Relationship With Light Conditions
Unlike lens material, you've got more options when it comes to colors, and yes, this does matter a great deal and which you should choose will likely be determined by the type of fishing and the time of day you're participating. Things get a little confusing here and like I mentioned before, most enthusiast fishermen tend to have multiple pairs of glasses to be prepared for different scenarios.
Color, otherwise known as tint, determines a lot more than just the appearance of the lens. The color of the lens will change what types of light are let through at what frequencies and the color of the lens may also impact how the colors of reality appear to you while using the glasses. Some colors enhance specific wavelengths, which change the intensity and contrast of some colors while diminishing others.
A blue mirror finish with grey insides are best utilized while offshore fishing and tend to be the favorite. The blue color matches the color of the sea which greatly reduces color-induced glare issues.
A green mirror finish with those fancy amber lens colors on the inside is best used for inshore fishing and shallow sea fishing. This is the most optimum color configuration when it comes to spotting fish and obstacles through the water.
An all-encompassing yellow tinted lens makes for excellent performance in low light or overcast scenarios. These help to reduce glare while actually increasing the reflection of ambient light off of underwater structures and fish, helping you spot things of interest.
A totally grey lens inside and out is the optimum sweet spot for general fishing usage and is among the most popular in the polarized category. These are often used in sports such as golfing and offer the best all-around performance for general sunglass usage for those of you who don't want to buy multiple pairs of glasses for multiple scenarios. Grey lenses are also known for being fairly color neutral. They don't change the appearance or contrast of color as much as the other options, they only darken the world around you.
Brown or dark copper tinted lenses offer top tier light reduction that deepens colors without changing them much. These also make for great general usage glasses, however, they quickly become too powerful in terms of darkening when used in anything less than direct sunlight applications. In bright situations, many people love to use these colors for inshore fishing or even bow fishing as they greatly enhance the reflection of color from the fish itself.
There are many other colors you may find fishing glasses using, however, in my experience, these colors are the most popular and generally the most utilized by fishermen.
Why Should You Buy Quality Fishing Glasses
A good set of fishing glasses is just as important as any other type of gear you'll need on your next fishing incursion. Utilizing high-quality glare-reducing lenses allows fishermen to see through the water without glare, offering a massive advantage, especially when it comes to bank fishing. Being able to see not only fish but obstacles in the water such as stumps and branches allows you to better place your lure and avoid snags.
Quality fishing glasses are going to be an expensive purchase but they're well worth the investment if it leads to more fish in the net. Furthermore, while fishing, your eyes will be subject to extreme sunlight for long durations. UV rays are proven to cause irreversible damage to the eye over long periods of time.
Photokeratitis and/or photo conjunctivitis can also occur in just minutes of exposure to the sun, which is the inflammation of the eye due to intense UV exposure. This essentially means your eyes will swell and fill with excess liquid to prevent deep internal damage. Your eyesight's effectiveness will diminish greatly due to the swelling, making it nearly impossible to see through the water and spot fish.
Personally, I have an affinity for killing multiple birds with one stone. Simply put, why wouldn't you want to protect your eyes while giving yourself a massive advantage in fishing?
Why Your $5 Gas Station Shades Are Junk
You get what you pay for. End of story.
Alright, fine, I'll go ahead and explain it because there are a lot of people that would argue that the quality of sunglasses doesn't actually matter. Those people are wrong and once you read this guide, you'll be catching more fish than them!
First off, gas station glasses typically aren't polarized. Some of them may actually say they're polarized, but this is false advertising. They use a cheap lens coating to achieve a similar effect, close enough to use "polarized" in the marketing copy but not nearly close enough to optimally provide vision into the water. Cheap sunglasses, even equipped with fake polarization often times end up making glare even worse than it is without glasses. These are also reported as causing headaches and even nausea, two things that can ruin a fishing trip rather easily!
Secondly, materials used in the construction of your shades vary greatly. With cheap sunglasses, you're getting shades that are equipped with far less durable materials. If your shades break while you're out on the lake, you have a few options. Duct tape them to your face, suffer or go diving in hopes of finding some poor lads glasses that were lost in Davy Jones Locker. Three choices you likely won't want to undertake when your mission is catching fish. Do yourself a favor and buy quality sunglasses that will last.
Frame Construction and Design
Getting your hands on a high-quality set of sunglasses that are perfect for fishing means you're getting high-quality materials mixed with top tier construction methods.
In terms of material, you need to understand that your glasses will be subject to lots of water, and for some of you, saltwater. Even if you aren't dipping your glasses into the water like a crazy person, salt hangs around in the air above the water and settles on everything, including your glasses. This means using metal isn't an option because the metal is subject to corrosion in environments you'd likely be using your sunglasses most in.
Since we can't use any metals, likely the strongest, most durable and cost-effective material, what else can we do to ensure the glasses are corrosion resistant but still robust? Manufacturers as of late have been using a special blend of nylon, which is polyamides, co-polyamides, and gliamides. These don't corrode from the salt but offer incredible durability. They won't melt from the sun, they won't contract from extreme cold, and they provide the best shape-keeping attributes out of many options we currently have. Furthermore, nylon proves to be an excellent platform to build on since they're so lightweight and easy to mold.
Aside from that, the actual design of the sunglasses matters significantly, much further past just their appearance. Typically, a wrap-around design, otherwise known as an "8-base" seems to be agreed on as being the best for most use cases. This design is specially crafted to fit the curvature of a face, ensuring better fitment, higher levels of comfort, and most importantly, that the glasses don't fall off during average activity. Furthermore, this design encompasses lenses that do well to ensure your entire eyeballs are protected from the sun.
Sunglasses Reviews
Hopefully, this review helped you find the best-polarized fishing sunglasses. Typically you get what you pay for and sunglasses are absolutely no exception here. There are no cheap exits here, the top tier glasses are scientifically proven to provide better UV protection, better polarization, and better ability to focus and spot fish.
It is not as simple as recommending a single pair of do-it-all glasses. In reality, if you want to be prepared for all conditions, you'll need to buy a couple of pairs of different glasses. Hopefully, the "How to Choose Sunglasses for fishing" section above helped determine which lens and frame type will work best for you.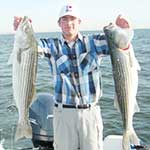 Captain Cody has worked on charter fishing boats in the Florida Keys, Virgin Islands, and Alaska. Growing up in Pennsylvania Cody has also done extensive freshwater fishing including bass fishing tournaments. Cody strives to provide detailed information about the best fishing gear and tactics to help both novice and experienced anglers have a more productive and enjoyable time on the water. Cody also has a background in aerospace engineering and neuroscience but really only takes pride in being good at one thing and that is fishing!