Looking at the thickness of braid compared to monofilament is common when analyzing fishing lines. This is not 100 percent straightforward as each fishing line brand and model has different thicknesses. For this reason, I used Berkley Trilene XL for comparing the monofilament equivalent thickness. This is a quality thin monofilament line which makes it a good comparison.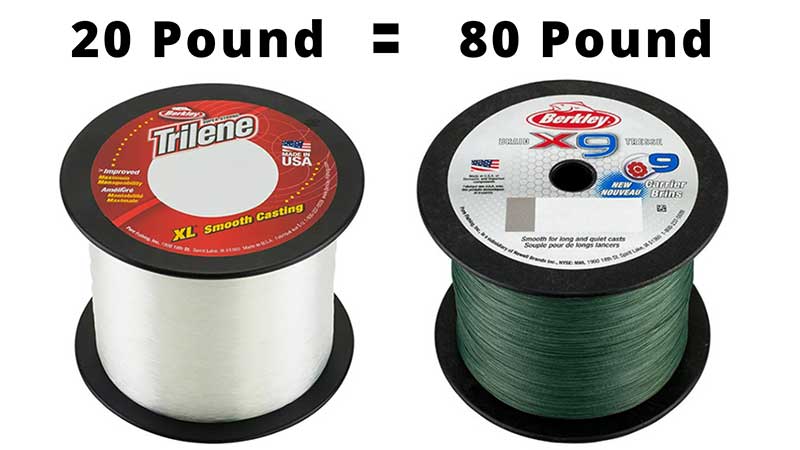 When comparing braided line equivalent diameters I used Power Pro Spectra as this is the most popular and widely used braided fishing line. I included charts of three different braided lines which are Power Pro Spectra, Power Pro Maxcuatro, and Berkley X9. I also made charts of Berkley Trilene XL to compare 2-30 pound test monofilament lines and charts of Berkley Trilene Big Game for 9-130 pound test monofilament lines.
Braided Line vs Monofilament Chart (Power Pro Spectra)
Braid
Pound
Mono
Equiv
Dia
(mm)
Dia
(in)
3
1
.06
.003
5
1.5
.10
.004
8
2
.13
.005
10
3
.15
.006
15
4
.19
.008
20
6
.23
.009
30
10
.28
.011
40
12
.32
.012
50
14
.36
.014
65
20
.41
.016
80
23
.43
.017
100
26
.46
.018
150
30
.56
.022
200
60
.76
.03
250
80
.89
.035
In the table above the first column shows the pound test of Power Pro Spectra braided line. This is the most widely used type of braided line. The second column shows the mono equivalent which compares the braided line diameter to the diameter of Berkely Triline XL monofilament line. This is also a popular monofilament fishing line so it is a valid comparison.
If the exact diameter did not match the pound test of a monofilament line the values were interpolated and then rounded to a close value. The last two columns show the diameter of the braided lines in millimeters and inches. This table shows what I would consider the standard comparison of monofilament to braided line diameters. Each company shows these values slightly differently and typically does not state exactly which mono line is used for comparison.
Braided Line vs Monofilament Chart (Power Pro Maxcuatro)
Braid
Pound
Mono
Equiv
Dia
(mm)
Dia
(in)
20
4
.19
.007
30
6
.23
.009
40
10
.28
.011
50
12
.32
.012
65
14
.36
.014
80
20
.41
.016
100
23
.43
.017
Power Pro Maxcuratro is advertised as a 25 percent thinner braid. It is considerably thinner with most line thicknesses however it is not always 25 percent thinner compared to Power Pro Spectra. For example, 100-pound standard power pro is 0.46 mm while Maxcuatro is 0.43 mm. This is around 7 percent thinner. It is also very similar in thickness to Berkely X9 braided line. Both the Maxcuratro and Berkely X9 are top-of-the-line braids and are some of the thinnest on the market for any given strength. I defiantly like to use this type of braided line for casting applicants where a thin light line allows for the furthest casting.
Braided Line vs Mono Chart (Berkley X9)
Braid
Pound
Mono
Equiv
Dia
(mm)
Dia
(in)
8
1.5
.10
.004
10
2
.13
.005
15
2.6
.15
.006
20
3.4
.18
.007
30
4
.20
.008
40
8
.25
.01
50
11
.30
.012
65
14
.36
.014
80
20
.41
.016
100
23
.43
.017
Berkley X9 is a very thin braided fishing line. It is called X9 because it has 9 strands that make up a single line. This allows it to be thin and more abrasion-resistant than a standard braid. Looking at the diameter values it is thinner than Power Pro Spectra and about the same thickness as Power Pro Maxcuratro. The mono equivalent comparison was done with Berkely Triline XL.
Monofilament vs Braid Line Diameter Chart (Berkley Trilene XL)
Mono
Pound
Braid
Equiv
Dia
(mm)
Dia
(in)
2
8
.13
.005
4
16
.2
.008
6
20
.23
.009
8
25
.25
.010
10
30
.28
.011
12
40
.33
.013
14
50
.36
.014
17
60
.38
.015
20
65
.41
.016
25
85
.45
.018
30
110
.51
.020
The chart above shows the line diameter for different pound tests of Berkely Trilene XL. It also shows the braided line equivalent thickness for each pound test. The comparison was done comparing it to standard Power Pro Spectra. The chart is very similar to the first chart but shows it in terms of standard monofilament test values. The table shows the thin diameters of monofilament as it is made in a 2-pound, 4-pound, and 6-pound line.
Monofilament vs Braid Line Diameter Chart (Berkley Trilene Big Game)
Mono
Pound
Braid
Equiv
Dia
(mm)
Dia
(in)
8
20
.22
.009
10
40
.31
.012
12
50
.36
.014
15
60
.38
.015
20
100
.46
.018
25
110
.48
.019
30
150
.56
.022
40
160
.61
.024
50
190
.71
.028
60
215
.80
.031
80
250
.89
.035
100
290
.99
.039
130
370
1.12
.044
Berkley Trilene Big Game is a popular monofilament fishing line for spinning and conventional reels. The diameter of the line is that of a standard monofilament line as it is similar in thickness to most other monofilament lines on the market. It is also about the thickness of most fluorocarbon leader lines. Thie difference is fluorocarbon is usually a bit stiffer and more abrasion-resistant. The table includes the thickness of lines up to 130 pounds. The strongest braided fishing line I know of has a 250-pound test. So the braided line equivalent values shown for 100-pound mono and 130-pound mono were linearly extrapolated values.
Strenght of Monofilament vs Braided line
Monofilament and braided lines might have the same pound test but perform differently when fishing. A braided line is static and has very little stretch while a monofilament line is elastic and has significant stretch. Sometimes line stretch is good and can dampen out high forces when a large fish shakes its head or makes a fast run. Stretch can be bad when trying to set the hook as force is applied to slowly.
For any given thickness of line, a braided line will always be stronger. This is an advantage as it allows fishing reels to hold more line for a given spool size. On a spool, a braided line has a lower coefficient of friction. This can make the line spin on smooth spools allowing less force to be applied. If this is an issue monofilament line should be added as a backing or the spool should be changed out for a braid-ready spool.
Abrasion Resistance
In abrasion resistance tests show monofilament line is actually more abrasion resistant than a braided line. This means you should be careful not to have the line rub against the side of the boat, rocks, or drag along the bottom. This also means the rough mouth or body of a fish is also more likely to break a braided line. So using a mono or fluorocarbon leader helps decrease the visibility of the line and increases the abrasion resistance.
Monofilament vs Braided Line for Spinning Reels
Using a braided line on a spinning reel allows for way more fishing line to be placed on the reel. This is a big advantage when fishing for large fish that take lots of drag like sharks, African pompano,  and large tuna. The disadvantage is a monofilament or fluorocarbon leader line is typically needed. This means that a line-to-line connection needs to be added which takes time and decreases the line strength at the knot. The advantages of using all mono are that it has a lower cost to spool the reel, a line to line connection is not needed, and the line will have more stretch which can help prevent the line from breaking.
For spinning reels, I like using a 4-pound monofilament or Berkely Vanish fluorocarbon for trout fishing. With a thin line under a 6-pound test there are no reel advantages of using a braided line. For bass fishing, I typically use a 20-pound braided line with a 5-foot 20-pound fluorocarbon leader when fishing in tournaments. Since it is a thin light braided line it allows for far casting. A 20-pound line is strong enough for bass and helps pull weeds and lily pads when snagged without breaking the line.  If I am just bass fishing for fun I will use a 10-17 pound monofilament fishing line. For offshore ocean fishing, I will use an 80-pound braid line or a 30-pound monofilament line. When fishing the reef for snapper a thin 5-17 pound monofilament or fluorocarbon line will get the most bites so this is a good type of line to use.
Monofilament vs Braided Line for Conventional Reels
For conventional reels, there are advantages and disadvantages to using a braided line. The reel will typically hold more braided lines than is really needed. This can add significant line costs to the setup. For think reason, a monofilament or thick dacron line backing can be added. Advantages of a braided line are diving plugs will run deeper, direct pressure can be applied to the fish, and a stronger line can be used. Braided lines are common for swordfishing, deep dropping for snowy grouper, tilefish, barrel fish, and queen snapper. Braided line is also great for halibut, ling cod, and rockfish.
The braided line does not stretch which can be a disadvantage when trolling for wahoo, marlin, and large tuna. The stretch of the line can dampen high forces when the fish first bites, runs fast or shakes its head. If the conventional reel is spooled with a braided line a shock leader is typically added to give the setup some stretch and dampening.
When leadering fish it is also much easier to handle a monofilament line as it is thicker and does not cut into your hands. You should never try pulling on a braided line when catching a large fish cause it can cut your hand or worse. Also if a thin braided line is used on conventional reels it can cut into the line on the spool. For this reason, it is a good idea to use 80 pound or stronger line and make sure the braid is placed on the spool under tension so it is wound tightly.
Knots for Monofilament vs Braided line
The strength of the fishing line is only as strong as the weakest knot. Depending on the line diameter and type of line the knot strength will vary. The palomar knot for example is great for tying a monofilament line to a hook or swivel. However, it is not as strong when using a braided line. Some loop knots will tie with monofilament and not tie with braid.
The most common knot I use is the uni knot for tying hooks and the double uni knot for tying line to line. For a thin monofilament line, 5 wraps around the line is a good number, for a thick monofilament only 4 wraps are needed. For a braided fishing line at least 8 wraps should be used or the knot can slide. Braided is very thin and this still makes a sleek, low-profile knot. When tying line to line with the double uni it will be fewer wraps for mono and more wraps for braid. When tying thick lines or ropes a 4-wrap uni knot will typically work. It will sinch tight with force and it will not be easily untied. If the rope will need to be untied then a bowline knot is the best option.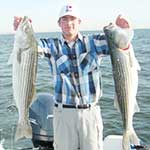 Captain Cody has worked on charter fishing boats in the Florida Keys, Virgin Islands, and Alaska. Growing up in Pennsylvania Cody has also done extensive freshwater fishing including bass fishing tournaments. Cody strives to provide detailed information about the best fishing gear and tactics to help both novice and experienced anglers have a more productive and enjoyable time on the water. Cody also has a background in aerospace engineering and neuroscience but really only takes pride in being good at one thing and that is fishing!