Fishing decal stickers are a great way to decorate a car, truck, boat, cooler, and vehicle bumpers. The decals can be for fashion or for humor. It is a great way to show others that you love the ocean and fishing. Vinyl hull wraps are another great way to decorate a boat but that is typically done at a custom boat fabrication shop. Below is a long list of awesome fishing and diving decals stickers.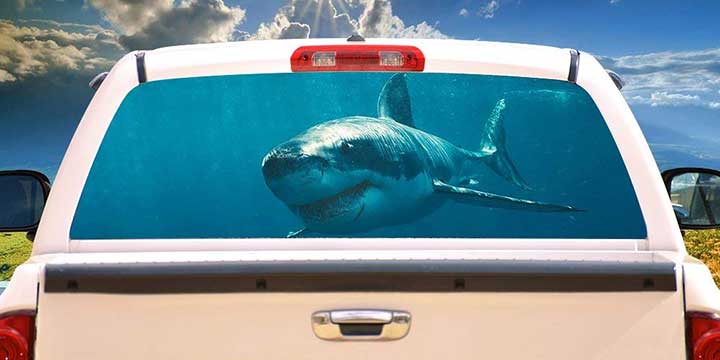 The smaller fishing stickers can also be placed on computers, kayaks, tackle-boxes, lockers, and doors. White cut out decals are typically used for the rear window of a truck or window of any vehicle. Solid background decals are typically used for bumper stickers. Fish outlines can be used on the hull of a boat or placed on the inside panels. These fishing decals make a great gift for the avid fisherman!
Here Are the Best Fishing Decals and Fishing Stickers
---
Fishing Decal Stickers
These are the basic fishing decals that can be put anywhere. They have solid colors and can be placed on any color background. These stickers let people know that you like fishing. Maybe this will lead to people striking up a conversation with you about fishing. I know some of the best information I got about fishing spots and tactics came from random people that I met. These stickers also go well around the house, on the fridge and on fishing equipment like tackle boxes, buckets, and coolers.
1. No Banana's On-Board Fishing Sticker

No bananas on board fishing sticker 5 inches tall. This sticker is digitally printed on high-quality vinyl. The expected outdoor life is 5-9 years. Charter captains and recreational anglers can all appreciate this sticker.  I wish I had it on my boat last season when a few people brought bananas. Of course, little things went wrong on those trips and it was all the banana's fault.
Not having bananas on boats goes back thousands of years. One they bring spiders eggs witch can hatch on long voyages across the sea. Second when a boat sinks the bananas float. Sometimes when a ship sinks all they find is floating bananas. So when rescue vessels come and find floating bananas each time they start to think that bananas are the reason for the misfortune aboard the ship. It is not that everything is guaranteed to go wrong if you have a banana on the boat but why take the chance.
2. Bass Fishing Sticker

BASS Anglers Sportsman Society organization sticker decal, 4 x 5 inches. Bass Anglers Sportsman Society set up the Bassmaster tournament series that has been going on since the 1960s. If you are into competitive bass fishing this is a cool fish decal to have.
3. American Flag Fish Sticker

USA American flag fishing decal sticker, 2.5 x 5 inches. It looks like a flag and has fish as the stripes. This is a popular logo that is used on many Columbia performance fishing gear apparel and hats. The fish outlines are of tuna, sailfish, sharks, mahi-mahi, grouper, and snapper.
4. Costa Del Mar Fish Decals

Costa Del Mar schooling fish decal. This comes in two sizes the small is 4.25 inches x 2.5 inches the large is 15 inches by 9 inches. The fish that makes up the logo is different size tarpon outlines. Costa is a very popular manufacturer of polarized sunglasses based in Daytona Beach Florida. Costa is known for helping organizations such as OneCoast, OCEARCH, and Untangled Collection.
5. Jesus Fish sticker

Jesus fish sticker decal, 3.5 x 1 inch. This is not quite a fishing sticker but is a popular sticker that you see on the back of many cars.
6. Lots of Bass Fishing Stickers

This package of stickers has 50 fishing decals and stickers. There are no duplicates. The size of each sticker is between 2-4.5 inches. These are made with quality PVC and are water-resistant and fade-resistant. The stickers can be used indoors on laptops, computers, luggage, PS4, XBOX, or outdoors on coolers, bikes, boats, and car bumpers.
Some example stickers include Bass Pro Shops, Okuma, I heart fishing, and get your bass in the boat.
7. Fishing Stickers and Decals

The Linzze sticker pack comes with 50 waterproof fishing stickers and decals. Each sticker is between 2-inches and 4.5-inches. These are made with quality PVC and are waterproof and fade resistant. Each sticker should be unique without duplicates. Example stickers are Shimano, Berkley, Okuma, and I am going fishing.
8. Boat Rules Safety Sticker

This is a funny sticker about the rules on the boat. I like the first one, the captain is always right. I would not put this in a charter boat but it is funny if you are fishing with your friends.
---
Fishing Decals For Trucks
This long list of fishing stickers are specifically designed for windows on vehicles, it does not have to be a truck. The white color looks especially good on tinted windows. Most people put them in the rear window where they will be easily viewable. If the vehicle is dark it can also be added to the body or onto the bumper. I often notice when I see a vehicle more them once because of its unique stickers, especially if they are fishing decals.
9. Shark Truck Window Decals

Rear window fishing graphic for a truck window. These are large full window decals up to 65 inches wide. Colors include fish camo, cool coral, fishing school, dolphins, freshwater comrades, and great white sharks. This is made with see-through vinyl so you can still see out the rear truck window. I have seen these on a few trucks and they look really cool.
10. Born to Fish Decal

Born to Fish Forced to Work, die-cut sticker decal, 8 x 2 1/2 inches, color is white. This sticker looks great on the rear window of a truck or SUV.
11. Heartbeat Fishing Decal

Sweat tea heartbeat fishing decal with the outline of a fisherman, 6 1/2 x 3 3/4 inches, color is white.
12. G Loomis Logo Window Sticker

This is a G Loomis 4 inch by 7-inch window decal with fear no fish style logo. G Lomis is a very popular high end fishing rod company. The specialize in high end fishing rods for fly fishing, trout, salmon, bass, and inshore saltwater.
13. Fish On Sticker

Fish on bass fishing decal, 6 x 2.75 inches. Colors include white, silver, orange, pink and red. Stays in place for up to 5 years, weatherproof and UV resistant. Minimal fading even in strong sunlight.
14. Gone Fishing Sticker

Gone fishing pee on work funny car or truck decal sticker, 7 inches, white in color. This is a good sticker for people who have a boss that also likes fishing more than work. I actually have seen this on a few people's trucks. It always makes me laugh when I see it.
15. Eat Sleep Fish Decal

Eat sleep FISH decal sticker, 5.5 x 3 inches, white in color. Computer cut vinyl decal from Creative Concept Ideas. When you are a charter captain in the height of the season this is your life, eat sleep fish. Not a bad life!
16. Yamaha Truck Window Decal

Yamaha racing decal stickers, two stickers both 8 x 1.75 inches. Yamaha is a popular outboard motor company for the boating industry. If you have Yamaha outboards on your boat this is a great sticker for your truck.
17. Fish Life Decal

Fish life bass fishing decal, bass eating a dragonfly, 5.5 x 8 inches, white in color. I have seen this on people's vehicles and it looks nice.
18. Gamakatsu Fishing Stickers

Gamakatsu blue fishing decal, 5 inches. Gamakatsu is a company that manufactures fishing hooks. They are known for being the sharpest hooks around.
19. Patagonia Trout Fishing Sticker

Patagonia trout window decal sticker, 8 x 3 inches, white in color. Made on high-quality ORACAL vinyl for outdoor use. This is a white fish with cut-out letters. This is perfect for placing on dark backgrounds.
20. Sailfish Fishing Sticker

Sailfish saltwater fishing collection decal, black and white colors, facing as shown or reverse facing. Sizes small 5.25 x 7.75 inches, medium 7.25 x 9.5 inches and large 9.5 x 12 inches. The estimated outdoor lifespan is 5 years. This decal actually looks really good on rear windows of trucks.
---
Fishing Decals For Boats
21. Skeleton Fishing Boat Decal
Fishing decals on a boat is a quick way to customize a boat and give it some character. These do not have to be put on the outside of the boat and can be put on inside panels, windows, or bathroom doors. Placing cool stickers around the boat also gets people to look around read any important safety information or that plaque on the boat about tips.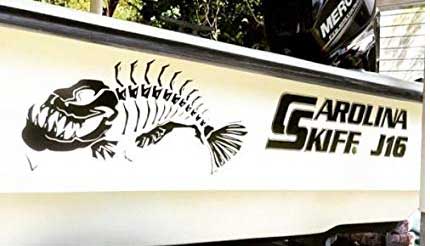 Skeleton fish boat decals, two stickers are included that are 23 x 10 inches. Color options include, black, white, matte black, yellow, orange and matte white. These are made from Oracle professional auto vinyl. The black decal looks really good on white boats with low profiles like a skiff of small Boston Whaler.
22. Patagonia Fishing Decal

Original Patagonia Monte Fits logo sticker, 7 x 2 inches or 4 x 1 inches. Made from high-quality ORACAL vinyl for outdoor use.
23. American Flag Tuna Decal

American flag tuna decal, 6 x 2.6 inches, red white, and blue colors. I love the tuna profile of this sticker. The flag colors look good on light or dark backgrounds.
24. American Flag Bass Fishing Decal

American flag bass fishing decal, 5 x 2.3 inches. Made with weather-resistant quality 3M vinyl for outdoor use. For all the Americans that love to bass fish, this is your sticker. Even though it is a negative statement it makes me smile and laugh. I think that is what a good bumper sticker should do. Better than most bumper stickers out there.
---
Fishing Bumper Stickers
These are some of my favorite fishing bumper stickers. The decals are made with solid backgrounds so they will work on most car colors. A simple bumper sticker can say a lot about a person. I know fishing is one of my favorite things to do and a bumper sticker is one way to let people know that you like to fish and scuba dive. There are common stickers that I have seen on many people's cars, trucks, and boats.
25. Have A Crappie Day Bumper Sticker

Have A Crappie Day American fishing bumper sticker, 3 x 5 inches. This is a great sticker for sarcastic people that love fishing.
26. Bite Me Fishing Bumper Sticker

Bite Me Oval bass fishing bumper sticker, 4.7 x 3.3 inches long. Made in the USA with weather-resistant vinyl. This is a great bumper sticker. I was trying to decide if it would be better or worse if the fish outline was a shark. Bass thumb is better than shark thumb so I think this is a better fishing decal.
27. I Fish Therefore I Lie Fishing Sticker

I Fish Therefore I Lie fishing bumper sticker, 3-1/2 x 7-1/2 inches. This is definitely not true. I am a fisherman and I have never exaggerated the size of any fish that got away. Not even once!
28. Fly Fishing Decal

Major league fly fishing logo, 4 x 3 inches, red, white, and blue colors. Laminated vinyl to protect from UV light. Lasts up to 5 years outdoors. This looks like the MLB baseball logo but is now made for people who love to fly fish. The whiskers on this fly look really cool.
29. Fly Fishing Bumper Sticker

Fly Fisherman oval bumper sticker, 4.7 x 3.3 inches. This white bumper sticker looks good on light or dark backgrounds.
30. Fly Lure Fishing Decal

Fly lure outline bumper sticker, 4 x 3.75 inches, 6.25 x 5.75 inches and 12.75 x 12 inches. Colors include white, gold, hot pink, purple, red, silver, matte black, tye-dye, black, blue fire, green fire, mirrored chrome, orange fire, and purple fire. Made with all-weather vinyl that lasts up to 7 years with minimal fading. A rainbow made of all the different fly colors would be really cool. Maybe I should try this and put on Pinterest.
31. Trout Fishing Bumper Sticker

Trout oval bumper sticker, 3 x 5 inches, for outdoor use, made in the USA. Trout is one of the most popular fish to catch in the USA. Simple but gets the point across. I like to fish for trout.
32. Striper Fishing Bumper Sticker

Striper hunter window or bumper sticker, 7 x 3.3 inches, water, and UV resistant. Printed on glossy white vinyl. I have seen this sticker on people's boats and on their vehicles. Just looking at this picture makes me want to go striped bass fishing.

WARNING Does Not Fish Well With Others bumper sticker, 5 x 2 inches, rated to last up to 5 years. This is true for lots of people. You go fishing to get away not have people take your best fishing spots. This fishing decal should be put on the outside of the boat.
34. Scuba Diving Sticker

Red and white scuba diving flag stickers, two stickers 3 x 2 inches. This is one of the most common bumper stickers I see. It is always good to see how many people love scuba diving and snorkeling. I am scuba certified and always wish I had this sticker on my jeep.
35. PADI Bumper Sticker

PADI scuba diving bumper sticker, approximately 4, 4.75, 5.9, and 7.9 inches. Made with quality 3M material that is waterproof and non-fading. PADI is the largest scuba certification company and is recognized globally. If you are PADI Certified this is a great sticker to have on your vehicle and boat.
---
Fishing Decals For Coolers
Fishing colors are the best place in my opinion for stickers. Sure you might have a Yeti but adding more stickers gives it more character. These can be stickers about beer, fishing, or hunting. The ones I likest below are mostly about beer and coolers but any of the fishing decals I listed on this page will go well on a cooler.
36. Beer Cooler Decal

ATTENTION Beer Cooler * Do Not Place Food or Other Contaminants in This Fridge, Funny sticker, 4 x 3 inches. Decal printed on 3M vinyl with a high gloss laminate.
37. Beer Inside Sticker

The beer inside cooler vinyl cut decal, similar to the Intel logo, 5 x 4 inches.
38. Beer Bear Fishing Decal

Beer? A sticker that looks like a bear with antlers, 5.5 inches. This may not seem like a fishing decal but if you put it on your fishing cooler then it becomes a fishing decal. What do you see a beer, bear, or deer?
39. Drunken Grownups Sticker

Drunkin Grownups funny vinyl sticker 5 x 1 inches. A durable sticker that is made for outdoor use. This is obviously meant to look like the Dunkin Donuts logo.
40. Beer Level Fishing Decal

Beer level meter empty is a funny decal sticker for a cooler, refrigerator, or keg, 3.5 x 3.5 inches. This sticker would be better if the level was closer to full. It would be really cool if it was a true gauge that varied based on the weight of beer in the cooler.
41. PBR Motor Boating Fishing Sticker

Pabst Blue Ribbon beer motor boating champion award ribbon sticker decal for boating coolers, 3.5 x 4.4 inches. Made with durable weather-resistant vinyl. This deal makes me think of the motorboating song. The song is pontoon by Little Big Town if you are wondering.
42. Yeti Fishing Cooler Sticker

YETI Coolers Stickers, 3 x 1.5 inches. Two stickers are included, labeled by stickers Inc. These Yeti Stickers go good pretty much anywhere. Just don't put them on a not yeti cooler cause that would look silly.
43. Yeti Fishing Decals

YETI Cooler's sportsman window decal that looks like a tuna fish, 6.25 x 2.7 inches. This is another white logo that goes good on windows. I just put it in the cooler section because it is a fishing cooler company.
---
Lady Fishing Decals
Women who like to fish should really share that fact with people. I may not be the best at picking out cool stickers and decals that ladies would like but I gave it a try. I have definitely seen similar decals to these driving around in the Florida Keys. If you do not like to fish hopefully you like sea turtles, dolphins, mermaids, and manatees.
44. Reel Girls Fish Decal

Reel girls fish hot pink vinyl decal, 7 x 7 inches, available in burgundy, gold, teal, green, orange, red, silver, Olympic blue, light pink, matte black, mint green, white, ice blue, and light purple.
45. Reel Girls Fish Sticker

Reel Girls Fish sticker decal with a fishing pole, white in color, 3 1/2 x 5 3/4 inches.
46. Salt Life Fishing Decal

Salt life decal in pink with a sea turtle in the middle, 11.5 x 4.5 inches. This is a popular sticker that comes in many colors. Sometimes it is out of stock so when they are available, get them quick. Bass Pro Shops has similar stickers, one with a tree the other with a marlin.
47. Whale and Fish Decals

Vineyard Vines whale stickers, American flag, patchwork, and classic pink color pattern 2 x 4.5 inches.
48. Sea Turtle Sticker

Sea turtle sticker by Vinyl Junkie, 3-inch size. Colors include cyan dream, blue-pink, cotton candy, green-yellow, kaleidoscope, pink galaxy, rainbow tie-dye, starry sky, and stripe fade.
49. Fish Hook Heart Fishing Decal

Fish hooks in the shape of a heart, 5-inch size, color is pink. This is a simple fishing decal but sends the message that you love fishing.
50. Mermaid Decal

Mermaid Princess Silhouette, 5 inches tall. Color options include white, orange, silver, red, black, purple, pink, dark gray, and gold. Some girls dream of being a mermaid. They even make huge mermaid tails that you can swim with that actually look stylish and function as a tail. To get an awesome picture you have to not wear a snorkel mask though.
51. Mermaid Sticker

Pretty Mermaid car window fish sticker, 5, 6, 7, 8, 10, and 12-inch sizes. Color options include white, black, red, purple, pink, and hot pink.
As I mentioned above hull raps are the ultimate way to customize a boat. Stickers and decals can add quite a bit of character without spending lots of money. Fishing decals can be for style or they can simply be funny fishing decals. I tried to hit the most common stickers but often times there are cool bumper stickers for a specific area.
I know in Alaska, Friends don't let friends eat farmed raised fish was the most popular fishing decal. Also, Eat fish wear Grundens was a popular fishing sticker. In the US Virgin Islands, VI Strong was a popular sticker. Safety stickers and decals are also good to put around the boat. The most common one is the decal that points to the fire extinguisher. Other fishing decals that would be cool as stickers are all the fishing memes out there. If there is interest, I might make a page for fishing memes in the future.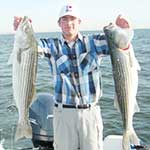 Captain Cody has worked on charter fishing boats in the Florida Keys, Virgin Islands, and Alaska. Growing up in Pennsylvania Cody has also done extensive freshwater fishing including bass fishing tournaments. Cody strives to provide detailed information about the best fishing gear and tactics to help both novice and experienced anglers have a more productive and enjoyable time on the water. Cody also has a background in aerospace engineering and neuroscience but really only takes pride in being good at one thing and that is fishing!