Being a successful angler greatly depends on having quality gear and tackle, as well as knowing how to use those items. A tackle box is an important item in an angler's gear list and can prove to be the difference-maker for competitive anglers or amateur fishermen who are just looking to enjoy their favorite pastime.
There are a wide variety of tackle boxes available on the market today and selecting the one that's right for your needs will go a long way in improving your chances of catching fish. Like most other fishing gear, you'll most likely get what you pay for when it comes to purchasing a tackle box.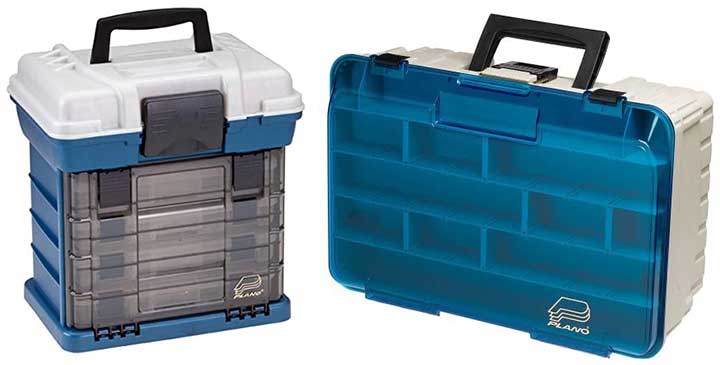 A good tackle box will help an angler organize their lures and other items in a secure way that allows them to easily access those items on the water. The best tackle boxes make use of every available bit of space while also protecting the expensive lures that you've invested in.
Tackle boxes have come a long way in the form of more efficient designs and the highest-quality products help anglers sort everything they need into a compact, easy-to-carry box or bag. This takes the headache and frustration out of finding the right bait at the right time.
Here Are the Best Tackle Boxes
---
1. Plano Guide Series Tackle Box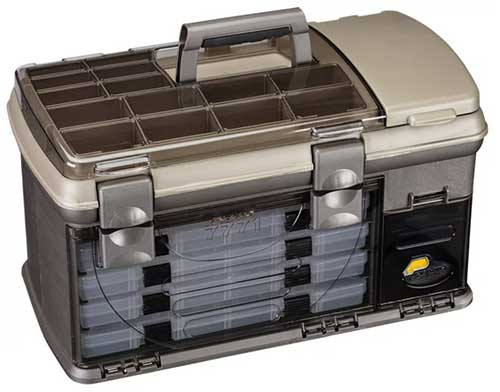 | | |
| --- | --- |
| Size | 21.25 x 12 x 12 inches |
| Color | Silver-Black |
| Style | Multi-Tray Tower |
The Plano Guide Series tackle box was introduced as an affordable tool that serves the most skilled anglers, namely fishing guides. This tackle box has a combination of many different features that users have voiced support for over the years. Plano designed this tackle box to serve as a one-stop-shop for serious anglers who need to have everything in one location without leaving anything behind for a fishing trip.
This tackle box is slightly heavier than most other boxes on our list, but the features that come along with it make the extra price and weight a small hindrance for most users. The top offers a transparent tray that can be accessed by popping a small molded latch. To the right of that is a larger compartment that's ideal for stashing pliers and anything else that a skilled fisherman needs quick access to. The main compartment opens to reveal four 3700 Series tackle trays while a smaller compartment next to this to give access to multiple compact tackle boxes that are perfect for small lures and tackle items.
---
2. Plano Rack Large Tackle Box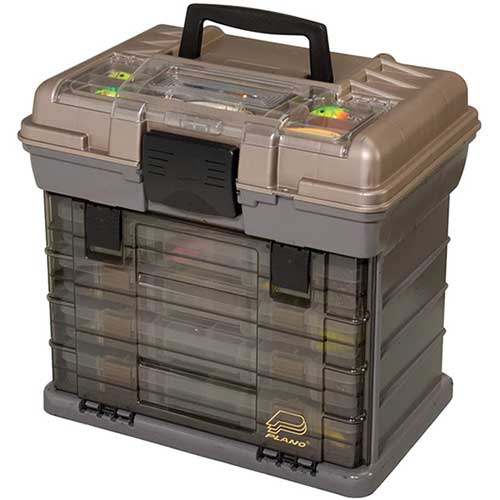 | | |
| --- | --- |
| Size | 17.25 x 16 x 12 |
| Color | Tan-Gray |
| Style | Multi-tray Tower |
The Plano Rack Large tackle box is an excellent choice for seasoned anglers, or for beginning fishermen or women who intend to grow in learn in the art of angling. This tackle box is slightly larger than the others we've listed so far and is probably more suitable for being carried onto a boat instead of being carried around the banks of a lake or river. The Plano Rack Large tackle box has plenty of great reasons why many users prefer it over some other models of similar price.
Made from extremely durable hard shell plastic, the Plano Rack Large tackle box features a small top tray with a clear plastic cover that is great for storing your favorite lures for quick, easy access. The top hatch opens to reveal a spacious tray that's ideal for storing bait jars, fishing line, pliers, and other large-size gear items that won't typically fit into a tackle tray. The interior is protected by another clear plastic covering that can be opened to access any of four Plano 3700 utility tackle boxes. Best of all, this tackle box comes with a lifetime limited warranty.
---
3. Plano Four Rack Tackle Box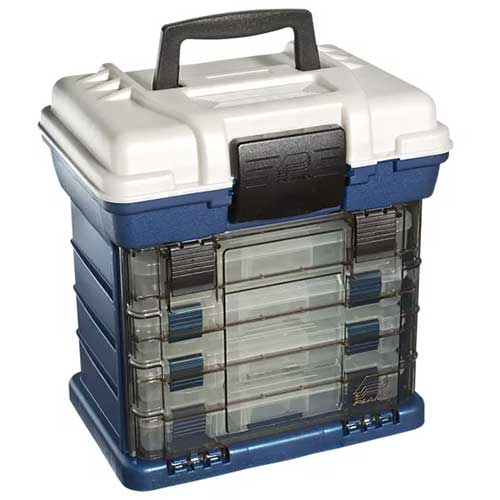 | | |
| --- | --- |
| Size | 14 x 13.3 x 10 inches |
| Color | Blue |
| Style | Multi-tray Tower |
Plano has long been known as one of the best brands in the world when it comes to quality-made tackle boxes. This one is no exception as it offers plenty of storage for the average angler and optimal customization options. The Plano Four Rack tackle box is made of durable, hard-shell plastic that helps protect anything a user wants to store in the box while keeping it protected and free of moisture.
It features a large storage area on top that's perfect for stashing fishing line, bait jars, and other large items that don't easily fit inside tackle trays. The customization options with this tackle box are endless as users are free to organize their tackle as they see fit inside the four 3600 Series Stowaway Utility boxes. Many anglers choose to place a particular kind of lure inside each box or opt for creating a specific box for each type of game fish they might choose to target. The Plano Four Rack tackle box helps anglers stay organized while also keeping valuable lures inside a compact, easy-to-travel tackle box that can go anywhere.
---
4. Plano Flipsider Hard Case Tackle Box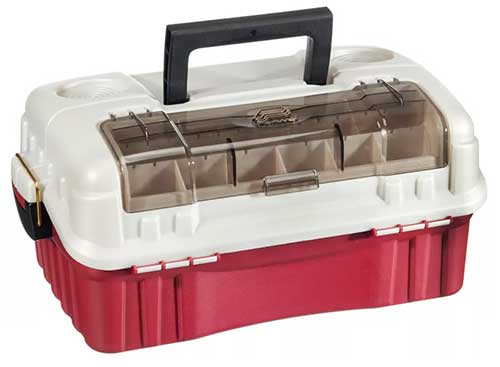 | | |
| --- | --- |
| Size | 17.25 x 10.5 x 7.75 inches |
| Color | Maroon Silver |
| Style | Split Fold Open |
The Plano Flipsider has a split-fold opening with three cantilever trays. This is the classic-style tacklebox that I grew up using. The three trays can hold lures, hooks, and weights. The bottom of the tackle box can store larger lures, fishing lines, and pliers. It is important to not put heavy weights in the top tray or it can cause it to be top-heavy and fall when the trays are open. The top of the box has two indented cup holders. This can be a place to temporarily place a hook or weight while tying a fishing rig.
A nice feature of this tackle box is the top storage compartment that can be accessed even when the main section is closed. This is a good place to store plugs, soft plastics, and jig bodies that need to be accessed often. This is not a good place to store split-shots and jigheads as this tray goes upside down when the box is open. The top main tray is nice because it runs the length of the tackle box. This is a great place to store long lures, soft plastics, and wire leaders.
---
5. Plano 3 Tray Tackle Box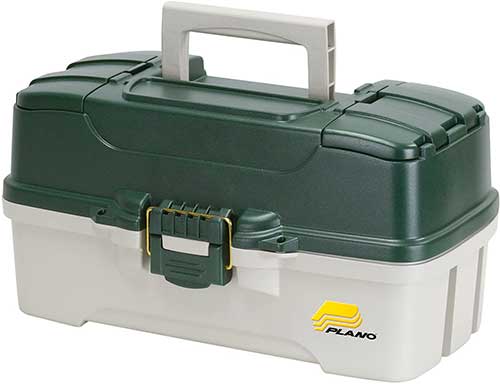 | | |
| --- | --- |
| Size | 14 x 9 x 10.25 inches |
| Color | Blue, Green, Offwhite |
| Style | Fold Open with Cantilever Trays |
The Plano 3-tray is the most widely used tackle box by freshwater anglers. This is because it can store most of the gear needed for a fishing trip in just one tackle box. It has a large lid that folds open. From there the cantilever trays can be pulled open to see all the lures and access the bottom of the tackle box. Lures that are used most often should be kept in the top tray or within the two quick-access trays on the lid.
The lid of the tackle box is secured with a large buckle. I have used this tackle box many times and typically have it overfilled with lures. If it is overfilled the latch will not close properly. In that case, reorganizing the tackle within the box is often needed. Typically removing packaging from fishing lines or lures frees up enough space. The handle flips up and down easily and is a comfortable way to carry the tackle box.
---
6. Plano Two Level Magnum Tackle Box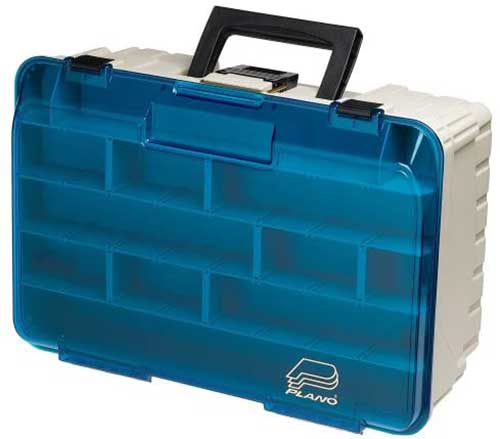 | | |
| --- | --- |
| Size | 17.6 x 12.25 x 7.3 inches |
| Color | Blue-White |
| Style | Two-level |
The Plano two-level Magnum XL tackle box is modeled after the company's classic design that's been popular with anglers for decades. This tackle box serves as a do-it-all tool that keeps everything a fisherman needs in one place that's easy to get to and stays organized. The box is made from hardened plastic that offers high durability and keeps wetness locked out to ensure that your lures and bait stay dry. Bass Pro Shops has a similar but smaller Magnum tackle box.
The transparent top lid allows anglers to see their baits and spend less time searching for the right item when they need it. The top tray features adjustable compartments that can be fitted to each user's preference. The bottom layer is larger and able to hold more sizable baits and tackle items. There is a section at the bottom of the box that is capable of holding multiple smaller 3500 Prolatch utility boxes. This is a nice way to further organize smaller items.
---
7. Plano Edge Tackle Organizer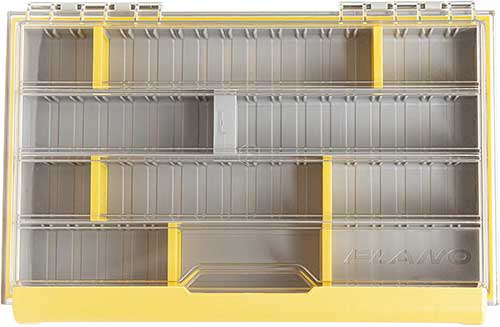 | | |
| --- | --- |
| Size | 11 x 7.25 x 1.63 inches |
| Color | Yellow-Gray. |
| Style | Utility tackle box |
The Plano Edge Tackle Organizer is a specially-adapted utility tackle box that can go anywhere thanks to its sleek, compact design. It is made to the same standards that Plano has become well-known for and offers plenty of reasons why anglers might want to get their hands on one. This tackle box features pre-cut, vented dividers that help ensure moisture doesn't lead to corrosion on your valuable tackle items and lures. It's made with mater absorbent material to help make sure your tackle stays dry at all times. The Plano Edge Tackle Organizer is made with a clear, watertight lid that helps prevent water from seeping into your tackle box and damaging your gear.
---
8. Plano Prolach Clear Stowable Tackle Boxes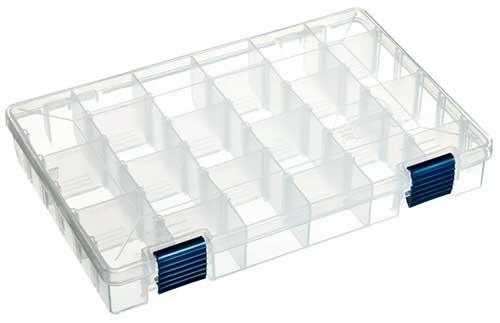 | | |
| --- | --- |
| Size | 11 x 7.25 x 1.75 inches |
| Color | Clear |
| Style | Tray |
The Plano Clear Stowaway tackle boxes are as versatile as it gets and can function in a number of different ways. These can be combined together in one of Plano's larger tackle boxes. Many anglers prefer to store lures and items in each specific tackle tray that is specific to the type of fish they intend to target. Plano trays are also a great way to store lures and hooks when keeping them in a compartment in the boat or in a backpack.
These tackle boxes are small and compact but are made of highly-durable hard shell plastic that won't easily crack. Each tackle tray has interchangeable dividers that can be organized to fit each angler's tackle needs. Plano's Clear Stowable tackle boxes can be easily stored and packed in with a large amount of other gear, making them ideal for anglers who need a smaller tackle box to fit into their gear pack on long journeys.
---
9. Plano Fishing Backpack with Tacke Trays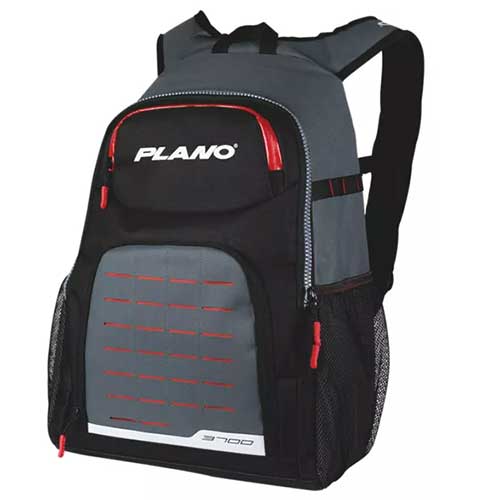 | | |
| --- | --- |
| Size | 18 x 12.75 x 7.25 |
| Color | Black Gray and Red |
| Style | Backpack |
The Plano fishing backpack comes with two 3700 tackle box trays. Backpacks are actually a great way to carry fishing tackle but they need to be in hard cases within the back. Lures that are loose end up poking the bag and getting stuck. The nice thing about a backpack is that it can fit larger items that are sometimes difficult to fit in a tackle box. These items include fishing lines, fillet knives, bait knives, fishing scales, lip grippers, cameras, hats, and sunglasses.
There are also backpacks that can hold 10 or more 3600-style tackle trays. A large backpack that would actually work as a primary tackle box. Most of the time a fishing backpack is used by people that walk or hike to their fishing spots. If you are fishing from a boat then the normal hard case tackle box and tackle trays are likely the best option. However, placing fishing gear you need to bring in a backpack is a good way to stay organized. I know I have left bags of lures that I intended to bring at the house or in my vehicle. Staying organized and being able to carry the right fishing gear definitely helps to make fishing more enjoyable and productive.
---
10. Ugly Stick Fishing Bag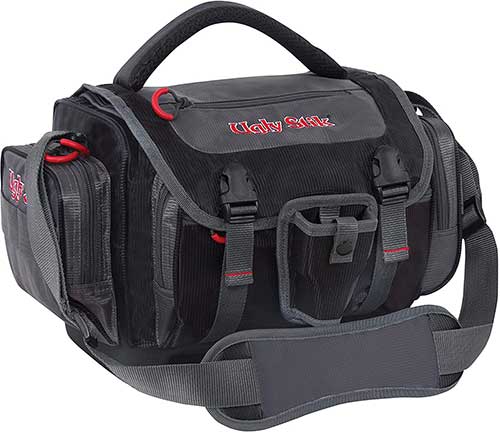 | | |
| --- | --- |
| Size | 9.65 x 11.4 x 7.7 inches |
| Color | Gray-Black |
| Style | Bag |
Ugly Stik is world-famous for its outstanding fishing rods, but many anglers are beginning to take notice as to the quality of their fishing tackle boxes as well. The Ugly Stik Fishing Bag is an all-around excellent choice for anglers looking to get their hands on a tackle bag that is well-made and features everything a fisherman needs to have to be successful on the water.
This tackle bag is made with highly durable polyester material and offers a molded bottom to help the bag maintain its shape no matter what a user chooses to store inside. The bag is capable of holding four large tackle trays that are included. It also offers spacious front and side compartments to help anglers keep their gear items organized just the way they want. The Ugly Stik Tackle Bag offers a very comfortable padded shoulder strap that makes this one an ideal choice for trout fishing, or anglers who fish from the shoreline and regularly tote their tackle box along.
---
11. Plano Zipperless Tackle Bag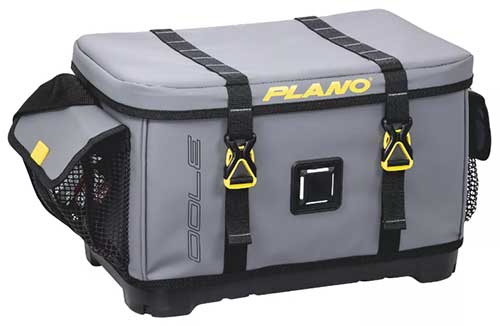 | | |
| --- | --- |
| Size | 14 x 9 x 9 inches |
| Color | Black-Blue |
| Style | Zipperless Tackle Bag |
One of the main drawbacks of owning a tackle bag as opposed to a tackle box is zippers that are all-too-often vulnerable to breaking or not working properly. Plano took initiative to create a tackle bag that circumvents this problem by functioning completely free of zippers. The Plano Z-Series Zipperless Tackle Bag offers everything you'll normally find in a quality-made tackle bag without some of the major undesirable aspects such as faulty zippers and troublesome shoulder straps.
The Z-Series Zipperless Tackle Bag offers a backpack-style carrying option that's perfect for trout anglers, or those who prowl the flats near coastal areas. Like all other Plano products, users can expect this tackle bag to be well-made of quality material. It includes five 3600 series tackle trays and is crafted from high-performance TPE-coated waterproof fabric to make sure your gear stays dry. Each side and front pocket is made with ultra-strong velcro that won't lose its strength after a few outings. This tackle bag is a solid choice for seasoned anglers that features a distinct Kryptek Raid Camo look.
---
12. Plano Premium Tackle Bag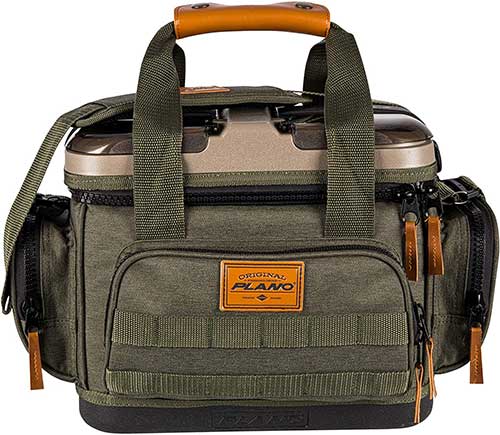 | | |
| --- | --- |
| Size | Varies |
| Color | Green |
| Style | Bag, Hardtop |
The Plano A-Series Premium Tackle Bag models offer a unique set of high-quality tackle storage options that should appeal to any experienced angler. The standard 3600 Tackle Bag is a simple design that features a simple, zipperless main compartment that offers two sealable side compartments. The Premium A-Series Backpack is made from the same high-quality material and offers four 3600 Series tackle boxes that fit securely into the bottom of the backpack. This model offers plenty of storage compartments and comfortable, padded shoulder straps.
The 3600 Tackle Bag features a much larger overall size and is able to hold four 3600 Series tackle boxes inside. The 3600 Quick Top Tackle Bag is very similar to the other model, but features a unique hard top design that is waterproof and helps to further protect your gear and tackle items. The Tackle Duffel is much larger than the other models and is capable of holding up to 14 utility tackle boxes.
---
13. Plano Bag with Clear Tackle Boxes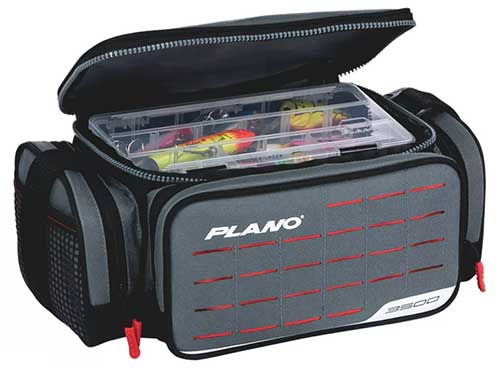 | | |
| --- | --- |
| Size | 11 x 6 x 6 inches |
| Color | Black-Grey, Tan-Black |
| Style | Bag |
The Plano Weekend Series Tackle Case is an innovative product that offers many of the most popular styles of tackle boxes in the modern era all in one place. Plano designed this tackle box to function as a tool for serious anglers or just casual fishermen or women who want a quality tackle box without the hefty price tag of some premium models. This tackle box is made with high-quality material that won't easily tear or break. It will provide ample padding and protection for the plastic tackle trays inside that are more likely to crack or break under pressure.
This Tackle Case offers multiple compartments that serve a variety of purposes. The side pockets are perfect for storing fishing line, or other large gear items that many anglers normally keep separated from lures and hooks. Each side compartment offers a mesh pocket where users can store items for quick access. The front is made with a water-resistant, zipper compartment that is ideal for storing bagged lures and baits. The main compartment offers two Plano 3600 Series tackle trays that can be customized to store any kind of lure or other tackle item needed.
---
14. Plano Dry Emergency Storage Marine Box

| | |
| --- | --- |
| Size | 11 x 8 x 5 inches |
| Color | Orange |
| Style | Dry Box |
Every boater needs to have an emergency box or compartment where they can store their most important safety tools and gear. The Plano Dry Emergency Storage Marine Box fits perfectly into that role, and can also function as a tackle box for users who are looking for a watertight, durable box. This tackle box is especially preferred by saltwater anglers as it goes the extra mile to keep water out and prevent saltwater corrosion on important gear items.
Made from hardened plastic, this tackle box is more durable than most others that are offered for the same price. A large, durable side latch helps keep the interior sealed and prevent any moisture from making its way into this tackle box. This box is a must-have for boaters and anglers alike.
---
15. Pelican Micro Case 1040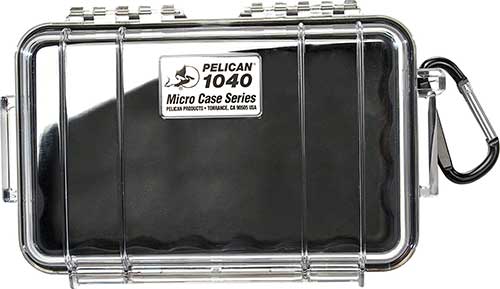 | | |
| --- | --- |
| Size | 6.5 x 3.87 x 1.75 inches |
| Color | Black |
| Style | Compact Dry case |
There are a few boxes on our list that are truly unique, but the Pelican Micro Case is among the rarest in that it is a super-compact case that is capable of holding a few small tackle items or serving as a watertight phone case. Many anglers know all-too-well the risks of bringing a cellphone with them into the water or on a boat. Having a functional case that ensures your phone will not be damaged by water is highly important.
This case is not only waterproof but is constructed with hard plastic that is billed by Pelican as being "crushproof." This case can also function as an ideal watertight mini tackle box for flies and other small lures for trout or panfish.
---
16. Water Proof Fly Fishing Fly Box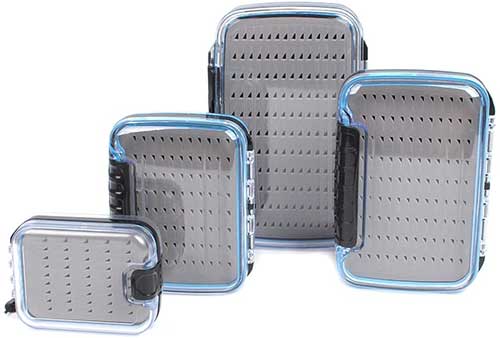 | | |
| --- | --- |
| Size | Varies |
| Color | Clear-Blue-Grey |
| Style | Compact case |
Having a waterproof, compact case that can travel along with you across miles of rugged terrain is absolutely essential when it comes to a capable fly fishing tackle box or case. The Dr. Fish Fly Fishing Case series offers multiple double-sided tackle case models that are the best tackle boxes for fly fishing, or for anglers who prefer to have a compact case for their smaller tackle items and trout lures.
Made from reinforced ABS plastic, these Dr. Fish tackle cases are made to withstand anything Mother Nature throws at them. The superlight material is crack resistant and completely waterproof. Anglers will appreciate that these cases open a full 180 degrees which allows you to easily access any one of the flies or other lures stored inside. It features high-density foam dividers to help ensure that your lures don't get tangled and also stay protected while you are outdoors.
---
17. Plano Waterproof Stowaway Tackle Box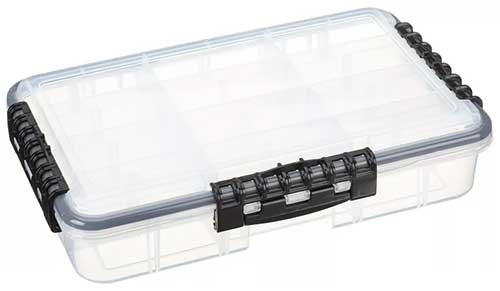 | | |
| --- | --- |
| Size | Varies |
| Color | Clear, Black, Red |
| Style | Tackle Tray |
Having a simple, watertight tackle box is one of the most important equipment items any angler can have on their equipment list. The Plano Waterproof Stowaway Tackle Box is a no-nonsense tackle box that is perfect for anglers looking for a sleek tackle box that is able to fit inside a backpack or be stowed away on a kayak or anywhere else.
This tackle box is modeled after Plano's classic 3700 Series tackle trays but has some added features that make it extremely valuable to many users. The Dri-Loc O-ring seal works to prevent any moisture or water from entering the tackle box, even in the wettest conditions. The box also features three tight-seal latches that ensure this box won't accidentally spill open and risk losing expensive lures and other items.
---
Information about Tackle Boxes
Types for Tackle Boxes
Hard Shell Carry Tacklebox 
Hard Shell tackle boxes are the more traditional style of tackle storage as these designs have served their purpose well over the last few decades. Plastic tackle boxes dominated the market more than 20 years ago because they are capable of keeping water out and provide just enough protection to valuable bait and tackle items inside each box. Many anglers still opt for a hard shell tackle box due to these reasons.
Soft Carry Tackle Bags 
Soft Carry Tackle Bags have exploded in popularity over the course of the last decade for many reasons. They are easier to handle and are much quieter than using a hard shell box that can make quite a bit of noise in a boat. Soft tackle carry bags are more portable and more lightweight than their hard-shell cousins.
Tackle Box Backpacks
Tackle Box Backpacks are an ideal choice for anglers who plan to cover a large amount of ground during their fishing trips, or for those who simply wish to enjoy the hands-free nature of having their fishing tackle and equipment in a convenient backpack-style option. Some of the premium fishing backpacks feature specialized compartments for storing different types of fishing tackle.
Fishing Vests 
Fishing vests are perfect for trout anglers and other fishing enthusiasts who often find themselves waist-deep in the water while fishing. In these scenarios, it's not practical to keep a tackle box on the bank as an angler would be forced to travel back and forth from their fishing spot to the bank for each individual tackle need. A fishing vest allows anglers to carry everything they need on their person in a comfortable, well-organized manner that offers a much more functional experience than any other type of tackle storage option.
Fly Fishing Tackle Boxes 
Fly fishing typically involves carrying everything an angler needs on their person across treacherous rivers and mountain streams. Many anglers opt for using backpacks or fishing vests while fly fishing because it allows them to keep everything they need in one location while also freeing up their hands. Having a tackle box that's dedicated to fly fishing will be much more accommodating to the smaller flies and other tiny lures that are common to catching trout and other game fish species on fly rods.
Waterproof Tackle Boxes 
Many types of fishing and other outdoor activities require waterproof clothing and equipment, especially tackle boxes. Waterproof tackle boxes generally cost more than other types of tackle storage options and the extra expense is considered well-worth the return for many anglers. Kayak fishing enthusiasts often opt for a waterproof tackle box as they are at a greater risk to get water or moisture into their tackle box. Many anglers only find out their need for a waterproof tackle box after the fact that their expensive and valuable lures have been ruined due to excessive water and moisture inside their box.
Tackle Box Compartments 
Most modern tackle box designs will feature compartments that are meant to hold every type of gear and tackle item an angler might possess. Most companies hire engineers to determine the best ways to provide certain compartments for each type of tackle item, and a more expensive tackle box will generally offer compartments that are better suited for each type of item you might have on the water. Some of the best tackle boxes feature waterproof compartments with specialized zipper options and other ways to seal their items inside without putting them at risk of getting wet or damaged.
Tackle Box Durability 
Tackle box durability should always be a concern for anglers looking to purchase a new tackle storage system. Like everything else you can purchase that's related to fishing, a cheap tackle box can't be relied upon to provide adequate protection and durability over the course of an extended period of time. It's often smart to increase your budget and purchase a more durable fishing tackle box or bag if you plan to venture into rugged areas where you'll want to make sure your gear stays protected and safe.
---
Frequently Asked Questions
What should every tackle box have?
It's not always true that no two tackle boxes are alike. The fact of the matter is, that every tackle box should have compartments for storing large and small lures and equipment. While the number of storage options might differ, having a location for storing things like hooks, sinkers, and other small items is very important. It's also crucial to have locations that are meant to store fishing lines, pliers, and other large items.
How do I choose a tackle box?
It's important to choose the tackle box that will best accomplish the goals you have for your fishing experience. Considering the type of fishing you'll be doing and the areas you plan to visit while fishing should help you determine if you'll need to have a tackle box, bag, fishing vest, or a tackle backpack. It's often best to start with a budget and review some of the most popular options that are within that set amount. Be sure to look closely at the different brands that have established themselves as the best in the business because most of them have earned their good reputation throughout the years by offering solid products that get the job done.
Are tackle boxes waterproof?
Most tackle boxes are not waterproof. It's sometimes better to use a cooler or sealed dry box in wet conditions. Having a waterproof tackle box will give an angler the peace of mind that their valuable gear and tackle items won't get wet very easily and, therefore, won't succumb to rust or corrosion.
What is the best tackle box for kayaks?
Kayak fishing is a unique style of catching game fish that's quickly becoming very popular across much of the world. Kayak anglers generally prefer to use tackle bags as they are almost always lighter in weight and will have little effect on their kayak's overall capacity. Tackle bags are also much quieter than hard shell boxes and most kayak anglers can't afford to risk banging a hard tackle box around their kayak when they're close to the fish they want to catch. Kayak fishing enthusiasts often choose waterproof tackle bags as they are generally at a greater risk to get wet than anglers who fish from a full-size boat.
When should I wear a fishing vest rather than bring a tackle box?
There's no denying that fishing vests are much more convenient than having a carry box or bag, but it ultimately makes the most sense to wear one of these when you plan to fish an area that will require you to be in the water for much of your trip. Fly fishing anglers often find themselves waist-deep in water and there's no other place to keep a tackle storage system than on your own shoulders. If you plan to spend any considerable amount of time in the water while fishing or hiking, it's often best to go with a fishing vest.
What is the best tackle box for fly fishing?
Fly fishing is a truly unique form of angling that utilizes small, lightweight flies that mimic what trout and other similar game fish are foraging on during certain times of the year. Using an average-sized tackle box for fly fishing equipment is generally overkill and might result in losing some of the flies you have. It's often smart to use a compact tackle case that's specially designed to hold flies and small rooster-tails or other fly fishing items.
What is the best tackle box for beginners?
Beginning anglers should opt for a small, quality tackle box instead of going with an expensive or even a cheap option. As you're learning to fish and understanding which kinds of baits you need at different times of the year or for different species of fish, you will gain an understanding of the different types of tackle storage options you need. Purchasing a big, expensive tackle box right out of the gate will leave you with a large amount of storage for the tackle you don't have yet. It's best to work your way up to a bigger, premium model.
Can you keep the bait in a tackle box?
It's often not recommended to keep bait inside a tackle box unless you have it properly stored and secured in jars. Many anglers have found out the hard way that its not ideal to store bait inside their tackle box after leaving it inside overnight and discovering that they've ruined the interior of their tackle box, or at the very least, left it with an unpleasant smell that's hard to get out. It's often smart to store bait in a cooler instead of inside your tackle box.
What is the best tackle box for boats?
Having a boat means you're able to go almost anywhere you want on any given waterway. If you're lucky enough to have a boat to fish out of, you can usually opt to choose a large, premium tackle box or bag as you shouldn't have too much of an issue with finding a space to store a large tackle box. Some boats have built-in storage areas that are meant to hold utility boxes. It's very important that you make sure your tackle box is in an area of your boat where it won't easily get wet or damaged.
What is the best tackle box for traveling?
If you plan to travel, using a smaller tackle bag is generally your best option since it will fit more efficiently with the rest of your gear and won't weigh you down any more than you need. Having a tackle bag that is capable of carrying a decent amount of the most important gear is key. You don't want to get stuck lugging around a large tackle box, and having something too small might mean that you'll have to leave some important lures or tackle items behind. When going to a beach or pier it is nice to have a fishing cart.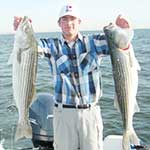 Captain Cody has worked on charter fishing boats in the Florida Keys, Virgin Islands, and Alaska. Growing up in Pennsylvania Cody has also done extensive freshwater fishing including bass fishing tournaments. Cody strives to provide detailed information about the best fishing gear and tactics to help both novice and experienced anglers have a more productive and enjoyable time on the water. Cody also has a background in aerospace engineering and neuroscience but really only takes pride in being good at one thing and that is fishing!