Kayak outrigger and stabilizers can make a narrow canoe or kayak over four feet wider and more stable. Fishing from a kayak has become very popular and kayak stabilizes can greatly increase the performance of small watercraft.
In this guide, I will review the best kayak outriggers. After the reviews, I will explain what a kayak outrigger is, how they work, who should have them, and how to choose them.
Fishing from a kayak offers a unique experience where you are up close to nature. It also allows you to fish in shallow water that would be difficult to fish in a boat. Many people using kayaks are not looking to catch monster fish but just want to relax without having to worry about the kayak tipping over. Other people use outriggers on kyaks that have trolling motors or sails.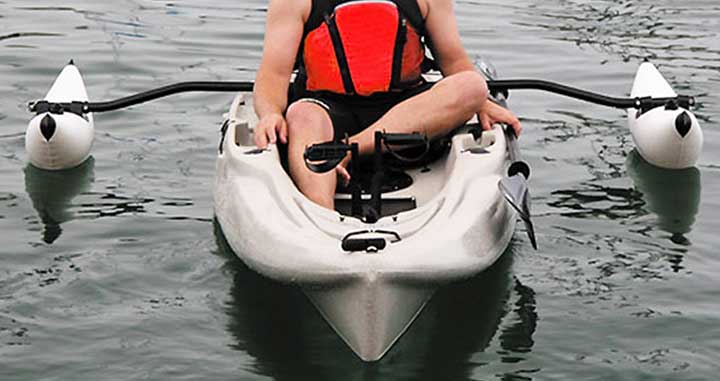 Wrangling in large fish from a kayak does have offer stability challenges for most kayaks. Pulling, yanking, guiding, etc all require the use of our body weight and when you are focused on catching fish things can get exciting and crazy fairly quickly. Having a stable watercraft makes these situations much easier.
Equipping your kayak with an outrigger alleviates the uncertainty and adds a considerable amount of stability without sacrificing the kayaking experience. Kayak outriggers are excellent choices for those of us who prefer to keep ourselves and our gear completely dry no matter the situation.
Here Are the Best Kayak Outriggers and Stabilizers
---
1. Hobie Kayak Sidekick AMA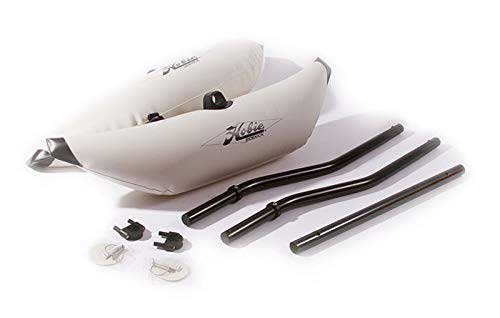 Buy from Amazon
My Review: Hobie Kayak Sidekick is an inflatable one-piece outrigger design that weighs less than 5lbs. There is an easy to adjust ergonomically bent support bar for on the go adjustments These are absolutely excellent little outriggers that are simple but effective.
They are inflatable, which honestly sounds pretty terrible at first, but once you realize they have one-way valves and only take about 90 seconds to inflate, it's not so bad. They work as intended and attach to the kayak as a single-piece design as opposed to the other multi-arm designs on this list.
The support bar is bent in a way that makes adjusting them super easy. Simply twist them up or down on the fly according to your needs and water conditions.
With inflatable outriggers, it is possible to puncture the outrigger and cause a leak. Include with the setup is a DIY patch kit in the event of a puncture. You can also find this outrigger in green.
The video below shows how to install and adjust Hobie SideKick AMA outrigger stabilizers.
---
2. Pactrade Marine Boat, Kayak, and Canoe Stabilizer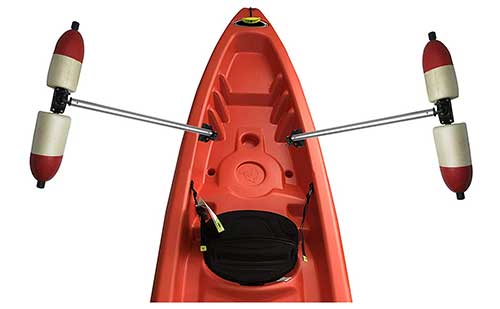 Buy from Amazon
My Review: The Pactrade outrigger system is constructed of PVC with aluminum supports and stainless steel hardware that is super lightweight at only 5lbs.  Outriggers are adjustable and easy to remove with a quick-release locking system. These use air-filled PVC tubes mounted via stainless steel hardware and aluminum poles to achieve well-balanced stability.
What I like about these is that they don't require a crossbar to work. Of course, those crossbar units are typically a bit more durable and sturdier, but these are the perfect solution for the "easy" fix.
I'd recommend these to someone using their kayak in relatively calm waters whos just looking to create a more stable platform for fishing or enjoying a nice day out on a calm lake or river.
These are also very easy to take off and store as they come with a quick-release locking mechanism and since they attach via a lock nut, they're easily adjusted onshore, but not so much while in the water so make sure you have them in the right place before casting off. The company offers a 1-year warranty for the outriggers.
---
3. Brocraft Kayak Outrigger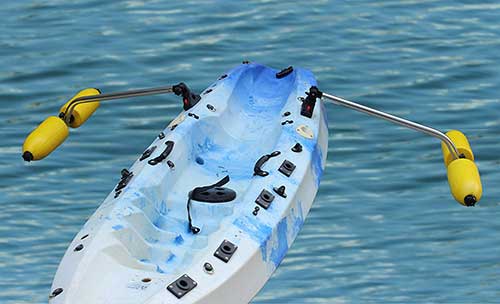 Buy from Amazon
Estimated Price: $170
My Review: Brocraft outriggers have PVC floatation devices attached by two 32" polished aluminum arms via deck mount or kayak tracks. These are pretty straight forward and you'd be hard-pressed to turn your kayak over with these attached to your rig, plus, they also work well as rod holders! The outriggers come with a 2-year warranty.
I'd recommend adjusting the floats to just above the water height before setting off. They are fully adjustable, however, they can be a bit challenging to adjust when actually out in the water.
Of course, anything touching the water is going to create drag and make kayaking a bit more difficult, but if you set them to just above the water, they only touch when you actually need them to.
Mounting options with these come in two flavors. You can choose between the kayak track model or the deck mount option. The kayak track is only compatible if your kayak actually has kayak tracks and makes for a super easy installation. If you don't have kayak tracks, the deck mount option requires you to drill four holes in the deck of your kayak for the Scotty mounts.
---
4. Yak-Gear Kayak and Canoe Outrigger Stabilizers Generation 2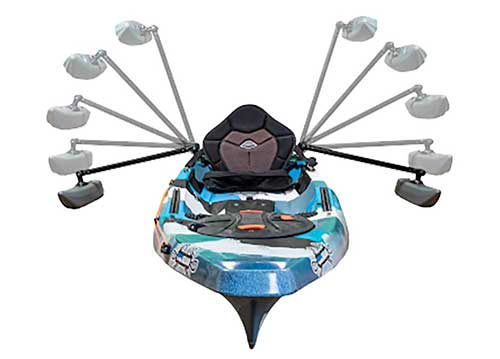 Buy from Amazon
My Review: The Yak-gear Generation 2 adjustable outrigger arms are 30-inches long.  The floats are made of hard plastic. The kit comes with stainless steel mounting hardware and insulation instructions.
These outriggers offer great additional stability to a kayak. Even allowing you to stand up and cast. This is something that without outriggers arms would likely end tipping over the kayak. The outriggers also offer a mount for GoPro cameras.
---
5. Scotty #302 Kayak Stabilizer System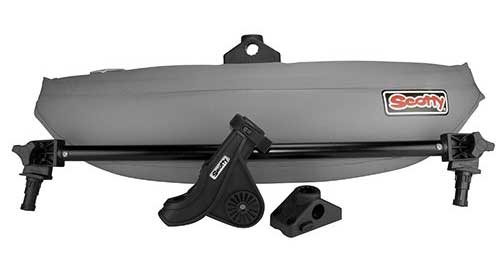 Buy from Amazon
My Review: In this package, you'll get two PVC lined inflatable floaties that take only a minute or so to inflate each, two 28" electrically anodized aluminum stability arms, 4 locking combination side/deck mounts, and some handy dandy fishing rod holders. Scotty is a trusted name in downriggers and rod holders and now makes a quality kayak outrigger setup.
The system offers 30lbs of extra buoyancy to each side of your kayak and installing them is fairly easy with the side and/or deck bracket mounts. Each side utilizes two 8-inch inflatable blades.
These are good enough that you can stand up and fish with little to no worry about falling overboard. The outriggers are adjustable and easy to remove.
---
6. Spring Creek Canoe and Kayak Stabilizer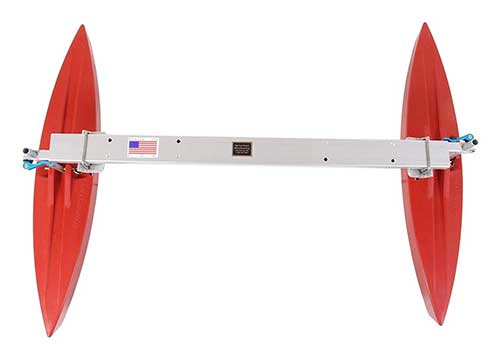 Buy from Amazon
My Review: These are available in either steel gray, torch red, or sunlight yellow and come in either 36", 40", or 45" models. The floats are designed for maximum hydrodynamic performance and offer a very low additional drag coefficient while adding 27 pounds of buoyancy to each side of your kayak!
Mounting this system is fairly easy and is among the sturdiest and toughest designs of any previous kayak outrigger systems I've reviewed.
In the package, you will receive two steel floats, two telescoping steel stability arms, and a set of stainless steel mount clamps.
They are a bit heavier than most other systems on the market, but they're also by far the most robust and best all-around performers. Using these on a kayak or canoe guarantees the ability to stand and fish all day long.
---
7. Brocraft Outriggers Stabilizer System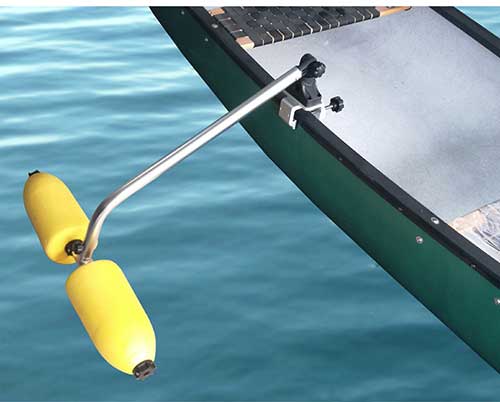 Buy from Amazon
My Review: The Brocraft outrigger stabilizer system has 32-inch long arms that attach to a kayak or canoe. The floats are made with durable molded PVC. Mounting hardware is made with stainless steel or aluminum.
This is an outrigger that can quickly be added to a canoe or kayak. The mounting clamp is simple and requires no tool or permanent hardware to be installed on the watercraft.
---
Kayak Outrigger and Stabilizer Guide
Why Use a Kayak Outrigger
The main reason to use a Kyak outrigger is for greater stability. Some people need outriggers on kyaks because they use trolling motors or sails. Other people even use their kayaks to fish offshore for species like wahoo and sharks.  Another reason is that people want to relax and not worry about tipping over.
What is a Kayak Outrigger?
A kayak outrigger is a series of floats attached to a frame that is then attached to the side of watercraft to provide a much higher level of stability and safety. Outriggers were originally designed by the Austronesians to increase the stability of their primitive fishing boats which greatly increased their ability to provide food for their villages.
Many modern outriggers are deployable and retractable, meaning you can lower them into the water when you need them and raise them when storing the kayak or navigating tight waterways. These give you options and versatility when it comes to using a kayak for fishing.
Typically, outriggers consist of a float on one side or both sides of the kayak that, when in contact with the water, holds the kayak to a certain angle of elevation in the water, ensuring it doesn't capsize. These floats can be metallic encasements that store air inside or the floats can be inflatable air pockets.
Why Should You Use a Kayak Outrigger?
Since kayaks are designed to be narrow and cut through the water quickly, they are easily capsized with a shift of body weight or an unexpected wave. When fishing, the goal isn't to provide a thrilling kayaking experience with a lick of danger, instead, we're looking to reach our destination in a relaxing traditional method that brings us closer to nature.
Since we aren't using a kayak to blow through waves or take on white water conditions, we don't necessarily need the kayaks modularity and narrow attributes at all times. While fishing, it's nice to know you're on a stable surface without the risk of falling overboard or your kayak capsizing.
If you're using a kayak for a relaxing fishing trip and you want better stability while casting, fighting, performing rod management, fish management, etc, using something to stabilize your kayak such as an outrigger gives you a huge advantage.
Kayak Outriggers for Stability
Kayak outriggers also increase stability for those of us on the larger end of the spectrum in terms of weight. Kayaks are meant to be small and nimble, thus they aren't designed well for especially larger people. Using an outrigger can greatly increase the weight capacity of a kayak and also increase its stability.
Perhaps you're recording your fishing adventure with a camera. The quality of your video would be greatly increased since an outrigger would stabilize the kayak and provide for a much more steady recording.
Get seasick easily? Using a kayak outrigger would greatly reduce that seesaw effect that causes seasickness. Some people can't fathom the idea of bouncing wave to wave in a kayak and thus they miss out on the kayak fishing experience. Using an outrigger greatly reduces seasickness and may help you discover a new hobby that your physical limitations kept you from prior.
Can't swim, have a disability, or an injury? You may want to refrain from using a kayak if you can't properly swim due to the constant risk of tipping over. Using an outrigger with your kayak greatly reduces the chances of tipping over and gives people that otherwise may be at risk using a kayak a safer way to enjoy the experience like the rest of us.
Using a quality set of outriggers on a decent sized kayak will also greatly help with standing. For me, I rarely ever stand on a kayak, but if you need to for some reason, having outriggers turns it into a rather easy activity as opposed to a risky balancing act.
How to Choose a Kayak Stabilizer or Outrigger?
Kayak outriggers may seem complicated at first but there's really only a few different options and configurations to choose from.
As always, budgeting is probably going to be the most important concern for most people. A quality set of outriggers is likely going to cost a couple of hundred bucks. There aren't really any good options that are under three-digit price tags but on the flip side, a good outrigger setup shouldn't exceed what you spent on the kayak itself.
Now that you've set aside a little money and you're ready to add stability measures to your kayak, you need to decide what features are important to you and how you want your outrigger to stabilize your kayak.
Before we get started, you'll want to consider how the system connects to your kayak. Some kayak outriggers require you to drill holes in your kayak. This may not be for everyone, so make sure you buy a system that allows you to mount it in a way that you are comfortable with.
Inflatable vs Rigid Kayak Outriggers  
First, you'll need to choose whether you want permanent air-filled solutions or inflatable raft-like outriggers. Inflatables have an advantage in terms of storage, however, they're much less durable and may incur irreparable damage if punctured. They're typically cheaper, though, and also lighter in weight. Most people who are fishing would likely be fine with inflatable solutions.
Permanent air-filled solutions are going to be metal or plastic and will have much better durability in the event that you rub up on some rocks or incur rough waters. Of course, these are a bit heavier and more expensive, but they also won't need you to constantly blow them up.
Secondly, you'll need to decide if you need deployability or not. Some outriggers will be set in a fixed position. Either it's on your kayak in use or you take it off completely. Others have pivot points that allow you to pull up the poles and suspend the outriggers out of the water. These are helpful if you need to store the kayak quickly or you want to navigate close to the banks or other objects. Some outriggers also offer variable positions for different levels of stability and water conditions.
Lastly, ensure quality. Make sure everything is resistant to corrosion, especially the hardware and the poles. Some outriggers may be purpose-built for freshwater use only and may not hold up to the extra corrosiveness of saltwater, so if you plan to use an outrigger set up in the ocean, ensure it's going to last through saltwater exposure.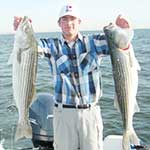 Captain Cody has worked on charter fishing boats in the Florida Keys, Virgin Islands, and Alaska. Growing up in Pennsylvania Cody has also done extensive freshwater fishing including bass fishing tournaments. Cody strives to provide detailed information about the best fishing gear and tactics to help both novice and experienced anglers have a more productive and enjoyable time on the water. Cody also has a background in aerospace engineering and neuroscience but really only takes pride in being good at one thing and that is fishing!