Arctic Grayling are really cool fish and are known as the sailfish of the salmon species. Grayling are found in rivers, streams and lakes in Alaska, Canada and Montana and Michigan. Grayling are great to catch on fly or spinning tackle. Grayling are a slow growing fish and only grow about one inch a year and can live to be over 30 years old.
Arctic grayling have soft mouths so it is important to use single hooks and not fight the fish to aggressively. Grayling have a strong bite in the summer-time and naturally feed on flies, insects, salmon eggs and small fish such as baby salmon. They are not picky when it comes to what they will try to eat but I noticed that they approach the bait slow and nip at it. They keep coming back if they miss the bait so do not give up if a grayling hits but does not get hooked.
Here are the best grayling lures and jigs.
Single Hook Rooster Tail

Pumpkin seed gold rooster tail with a single hook. Size is 1/8 ounce which is perfect for grayling.
Glitter Flame or fluorescent red is close to the color spinner I was using in the "how to catch trout video shown at the bottom". This lure does use a treble hook through with is not ideal but does work good to catch fish. Smashing the barbs of the hook down would be a good idea so the fish is easier to release. Good sizes are 1/16 – 1/4 ounce.
Grayling Fly

Wet and dry files will both work for grayling. A prince nymph with a bead head would be a good choice to drift in the current. A mosquito dry fly would be good in low current areas near the surface.
Prince nymph fly with a bead for weight.
A 120 piece fly kit with box. Some flies include are mosquito dry fly, bead head midge pupa, bead head caddis and black woolly bugger. Try and match the hatch and use a fly that will work for the current fishing conditions.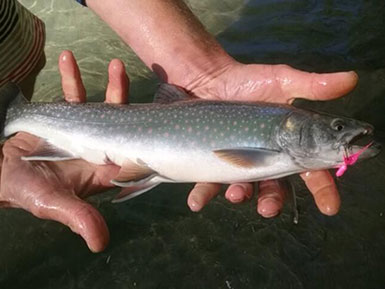 The pictures above show a grayling being reeled in and a dolly varden caught with a pink spinner.
Small Jig Trout Magnet

Trout magnet kit with many small jigs (.16 ounce) that would work great for grayling.
Mepps or Panther Martin Spinner

Mepps size zero, 1/12 ounce with gold blade, tail and gold bead with a single hook.
Panther Martin single blade spinner with a single hook. Size 2, weight 1/16 ounce.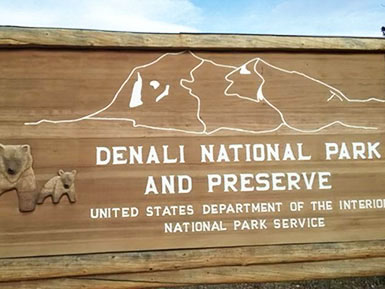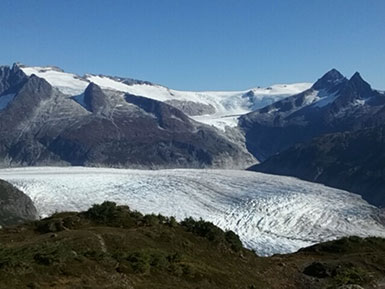 Salmon Eggs and Beads
If the salmon are spawning in the river being fished using salmon eggs or beads would be a good option. Depending on the location of the stream you may be able catch rainbow trout and dolly varden with these beads as well. In many fishing for grayling with salmon eggs is not allowed but you can always use trout beads two inches up from the hook. Trout beads can even be used in fly-only streams in many cases.
Trout beads assorted Alaska pack. Size 6mm, 8mm and 10 mm beads.
Gamakatsu size 10 single hooks are a good size hook for grayling.
Toothpicks work good to hold the trout beads in place.
I was fishing for Arctic grayling near the Denali Highway in Alaska. There were many lakes and rivers that were a short walk to start fishing. If there is a small pound without and stream that flows into the pound it is unlikely there will be grayling. Only fish small lake or pound if a stream connects to the water at some point throughout the year.
Thanks for visiting Global Fishing Reports. I hope these suggestions help you catch more arctic grayling!
If you have any suggestions for top arctic grayling lures and baits, leave a comment below!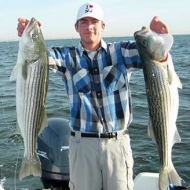 Captain Cody has worked on charter fishing boats in the Florida Keys, Virgin Islands and Alaska. Cody grew up in Pennsylvania and has also done extensive freshwater fishing including bass fishing tournaments. Cody strives to provide detailed information about the best fishing gear and tactics to help both novice and experienced anglers have a more productive and enjoyable time on the water. Cody also has a background in aerospace engineering and neuroscience but really only takes pride in being good at one thing and that is fishing!