Catching bait fish is essential to catching many types of sought after game fish in both salt and fresh water. Catching bait fish that predator fish are feeding on will greatly increase the chances for a productive day of fishing.
Having the correct cast net for the type of bait being targeted is very important. I have thrown many cast nets over giant schools of bait and caught zero fish. In general you want the largest diameter net you can throw with heavy round sinkers between 1-1.5 pound per radius foot.
The mesh netting should be small enough to catch the targeted bait but large enough to sink quickly. This is most important when catching fish that are in deep clear water. Most nets work in shallow water because there is little time for bait to escape.
Learning to throw a net is the first step. There are dozens of great techniques depending on the size of the net.
Practicing in grass or in water where the area can be disturbed is a great idea. You don't want to be next to a school of bait you need to catch and be wondering if the net is going to open. It is best to start out throwing a 4 foot radius net for kids and a 5 foot radius net for adults. If you try for a hour or more without any luck try a different technique. I can not throw a net the way my brother does but that method works great for him. Below I will list many great cast nets and will explain which one is best based on factors like, budget, water depth and type of bait fish being targeted.
Here is a video where I show the best way to throw a cast net. It's a good method that allows you to stay completely clean!
Here Are the Best Cast Nets
1. Ahi USA 200 Series Cast Net 3-6 Foot
Price: Around $50
The Ahi 200 cast net series is the best net for most cast net users. The 6-foot net can be easily cast. The .75 lb of lead per square foot makes it a light net but in shallow water it still sinks fast enough to catch bait. What the video below where I am using this net to catch mullet. When they are near the surface I even caught then in deep water. Often it is more about cast placement than the size of net. I can throw this net so far I could often use a longer hand line. 
2. Betts Old Salt Premium 4-8 Foot Cast Net 3/8 Mesh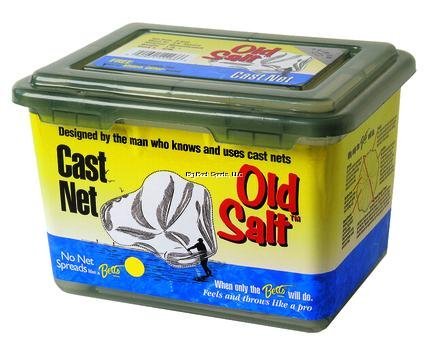 Price: Around $50
This is a great net for most users! This net comes in 4-foot to 8-foot radius sizes.  At 1 pound of lead weight per radius foot it sinks fast enough but is not to heavy to throw. The 3/8 inch mesh is good for catching most types of bait. If you are a beginner or on a budget the Betts Old Salt cast nets are great all all around nets!
Betts Old Salt cast nets are what I would call the standard or average cast net. With 1 lb of weight per radius foot the net sinks reasonable fast and is manageable to throw for long periods of time if needed. If this is the first cast net for a user selecting a net that has a radius which is 1 foot shorter than the thrower allows for the easiest and most basic throwing technique to be used. Once the user gets proficient they can throw a larger size cast net with more advanced throwing techniques.
3. Bait Buster 5-12 Foot Net 3/8 Mesh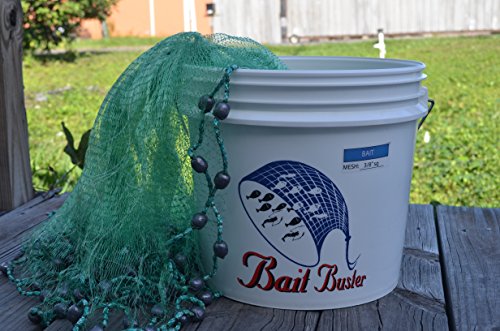 Price: Around $150
Bait Buster Professional Grade Cast Net with 3/8 Square Mesh. This net comes in sizes ranging from a 5 foot radius to 12 foot radius.
This cast net has 1.5 pounds of lead weight per radius foot. This net is built with 100 pound monofilament bail lines and has a 25 foot poly braided hand line.
 The net comes with a 3.5 gallon bucket for net storage. The 3/8 inch mesh is good for catching bait 2 inches and up in shallow to medium depth waters. This is a great cast net for catching most types of bait!  
The Bait buster nests also come in 1/2 and 5/8 inch mesh sizes. These mesh sizes are good for bait larger than two inches, such as goggle eye, small mullet and small bunker. These mesh sizes will allow the net to sink faster which will work better in deeper water. In general though the 3/8 inch mesh works good to catch most types of bait unless you need mesh larger than 1 inch to catch really large bait like large mullet or bunker. 
4. Mullet Buster Cast Net 6-12 Foot with 1 1/4 Mesh
Price: Around $160
Bait Buster Professional Grade Cast Net with 1-1/4 square mesh. This net comes in 6 foot to 12 foot radius sizes. This cast net has 1.5 pounds of crimped bar lead weights per radius foot. This net is built with 100 pound monofilament bail lines and has a 25 foot poly braided hand line. A 3.5 gallon bucket come with the net for easy storage. The 1-1/4 inch mesh size is good for catching bait  such as mullet or bunker that is 7 inches and up in medium to deep water depths.
Large schools of mullet often appear as dark areas in sandy or grassy bottoms or can be breaking the top of the water. If the bunker are deep and a lightweight cast net with small mesh is used it is very unlikely that any bunker will be caught. There are always exceptions to the rule but this cast net is great choice when targeting mullet or bunker in any depth water. I prefer round weights to bar style weights but depending on the lead line stiffness round weights do not always work good with 1 1/4 mesh and I do not know of a commercially available net with this mesh size and round weights.
The video above shows how to catch bunker. Even though you have a large fast sinking net does not mean that catching the bait is guaranteed. When catching bunker we back over them with the boat to send them deep where the fast swimming fish will not be spooked by the splash of the net. Then in the murky waters of New Jersey the bait can be caught in large numbers.
The cast net I used in this video to catch bunker was a locally made custom Percy cast net that I picked up from Mr. Percy who was very helpful and showed me a method to throw the large net. The net was made from 1 1/4 inch square mesh which is 2 1/2 inch in length when stretched. The net had 1 1/4 pounds of lead per radius foot made from hand tied evenly space 1 ounce ball sinkers. This is good for baits larger than 7 inches. Really this is a net specifically used for bunker or deep Mullet. He makes a 1/2 inch nets for smaller peanut bunker.
5. Ahi USA 600 Pro Series 1/4 Inch Mesh 5-12 Foot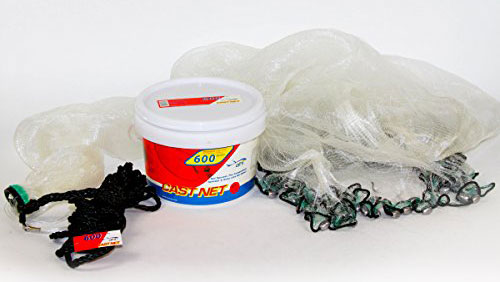 Price: Around $125
This net with 1/4  inch mesh is a great choice for targeting minnow in shallow water to medium depth waters. The small mesh size make the net sink slow but minnow are typically not as fast as large bait and will still get caught by the net. 
The 5/12 foot radius options allows you to pick the best size net to catch the amount of bait that you need.  The AhiPro cast net has 1.35lb of lead weight per radius foot means it will sink faster than most 1/4 inch mesh nets.
This net is good for catching bait 1.5 inches and up. A 3/16 inch mesh is the smallest mesh size they make for cast nets but 1.4 will catch even small bait. This net is built with panel sections which allows the net to lay flat and open wide.
Getting a quality net with a fast sink rate is important when casting into school of small minnows in open water. If this is what the big fish are actively feeding then why not catch it and use it for bait! 
6. Betts Old Salt 10 Foot 3/8 mesh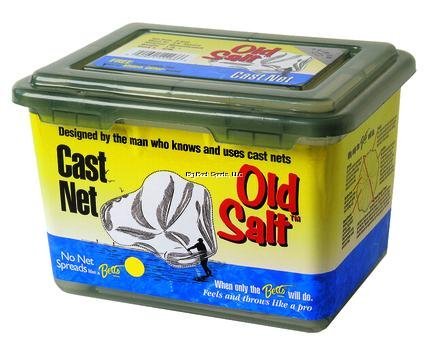 Price: Around $120
I used the 12 foot version of this net in the video on this page showing how to throw a large cast net. This net is of average quality.  It is not a high end 6-panel net but is about half the price. The mesh is lightweight soft and easy to throw and sinks fast but will not last as long as nets that come with heavier therefore stronger mesh material. 
This cast net has 1.0 pound of lead weight per radius foot. This 10-foot net will work great for catching all the pilchards and ballyhoo that you should need. The 3/8 inch mesh works good for catching bait 2 inches and up. The 10-foot radius size allows for bait to be caught in shallow and medium depth water even with the relatively small mesh size. 
7. South Bend Cast Net 7 foot 3/8 Mesh
Lightweight Cast Nets with Steel Weights

Price: Around $50
Cast nets with steel weights are light and are the best cast nets for kids, fist time cast net users and anyone throwing nets in shallow water. Throwing cast nets all day causes fatigue and it is just a hassle using  heavy cast nets. When throwing nets in water less than three feet deep lots of bait fish will be caught even using small lightweight nets. If casting in low visibility water with a large diameter net most bait is going to be caught. A heavy net with large mesh is really only needed when casting in clear deep water. The video below shows that large bait can still be caught with small cast nets if done properly in shallow water.
8. South Bend Lead Free Cast Net 4 foot 3/8 Mesh
Price: Around $25
This four foot lead free cast net is best for young kids. Four foot is pretty small for a cast net but still large enough to catch lots of cool fish. A three footer is the smallest cast net they make them but that is more of a toy. 

I like that the net is lead free. You do not ever need to use your teeth to throw a cast net but it is still good to minimize exposure to lead, especially for kids. 
9. Calusa 10 Foot Net 3/8 Mesh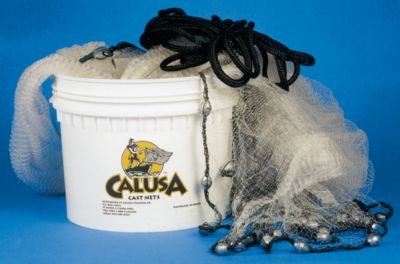 Price: Around $250
This high-end cast net that is big, heavy, quality and expensive. This is the best net for someone with lots of cast netting experience. If I could only have one cast net this would be it but it not the best net for beginners. You should learn how to throw and retrieve with a smaller lightweight low cost net first. I will go through many other great low cost net options later in this article.  With my video above on how to throw a cast net you could learn pretty quick how to throw any size cast net and catch bait. Just be careful not to get the net snagged on bottom. Throw the net over grass, mud, sandy bottoms or in deep water.    
Learning how to throw and cast net can take time and be frustrating especially with a large 10 foot or 12 foot net but it is worth the effort as this is a fun and productive way to catch bait.
The Calusa Cast Net above has a 10-foot radius with 3/8 square mesh and 1.5 pounds of lead weight per radius foot. This net has a fast sink rate and is good for shallow and medium depth waters. The top of the net has a 1-1/4 inch horn opening which enables the net to lay flat. This net it built with 100 pound monofilament bail lines. This net is good for catching bait 2 inches and up.
Calusa Cast Net are know to be one of the most quality cast nets that are commercially available. The nets are hand tied from 6 panel sections in Thailand. This is how custom nets are made and allows them to lay much more flat when thrown.
These nets are very similar to custom hand tied nets that can only be purchase locally in the USA. Purchasing nets locally is still the best way as these experts can make custom nets to match the exact users need. However if you need a net quickly and do not want to wait or do not know of a local net maker this is a great way to go. These Calusa nets come in 3/8, 1/2 and 5/8 mesh size all mesh sizes and have a 8, 10 or 12 foot radius. There is another net make by the same company called a Cracker cast net that would be good for lower budgets but these nets are not built with the top notch quality of a Calusa net.
If was told I could only have one net I would probably get an 10 foot net with 3/8 mesh as this net can catch almost any kind of bait such as pilchards, ballyhoo, bunker, shad, pinfish and mullet. If I had two nets one would be a 10 foot net with 1/2 inch mesh for deeper and large schools of bait fish and a 7 foot 3/8 inch mesh net that I can easily place on fish in shallow water. Really the size of net depends on depth of the bait, size of the bait, strength of the person using the net and the amount of open space available to throw the net. In many boats it can be difficult to properly place a large cast net.
10. Ez Throw Cast Next 4-foot with 3/8 inch mesh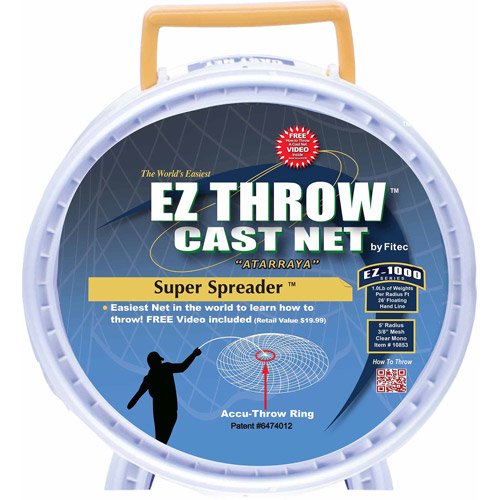 Price: Around $40
FITEC EZ Throw Super Spreader Cast Net with aluminum ring. This net has a 4 ft radius and has 3/4lb of weights per radius foot. The hand line is 20 foot an made from a polyethylene material which allows the line to float. Good for catching bait 2 inches and up in shallow water. Comes with an instruction DVD on how to throw the net.
The easy throw cast nets with aluminum rings demonstrates the easiest way to throw a small cast net. I would not recommend buying this unless you are really struggling to throw a net. The ring is unnecessary and it makes it a pain to store. The method used to throw the net is the best way for a beginner to throw and works if the net is about 1 foot shorter than the user.
The basic method to throw is the nets starts by having the net by your right side if you are right handed. Pick up the lead line in one spot and hold it at the horn(top of the net) with your dominate hand. Grab the lead line about 2 feet down the lead line with your non dominate hand and you are ready to throw. When throwing swing the net out with you dominate hand and slightly hold back the lead line in your non dominate hand. The net should open right up. With the ez throw ring you when the lead line is brought to the top of the net you wrap it around the ring. This is largely unnecessary but may help with the initial concept if you have never thrown a net. This general approach is how I thrown nets under 5 foot and I am over 6 foot tall. With a 6 foot net it drags to the ground while swinging during a cast and get caught on everything. This can be overcome by starting 1 foot down the net if the 13 inch metal ring is not on the net.
How to Care for Your Cast Net
Taking care of net is will make it perform better and last longer. The main thing to do is store it in a cool dry location out of the sun. A commercial fishing basket is a great option because it is open to the air and has holes in the bottom which allows water to drain. Once a net is dry in can be stored in bucket for long term storage. Every once in a while the net can be soaked for a few hours in fabric softener to clean, wax and loosen the net. This does lubricate the lines which can cause knots to come untied so this should only be done when needed.
Alternative Ways to Catch Bait
Cast nets are a great way to catch bait but certainly not the only way.  Some bodies of water do not permit cast nets. Also sometimes it is just quicker and easier to catch bait with other methods such as seine walk nets, minnow traps and Zabiki rigs.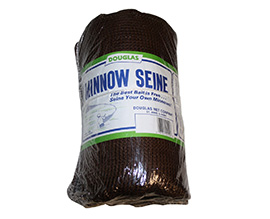 This is a basic seine walk net. It has lead weights on the bottom and floats on the top. This requires two people but works good to catch small minnows and crayfish in shallow water, especially in creeks and streams. Tie poles or sticks to the ropes to make is so you do not have to hold the lead line on the bottom the whole time you are walking through the water.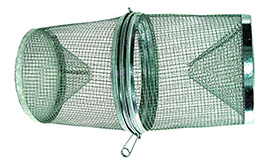 Galvanized steel minnow trap with 1/4 inch holes is a great way to catch minnows. Set this is a still water area with some food in it to attract fish the day before you go fishing and you might catch all the minnows bait needed for the day.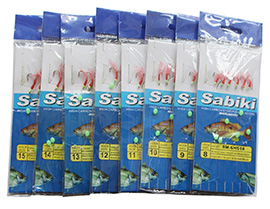 Assorted packs of Sabiki rigs. Works great for catching bait near docks or in chum lines. It is best to add a small piece of scented bait on each hook such as shrimp, squid or chunks of fish.
Thanks for visiting Global Fishing Reports. I hope these suggestions help you catch more fish using a cast net!
If you have any suggestions for top cat nets or best techniques to throw a cast net, leave a comment below!
Captain Cody has worked on charter fishing boats in the Florida Keys, Virgin Islands and Alaska. Cody grew up in Pennsylvania and has also done extensive freshwater fishing including bass fishing tournaments. Cody strives to provide detailed information about the best fishing gear and tactics to help both novice and experienced anglers have a more productive and enjoyable time on the water. Cody also has a background in aerospace engineering and neuroscience but really only takes pride in being good at one thing and that is fishing!