The baitcasting reel, a favorite among pros, a villain among beginners! In this guide, I'll be speaking nothing but the truth about these finicky but lovely little pieces of angling gear that truly do make all the difference. We'll go over how they work, how to use them properly, and the differences between baitcasting and spinning reels.
It is no surprise to hear that many new anglers suffer from the dreaded baitcaster learning curve. A cast so perfect you might get featured on Sports Center, everything is smooth sailing, up until your bait hits the water when you weren't fully focused and now you've got a rats nest in place of your line. The only thing you'll be catching is a solid 30 minutes of untangling and reconfiguring!
Lucky for us, this happens to just about everyone and can be easily avoided with proper technique and/or cutting edge technology! That's right, you no longer need to spend hours practice casting in your backyard to use a baitcasting reel. If learning technique isn't on your to-do list, that's alright too, as top tier baitcasters have technologically advanced braking systems to help avoid mishaps all together!
Baitcasting reel are most often used for bass fishing. The reels have two main advantages over spinning reels. First, the reel offers resistance to the lure as it is being cast. This can be done with internal drag in the reel or by applying thumb pressure to the spool. this drag allows heavy lures and jigs to quietly splash into the water. Second, the eyes on a baitcasting fishing pole face upward.  This is similar to conventional fishing rods that are good for jigging. The baitcaster rod reel combo allow for torque and short vertical jigging motions to easily be applied heavy jigs.
Here Are the Best Baitcasting Reels
---
1. Piscifun Torrent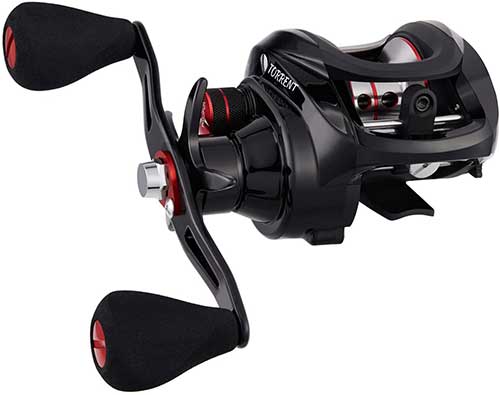 Shop or Read Reviews
Price: Around $40
My Review: Piscifun is a fantastic brand that of course we have to talk about in this guide, and we will with a couple of their models.
The Torrent is one of the cheaper offerings from Piscifun and in my opinion, blows away most of the competition for reels under 50 bucks. Not only do they have a great finish and solid appearance, but the reel also offers a very powerful 18-pound carbon fiber drag system, which isn't a quality level of drag you'd typically see in low-cost reels. Simply put, if the price is an issue, either this or one of the KastKing options are pretty solid choices that make for excellent entry-level fishing setups.
The frame consists of a very well polished graphite composite body and highly durable EVA knobs, making this reel incredibly lightweight and surprisingly robust. Furthermore, something that really stood out to me was the double line winding shafts, which isn't a normal feature you'd expect to find on reels in this price range.
The Torrent reels are available in either 7.1:1 or 5.3:1 gear ratios in both left or right-handed configurations.
Why I like it:
7.1:1 or 5.3:1 gear ratio using an oversized gear to add durability and strength
Three carbon fiber washers to achieve 18 lbs of drag and 5+1 shielded ball bearings
10 magnetic braking settings to keep the stainless steel spool at a comfortable speed
---
2. KastKing Brutus

Shop or Read Reviews
Price: Around $35
My review: This is my cheap "get's the job done" selection. Simply put, as far as budget setups go, this is top quality. It checks all the boxes in terms of minimum specifications that I would be willing to spend money on and far surpasses other models in the same price range.
The KastKing Brutus features a very sleek graphite frame with an easy to grip aluminum handle. The V style spool is computer numeric controlled (CNC) aluminum and the pinion gears are constructed from high-quality brass.
Overall, this reel is exceptionally smooth for how much it costs. Something that really jumps out to me about this reel is how quiet it is compared to other reels. Some people may like the additional noise, and for me, it just kind of depends on my mood. This one is significantly quieter than most of the other reels I've reviewed, even reels in the top tier range.
This is the kind of reel that most people would probably guess costs a lot more than it does! If you're new to baitcasting reels or you're looking for a cheap gift to give to a kid, I'd say this is a pretty solid bet.
Why I like it:
6.3:1 gear ratio
Four MaxiDur shielded stainless-steel ball bearings and an anti-reverse bearing
A magnetic braking system with a smooth disc drag
---
3. Shimano Scorpion 17 DC HG

Shop or Read Reviews
Price: Around $270
My review: The upper tier mid-sized baitcasting reel, the Scorpion, from Shimano is a fine piece of Japanese engineering.
This model is made specifically for the fishing enthusiast and probably isn't a great starter reel, although there are a lot of assisting features that make fishing with a baitcaster significantly easier.
The frame is the coveted Shimano Hagane cold forged-aluminum body and encompasses some seriously high tech features such as the I-DC5 computer braking system.
This brake adjusts the speed of the spool every 1/1000 of a second, essentially eliminating backlash completely. Furthermore, this system is capable of compensating for wind changes and different lure characteristics. With this system, you'll set the line material type and strength with a selector hidden behind the side plate and the system does the rest, ensuring you'll have a hassle-free angling experience.
Since I reviewed the high gear (HG) version, you'll be getting a 7.2:1 gear ratio, however, there are models with 6.3:1 gear ratios available as well. Hidden inside is the double-shielded stainless steel ball-bearing system consisting of 7 ball bearings plus an anti-reverse ball bearing.
The drag system used on the scorpion DC is capable of drag up to 12lbs and with the I-DC5 system, you'll be able to toggle between five separate situational braking systems.
This reel is available in both right-handed and left-handed models!
To boot, if you use the link I have provided, you'll get an included bottle of Shimano Bantam lubricant!
Why I like it:
The Scorpion encompasses the I-DC5 digital automatic 5 mode braking system
The high gearing (HG) gear ratio of 7.2:1 or 6.3:1 option in both left and right-handed models
X-SHIP ultra-high-efficiency gearing system
---
4. Piscifun New Phantom

Shop or Read Reviews
Price: Around $70
My Review: Our second and more expensive Piscifun offering is the well known tried and true New Phantom carbon fiber-based platform.
This reel has a few similarities with the cheaper Torrent reel but offers a much higher level of build quality using more expensive materials. First off, this reel only weighs roughly 5 ounces, which is absolutely insanely lightweight, especially for a reel under a hundred bucks. They achieved this incredible weight level by using a high-quality carbon fiber frame and crank handle, which seems to be fairly durable despite being so thin and light.
Speaking of durability, you'll get a very nicely machined aircraft-grade aluminum gear system that utilizes a 7:1 ratio, a ratio that is fantastic for most entry-level fishermen and even loved by advanced fisherman as well. Hidden inside is 6 stainless steel ball bearings with a single clutch bearing, all shielded and protected nicely. As a last tidbit here, you get a carbon fiber quad disk system to deliver 17 lbs of drag power, which is actually pretty good but surprisingly less than the cheaper Piscifun offering.
With this model, Piscifun is attempting to create a tournament-grade model at a reasonable everyday Fisherman's price range. To be honest, if you're competing seriously, you might actually be able to get away with a budget reel such as this one. It checks all the boxes for minimum quality standards, offers an insanely lightweight package, and uses very good internals to provide a silky smooth casting and reeling experience.
Why I like it:
5.7-ounce lightweight package using a carbon fiber platform
7:1 gear ratio is the only option available but is available in both left and right-handed configurations
High-quality materials such as a 6-pin brake system, aircraft-grade aluminum gears, carbon fiber drag washers, 105mm carbon crank handle, and stainless steel shielded bearings
---
5. KastKing Royale Legend Elite Series

Shop or Read Reviews
Price: Around $72

My review: Another fantastic KastKing offering, the Royale Legend, adds a great deal of functionality, aesthetics, and quality for a bit of a price jump over its entry-level Brutus, while still staying relatively affordable to most people.
The major differences here are options and higher quality components. The Royale Legend is available in 8 different configurations, all with unique color schemes and different gear ratio packages. I've linked to just one, but I won't recommend a specific model because really, color and gear ratio is kind of personal preference characteristics that you'll need to decide for yourself!
The build quality is just downright surprising. At this price level a few years ago, I'd never expected to get such a well-built well-rounded baitcaster. The Royale Legend frame comes constructed in graphite painted in a brilliant crimson red, light blue, arctic white, or gloss black. This reel comes equipped with 11 double-shielded ball bearings and an additional reverse bearing and utilizes high strength brass gears. The drag system is compromised of carbon discs that provide excellent consistency.
I'd recommend this reel to the mid-range fisherman looking for high quality but at a low price or beginners looking to start off strong. The reel is incredibly compact and only weighs a hair over 7 ounces while still being able to utilize incredibly strong materials in their components, such as the CNC aluminum spool and handle with a stainless steel primary shaft and kick lever.
Why I like it:
Available in the following gear ratios: 8.1:1, 7.3:1, 6.6:1, and 5.3:1
Supports 130 yards of 12lb mono line or 130 yards of 50lb braided line
Magnetic braking system and carbon disc system
---
6. Abu Garcia Pro Max

Shop or Read Reviews
Price: Around $70

My review:  Abu Garcia is a fairly well-known brand in the world of baitcasting reels and for good reason, they offer fantastic feature filled reels with an attractive low profile design at a ridiculously fair price point.
The Pro Max series consists of three models of which I primarily recommend the Pmax3. They all cost the same, though, and if you need a left-handed model then I'd go with the Pmax3-L. All of the Pro Max reels are constructed of a single piece graphite frame with brass gears, CNC aluminum spool, and steel handles.Overall, this is likely the toughest baitcasting reel under a hundred bucks on the market today and comes in a very small, lightweight package.
If you're willing to spend an extra five bucks, the Abu Garcia is a serious less flashy competitor to the KastKing Royale Legend Elite baitcaster reels. I wouldn't say it's better or worse, just a bit more low profile and simplified, with a relatively similar build quality and durability. Simply put, this is a decent quality baitcaster that is incredibly easy to use. What it lacks in features it makes up for in deployability and smoothness. As a bonus, these reels are widely known to take a beating and survive harsh usage. A fantastic reel for a beginner or intermediate level fisherman with a very fair price tag.
Why I like it:
7 Stainless steel ball bearings and an anti-reverse roller bearing with a gear ratio of 7.1:1
Customizable MagTrax braking system and Power Disk drag system
Lightweight low profile design, weighing only about 7 ounces
---
7. Lews Fishing Tournament MB

Shop or Read Reviews
Price: Around $95
My review: Moving into the one Benjamin Franklin bill range, the Lews Tournament MB offers a highly customizable professional-grade experience for what I would consider an absolute steal of a price point.
If you enjoy the tuning aspects of high-quality reels, you'll have a fun time dialing this one and placing your lures precisely where you want them.
The build construction is a bit different than the lower tier reels on this list.
This particular reel is available in six different models, with four sizing options for either handedness (only right-handed for the 28" and 35" models. The cost goes up considerably as you move up the sizing options, which are either 23", 28", 31" or 35", so make sure you buy the size you need and nothing more.
Its frame was crafted from a single piece of die-cast aluminum with a drilled and forged double anodized aluminum U spool. The removable side plates are still graphite, like most other reels, but this reel has a particular "tank" like feel to it, in that it just gives me the extra confidence that if it gets roughed up in the bed of a truck, it'll be just fine.
The build quality is just exceptional at this price point, I honestly can't even describe how excellent it really is. Even the small things, such as the drive gears are crafted from high-quality materials like aircraft-grade aluminum which offers a lightweight but robust platform.
There are four options in terms of gear ratios. 5.6:1, 6.8:1, 7.5:1, and 8.3:1.
I'd recommend this reel for the guy who isn't a beginner but also doesn't want to spend much on a fancy reel. This particular model offers the fine-tuning and adjustability to fish a few different species and tune your casting while maintaining an easy to use platform.
Why I like it:
9 double-shielded stainless steel ball bearings and a zero reverse one-way roller bearing
Dual brake system comprised of a multi-setting magnetic brake (MSB) system operated by an external click dial and a quad pin on/off centrifugal brake system
Carbon fiber star style 20lb drag system with a zirconia line guide and external lubrication port
---
8. Shimano Casitas 151HG

Shop or Read Reviews
Price: Around $115
My review: Shimano is a name we all know and love, from bicycles to fishing gear, they've got it all and they're an expert especially when it comes to ball bearings and gears. Since Shimano systems have always impressed me in cycling, I wanted to see what they had in store in terms of fishing, and I am not disappointed!
This reel, costing just a wee bit over a hundred bucks offers great simplicity and extremely high-grade internals, making it one of the smoothest feeling reels in its price range.
This reel doesn't try to be fancy and offer over-complicated tuning features, though, as it's primarily made for a beginner/intermediate level fisherman, which is nice because there aren't many smooth and durable reels purpose-built for beginners.
One thing I will mention, though, is that the 12lb drag system is great, but may take some getting used to as it seems to be a bit more touchy than other reels I've reviewed, which isn't a bad thing, just something to be aware of and to practice.
In terms of build quality, we get a very nice feeling polished aluminum handle with rubberized grips attached to a single piece aluminum frame.
Simply put, these reels just works and that's about it. It looks great, but also maintains a fairly low-profile status and will certainly take a beating if need be. The Japanese sure do know their stuff when it comes to gears, that's for sure!
Why I like it:
Four shielded ball bearings with a proprietary Super Stopper II anti-reverse roller bearing
SVS Infinity magnetic braking system that automatically adjusts on the fly
Shimano Stable Spool (S3D) helps to balance the reel and improve casting experience
---
9. Daiwa Lexa LC300 Line Counter

Shop or Read Reviews
Price: Around $145
My review: Now that we're well above the one hundred dollar range, we get to play with the fun stuff! Now, you're probably interested by the line counter, so let's talk about that first.
The reel comes with a very nice user-facing analog counter that actively measures your line out in feet. This is especially useful in creating trolling patterns and finding specific strike zones. It's a nifty little feature that isn't for everyone, but if you like having the additional information, this is the most affordable reel that maintains a very high level of quality that utilizes a line counter.
Line counter reels allow you to know the approximate depth of the lure. This is important when fishing for bass, walleye, and crappie.
Let us talk about options. The Daiwa Lexa is available in both left or right-handed models and hosts either a 6.1:1 or 5.5:1 gear ratio. Aside from that, you also get to choose your spool size, with the smaller version (LC100) capable of holding 120 yards of 14lb mono line or 140 yards of 40lb braided line and the larger size (LC300) capable of holding 240 yards of 12lb mono line or 190 yards of 14lb braided line.
The build construction consists of an aircraft-grade aluminum single-piece frame with a polished aluminum handle and rubber grips. All of the Lexa models come equipped with the Ultimate Tournament Carbon Drag (UTD) system that is capable of up to 22lbs on the LC300 models of 11lbs on the LC100 model. As an added bonus, we get a very nice spool clicker that is simply music to an anglers ears.
Furthermore, there are models that contain (PWR). These models have a different handle, which has only one grip and is made to lean back and exert more force for heavier game fish. If you're fishing inland, you'd be fine with the regular H models. If fishing in the deep blue, maybe you should opt for the PWR model.
This is an amazing and versatile reel and line counter combo that exceeds expectations in a wide array of fishing scenarios, especially in cold water trolling. I would recommend this to slightly more advanced users to ensure you get the most out of this unit, but really, this is a fantastic reel for anyone.
Why I like it:
A quad stainless steel ball-bearing system with an Infinite Dual Anti-Reverse bearing
Strike zone locating line counter
Cut-away sweep paddle handles on the LC series or Power Handles on the PWR models
---
10. Pflueger Patriarch Low-Profile baitcaster

Shop or Read Reviews
Price: Around $145
My review: Pflueger has been crafting top tier reels out of Akron, Ohio since 1881 and the low-profile baitcaster offered by them is one incredible little reel, so much so that I would recommend this to pretty much anyone looking to "buy once, cry once". What I mean by this is simple, it's much more expensive than similar models on this list, but offers far superior build quality than any of the lower-cost alternatives.
This bad boy can handle up to 175 yards of 10lb mono line, so it'll likely have all the line capacity you could ever ask for out of a compact low profile baitcaster and better yet, it weighs a measly 5.8 ounces! This is by far one of the lightest reels I've ever gotten to review that won't utterly destroy your savings account.
Good news lefties, from what I understand, this model is available in a left-handed configuration under the model names PAT71LHLPX or PAT79LHLPX. You can get your rod fitted with this reel in either the 7.1:1 gear ratio PAT71LPX or the larger 7.9:1 gear ratio PAT79LPX.
Build quality is a handful so stay with me as I try and describe the incredible stature of this monster. The frame itself is machined stainless steel with C45 cam-lock carbon-infused side plates. The handle is also carbon fiber with high grade EVA knobs that are far more durable than your standard cork or rubber knobs. The shaft and gears are constructed of aircraft-grade aluminum and the drag system is comprised of more carbon fiber awesomeness. Since so many of the components are made of high-quality carbon fiber and aluminum, this bad boy only weighs a tad over 6 ounces.
As I said before, this is a "buy once cry once" type of deal. Buy this bad boy now and have a fantastic 7.1:1 ratio baitcaster for many many years to come, perhaps even many years for your son when you hand it down to him.
As a little note, on Amazon, the reel is shown as a pale ugly blue color. In reality, this reel is actually gunmetal gray and metallic dark blue, making it a bit shinier than what the photos show, which, in my opinion, is an amazing finish for this amazing reel.
Why I like it:
10 stainless steel double-shielded ball bearings with a single anti-reverse bearing
Pflueger proprietary Ultimate adjustable braking system and carbon fiber drag system
Available in either right or left-handed configurations with the option to choose between 7.1:1 or 7.9:1 gear ratios
---
11. Abu Garcia Revo Toro S Series Low Profile

Shop or Read Reviews
Price: Around $175
My review: I've reviewed my favorite low-cost Abu Garcia model and now it's time to see what they have to offer when low budgeting isn't part of the equation. The Toro S low profile offered here. In this review, I focus on the S60, but there is an S50 model that encompasses a few differences, such as the crank style. Unfortunately, most listings on popular sites like Amazon for some odd reason mix the two up, causing confusion, so I recommend you double-check and ensure the one you choose is the one you want, not based on the pictures or descriptions.
Let's clear up the model confusion real quick before we get to the review. The Revo S50 is right-handed with the extended dual knob handle. S51 is identical to the S50 but is in a left-handed configuration. The Revo S60 is right-handed with the Power Crank single knob Handle. S62 is identical to the S60 but is in a left-handed configuration.
First up is build quality and boy does this get exciting, what a time to be alive! We get an X-Craftic super forged alloy frame and side plate that is one of the most corrosion-resistant and durable frames on the market. Attached to the frame is a Duragear single knob power crank handle and the famous Abu Garcia Power Stack Carbon Matrix drag system. These two make for one of the smoothest reeling experiences in the realm of low profile baitcasting reels. It's incredibly lightweight and extremely robust, the best of both worlds!
Moving on, we get a quad HPCR stainless steel ball-bearing system with the traditional anti-reverse bearing to boot. The ultra-high capacity spool is crafted from aircraft-grade aluminum and is slotted for weight reduction.
With the Toro S series, on either the S50 or the S60, you get a 5.3:1 gear ratio and the option to choose either right or left-handed operation. All of the models in the S series weigh roughly 14 ounces, making this one of the heavier models I've reviewed.
Although a tad on the heavy side, this is a top tier choice for those of you looking for high line capacity and high-quality build construction, packed into the tiny frame of a low profile baitcaster.
Why I like it:
Requires no monthly or annual subscription
Floats
World's smallest floating PLB
---
12. Zebco Quantum Vapor Performance Series VP100HPT BX3

Shop or Read Reviews
Price: Around $90
My review: Zebco making a return from your childhood to your new tricked out set up with its Vapor Performance Series.
The BX3 is a very modestly designed baitcaster with nifty cork handle tips and a carbon fiber handle, all attached to a high-quality aluminum single-piece frame.
It's got the internal ACS adjustable cast control feature with a continuous anti-reverse clutch bearing.
Overall, this is a fantastic baitcaster for the Zebco fanboys and amateur or beginner anglers.
What I like about this reel is the traditional feel without all the extra bells and whistles over complicating things. Of course, the reel is still very well built, highly durable, and does offer some advanced features that you may or may not need to use.
Why I like it:
6.3:1 gear ratio with 10 stainless steel ball-bearing and a clutch bearing
110 yards of 35lb braided line or 135 yards of 12lb mono line capacity
CSC2 Carbon Fiber and ceramic disk drag system up to 16lbs
---
13. Enigma Fishing IPPON IP100

Shop or Read Reviews
Price: Around $130
My Review: The Enigma IPPON is a very interesting reel with a lot of history in terms of professional backings.
This reel has been featured on the Bassmaster stage along with several other big-ticket competitive environments.
Now, just because a professional angler uses a reel doesn't mean you should always buy it, so let's take a look at why these pros might like this reel.
Right out of the gate, I'll come out and say that this reel is probably a bit too much to bite off in terms of entry-level fisherman. There are tons of better reels on this list if you're new to bait casters that I would advise you to pick up. Now, if you're looking to upgrade from an entry-level reel without breaking the bank, stay tuned as this is a very viable middle of the pack reel.
The top feature everybody raves about is the ABEC7 High-Speed Ceramic Spool system. This is basically a ceramic spool that has undergone a special chemical treating process to reduce the surface drag coefficient of the spool as much as possible. The ball bearings also go through this chemical treatment. For most casual fisherman, you likely won't notice much of a difference, but if you're an enthusiast who has a few years of experience with multiple other baitcasting reels, you'll notice how this is one of the smoothest casting reels under a hundred bucks ever designed.
Aside from the fancy high-speed U-shape spool stuff, the reel comes in either 6.6:1 color in black, a 7.3:1 color in white, or an 8.1:1 gear ratio colored in silver. Each of these models has configurations for left and right-handed users. The braking system consists of a 6-pin magnetic brake system which utilizes a whopping 25 different braking configurations. The gears are also chemically treated and consist of duralumin, which is basically just a fancy word for durable aluminum. The drag system consists of carbon fiber and is capable of 18 lbs of drag. You get all of this packaged inside of a 5.9-ounce package with both a carbon fiber frame and crank handle.
Why I like it:
T6 Aircraft-grade double anodized aluminum U style spool that is drilled and chamfered
One of the best 18 lb carbon fiber drag systems on any reel under a hundred bucks
Consists of an 11+1 high-speed ceramic bearing set
---
Baitcasting Reel Guide
What is a Baitcasting Reel?
A baitcasting reel, or baitcaster for short, is basically a spinning reel turned on the horizontal plane with modularity and precision in mind, instead of ease of use. baitcasters are generally coined as a more advanced piece of fishing gear, and while it does take more practice to be ample with, the two have advantages and disadvantages that would warrant a fisherman to have both in their arsenal.
baitcasters are best utilized in challenging environments with specialty lures that need precision accuracy. Sounds like a handful, and it is, but once mastered, baitcasters are a prized possession among fisherman that choose environments with obstacles like lily pads or other water structures. Furthermore, baitcasters have a preferred usage for several types of fish, which we'll mention more in depth later.
baitcasting reels have the ability to hold much more line and much stronger line than most other types of reels. baitcasters are very common, almost to the point of being universal in deep sea big game fishing. One of the most common styles of baitcasting reels is coined the "low-profile" baitcaster, which will be the central focus in this article!
Baitcasting Reels Versus Spinning Reels
After years of teaching prospective fishermen and trying to explain life with a baitcasting reel, I've realized that it's often best to first describe the differences between a baitcaster and a spinning reel. Most people I've encountered wanting to learn or buy a baitcaster have likely used or been with someone using a spinning reel, so they have a general idea about how it works and most of them are under the impression that the two are the same, just in a different configuration and appearance. This is a completely wrong assumption that I'd like to clear up with you, so I'll dive into a few different categories and discuss how the two differ.
Casting and Reeling Technique
First and likely the most important is casting technique. Yes, spinning reels are "easier" in the traditional sense that it doesn't take much preparation and maybe a quick two-minute discussion to gain the knowledge to use one decently. baitcasters, on the other hand, can also be explained in two minutes, but I guarantee your first few casts will be a bit shakey and your first trip will likely entail you spending some time untangling your line.
With a spinning rod, you free the line and let that lure fly. Once it hits the water, you set and reel, so easy a caveman could do it! With a baitcaster, though, after letting the lure fly, you'll need to be vigilant. The line won't stop once the lure makes contact with the water, instead, it relies on your thumb to be controlled and stopped right as the lure and water come together. If you miss this window of action, the line left in your reel turns into a rats nest and instead of catching fish, you'll be catching f-bombs. When the lure makes contact with the water and you fail to stop the reel from releasing additional line, its called backlash.
Reeling is another interesting topic that most people would assume is relatively the same. For the most part, you could use either reel interchangeably in most scenarios, however, anglers that prefer advanced control and fine-tuned lure behavior will generally opt for a baitcasting reel. The reason for this is that with a spinning reel, you'd hold the pole upwards and try to keep the line tight so that you feel potential customers hitting on your lure.
A baitcasters rod, though, is usually best used in a neutral or slightly downward angle, allowing you to leave slack in the line. This technique is helpful in many different ways. Some people like to use this to achieve a deeper depth rest of the lure. Others enjoy the easier and faster reeling action without the flex and bend of an upward-facing pole. There are more reasons behind this, which I'll touch on periodically throughout the article.
In terms of drag, baitcasters massively outperform most spinning reels and they do it in a much smaller and lighter form factor. Not only will you have greater control over higher ranges of drag, but you'll also get fantastic distance control. Letting your thumb glide on the reel allows you to apply or remove pressure as needed, allowing you pinpoint casting accuracy. No more over-casting into the bushes!
As a last tidbit worth mentioning here, baitcasters that are in the same fish weight category will weigh 20-50% less than a spinning reel. This has major advantages for a younger fisherman or simply comfort of use while fishing for long periods of time. A few grams less doesn't seem like a big difference, however, the pole used with a baitcaster is also usually lighter and the whole package does add up to make a noticeable difference.
Fishing Rods and Line
Many people like to think about the rod and the reel as two separate pieces. That's like thinking about your car and its tires in the same way, buying truck tires for your little two-door sedan. It makes no sense, the two are reliant on each other!
Before we choose a good rod, though, we need to talk about how we're going to hold the rod. With spinning reels, the reel would be under the pole with the eyelets facing down. You probably guessed it, but yeah, baitcasting rods are held with the reel on top of the rod, with the eyelets facing upwards.
Baitcasting rods, for the most part, have a little trigger-like thing protruding from the handle of the reel. The eyelets on baitcasting reels are also much smaller and sometimes the eyelets start closer to the reel than on spinning reels.
Target Species
Fishing for multiple different species of fish can rack up the "hidden from the wife" receipt box real quick because most fishing gear is tailored to a specific type or specific species of swimming creature.
For the most part, bass fisherman, pike, walleye, crappie, and muskie fishermen really enjoy using a baitcasting reel due to the increased line capacity, ability to utilize thick line, lure control, and casting accuracy. Game fish like crappie and perch are better left to spinning reels to catch those very light nibbles and drop and reel style of fishing. In a perfect world, if you fish for more than one specific species of fish, you'd want to have both a spinning reel and a baitcasting reel!
In real life, it is possible to use one reel for multiple different fish from both categories. You could most certainly go bass fishing with a spinning reel or slay some crappie with a baitcaster. What it comes down to is technique, ease of use, and the style of fishing. Both have their pro's and con's for each type of fishing and some people even enjoy going against the grain, using reels for fish they weren't intended for due to just plain old personal preference. If you know ahead of time exactly what fish you're looking to catch, I highly recommend you choose a reel accordingly, it just makes catching dinner that much easier!
Cost and Availability
Simply put, the baitcaster is more expensive. You're getting a lighter, more compact and more feature-full reel that generally has better durability than other reels. Furthermore, baitcasters have tons of fancy features that you won't find on traditional spinning reels such as braking systems, multi-stage drag systems, etc. Speaking of cost, like most things in life, you will get what you pay for. Cheap baitcasting reels are prone to major component failure with very little usage and won't fare well when they get wet or dropped, so ensure you're buying from a reputable brand that uses high-quality materials and components.
baitcasters are readily available all over the world wide web or in many sporting goods stores and are quickly becoming more and more popular. Anywhere that sells fishing gear likely has a few baitcaster options available. As a piece of advice, make sure you research each specific model carefully and ensure it has the correct hand configuration for you. Right-handed models are usually more available than left-handed models, however, it's looking like as of recent most manufacturers are taking the extra step to ensure they have a model fit for everyone.
What to Look For in a Baitcasting Reel
Now that you know the differences between baitcasters and spinning reels and you've determined your type of fishing warrants the features and better line capacity of a baitcaster, you'll need to know what to look for. There are hundreds of options here, it can be difficult to find a reel that is suitable for your specific scenario and it's easy to buy a reel better suited for a totally different style of fishing than what you're planning on doing.
Left or Right handed baitcasting Reel
First off, let's talk about whether you're right-handed or left-handed. With a spinning reel, you really don't have much to worry about, as most of them have a removable handle that can be situated on either side of the reel. baitcasting reels lack this feature, and what handedness you buy is what you have to live with.  Left-handed reels are not always readily available and very few models are even offered in both.
Another note on this topic, when shopping for reels, you'll likely see, for example, a right-handed baitcaster and a right-handed spinning reel. That may sound like the same idea for both, but look out, they're actually completely different. Left-handed and right-handed functionality are different between the two. The baitcaster labeled right-handed means that you'd reel with the right hand, while a right-handed labeled spinning reel signifies you holding the rod with your right hand. The two are very different and can be incredibly confusing, I'd imagine that's probably a top contributor to reels sold online being returned!
A lot of left-handed people still thoroughly enjoy right-handed baitcasters because you can still comfortably reel with your left hand, which is probably why left-handed baitcasters aren't very easy to come by.
Baitcaster Spool Quality
In the word of baitcasting, you aren't offered many choices in terms of spool construction. Expect to primarily have choices between some type of forged aluminum or die-cast aluminum. Generally, your fancy forged spools are more expensive but much better, and your die-cast mass-produced spools are going to lack in quality in comparison.
You may see the term "aircraft-grade aluminum" thrown around in the descriptions. This simply signifies a 7075 aluminum sheet undergoes a cold forging process to increase its tensile strength and has significantly improved corrosion resistance.
Things get a little fancier than just that, but not by much. Some manufacturers have thought so much about your precious muscle fatigue that they've drilled holes in the spool to make it lighter. To me, there isn't really much difference here, but hey, if lightweight is your focus then, by all means, get a fancy drilled spool, which is easy, because most modern spools of decent quality are actually drilled anyways.
Baitcaster Brake Systems
Baitcasters have tons of lovely features you won't find in other reels, but this one is kind of funny in that its a feature to prevent its own downfall backlash. Braking systems work by applying tension to the spool, slowing the release of the line to prevent backlashing, making these reels incredibly more comfortable and easier to use.
There are two primary types of brake systems: centrifugal and magnetic. They are a little different but for the most part, they do pretty much the same thing. I wouldn't base my purchasing decision specifically on this one characteristic but more so the systems ability to provide consistent performance.
Now, many advanced fishermen end up turning off the braking system because it doesn't allow for quick and snappy casts and it may limit your distance. Either way, having it may be nice and shopping for it can be complicated, as braking systems come in different levels of strengths. Obviously, you get what you pay for, so your top end baitcasters will likely have much more sophisticated and much stronger and adjustable brake systems.
There are also spool tensioners, which basically apply pressure from both sides of the spool, ensuring it doesn't spin any faster than what you like. This helps the lure fall to the water with more of a gradual curve, giving you more time to react and adjust if necessary.
Furthermore, there are fancy brake systems such as double adjustable brake systems and more. They really all do the same thing, but some offer more control than others, so this might be something you should pay attention to if using brake systems is important for you.
I can't really tell you if you should or shouldn't spend more on a good braking system. Some people, especially people newer to baitcasting reels might benefit quite a bit from a braking system. Other people, like me, never really use braking systems and solely rely on our good old thumbs to stop the line. Have a young kid that will use your rod? Plan on getting as drunk as possible? Have no thumbs? Get a brake system. If none of those apply to you, it comes down to personal preference.
Baitcaster Line Clicker
A lot of baitcasters come with a line clicker, which is pretty self-explanatory. They click loudly when the fish performs a bite and run on your bait, immediately alerting you to jump over people in the boat and snag that pole faster than anyone's ever seen you move before.
Baitcaster Frame Quality and Materials
We now live in a world where, if you have enough money, you can get pretty much anything built with expensive materials like carbon fiber and even gold. Now, a golden baitcasting reel probably wouldn't be the best choice, but what about carbon fiber? How about graphite? And, of course, we can't forget stainless steel or aircraft-grade aluminum!
In a nutshell, you pay for what you get. Yes, you can totally get reels whose parts and even the entire construction of the frame is crafted from carbon fiber and yes, they are incredibly lightweight and super durable. Do you need this? Eh, probably not, but if you're planning to fish all 52 weekends this year, it might be nice to splurge on something you'd be using often. Treat yourself, hide the receipts, and make sure the fish you're going to eat know you're hunting them in style.
For the most part, reels will be constructed of stainless steel, aluminum, plastic (stay away), graphite, carbon fiber, or a mixture of several materials. There really aren't major benefits to either one, more the quality of construction itself, so it's tough to gauge how durable a reel will be before actual field testing it. My advice here would be to buy whatever you think looks cool and fits your budget, minding specifically the features and application of the reel over the build materials.
Frame material will also comprise of the majority of the reel's weight. Some materials, like carbon fiber and graphite, are much lighter compared to a stainless steel frame. If weight is a major factor for you, frame material is going to be an important aspect to consider.
Surprisingly enough, some of my favorite reel frames are simple one-piece crafted aluminum frames. Trusty, durable, decent on the wallet and they are easy to dress up and make fancy, usually available in an array of color schemes and paint types like metallic, gloss, matte, etc.
Baitcaster Reels Gear Ratios
As you shop around for reels you'll quickly notice numbers arranged in a ratio, usually as part of the marketing tag line. Maybe they look like 7.1:1 or perhaps something more like 5.4:1. In simple terms, the gear ratio is referring to the speed of the reel. These gear ratios are usually best paired up with a specific type of bait. Now, we won't go super in depth here as you could easily Google this, but for the most part, high gear ratios tend to work well when you need to reel quickly and recast, using something like a spinnerbait that needs the constant motion to be effective. Lower gear ratios, on the other hand, offer a bit more control and are best used with something like crankbait.
So, for the people that are curious, what do the ratios actually signify? Let's take 7.1:1 as an example because that's a rather popular high gear ratio. The first number with its decimal point is referring to the number of times the spool rotates for each turn of the reels handle. The second number simply stands for a crank of the handle, full circle. Most gear ratios will end in 1, like the example here. In this example, your spool will be turning 7.1 times for every full crank you perform.
Baitcaster Reels Ball Bearings
Just a quick little note on ball bearings, these are the things that allow the moving parts of your reel to operate smoothly. In terms of shopping, you want to look for key indicators that the bearings are of high quality and are also well protected. Terms like shielded, double-shielded, and sealed bearing encasement are what you should look for.
Aside from that, some cheap reels will try to trick you into thinking they have quality movement by saying crazy things like "packed with 10 bearings". Just because a reel has a lot of bearings doesn't mean they're of good quality or will remain good after abuse. If your ball bearings go bad or become damaged, it doesn't matter how many there are, operation of the reel will suffer.
There are different materials manufacturers use to construct these ball bearings. For the most part, the material doesn't really matter a whole lot, but for the sake of simply comparing them, you have brass at the bottom of the list, followed by aluminum, forged aluminum, and topped off would be stainless steel.
Baitcaster Line Guides
A line guide is a guide for your line. Impressed with my creative definition? Yeah, I'm not either, but the array of choices you get aren't really impressive either, as you only get two of them. Ceramic or titanium, that's all you get. Ceramic is cheaper but less durable. Roll the dice or pay the price, or both, it's up to you!
Wrap Up
Now that you've learned the basics surrounding baitcasting reels and I've given you plenty of fantastic options to choose from, all that's left is getting your hands on a reel, pairing it up with a sturdy rod, and slaying some fish! If you've found my guide helpful and the suggestions I've made helped you wrangle in some monsters, feel free to post up some pictures and tell us about your experience in the comments section! Furthermore, if I've missed any of your favorite low-profile baitcasting reels or something new and exciting hits the market, let me know and I'll do my best to conduct a review to add it to the list!
---
Popular Posts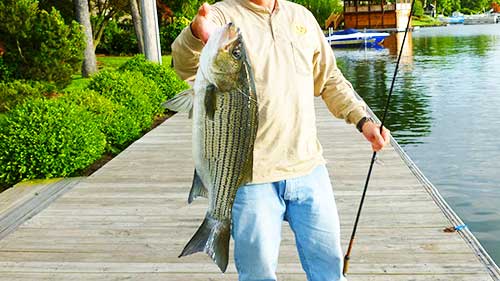 Best Hybrid Striped Bass Lures by Captain Cody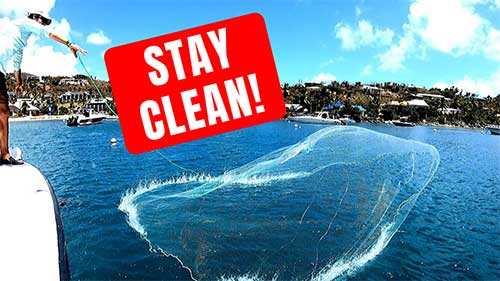 23 Best Cast Nets by Captain Cody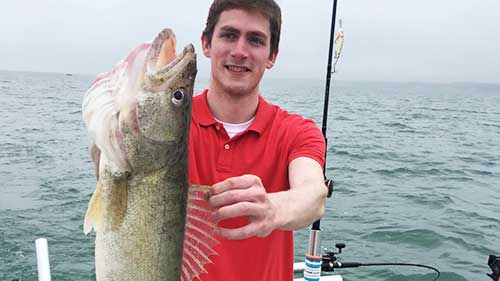 Best Walleye Lures by Captain Cody
Captain Cody has worked on charter fishing boats in the Florida Keys, Virgin Islands and Alaska. Cody grew up in Pennsylvania and has also done extensive freshwater fishing including bass fishing tournaments. Cody strives to provide detailed information about the best fishing gear and tactics to help both novice and experienced anglers have a more productive and enjoyable time on the water. Cody also has a background in aerospace engineering and neuroscience but really only takes pride in being good at one thing and that is fishing!