As a charter captain, the end of every successful fishing trip ends filleting fish. Having a quality sharp knife is required. If the knife is dull the process becomes slow and dangerous. It is actually much safer to fillet fish with a sharp knife than a dull knife.
Before I start cleaning fish the first thing I do every time is sharpen the fillet knife with a carbide knife sharpener. Some people prefer using a stone or electric sharpener but carbide sharpeners are the fastest way to get a sharp edge on the knife.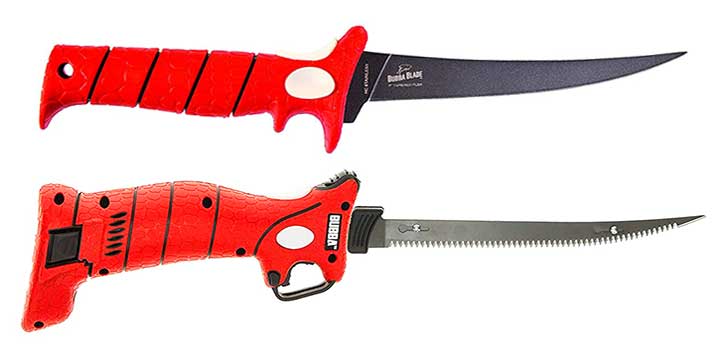 One decision to make when buying a fillet knife is whether to buy an electric fillet knife. The bottom Bubba Blade knife shown above is a cordless electric fillet knife. When cleaning lots of small fish having an electric knife makes the process faster and easier.
In this guide, I will first review some quality affordable fillet knives. I will then discuss some aspects of what makes a great fillet knife. Hopefully, this helps you when selecting a fillet knife.
Here Are the Best Fish Fillet Knives
---
1. Bubba Blade


Buy from Amazon
Estimated Price: $46

My Review: This fishing fillet knife has a 7-inch Ti-Nitride coated stainless steel blades. The knife is equipped with a tactical grip that utilizes a non-slip textured grip, safety guard, and a trigger grip. A full tang tapered blade offers incredible flexibility. The sheath for the knife includes a nylon belt loop.
When I see charter captains filleting fish about half of them are using a bubba blade. Another large percentage use the dexter knife shown below. The Buba Blade is the better knife with a better grip and coated blades. It is a bit more expensive but is still a great value.
Bubba Blade has made a name for themselves being one of the best filet knives on the market. The blade is coated with a Titanium-Nitride spray that enhances resistance to corrosion!
The Bubba Blade is something a little different than most of the other knives on this list, offering a little tactical styling with a trigger-style grip.
---
2. Dexter Russell Basics Fillet Knife
Dexter Fillet knife


Buy from Amazon
Estimated Price: $12
My Review: This Dexter narrow fillet knife is 8-inches in length. It is made in the USA and has a nice textured white polypropylene handle.
This is the best value fillet knife on the market. With the plastic sheath and sharpener below you will have everything you need to clean hundreds of fish.
This is the knife that I typically use to fillet fish. I also see many other charter captains using this knife. It is a quality knife at an affordable price. The blade is constructed from high-carbon stainless steel. This knife works great at filleting a large variety of fish including salmon, wahoo, mackerel, mahi-mahi, halibut, crappie, and rockfish,
This knife is rated by the National Sanitation Foundation (NSF). These knives can be found over all the world in the hands of professional fisherman for good reason!
Dexter Fillet knife Sheath


Buy from Amazon
Estimated Price: $11
This sheath holds most Dexter knives that are 6 inches, 7 inches, 8 inches or 9 inches. This is a hard plastic sheath with drainage holes. The sheath is made in the USA.
Dexter knives are awesome but typically do not come with sheaths. This hard plastic sheath is great for securing to the boat so that a fillet knife is quickly accessible.
Carbide Sharpener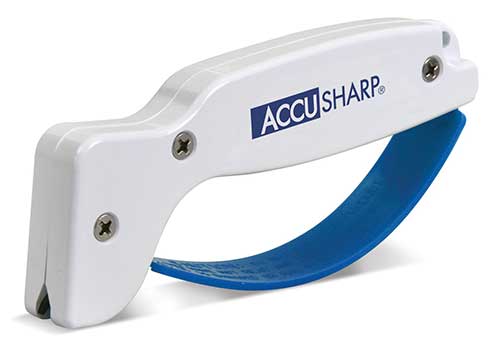 Buy from Amazon
Estimated Price: $10
The AccuSharp carbide knife sharpener is made with diamond-honed Tungsten carbide. There is a full-length finger guard over the sharpener. The sharpeners will not rust and can be cleaned in with soap and water or in the dishwasher. The pieces of carbide are replaceable.
The video above shows how to sharpen a fillet knife with a carbide knife sharpener. The knife is run the entire way through the sharpener about 10-20 times. This is a great way to quickly sharpen a knife before starting to fillet fish.
In the video above my friend captain Josh is cleaning king salmon in Sitka Alaska with this knife. I have used this knife to clean salmon, halibut, mahi-mahi, tuna, mackerel, yellowtail snappers and many other types of fish.
---
3. KastKing MadBite


Buy from Amazon
Estimated Price: $30

My Review: These knives are available in lengths of 5-inch, 6-inch,  7-inch, and 9-inch. The blades are constructed of high-quality German sourced stainless steel. Each blade comes equipped with a non-slip polymer grip and a lockable sheath. The 9-inch version can clean large fish like salmon and wahoo.
KastKing knives get great customer reviews for good reason. They aren't the best overall, they aren't the most fancy, they aren't the cheapest. What they are is an excellent value clearly designed for fishermen.
The design is rather appealing, the blades are very flexible and the construction of the blades consists of the G4416 stainless steel. At this price point, these are an excellent value.
---
4. Rapala Electric Fillet Knife


Buy from Amazon
Estimated Price: $58
My Review: The Rapala electric fillet knife has 7-1/2 inch blades. This is considered a heavy-duty fillet knife that has both high power and high speed. This plugs into the standard wall outlets and has an 8-foot power cord.
Having a sharp fillet knife gets the job done. Most people do not realize how nice an electric fillet knife is until they try one. These work especially good on small bony fish like grunts, snappers or panfish. The electric knife also makes removing the skin much easier.
This knife has a cord and is very powerful. With all the power of an electric knife realize that it can get hot. Be prepared to clean some fish and take a break for the knife to cool down. If you know you are consistently going to have piles of fish to clean having two electric and switching back and forth between knives is a good idea.
There are electric fillet knives that have rechargeable batteries and are cordless.
---
5. American Angler Pro Electric Fillet Knife


Buy from Amazon
Estimated Price: $130
My Review: This electric fishing fillet knife has an 8-inch titanium coated stainless steel blade. There is also an option to have stainless steel blades that are about $30 cheaper. There are also blades available for this knife ranging in size from 5.5-inch to 10-inch.
This is similar to the Rapala electric knife but is a higher-end knife. Both work good and this knife is good for cutting through bones and tough scales. If you have lots of small fish or tough fish to clean having an electric fillet knife is the way to go.
---
6. Rapala Soft Grip Fillet Knife


Buy from Amazon
Estimated Price: $17-$27
My Review: The Rapala soft-grip fish fillet knife comes in size of 4-inch, 6-inch, 7-1/2 inch, and 9-inch. This knife comes with a nice black sheath that can be worn on a belt.
This is one of the most common fillet knives that you see used by recreational fishermen. It is a low-cost knife that gets the job done. This knife also comes with a red carbide sharpener. This is really important to have to keep the knife sharp. A cheap knife that is sharp will still works way better than an expensive knife that is dull.
---
7. Victorinox Swiss Army Boning Knife


Buy from Amazon
Estimated Price: $25-35
My Review: The Swiss Army Boning knife is 6-inches in length. The blade options include straight or curved. The stiffness can also be selected at levels of flexible, semi-flexible or stiff blades.
When filleting most fish you want a flexible knife so the blade can bend flat to run right along with the bones of the fish. If you need to chop up fish or cut threw fish having a more firm blade is needed.
This knife is certified by the National Sanitary Foundation and is dishwasher safe. This is a great knife to use a home or on the boat.
---
8. Cutco Fisherman's Solution Fillet Knife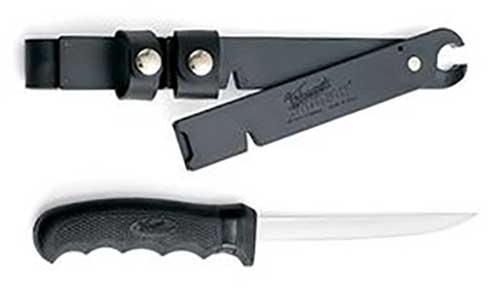 Buy from Amazon
Estimated Price: $162
My Review: The Cutco Fisherman's solution has a stainless steel blade that is adjustable from 6-inches to 9-inches. The case has a built-in line cutter and hook sharpening stone. This knife has a forever guarantee.
This knife case also serves as pliers or fish gripper. This seems like a silly feature but there have been many times where I am fishing and could use pliers.
I actually got this knife a gift when I was younger and really like the knife. It is top quality and works great at filleting fish. These knives use to only be sold by Cutco sales representatives that would do demonstrations with the product. Now you can get these knives online.
---
9. Rapala Wood Handle Fish Fillet Knife


Buy from Amazon
Estimated Price: $22
My Review: The Rapala birch fish fillet knife comes sizes of 4-inch, 6-inch, and 7-1/2 inch. This knife also comes with a leather Laplander sheath and a carbide single-stage knife sharpener.
This is another popular fillet knife. The blade is flexible and works well to fillet and skin fish. This is a basic fillet knife but if you take care of it the knife will last for years.
---
10. Mercer Culinary Millennia


Buy from Amazon
Estimated Price: $19
My Review: This fishing fillet knife has 8-inch carbon-based Japanese steel blades. The textured handle consists of a Santoprene and Polypropylene for durability and enhanced grip. These knives are available in eight color configurations.
Options options options! It's easy to get overwhelmed with the Mercer Culinary product line considering they have a knife for literally every situation possible at every length you could imagine in several different color schemes. With that said, if you can spot the fillet knives and sort them out from the rest, you'll find they have an excellent product at a great price. My favorite fillet knife from Mercer is the 8" Millennia in that sleek arctic white color scheme.
The blades are razor sharp out of the box and the grip handle works well in wet conditions. This is one of the best grips you'll find on a budget fillet knife by far and it exceeds many people's expectations.
These are simply "get the job done" types of fillet knives at a price point. They aren't the highest quality, they aren't the sharpest and they aren't the fanciest looking knives out there, but for the money, this is an excellent value and a fantastic knife to keep on the boat with you.
Unfortunately, these don't come with a sheath, so you may want to invest in one or keep them in tightly packed in storage.
---
11. Rapala Superflex


Buy from Amazon
Estimated Price: $25

My Review: This fishing fillet knife is available in 4-inch, 6inch, and 7.5-inch blade length. Included is a beautifully crafted leather sheath. The Superflex steel blades allow the knife to bend to make filleting fish easier.
The Superflex line of fillet knives from Rapala really exceeds expectations and looks great while doing it. Of course, it's implied by the name, but I must say, these knives are extremely flexible, hinging on the line between Superflex and too much flex!
If you know how to use a fillet knife properly, these are downright amazing. The control and maneuverability these knives offer are unrivaled in the budget category but since they are so flexible, you have to be really careful about how you use them because they are easily snapped when flexed too far.
The knife is exceptionally finished. The polished brass ferrule is a great little decorative touch and the handle is a beautiful wood finish, all topped off and protected by a tooled leather sheath with a belt loop.
Something interesting I noted when reviewing this knife was the PTFE non-stick coating Rapala claims to enhance filleting. If you've used high-quality fillet knives before, you probably won't notice much difference, but if you're coming from filleting with the wrong type of knife, the non-stick coating certainly is a nice touch and makes thing a tad bit easier.
My only gripe here is that the sheath isn't lockable, which really isn't a big deal as the sheath fits rather tight anyways.
---
12. Morakniv Fishing Sandvik


Buy from Amazon
Estimated Price: $27
My Review: This fishing fillet knife comes in 3.5-inch and 6.1-inch lengths. It has a razor-sharp Sandvik 12C27 1.9mm thick stainless steel blade. The rubberized grip guaranteed not to hold smell. Also included is a head plastic sheath.
This is a good small fillet knife to have that works for both a bait knife and a fillet knife. Long thing filet knives are not a good option to cut bait with. This a sturdy knife especially in the 3.5-inch version.
---
13. Rhinoreto Fish Fillet Knife


Buy from Amazon
Estimated Price: $25
My Review: The Rhinoreto Fish Filet knife comes in sizes of 5-inch, 6.5-inch, and 8-inch lengths. This knife has a flexible curved blade with a non-stick coating. The ribber handle enables a good grip even in wet conditions. The vented sheath ensures the blade will dry between uses.
The ceramic single-stage sharpener makes shaping the knife very easy. Most fillet knives are stainless steel which tend to lose the sharp edge quickly. This is why sharping the knife frequently is important. It is recommended to wash this knife by hand. Make sure the knife is dry before placing it in the sheath.
---
14. American Angler Pro Electric Fishing Fillet Knife


Buy from Amazon
Estimated Price: $150
My Review: The American Angler PRO electric fish fillet knife comes with 5 stainless steel blades. Blades include a 10-inch saltwater blade, 5.5-inch curved tip blade, 8-inch curved tip blade, 10-inch heavy-duty shark blade, and a 8-inch heavy-duty shark blade.
The 10-inch blades work well on salmon, tuna, swordfish, striped bass, lingcod, and wahoo. Blades that are 8-inches work well on mahi-mahi, halibut, rockfish, snook, snapper, flounder, walleye, bass, and catfish. The 5.5-inch curved blade is good for trout, crappie, perch, grunts, snapper, and panfish.
---
15. KastKing Spartacus Fillet Knife


Buy from Amazon
Estimated Price: $30
My Review: The KastKing fillet knife comes in lengths of 7-inch and 9-inch. The 9-inch size comes in the option of having a serrated edge and the option for a stronger blade. All the blades are made from high carbon and Chromium to be corrosion resistant and to help maintain a sharp edge. The coating is made with high-temperature ceramic that can withstand 2000 degree temperatures.
This knife is a solid design and works well for clean fish like salmon, wahoo, and mahi-mahi.
This knife comes with a sheath that has belt loops and drain holes. The handle of the knife is both UV and slip-resistant. This knife is a great value and comes has very high user reviews.
---
16. Mister Twister Electric Fillet Knife


Buy from Amazon
Estimated Price: $30
My Review: The mister twister electric fillet knife comes with 7-inch stainless steel blades. 9-inch blades can be purchased for about $10. The dual blades are serrated. The device has a safety lock and easy blade release.
This device is built similar to many meat cutting electric knives. Many reviews claim that his knife works just as good as more expensive electric knives. This knife works great to clean crappie, perch, grunts, mackerel, snapper, and rockfish.
---
17. Bubba Blade Electric Fillet knife


Buy from Amazon
Estimated Price: $120
My Review: This portable electric knife comes with 4 stainless steel blades. The blades are a 7-inch flex, 9-inch flex, 9-inch stiff and 12-inch stiff. The blades are coated with titanium nitride to make them corrosion-resistant.
Includes with this knife are two lithium-ion batteries and premium EVA storage case. The handle on the case has an LED battery indicator to show the battery storage level. The wight of the knife is 1.11 pounds.
This knife is very similar to other electric knives but is cordless. This means that it can be used even when a 120-volt outlet is not available. Also not having to deal with a cord is nice when filleting fish.
---
What is a Fish Fillet Knife?
Sometimes referred to as a filleting knife, a fish fillet knife offers the user a much higher level of control, specially crafted for the act of filleting. These are typically 4" to 11" in length and tend to be much lighter than most other kitchen cutlery.
Fish fillet knives, coupled with amazing flexibility, utilize a blade point that differs from a traditional knife. These are generally referred to as "trailing points". A trailing point makes the act of precision slicing and skinning much easier by implementing a slight curvature at the end of the knife, which is generally used for small and precise cuts and makes maneuvering around bones a much easier and more accurate task.
Bevels on the blade constructed at a 12 to 17-degree angle make for an extremely sharp and thin edge, focusing on precision and ease of use over durability and are not to be used on hard surfaces, like making contact with a cutting board.
The angled bevel is the reason fish fillet knives are rather delicate and are easily damaged when they contact something hard. Trading off durability, however, allows for extremely easy entry points and enhanced maneuverability, especially in the rib and backbone areas. A bevel makes cutting out the meat without hitting bones significantly more efficient than other styles of knives.
---
What Makes a Fish Fillet Knife Special?
Most knives are quite rigid and durable, giving you the capability of cutting through thick and difficult materials without snapping the blade. A fish fillet knife focuses on something a bit different, though.
Since you're cutting through the soft skin of a fish, a rigid and thick blade isn't a necessity and instead, many anglers prefer to use a fish fillet knife because they offer thinness and precision that otherwise wouldn't be available.
You'll probably notice the shape and overall design of a fish fillet knife is fairly different compared to your average kitchen knife. Manufacturers have contoured their blades specifically in a way that best aligns the cut with a fish's body.
If you're an experienced fisherman or cook, you know filleting a fish is an art form and not many people are actually capable of achieving a perfect cut. Filleting a fish takes a lot of practice, but you'll never quite get it right without the use of a proper fish fillet knife.
Fillet Knife Materials
Fillet knives can be found manufactured from many different materials. I'd argue this is likely the most pressing factor behind price. The typical consumer-grade fish fillet knife usually consists of stainless steel.
You'd think stainless steel blades would perform well in filleting fish, especially because they'll constantly be wet, but chromium is actually the winner here as it resists corrosion even better than stainless steel but at a cost.
If you're purchasing a fish fillet knife to use occasionally when you take the rare weekend guys trip and catch a few fish, stainless steel is probably just fine. For a chef or your diet consists mostly of freshly caught fish, I'd go ahead and spend the extra money on a chromium infused blade.
If your blade corrodes even a little, the behavior of the knife will change drastically. Even a slight pitting in the middle of the blade will noticeably cause more drag and a more difficult cut. Furthermore, any pitting or corroding makes the knife far more difficult to clean and may even hide bacteria under the top layers, later releasing this bacteria into your next meal.
A little fun fact here, fish fillet blades are typically rated above 50 on the Rockwell hardness scale, which basically means that they're mid-grade hardness and will hold a sharp edge longer than blades with a lower rating. Having a rating in the 50s allows the blade to maintain flexibility while still being relatively hard, kind of like the best of both worlds type of deal.
Fillet Knife Length and Thickness
As mentioned before, most fish fillet knives fall into the 4" to 11" area, with some specialty fillet knives exceeding one foot. When shopping for fish fillet knives, it's likely that you'll see 4 inches, 6 inches, 7.5 inches, and 9 inches knives the most, as these are the most popular and generally fit everyone's needs.
The length of your knife is very important to consider as this will change its behavior, flexibility, weight, and durability. Smaller fish are much easier to fillet with smaller blades and vice versa! The length you need is the length it takes to reach all the way across the entire fillet, as the idea here is to fillet your fish in the lowest number of pieces possible!
With that said, if you're fishing ventures consist primarily of a single species or species that are all relatively the same size, you'll probably get away with buying one good fillet knife fit for that species. If you're like me and you try to catch everything that moves, you may need an array of different knives, all with different lengths and characteristics for different fish.
Generally, shorter blades also result in thinner blades and your blades on the upper echelon of the spectrum tend to be thicker. Generally, fish fillet knives are found in the ballpark of 2.5 to 4mm in thickness at the spine.
Thicker blades are much more durable and also tend to hold an edge significantly better, however, there is a tradeoff here. The thicker the blade, the more difficult it may be to maneuver and cut with. In my experience, I've always enjoyed using the thinnest blade possible, especially when removing the skin from the fillet.
Ultimately, the thickness you need will likely depend on the length you need. A really long knife that is also super thin won't be very easy to use as it may flex too much and, of course, are extremely easy to bend and break. Longer blades are typically used with much larger, more difficult to fillet fish, so a higher level of thickness is usually in order anyways!
Fillet Knife Flexibility
Fish meat, for the most part, is typically very soft compared to the meat you'd find from many other animals. Have you ever had a thick juicy cut of steak? Yeah, that cut likely started with a thick and sturdy cleaver type knife that is almost a necessity just to separate portions.
With fish, you won't run into many situations where you need a bit of muscle, and instead, you'll find that just about any blade will slice right through most fish meat with ease. Filleting a fish becomes more of an art form, with gentle strokes of precision as opposed to cleaving meat slabs in half with a heavy blade.
Filleting a fish is tricky, there are a lot of tiny bones packed into a small space, right next to the sweet meat you're trying to get to. A fillet knife with a decent level of flex to it will allow a much greater level of maneuverability through the maze of bones and tissue, allowing you much greater control over your cut.
In my experience, I have always benefited from using a fish fillet knife as opposed to a typical kitchen blade. There have been countless times when I had to leave meat and come back to it because I wasn't using a proper fillet knife, and in turn, my finished products were often quite ugly and ended up in odd shapes that make cooking a bit more difficult than it should have been.
Using a fillet blade with plenty of flex simply allows the user to remove a much higher amount of meat in one swift movement instead of digging out meat that was too close to the bone for your rigid blades to reach.
Related Article: 37 Best Fishing Gifts
---
Popular Posts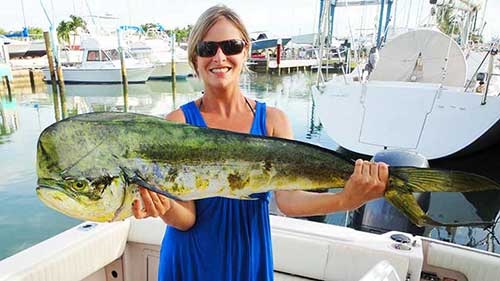 27 Best Mahi-Mahi Lures by Captain Cody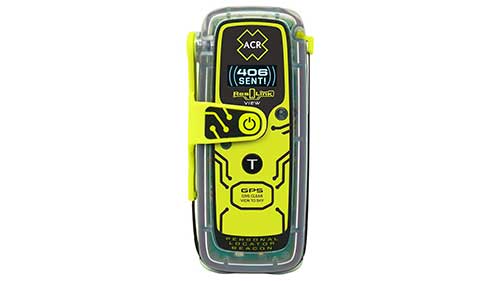 Personal Locator Beacons – Rescue Device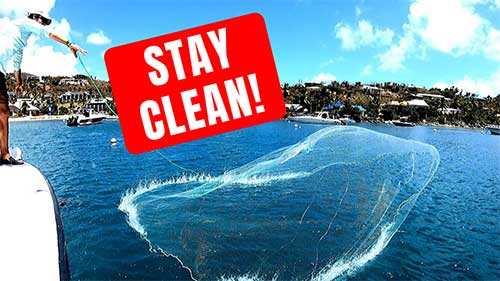 23 Best Cast Nets by Captain Cody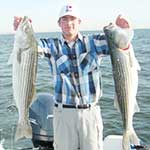 Captain Cody has worked on charter fishing boats in the Florida Keys, Virgin Islands, and Alaska. Growing up in Pennsylvania Cody has also done extensive freshwater fishing including bass fishing tournaments. Cody strives to provide detailed information about the best fishing gear and tactics to help both novice and experienced anglers have a more productive and enjoyable time on the water. Cody also has a background in aerospace engineering and neuroscience but really only takes pride in being good at one thing and that is fishing!