If someone loves to fish chances are they will appreciate getting a gift involving fishing. This article helps shoppers brainstorm thoughtful and practical fishing gifts. Growing up when my brothers and I exchanged gifts it was very frequently something to do with fishing. These are great fishing gift ideas for fathers day, mothers day, valentine's day, birthdays, and Christmas.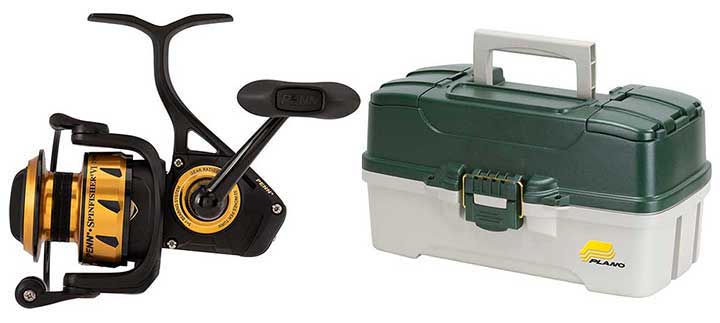 Fishing gifts range from a few dollars to a few hundred dollars allowing for a thoughtful gift in any budget. I am a charter fishing captain and have extensive experience in small streams, ponds as well as fishing offshore in the ocean. In addition to this article, the Global Fishing Reports website has extensive information about fishing techniques and product review articles.
This article will help someone with little fishing knowledge select a gift for an avid angler. It will also help experienced fishermen select good gifts for other experienced fishermen. It is important to know what type of fishing the individual enjoys. Even if you do not know anything about fishing there are some items that all fishermen need such as fishing hats, shirts, sunglasses, pliers, and knives.
Here Are the Best Fishing Gifts
---
1. Pflueger President Freshwater Spinning Reel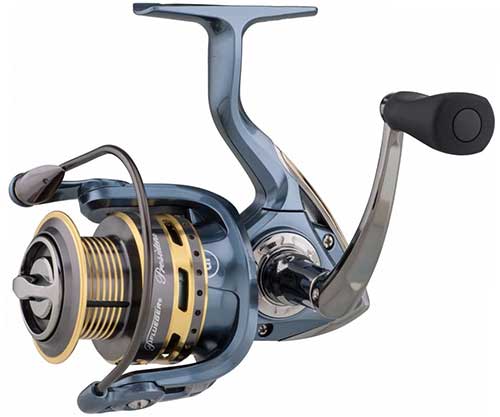 The Pflueger President is a quality freshwater spinning reel. It has great size options for everything from trout fishing to catching monster largemouth bass. It comes in sizes of 20, 25, 30, 35, and 40. The size 20 is the smallest and has a max drag of 6 pounds and weighs 6.1 ounces. The 40 is the largest size weighs 11.5 ounces and has a max drag of 14 pounds.
This reel has between 7 and 10 stainless steel ball-bearing that are corrosion resistant. Key features of the reel are a braid ready spool and sealed drag system. It is made with a graphite rotor, graphite frame, and braid ready aluminum spool.
Spinning reels make a great gift. Growing up my brother and I frequently gift spinning reels to each other. It is a fun gift that lasts for many years. A reel is a good stand-alone gift or the fishing rod, fishing line, and lures can also be included.
---
2. Piscifun Baitcasting Fishing Reel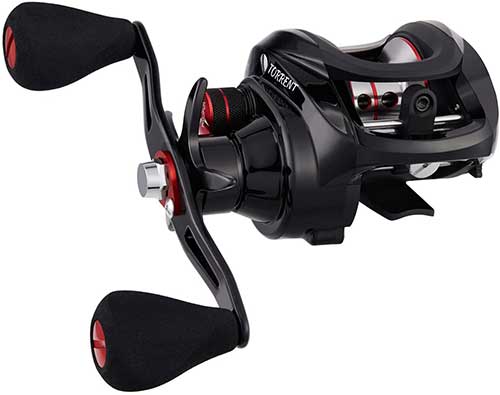 The Piscifun Torrent is a reasonably priced quality baitcasting reel. It comes in two gear ratios the 5.3 which retrieves 22.8 inches of line per turn of the handle and 7.1 which retrieves 30 inches of line per turn of the handle. The low gear ratio is better for heavy jigs. The high gear ratio is better for casting and retrieving lures. A carbon fiber drag system is used within this reel which has a high max drag of 18 pounds.
The reel is made with 5+1 shielded ball bearings, a 10-position magnetic brake, aluminum spool, aluminum handle, and an aluminum thumb bar. This would make a great first baitcasting reel. Many anglers do not realize there are advantages and disadvantages to both baitcasting and spinning reels.
Baitcasting reels do not cast a far as spinning reels. However, the speed of the lure can be controlled during the cast. This allows for heavy lures to be gently set into the water creating a more natural splash. For people who have never used baitcasting reels, I would recommend trying one. The reel is placed on top of the reel which is a nice orientation for jigging. It takes some practice to not bird nest a baitcasting reel but when using a braided line it is easy for most people to cast. Stay away from stiff monofilament line if you have not used this type of reel before unless your goal is to get better at casting a baitcasting reel.
---
3. Penn Spinfisher Saltwater Spinning Reel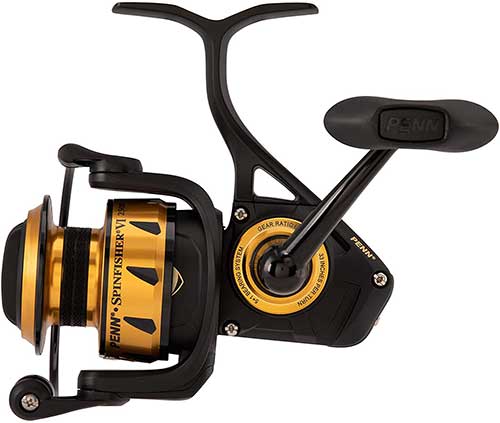 The Penn Spinfisher is one of the most popular saltwater spinning reels. It is known for its quality drag and durability in harsh fishing environments. There are 9 different size options from the 2500 series to the 10500 series. The 2500 series has 15 pounds of max drag and weighs 10.7 ounces while the 10500 series has 60 pounds of drag and weighs 38.6 ounces.
My favorite Penn Spinfisher is the 7500 size. It has 35 pounds of drag and weighs 26.5 ounces. This is a great reel for inshore and offshore fishing. It can catch small snapper and large tarpon inshore while also being able the catch tuna and mahi-mahi offshore. The Spinfisher reels are made with an HT-100 carbon fiber drag system which is within a sealed spool with an IPX5 rating. It has 5+1 stainless steel ball-bearings which are also sealed.
This makes a great gift since the reel is very versatile and can be used to catch many types of fish from the shore, beach, or from a boat. It is a quality reel and will last for many years. There are also bail-less and surf fishing versions of this reel designed for far casting from the beach. The standard Penn Spinfisher VI version works pretty well for these applications as well. This reel is durable but it is important to take proper care of the reel. Always rinse the reel with freshwater and avoid getting sand and dirt within the spool.
---
4. Penn Squall Big Game Fishing Reel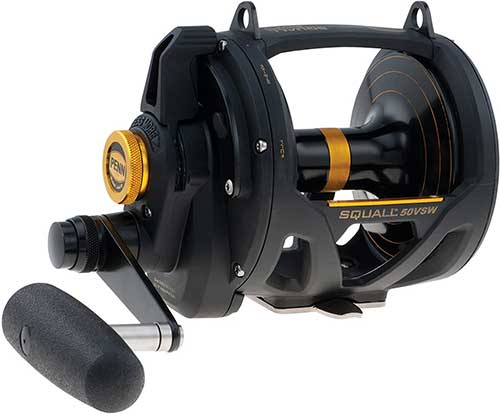 The Penn Squall is a reasonably priced two-speed big game fishing reel. It comes in three sizes starting with the 16vs which has 26 pounds of max-drag and weighs 38.5 ounces. Next is the 30vsw which has 32 pounds of max drag and weighs 47 ounces. Finally is the 50vsw which has 40 pounds of max drag and weighs 55.6 ounces.
These reels are very similar to the Penn International series big game reels but are made with a lightweight graphite frame. The lever dura drag is very quality which is an important feature when catching large powerful fish.
Personally, I think there should always be at least one big conventional fishing setup when going fishing. A 50 class reel is perfect because it is not huge but can still catch almost every fish in the ocean from large sharks to tuna, and marlin. It also allows heavier lures to be trolled when fishing for wahoo. If you are looking for a gift that says let's go catch some big fish this would be a great option.
---
5. Telescopic Fishing Rod and Reel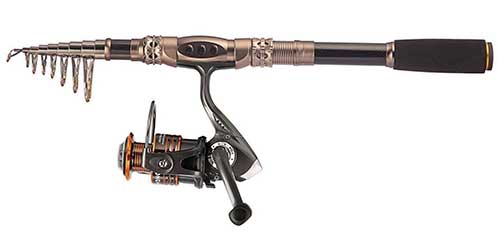 The Plusinno telescopic rod and reel are rated for freshwater or saltwater. It has several size options that extend to a length of approximately 6, 7, 8, and 9 feet. The collapsed length is around 18 inches.  High-density carbon fiber is used to make the rod strong and lightweight. The components of the rod and reel are made with stainless steel which is corrosion resistant. It is still important to rinse the rod and reel with freshwater after saltwater use.
A telescopic fishing rod makes a great fishing gift. Even for anglers with lots of fishing setups, it is nice to have gear that is easily carried when traveling. Telescopic rods can be kept in a backpack or in a vehicle to be quickly accessed when a good fishing spot is found. There is a kit option available which comes with a carry case, lures, and fishing line. The carry case is great when traveling as it protects the fishing rod and reel. The carry case has a handle so it can be carried easily even without a fishing backpack.
Telescopic fishing rods have gotten much better over the years. In the past, this type of gear would only be used in extreme cases where it was to difficult to bring a two-piece fishing rod. Today telescopic rods can be used as a primary fishing rod for local fishing as well. There are telescopic rods available for everything from trout rods, bass rods, baitcasting rods, and surf rods. One place that a one-piece or two-piece fishing rod should be used is for large conventional reels.
---
6. Zebco 33 Fishing Rod and Reel

The Zeboc 33 is the iconic spincast fishing reel for kids. Sometimes this is called a push-button rod and reel. This is the easiest type of reel for kids to use to be able to cast and reel in fish on their own. This rod is reel combo features the latest Zebco 33 design and has a 6-foot rod included. The rod has a soft comfortable EVA handle.
This reel is made with all metal gears and comes spooled with 10-pound Zebco fishing line. The handle is interchangeable for left-hand and right-hand anglers. Spincast setups are reeled with the reel on top of the rod. Right-handed anglers reel with their right hand and left-handed anglers retrieve with their left hand.
A Zebco fishing rod makes a great gift for kids. These setups work well with a bobber with a hook and for casting with spinners and soft plastics. The rod and reel work can be used in rivers, ponds, and lakes. With a 10-pound test line, this will work to catch most freshwater fish. Smaller cartoon spincast reels typically come with a 4-pound test line which is good for trout and bluegill.
---
7. Wild Water Fly Fishing Rod and Reel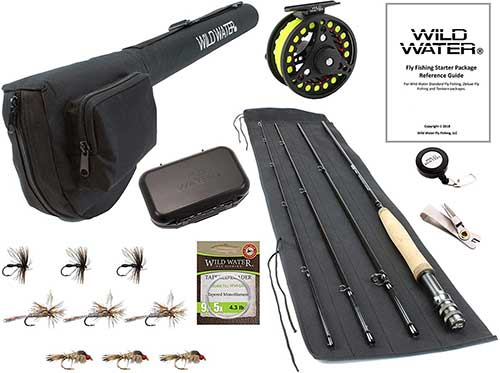 The Wild Water fly fishing kit includes the rod, reel, carry case, flies, and tippet. This is a great first-time fly fishing setup. It is a 4.5 weight rod which is great for catching trout, panfish, and bass. If you know someone who is an experienced angler but has never fly fished before this would be a great gift.
Fly fishing is a very fun sport to get into as it is challenging but rewarding. In most cases using spinning tackle will catch more fish but it is more fun to catch them on fly tackle. Also, many trout and salmon streams require that fly fishing tackle be used.
When fly fishing dry flies can be used to fish on the top of the water. This is what most people think of when they envision fly fishing. Bead head nymph flies are also very commonly used to fish beneath the surface. Often times this is the most productive way to catch fish as the flies resemble many aquatic insects. Finding a fly that closely resembles insects in the area can lead to more strikes and higher catch rates.
---
8. Yeti Fishing Cooler Gift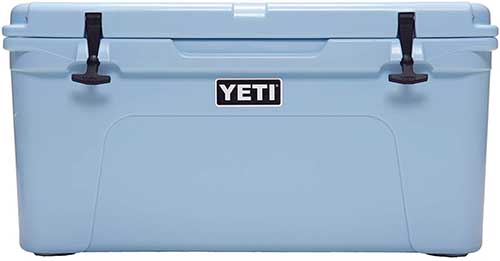 Having a quality cooler is very important when fishing. It is common to have two or more coolers on a fishing boat. A smaller cooler is used to keep food and beverages cold. The second larger cooler is used to store fish that will be kept for dinner. It is important to have a big enough cooler with lots of ice to keep the fish cold.
The start of every fishing trip starts by adding ice to the food cooler, bait cooler, and fish cooler. One full day fishing trips four 5-gallon buckets of ice are typically added to the fish cooler. The amount of ice needed depends on the expected number of fish caught, the temperature outside, and the length of the trip. If fish are not cooled properly it can significantly affect the quality of the meat.
Most coolers will get the job done. However, quality coolers are more stable on the boat and typically last longer.  For a charger boat, a 48-94 quart cooler works for drinks while a 100 plus quart cooler is needed for the fish. A 120-quart cooler that is full of ice will work for most recreation fishing trips. A soft portable cooler a good option for the food and drinks as these are portable and easier to carry. Since coolers are so heavy it is a good idea to load and unload them on the boat.
---
9. Plano Fishing Tackle Box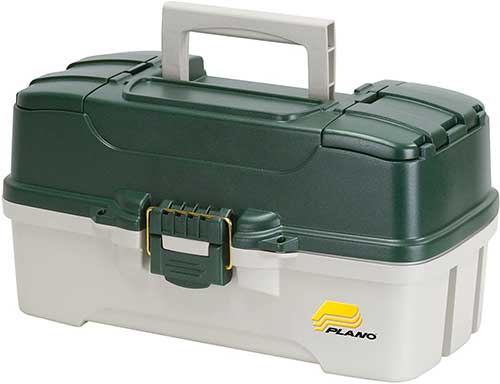 This plan tackle box comes in a one-tray, two-tray, and three tray version. Color options include green-white, blue-white, orange, green-black, red-white, and pink-purple. Plano is the most well-known tackle box manufacture. This is a classic tackle box with cantilever trays, a large front buckle, and a low-profile collapsible carry handle.
Having a tackle box can really help the angler be more organized. Also, the tackle is less likely to be lost or damaged when placed in the tackle box. It is not uncommon to go fishing and not have the proper line, lure, hooks, or weights. This can be avoided by having a properly stocked tackle box. Sometimes the gear is purchased but left at home or in the car because it never found its way into the tackle box. Typically items that should be in every tackle box include pliers, knives, line cutters, bobbers, weights, hooks, leader line, and your favorite fishing lures.
---
10. Piscifun Fishing Tackle Backpack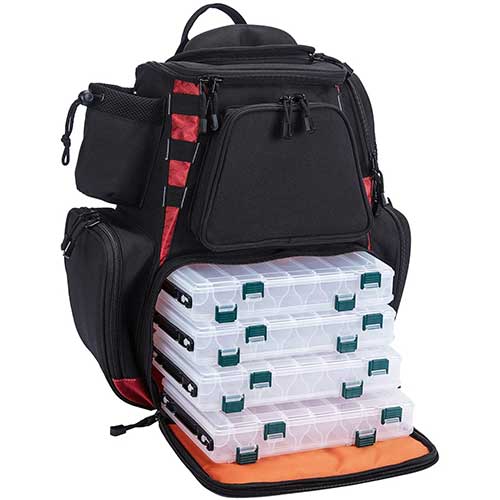 The Piscifun fishing backpack comes with four tackle storage trays. Color options are black, khaki, and digital camouflage. On the outside of the bag, there are elastic bands to hold pliers. This allows for quick access when tying lines or releasing fish. There are also four outside zipper pockets and a water bottle holder. The bag has dimensions of 12.6 x  7.9 x 17.7 inches.
A fishing backpack is a great alternative to a tackle box. This is easier to transport and can hold more gear besides just fishing tackle. The backpack is water-resistant and has plastic feet to help prevent the bottom of the bag from getting wet. It also has a hard molded sunglass case which is a good way to prevent sunglasses from getting damaged. This bag is loaded with areas to store all types of fishing equipment. Important things to have in a fishing backpack are pliers, lures, leader-line, knife, poncho, camera, scale, tape measure, hat, and sunglasses.
---
11. Frabill Livewell Fishing Gift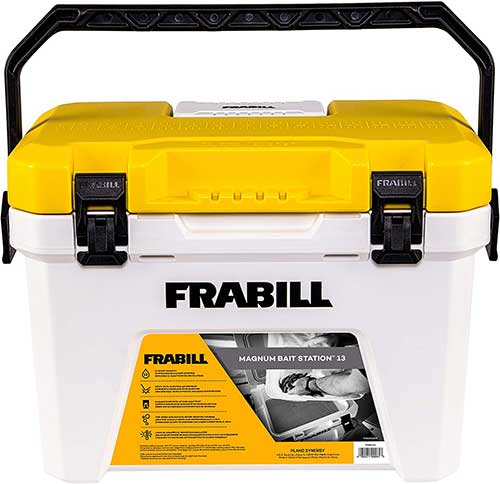 This Frabill bait station comes in three sizes, 13 quarts, 19 quarts, and 30 quarts. The livewell has an aerator that is powered with two d-cell batteries or a 12-volt car adapter. A stand out feature of the bait station is the lift-out liner to allow the bait to be easily caught.
There are many reasons why this is a better way to store bait than a bucket. First, it has a lid that helps prevent water from getting all over the vehicle during transportation. If you have ever transported bait in a 5-gallon bucket you know how much the water can splash when hitting a bump or the brakes. Second, this is an insulated cooler to help prevent the water from quickly getting too warm or cold for the bait. Finally is that it has an aerator to keep the bait alive.
This is a great cooler for minnows, shrimp, crayfish, eels, and crabs. If you frequently fish live bait the Livewell will come in handy. This is a much more durable setup than a 5-gallon bucket with an aerator on the side. A flow-troll minnow bucket can be nice when the bait can be placed in the water to get fresh water. However, it can be a hassle to take the bucket in out of the water each time bait is needed. The advantage is some baits may last overnight in a bucket that is placed in the water.
---
12. Bubba Blade Fishing Fillet Knife

This Bubba Blade fillet knife is 13 inches in total length and has a 7-inch tapered blade. This is the best size fillet knife to use from small panfish to large mahi-mahi and tuna. A sheath is provided to allow the knife to be carried on a belt. This makes a great fathers day gift as dads everywhere can use a good fillet knife.
Bubba Blade fillet knives are well-known and a high grip rubber handle. A proper grip on a fillet knife is important and the knife can get wet and slimy at times. Some fillet knives also get rusty but this knife has a corrosion-resistant titanium-nitrite blade. The blade is also Teflon coated which helps prevent material from sticking to the knife.
A fillet knife is a great gift as most fishermen will need one at some point. Even if it is not used to fillet fish is it still a sharp knife that can be used for other purposes like cutting lines, rope, or food. Also, when fillet knives are properly taken care of they last for years which makes this a gift that the person will have for a long time.
---
13. Bait Knife for Fishing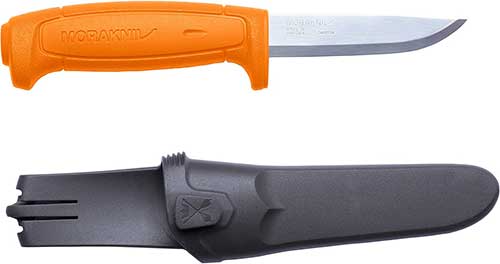 The Morakniv Craftline is a solid knife that is great for cutting bait. Color options are orange, red, black, green, and tan. It comes with a hard plastic sheath that can be worn in the waistband, on a belt, or secured to a bag. The total length of the knife is 8.25 inches and the blade is 3.6 inches. Without the sheath, the knife weighs 3.9 ounces. With the sheath, the weight is 4.3 ounces. The knife is made in Sweden and comes with a limited lifetime warranty from the manufacture.
It is important to have a sturdy blade that will not bend or slip when cutting bait on a rocky boat. I like to have several knives of this style for different purposes. The primary use is a bait knife but it comes in handy to cut fishing line, rope, food, and to gut fish. If a fillet knife is not available this knife will also work to fillet fish. It comes pretty sharp but it is a good idea to have a carbide sharpener for bait knives and fillet knives.
---
14. Kastking Fishing Pliers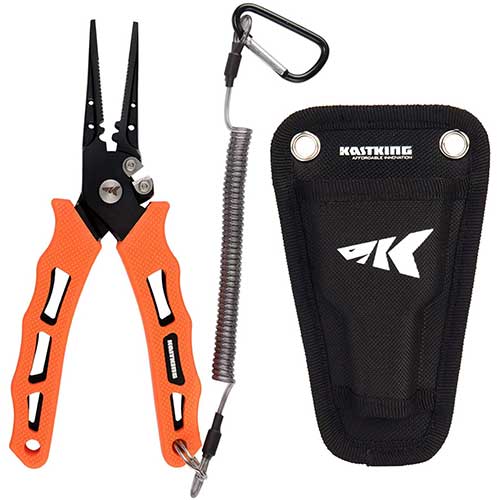 KastKing needle nose fishing pliers are a great tool for fishing. These are made with Teflon coated stainless steel. Grips on the piers are made with textured rubber to allow a good grip even when hands are wet and slimy. It comes with a sheath that can be clipped onto a belt.  The carbine clip attaches the plier to the lanyard with a coiled lanyard. This clip can also be attached to the boat or to a fishing backpack. Having the pliers attached to something helps the pliers to not get lost when it is needed and prevents the pliers from being accidentally dropped into the water.
Fishing pliers make a great gift because everyone who fishes needs pliers. Without one it can be dangerous for the person releasing the fish. Also if proper pliers are not available the hook might not be able to be properly removed. I have been bitten and cut by many fish trying to release them without pliers including betting bit by a large nurse shark. Having a fish lip gripper can make removing hooks from fish with teeth much easier. It is also a good idea to have a pair of wire cutters in case the hook itself needs to be cut to safely release a gut hooked fish with minimal damage to the fish.
---
15. Rapala Floating Fish Lip Gripper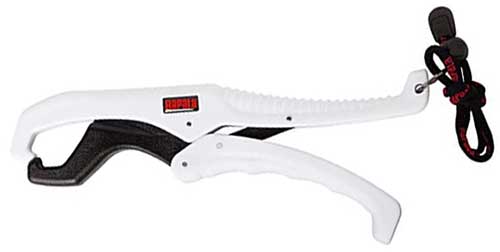 The Rapala 9-inch floating lip gripper is a great tool for fishing. The front tip of the gripper is placed on the mouth of the fish and the handles come together like a pair of vice grips. This securely holds the fish without hurting the fish. Holding the fish with the grippers allows for excellent pictures to be taken and for the hook to be quickly and easily removed. Some anglers grab the outside of the fish which can rub the slim off fish which they need to survive. Others have the fish flop on the deck of the boat which should never happen for a fish that is being released.
I have used many styles of fish lip grippers and like this plastic floating style the best. Metal lip grippers also work well but typically get rusty and stop working well after the first season. This gripper is mostly made of plastic that will not corrode. It comes with a lanyard which is nice for having the grippers somewhere that is easily accessible. Once you use a pair of lip grippers you will be shocked you ever went fishing without them.
---
16. Dr. Meter Digital Fishing Scale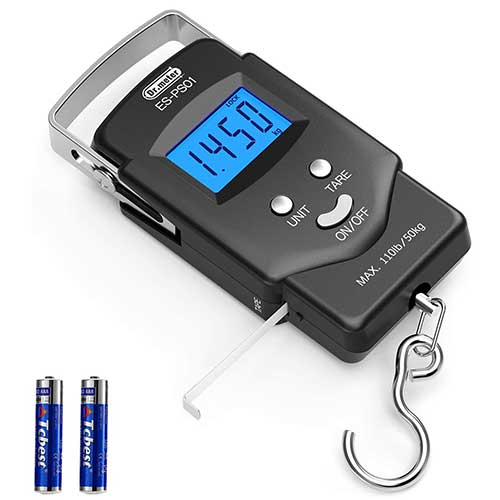 The Dr. Meter digital fish scale can weigh up to 100 pounds. It comes with two AAA batteries and has a built-in tape measure that is 36 inches in length. The scale is easy to use. Just turn it on without weight being applied. Then secure the fish to the scale and the weight will be shown on the digital display. The LCD screen is backlit to work at night.
The metal hook is typically placed behind the gill to hold the fish on the scale. Personally, I like to weigh the fish while it is being held on a lip gripper. Then I subtract the weight of the gripper to get the total weight of the fish.
Fishing scales make a great gift case many anglers want to know how much the fish they catch weigh. There are several styles of fish scales including digital scales, analog scales, spring scales, and lip gripper scales. All of them work decently. This particular scale is nice because it is compact, lightweight, and accurate.
---
17. Columbia Ball Cap Fishing Hat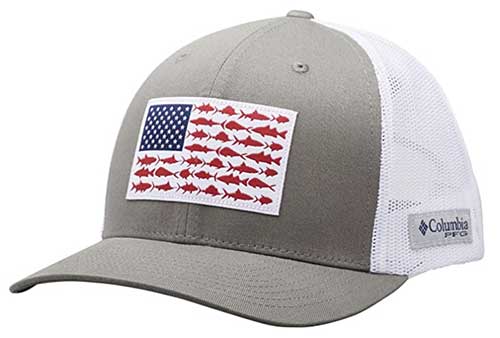 This is a Columbia Performance Fishing Gear hat. It comes in over 16 different color patterns. The hat is a classic snapback style that allows the size to be easily adjusted to fit most people. It is made out of 98 percent cotton and 2 percent spandex. The back of the hat is made of mesh which makes it breathable and cool on hot days. This hat also comes in fixed sizes with an elastic band for some flexibility.
The flag on the front of the hat is made of fish silhouettes such as tuna, sailfish, mahi-mahi, marlin, tarpon, and wahoo. It is made to look like the American flag and Canada's flag is also available. This is a very stylish hat that is also very functional. When fishing it is very important to have a hat with a visor to help block the sun. It is also important to wear sunglasses to help block the sun's reflection on the water. I would never go fishing on a sunny day without a hat and sunglasses.
---
18. Costa Polarized Fishing Sunglasses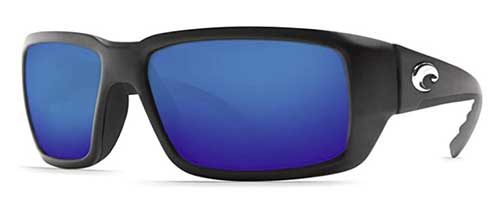 These Costa Del Mar sunglasses have 580p polarized lenses. The p stands for plastic and glass lenses are also available for these frames. There are over 30 frame and lens color variations. The lens makes a big difference in performance.
The type of lens that is best depends on the lighting and water conditions. Costa blue mirror lenses are popular for blue water offshore fishing. Green mirror lenses are popular for inshore and reef fishing. Silver and copper lenses are good for land use.  Yellow tinted polarized lenses are best for seeing into the water in low-light conditions such as heavy overcast skies or at dusk.
Having a quality pair of polarized sunglasses is very important for an avid angler. The sunglasses should block 100 percent of UVA and UVB rays. If the sunglasses are not polarized the surface glare will significantly diminish the user's ability to see into the water. When fishing, anglers want to be able to see game-fish, baitfish, and underwater structure as clear as possible. This is why getting an avid angler a good pair of sunglasses should make them excited. Quality lenses also help prevent excess damage to the eye from harmful UV light.
Costa Sunglasses were made popular among sport fishermen and boaters in Florida. Costa sunglasses use to be made in Daytona Beach but are now manufactured in Foothill Ranch California.
---
19. Columbia PFG Fishing Shirt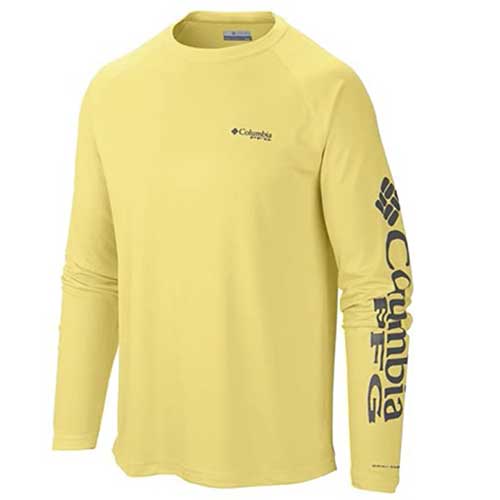 This Columbia fishing shirt is made with 100 percent polyester material that is UPF 50. It is a great lightweight long sleeve shirt to wear on hot sunny days. The shirt is cool and allows for significant airflow through the shirt. This type of shirt is what I always try to wear when I am fishing, boating, or at the beach in Florida. A fishing shirt also makes a great fathers day gift.
The shirt is similar to a rash guard used while scuba diving. After getting out of the water it dries quickly. Typically I will take the shirt off and ring the water out by twisting it. Then when I put it back on it will quickly dry in the sun and wind. These shirts are intended to fit snuggly but should not be pulled completely snug as to be restrictive.
Swimming with this style of shirt is a good idea as it offers UV protection in the water without having to wear sunscreen. It also offers some protection from jellyfish. Scuba divers wear this type of shirt to prevent scuba gear from rubbing on bare skin.
There are over 30 colors to choose from. This is a men's shirt but very similar shirts are available for women. The shirt makes a great gift since it is fashionable and also offers good sun protection. Wearing a long sleeves sun shirt is very important for anglers that spend long days in the sun.
---
20. Berkley Fishing Gloves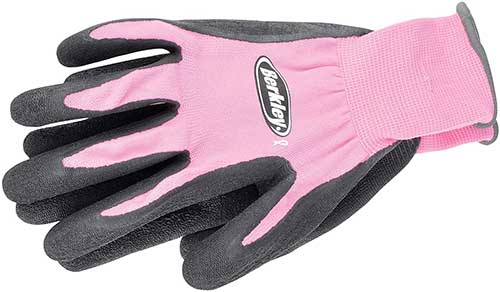 These Berkley gloves are very popular for fishing. The gloves are made with a cotton-polyester blend and the front of the gloves have a rubber texture grip. The rubber area is waterproof but if the back fabric gets wet it will absorb water. Color options are blue-gray and pink-gray.
The gloves are pretty flexible and can be worn when reeling in fish, leadering a fish, or cleaning a fish. Size varies based on the color. The pink gloves are women size medium-large and the blue-gray gloves are men's size large-extra large.
Having fishing gloves does help protect hands from getting wet, sliming, and getting scraped. These are not kevlar gloves and are not intended to prevent the hands from getting cut, poked by sharp hooks, or poked by spines of fish. The angler should be careful when handling fish and filleting fish even when wearing gloves.
---
21. Neoprene Fishing Chest Waders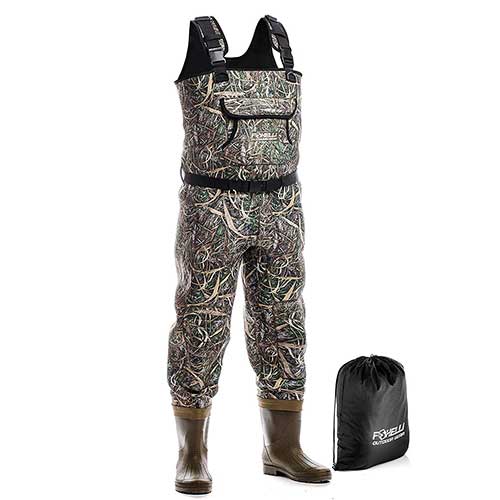 Foxelli neoprene chest waders have a natural brush camo pattern. These waders are secured with suspenders and have a waist belt for fishing gear and knives to be attached.  The Velcro front pocket is another place to store fishing gear. Being camo in color helps to conceal the angler when fishing in clear streams.
The boots are made of PVC and have a sole with ridges running both ways to help prevent slipping. When walking on wet slimy rocks it is still easy to slip and caution should be taken.
These are strong comfortable waders that make a great gift. The waders can be used for fishing or hunting. In cold water, the neoprene will keep the user much warmer than with thin rubber waders. The boots are not insulated but thick wool socks can be worn if needed. A draw-string duffle bag is included for easy storage and transport.
Fishing waders are commonly used when fishing for trout, steelhead, and salmon in streams. Waders are also useful for launching boats, and hunting. When hiking it is also common to have to cross streams and rivers that are too deep for regular boots. It is recommended to get Foxelli waders that are one size larger than the person's typical shoe size as the size of the boots runs small.
---
22. Stearns Fishing Life Jacket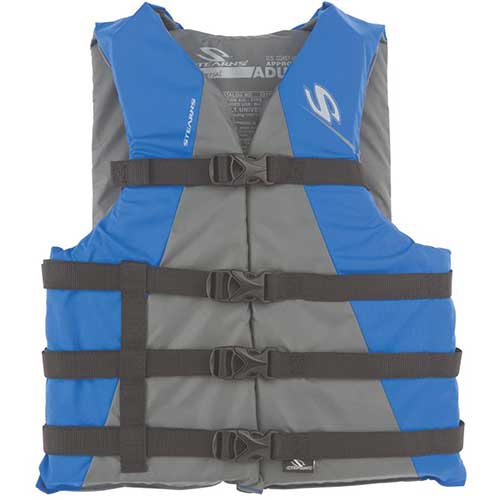 This Stearn life jacket is made for adults 90 pounds or more. It is a basic vest style with four buckles to secure the life jacket. Color options are blue-gray and yellow-gray. The jacket is a type 3 United States Coast Guard approved life jacket. This meets the requirements for most recreational boaters. Some commercial vessels are required to have type 1 PFD's that are only intended to be worn during an emergency. A vest-style life jacket can be comfortably worn all day when on the water.
A life jacket makes a great gift cause it can keep loved ones safe. Sometimes people do not want to wear a life jacket cause it is uncomfortable. A vest-style jacket or inflatable life jacket are both pretty comfortable to wear. Any time someone is boating alone, at night, or in adverse conditions I would highly recommend wearing a life jacket. It is also a good idea to carry a Person Locator Beacon when boating or kayaking in the ocean.
Kids up to age 6-13 years old are required to wear a life jacket at all times when on a boat. The age varies based on state laws. Life jackets are also required to have when kayaking and paddleboarding. A life best should defiantly be worn when waterskiing, wakeboarding, or water tubing.
---
23. Headlamp for Fishing Gift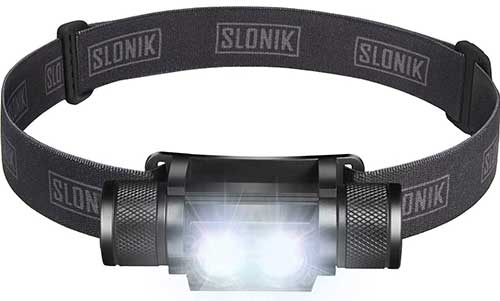 This Slonik headlamp is 1,000 lumens and is powered by a rechargeable battery. The head strap is adjustable and is made with comfortable nylon. It has an aluminum housing that has an IPX8 submersible rating. The light is expected to last 100,000 hours and the headlamp has a limited 48-month warranty.
The feature of the light includes that it can tilt up and down 90 degrees and has six light level settings. On the bright mode, the battery lasts about 3.5 hours, and in the least bright mode, the battery lasts 8 hours. The light is turned on by pressing the power button and light levels are changed by pressing the power button again.
A headlamp is a great gift for fisherman as it is common to fish at dusk and at night. The headlamp allows the fishing line to be tied while keeping the angler's hands-free. It also allows a smaller light to be used rather than using large boat lights that can attract unwanted bugs.  The submersible waterproof rating makes this a good choice for a wet fishing environment.
---
24. Mepps Bass Fishing Lure Kit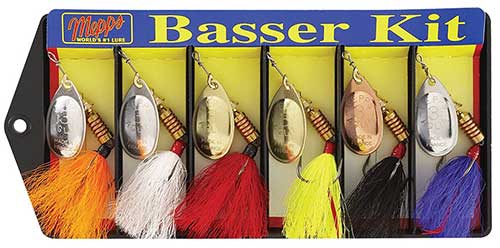 This Mepps Basser Kit consists of six number-3 inline spinners. These are absolutely great lures to use when bass fishing. The spinner blade is either bronze, silver, or copper-colored. A brass metal body has red grooves cut into it. The colors of the tails include orange, white, red, yellow, black, and purple. Each lure weighs 1/4 ounce.
Bass are the most common type of fish that anglers fish for in the entire world. This means that if you know someone who likes to fish bass lures are very likely a good gift. Fishing with Mepps spinner is fun because there is always something to do. The lures are constantly cast and retrieved. Casting near the shoreline and along the structure is the best way to consistently catch fish with spinners.
These spinners will also catch, crappie, northern pike, musky, walleye, salmon, and pickerel. Fishing with Mepps spinners for bass is one of my favorite types of fishing. Often times the bass will hit the lure almost immediately after hitting the water. For other top bass fishing lures check out the article shown below.
---
25. Trout Magnet Fishing Jigs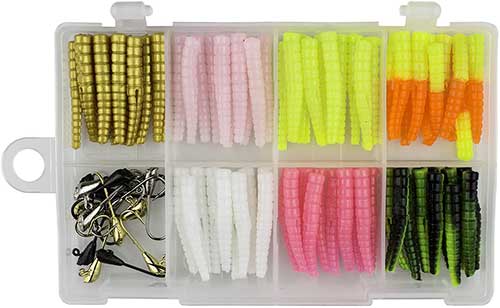 This Trout Magnet kit consists of 85 pieces use to make awesome trout jigs. There are 15 jig heads that are a mixture of black, gold, and silver. The 60 bodies are 1 inch in length. Colors include gold, pink, chartreuse, chartreuse-orange, black-green, light pink, and white. Using a gold jig with a gold body is a great color pattern for trout in streams regardless of the watercolor or lighting conditions. The jigs weigh 1/64 ounce.
This is a great gift for people that like to trout fish. Trout fishing can be difficult because a spinner can spook the trout after a few casts and using bait can be a boring waiting game. These jigs enter the water quietly and can be worked in deep holes and shallow water. The jigs can be suspended from a float but work best if it is twitched right in front of a trout. Good gifts to go along with trout lures would be a fishing hat, polarized sunglasses, and fishing hip waders.
---
26. Billy Baits Offshore Fishing Lure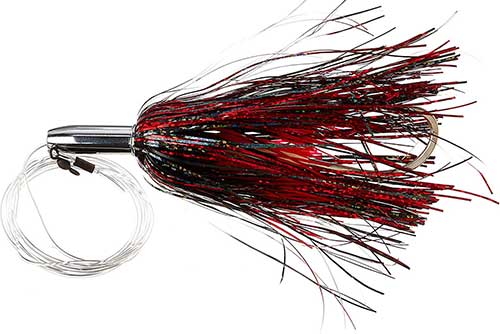 The Billy Baits Mini Turbo Slammer is one of the best offshore fishing lures. It weighs 5/8 ounces and is 5.5 inches in length. The lure has a chrome head with mylar skits that come in colors of red-black blue-silver, pink-white, and pink-blue. This lure comes rigged with a hook and leader.
If you know someone that fishes offshore this would make a great gift. It is awesome at catching tuna and great at catching other fish such as mahi-mahi, wahoo, barracuda, and mackerel. It is small for an offshore lure but catches all size fish from bonito to marlin. Just make sure the leader and hooks are sized appropriately for the type of fish being targeted.
There are other baits the look similar on the market but Billy Baits is the best. The skirt is properly secured into the head and the hook and crimp have a rubber section that protects the leader from teeth and properly spaces the hook at the end of the skirt. If you have never trolled with this lure I would highly recommend it. It is not uncommon for Billy Baits Mini Turbo Slammers to be on three out of four trolling rods when I fish offshore. Another great gift to go along with trolling lures would be a large conventional reel.
---
27. Garmin Fish Finder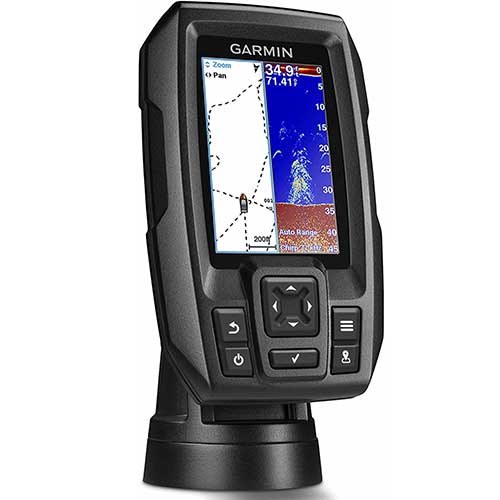 This Garmin Striker 4 is one of the most popular fish finders on the market. It has a chirp transducer and GPS navigation all for a very reasonable price. There is also a Striker 4 plus but the original striker 4 is better in my opinion.
Features include a 3.5 inch LCD display, IPX7 waterproof rating, and the chirp transducer. Options for the fish finder include a kayak mounting arm for the transducer, protective screen cover, universal mount, or a marine battery.
This fish finder can be used on bass boats, Jon boats, and even fishing kayaks. Having a fish finder is very important for knowing the depth, locating fish, and seeing the bottom structure. The built-in GPS is very nice when fishing at night or traveling on large lakes or the ocean.
Having a fish finder and navigation unit can be a big advantage and these are found on most boats today. Some boats have electronic displays that are integrated into radar, autopilot, sonar, and navigation. To learn more check out the best fish finder article.
---
28. Standard Horizon Handheld VHF Floating Marine Radio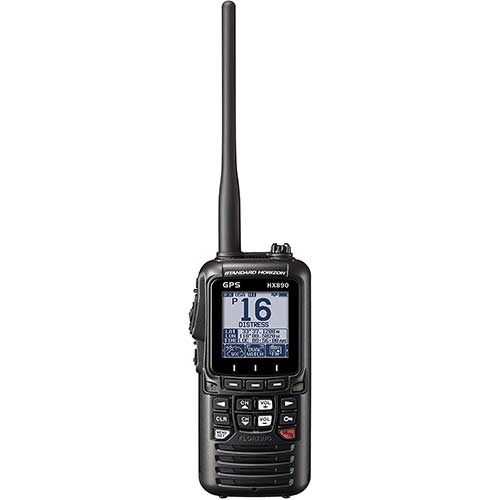 The Standard Horizon HX890 is a floating handheld marine radio. It has a submersible IPX8 waterproof rating. The battery lasts up to 11 hours and the radio weighs 10.94 ounces. It has a built-in GPS and can send a DSC distress in the event of an emergency.
All boats that are on large bodies of water should have a marine radio. These can be fixed mount radios or handheld radios. It is important to have one so that you are able to communicate with boats in the area. The coast guard or harbormaster may try and contact you and without a radio, you will not hear their call.
A radio is a very important way to call for help in the event of an emergency. It could be that your kayak flipped over and you are headed out to sea, or that the boat has a mechanical issue. It is great to have a way to communicate and not solely rely on a cell phone that does not float and might not have reception. If you know someone that frequently boats but does not have a radio this would make a great gift.
---
29. ACR PLB for Fishing Vessels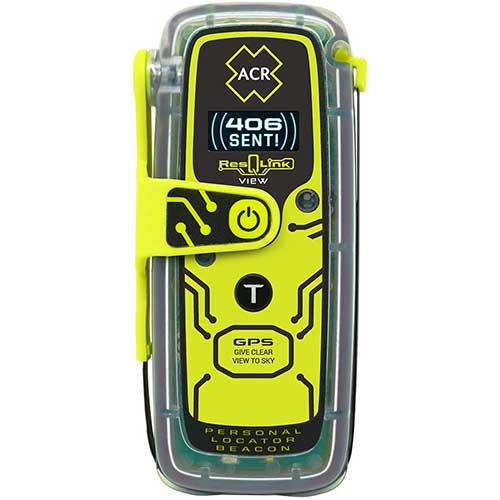 The ACR 425 view is a Personal Locator Beacon used to located people in the event of an emergency when fishing, boating, or hiking. The device serial number gets registered to an individual with NOAA for no cost. When the distress button is pressed it sends the device information with coordinates to government monitoring stations using satellites. The shelf life of the battery is 5 years and it has an operation life of 24 hours. This makes a great father's day gift for Dads that fish offshore as it could save his life.
There are many types of PLBs. This unit floats and is made by ACR which is a very reputable company when it comes to PLBs and EPIRBs. It weighs 5.22 ounces and can be worn on a life jacket, belt, or place in a pocket. When boating offshore alone this device could easily save someone's life. If someone falls off a moving boat with no one onboard it unlikely they will be able to get back to the boat. Without having an emergency beacon or radio on their person it can be difficult or impossible to contact help. For anyone that boats alone I would recommend wearing a life jacket and a PLB.
The video below talks about how to use a PLB and why it is important to have one. The only cost of the beacon is the unit itself and there is no monthly subscription cost. In an ideal world, a boat would have EPIRB, PLB, marine radio, cell phone, and Garmin inReach. This would offer many reliable ways to contact help in the event of an emergency.
---
30. Betts Old Salt Cast Net Fishing Gift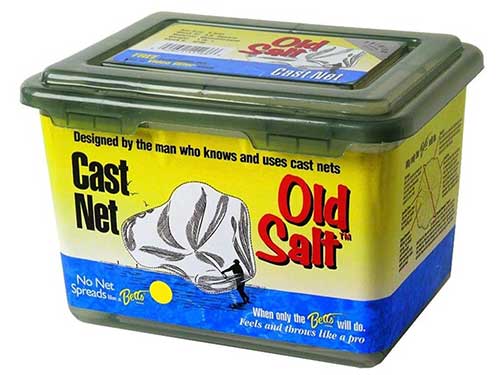 Best Old-Salt casts nests are average quality cast nets that work great for catching all kinds of baitfish. These nests come in a 4-foot radius or 6-foot radius which are good for kids and first-time cast net users. The nets are weighted with 1 pound of lead weights per radius foot. This allows the net to sink fast and trap the bait within the net. The 3/8 inch mesh size is the most common size and catches baits that are 2.5 inches and bigger. There are smaller and larger mesh sizes available depending on the type of cast net used.
A cast net is a great gift because it is fun to use and catches lots of fish. These fish can be caught for fun or uses as bait to catch bigger fish. Live bait often-times is the best bait to use especially when fishing in the ocean. A cast net does take some practice to throw properly. In the video below I show the best way to throw a cast net. Most cast nets are between 4-foot and 12-foot in radius. First-time cast net users should get a net that has a radius under 8-foot. A good size cast net for kids is 4-foot. This small net is still able to catch lots of fish when used in shallow water. Sometimes catching the bait is as much fun as the rest of the fishing trip.
---
31. Power Pro Braided Fishing Line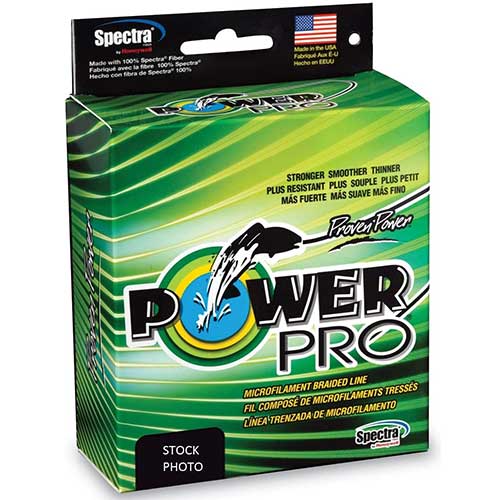 Power Pro Braided fishing line is very popular for both freshwater and saltwater anglers. For freshwater fish, 20 pounds braided line will catch most freshwater fish including bass, northern pike, pickerel, walleye, and catfish. A 20-pound braided diameter has the same thickness as a 6-pound monofilament. Since it is thin and lightweight it will cast far even when using lightweight lures.
When fishing in saltwater it is common to use a 50-pound line on spinning reels and an 80-pound line on conventional reels. This heavy line is static so it has minimal stretch. This makes it sensitive to feeling bites and allows for a quick hook set. When using a string braided line it is rare to have a fish break the line other than at the leader.
Color options for the Power Pro line include green, hi-visibility yellow, vermillion red, white, and yellow. The different color lines change the visibility of the line both above water for the angler and below water for the fish. White is my favorite solid color line to use. In general, I recommend using a metered braided line that allows anglers to know how much fishing line is let off the reel. The article below shows the best monofilament, fluorocarbon, and braided fishing lines.
---
32. Minn Kota Trolling Motor for Fishing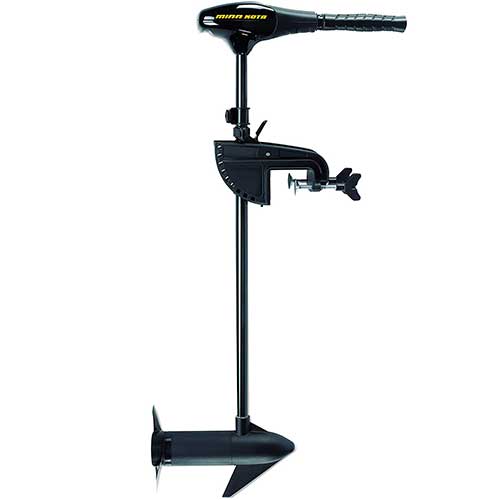 The Minn Kota Endura is a transom mount trolling motor. It comes in thrust levels of 30, 40, 50, and 55 pounds of thrust. All of these can be powered with a 12-volt deep cycle marine battery. This can be easily mounted to the back of most water vessels including, bass boats, Jon boats, inflatable boats, and even some kayaks.
The motor is controlled with a telescopic tiller. It has five forward speeds and 3 reverse speeds that are quickly changed by rotating the handle. The power prop provides efficient power and an ability to work in shallow vegetation.
A trolling motor makes a great gift for people that love to fish. Fishing with a trolling motor is quiet and relaxing. It also allows boats to travel shallow areas where the primary motor might hit the bottom and get damaged. Having a trolling motor makes fishing more enjoyable and productive. There are also bow mount trolling motor that can be controlled with foot pedals or remote control. To see a wide variety of top trolling motors check out the trolling motor article below.
---
33. Cannon Downrigger for Fishing Deep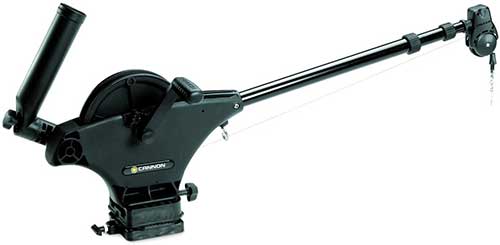 The Cannon Uni-Troll is a popular manual downrigger to use on recreations boats. Since it does not need electrical power the mounting bracket just needs to be installed on the boat and it is ready to fish. It has a telescoping arm to prevent the wire from rubbing against the boat or getting in the motor. A rocket launcher rod holder is great for holding the fishing rod. It is not uncommon to set two lines on one downrigger.
A downrigger is a great gift as it allows baits and lure to be trolled deep near the bottom where fish hang out. Common fish targeted with downriggers include salmon, lake trout, walleye, wahoo, and king mackerel. One or two downriggers are typically used at a time. An electric downrigger is nice when fishing in water deeper than 100 feet.
Scotty and Cannon are the two leading downrigger manufacturing companies. The video below shows how to set up and use downriggers. There are many size downrigger available for all size boats and depths of water up to 300 feet. Marking fish on a fish finder is important to know the best depth to target. Fishing with downriggers is a very productive way to catch fish that are deep in the water.
---
34. Speargun Fishing Gift

This AB Biller speargun comes in lengths of 24, 36, 42, 48, and 54 inches. It is a double band speargun that can be used with or without a reel. The tip is a double barb rock point style. This style of speargun can be used by freedivers and scuba divers.
A speargun makes a great gift for people that love to fish and snorkel. Fishing becomes much more engaging when you are swimming with the fish. It also opens an opportunity to experience the fishing environment in a new light. Spearfishing can be easy or very challenging depending on the location. Make sure to always use safe driving practices when spearfishing. Strong currents, large waves, and deep reefs all needed to be approached with caution. That being said spearfishing can be a rewarding experience and a good way to catch fish.
There are larger spearguns for use in blue water and pole spears for smaller fish and lionfish. The AB Biller is a great speargun for beginner and experienced divers. A 24-inch length is good for smaller fish at close distances and the 54 inch is good for catching larger fish in open water. To see a large variety of sizes and styles check out the article below.
---
35. Fishing Sticker and Fishing Decals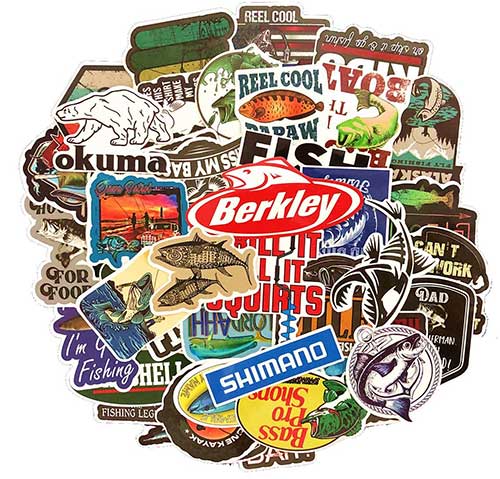 This Linzze fishing pack contains 50 stickers and decals. These include top brands like Shimano, Berkely, Bass Pro Shops, and Okuma. Each decal should be unique without duplicates. These are great to put on coolers, laptops, windows, video game consuls, tackleboxes, suitcases, lockers, water bottles, and vehicles. Each sticker is 2 inches to 4.5 inches in size.
The stickers are made with a PVC that is resistant to fading in the sun and is waterproof. These make a good gift for kids and adults. If the person likes fishing these are good decals and will likely help add some character to items. Adding stickers to common items also helps people know that it belongs to them. For other sticker and decal ideas check out the article below.
---
36. Surf Fishing Rod Holder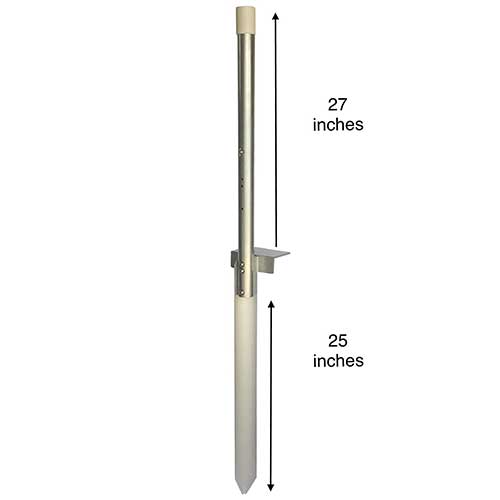 The Sand Spike is over 50 inches in length and is a sturdy surf fishing rod holder. It is made with aluminum, stainless steel, and has a plastic stop to not damage the rod or reel. This large holder is good for fishing in the surf since the rod is high and is less likely to get wet. The sand spike is between 17 and 25 inches long and holds larger fishing rods securely without falling over even when a fish is pulling on the line.
This makes a great gift for people that like to fish at the beach. Keeping the rod and reel off the sand helps make them last longer and prevents them from getting broken. The holder nice so bait can be set out and the angler can relax while waiting for a fish to bite. It is common to set three lines out at different distances into the surf when fishing at the beach. Without a good rod holder, only one line can be fished at a time. Using a bait-runner reel is also good to use with a surf fishing rod holder so the drag can be set light until the rod is talked out of the holder.
---
37. Fishing Rod Holder Storage Rack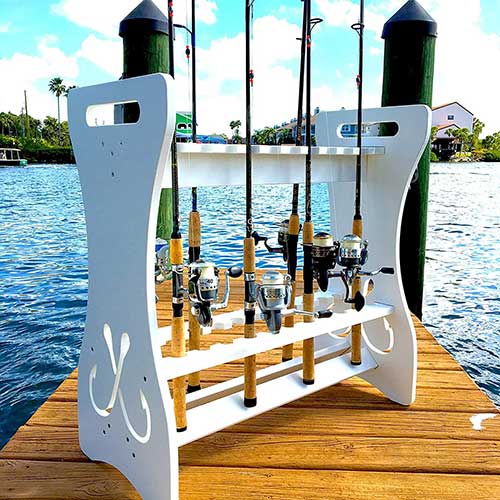 This rod holder can hold up to 24 fishing rods and reels. It can be used both indoors and outdoors. It is made with recycled PVC which is very durable, waterproof, and resistant to UV damage. The holder is made in America and comes with a 25-year limited warranty. All hardware is included that is needed to assemble the fishing rod rack. Reel Salty has a similar rack that has wheels so it can more easily moved around.
A rod rack makes a great gift for people that have fishing rods laying all over the house or garage. Having fishing gear properly stored prevents damage and makes it last longer. It is also easier to find fishing gear which saves time when getting ready for a fishing trip. Since this is rated to work outdoors is can also be placed by the water or on a dock to store rods that are being used during the day. There are many styles of rod holders and rod storage racks which are discussed in detail in the article below.
---
Frequently Asked Questions
What is the best fishing gift?
The best fishing gift depends on what a fisherman needs. All fishermen need basic gear like a rod, reel, pliers, tackle box, fishing line, and lures. Getting quality shirts, hats, and sunglasses are also very practical gifts. As a guy getting a fishing reel or knife is something that will get me excited. At times anglers need more expensive items like fish finders, coolers, and downriggers.
Getting a fishing gift related to safety is also a good idea. This could be a life jacket, marine radio, first aid kit, safety flares, fire extinguisher, PLB, or EPIRB. Another good gift is something that anglers might not think of such as a cast net for catching bait. If people really like stream fishing then waders, fishing vests, and portable tackle boxes are a good idea. Often times fishermen are not well organized so a tackle box, rod holders, or rod storage racks are also a good gift.
What should every fisherman have?
There is basic gear that every fisherman should have. The most obvious is a fishing rod, reel, line, and lure. Without these things, anglers can not go fishing. Also, fishermen need to have access to the water where fish live. This can be a stream, river, pond, lake, beach, or ocean. Depending on if fishing is done from the shore or the boat will make a big difference in the gear that is needed. Some gear like a hat, sunglasses, and pliers are needed in all fishing situations. It is also good to wear sunscreen, fishing shirts, and jackets to properly handle the environment.
When fishing on a boat life jackets, a fish finder, cooler, and marine radio are standard equipment. Rod holder and tackle boxes are also very important. Bringing food and drinks is also important on long fishing trips. When catching a fish it is also important to have a net or gaff to capture the fish when it gets close. If the fish is being released it is good to have a lip gripper to safely handle the fish and take pictures. If fish are being kept to eat then a fillet knife and ziplock bags are needed.
What should I get my fisherman boyfriend?
Women often think it is difficult to buy gifts for guys. In reality, it should be quite easy. Most fishing gear will get them excited. A fishing reel or a fillet knife are two simple choices that will likely be a hit. Also, he might have all the best fishing gear but skimp when it comes to other needed items like shirts, hats, sunglasses, or ways to organize his equipment. If his gear is all over the place then get him a gift that is really for you by getting him tackle boxes and rod storage racks. Also if you are worried about any safety-related items he might be missing that would be another great option. It is not uncommon for fishermen to overlook safety so lifejackets, first aid kits, radios, and PLBs really are great gifts.
What is a funny fishing gift? 
Most funny fishing gear includes shirts, mugs, pictures, and wall hangings with funny fishing sayings. There are also lots of funny fishing decals and license plates. These say things like no bananas on a boat or follow the captain's rules. Other funny fishing gifts include tiny fishing rods and oversized lures. Challenging someone to a fishing competition where they have a clear disadvantage can also be funny.
What is a good fishing gift for her? 
Some women like to fish as much as the guys. All the same equipment is needed for her and it is nice to have your own things. My number one recommendation would be to get them comfortable fishing gear so they enjoy being on the water. This can be hats, sunglasses, shirts, and footwear. Another good thing to get is her own rod a reel. When fishing with friends and family it is common for everyone to have their own gear. The same should be true when fishing with your significant other. This way each person can get the gear ready and have what is needed when it comes time to fish.
What is a creative gift for fishermen? 
Many people think that fishermen have everything they need so some corny paperweight is the best gift. I would say this is not the case. Fishing is an expensive hobby and there is always better gear and more gear that is needed. Try and select something that is practical that will make the fishing experience more enjoyable. This could be comfortable fishing clothing, cameras, or a replacement for old equipment currently being used. If you are unsure what they need just ask them. It may ruin the surprise but it is better to get something you need than to be surprised with a gift that you don't plan to use.
Also getting them a gift that will allow you to spend time together is another idea. Booking a vacation with a fishing charter is a good option. Getting some kayaks to use on the weekends is another way to encourage more time to be spent outdoors. Maybe there is a lake with campsites nearby and getting a tent will allow for a camping and fishing weekend.
What do I need for a bass fisherman?
Bass fishing is one of the most popular sports in the world. The first gift that comes to mind for bass fishermen is a reel. It is common to use both spinning reels and baitcasting reels to catch bass. If you know someone that has never used a baitcasting reel then that would be a great gift. Bass boats almost always have trolling motors that allow shorelines and shallow waters to be quickly, quietly, and easily navigated. When fishing in tournaments the bass often needs to be measured and a golden ruler is the best way to get an official measurement.
When bass fishing the weight of the fish is often important. Anglers catch a big fish but knowing the weight adds credibility to the catch. When most people say they caught a 5-pound bass it is probably around 3 pounds. A 3-pound bass is a great fish but it is pretty normal that average anglers overestimate the weight of the fish. Getting a scale with a lip gripper is the safest way to measure the weight of a fish without having them in a bag with water.
Another great gift for fishermen is bass lures. There are many techniques and lure types to catch bass depending on the conditions. It is also fun to catch bass on different lures just for the challenge. Buy some lures for them and say try these out and see if they work. Even if they don't it is still fun to try new lures. This site has the best bass fishing lures page with many top bass lures to choose from.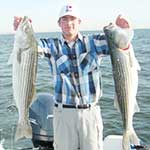 Captain Cody has worked on charter fishing boats in the Florida Keys, Virgin Islands, and Alaska. Growing up in Pennsylvania Cody has also done extensive freshwater fishing including bass fishing tournaments. Cody strives to provide detailed information about the best fishing gear and tactics to help both novice and experienced anglers have a more productive and enjoyable time on the water. Cody also has a background in aerospace engineering and neuroscience but really only takes pride in being good at one thing and that is fishing!