There are many different types of tuna but they can all be caught with similar fishing techniques. Trolling, chunking, jigging, and using live bait are the four ways tuna are caught by sport fisherman. In the Atlantic ocean tuna species include yellowfin tuna, Atlantic bluefin tuna, blackfin tuna, bigeye tuna, skipjack tuna, and little tunny. In the pacific ocean, there are pacific bluefin tuna, yellowfin tuna, bigeye tuna, albacore tuna, black skipjack tuna, pacific bonito, and frigate mackerel.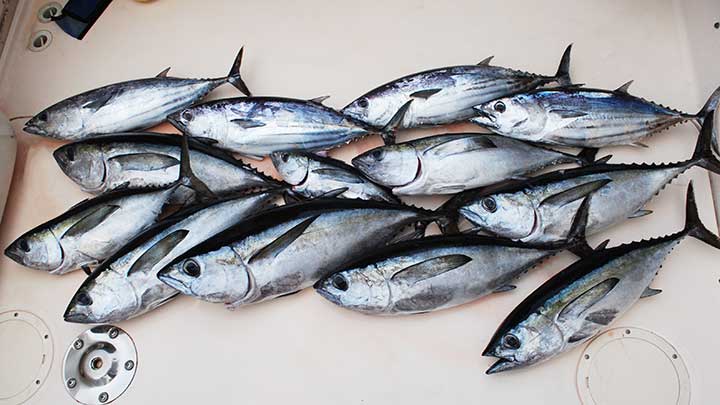 Tuna are a schooling fish that often feed on baitfish, shrimp, and squid. Some species of tuna migrate large distances and a highly migratory species permit is needed. All bluefin tuna catches most also submit a catch report online within 24 hours.
Blackfin tuna can be caught in Florida year-round and is one of the most consistent offshore fish species to catch. The size of fish can vary from 1 pound up to 40 pounds. Blackfin tuna and Mahi-mahi are my two favorite fish to eat. Tuna can be made into sashimi, sushi or tuna steaks that can be seared or cooked through. I am in the minority of people that like to eat tuna steaks that are cooked through.
When fishing for tuna it is also common to catch sailfish, marlin, mahi-mahi, and wahoo. This makes fishing for tuna is very exciting. When the fishing pole gets bit you never know for sure what type of fish is on the line. Tuna are typically caught from the edge of the reef in about 100 feet of water all the way out to 1000+ feet of water in the Gulf Stream.
Tuna are often concentrated around large schools of bait. If the fish finder is marking bait, fish are breaking on the surface or birds are diving offshore there is a good chance tuna will be around! The general strategy of tuna fishing is to head for ledges, canyons, or humps and look for activity along the way.
If you are just starting out with offshore fishing it is important to get good information about the basic fishing strategies. Determining the best lure, baits, troll speeds, and locations is all-important to get right for a successful fishing trip. Hopefully, this article helps anyone that wants to catch their first tuna or catch lots of tuna do just that.
Here Are the Best Tuna Fishing Lures
---
1. Billy Bait Tuna Trolling Lure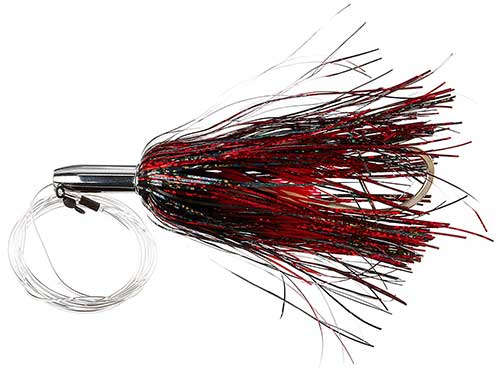 Buy from Amazon
The Billy Baits Mini Turbo Slammer is 5-½ inches long and weighs 5/8 ounce. Color options include red-black, pearl-pink shimmer, pink-silver, and purple-blue mylar. These come rigged on a 6-foot 100-pound grand slam mono leader with a 7/0 Mustad hook. The bullet head is nickel-plated with a high flash mylar skirt. The mini turbo slammer works great without bait and can be trolled from 2-20 knots.
This red and black Billy Bait is the best lure I know of for blackfin tuna, skipjack tuna, and false albacore tuna! Tuna are often not super picky on lure choice but if only one pole gets a bite it is usually the black and red Billy Bait. Usually, when trolling over a school of tuna all the poles on the boat get bites within a few seconds. When targeting tuna this is a must-have lure. The mylar skirt with this color combo seems to be irresistible to tuna.
Tuna are often feeding on small bait and this lure works when larger baits are not catching fish. If the billy bait is not catching fish try speeding up, putting the lure further back, and check the lure for weeds. Typical troll speeds for tuna are 7-10 miles per hour. Mahi-mahi will hit bait about 10 feet behind the boat but tuna typically do not.  I like to run the baits 100-500 feet behind the boat.
This lure will catch tuna under about 25 pounds how it comes rigged. If it is being used to catch large tuna with high drag I would recommend using 2 extra strong hooks. Often times due to predator fish like sharks being around the tuna need to be reeled in quickly. Some days my strategy is basically to winch the tuna in to prevent it from being eaten by sharks. I have seen bigger tuna, marlin, and other large fish eat the tuna that was being reeled in. The standard Mustad 3407 hook too often straightens out when catching these larger fish. Any hook can straighten so make sure the drag is properly set with a pull-scale on all the conventional reels.
In the video below I show how to catch blackfin tuna while trolling.
---
2. Boone Turbo Hammer Tuna Lure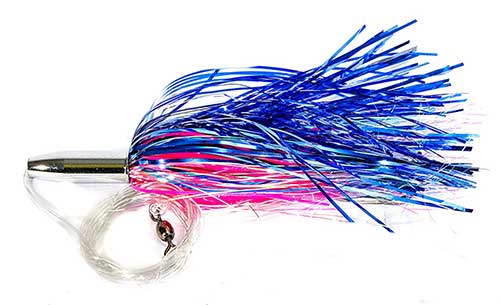 Buy from Amazon
Boone Turbo Hammer is 5-1/2 inches and weighs 5/8 of an ounce.  The pink-blue is a great color for tuna. Other colors include pearl-pink, blue-silver, red-black, and pearl-chartreuse. This lure is very similar to the Billy Bait lure but is typically found at a lower cost. Billy Baits have a ribber sleeve over the eye of the hook to run straight and protect the line from fish teeth. Both work well to catch tuna but Billy Baits are my favorite. These are typically fished without bait and are very popular offshore lures to use when fishing in Florida. Bass Pros Shops Offshore Angler series has a very similar lure in gold-green and perl-blue.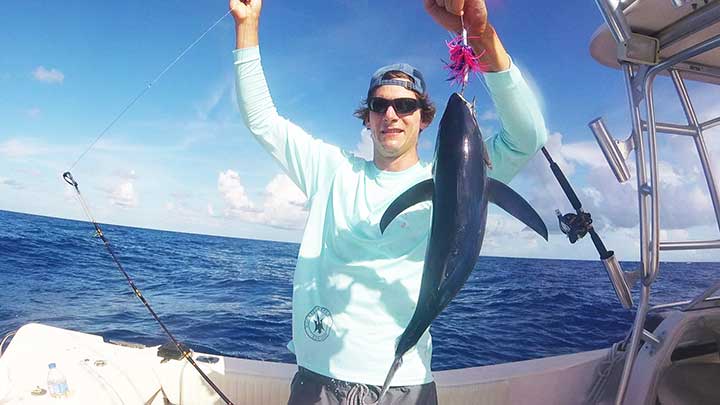 In the picture above I am holding a blackfin tuna that was caught on a pink and blue Billy Bait. This fish was caught trolling in the Florida Keys.
---
3. Tuna Bullet Daisy Chain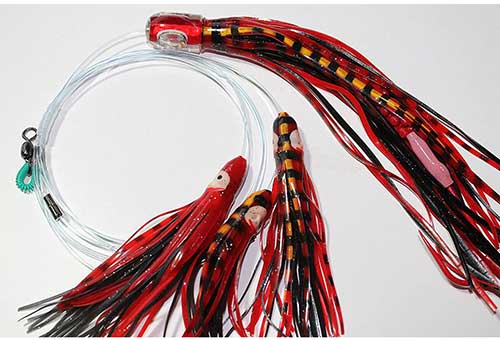 Buy from Amazon
This tuna bullet daisy chain has three 4.5-inch teasers with the main lure being about 7-inches long. A 9-foot 150-pound test leader line is used with an 8/0 Mustad hook. Inline beads are used to space the hook at the end of the skirt. A stiff hooks protector is used to cover the eye of the hook and the crimp. This same lure also comes in blue-pink and yellow-orange green. However, the black and red is my favorite color for tuna. Bass Pros Shops Jaw Lures Daisy chain is another basic squid daisy chain that will work well for tuna.
At least one daisy chain should always be used when trolling offshore. Most often it is set in the shotgun position which is far out and straight out the back. Daisy chains can also be custom made with egg weights or beads in the squid teasers. Lighter daisy chains with beads are less likely to pick up weeds but heaver daisy chains are more visible to the fish underwater. For this reason, it is good to have multiple daisy chains rigs ready to go for different conditions.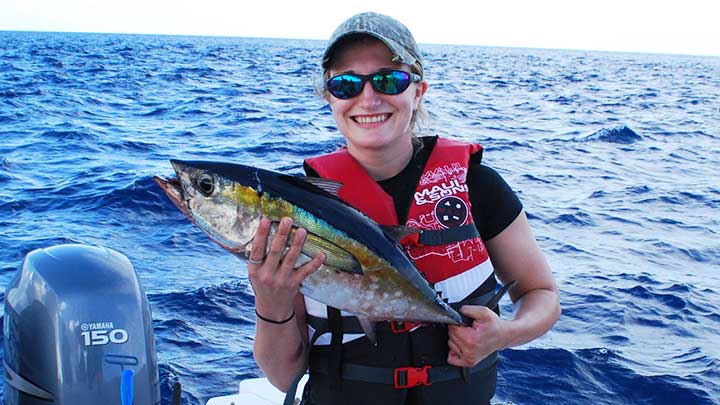 In the picture, Kristen is holding a blackfin tuna. This was caught while trolling in the Florida Keys.
---
4. Stubby Bubbler Tuna Lure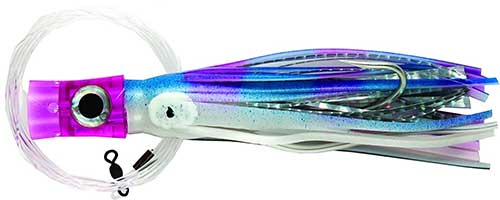 Buy from Amazon
This C and H stubby bubbler comes in pink or purple, blue, white and has silver mylar within the skirt. The lure is 5 1/2-inches in length. Stubby bubblers come in a variety of other colors including, pink, blue-pink silver mylar, white-pink mylar, and black-red pear mylar.
Stubby bubblers are a versatile offshore trolling bait that will catch marlin, sailfish, mahi-mahi, and tuna. The only difference when targeting tuna is to put the lure a little further back, 100-300 feet is a good distance. When the lure is further back it will still create awesome bubble trails. This is a small bait that works well without strip bait or ballyhoo.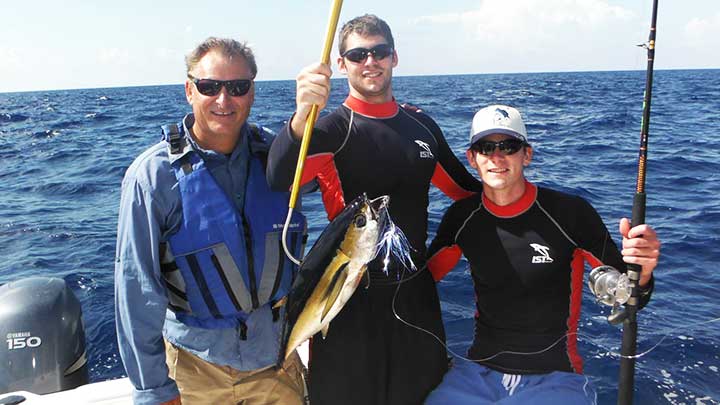 In the picture, my day brother and I are fishing in the Florida keys. The blackfin tuna was caught on a blue and white Billy Bait while trolling.
---
5. Boone Gatlin-Jet Tuna Lure


Buy from Amazon
The Boone Gatlin-jet is purple and black, weighs 2-3/4 ounces and is 7 inches long. The metal head has 17 holes that produce great smoke trails underwater. This lure does come rigged. Suggested trolls speeds range from 4-12 knots. For tuna, 8-10 knot troll speeds are typically best.
This is my favorite lure to run with strip baits. It runs a little deeper than most trolling baits and scent from the lure can help get strikes. A strip bait is a 3 inch by 3/4 inch strip of Bonita fillet that is about 1/4 of an inch thick. The skin of the fillet is left on and each strip should be cut into a slight triangle with the tip toward the back of the lure. The strip should be placed on the bottom of the hook with the skin facing down. Copper rigging wire is then used to wrap the strip bait onto the hook. The strips should be salted, brined, and put in the cooler before the trip. It is also nice to have a few lures rigged up in the cooler before the trip as well.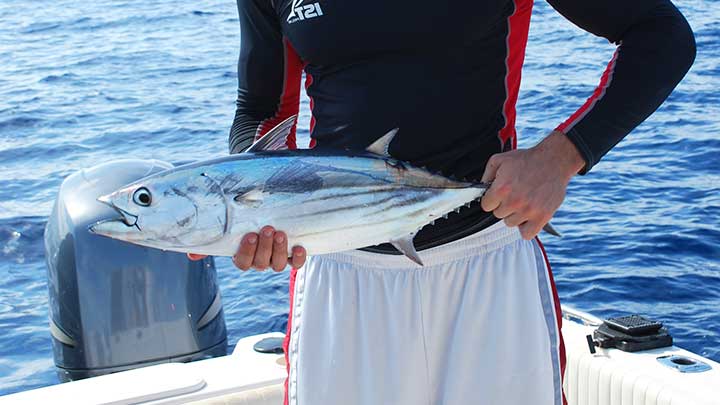 In the picture, my brother Kevin is holding a skipjack tuna. This was caught while trolling in the Florida Keys.
---
6. Little Stubby Tuna Trolling Lure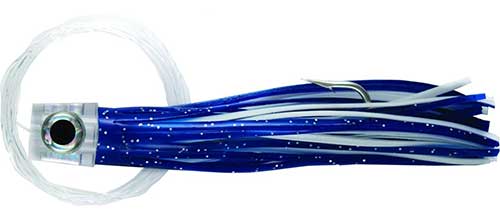 Buy from Amazon
The C and H Little Stubby is 5-1/2 inches and weighs 2 ounces. Color options include blue-white or pink-white. The little stubby is a simple trolling skirt bait with a flat face. It is common for tuna lures to have a bullet head front. I started using these thinking they would be good for mahi-mahi and found out that they catch lots of tuna as well. These can be used with ballyhoo or strip baits but we typically just fish them without bait. This is a small and simple lure but it works.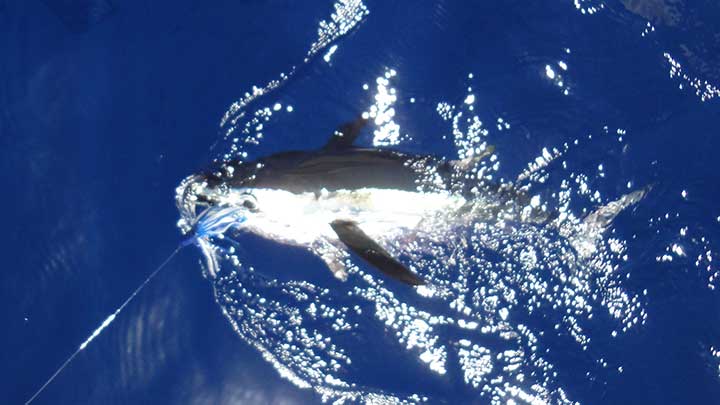 In the picture is a blackfin tuna that was caught on a blue and white daisy chain.
---
7. Green Machine Tuna Lures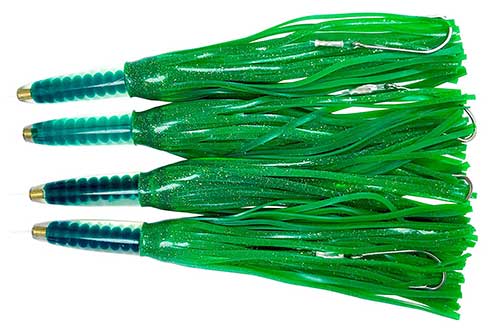 Buy from Amazon
Green machine tuna lures come in 9-inch and 12-inch lengths. This set includes four green machine lures that are 12 inches long. These and rigged with a 200-pound monofilament leader line with number 8 stainless steel hooks. The heads are made with premium-grade vinyl and clear resin.
The green machine has been known as one of the best offshore fishing lures since the 1970s. It works well to catch bigeye tuna, bluefin tuna, and yellowfin tuna. The lure is not super heavy so it is typically trolled at less than 10 knots. This lure is also frequently found on spreader bars and daisy chains with a bird.
Green Machine Daisy Chain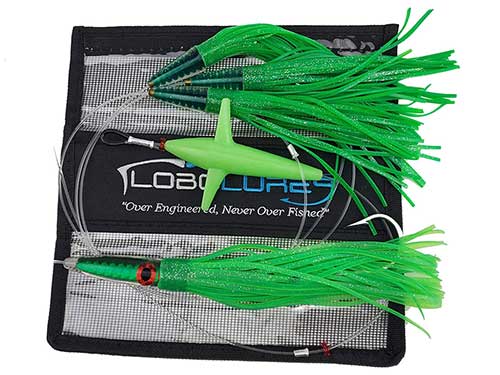 Buy from Amazon
This green machine daisy chain comes with three 8-inch double skirted green machine teasers. The main lure is a 13-inch weighted tuna bullet with a 10/0 stainless steel hook. A 5-inch glow bird is also included and the rig is made with a 10-foot 400-pound leader line.
This is a good lure to use for billfish, mahi-mahi, and tuna. These bird daisy chains are typically run mid-way back on the outriggers or way back on the shotgun. This is a well-made rig by Lobo lures that can handle big fish. A mesh storage bag is also included with is important to keep the rig dry and organized.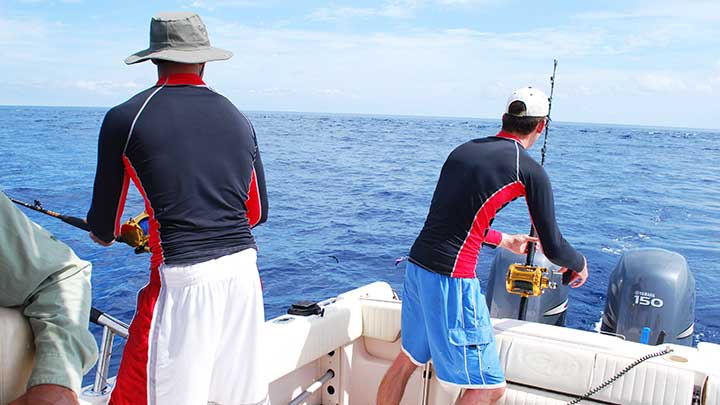 ---
8. Tuna Spreader Bars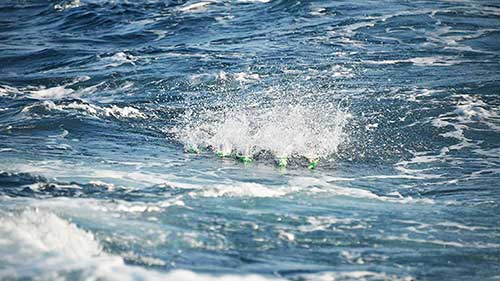 The picture above shows a Lobo Lures 5 bird spreader bar. This creates lots of surface action to get the attention of fish. It is not uncommon for people that troll for large tuna to use 2-4 spreader bars. Some days you only get one or two good chances at surface feeding tuna and getting their intention is important. These spreader bars imitate a school of baitfish or squid that are being chased by game fish. It is a beautiful thing when these lures are set-up and working in the spread.
Spreader bars can be used strictly as a teaser to bring the fish close to the other baits in the area. The spreader bars do come with a hook in the last squid bait so it does act a giant lure as well. It may seem bad to have to reel in the spreader bar and the fish. However, these are placed on a large 50 class plus reel and it is not much extra work. If the fish is pulling away it has to fight the drag of the lure as well. That being said I would not try and hook a large fish on a 5 bird spreader bar. A one bird spreader bar with some extra squids is typically no problem.
Lobo Lures Skipjack Big Game Spreader Bar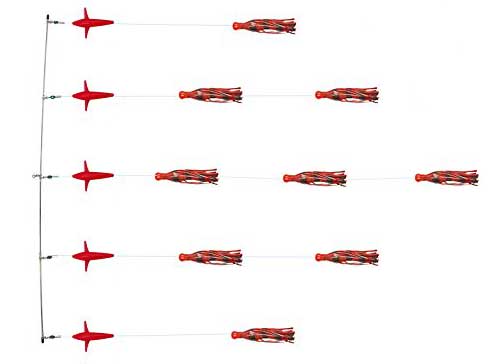 Buy from Amazon
This 36-inch spreader bar comes with 5-birds that are 5-inches or without birds. Color options include black-red, purple-pink, and fluorescent green. There are 9 skip-jack squids which are 7-inches in length. Outer lines are rigged with a 200-pound line and the mainline is rigged with a 400-pound line.  The teaser bait which is the last skip-jack has a 12/0 Mustad hook. A mesh storage bag is also included. This particular lure is most popular without the birds.
The video below shows Chris from Reaper Fishing going to the Wilmington Canyon. Their boat left from Atlantic City NewJersy and made the 68-mile run. Trolling at the canyon with Sterling Tackle spreader bars the group caught lots of yellowfin tuna.
Sterling Tackle Spreader Bar Yellowfin Tuna Lure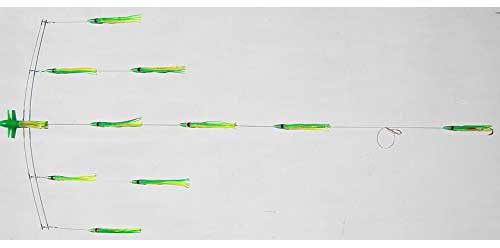 Buy from Amazon
Sterling Tackle zucchini machines spreader bar has a bid hub for straight tracking. There are 9 zucchini machine squid teasers that are 9-inches in length. A stinger bait is also included which has a 9/0 stainless steel 5-extra strong big game hook. The wing lines are made with a 130-pound line and the mainline is a 200-pound line. This spreader bar has a large profile that creates lots of commotion at the surface and can still be easily reeled in when catching large fish. A mesh lure bag is also included.
In the video below Capt. Mike from Hogy lures demonstrates how to use the Flexi spreader bar to catch bluefin tuna.  He was fishing the claw 15 miles south of Martha's Vineyard. Two bluefin tuna were caught can release.
Hogy Standard Issue Tackle Flexi Tuna Spreader Bar

The Standard Issue Tackle spreader bar is the one shown in the video above.  There are 16 UV squid teaser baits that are 6 inches in length. A replaceable 9-inch stinger bait with a 7/0 VMC tuna hook is also included. Premium 130 pound monofilament leader lines are used for the lines of the rig. The 40-inch bar is made with stainless spring steel. This is said to be more flexible than traditional titanium bars allowing the outside baits to pulse.
Hogy Bird Tuna Trolling Spreader Bar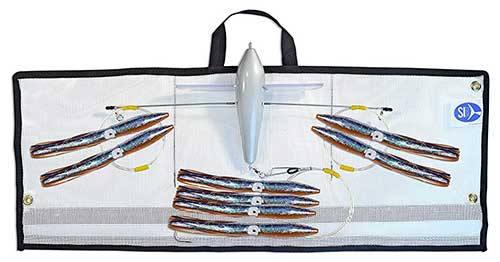 The 18-inch splash bird has 7 machine teasers that are 9-inches in length. A stinger bait with a hook is also included. The splash bird is made out of a lightweight foam.  This is a great teaser to get for people with lighter tackle. This could easily be run with a 30-class fishing reel.
---
9. Live Bait and Tuna Chunking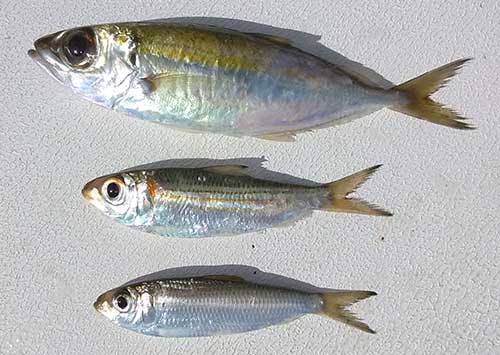 In the picture is a goggle-eye, scaled sardine, and pilchard. These all work well to catch tuna. Other common baits include mackerel, herring, bluefish, blue runners, bonito, and squid. Live bait can be caught with sabiki rigs or with a cast net. Check out our cast nets page to learn more about catching live bait.
Live bait can be hooked through the nose with a small circle hook or in the back near the tail.  The fish can also be bridled onto the hook somewhere between the eye and the dorsal fin.
When chunking for tuna it is best to anchor or drift slowly. Any baitfish will work but most often flats of butterfish are used. The fish need to be thawed and cut into 1-2 inch baits on the way to the fishing grounds. Chunking is a pretty simple concept and chunks are consistently but sparingly thrown overboard. If tuna swim by the chunk can help keep them in the area looking for more food. Several baits are set from the bottom to the surface. Chunking sessions typically last for 4-8 hours.
Tuna Circle Hooks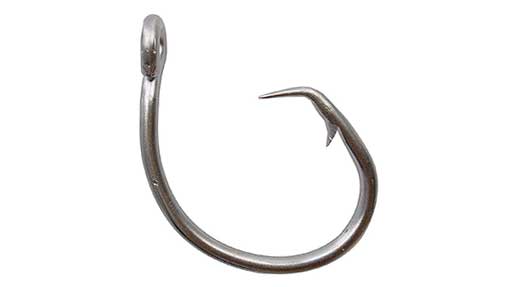 Buy from Amazon
A circle hook is a good idea when fishing for tuna. The hook size will vary based on the bait being used. When fishing for an average 10-50 pound tuna an 8/0 circle hook is a good size. I use the size 16/0 when fishing for large sharks and halibut. When fishing with small live bait like pilchards a thinner hook would typically be used.
Tuna Sinker Weights


Buy from Amazon
These lead bullet weights come in sizes from 1 ounce to 20 ounces. The number of weights that come in each pack varies based on the size.
There are the perfect weights to use to sink tuna baits deep. A rubber band is placed through the hole of the weight and then through the hole in the rubber band. The band is attached to the fishing line by wrapping the rubber band around the line and them placing the weight trough the hole of the rubber band.
When sending tuba baits deep first let out about 50 feet of line. Next, attach the weight to the line with the rubber band. Weights from 6-ounce to 16-ounces are used to stagger baits at different depths. Deep lines are set near the boat and shallower lines can be set with balloon floats away from the boat. If chunking, it is important to also flatline a bait that sinks naturally with the chum with no added weight.
Tuna can be leader shy so a fluorocarbon leader line should be used.  A 50-100 pound leader line is generally used that is at least 10 feet in length.  When trolling 100-200 leaders is a good idea but when pitching live bait light lines allows for the baitfish to swim more freely and be less visible to the fish.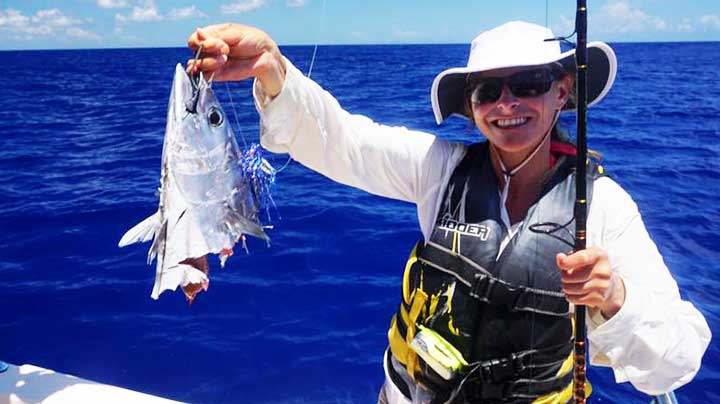 In the picture, my sister Amy has skipjack tuna that caught with a purple-blue and silver Billy Bait. The tuna was bitten in half by a shark while reeling it in. Also, note that she is wearing a personal locator beacon on the life jacket. If you are fishing by yourself it is a good idea to always be wearing a rescue beacon. It is also smart to have a PLB or EPIRB on the boat anytime going offshore.
---
10. Shimano Butterfly Flat-Fall Tuna Jigs


Buy from Amazon
Shimano jigs come in sizes ranging from 2-3/4 ounces to 11.5 ounces. Color options include black anchovy, black-silver, blue sardine, brown-silver, chartreuse-silver, green-silver, orang-gold, phantom squid, pink-blue, pink-silver, purple-silver, sand eel, super glow, zebra glow, and white-silver.
Butterfly jigs work well when fishing for deep tuna on the humps or canyons. Humps are underground mountains that for example go from 1000 feet up to 500 feet and then back to 1000 feet. Jigs also work well when fishing structure and wrecks. The Gulf Stream flows across the underwater mountain or ledges which creates upwelling currents that bring nutrient-rich plankton and baitfish to the surface. The water turbulence makes bait vulnerable to predator fish like tuna, mahi-mahi, amberjack, sailfish, and marlin. Sharks are frequently lurking in these areas which can make landing hard fighting fish difficult.
The humps in the Florida Keys include the Key Largo Hump, Islamorada Hump, 409 Hump, Marathon Hump, and the Carlson's Two Humps. There are many canyons stretched along the entire east coast of the United States. Canyons are 55-75 miles offshore so traveling to these locations takes time and requires decent weather conditions. The canyons are where the ocean floor quickly drops from around 500 feet to over 1500 feet in a short distance.  This is where the tuna and other pelagic fish are often concentrated.
When deep dropping vertical jigs for tuna a 4.5-ounce lure is considered light and an 8-ounce lure is considered heavy. These jigs are used with heavy-duty spinning reels or conventional jigging reels. Initially, the bail on the reel is open and the lure falls freely. If the jig stops that means a fish is on the line so real any slack up as quickly as possible and fight the fish. After a 60 second count, the 4.5-ounce jig will be at about 100 feet and the 8-ounce jig will be at about 200 feet.
There is a typically strong current and wind moving the boat so engine power is often needed to slow the drift. After the jig reaches the desired depth pump the rod with fast pulls upward followed by dropping the rod tip and reeling. During the reel down the lure will pause briefly which gives the fish time to strike. This can be a great way to catch fish on high traffic days at the humps when heavy trolling pressure has pushed the tuna deeper. Sometimes the bigger fish are at deeper depths so it is worth jigging to see what is deeper in the water column.
Owner assist hooks are good to use with these jigs. Also, wire assist hooks are good when wahoo might be in the area. There should be two assist hooks added to each jig's split ring. The fishing line is tied to the split ring between the two hooks. A hook could be added to the rear of the jig but this is not typically done.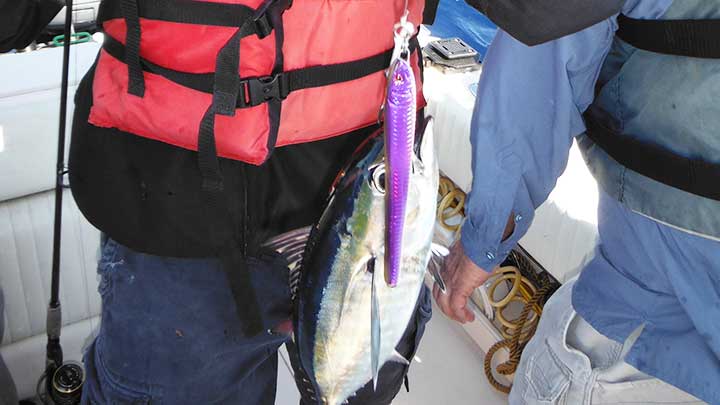 The Shimano jig above is a 200-gram jig. This large jig even works for catching small tuna. The two assist hooks are in the front of the jig and fish will typically bite the jig head first. This is why the hooks are tied to the front of the jig.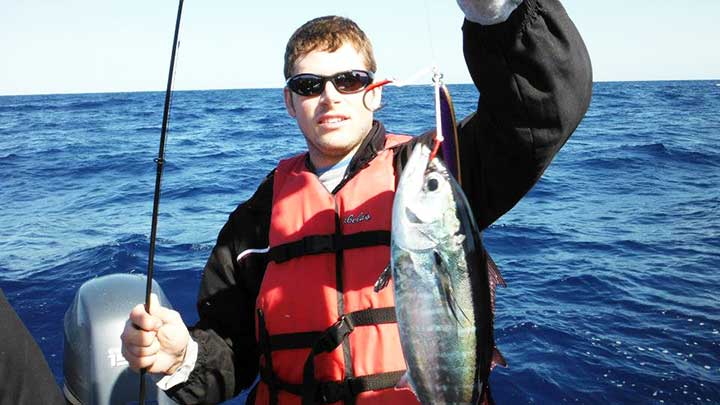 The assist hooks are tied on with a thick braided line. Several times we have we have had these jigs cut from fish with teeth. Wires assist hooks could be used if there are wahoo or sharks in the area.
---
11. Fast Fall Butterfly Tuna Jigs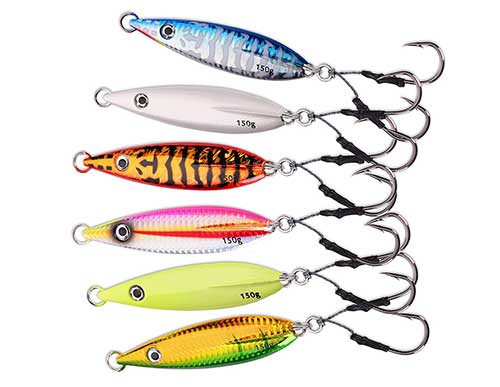 Buy from Amazon
Calissa fast fall jigs come in sizes of 80 grams(2-3/4 ounces), 150 grams(5.29 ounces), and 250 grams(8.75 ounces). Color from top to bottom are blue mackerel, white squid, red crab, pink smelt, glow in the dark, and green sardine. The jigs are painted with 7 layers of gorilla paint and have sealed finish to prevent flaking and chipping. Two 3/0 heat forged carbon steel hooks on assist cords are included with each jig. Bass Pro Shops Offshore Angler series has a very simialr style fast fall vertical jig.
These come as individual jigs or as a package. Blue mackerel and glow in the dark are both good colors for tuna. The 80-gram jig has a body length of 3-5/8 inches, the 150-gram jigs have a body length of 4-4/2 inches. Shimano has options for longer or shorter jigs. The benefit of these jigs is they are very similar and are typically a lower cost.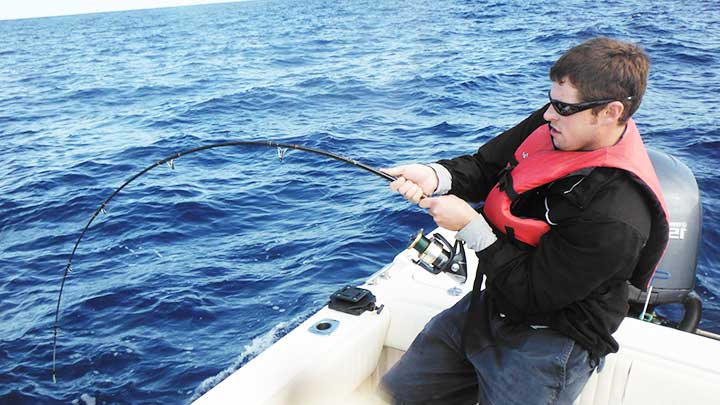 In the picture, my brother Mark is fighting a fish that was caught on a butterfly jig. While reeling the fish up it got eaten by another fish that cut-off one of the assist hooks. This was very likely from a shark. Note the short fishing rod and large spinning reel that is used for vertical jigging. A stiff rod and 80-100 pound braided line is typically used.
---
12. Sand Eel Tuna Jigs
Canal Sandeel Green Mackerel Tuna Jig


Buy from Amazon
This Canal Sandeel has a green mackerel color pattern. The jig weighs 5.25 ounces and is 8-inches in length. Included is the painted lead jig head and three soft plastic swim tails. Spring action holders keep the rubber body on the jig without superglue. The 9/0 Mustad hooks on this jig are stronger than hooks that come on smaller swim jigs. That being said don't use super high drag or the hook can bend.
Ronz Lures Tuna Jig


Buy from Amazon
This Ronz green glow jig weighs 4-ounces and is 10 inches in length. Other tail color options include olive metallic, silver metallic, white pearl, pink fluorescent, and black pearl. A power swivel and eyes built into the lead jig head.
This is a medium heavy duty class jig with ultra-sharp 11/0 owner 3 extra strong hooks. The jig is recommended for tuna and other fish up to 125 pounds. Ronz also makes heavy-duty class jig with a smaller 4 extra strong hook. These bodies are similar to slug-go baits which are popular striped bass lures and Hogy swim-baits which are popular tarpon lures. This is a good bait because it can be easily jigged to about 200 feet. The jig can also be trolled and will stay beneath the surface where it will be more visible than surface baits.
Goture Sand Eel Jigs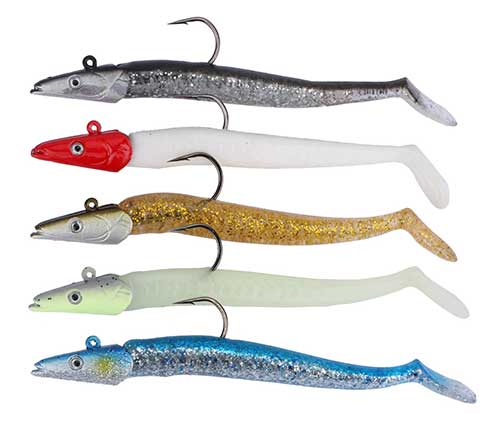 Buy from Amazon
The Goture jigs are 4-inches in length and weigh .77 ounces. Color options include black-silver glitter, red-white, gold-glitter, double glow, and blue-silver glitter. Size 2/0 black nickel hooks are uses. PVC bodies have a swim tail and the head has built-in 3D eyes.
These lightweight jigs work well at catching fish in the top 100 feet of water.  They are not a heavy-duty but can be used to catch smaller blackfin tuna, skipjack, and bonito.
---
13. Squid Tuna Bait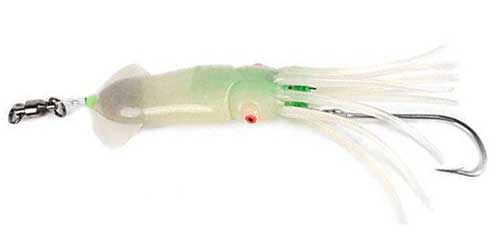 Buy from Amazon
Dr. Fish Trolling Squid has a built-in LED light that lasts 300 hours. The lure is 6-inches in length and weighs 2.47 ounces. Two lures come per pack with color options of white, blue, red and green. The led light is water activated and the skin also glows in the dark. Bulbs in the head and skirt provide a dim light and flash like a strobe light.
A lead egg sinker is in the front of the squid bait. Braided steel wire is used to connect the 6/0 hook to the bait. The line connection is a 150-pound test ball bearing swivel. Most people know that swordfish are attracted to lights. Tuna can also be caught with lights at night but they are not required. This lure can be trolled in low light conditions or dropped deep with extra weight when drifting or on anchor. Bass Pro Shops offers a B2 squid that is heavier but does not have an LED light.
Fresh Squid Tuna Bait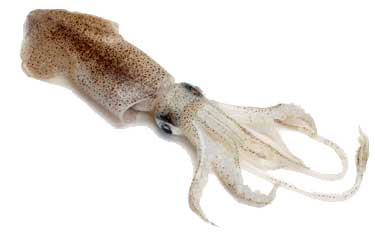 When drifting this lure adding fresh squid is a good idea. Squid is also a good tuna bait in general. When fishing at night tuna has a strong scent to attract fish and encourage them to bite.
Most of the time when fishing at night large spreader bar lights are shined into the water. This attracts plankton and baitfish which then attracts the larger predator fish like tuna.
---
14. Naked Ballyhoo Tuna Trolling Bait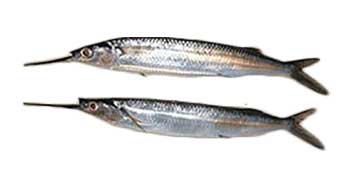 Trolling ballyhoo is a good way to catch tuna. Artificial baits are so good that some charter operations no longer use ballyhoo. However, most charter operations still run one or two lines with naked or skirted ballyhoo.
Ballyhoo baits give a natural appearance and add scent to the lures. The disadvantage of using ballyhoo is the troll speeds should not exceed 8 knots. This makes it difficult to speed up to chase bird and fish activity.
Also, the bellies of the ballyhoo can become soft and get washed out. When this happens the lure looks terrible and will not catch fish.  That being said if you are coming up on fish activity getting fresh ballyhoo baits in the trolling spread is a good idea.
Rigging Wire for Ballyhoo Rigs


Buy from Amazon
This is 14-inch copper rigging wires. It comes with 50 copper wire strands in a clear plastic tube with red caps. Rigging wire is the most common way to secure ballyhoo to the hook. The wire is wrapped around the eye of the hook and then around the front of the ballyhoo. There are many YouTube videos on how to rig a ballyhoo.
An easier way to rig ballyhoo is with ballyhoo bait springs. The hook is placed through a gill and out the bottom of the bait like normal. Rather than using wire, the bait spring is rotated onto the front of the ballyhoo after the beak is broken off.
Mustad 2-Extra Strong Tuna Fishing Hook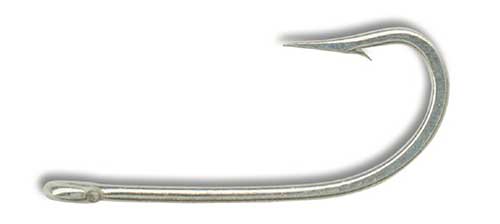 Buy from Amazon
Mustad 2407 size 8/0 hooks are the standard hook used to rig ballyhoo. I like using the 2 extra strong versions of the hook. Over 30 pounds of drag on the standard hook can cause it to straighten. Even the 2 extra-strong versions can straighten so only use high drag in desperate situations.
The video below shows a video by National Geographic of bluefin tuna feeding on a bait ball.
---
15. Ilander-Jr Tuna Fishing Lure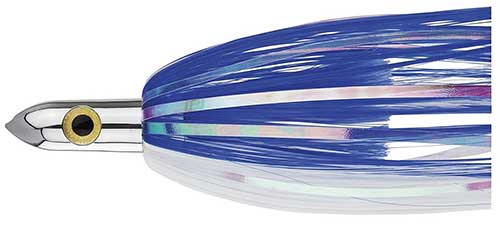 Buy from Amazon
The Iland Ilander Jr is 6-3/4 inches in length, weighs 1-3/4 ounces and has a bullet head. Color options include blue-white, pink-white, blue-chartreuse, and black-purple. This bait has a nylon skirt with strands of mylar prism.
Bullet-head lures are the most common to use for tuna fishing. Ilander lures are great baits to run with or without ballyhoo. The original Islander is 8-1/4 inches and weighs 4 ounces. That is also a good bait to use for tuna. I like having a mix of small and large profile baits in the trolling spread.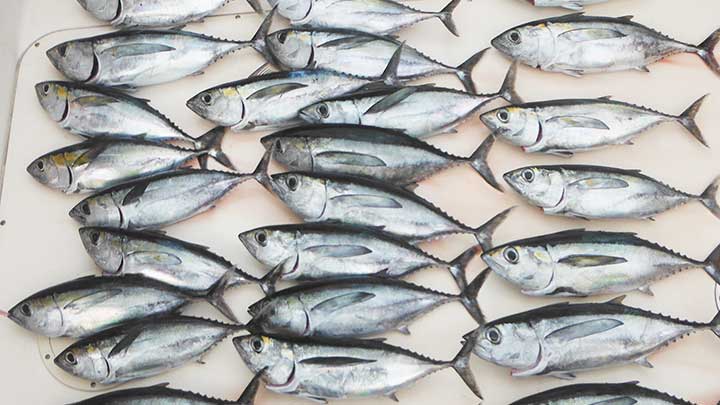 In the picture above are blackfin tuna that were caught in the Florida keys. Blackfin tuna is my favorite fish to each when it is fresh! However, it does not freeze particularly well so it is not recommended to keep a large number of blackfin tuna. The daily limit use to be 100 pounds of tuna per vessel in state water and no limit in federal waters. On most trips, after catching 5-10 blackfin tuna for the boat we would target other fish and let blackfin tuna go if we catch them.  It was encouraged that others did the same but many people did not.
Concerns of declining catch rates in typically high catch areas led to limits being put into place. The new tuna regulations limit catch rates of two blackfin tuna per person per day or 10 fish per vessel, whichever is greater. The new law applies in both state and federal water. There is still no size limit. I personally like the new law as ten blackfin tuna is plenty of fish to eat for a week.
---
16. Williamson Tuna Lures
Williamson lures makes many offshore fishing lures. My two favorites for tuna fishing are listed below.
The Tuna Catcher Rigged Lure


Buy from Amazon
The Tuna Catcher is 5.5 inches long and has a clear acrylic bullet-shaped head. Color options include black-purple, bleeding dorado, blue pink-silver, bonito, hot pink, and Halloween. This lure also comes in a 6.25-inch version and a 4-inch tuna catcher flash model.
This is a very simple lure that catches fish. It can be trolled at speeds up to 9 knots. The rig is made with a 130-pound suffix mono leader and 8/0 VMC hooks.
The Big Game Catcher Rigged Lure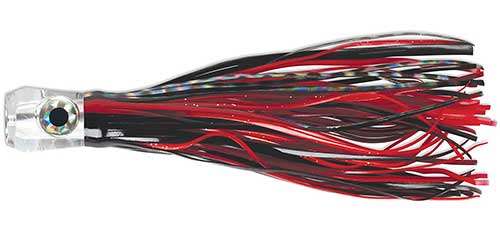 Buy from Amazon
The Williamson big game catcher is an 8-inch lure and weighs 2-1/2 ounces. This lure comes pre-rigged on a 5-foot 175-pound test suffix leader line with a 9/0 VMC hook. Color options include blue-pink-silver, black-purple, bleeding dorado, bonito, Lumo, pink-white, red-black and Halloween.
Custom 8 Inch Tuna Lure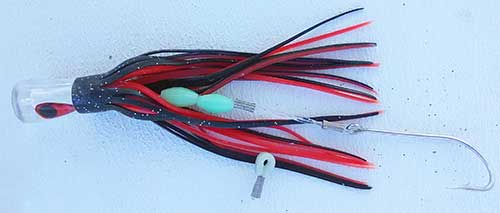 The pictures above show a custom rigged 8-inch lure similar to the big game catcher. The lure has two large beads to space the hook just past the skit. This helps reduce the number of short strikes.  This particular lure caught a small tuna which got eaten by blue marlin. It did not get hooked though. Luckily it can back and took a blue and white stubbly bubbler and we were able to catch the marlin.
---
17. Tuna Big Game Trolling Lures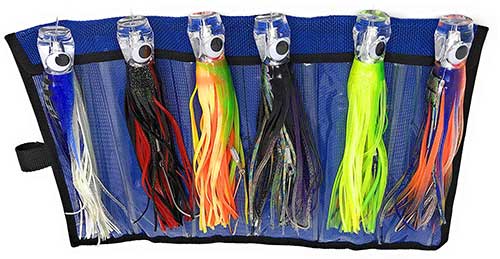 Buy from Amazon
These big game trolling lures are 9 inches in length and weigh 3.8 ounces. Colors include blue-white, black-red, bleeding dorado, purple-black, yellow-green, and purple-orange. The lures come rigged on a 6-foot 130-pound leader with 9/0 big game hooks. These lures come ready to catch big fish with no rigging required. Six lures come in the set and a mesh bag is included to keep the lures organized and dry. Bass Pro offers the Williamson Big Game Catcher kit which is similar but rigger with 175-pound mono leader line.
---
18. Cedar Plug Tuna Lures
MagBay Natural 6-Inch Cedar Plug Rigged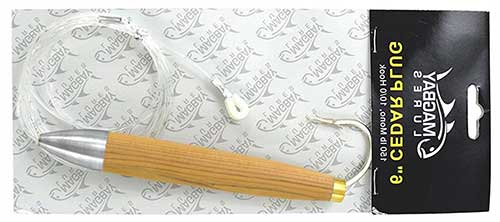 The MagBay cedar plug is 6 inches in length and weighs about 2.5 ounces. This lure comes rigged on a 150-pound mono leader. The color is all-natural wood with a silver head. Three of the same plugs come in this set.
Cedar plug lures are a classic trolling plug to catch all types of tuna. The natural plug is actually a great color. Ther are companies that sell different color cedar plugs but are of lower quality than this MagBay lure. It could be a fun project to paint the lures with your own designs.
---
19. Cedar Plug Daisy Chain
Daisy Chain 4-Inch Cedar Plug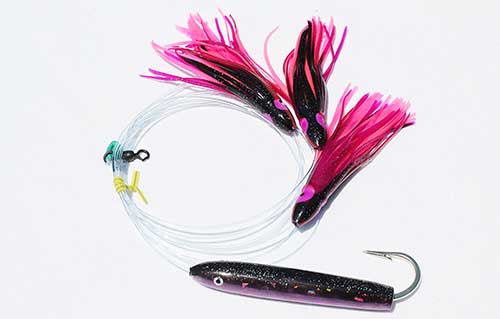 This 8-foot daisy chain has three squids with a 4-inch purple and black cedar plug. The teaser baits are doubled up soft plastic hoochies. A 9/0 size 2-extra strength needle eye hook is used to easily fit unto the plug. Leader material is 150-pound monofilament. The lure is built in the USA by Liberty fishing company. Got-Cha cedar plug daisy chain is a series of cedar plugs and is listed on Bass Pro Shops.
Daisy chains are popular lures for tuna fishing. The added splashing and surface action can help bring fish up from deep water. This 4-inch cedar plug works to catch all types of tuna.
---
20. Sea Witch on a Planer
Sea Witch 1.5-ounce Tuna Lure


Buy from Amazon
The sea witch comes in weights of 1/8 ounce, 1/4 ounce, 1/2 ounce, 3/4 ounce, 1 ounce, 1.5 ounces, 2.5 ounces, and 4 ounces. Color options include pink-white, blue-white, and black-purple. These lures are usually run with ballyhoo on a planer or downrigger.  These also frequently catch mahi-mahi and wahoo. When targeting tuna a clear leader material must be used. Using a 200-pound or greater fluorocarbon leader is a good idea to still have a chance a wahoo.
Sea Strike Size-4 Planer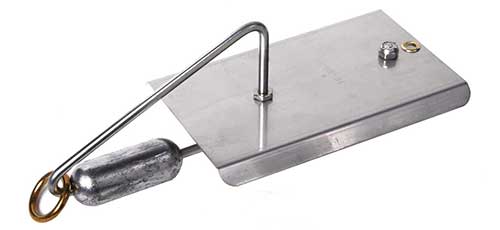 Buy from Amazon
The Sea Strike planer comes in size 1 which runs 5-12 feet deep, size 2 which runs 10-20 feet deep, size 3 which runs 12-25 feet deep and size 4 which runs 15-30 feet deep. The size corresponds to the weight of the lead on the front of the planer in ounces. There is also a size 8 high-speed planer that gets tied off to the boat and acts similar to a downrigger.
I would recommend getting a size 3 or size 4 planer when using large baits. A snap swivel from the pole connects to the front metal ring. A snap swivel with a 30-50 foot leader then connects to the back of the planer. For tuna bullet head skirted baits and sea witches are the best lures to use.
When the planer is placed in the water the metal ring slides toward the back and sets the planner pulling down. When a fish strikes the ring slide forward stopping the planer from diving. If the planer pole releases without catching a fish, raise the rod and drop it quickly to put slack in the line. This should reset the planer to dive. When a fish bites the line tension may decrease so be ready to reel in the slack like when using downriggers.
Tuna are very often deep in the water column so having at least one bait deep when trolling is a good idea. Planners are one way to achieve this. Leadering the fish with an inline planer can be tricky because of the length of the leader. A simpler way to get a lure below the surface is with a deep-diving plug like a Rapala X-Rap or Nomad DTX minnow.
---
21. Rapala X-Rap Magnum Tuna Lure

The Rapala W-Rap 30 magnum diving plug is 6-1/2 inches in length and weighs 2.5 ounces. Good color options for tuna include purple mackerel, dorado, blue mackerel, green mackerel, blue sardine, yellowfin tuna, and redhead. These lures run 15-30 feet down and can run up to 13 knots. Each lure is hand-tuned and tank-tested.  After catching big fish the lure will like need to be tuned again by bending the eyes on the lure that attach the hooks.
---
22. Nomad DTX Minnow Tuna Lure


Buy from Amazon
Nomad DTM Minnows come in sizes from 3.3-inches to 9-inches. All of these lures can work for tuna but the 6.5-inch and larger sizes swim deep in the water which is the goal of running diving plugs. Size 165 is a 6.5-inch lure that weighs 3.75 ounces and dives 34 feet. The next size up is the 200 which is an 8-inch lure that weighs 5.5 ounces and dives 40 feet. Finally, the largest Nomad is size 220 which is a 9-inch lure that can dive 50 feet.
The Nomad Lures are becoming one of the most popular offshore fishing plugs. These baits gained a reputation for being good baits for wahoo being trolled at speeds up to 12-14 knots.  This lure is built strong with a metal matrix plate system and diamond armor. An autotune system and hydrospeed belly eyelet technology allow the lure to run straight at high speeds.
For tuna fishing, a 150-200lb monofilament or fluorocarbon leader should be used with small crimps. Using braided line for the mainline allows these lures to run deeper in the water. The large single inline hooks are great for catching large fish.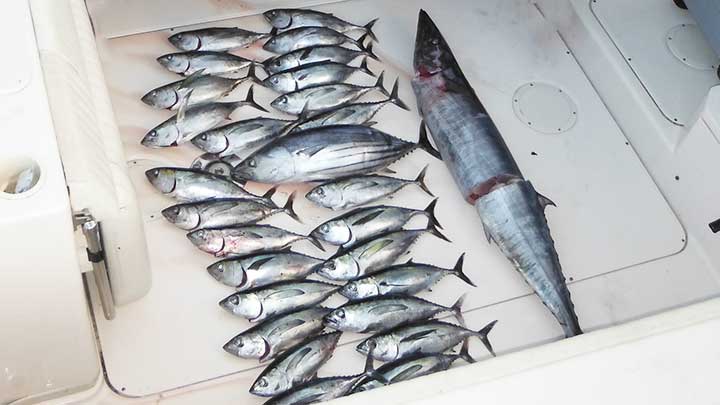 In the picture above are blackfin tuna, skipjack tuna, and a wahoo. These were caught while trolling in the Florida Keys.
---
23.
Yo-Zuri Bull Pop Tuna Surface Lure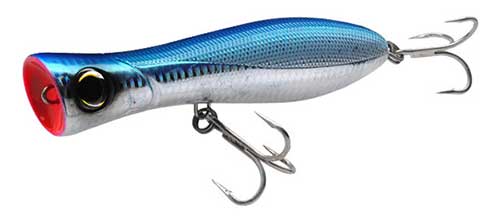 The Yo-Zuri Bull Popper comes in sizes 6-inch, 2-1/2 ounces and 8-inch, 5 ounces. Color options include pearl pink-yellow, ballyhoo, chrome sardine, dorado, holographic blue, mackerel, and red-head. Oversized poppers also work well to catch large mahi-mahi
Commercial fishermen can catch boatloads of tuna with cane poles. So you would think surface popper could catch lots of tuna as well. In my experience surface, poppers are not going to catch the most tuna but are the most fun way to catch tuna. This lure is used in up close and personal encounters with tuna blitzing and breaking the surface. If they are large yellowfin tuna or bluefin tuna it is definitely an adrenaline-pumping experience of a lifetime. For this reason, there should always be a large surface popper on the boat ready for these special occasions. Remember that tuna like a chase so pop the plug and keep it moving.
---
24. Tuna Feather Baits
Boone Rigged Tuna Feather Baits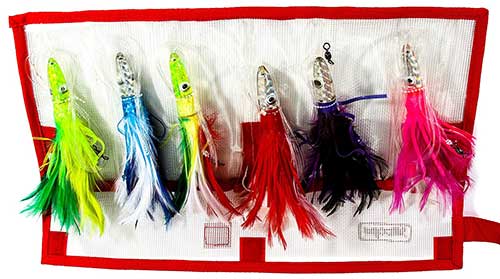 Buy from Amazon
Boone tuna treat feathers are 6 inches in length and weigh 1-1/2 ounces. These come rigged on a 125-pound mono leader. The colors include green-yellow, blue-white, Mexican flag, red-white, purple-black, and pink-white.
Tuna feather are one of the most common lures used for tuna fishing. This tuna treat kit by Boone has 6 quaily baits with clear bullet heads with metallic reflectors. These are large profile feather baits that troll great at high speeds. The mesh bag makes this kit easy to clean and store.
Williamson Flash Feather Tuna Lure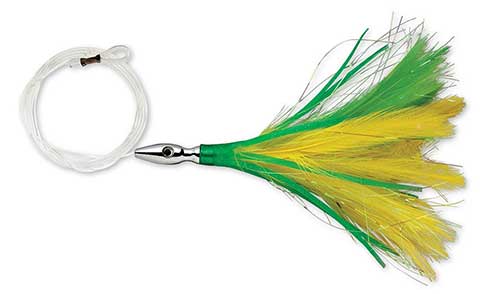 Buy from Amazon
The Williamson flash feathers are 4 inches long, weigh .431 ounce and come with 5/0 hooks. Color options are black-purple, blue-white, pink-white, and yellow-green. The flash feathers also come in a 5-inch size.
These trolling feathers have a smaller profile and work good to catch small to mid-size tuna.  Being lightweight these only troll up to about 8 knots. If I was going to use a smaller profile bait for tuna I would stick with billy baits. That being said these are popular baits for tuna and would work great if you intend to troll below 8 knots.
MagBay Tuna Feather Daisy Chain with Bird Teaser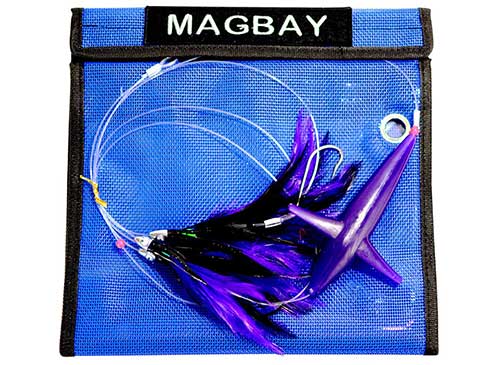 Buy from Amazon
The MagBay Daisy chain has a 6-inch bird teaser with four feather teasers. Color options include purple-black, red-white, and yellow-green. This kit also comes with a loop and hook mesh bag. The lure is rigged on a heavy monofilament leader with 7/0 hooks.
---
25. Tuna Daisy Chain Lures
Boone Bird Tuna Daisy Chain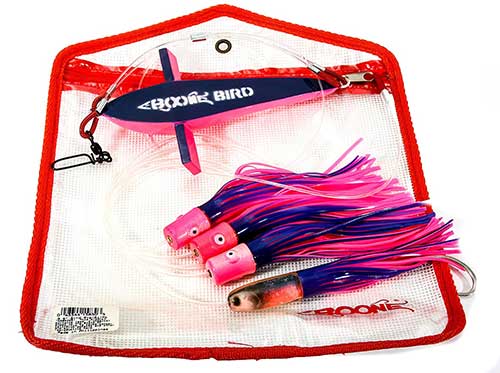 Buy from Amazon
The Boone bird daisy chain is a 7-inch bird teaser rigged with three Boone air eyes squid skirts and a six-inch sea minnow. The lure is rigged on a 250-pound mono leader.
Boone makes the classic quality wood birds. The same lure comes in versions with larger 9-1/2 inch and 12-inch birds. This is a great rig catch, tuna, sailfish, wahoo, and mahi-mahi. The Boone zipper mesh pocket works great to keep the lure clean and organized.
Sterling Tackle Super Jet Daisy Chain Tuna Lure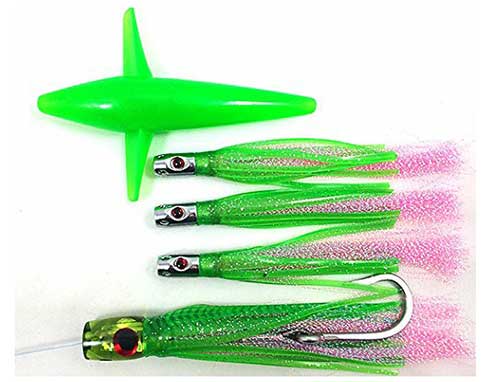 This sterling tackle super jet daisy chain lure is 8 feet long has 3 metal jet teasers and a bird. The stinger is a 6-inch mini-smoker with and 8/0 big game hook that is 5-extra strong. Color options include blue wave, green, pink tiger, rainbow, and white pearl. Rigging is done with a 200-pound Moni-smoke blue line.
This daisy chain is a great value and comes rigged and ready to catch huge fish. The heavy jet teaser and jet stinger will create great smoke trails in the water.
---
26. Bost Black Magic Tuna Trolling Lures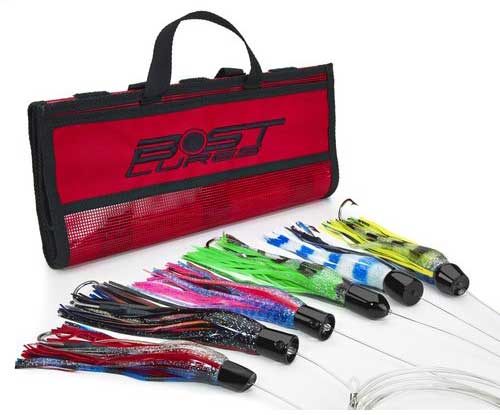 Buy from Amazon
The Bost Black Magic Lure Pack has a number 26 Poke Jet, number 27 Ahi Snack, number 18 Flathead, number 59 Tuna Tataki, number 20 Mahi Mayhem, and a number 60 Mini Trapper. The lures are 9-10 inches in length and are rigged on a 200-pound monofilament leader.
These are great baits that come ready to catch fish. The black-heads allow for the skirt to be easily replaced. This set of lures has a variety of different head shapes. I really like darker baits, especially when trolling at high speeds. Dark baits stand out in low light conditions and during the day.
---
27. Melton Cherry Jets Tuna Lures


Buy from Amazon
Melton cherry jets come in size small 7-inch, medium 9-inch, and large 10-inch. Lure weights are 1.7 ounces, 3.5 ounces, and 5 ounces respectfully. Color options include big eye candy, canyon runner, Comanche, Dundee, electric dorado, flying Hawaiian, midnight express, and zucchini.
Cherry jets offer something a little different to the trolling spread. It is a jet that creates smoke trails but also has a unique side to side swimming action. All these lures are made in the USA. This lure is known for catching bigeye tuna, yellowfin tuna, bluefin tuna, and albacore tuna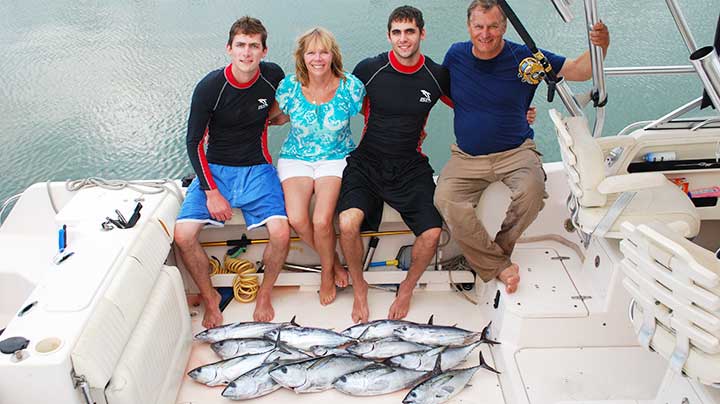 ---
How to Catch Tuna

Tuna are highly migratory and are typically found far offshore. Schools of tuna frequently concentrate at ledges, canyons, and humps. Heading to these locations is the first step to catch tuna.
Trolling for Tuna
Tuna fishing is done by trolling, jigging, chunking, or using live baits. The most common way to sportfish for tuna is by trolling. The average troll speed for tuna is 7-10 miles per hour. Artificial squid baits, feathers, daisy chains, and spreader bars are all good lure to use while trolling. Using naked ballyhoo or skirted ballyhoo also works well. When trolling it is important to run lures pretty far back away from the boat. Deep diving plugs and baits on a planner can catch tuna that are deeper in the water column.
The second most important key to catching tuna is finding actively feeding birds. Using fishing binoculars can help find birds. Schools of tuna push bait up near the surface. When birds are found it is often a good place to catch tuna. Do not run and gun to each set of tuna as you can push them down deep where trolling methods are not effective. At trolling speed try and aim just in front of where the tuna are headed. Dragging the baits close by and in front of the school will ofter result in multiple tuna being caught.
When running near tuna with Billy Bait Mini Turbo Slammers, 9 times out of 10 tuna will bite. If you have a good spread of lure and do not catch fish check the baits for weeds. Also, try changing the trolling speed or making s-turns. A change in troll speeds can often trigger bites.
Chunking for Tuna
The second most common way to catch tuna is by chunking for tuna. This is done by anchoring or slowly drifting in areas where tuna concentrate. Butterfish are the most common baitfish used for chunking. The baitfish are cut into 1-inch strips and consistently tossed over the side of the boat. The idea is that if tuna come in the area and find the chunks they will stay in the area.
When chunking for tuna baits are staggered at multiple depths from the bottom or 500 feet to the surface. Deep lines are set near the boat and shallower lines are put on ballons as drifted away from the boat. Typically baits used are a chunk of butterfish, sardines, live mackerel, goggle-eye, or small bluefish.
Jigging for Tuna
Another way to fish for tuna is with fast fall verticle jigs. Tuna are frequently found at depths from 500 feet to the surface. By dropping 3-12 ounce jigs to for about two minutes allows all the water depths to be covered. If the jig stops on the way day that means a fish bite the lure. When fish do not bite on the way down they can bite during the lure retrieval. When bringing the lure up raise the tip of the rod quickly, then reel down and repeat. This makes the lure travel fast and then pause briefly.
Thanks for visiting Global Fishing Reports. I hope these suggestions help you catch more tuna! If you have any questions or suggestions about how to catch tuna, leave a comment below!
---
Frequently Asked Questions
Are Bluefin Tuna Overfished?
There are three types of bluefin tuna all of which have population concerns. Conservations status of bluefin tuna are vulnerable for pacific bluefin tuna, endangered for Atlantic bluefin tuna and critically endangered southern bluefin tuna. In the last 40 years, Atlantic bluefin tuna populations have declined by 72 percent in the eastern Atlantic and 82 percent in the western Atlantic.
All types of bluefin tuna have definitely have been overfished. It is a very difficult fishery to manage because the fish swim through waters controlled by many countries. Everyone who keeps bluefin tuna are partly responsible. In the United States, there is a set number of bluefin tuna that are allowed to be caught each year at different sizes. My thought is that it does not matter who catches them. Have fun and fulfill your league's responsibility to report the catch within 24 hours.
A global initiative should be set to preserve the fish so that it can continue to be used as a valuable resource. It takes 8-12 years for Atlantic bluefin tuna to reach sexual maturity. Keeping the large breeding fish in the ocean seems like the best way to increase the populations in my opinion. I know with halibut when the big breading fish get taken out of the fishery the catch rates drop drastically in that specific area. The video below talks more about conserving bluefin tuna.



What is the best tuna to eat?
For sushi and sashimi purposes bluefin tuna has the highest value. Yellowfin and blackfin tuna are still sashimi-grade. Eating any raw fish does carry the risk of having parasites which can make you sick. Yellowfin tuna is probably the best for making tuna steaks that are seared or cooked through. Skipjack tuna and albacore tuna are typically not as good and are used for canned tuna. Blackfin tuna are the most underrated tuna in my option. Fresh blackfin tuna is my favorite fish to eat, mahi-mahi is my second. Bonito or little tuna is the least desirable tuna. However many people enjoy eating bonito and rice. If the Bonito is small and the dark bloodlines are removed it is actually is pretty good.
Can you eat blackfin tuna?
Yes, you can eat blackfin tuna. It is actually sashimi-grade fish. Most people do not realize how good blackfin tuna is because they do not eat if fresh. Blackfin tuna does not freeze well. When it is fresh it tastes just as good as yellowfin tuna steaks in my opinion.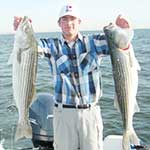 Captain Cody has worked on charter fishing boats in the Florida Keys, Virgin Islands, and Alaska. Growing up in Pennsylvania Cody has also done extensive freshwater fishing including bass fishing tournaments. Cody strives to provide detailed information about the best fishing gear and tactics to help both novice and experienced anglers have a more productive and enjoyable time on the water. Cody also has a background in aerospace engineering and neuroscience but really only takes pride in being good at one thing and that is fishing!