Catching salmon can be done from a boat or from the shore near rivers and creeks. Catching salmon is very fun because they are hard fighting fish that are great to keep and eat. The west coast of the united state is full of wild salmon that run from the San Joaquin river system in Californian near San Fransisco up to the northern regions of Alaska.
There are five types of salmon that each have two names. The salmon types are kings or chinook, coho or silver, sockeye or red, pink or humpy and chum or dog salmon.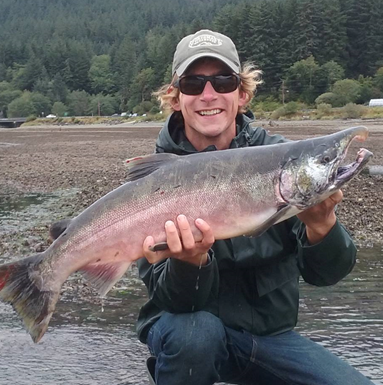 There are also steelhead that can be caught in freshwater streams and lakes that look like salmon.
Salmon run up streams to spawn at different times of year depending on the species and geographic location. Salmon runs start in early summer and continue entering streams into the late fall. Peak salmon activity is normally in the summer and you can use guide charts to help determine when salmon are running.
I have ran salmon charter boats in Alaska and fished for salmon in steams and creeks. Before fishing in Alaska I fished for freshwater salmon in the great lakes. The techniques are similar in both locations.
From boats the most used technique is to troll with down riggers and use a hoochie rig with or without herring. In streams the techniques vary widely from flies to heavy spoons and spinners. Below I will discuss the best lures and baits to use for a boat and from shore for different types of salmon.
It is also important to note there are lots of different rules and regulations about when, where and how you are allowed to fish for salmon so make user you read the local regulation books before going fishing.
Here Are the Best Salmon Fishing Lures and Tips on How to Catch Salmon
1. Flasher with a Hoochie
2. Salmon Spinners
3. Salmon Flies
4. Salmon Beads
5. Spoons and Plugs
Other Salmon Gear. 
Fish clubs.
When watching people use fish clubs it looks brutal and mean. It was not until I was salmon fishing that I realized it was in the fishes best interest when keeping a salmon. This fish can live a long time out of the water and a good hit on the head knocks the fish out for the bleeding process. It also make it much safer to handle the fish and remove the hook.
Types of Salmon
Here is a identification chart showing how to tell the difference between all the types of salmon.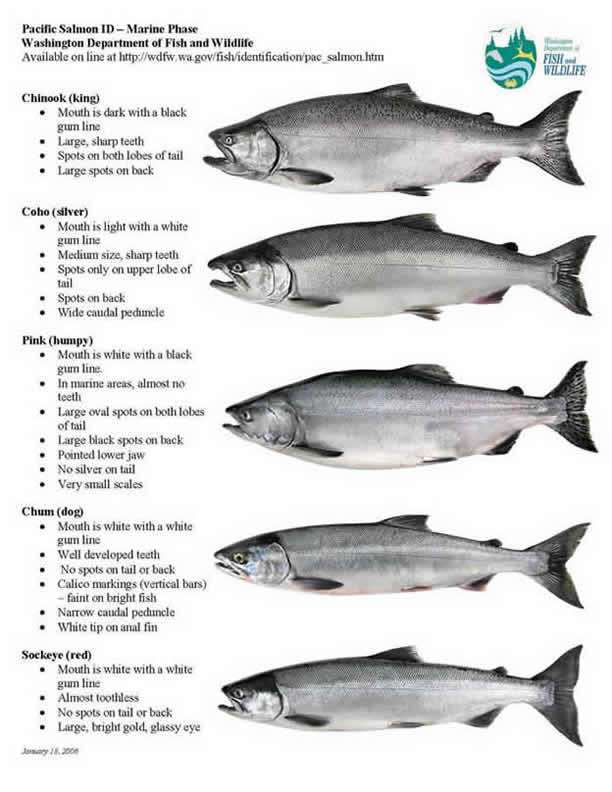 Thanks for visiting Global Fishing Reports. I hope these suggestions help you catch more salmon!
If you have any suggestions for top salmon lures and baits, leave a comment below!
Captain Cody has worked on charter fishing boats in the Florida Keys, Virgin Islands and Alaska. Cody grew up in Pennsylvania and has also done extensive freshwater fishing including bass fishing tournaments. Cody strives to provide detailed information about the best fishing gear and tactics to help both novice and experienced anglers have a more productive and enjoyable time on the water. Cody also has a background in aerospace engineering and neuroscience but really only takes pride in being good at one thing and that is fishing!