There are two types of rods and reels used to cast lures and jigs. These are spinning and casting setups. Spinning reels cast the furthest and are the most common among novice anglers. However, accuracy and control can be greatly improved, with a casting setup which is also called a baitcasting rod or baitcaster. These are very popular with bass fisherman that like to jig and have control of the lure as it enters the water.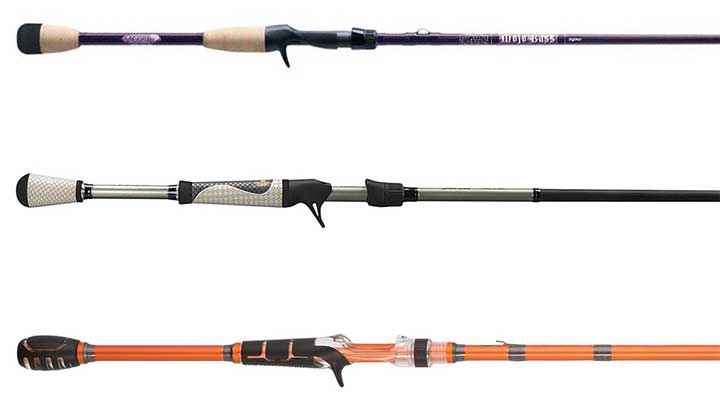 When you compare the two types of poles with their respective reels, it might be obvious as to why this is. A baitcaster reel and rod are positioned opposite that of a spinning rig. On a baitcasting setup the reel and line guides both face skyward, while the spinning reel and guides both run along the bottom, underneath the pole. The baitcaster expels the fishing line by spinning the spool, while the spinning reel spool does not add much resistance as the line un-coils. The spinning method works very well for small, lightweight lures and bait. A baitcaster delivery allows for heavier tackle, which is nice for fishing larger species, in heavier cover, and deeper water.
The top-sitting guides on casting rods are also much smaller in diameter than spinning rods. There is a lot less bouncing around of the line as it flies through a casting rod's guides, and their small diameter is more efficient at putting your lure more precisely where you aimed at.
The construction of rod blanks for casting rods can be a little different than those of spinning rods, as well. Typically, they start off longer in length, as is probably expected, but they tend to start off in higher modulus and tensile strengths, too. This all goes towards their fundamental purpose for bigger fish and heavier lines. With their enhanced casting precision and fish-fighting control also comes the need for more balance not only in how much graphite or fiberglass is in it, but in its entire construction. From the material on the grips to the flex at the tip, the resin to the guide wraps, everything must be fine-tuned in order to deliver sensitivity, power, and action.
Here Are the Best Baitcasting Rods
---
1. St Croix Mojo Bass Baitcasting Rod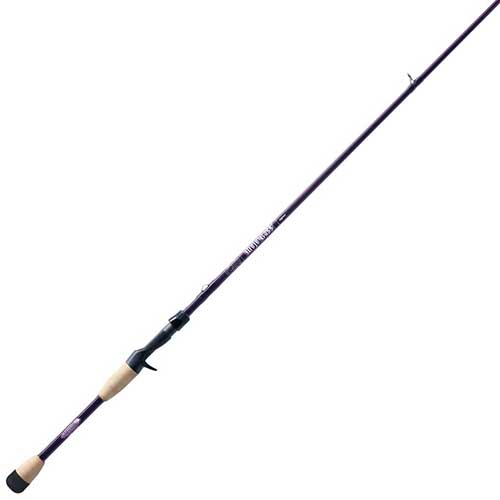 | | |
| --- | --- |
| Length | 6'8″, 7′, 7'1″, 7'4″, 7'5″, 7'6″, 7'10", 7'11". |
| Power | Medium, Medium Heavy, Heavy |
| Action | Moderate Fast, Fast, X-Fast |
The St. Croix Mojo Bass series casting rods are of high-end quality at a reasonable price. Each option delivers a superior performing technique-specific rod. Their crankbaiting models are constructed with high-quality S-glass for the perfect flex and action. Every rod blank in the line is made with SCIII graphite for improved sensitivity.
These are designed for the serious angler ready to make an investment in improving their angling skills. Ranging from 3.7-6.1 ounces depending on which rod you use, the light-weight goes a long way in keeping you less fatigued when putting in long days on the water. Other key features include beautiful, premium-grade cork handles, 3-D guides with aluminum rings, and Fuji reel seats. If you're ready to take your bass fishing to the next level, the Mojo baitcasting rods by St. Croix are a fantastic choice.
---
2. Abu Garcia Vengeance Baitcasting Rod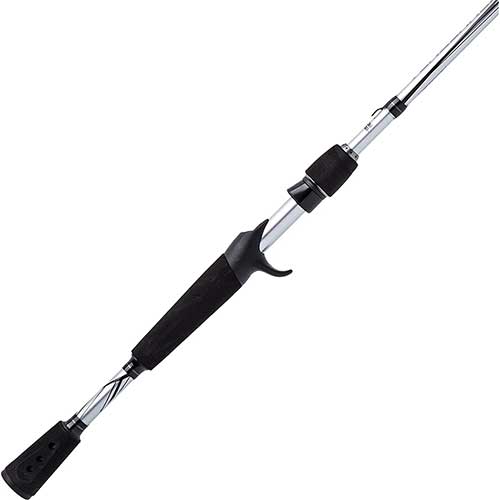 | | |
| --- | --- |
| Length | 6'6″, 6'9″, 7′, 7'6″ |
| Power | Medium, Medium Heavy, Heavy |
| Action | Fast |
Abu Garcia's Vengeance baitcasting rods are great mid-level poles. The available lengths, powers, and actions are kept simple while providing suitable specifications to fit a wide variety of fishing techniques. Their 24-Ton graphite blanks make for an adequately lightweight and sensitive fishing pole. Bass Pros shops has this as a combo with a Vengeance rod and low profile baitcasting reel.
Other features that make the Vengeance series stand out from lower-end rods are its EVA foam grips, which are high-density for extra comfort and tough enough to last under the beating sun and water saturation. The line guides, too, are corrosion-resistant stainless steel, while their inserts are titanium, making them great for use with heavy braided lines.
Although 24-Ton graphite is the base-point material for a good rod blank, it still provides better sensitivity than many fiberglass rods at a similar price. There is only one action available, too, but the fast tip is great for throwing jigs and wrenching bass out of heavy cover, and will still provide good success for other techniques that are more ideally used with a moderate action, like crankbaits. If you want some good fishing without paying a fortune, Abu Garcia's Vengeance baitcasting series are a good value.
---
3. St Croix Triumph Baitcasting Rod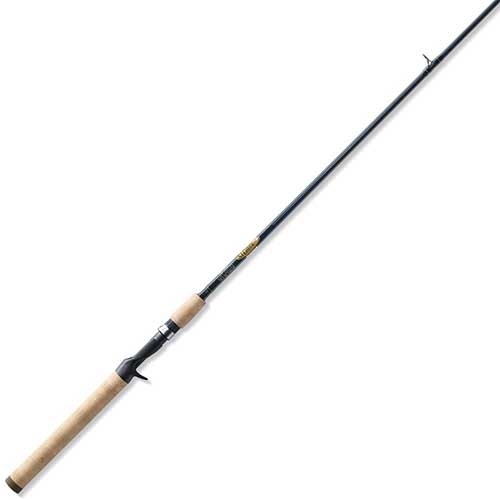 | | |
| --- | --- |
| Estimated Price | $105-$115 |
| Length | 6'8″, 7′, 7'6″ |
| Power | Medium Light, Medium, Medium-Heavy, Heavy |
| Action | Moderate, Moderate Fast, Fast |
The St. Croix Triumph casting rod series comes in different options for different types of fishing, including inshore, salmon, steelhead, and musky fishing. Their good range of power and action ratings, however, means they are applicable for many other species, like panfish and bass, redfish, snook, and many more. They are made with St. Croix's SCII carbon blank technology for lightweight and strength.
Aluminum-oxide guides are strong enough to handle braid while being very good at resisting saltwater corrosion. All models feature a reel seat and hook keeper by Sea Guide, as well as cork-gripped handles. While all of this is top-of-the-line, the SCII blanks are slightly inferior to the SCIII of the St. Croix Mojo series, and with the Triumph only ranging 10 to 60 dollars cheaper, depending on what specifications you're looking for it might make sense to go with a Mojo.
---
4. Lew's Custom Lite Speed Stick Baitcasting Rod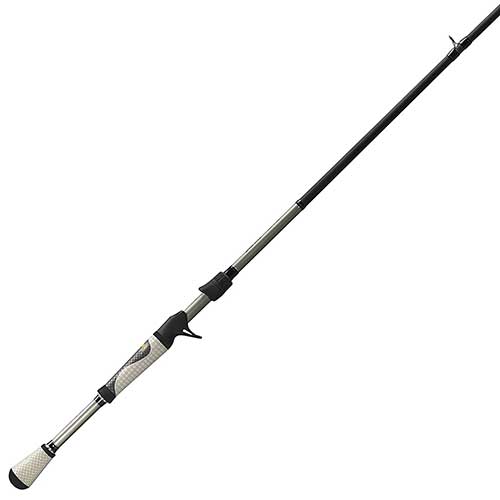 | | |
| --- | --- |
| Estimated Price | $128 to $190 |
| Length | 7'4″, 7'6″, 7'11" |
| Power | Medium Heavy, Heavy, X-Heavy |
| Action | Moderate, Moderate Fast, Fast |
Lew's Custom Lite Speed Stick baitcaster rods are tournament-grade, technique-specific custom sticks. Made with HM85 85-million-modulus graphite, they could pull a car out of a lake while still being highly sensitive and, as the name implies, extremely light.
Lew's uses their proprietary Power Core blank construction of several layers of graphite lain running in multiple directions, which equates to less material for the lighter weight, but without sacrificing strength. The stainless steel guides with titanium inserts provide fast and smooth castability, and vibrations from the line are felt significantly on your finger through the SoftTouch skeletal reel seat.
Polymer grips on the handles are extra durable and give you a sturdy hold no matter how wet the conditions. The butt-stock is also shortened, which makes for easier frog-walking and jig-pitching. The price is up there, but for professional-grade fishing, these rods are worth every penny.
---
5. Lew's Mach Pro Baitcast Combo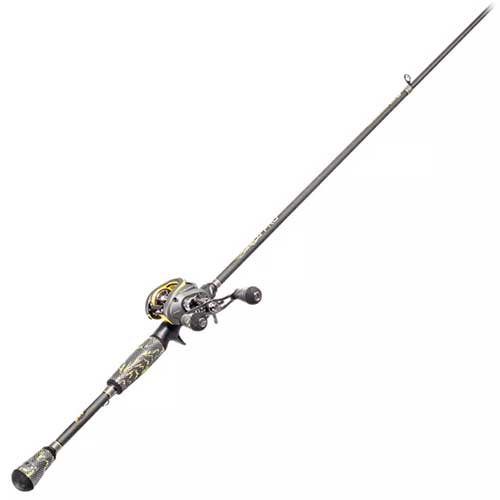 | | |
| --- | --- |
| Estimated Price | $220 |
| Length | 7'2″ |
| Power | Medium-Heavy |
| Action | Fast |
The Lew's Mach Pro Baitcast rod and reel combo pairs two professional-grade pieces of equipment at a very reasonable price. The rod is made from Lew's high-quality IM8 graphite blanks, which provide the excellent kind of strength and sensitivity that tournament anglers look for. It has the famous American Tackle Microwave Air guides for smooth, efficient casting, a skeletal reel seat to get you closer to the vibrations coming through the pole, and Winn Dri-Tac polymer on the handles in the split-grip design for comfort and reliability.
The excellent baitcaster reel that is included features a 10-bearing system, including an anti-reverse clutch bearing, all stainless steel, and double shielded construction. The reel sidings are graphite for toughness and low weight, with magnetic controlling, Rulon drag, and Winn Dri-Tac polymer on the knobs. The main gears on the inside are brass, and the spool is high-grade aluminum, ensuring every component of the reel is professional-grade and able to last for years under some tough fishing. For one high-end price, you get two high-end fishing tools, of which the investment will definitely take your fishing to the next level, and make it a lot more fun.
---
6. G. Loomis IMX-Pro Bass Casting Rod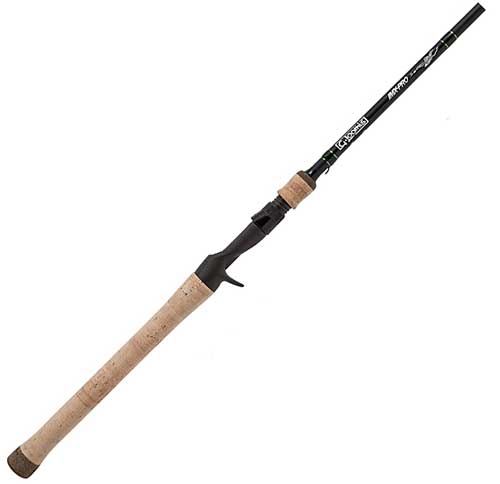 | | |
| --- | --- |
| Estimated Price | $325 to $425 |
| Length | 7'1″, 7'5″ |
| Power | Medium, Medium Heavy, Heavy |
| Action | Fast, Extra Fast |
The new IMX-Pro Bass Casting Rod Series from G. Loomis has reduced the weight by up to 18 percent compared to its widely popular E6X line. You don't need to worry strength has been compromised, however, as the innovations from G. Loomis are always on the cutting-edge of technology and design, and these new high-modulus blanks definitely deliver. Their 7'1″ and 7'5″ Jig and Worm rod are chosen here for being among the absolute best on the market in that application, but the insanely good flex and tapering of rods throughout the new IMX-Pro series are superb technique-specific poles, for topwater, bottom-fishing, and everywhere in-between.
Every feature is maximized for performance and comfort included. The beautiful, AAA-grade cork split-grip handles are narrowed slightly at the butt-end, improving balance and control. Fuji K-Guides offer superior corrosion-resistance and durability, eliminating all the common reasons for line tangles.
G. Loomis has always been a name at the front in modern rod construction. The IMX-Pro series is one of the best designs to ever come out of their factories and undoubtedly will become legendary in time. If you are looking for a casting rod in the upper-tier of the elite category, this one is there and will set you apart.
---
7. St. Croix Mojo Yak Casting Rod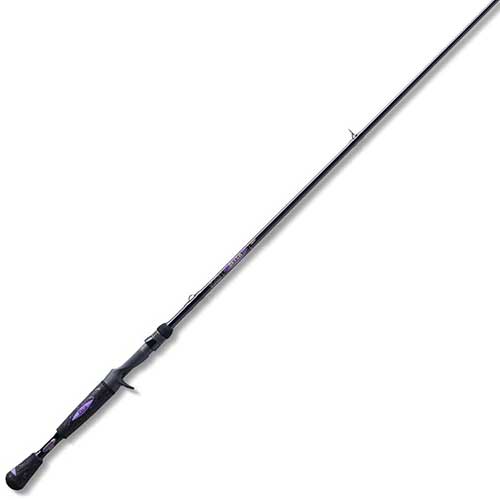 | | |
| --- | --- |
| Estimated Price | $152 to $165 |
| Length | 7′, 7'6″ |
| Power | Medium, Medium-Heavy |
| Action | Fast |
If you need a kayak rod with a lot of mojo, you've found it with St. Croix's Mojo Yak Casting Rods. This elegant and mighty rod is made with St. Croix's light and tough SCIII graphite blanks. They have Kigan Master Hand 3D guides with aluminum rings which are great for casting and slim enough to fit in the kayak without worrying about being damaged, and reduced weight in the tips provides excellent maneuverability that yak anglers require.
There are more premium features designed for kayak fishing, too, like a shorter split in the split-grips to make casting easier and more accurate sitting in your watercraft. The handles are super-tacky and shock absorbent, made in partnership with Winn grips. Fuji reel seats and a Keegan hook keeper also come equipped. These yak rods will highly improve any fisherman's performance, their materials and technique-specific specs being finely tuned and great quality. Even at areund $160, you'll know you got a fair deal.
---
8. Bass Pro Shops Signature Baitcast Combo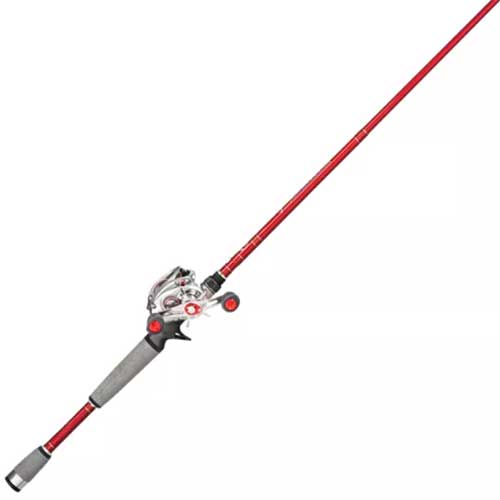 | | |
| --- | --- |
| Estimated Price | $330 |
| Length | 6'9″, 7'1″, 7'4″, 7'6″, 7'10" |
| Power | Medium, Medium Heavy, Heavy |
| Action | Fast |
This Bass Pro Shops baitcasting setup is the Johnny Morris Platinum Signature series. It comes as a combo that is pro-level equipment. The available reels come in either a lightning-fast retrieve gear ratio of 8.3:1, or some serious torque for wrenching bass out of heavy weeds at 6.8:1, in either right or left-handed retrieval positions. All are constructed out of the absolute best materials, with aluminum frames and side plates with an indestructible titanium finishing, aluminum spool, Duralumin material drive gear, and Duralumin crankshaft. The savvy components in this 11-bearing system include double-shielded balls and Powerlock anti-reverse and handle also made of durable aluminum with soft, EVA grips by Recurve.
The super lightweight Johnny Morris rod is made from blanks they call the RTX5, which has five layers of carbon-graphite composite to make this Platinum Signature series much stronger than the models that came before. The line guides and reel seats are Fuji, and Winn grips round out this near-perfect rod for superior comfort and handling.
Many fishermen have been swayed to the Bass Pro Shops brand, and with the quality inherent in this rod and reel combo, it's easy to see why. At a time when you can easily expect to pay $150 for a high-end rod, and over $200 for an equal quality reel, this price tag of just under $320 might make a lot of sense.
---
9. Okuma Nomad Inshore Travel Casting Rod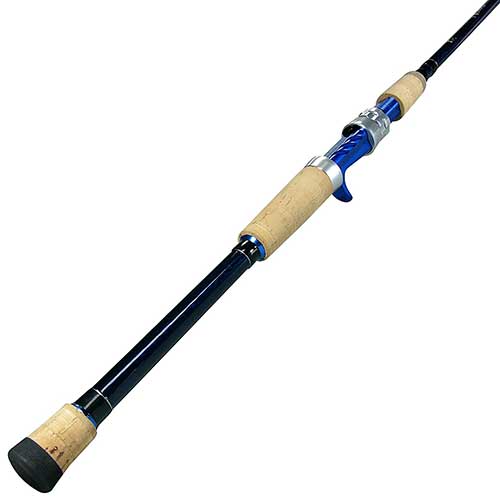 | | |
| --- | --- |
| Estimated Price | $100 |
| Length | 6'6″, 7′ |
| Power | Medium-Light, Medium, Medium-Heavy |
| Action | Moderate |
The Okuma Nomad casting rods allows you to easily travel with the quality of a good one-piece broken down into a 3+1. It is really two rods in one because each model includes a 2-tip option, letting you go from either light to medium light, or medium to medium-heavy power very quickly.
Not only do the ferrule connections make the three sections come together for a very durable rod, it gives it surprising sensitivity for a travel pole. The blank is graphite with a carbon wrap, which gives it these qualities. The zirconium guide inserts are good for any fishing lines and along with an aluminum reel seat, fights off corrosion while keeping overall weight down.
Okuma's Nomad rods can be found in EVA or cork-gripped handles, which along with the 2-tip combination make these ones of the most unique and versatile products in the travel rod category. If you travel a lot and want to spend the money on one of the best made and performing rods for that, you'd be hard-pressed to find better than one of these.
---
10. Team Lew's Custom Pro Series Casting Rod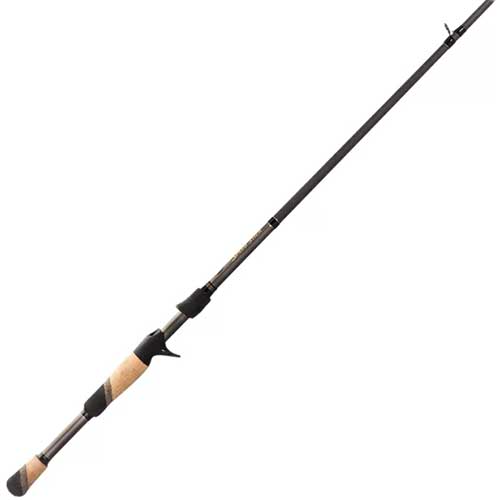 | | |
| --- | --- |
| Estimated Price | $220 to $280 |
| Length | 6'8″, 6'10", 7′, 7'3″, 7'4″, 7'6″, 9′ |
| Power | Medium, Medium Heavy, Heavy |
| Action | Moderate Fast, Fast |
Each and every Lew's Custom Pro Series rods is ensured to be precisely made to the highest standard. The blanks are made with LFS-X5 Nano-Technolgy and an 85-million-modulus outer core. This means that they are on the very upper-end of rod blanks that deliver maximum strength and sensitivity with the lightest weight. The wide variety of lengths, power, and action couplings are ideally suited for all major bass fishing techniques.
All of its features are designed for the best possible fishing experience. The SS316 stainless steel guides help lines resist tangling, and the zirconium inserts let it cast smooth and far. Skeletal graphite reel seats have a great connection with the blank for extra sensitivity. A-grade cork handles also have EVA inlays for superior comfort and durability, and a hook keeper is conveniently placed on the trigger.
This is a professional level rod designed by, and used by professional tournament anglers. If you've never used one of this caliber, the precise actions on these will completely change your standards.
---
11. Lew's American Hero IM6 Baitcasting Rod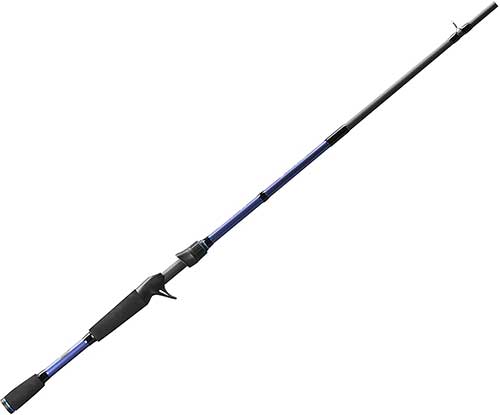 | | |
| --- | --- |
| Estimated Price | $85-110 |
| Length | 6'6″, 6'10", 7′ |
| Power | Medium, Medium Heavy |
| Action | Fast |
A great all-around rod that supports a great cause, Lew's American Hero Baitcasting Rod is made with their exceptional IM6 graphite blanks with multidirectional construction technology. Not only strong and durable, but their acute sensitivity allows you to feel the slightest of nibbles so you catch more fish.
The guides are tough stainless steel all around, from the frames to the inserts. It also has a graphite reel seat for lighter weight and durability, as well as a hook keeper. The handles are split-grip design with high-density EVA, so you'll always have a firm grip in any conditions. It's limited in specs, but it's a true one-size-fits-most. Plus, some of the proceeds from your purchase will go towards an American veteran's organization. A Lew's rod at this price, especially if it's in the specifications you're looking for, is a great deal.
---
12. Ugly Stik GX2 Baitcasting Rod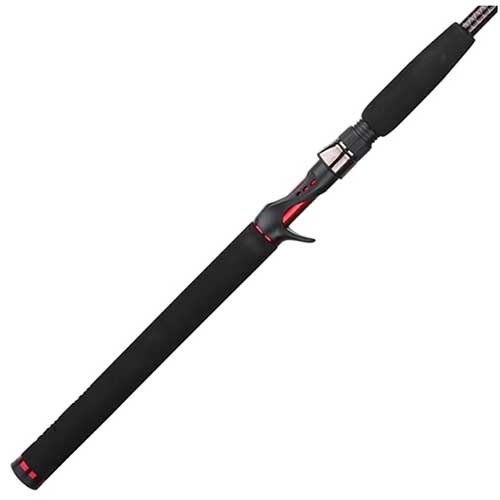 | | |
| --- | --- |
| Estimated Price | $39-$50 |
| Length | 5'6″, 6′, 6'6″, 7′, 7'6″ |
| Power | Medium Light, Medium, Medium-Heavy, Heavy |
| Pieces | 1 and 2 Piece |
The Ugly Stik GX2 Casting Rod by Shakespeare are redesigned models of the original iconic Ugly Stik. They still use a mixture of graphite and fiberglass to make their blanks as strong as the legendary ones, but in a refined process to make the GX2 more sensitive with less weight. So no more back-breaking labor casting an Ugly Stik on a 14 hour fishing day. Plus it still comes with a seven-year warranty like the old one, which shows Shakespeare believes these will hold up just as long.
Some of the original Ugly Stik features remain, like the Ugly Tuff one-piece guides made in stainless steel for corrosion resistance, and the Clear Tip on the end of the rod made of solid fiberglass for added strength and sensitivity. The one-piece steel guides work best with a monofilament line. What is new is a better balance in the blank design, reducing weight, and more modern and stylish cosmetics. The options are also available in one-piece or two-piece construction. At such a low price and a name that's iconic for strength and durability, the Ugly Stik GX2 is one of the best values out there.
---
13. Ugly Stik Elite Baitcasting Combo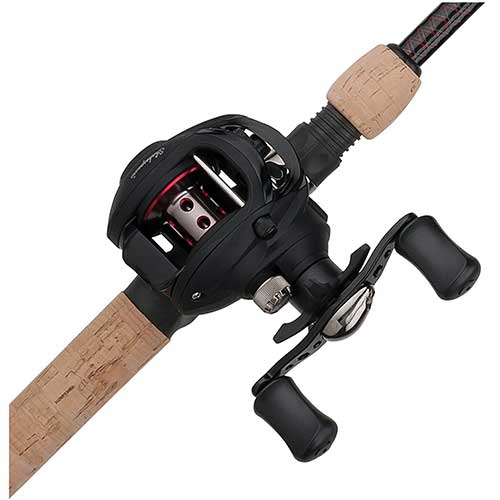 | | |
| --- | --- |
| Estimated Price | $80 |
| Length | 6'6″ |
| Power | Medium Heavy |
The Ugly Stik Elite casting rod by Shakespeare features 35 percent more graphite in the blank than an Ugly Stik GX2 rod, making it weigh less and be a whole lot more sensitive. The fiberglass mix in the blank construction is still there, retaining a lot of the strength that the original Ugly Stik is famous for. Also left the same from the older models are the Ugly Tuff one-piece stainless steel guides without inserts for added durability, and the Clear Tip, solid glass end for more sensitivity to strikes.
Besides the added graphite in the rod blank, Ugly Stik adds to the value by including a baitcasting reel with your purchase. It has two ball bearings plus an anti-reverse bearing, an aluminum spool, and magnetic breaks for more control during casting.
While the combo deal is a bit limited, (only one length and power rod available), it has good specifications for use in many techniques. A shorter rod allows for more accuracy when casting, and the medium-heavy power rating is what's needed for pitching and flipping jigs, as well as topwater frogs. Especially for a beginner in these techniques, a casting rod and reel combo around $80 could be a smart starter-kit.
---
14. Berkley Shock Baitcasting Rod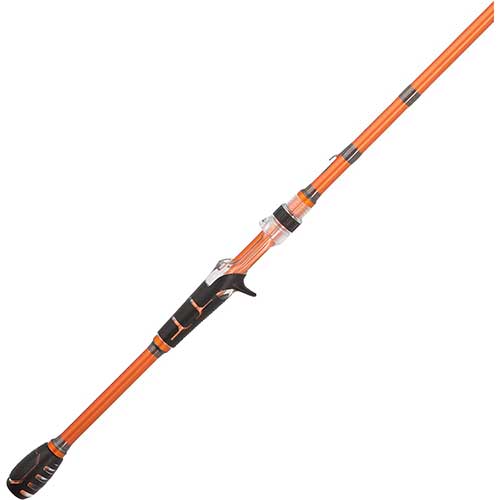 | | |
| --- | --- |
| Estimated Price | $50 to $60 |
| Length | 6′, 6'6″, 7′, 7′,6″ |
| Power | Medium, Medium Heavy, Heavy |
| Action | Moderate Fast, Fast |
The Berkely Shock Baitcasting rods are designed specifically to resist the damaging properties of a braided fishing line. Braid having no stretch, the tip is supposed to be more accommodating during your hook set, and the stainless steel guides have titanium inserts to stop it from cutting grooves into them. The blank is a carbon composite that provides a lot of durability with some decent sensitivity.
It is surprisingly light, and this is helped by its reel seats being made out of plastic. The plastic, unfortunately, is not a good material for reel seats, and you can bet that too many strong hook sets are going to have bad consequences. The handgrips are rubber, which maybe goes into the whole shock-absorption philosophy, but rubber tends to grab clothing and skin more than EVA or cork, which can be a problem during a fish fight. It's not the greatest option or overall value, but you might appreciate it if you use a lot of braid.
---
15. Cadence CR7B Baitcasting Fishing Rod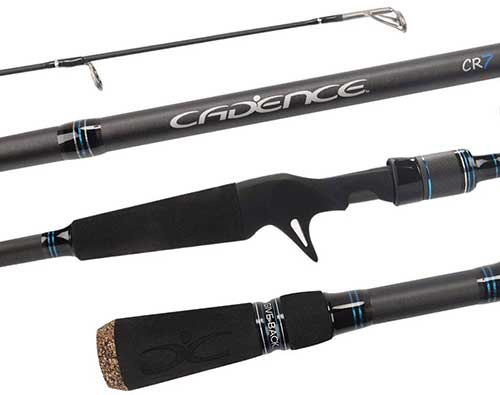 | | |
| --- | --- |
| Estimated Price | $80 |
| Length | 6'6″, 6'9″, 6'10", 7′, 7'3″, 7'4″, 7'6″ |
| Power | Medium, Medium Heavy, Heavy |
| Action | Moderate, Moderate Fast, Fast, X-Fast |
The Cadence CR7B Baitcasting Rod series offer a serious rod at a reasonable price. Light and sensitive, the blanks are made with 40-Ton carbon in a carbon wrapped veil. The line guides are durable and corrosion-resistant stainless steel with SIC inserts for smooth casting, and with Fuji reel seats and cork with EVA foam handles you might be asking yourself why you spent twice as much on a rod with the same materials.
It's rare that you see a line of casting rods in so many varieties at this price, but the Cadence CR7B has a bigger variety of technique-specific rods than other high-end brands. Not only that, but a 40-Ton blank is comparable to a high-quality rod at twice the price of this one, for its sheer strength and weight, as well.
What brings all of these features down to reality is sensitivity. Also, a little stiffer in the actions compared to a high-end model such as St. Croix, their sensitivity is not quite on par. Still, it is a good rod and fun to fish with. It has no problem lasting, either, and can hold up as a day to day rod for a long time. Very nice for the value-conscious angler.
---
16. KastKing Crixus IM6 Baitcasting Rod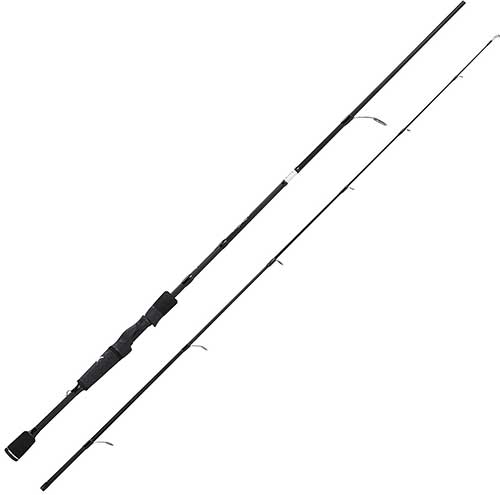 | | |
| --- | --- |
| Estimated Price | $40 |
| Length | 6′, 6'6″, 7′ |
| Power | Medium, Medium Heavy, Heavy |
| Action | Fast |
The ever popular KastKing has a value-oriented product with their Crixus IM6 two-piece casting series. Made from IM6 graphite blanks, the KastFlex technology has proven to be able to mix durability and performance without hurting your wallet. There are limited options available in length and actions, but the few have been chosen for good all-around technique specifications.
Golf-style grips made from polymer provide your hands with good leverage and comfort. They are in the split-handle design with EVA material on the butt, so your grip will stay sure during the cast, hook set and fight. The guides are the same great quality you'll find on much more expensive rods, made from stainless steel and zirconium inserts. All of these features on top of a durable blank make the Crixus casting rods good not only for freshwater but the corrosive elements in saltwater fishing, too.
The two-piece design is a nice feature for travelers who want to use a casting rod versus the more abundant two-piece spinners on the market. Although the specs are limited, it's a durable, budget-friendly option.
---
17. KastKing Perigee II Baitcasting Rod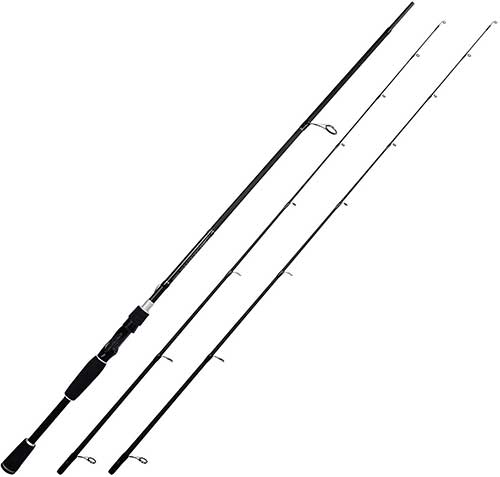 | | |
| --- | --- |
| Estimated Price | $50 to $75 |
| Length | 6′, 6'6″, 6'7″, 7′, 7'1″, 7'4″, 7'6″ |
| Power | Medium-Light, Medium, Medium-Heavy, Heavy |
| Action | Fast |
There is a lot going on with the KastKing Perigee II Baitcasting Rod series, but first, the blank material is 24-Ton carbon fiber using their KastFlex technology for strength and durability. This is used on both the one-piece and two-piece models. They also come with Fuji O-Ring guides, which is nice on a rod at this price, as well as lightweight and tough graphite reel seats. EVA grips, a hook keeper, and a really handsome carbon-wrapped finish and cosmetics contribute to making this rod really well put together.
The price compared with the number of options really makes these rods stand out. They're available in a one-piece or two-piece, but the two-piece actually comes with a TwinTip bonus to change out the power rating, from medium-light to medium, or another option from medium to medium-heavy. This is highly efficient if you like to travel with a casting rig. KastKing's Power Transition System in the connectable joints helps make them feel like a one-piece.
The actions are unfortunately limited, but a fast tip is the best overall fit to the styles of fishing most people will use these rods for, whether in fresh or saltwater. Everything else is a really cool concept, and KastKing delivers great value with the Crixus series.
---
18. Piscifun Torrent Baitcasting Rod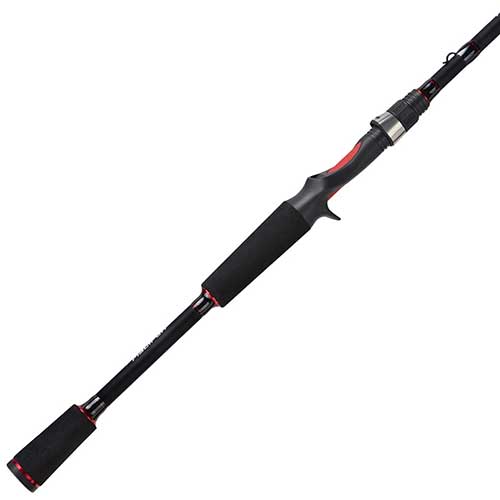 | | |
| --- | --- |
| Estimated Price | $50-$60 |
| Length | 6'8″, 6'10", 7′, 7'1″, 7'2″, 7'6″ |
| Power | Medium, Medium Heavy, Heavy |
| Action | Moderate Fast, Fast |
Piscifun's Torrent Baitcasting series features IM6 carbon blanks. They offer a good range of technique-specific rods for anglers who know what they're doing. The features it boasts are familiar on more high-end rods, like titanium-oxide guides, graphite reel seats, and foam EVA handles.
At the price-point, Piscifun's Torrent series gives good competition to its peers with the precision wrapped guides. Their computer wrapping process binds them down at four different angles, which are strategically placed along the rod for a better transition of power while it bends. This gets the strength of the otherwise basic IM6 material more spread out where it needs to be, and gives the rod some exceptional durability. With a limited lifetime warranty, Piscifun shows they stand behind their product.
---
19. KastKing Blackhawk II Telescopic Baitcasting Rod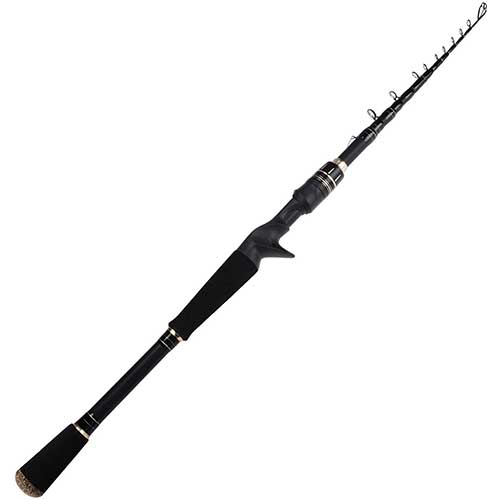 | | |
| --- | --- |
| Estimated Price | $50 to $60 |
| Length | 6'8″, 7'1″, 7'3″, 7'6″, 8′ |
| Power | Medium, Medium Heavy, Heavy |
| Action | Moderate Fast, Fast |
A good travel rod, especially a telescopic baitcasting one, is hard to find. KastKing makes one of the most popular models on the market today with their newly redesigned Blackhawk II Telescopic Baitcasting Rod. With their options for powers and actions, as well as variety in lengths from 6'8″ to 8′, this line of rods, are applicable from the creek to surf fishing and can be brought along easily as you travel so you won't be limited no matter your destination.
The 24-Ton carbon-graphite composite blanks also feature a solid fiberglass tip, which goes a long way in enhancing the durability of a sectional rod. The snug-fitting ferrules and floating line guides similarly help eliminate "dead spots" along with the blank, which is a common hindrance of power in telescopic rods. When packing, the Blackhawk II compacts down to 21 inches, so can be literally taken with you everywhere whether by plane, train, or automobile. It's also light on weight as well as durable, thanks to the stainless steel guides, graphite reel seat, and EVA foam handles.
---
20. KastKing Brutus Two Piece Baitcasting Rod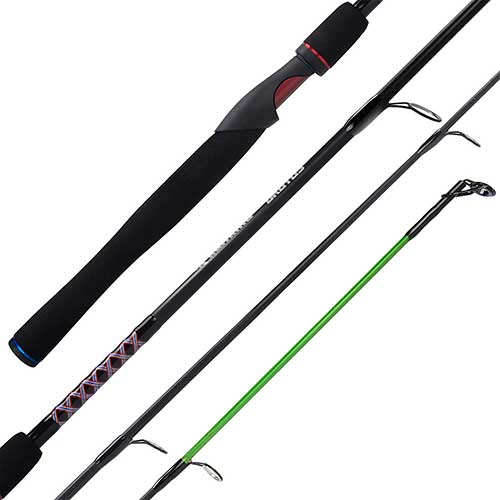 | | |
| --- | --- |
| Estimated Price | $35 to $50 |
| Length | 5'6″, 6′, 6'6″, 7′ |
| Power | Medium, Medium-Heavy, Heavy |
| Action | Moderate Fast, Fast |
The two-piece Brutus Baitcasting Rods by KastKing are made "Brute Tuff" by a carbon fiber graphite fiberglass blend in the blanks. The guides are all stainless steel for durability against corrosion, while the guide on the tip has a zirconium ring for better resistance from line grooving.
Other features are a chartreuse-colored strike tip for better bite visibility when lighting is low, and some fairly handsome criss-crossing wrap design on the blank finish. With the price and other features, it's obvious that this is KastKing's competitor to Shakespeare's Ugly Stik line, albeit in strictly two-piece construction. It has a bit of the same weight problem, with the largest of the casting rods weighing in at over half a pound. It is still an extremely durable rod with some interesting length options, and besides the attractive price, you'll have a lot of fun with it for years to come.
---
Information on Baitcasting Rods
Baitcasting Rod Action
You may have heard of a rod's taper used interchangeably with its action, and that's because how much of the rod's material diminishes from the butt to the tip affects its stiffness and how it bends. This tapering is the primary cause of rod flexing, with the material of the blank and how tightly wound together being contributing factors, as well.
Different actions in baitcasting rods are ideal for different techniques, and especially for hook sets and how you're going to fight a fish in order to land it. Action ratings typically range from slow, moderate, and fast, with some combinations like moderate-fast, and extra-fast. They may make more sense to think of how soon a rod snaps back into being straight when you bend it and let go, and are measured like this.
Description of Rod Actions
Slow: also known as "parabolic" just like the graphs you saw in high school algebra, these rods will bend easily from the tip to the butt-end. This action is great for casting small lures long distances, and fighting fish that make hard runs toward you or the boat, allowing you more "play" without much risk of the rod breaking from sudden bending pressure. What will be a problem, however, is having enough pressure to set a large hook easily into the fish's mouth.
Moderate: bends at the middle of the rod and loads up well with small to medium-sized lures. This action goes well with crankbaits with tree hooks. The moderate action is slow enough to let a bass get its lips around those sticky trebles before you've pulled the rod away in a hook set- a common frustration using a fast action rod for this technique.
Fast: begins bending closer at the tip, and therefore the rod straightens much quicker when pressure is released. Fast action rods have a lot more backbone support behind the flex, providing good hook sets and strong lifting capacity. In bass fishing, this is a good all-around rating, providing much more sensitivity, as well.
Baitcasting Rod Power
Also known as rod weight, power ratings indicate how much pressure applied to a rod it takes in order to make it flex. They range from ultra-light to extra-heavy and correspond primarily with the weight of the line, lures or baits, and additional tackle your rod is designed to throw. There is no exact industry standard, so the power rating and its corresponding lure and line weights vary slightly from brand to brand, but on most rods, you will find both printed somewhere along the stick.
Advantages of Baitcasting Rods
The main advantages of using a baitcasting rod as opposed to a spinning rod are more accurate casting, heavier fishing line, and control. Lures can be set softly into the water exactly where you want them to be placed.
Line comes off of a baitcaster with more control than a spinning reel, in a straight motion towards your intended target off the spool as opposed to un-coiling. The casting rod's line guides are therefore much smaller in diameter, allowing for a more accurate controled cast. With the stiffness of a casting rod and the mechanics of casting reels, heavier lines can be used with reduced risk of breaking offline or snapping the pole while fishing.
Your control of the line on a casting rod is much improved versus a spinning rig. Different casting techniques can be employed at short distances, like "pitching" lures into dense cover where fish are suspected to be, silently and accurately. Also, while fighting a fish, a single finger can manage the amount of drag by placing it over the spool, minimizing the time you need to make last-second adjustments.
Best Length for Baitcasting Rods
Long-distance casting is synonymous with long rods, and you will rarely find a baitcasting rod shorter than six feet. But the huge amount of specific fishing techniques out there still means a wide range of rod lengths to choose from. Lakes, creeks, oceans, on a boat, on a bank, wading in the surfcasting rods offer the angler to cast a reasonable distance and have better control of the line post-cast. So where and how you'll be fishing determines if a 6'6″ or 9′-14′ pole will be more efficient.
If you are a surf fisherman, a longer pole will be advantageous to be able to cast beyond the breakwaters where a lot of ocean species of fish like to hang out. Surf fishing rods are generally the longest of the bunch, in the nine to the fourteen-foot range.
When targeting a species like bass at the lake, most anglers have on hand several rods of different lengths (as well as power and action ratings), because the fish can oftentimes be found in different locations, deep and shallow, in the open or hidden in the cover. Most of the time a range of six to eight-foot poles is used. A shorter rod, in the low six-foot area, is good at permitting the fisherman to have better control in techniques like walking a frog and skipping lures under docks and low hanging branches. Both require the rod to be worked close to the water's surface, so a longer rod might be more prone to inadvertently striking the water and ruining the lure's action.
Many things are taken into account when selecting the rod length, but one of the most important is the fisherman's own preference. Your height might mean you can wield a long pole in close quarters more effectively, or a shorter one. Bank fishermen often have to contend with tree branches directly above them, and all around them, making too long of a pole impracticable to cast. Trial and error are the main keys to determining which size rod is best for you.
---
Frequently Asked Questions
What is the best baitcasting rod for bass?
The best baitcasting rods for bass are made with high modulus graphite and should have a power rating anywhere from medium to heavy with an action rating of fast. A power from medium to heavy is most efficient for the lifting and hook setting ability required for this lively species. That is not to say that bass, and even large-sized ones, cannot be caught on light or ultralight rods. However, you risk losing a fair amount of hook setting power.
A fast action rod will be useful for bass fishing the majority of the time. The way a fast rod flexes closer to the tip of the rod provides a lot of support from the rest of the pole for hook sets, lifting power, and overall control of the fish. The general consensus for one particular technique, however, is that a slower action is better when using crankbaits. A moderate to moderate-fast flex happens more at the middle of the rod, allowing the bass to get better contact with a lure that is being retrieved (and usually in an erratic pattern of movement) before the angler pulls the rod for a hook set.
What type of lures work best with a baitcasting rod? 
The basic rule is that baitcasters are used with fishing lines that are ten pounds and up, and spinning rods when casting distance is most important. This would mean that heavier lures, too, are used for baitcasters. But all basic "types" of lures can be used on both, whether topwater, jigs, Carolina and Texas rigs, cranks, spinners or jerk baits, etc. Most bass fishermen prefer using a baitcaster for its control and castability, so if they can get away with it, that is what they'll choose.
It is all about efficiency. Smaller lines are less visible to fish, and in many circumstances, it is necessary to reduce visibility and increase stealth as much as possible. On low visibility conditions, however, like cloudy days and murky water, you might be able to get away with using a heavier line or even straight braid for many techniques you'd usually go about with more finesse. What baitcasters definitely have over spinning rigs, though, are speed and power. Big topwater lures like frogs, buzz baits and spooks, and pitching and flipping jigs, on their own these techniques should be reserved for baitcasters.
What rods do pro bass fishermen use?
The same ones you can buy off the shelf. This question has been posed many times at tournaments like the Classic, and people still have the misconception that professional bass anglers get some kind of suped-up reels and elite rods from their sponsors. Besides the concept gear they are asked to work on with them they have nothing not available to you.
You do not see too many professionals using the lower end models, but most brands offer different products at different price ranges, and the more costly setups is what they typically use. Well-known rod manufacturers like St. Croix, Lew's, Duckett, Abu Garcia, Daiwa, and Shimano are popular on the tours. Scott Martin, a very well known FLW fisherman, uses Okuma rods. They sometimes switch brands once their promotion contracts are up, but all the rods they use are available to anyone with a couple of hundred dollars to spend.
Do baitcasting reels cast further than spinning reels?
In most cases spinning reel with cast further. However, there are several casting leagues and tournaments throughout the world that show baitcasting reel setups casting further. In 2019, Will Nash set the American record for casting a 100-gram lead weight 873.06 feet, which is almost the length of three football fields. He did it using a Chief Xtreme 530CXS baitcaster, and a rod made by Zziplex at 14 feet and 4 inches long.
For people who are not practicing record-breaking casting distances with super technical grade gear, a spinning reel will likely cast further. The technique is extremely important, as casting a spinning or a baitcaster rod is a little different. Casting a spinner is a whipping motion, while a baitcaster is more of a lob. The kind of line on the spool matters, too, as different weights and frictions can speed up or slow it down. Braided lines generally cast the smoothest, and furthest.
Some people will argue which type of reel will cast further. Baitcasters are notoriously difficult to learn how to cast with at first, and no doubt some people are just always going to be more successful sticking to the simpler spinning gear. The mechanics of baitcasters can be set up to be superior for casting far.
What type of line should be used with baitcasting rods?
Baitcasters are designed for heavy fishing lines, usually starting at ten pounds and up. Every rod has a power rating, however, which indicates how much weight is necessary in order to make it flex, and using a line too heavy or too light as specified will either negatively affect its casting ability, or possibly even cause the rod to break.
There is no industry standard for power ratings. A medium heavy rod from St. Croix might be noticeably different from a medium-heavy rating on a Shakespeare, but this is why most brands print both a power rating and a line and lure weight on each rod. The line and lure weight should be followed because this is the maximum amount of weight the manufacturer has found can be used with the rod before it fails, either in performance or more catastrophically with breakage.
This is just an average estimate, but generally, a rod that has a medium-heavy power will also say its line weight is 12-25 pounds, and its lure weight is 1-4 ounces. A heavy power rod might say it's line weight is 20-40 pounds, with a lure weight of 4-8 ounces. As long as you do not go above the high ends of these specifications, your rod should be fine.
That said, baitcasting rods can handle all types of fishing lines including monofilament, fluorocarbon, or braid. Braided lines can potentially cause some extreme damage to line guides, as the thin diameter and heavier weight capacity can cause grooving into a rod's guide inserts. This is a common problem when using a rod with cheaper components, such as stainless steel guides. Better rods use ceramics and other materials for their guides, and resist grooving very well.
How Do You Cast a Baitcasting Rod?
Birdnesting a baitcast reel is extremely frustrating, and even if you become a pro at casting it's still going to happen from time to time. Besides learning the proper casting technique, it will save a lot of trouble if you first calibrate the reel with the weight of the lure you are about to throw. It sounds annoying to have to do this, but it does not have to be exact and is very simple. The object is to be able to depress the spool release button, and with the rod pointed in the 10 o'clock position, your lure then smoothly, and slowly, descends towards the ground. If it falls too fast, you will get a birdnest right then and there, too slowly and you won't be able to cast as far.
Different models of baitcasters have different features, like magnetic and friction brakes, centrifugal systems, etc., so you'll need to play around with adjusting these until your reel and lure are calibrated correctly. Once that is done, it is safe to try and properly make a cast. There are different casts you can make with a baitcaster like a one-handed roll cast, pitching, flipping, but the most fundamental is the overhead cast.
The Overhead Cast
To begin, start with some line already out, so that the lure is hanging about nine to twelve inches from the rod tip. One hand should be on the rear grip, and your dominant hand goes upfront with part of that thumb simultaneously depressing the spool release button and the line around the spool at the same time.
Your dominant hand is next brought up and back towards that side's shoulder, your elbow is bent in a right angle pointing directly at your target, and the rod tip tilts a little past vertical behind you. There is no whipping motion as with a spinning rod, but instead, a sweeping motion as you jerk the rod forward until the dominant arm is fully extended at a 45-degree angle with the reel at eye level, lobbing the lure to its destination.
The tip of the thumb keeping the line against the spool is loosened just enough halfway into this motion to feather the line as it comes out, keeping it in check so that the lure does not overshoot, or a birds nest does not form as it strikes the water. When you are satisfied with where the lure is positioned, a simple hair-turn of the reel handle re-engages the spool release button and locks it.
How Do You Pitch With a Baitcaster?
This is an extremely exciting way to fish for bass hiding in cover, and done correctly it provides a stealthy presentation that tends to catch mostly large fish. It is only difficult at first, and hard to understand the concept and intricacies until you try it for yourself.
Different fishermen recommend different lengths of rod for this, but it all comes down to personal preference. The length of a rod you can use, however, the further distance you can get with this cast. It tends to work best with a medium-heavy to heavy powered baitcasting rod, seven-foot or longer, and a fast action tip. You will benefit from a heavier line, either solid braid or braid with a fluorocarbon leader works best when these fish try to bury themselves deeper.
The expectation is pinpoint accuracy and quiet entry. You see an opening through a mat of grass or tree trunks, and you want to pitch a jig into it without spooking the fish. First, depress the spool release button and let your lure fall until it is exactly level with the reel when the rod is in the 12 o'clock position.
Then, rotate the pole so that the reel faces sideways, towards the non-dominant hand which is holding the lure. Of course, your dominant thumb is acting as a break, preventing any more line from coming out, and it will stay like this until the end motion of the cast. The other hand should be able to pull on the lure without pulling out more line, and this pulling pressure between both the rod and lure are actually going to help launch the jig into your target, almost in the same way a catapult works.
You do not want to pull too hard. Just enough that the rod tip almost flexes, but doesn't. Your feet should be shoulder-width apart and slightly staggered, with the dominant side forward. Now, the rod tip is facing down, reel facing inward, and your elbow up and out at an awkward angle while the hand clutching the lure (beneath the hook, no fingers in front of it, for safety) is down and slightly pulling it towards your back.
Both hands then move towards the target, still applying pulling pressure on one another until the release, where you let go of the lure and the spool (feathering the line with the thumb as it comes out) and the rod tip is extended forward, all in a fluid, sweeping motion. When perfected, the lure should enter the water with minimal splash or noise, and jigged up and down to elicit action and a strike.
Can Flipping Be Done With a Baitcaster?
Flipping can definitely be done with a baitcaster, and with even more control than a spinning rod and reel. Also, flipping or pitching techniques are designed for getting bass out of dense cover in shallow water, like matted grass and submerged tree branches, so a baitcaster is perfectly suitable for use with the tough, heavier lines necessary to do this.
The proper length of rod and distance away from the cover you're fishing depends somewhat on the individual fisherman's height, and what he's comfortable using. A rod somewhere around seven to seven and a half feet works best for this application. Twenty-pound braided line or stronger is usually recommended, but some people find fluoro or braided line with a fluoro leader successful.
To start, you need to have enough line out that you are able to pull enough in your free hand straight off of the spool until your arm is fully extended out to your side, and also enough line hangs off of the rod tip until your lure of choice rests in the air evenly with the reel. Different people have different wingspans, so how much line this actually comes out to will vary.
Your dominant hand will remain on the rod and reel as always, with the thumb acting as a break against the spool, while the other hand is holding the excess line from between the spool and first guide ring. You will turn the dominant wrist so that the reel faces inward, towards the hand holding line, and begin lifting and lowering the rod tip so that the freely hanging lure swings back and forth. As you underhand swing the rod tip down, you the other hand pulls its line out to your side. As you underhand swing the rod tip up, that other hand comes in towards the reel while the line slides through its fingers.
Do that motion a few times to warm up or get the hang of. When you actually make the cast and send the lure to the target, it will be as you are underhand swinging the rod tip up, so the other hand will be releasing its line back to the reel, providing more distance. It works similar to a pendulum, building up enough pressure but with enough control to ease the lure into the target zone, with minimal splash or noise.
What Materials Are Used To Make Baitcasting Rods?
The best casting rods today are made primarily out of graphite, which was first produced by the Fenwick rod company in the 1970's. Graphite provides the best sensitivity and strength while also being lightweight of all the materials used for rods, but the construction process can be very complex, and not all graphite rods are made to the same standards. Companies like G. Loomis and St. Croix follow a lot more steps than others making graphite rods.
Extreme temperatures are needed to work the graphite, and good rod makers are trying to do two things to it, create tensile strength, and tensile modulus, which equate to strain and stiffness. Creating enough heat to do this is expensive on its own, but the balance has to be struck between them, or else you get companies offering cheaper rods that advertise as having high modulus graphite which breaks easily from lack of tensile strength.
The graphite is then layered, and another balance has to be made between that and the resin added which holds them together. Too much or too little of either can make a rod too soft or too heavy, and, again, there is not much industry standard so some companies skip steps and cut corners, but still advertise to the consumer as having used the same materials as a respected rod maker did. It is a very complicated process, with the materials used is only part of the story. Someone looking to buy a good casting rod must be very diligent in understanding the finished product.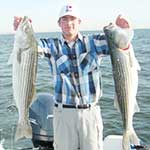 Captain Cody has worked on charter fishing boats in the Florida Keys, Virgin Islands, and Alaska. Growing up in Pennsylvania Cody has also done extensive freshwater fishing including bass fishing tournaments. Cody strives to provide detailed information about the best fishing gear and tactics to help both novice and experienced anglers have a more productive and enjoyable time on the water. Cody also has a background in aerospace engineering and neuroscience but really only takes pride in being good at one thing and that is fishing!