Spearfishing is the ultimate outdoor activity. It combines great aspects of both hunting and fishing. While it may seem easy to dive down and get a fish it is really much more involved than that. When spearfishing you leave the boat and enter what can be harsh ocean conditions. Once a fish is taken the fish is still fighting on the line. Also, the blood in the water can attract sharks so it is important to handle the fish carefully.

Spearfishing is typically done on a reef where snapper, grouper, hogfish, kingfish, mackerel, and cobia can be taken with a speargun. However, in some countries like the Bahamas spear-fishermen are not allowed to use a speargun with a trigger. Also, divers in the Bahamas and parts of Hawaii are not allowed to take fish while scuba diving even with a pole spear or Hawaiian sling. Once you get good at spearfishing on reefs blue water spearfishing is considered the next level where people target wahoo, tuna, and mahi-mahi. Most fish that can be kept while fishing can be taken with a speargun if the fish is legal size. There are some exceptions like tripletail which cannot be harvested with a speargun.
Freediving is the best way to spearfish in my opinion. It is recommended to start out on shallow reefs less than 20 feet deep and then start working deeper as your spearfishing and freediving skills increase. Also, consider taking freediving lessons which will increase your freediving skills much more than you probably think. Below I will discuss the best spearguns to use based on the location and type of fish being targeted.
Here Are the Best Spearguns
---
1. AB Biller Speargun

| | |
| --- | --- |
| Length | 24, 32, 36, 42, 48, 54 and 60 inch |
| Shaft Diameter | 7.9 mm, 5/16 inch |
| Tip Style | Slimline Double Barb |
| Bands | Two 9/16 inch Rubber Slings |
| Material | Mahogany or Teak Wood |
AB Biller Special Series spearguns have wood frames and two powerbands. The range of the speargun depends on the length. I have used the AB Biller 42 inch Special when scuba diving a found it easy to use. It can harvest small fish like snappers to large fish like striped bass, cobia, grouper, and kingfish. The range of the 42-inch version is about 10 feet and can catch fish up to around 20 pounds.
The AB Biller Special Series comes in lengths from 24-60 inches which correlated to rage effectiveness of 6 to 15 feet. It has two 9/16 inch rubber slings or powerbands and has a 5/16 inch stainless steel shaft. This a beautiful speargun and comes in three wood finishes which are mahogany, teak, and padauk.
This was actually the first speargun I ever used and it was not difficult to learn. The 42-inch speargun does not come with a spool which makes it easy to use. We took the gun on a dive and practiced shooting in the sand before trying to hit a fish. It did not take much practice before we could consistently hit a small target at about 8 feet away.
---
2. AB Biller Stainless Steel Speargun

| | |
| --- | --- |
| Length | 24, 32, 36, 42, 48, 54 and 60 inch |
| Shaft Diameter | 7.9 mm, 5/16 inch |
| Tip Style | Slimline Double Barb |
| Bands | Two 9/16 inch Rubber Slings |
| Material | Stainless Steel |
This is the stainless steel version of the AB Biller Special Series speargun above. This makes the speargun very durable and rigged but does increase the weight. Wood spearguns are typically neutrally buoyant or slightly buoyant. The metal speargun will be negatively buoyant which some free divers or scuba divers might prefer. I have not actually used a stainless speargun and think that wood spearguns are the better option. Wood spearguns last for years. The bands wear out over time and need to be replaced but there is typically little maintenance to do on the body and frame of the speargun.
---
3. Riffe Euro Speargun

| | |
| --- | --- |
| Length | 55, 75, 90, 100, 110, 120, and 130 cm |
| Length | 21.7, 29.5, 35.4, 39.3, 43.3, 47.2, and 51.2 in |
| Shaft Diameter | 7.1 mm, 9/32 |
| Tip Style | Hawaiian Flopper |
| Bands | Two Rubber Slings |
| Material | Laminate Teak Wood |
Riffe Euro has an open-muzzle with magnets to hold the shaft in place. The Riffe Euro has been a leading speargun design for many years. This European style configuration has a low profile stock and short butt compared to other spearguns of this size. Some people like the short butt which is good for chest loading. This gun comes with stainless steel inserts for a reel.
The 110 and 120 come in 110X and 120X versions. These are the same spearguns but the X version has a butt extension. This butt extension is mostly useful for hip loading the speargun. For divers that like to chest load the speargun, the regular version is typically preferred. The listed shooting range is 10 to 26 feet depending on the length.
---
4. Riffe Competitor Series Speargun

| | |
| --- | --- |
| Length | 27, 33, 39, 45, 48, 51, and 54 inch |
| Shaft Diameter | 7.1 mm, 9/32 |
| Tip Style | Hawaiian Flopper |
| Bands | Two Rubber Slings |
| Material | Solid Mahogany Wood |
Riffe Competitor Series spearguns are built from one piece of mahogany wood. This is a solid well-built speargun. It comes in the Hawaiian style setup which consists of the 9/32 diameter shaft with a Hawaiian flopper tip, 1 wrap of line, and two power bands.
This is a good setup for beginners and advanced divers and works well for short and medium-range shooting. Large bands, a reel, and heavier shaft are better for long-range open water situations. These have a listed shooting range from 5.5 feet to 13.5 feet depending on the length.
Riffe Spearfishing Spool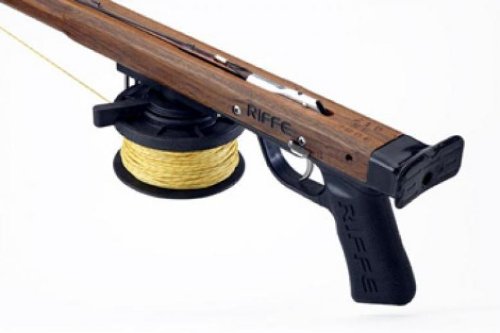 A spool is needed on a speargun when targeting large fish over 5 pounds. These big fish can pull hard and risk pulling the spear out of the fish or the speargun out of the user's hands. For really big fish even a spool is not enough and floats are needed to help tire and track the fish. We will discuss this in more detail below.
---
5. Riffe Bluewater Elite Speargun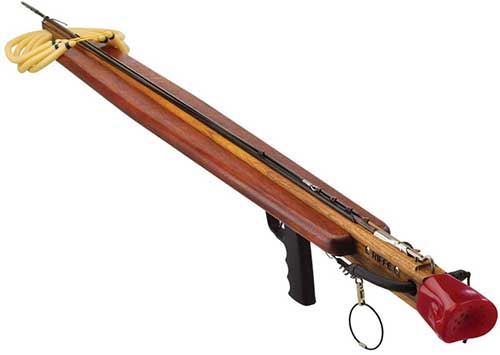 | | |
| --- | --- |
| Length | 67 inches, 170 cm |
| Shaft Diameter | 8.7 mm, 11/32 inch |
| Tip Style | Ice Pick Slip Tip |
| Bands | Four Amber Power Bands |
| Material | Solid Mahogany Wood |
This Riffe Bluewater Elite Speargun is known to be the best speargun for large pelagic fish such as wahoo and tuna. It is made from mahogany wood and has a teak finish. The shaft is 165 cm in length and has an ice pick slip tip with a tandem slide.
The multistrand cable is a 750-pound test and is rigged in a breakaway setup. Other features include a glass-filled nylon handle, full-body weighted Padauk wings, and a red urethane butt that works for hip and stomach loading. The polyethylene track allows for accurate shooting at long ranges. It has a listed shooting range of up to 29 feet.
---
6. JBL Euro Woddy Speargun

| | |
| --- | --- |
| Length | 90,  110, and 120 cm |
| Length | 24, 32, 36, 42, 48, 54 and 60 inch |
| Shaft Diameter | 7.1 mm, 9/32 inch |
| Tip Style | 3 Inch Tuned Flopper |
| Bands | Two 5/8 Elite Nitro Bands |
| Material | Solid African Mahogany |
This JBL Euro Woddy is a top-quality speargun made from African mahogany wood. Key features include a CNC machined barrel with full spearshaft track, stainless steel spear shaft with large shark fin load tabs, wishbones made with triple-core spectra, and an open-muzzle. A shock line is included and is directly connected to the spear. The dovetail accessory mount can be used to easily attach a JBL reel.
This speargun is positively buoyant and is very quiet which are both good characteristics of a speargun. These spearguns work well up to a 10 to 15-foot range on the reef and in open water.
---
7. Hammerhead Evolution 2 Speargun

Length
55, 65, 75, 90, 120, and 130 cm
Length
21.7, 25.6, 29.5, 35.4, 47.2, and 51.2 in
Shaft Diameter
6.75 mm, 17/64 inch
Tip Style
Single

Flopper

Bands
Two

Power Helix Bands

Material
Aluminum
The Hammerhead Evolution 2 is an improved model over the original Hammerhead Evolution speargun. This speargun has been tested to be one of the most accurate spearguns on the market. The frame is made from aircraft-grade aluminum.
It has two power bands with nylon coated Dyneema wishbones. The open barrel has an integrated shaft guide.  There is an ambidextrous safety which is a slide at the top of the frame. This makes it so the speargun will work for left and right-handed users. It has a 6.75 mm shaft made with a rigid 17-4 treated stainless steel with large shark fin load tabs. This speargun is made in the USA. 
---
8. Cressi Comanche Power Band Speargun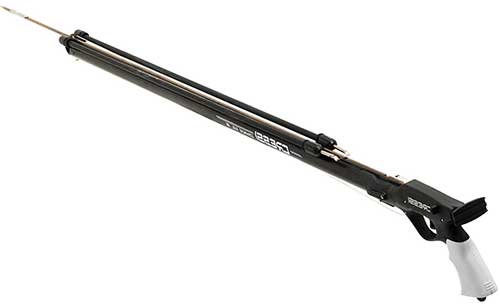 | | |
| --- | --- |
| Length | 60, 75, 90, 100 and 110 cm |
| Shaft Diameter | 26.6, 29.5, 35.5, 39.4 and 43.3 inch |
| Tip Style | Single Flopper |
| Bands | 16 mm Power Band |
| Material | Aluminum |
The Cressi Comanche is a single power band speargun. This is a basic speargun that works well at close range. I would recommend adding a shock cord to the speargun line. Many users report the line snapping after several shots without the shock cord. Also, users say the band can be difficult to pull initially which is true of most powerful spearguns. The longer the speargun the more power or energy obtained. If the band is too difficult longer power bands can be purchased, just go one size longer. I describe both of these items below.
Low-cost spearguns can still be powerful and take large fish but are going to have a few drawbacks. These spearguns are light and have more recoil than wood spearguns. Also when firing there will be noise that can spook fish during long-distance shots.
The spear shaft floats above the gun and travels through a muzzle which makes them less accurate than wood spearguns with a rail. These spearguns are air-filled and are positively buoyant. These spearguns will likely last a few years but have plastic parts that are going to wear out with age and use. All that being said this is a good option for people that only go spearfishing during vacations a couple of times a year. It is also good for divers that plan to harvest fish at close range.
Shock Cord for Speargun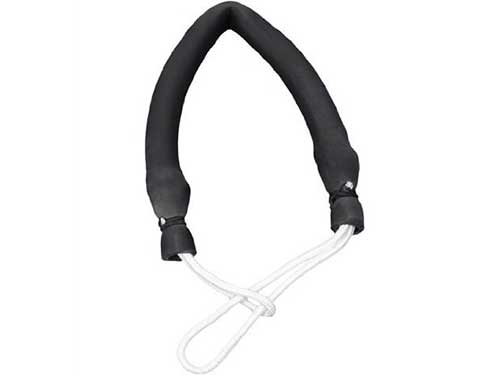 This is a Cressi shock cord that can be added to the rope that holds the spear. It is a bungee shock cord that helps reduce the instantaneous force on the rope when the spear does not hit the intended target. The elastic stretch also helps hold the line tight when loading the speargun. Most shock lines for strong spearguns have a built-in bungee or use a reel.
Cressi Speargun Reel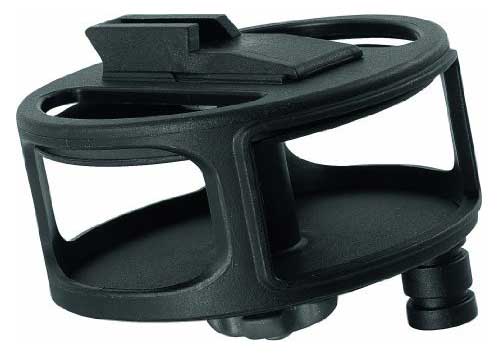 Cressi reel with 100, 130, and 160 feet line capacity. Adding a reel is important when targeting fish over 5 pounds. Divers do not always stone the fish. Strong fish can rip the speargun right out of a divers hand if a reel is not used. The reel attachment is designed to work with most Cressie spearguns.
Braided Spearfishing Line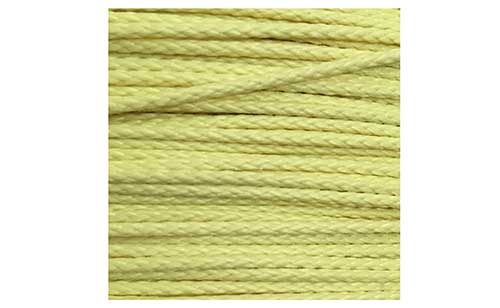 Kevlar braided line is a great choice for spearfishing line. It is strong and abrasion-resistant. When on a reef it is common for the line to rub against rocks, coral, and structures that could cut the line. Dyneema cord is also commonly used as a spearfishing line.
Replacement Power Bands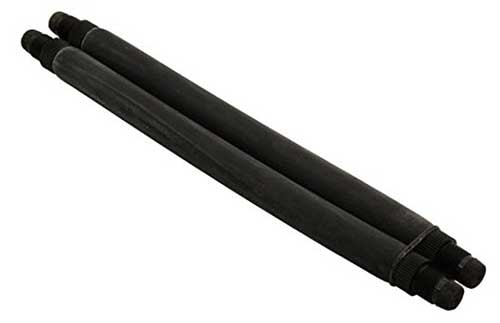 Replacement power bands for the Cressi competition series spearguns. If the bands break or get weak it is good to replace them. Also if the diver wants the speargun to be easier to pull back but less powerful longer bands can be used.
---
9. Cressi Apache

| | |
| --- | --- |
| Length | 35, 45, 60, 75, and 90 cm |
| Length | 13.8, 17.7, 23.6, 29.5, and 35.4 inch |
| Shaft Diameter | 7.1 mm, 9/32 inch |
| Tip Style | Single Flopper or Trident Three Prong |
| Bands | 13 mm power band |
| Material | Anodized Aluminum |
The Cressi Apache is a great entry level spear gun. It is versatile as it comes in lengths from 13.8 inches for lion-fish and up to 35 inches for larger fish on the reef. The standard band diameter is 13 mm which makes it easy to pullback and load. When fishing for larger fish the bands can be easily upgraded to 15 mm bands for some extra speed.
This is considered a carbine speargun and is not typically used for blue-water pelagic fish. It does have a hole on the bottom of the handle where a float-line can be easily attached. Tip styles include a single flopper for all lengths except the 13.8 inch model which is used for lion-fish so it has a trident three prong tip. It does have a closed muzzle which helps make sure shaft stays on even when bumping into things. Closes shafts are typically used by scuba divers while open shafts are used by free divers that need accuracy at long rage for large pelagic fish.
---
10. JBL Carbine Series Spearfishing Spearguns

| | |
| --- | --- |
| Length | D5 16 in, D6 23 in, D7 33 in, and D8 41 in |
| Shaft Diameter | 7.1 mm, 9/32 in |
| Tip Style | Flopper or Twin Barb Rock Point |
| Bands | One 1/2 Nitro Band |
| Material | Aluminum |
The JBL Carbine Series offers four models JBL The Mini, JBL Mini Carbine, JBL Carbine, and JBL Super Carbine. Both the Mini and Mini Carbine have a flopper tip. The Carbine and Super Carbine have a twin barb rock point tip.
Key features of these spearguns are an aircraft-grade alumina body, stainless steel spear, and a stainless steel trigger assembly. The JBL Carbine series is known for being a good speargun at a reasonable price. It will not have the range and low noise of a high-end wood speargun but is an effective tool at harvesting fish at a close range. With only having a single band it is easy to use and is a good speargun for beginners.
---
11. Cressi SL Star Pneumatic Spearfishing Speargun

| | |
| --- | --- |
| Length | 16, 24, and 28 inch |
| Shaft Diameter | 8 mm |
| Tip Style | Double Flopper |
| Bands | No Bands, Pneumatic |
| Material | Aluminum |
The Cressi SL Star is a pneumatic speargun with means that it is powered with air pressure. A shaft loader is placed on the end of the shaft and it is pulled down into the barrel of the speargun. When pressing it in air pressure builds in the cylinder. This air pressure is what moves the spear forward after pressing the trigger.
These pneumatic spearguns are known for being small yet still powerful enough to harvest fish. The shock line is connected to the spear via a plastic cylinder that slides on the spear shaft. There is a standard version and a version with a power reducer. The power reducer makes it so when it fires only a portion of the air that is pressured in the chamber is used. This reduces the shaft speed which can prevent the shaft from damage when firing against rocks and hard surfaces. If you always plan to fire at full power get the one without a power reducer. This feature would just be one more part that could break and need maintenance.
---
12. SEAC Sting Sling Speargun

| | |
| --- | --- |
| Length | 35, 45, 55, 65, 75, and 85 cm |
| Length | 13.8, 17.7, 21.6, 25.6, 29.5, and 25.6 inch |
| Shaft Diameter | 6 mm |
| Tip Style | Single Flopper |
| Bands | 16 mm Amber Latex Sling |
| Material | Aluminum |
The SEAC Sting Sling is a small compact speargun. It is intended to be used to catch small fish at close range. It is made with a 28 mm extruded aluminum tube, stainless steel trigger mechanisms, and a shockproof nylon handle. A nylon-polyester shock cord is included and is connected directly to the shaft. The tip is connected to the shaft with M7 threading.
---
13. SEAC-Polpne Sling Speargun

| | |
| --- | --- |
| Length | 50 cm which is 19.7 inch |
| Shaft Diameter | Square, 7mm Threads |
| Tip Style | Trident Three Prong |
| Bands | 16 mm Amber Latex Sling |
| Material | Aluminum |
This SEAC-Polpne Sling is a spring-loaded speargun. It is a compact device with a total length of 24 inches when loaded. The shaft can be stored to clips along the barrel when not in use. It is made with an anodized aluminum barrel, a square metal spear with 7mm threads for the trident spear tip.
The effective range is up to three feet. A rope can be attached to the spear if desired. This style of speargun works well for harvesting lionfish. Small poll spears also work well for lionfish as well but this is an option for divers that like trigger-style spearguns.
---
14. Neritic Big Blue Spearfishing Pole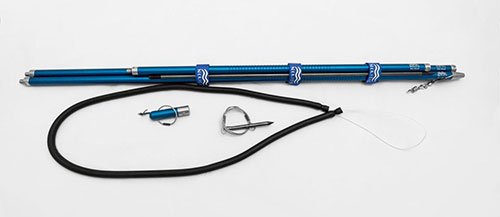 | | |
| --- | --- |
| Length | 4 foot – 10 foot |
| Shaft Diameter | 3/4 inch |
| Tip Style | Magnetic Slip Tip |
| Bands | One Power Band |
| Material | Aluminum |
For areas where spearguns are not allowed or for divers that prefer pole spears this Neritic Big Blue pole spear is a great option. The Neritic Big Blue is a great spear for small, medium, and large fish on the reef or in blue water. The pole spear has two 3-foot sections and one 2-foot section and a two-foot injector rod. This means the spear can be made into 4, 5, 6, 7, 8 or 10 foot lengths. The longest section length is only three feet so this is a great pole spear to use while traveling. I know people purchase these when going to the Bahamas because trigger spearguns are not allowed.
The flared tip is connected to the injector rod with a magnetic slip-tip. A cable is also attached to the tip and spear. The tip slides off the front once a fish is taken. The pole spear also has machined grooves in each section which allow for a good grip of the spear. Each threaded area has o-rings to ensure a secure fit. At the end of the spear, there is a cable ring that can be connected to a surface float. The pole spear power band is very strong and can be knotted when the pole spear is shorter than its full length to still get a powerful shot. It is important to do a freshwater rinse of the threads and connector areas after each use.
Neritic Big Blue Video
There are lots of 3-6 foot pole spears on the market but these are flimsy and not very good at taking fish that are over 12 inches long. If you are going to use a pole spear I would recommend buying a sturdy long pole spear over 8 feet long. The exception to this is when targeting lionfish, then a 2-foot sling pole spear is perfect. You can take the small spear on all dives and it is easier to carry. Lionfish are not spooked easily and will sit in the same spot even if you shoot and miss so a short spear is all that is typically needed.
Cressi Spearfishing Dive Gloves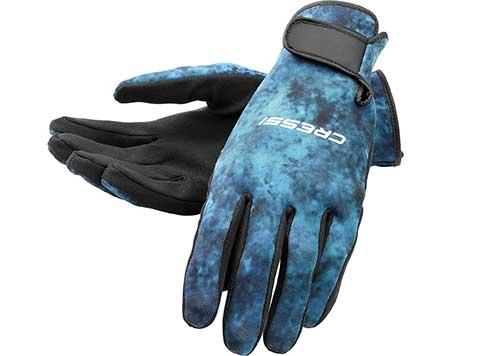 Cressi spearfishing dive gloves are a good idea when using large pole spears for a better grip. These also help keep hands warm and protected from superficial cuts and scrapes.
---
15. Riffe Pole Spear 9-Foot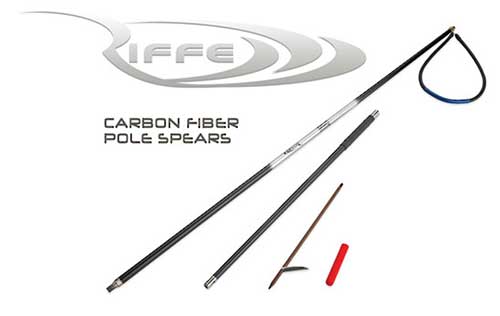 | | |
| --- | --- |
| Length | 9 foot 3 Piece |
| Shaft Diameter | 14 mm 9/16 inch |
| Tip Style | Mini Ice-pick Detachable Tip |
| Bands | 3/8 Power Band |
| Material | Carbon Fiber |
This carbon fiber Riffe pole spear comes in three 36 inch sections. Each section is threaded together to make a 9-foot pole spear. The tip is 10 inches with a sub-mini ice pick end. This is another great option for spearfishing any size fish when trigger devices are not allowed. One meter of 1000 pound spectra line is also included. Vice grips, a 3/8 wrench, and a 9/16 inch open-end wrenches can be used to properly assemble and take apart the pole spear. Do not use vice-grips on the carbon fiber shaft as it could cause damage.
---
16. Mako Traveler Pole Spear with Barb Tip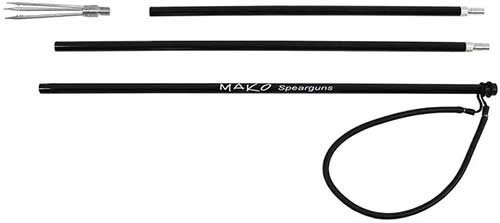 | | |
| --- | --- |
| Length | 6 foot 7 inch |
| Length Stored | 27.5 inch |
| Shaft Diameter | 1/2 inch |
| Tip Style | 5 Prong Paralyzer Tip |
| Tip Thread Diameter | 14 mm |
| Bands | 3/8 inch Power Band |
| Material | Aluminum |
This Mako pole spear is perfect for traveling. It can be broken down to be just 27.5 inches in length. Fully assembled the spear is 6 foot 7 inches. This is a good spear to catch fish that are under 5 pounds. It can be used as a two-piece setup that is 4 feet 11 inches for catching fish at short distances. Using a single-piece with the tip assembled a 33-inch inch version can be used to get lionfish.
The shaft is made of anodized aircraft-grade aluminum. It assembles flush so it can release smoothly in the diver's hand.  There is a 12-inch spear tip with a flopper that can be purchased separately for people that intend to try and take large fish. I would recommend the Neritic Big Blue for divers that are serious about taking big fish with a pole spear.
---
17. Lionfish Pole Spear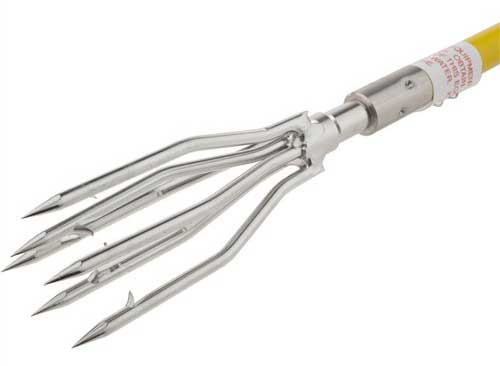 | | |
| --- | --- |
| Length | 20, 28, 36 inch |
| Shaft Diameter | 1/2 inch |
| Tip Style | 6 Prong Paralyzer Tip |
| Tip Thread | 6 mm male |
| Bands | Single Latex Rubber |
| Material | Fiberglass |
The Trident Lionfish Mini pole spear is specifically designed to harvest lionfish. It is made of rigid fiberglass that is durable and stiff when handling lionfish. For lionfish, a two to four-foot pole spear is all that is needed. Divers should be extremely careful when handling lionfish because they have poisonous barbs and spines. If someone gets poked they will be in excruciating pain for several hours and the affected area may be swollen for days to months. It is common to get poked after the lionfish is on the spear so be very careful when removing the lionfish from the spear.
Lionfish ZooKeeper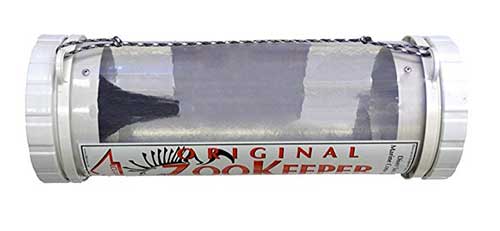 This 24-inch lionfish zookeeper to designed and built just to hold lionfish while spearfishing. If you plan to shoot and keep lionfish a zookeeper is a great tool to have. It works by pushing the lionfish into the container through a one-way cone. When you pull the spear out of the zookeeper the lionfish should remain in the container. The side is made of plastic which protects the user from the large spines on the fish. Just one poke from a lionfish can cause extreme pain and swelling. Like the worst pain, you have ever felt. However, lionfish are delicious and an invasive species in the USA so please harvest them whenever possible.
---
Spearfishing Gear
Spearfishing Flasher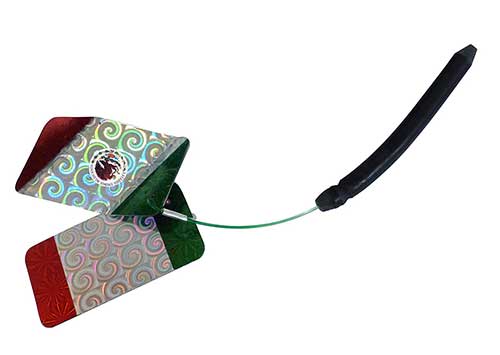 Flasher for blue water spearfishing. This flasher slowly sinks and spins which can bring fish in closer for a shot while spearfishing. This is a Mexican flag throw flasher and is commonly used to attract pelagic fish like wahoo and tuna. Some divers use dead fish but that can bring unwanted attention from sharks.
Spearfishing Rattle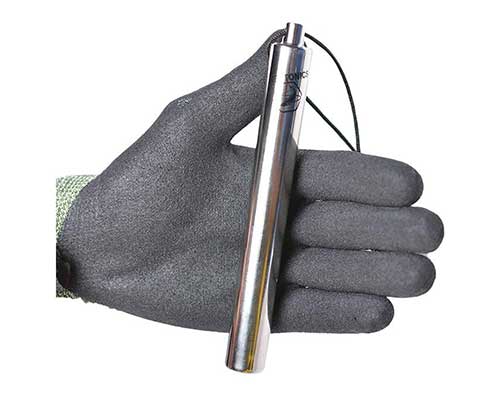 Buy from Amazon
Stainless steel rattle filled with BBs to make noise underwater to attract fish closer. Twisting and crushing a plastic water bottle underwater is know to work to attract bull sharks and other game fish as well.
Scuba Dive Stringer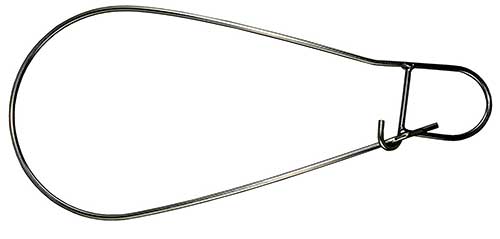 Heavy-duty stainless steel dive stringer to use while spearfishing. When scuba diving while spearfishing it is common to use a stringer to hold the fish. This can bring unwanted attention from sharks so it is best to not wear the stringer close to the body.
Blue Water Float

This SPORASUB Blue Water float attaches to a float-line and then to the spear shaft when targeting large fish. These are used when targeting big fish like wahoo, tuna, and large mahi-mahi.
Speargun Float Line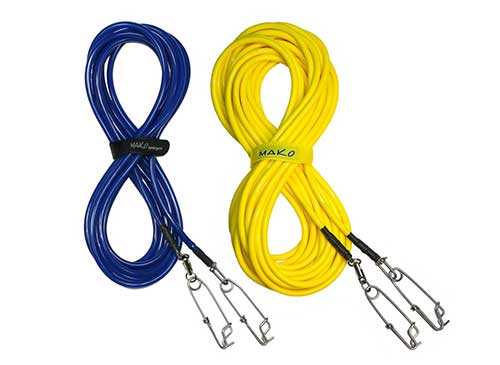 Speargun float lines by Mako come in lengths of 50, 75, 100, and 125 feet. Color options are yellow or blue. Yellow is a good color as it is highly visible to the diver and to people at the surface. This is made with a very strong 1,400-pound tuna cord and 1,600-pound swivels. The cord has a flexible outer tubing that works well at any water temperature. Commercial style tuna clips are used for the attachment to the float and breakaway spear line.
Camo Wetsuit For Spearfishing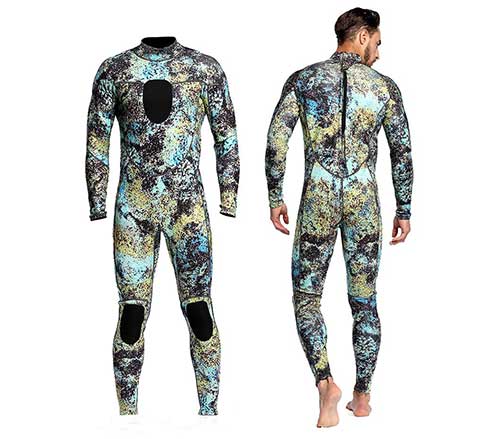 This Dyung Tec wetsuit is camo which is good for spearfishing. It is 3mm thick which works well in water temperatures from 68-78 degrees. For cold water, a thicker wetsuit or drysuit is needed. This wetsuit is unisex and works for average size men and women. The size range is small to 3 extra-large. How to estimate the best size is described in the wetsuit listing.
Vinyl Coated Dive Weights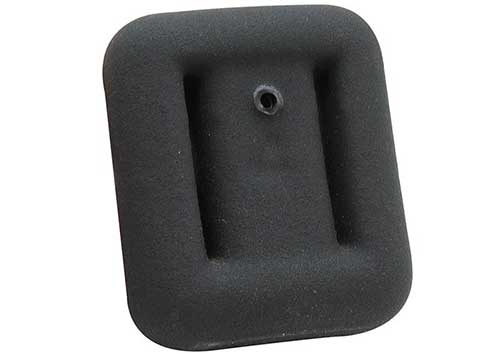 Sea Pearls vinyl-coated lace through weights for a weight belt. These come in 1, 2, 3, 4, 5, 6, 7, 8, 10, and 12-pound sizes. Color options are black, blue, and yellow. When wearing a wetsuit weights are needed in order to easily swim beneath the surface. Do not add to much weight or it may be difficult to stay at the surface. Unlike scuba divers, freedivers can not have a BCD to add air to increase positive buoyancy.
Riffe Rubber Weight Belt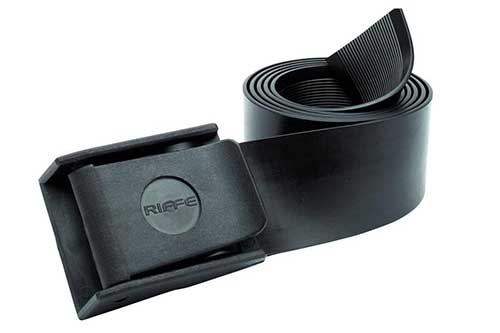 This Riffe rubber weight bel is 54 inches long, two inches wide, and has a buckle. The belt can be cut down to make a smaller size belt. It has a weight capacity of 20 pounds. The buckle is made with heavy-duty glass-filled nylon.
Drift Dive Float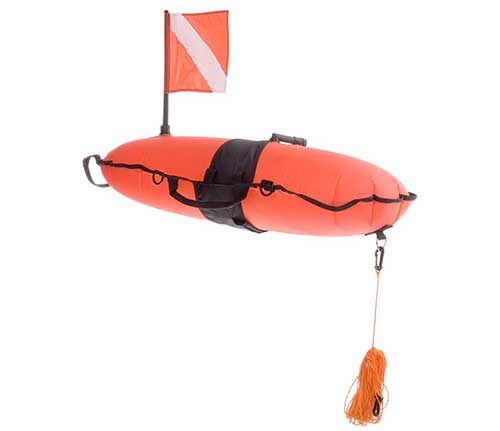 A drift dive float can be used while drift diving to allow the boat to follow the diver's location. It can also be used when diving from shore to show the diver location and serve as a diver down flag. This float can also work as a breakaway float when spearfishing large pelagic fish. The float has a standard tire pressure stem and can be inflated with a bicycle hand pump.
Other Spear Fishing Gear
Check out the best mask page to find a good mask for spearfishing and freediving. If you are not good at freediving using scuba equipment can also be an effective way to spearfish.
Spear Fishing Safety Tip!
While spearfishing either with scuba diving gear or freediving I would strongly suggest having a PLB in a submersible canister on your person at all times when in the water. This could save your life if you are separated from the boat or get swept out to sea from the shore. These devices are very similar to EPIRBs.
---
Frequently Asked Questions
What is the best speargun for beginners?
The best speargun for beginners is actually using a pole spear. If you are not familiar with freediving or scuba diving it is best to first master these skills before spearfishing. It is also important to know what size and types of fish can be legally harvested. Starting with a pole spear on snappers and porgy fish is a good place to start. Taking an in-person dive course on freediving is also a great idea.
If a diver is experienced then learning how to use a speargun is not very difficult. Always load and unload the speargun in the water. Also, keep the safety on and never point the speargun in the direction of another diver. A good length speargun to start with would be between 30 and 42 inches. These spearguns have an effective range up to about 10 feet which is plenty for a new spearfisherman. Also, the diver needs to learn how to handle the fish once it is harvested. Starting off with small fish is a good idea before moving to grouper, cobia, kingfish, or pelagic fish.
How do you load a speargun?
Spearguns can be hip loaded or chest loaded. Hip loading is typically done with spearguns that have long butts. Chest loading is done with European style spearguns that have short butts. The video below demonstrates how to load a speargun with both of these methods.
What is the best size speargun?
The best speargun depends on the type of fish being targeted and the range needed from the speargun. Popular speargun sizes are 80 cm to 90 cm which is around 30 to 35 inches. Personally, I think a 42-inch double band speargun is the best all-around speargun for reef fishing. One band can be used for close shots and with two bands it still has enough power to harvest fish at about 10 feet.
When harvesting lionfish a small 24-inch pole spear or 24 is speargun is very effective. If the goal is to harvest large pelagic fish like wahoo and tuna it is common to use spearguns that are 50 to 70 inches in length. In addition to a long speargun, reels and floats are needed to catch large powerful fish when spearfishing.
Do you need a reel for a speargun?
No, a reel is not always needed on a speargun. A shock cord is typically 5 to 15 feet in length depending on the power of the speargun and can be used to hold the fish and spear shaft in many cases. When targeting fish over 5 pounds it is a good idea to have a reel. When spearing a strong fast fish over 20 pounds it is a good idea to have a breakaway release with a surface float.
A reel does two helpful things. First, it offers a set amount of resistance to prevent the fish from pulling the speargun from the diver's hands. When freediving it also allows the diver to get to the surface while still being attached to the fish. Second, the spool pulling with less force helps prevent the shaft from pulling back through the fish causing it to get away. Depending, where the fish has been hit this, determines how much force can be applied to the fish.
Does spearfishing attract sharks?
Yes, spearfish can attract sharks. This is for several reasons. First when a fish is hit it will add blood to the water. Second and injured fish will flutter and send vibrations out that can attract sharks. Third, in locations where spearfishing is good, there are lots of fish which is where sharks tend to spend time.
While sharks are unlikely to be aggressive toward a diver it is common for them to try and eat injured or dead fish. If sharks are lingering in the area it is best to get out of the water. Divers should not wear harvested fish directly on a person. A shark may come for the fish and accidentally bite the diver.
Can you use a speargun out of water?
No, a speargun should never be loaded on unloaded above water. Spearguns are not designed like a bow and the shock cord is only intended to absorb the impact from the spear shaft that is fired underwater. Also, the kick or recoil of the gun will be much larger above water. The safe and proper way to use a speargun is to load it underwater and unload it underwater before getting back on the boat.
How dangerous is spearfishing?
Spearfishing can be dangerous if not done properly. Before spearfishing, a diver should be professionally trained on scuba diving or freediving. All the dangers of these activities are included in spearfishing. Some common dangers are getting in and out of the boat, getting swept away by currents, shallow water blackouts, big waves, and drowning. Next when spearfishing speargun safety, tangles lines, fish handling safety, and minimizing shark interaction should be taken into account. Also keeping track of divers and maintaining contact with the boat is important.
What are wishbones on a speargun? 
Wishbones are part of the bands that attach to the spear when the speargun is loaded. These can be made of metal or a braided line made of Dyneema or triple-core spectra. The wishbones are connected to grooves in the shaft or raised shark fin load tabs.
What is better a
speargun or a pole spear? 
A speargun and a pole spear are both effective ways to harvest fish. Most divers prefer a speargun for large fish as these are very accurate at large distances and stay loaded rather than having to hold a loaded pole spear with force.
Poles spears are better in my option for harvesting lionfish. These fish can be taken at short distances and quickly placed in a lionfish zookeeper. There are even large 9-10 foot pole spears that can be used to harvest large pelagic fish like wahoo, tuna, and mahi-mahi. In the USA spearguns with triggers are more popular. In the Bahamas, spearguns with a trigger are illegal so fish have to be harvested with a polespear.
How far can a speargun shoot? 
Spearguns have a max range from three feet to 29 feet depending on the device. A short 24-inch speargun like the SEAC-Polpne Sling is spring powered and can only shoot about three feet. A long 67-inch speargun like the Riffe Bluewater Elite has four power bands and can accurately shoot up to 29 feet. Most other spearguns fall somewhere in-between. An average 35-inch speargun with two bands can accurately shoot a distance of about 10 feet.
What is the best fish to spearfish? 
The best fish to spearfish is the lionfish. This is because they are an invasive species to the USA and the Caribbean. Lionfish can eat many native cleaner fish that are needed for a coral reef to survive. These cleaner fish eat algae on over the reef which then allows the coral to get enough oxygen to spawn and survive. Lionfish are rarely caught by fishermen and have no natural predators. This is why it is important for divers to kill every lionfish they see when it can be done so safely. Some dive companies are even allowed to spearfish lionfish in national marine sanctuaries.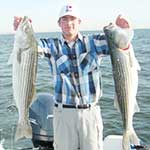 Captain Cody has worked on charter fishing boats in the Florida Keys, Virgin Islands, and Alaska. Growing up in Pennsylvania Cody has also done extensive freshwater fishing including bass fishing tournaments. Cody strives to provide detailed information about the best fishing gear and tactics to help both novice and experienced anglers have a more productive and enjoyable time on the water. Cody also has a background in aerospace engineering and neuroscience but really only takes pride in being good at one thing and that is fishing!