Being a successful angler involves knowing exactly what gear to use and how to best incorporate each piece of equipment into your overall fishing strategy. If you plan to go after smaller species of fish, using an ultralight spinning reel is a wise and productive decision that can make your efforts pay off in a way that helps you land more fish.
Using a larger, heavier rod for pitching small lures puts anglers at a significant disadvantage as you'll only be able to cast them a short distance. A quality ultralight rod will have just the right action and power to launch smaller baits and lures much farther and will also help you be more accurate in your casts.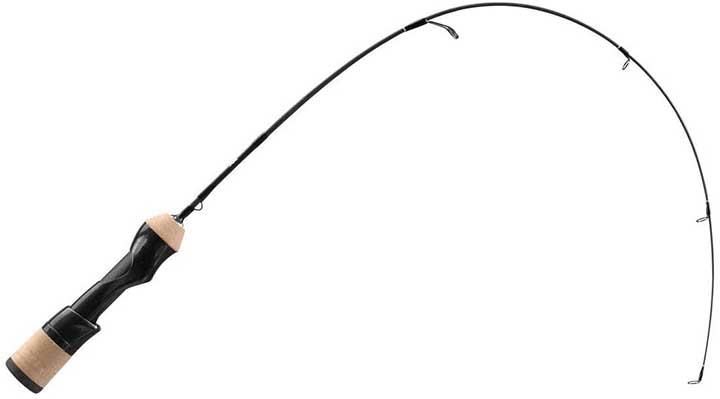 Ultralight rods might seem to be relatively simple as they are much smaller in size when compared to heavier baitcasting reels or sturdy spinning reels. Finding the right kind of ultralight rod will take a bit more research, especially if you're largely unfamiliar with ultralight rods and reels. It's important to take into account what kind of lures you plan to throw with your rod, as well as the type of game fish species you intend to catch.
When catching fish under 3 pounds it is often more fun to be using a lightweight setup. This is true for both adults and kids. Using light tackle makes lading the fish a bit more challenging but also more fun. Also using light ling help catch more fish especially leader-shy fish like trout and snapper.
Here Are the Best Ultralight Spinning Rods
---
1. St Croix Panfish Series Rods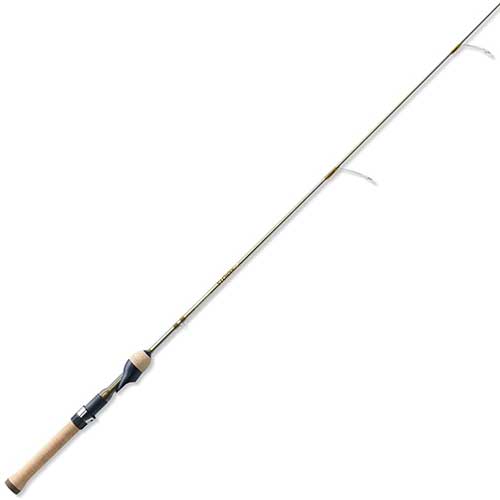 | | |
| --- | --- |
| Estimated Price | $110-$180 |
| Construction | One or Two-piece |
| Length | 5', 5'4, 6', 6'4, 6'9, 7', 8', 9' |
| Power | Light, Ultralight |
| Action | Moderate, Fast, Extra-Fast |
St. Croix designed their Panfish Series Rods to function as the ideal fishing rod for fishing enthusiasts who like to target crappie, sunfish, perch, and other kinds of popular panfish species that are both tasty and fun to catch. These rods are made with specialized SCVI and SCII graphite that gives them outstanding strength and durability, as well as the ability to flex and bend just when you need them for catching and landing your limit on whatever fish you happen to be targeting.
The rod blank is cured with a fortified resin material that creates a rod that's 33 percent stronger than other types of ultralight rods. These rods are also made with stainless steel rings and frames, which help provide a reinforced level of durability when fighting larger fish.
The St. Croix Panfish Series rods also are made with moderate action to help give anglers the right amount of action to keep their catch hooked while fishing with lighter monofilament or fluorocarbon line. The rods are made with a premium cork handle to make sure your hands stay dry and to also provide you with an extra bit of grip. The reel seat design helps to ensure that your rod will provide the ultimate sensitivity and comfort.
---
2. St Croix Trout Seris Rods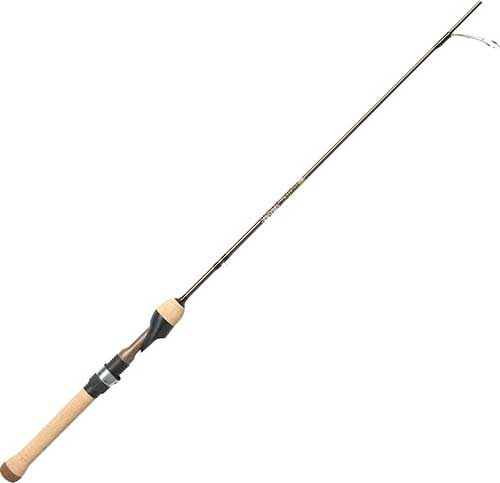 | | |
| --- | --- |
| Estimated Price | $125-$250 |
| Construction | Two-piece |
| Length | 4'10″ to 7' |
| Power | Light, Ultralight |
| Action | Fast |
St. Croix's trout rods have a reputation that precedes themselves in the fishing industry. As one of the highest-quality ultralight rods in the industry, this one is made to the same outstanding St. Croix standards that the company has become known for over the course of the last few decades.
These rods are crafted with St. Croix's proprietary high-modulus SCVI graphite material, which means they're extremely durable, as well as very sensitive for anglers who prefer to use a variety of finesse tactics for fish. The trout series of fishing rods are made to be super lightweight, as well as tough thanks to the premium features and components.
St. Croix's trout series of rods are made with an advanced guide system, which creates an exceptionally smooth experience when compared to other ultralight rods on the market. This one comes with St. Croix's 5-year warranty.
---
3. St Croix Triumph Ultralight Rods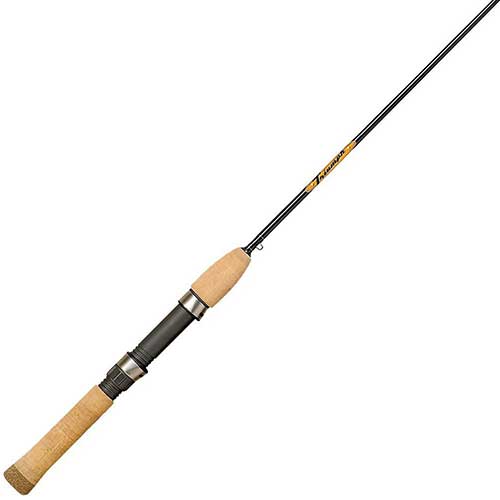 | | |
| --- | --- |
| Estimated Price | $100-$125 |
| Construction | Two-piece |
| Length | 5', 5'6″ |
| Power | Ultralight |
| Action | Moderate, Fast |
As one of the most high-quality ultralight rod models made by the St. Croix brand, the Triumph rod line is one of exceptional durability and super lightweight feel and performance. Made with the brand's super high-quality SCII carbon material, these rods are made to have an extra level of toughness and sensitivity that truly sets them apart from the competition within the fishing industry.
Crafted with high-performance slim aluminum-oxide guides the rod has a sleek, black-framed appearance. Anglers will appreciate that St. Croix has thought to include high-quality reel seats along with a premium cork handle for outstanding sensitivity.
This product comes with St. Croix's 5-year warranty that covers any type of problem imaginable which might go wrong. Anglers have praised the St. Croix brand for its incredible toughness in the face of a number of different scenarios and situations where large game fish species might normally destroy a rod.
---
4. Ugly Stik Elite Ultralight Spinning Rod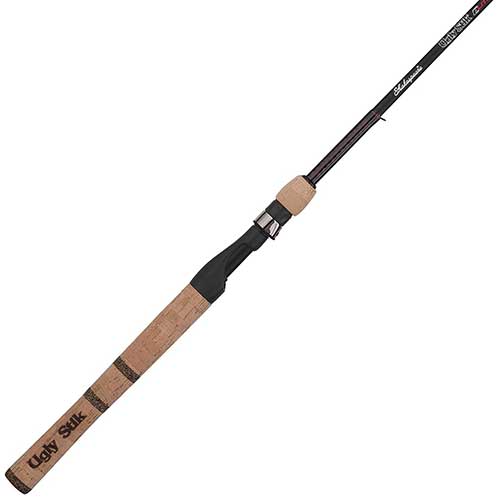 | | |
| --- | --- |
| Estimated Price | $60-$75 |
| Construction | One or Two-piece |
| Length | 4'6″ to 7'6″ |
| Power | Ultralight to Medium Light |
| Action | Medium Fast, Fast, Extra Fast |
Ugly Stik is known for producing rods that are seemingly indestructible and the Elite Ultralight Spinning Rod is no exception to this brand's quality line of products. This particular rod model features 35 percent more graphite than its cousin the Ugly Stik GX2. The addition of more graphite creates an exceptionally lightweight rod that is perfect for smaller sized game fish species like crappie, bream, perch, and many others.
These rods feature Ugly Stik's Clear Tip design for strength and sensitivity that will help anglers maintain a high level of sensitivity when needed. This model has one-piece guides without inserts. Not having inserts make the rod more durable but having ceramic incites is better when using braided fishing lines.
The cork handle and exposed blank-style reel seats help to add extra comfort and durability to an already rock-solid product that will last many years on the water. The Ugly Stik Elite Ultralight Spinning Rod is one of the best ultralight rods on the market today.
---
5. Ugly Stik GX2 Ultralight Rod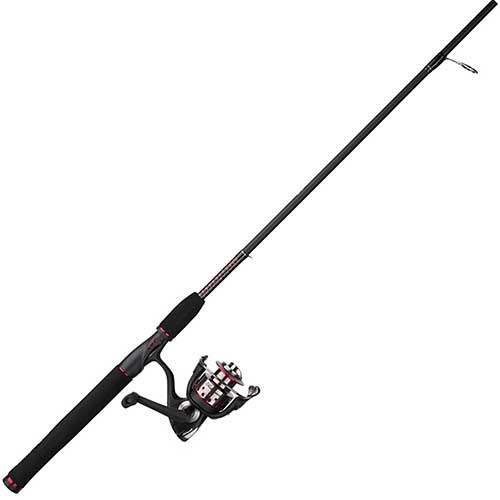 | | |
| --- | --- |
| Estimated Price | $40-$75 |
| Construction | One or Two-Piece |
| Length | 6'8″, 7′, 7'1″, 7'4″, 7'5″, 7'6″, 7'10" and 7'11" |
| Power | Ultralight to Medium-Heavy |
The Ugly Stik GX2 is a popular fishing rod for freshwater and saltwater fishing. This one comes as a combo but the reel is a low-cost add-on. What you are really getting is the quality durable fishing rod. The rod uses one-piece stainless steel guides without insets. Not having inserts can be a problem when using a braided line but these work well with monofilament and fluorocarbon lines that are typically used with ultralight rods.
A standout feature of Ugly Stik rods is the graphite and fiberglass materials used in the fabrication process which makes them extremely durable. For this reason, the rods come with a 7 years limited warranty. Other features include EVA Grips, a hoop keeper, and a clear tip for added sensitivity.
Ultralight rods are going to flex and be less rigid than high power rods. This allows the rod to spring back and cast light lures a far distance. When reeling in a big fish the rod will bend over drastically and it is important to have a quality rod that can handle the rod flexing. Longer rods will cast lures further and shorter rods work well for jigging.
---
6. Shakespeare Micro Ultralight Spinning Rod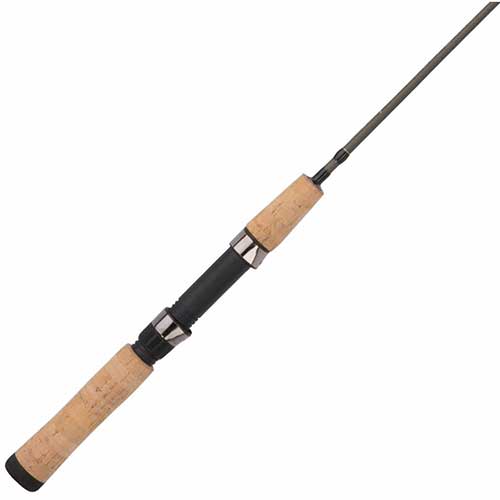 | | |
| --- | --- |
| Estimated Price | $18-$45 |
| Construction | One or Two-piece |
| Length | 4'6″, 5', 5'6″, 6'6″, 7', 7'6″ |
| Power | Light, Ultralight |
Shakespeare is well-known for producing some of the best fishing rods in the industry at prices that are much more affordable than other premium fishing tackle brands. The Shakespeare Micro Ultralight Spinning Rod is a great choice for anglers who are looking for a solid ultralight rod that won't cost an exceptional amount. This rod is also a good option for young anglers, as well as older fishing veterans.
This graphite rod offers the same composition that Shakespeare has become known for in the fishing industry and features cord handles that provide a decent grip for young and experienced anglers. The rod also offers tough stainless steel guides and inserts that mean it will stand up to just about any kind of fish you manage to hook.
This rod breaks down into two pieces which is ideal for anglers who might want to pack it in as part of their full gear array on hiking or long fishing trips. Anglers can find this rod for about an excellent price for the level of quality offered by this product.
---
7. Berkley Lightning Trout Spinning Rod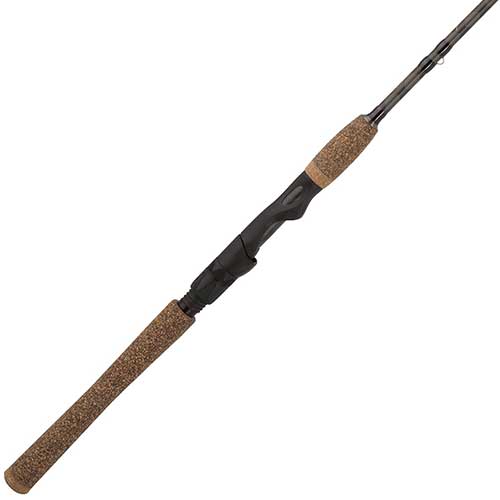 | | |
| --- | --- |
| Estimated Price | $37-$40 |
| Construction | One or Two-piece |
| Length | 6'6″, 7', 8' |
| Power | Light, Ultralight |
| Action | Moderate |
Berkley has established itself among the best of the best in the fishing industry when it comes to baits and fishing tackle. As the name entails, the Berkely Lightning Trout Spinning Rod is specially designed for trout fishing with its longer frame and ultralight rating.
This particular rod design is constructed with 24-Ton Multi Modulus graphite, which is known to be extremely strong and sensitive and stacks up quite well when compared to other rods from top manufacturers. This rod is made with a carbon composite blank that is lightweight, sensitive, and durable. The rod is designed to specifically be used with lightweight lures and bait, as well as a lighter pound test line than other rods of similar dimensions. Berkeley has included its patented locking reel seat and stainless steel guides with ceramic inserts to create one of the best trout fishing rods.
---
8. Fenwick HMG Ultralight Spinning Rod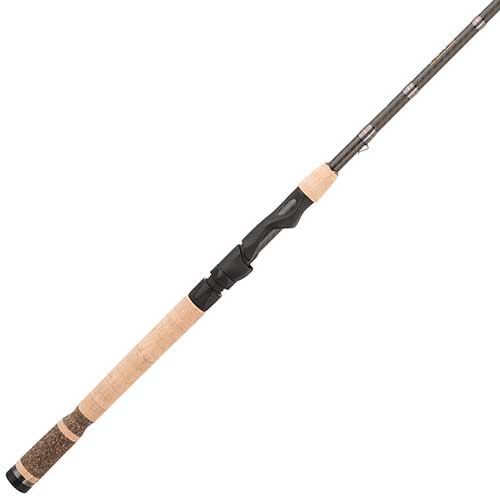 | | |
| --- | --- |
| Estimated Price | $80-$150 |
| Construction | One or Two-Piece |
| Length | 6' to 7'6″ |
| Power | Ultralight to Medium/Heavy |
| Action | Moderate, Fast |
Fenwick is among the longest-standing fishing rod makers in the industry. The HMG Ultralight Spinning Rod is one that most anglers will find to be capable of delivering a great on the water performance for small-size game fish species. The Fenwick company revolutionized the fishing industry when they produced the first graphite rod nearly 45 years ago and the brand has since remained as one of the top fishing rod producers in a highly competitive industry.
The Fenwick HMG is lightweight, as well as comfortable, and durable which makes a highly effective product that many of the most seasoned anglers feel a sense of brand loyalty. Anglers can order this particular rod to special length options to get the exact size rod they need without any unnecessary components.
---
9. Fenwick Eagle Ultralight Spinning Rod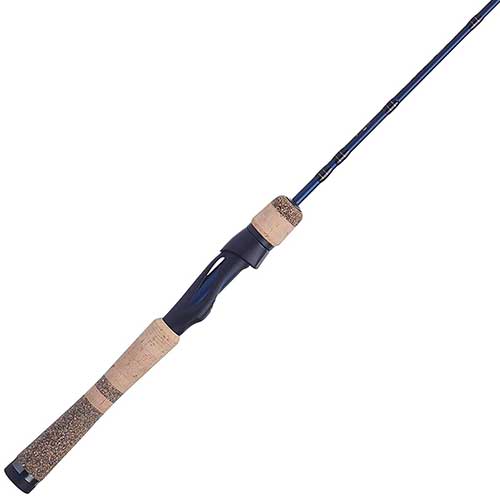 | | |
| --- | --- |
| Estimated Price | $60-$100 |
| Construction | One or Two-Piece |
| Length | 5' to 7'6″ |
| Power | Ultralight to Medium/Heavy |
| Action | Moderate, Fast |
The Fenwick name is synonymous with top-quality products in the fishing industry and the brand's Eagle Ultralight Spinning Rod is another great option for anglers seeking a high-quality ultralight option. This particular model isn't quite as expensive as the Fenwick model listed above, but still offers an exceptional level of outstanding quality that is hard to match.
Made with 24-ton graphite, this rod is among the toughest ultralight models you'll find anywhere. Fenwick's engineers have painstakingly worked to perfect the ideal ultralight fishing rod with decades of experience designing rods. The high-quality stainless steel guides with aluminum oxide inserts provide increased casting performance.
The handle's through-blank construction combined with the minimal reel seat create a rod that allows anglers to feel even the most subtle bites. This particular model makes a strong case for being the top ultralight rod on our list when you factor in the price and the outstanding level of quality it's made with.
---
10. Bass Pro Shops Micro Lite Glass Rods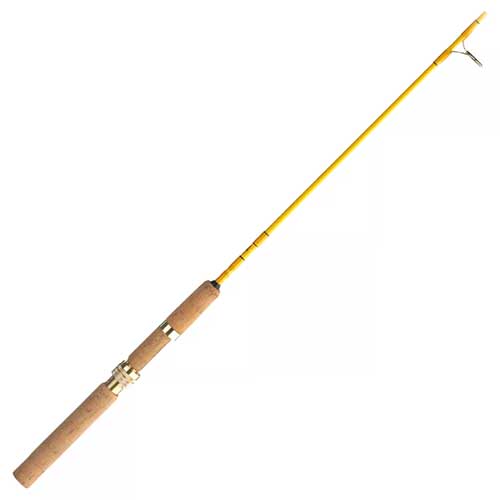 | | |
| --- | --- |
| Estimated Price | $25 |
| Construction | Two-piece |
| Length | 5' to 7'6″ |
| Power | Ultralight |
Bass Pro Shops has long been in the business of producing fishing products that provide exactly what anglers need, without the overly large price tag that's so often associated with high-quality products. The Bass Pro Shops Micro Lite Glass Rods might be one of the most affordable ultralight rods on our list, but it makes comes with an array of top-notch components that combine for a great overall performance.
This rod is specially made by Bass Pro's engineers to serve as the perfect panfish and trout rod. The rod's bonded high-density tubular glass construction creates an exceptionally strong product that is perfect for small-sized game fish species like trout and panfish. Users say this rod is a combination of the right amount of flexibility and muscle to hold up against the occasional larger-sized trout.
---
11. Sougayilang Ultralight Spinning Rod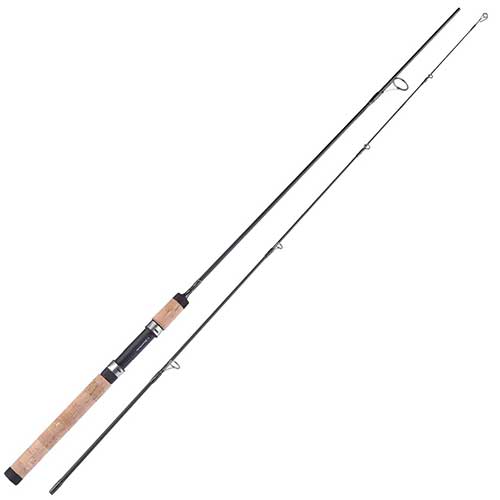 | | |
| --- | --- |
| Estimated Price | $23-$40 |
| Construction | One-piece |
| Length | 5', 6', 7', 8' |
| Power | Ultralight |
| Action | Moderate |
The Sougayilang Ultralight Spinning Rod is an excellent choice of ultralight rod for anglers who are looking for a budget-friendly product that can still provide a good experience on the water. Made with sensitive graphite composition blanks, this rod is made for fishing for smaller species of fish that require a higher level of sensitivity in order to feel those small, subtle bites that might otherwise go unnoticed. Despite being priced low, this rod actually offers an exceptionally good level of durability and overall performance.
The Sougayilang brand might not be as well-known to anglers in the United States, but this particular company has garnered quite a following across the world as they continue to produce solid products that will get the job done. The graphite composition rods are ideal for trout fishing and are very highly-rated across many different online retailers.
Made with stainless steel guides and inserts, this small Sougayilang rod is a great choice for young anglers or anyone looking to get their hands on a solid budget-friendly option that won't require you to sacrifice too much on the performance side of things.
---
12. Eagle Claw Ultralight Spinning Rod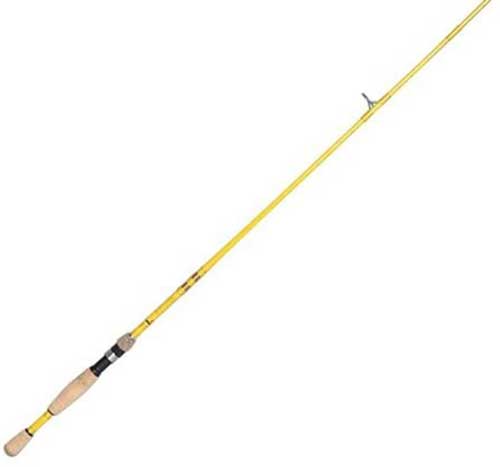 | | |
| --- | --- |
| Estimated Price | $30-$35 |
| Construction | One or Two-piece |
| Length | 4'10″ to 9' |
| Power | Ultralight |
| Action | Moderate |
Eagle Claw is known in the fishing industry for producing some of the best products without the hefty price tags found with many top brand. The Eagle Claw Ultralight Spinning Rod is arguably one of the best ultralight fishing rods on the market as it offers a plethora of positive aspects that set it apart from other rod models of similar pricing.
The classic Featherlight spinning rod model cones in a large variety of lengths.  Thanks to an outstanding fiberglass construction that offers a surprising amount of flexibility and toughness, many ultralight enthusiasts reach for this rod when fishing for a variety of gamefish species. With six stainless steel guides and a super ultralight design that truly lives up to its Featherlight namesake.
---
13. Cadence Ultralight Spinning Rod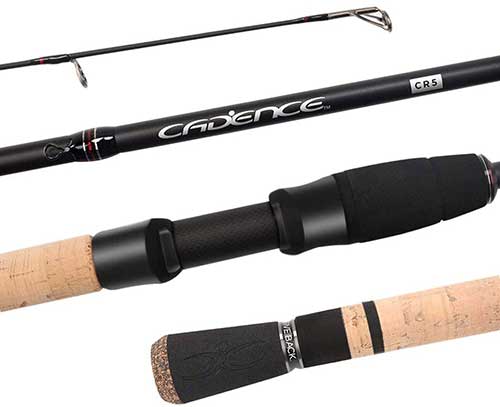 | | |
| --- | --- |
| Estimated Price | $55-$60 |
| Construction | Two-piece |
| Length | 5'6″ |
| Power | Ultralight |
| Action | Moderate, Fast |
Cadence is unlike any other brand when it comes to producing top-notch rods at bargain prices. Their Cadence CR5 Ultralight Spinning Rod is among the most popular ultralight rods on the market since it offers an exceptional level of reliability without the high price tag.
This small, graphite fishing rod is an exceptionally good selection for anglers looking to fish for trout, crappie, bream, and other smaller species of game fish. The stainless steel inserts provide good quality and toughness for harder fights and a longer-lasting experience than other brands that are priced at the same level.
The rod has an excellent combination of length, action, and power to combine for outstanding performance. Many anglers use this rod for bass or even walleye fishing as it offers a high level of sensitivity and allows anglers to maintain control over their catch from beginning to end.
---
14. Okuma Celilo Ultralight Trout Rod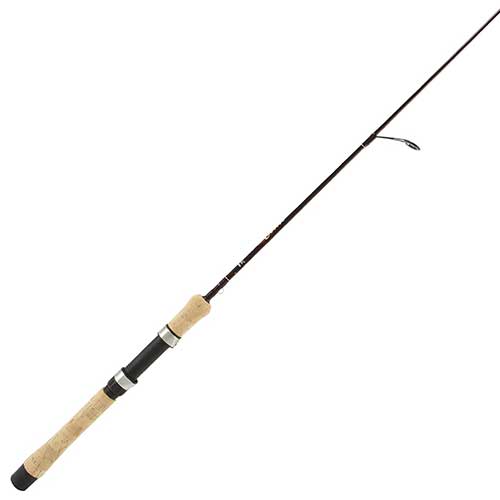 | | |
| --- | --- |
| Estimated Price | $30-$42 |
| Construction | One and Two-piece |
| Length | 4'6″ to 7'6″ |
| Power | Ultralight |
| Action | Medium/Heavy. |
When it comes to Japanese-made fishing products, Okuma has carved a path straight to the top of the country's most popular fishing rod manufacturers and makes rods that rival any other brand across the world with outstanding performance and reliability. The Okuma Celilo Ultralight Trout Rod is specially made to function as the perfect trout fishing rod but also works exceptionally well when used as an ultralight rod that's made for targeting other small-sized species.
Okuma's Celilo lineup offers rods that start at 4 foot 6-inches in length and go up to 7 foot 6-inches. This allows anglers to select the rod length that's perfect for their particular needs when it comes to throwing any number of trout fishing lures and baits. The graphite rod is made with aluminum-oxide inserts and offers plenty of reasons why anglers should give this model a closer look.
The Celilo also comes with a stainless steel hooded reel seat and thru-blank handle design for excellent durability and comfort that lends to the one-year warranty that Okuma provides customers who purchase this model.
---
15. KastKing Perigee II Ultralight Spinning Rod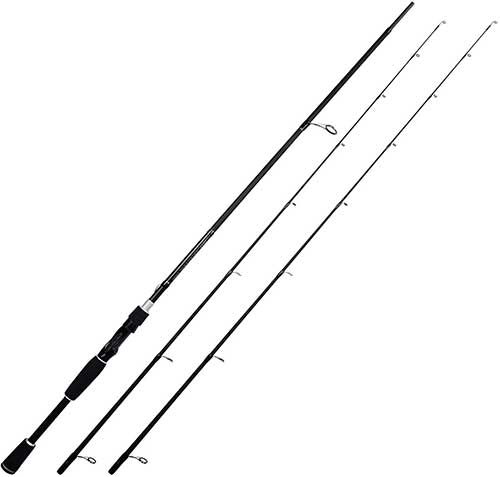 | | |
| --- | --- |
| Estimated Price | $50-$75 |
| Construction | Two-piece |
| Length | 4'6″ to 6' |
| Power | Ultralight |
| Action | Moderate |
The KastKing Perigee II Ultralight Spinning Rod is among one of the most popular for both spinning and baitcasting rods. KastKing's rods are well-known for decent low-cost products that are durable. The carbon fiber blank rod material creates an exceptionally sensitive fishing experience while also offering a strong rod that will catch small and medium-size fish. The premium Fuji O-ring guides and solid graphite reel seats are two aspects that work well for ultralight rods.
---
16. Widow Maker Ice Fishing Rod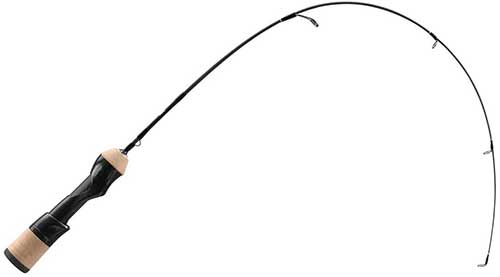 | | |
| --- | --- |
| Estimated Price | $65-$90 |
| Construction | One-piece |
| Length | 24" to 42" |
| Power | Ultralight |
Ice fishing is a sport that's unique to all other types of angling and those who participate in this form of fishing know full well that there are a lot of things that are different when you compare ice fishing to your usual angling experience. The Widow Maker Rod for Ice Fishing is considered an ultralight rod that's well-suited for ice fishing. In cold water, fish are lethargic and go fight very hard. This means that small rods and light fishing ling can be used to land big fish. This rod is set up for spinning reels with the reel positioned below the rod.
---
17. Quantum Ultralight Telescopic Rod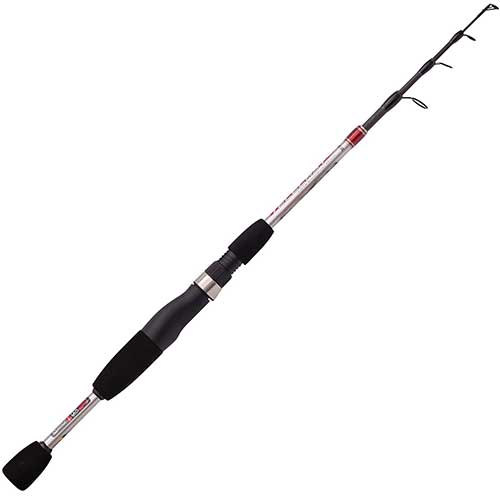 | | |
| --- | --- |
| Estimated Price | $22 |
| Construction | One-piece |
| Length | 5', 6', 6'6″ |
| Power | Ultralight |
The Quantum Ultralight Telescopic Rod is a cheap short rod that is good to use small freshwater fish. A telescopic rod is nice as you can pack along with your other gear for long-range hiking trips, or stash away for a quickly accessible rod that can be used at a moment's notice. This graphite fishing rod features a split-grip EVA foam handle for optimal comfort. The rod is durable but telescopic rods like this one are known to break with heavy use.
---
18. Eagle Claw Telescopic Spinning Rod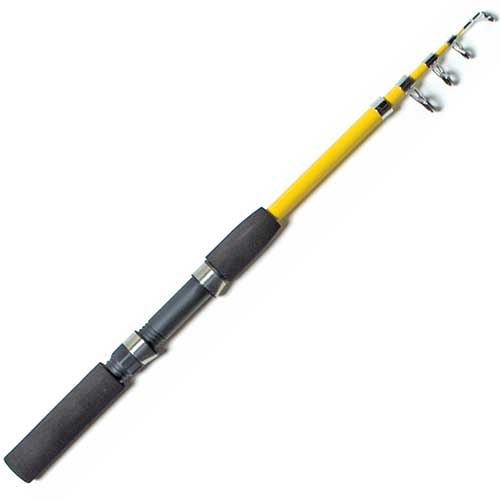 | | |
| --- | --- |
| Estimated Price | $27 |
| Construction | One-piece |
| Length | 5'6″ |
| Power | Ultralight |
This Eagle Claw Telescopic Rod is a classic that has been around for many years. It is built to be small and lightweight but is not strong enough to catch large fish. It will work for panfish and trout fishing.
The telescopic rod extends out to 5 feet 6-inches in length and offers plenty of reasons for anglers to be satisfied with its overall performance. It is a spinning rod and works with small spinning reels. The rod's fiberglass construction and EVA foam handle combine for a sturdy and capable fishing rod that's ideal for fish you mind find in remote streams and mountain lakes.
---
19. Pflueger President Spinning Rod Combo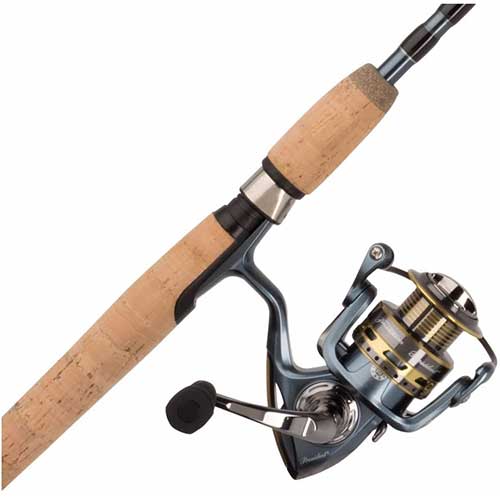 | | |
| --- | --- |
| Estimated Price | $75-$110 |
| Construction | One-piece |
| Length | 4'8″ to 7' |
| Power | Light to Ultralight |
| Action | Moderate |
The Pflueger brand name is one that's been known to stand for products that will offer outstanding performance and long-lasting capabilities. The Pflueger President Spinning Rod Combo is another excellent choice for anglers looking to get their hands on a quality ultralight rod and reel combo.
This particular model comes with all the familiar characteristics that have made Pflueger one of the top brands when it comes to fishing rods and reels. The rod is made with high modulus graphite blank construction which offers high sensitivity for feeling what is happing with the line.
Anglers will also appreciate the reel as it offers a braid-ready spool, corrosion-resistant stainless steel ball-bearing system, and a sealed drag system that will rival most other
---
20. Pflueger Monarch Ultralight Spinning Combo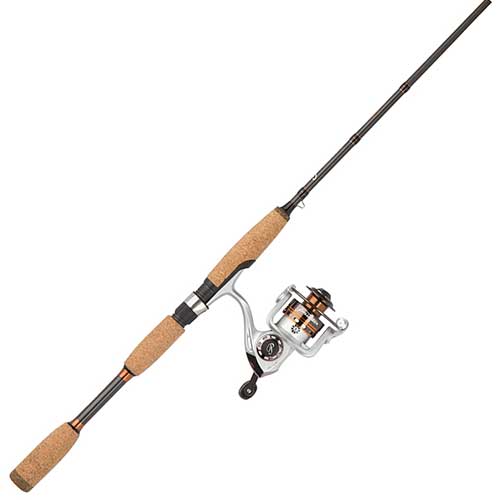 | | |
| --- | --- |
| Estimated Price | $50-$75 |
| Construction | Two-piece |
| Length | 5'6″ |
| Power | Ultralight |
| Action | Moderate |
The Pflueger Monarch is another top-quality ultralight spinning combo. This rod and reel offer the same exceptional performance that Pflueger has garnered a reputation for and is available for a surprisingly low cost.
The rod is made with graphite blank construction and features stainless steel guides that will create an exceptionally smooth casting and reeling experience. This super lightweight rod and reel combo is an ideal choice for anglers looking to target trout, as well as panfish and other small species.
The reel is made with the same familiar quality of Pflueger products. It features a graphite body and rotor that are lightweight and durable. The five ball bearing system creates a smooth reeling experience.
---
21. Shakespeare Amphibian Spinning Combo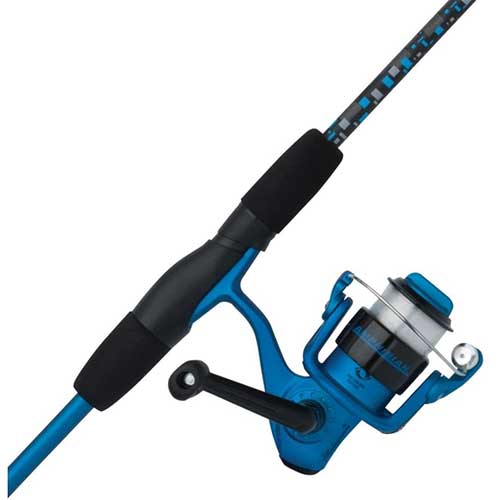 | | |
| --- | --- |
| Estimated Price | $30 |
| Construction | Two-piece |
| Length | 5'6″ |
| Power | Ultralight |
The Shakespeare Amphibian Spinning Combo is a great low-cost setup that comes ready to fish. This combo is perfect for young anglers as it offers an excellent reel and the ultralight rod is capable of handling moderately-sized freshwater fish a youngster might encounter. The tubular glass spinning rod is not as lightweight or sensitive and graphite rods. However, the setup is durable and works to catch fish.
---
22. Shakespeare Micro Spinning Combo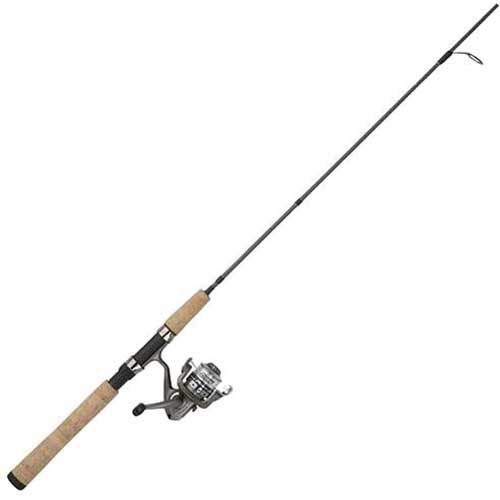 | | |
| --- | --- |
| Estimated Price | $25-$50 |
| Construction | One or Two-piece |
| Length | 4'8″ to 7' |
| Power | Ultralight |
The Shakespeare Micro Spinning Combo is an average quality fishing setup. It does come spooled with a 4-pound test line. This is perfect for panfish and trout. The 4 foot 8-inch length is good for kids when casting distance is not important. The 7-foot length version allows for light lures to be cast long distances. This would be a great setup for trout fishing in streams and crappie fishing in lakes.
---
23. Ugly Stik Dock Runner Ultralight Combo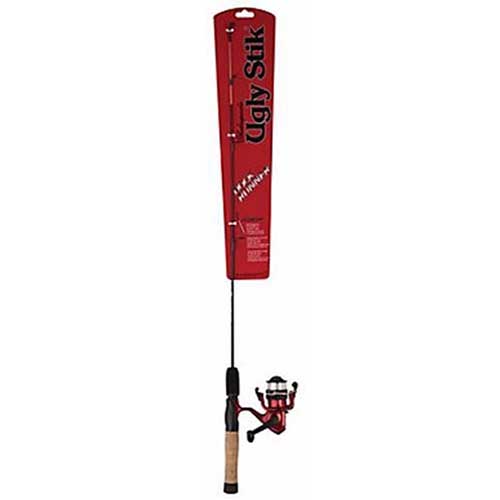 | | |
| --- | --- |
| Estimated Price | $15 |
| Construction | One-piece |
| Length | 36" |
| Power | Ultralight |
The Ugly Stik Dock Runner Ultralight Combo is perfect for kids and anyone looking for a capable rod and reel combo that can be used to catch small game fish species. This combo offers a decent ultralight fishing rod that can serve as a great option for catching bream, panfish, or bass. I love to use the dock runner when fishing for snapper as even small fish pull drag and it feels like you are fighting a monster. My nieces and nephews are 2-11 years old and also like using the dock runner rod and reel.
The rod is only 36 inches but it functions as a great option for youngsters as it is easy to handle and tough enough to withstand anything a rough and tumble kid might get into around a lake, stream, pier, or dock. Like most other Ugly Stik products, this combo is exceptionally tough and able to last a few good years in the hands of just about anyone. This setup lasts much longer than the small spincast combos that break after a few days. My brother even took the rod and reeel into the ocean when snorkeling and caught a fish underwater.
---
24. Zebco Spyn Light Spinning Rod Combo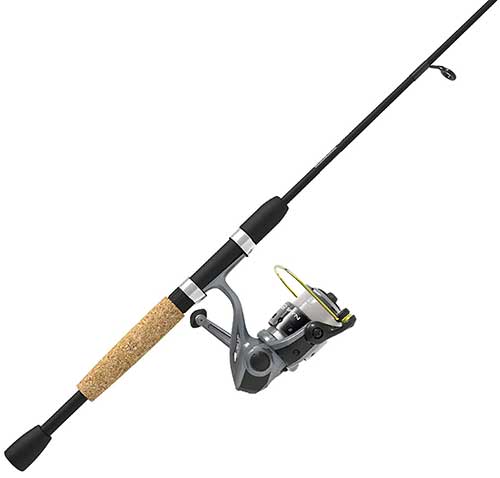 | | |
| --- | --- |
| Estimated Price | $30-$40 |
| Construction | One-piece |
| Length | 5'6″, 6', 6'6″ |
| Power | Ultralight |
| Action | Fast |
The Zebco name is synonymous with excellent combos that are well-suited for kids and young anglers. The Zebco Spyn Light Spinning Rod Combo is another model in a long line of rods and reels that function as ideal ultralight fishing tools in the hands of both novice anglers and seasoned veterans of the sport.
The reel features an instant anti-reverse clutch, as well as an aluminum spool and incredibly tough titanium-nitride plated bail wire and line roller. This spinning reel is a quality pick that pairs nicely with the graphite blank rod that also offers durable reel seating. It doesn't take much to see the value in this Zebco combo as the rod and reel are both capable items that are able to be used in catching trout and panfish.
---
Information About Ultralight Rods
Construction Materials 
Many years ago, fishing rods were made out of different materials including bamboo and steel. Today, they're mostly made from graphite, fiberglass, or a combination of the two. Some companies used to make rods out of boron, which is extremely flexible and has good strength, but now boron is mostly used in the butt of rods to stiffen the handles.
Many rods today are made of fiberglass, which is considerably heavier than graphite. Most of the ultralight rods on our list are made from graphite. Fiberglass rods are usually slow to medium action rods that bend with the full length of the rod. These kinds of rods are generally preferred by novice anglers as they are more flexible and are less likely to break.
Graphite rods can come in a variety of different degrees of stiffness. These different degrees of stiffness are referred to as modulus. Graphite is known to be more sensitive and the increased stiffness in the rods helps to create better hook sets in species like largemouth bass.
Power Rating 
A rod's power rating is simply its ability to bend under a certain amount of weight. Power refers to a rod's stiffness or ability to bend against a given weight. The different levels of rod power are often labeled as ultralight, light, medium, heavy, etc.
Many anglers select rods based on a specific job or action that they want to accomplish with certain lures. Knowing how much bend you'll have in your rod will help give you an idea of which one you want to use when popping a frog across the surface or the water, or when you're ripping a jerk bait through the water in the early pre-spawn period.
Action Rating 
A rod's action rating simply refers to the specific area on the length of the rod where it will bend the most when pressure is applied. A fast action rod will bend a great deal along with the top third of the blank, while a medium action rod will bend in the top half or around the upper middle portion. A slow action rod will bend the entire length of the rod into the lower third and the handle.
Fast action is preferred by anglers in many cases because it allows them to have a greater sensitivity to certain lures. Fast action will also allow users to "load up" for a heavier hook set. Quick action rods are generally recommended for beginners and anyone looking to try a variety of lures and techniques with one single rod. Slower action rods are more ideal for casting lighter, smaller lures as you might for trout or panfish.
Lure Weights for Ultralight Rods 
As you might imagine, you'd be ill-advised to use a heavy lure rig with an ultralight rod. This is mainly because the rod itself is not stiff enough to properly cast a heavy lure, and is also not stiff enough to retrieve heavy lures. Trying to do so will only result in an awkward series of casts and retrieves in which you likely wouldn't even feel a fish bite if one were to strike.
Ultralight rod use has skyrocketed in recent years because many different lure presentations seem to work better on a smaller scale than what fish typically see them as. Lots of fishing tackle companies have begun producing scaled-down lures like buzz baits, crankbaits, jerk baits, and others to work more efficiently with ultralight rods as anglers have started opting for them. Kayak anglers have specially bought into the ultralight fishing method.
There's no specific lure weight that you'll need to stick to with an ultralight rod, but it's often a good idea to not go above a 1/8 oz or 1/32 oz lure.
Ultralight Spinning Rods Vs Fly Fishing Rods 
Many different anglers have likely compared or thought about the differences between fly rods and ultralight rods as they have quite a bit of similarity and are used to fish for many of the same species. It's fair to compare the two, but there are some stark differences in both kinds of rods that should also be noted.
Fly rods are made to fulfill a specific niche of fishing and are to only be used to pitch flies to whatever kind of fish you're intending to catch. These are long rods that have been proven to be highly effective in trout fishing, as well as going after other types of game fish species like bonefish and other saltwater species. In fact, there are lots of anglers who relish the challenge of landing a monster catch on a fly rod as doing so is extremely difficult.
Ultralight rods are generally shorter and considered a multi-function tool in which the angler can fish for the same basic species you might go after with a fly rod, but an ultralight rod and reel allows an angler to use a wider variety of lures and bait presentations than simply lofting a fly back and forth onto the surface.
As far as their structural differences, fly rods are much longer because they are expected to be able to cast a tiny fly a considerable distance. An ultralight rod can achieve a similar distance on a slightly heavier lure and does not typically require the same length as a fly rod.
---
Frequently Asked Questions
What is an ultralight fishing rod? 
An ultralight fishing rod is generally smaller and lighter than most other rods. The ultralight rod is preferred by hikers and kayak anglers, as well as anyone else who wants to use a smaller, lighter rod to use that can be more effective than larger rods.
The term ultralight refers to the rod's power rating as it is often required to be highly flexible in order to cast lures the needed distance to catch fish. Using an incredibly stiff rod to cast a light lure will prove to be wildly unproductive as the rod is unable to bend enough to "launch" the lure any considerable distance.
An ultralight rod is able to bend to a much greater degree than other rods, which means it will act much like spring in launching the lightweight lure out to a decent distance that will allow it to be retrieved in a manner that will entice a fish to bite. In the same sense, casting a very heavy lure from an ultralight rod will result in a shorter cast as the rod will bend too much and will not have the stiffness needed to properly cast the bait.
What is the lightest fishing rod?
Many different fishing rod manufacturers are working to produce lighter rods than their competitors as ultralight fishing has truly taken the angling world by storm. Abu Garcia recently debuted the world's lightest spinning reel and there are several rod manufacturers that are testing and engineering lighter rods that will achieve greater distances when casting super light lures such as flies, spinners, and other lightweight objects.
Finding the lightest rod on the market is a tall task as there are many different options that are continually popping throughout the angling world. While some manufacturers don't typically include the actual weight of their rods, paying attention to the length and the material should give you a good idea of the lighter options.
What are ultralight rods good for?
As you might have guessed, ultralight rods are best used for smaller fish that feed on smaller insects and baitfish. Ultralight rods are designed to cast these small lures farther than their larger, heavier cousins and will therefore result in being much more useful in catching fish that target smaller prey.
Many trout fishing enthusiasts have begun opting for ultralight rods as opposed to fly rods since these models will allow anglers to throw a much larger variety of lures than simple flies. With the growing number of technological innovations, new ultralight rod models are being produced each year that are geared more toward catching a specific type of fish.
How do I choose a rod length for ultralight rods?
As with any other piece of fishing tackle or equipment, it's best to start out with a goal in mind. What kind of fish do you want to catch? Once you've established an answer to this question, you can then begin to work toward the best way to accomplish that goal by researching the best ways to catch that particular fish.
Using a shorter rod is often recommended if you plan to fish in an area that has limited casting space such as a small creek or an overgrown lakeshore. If you expect to be able to throw your lure a long distance, you can opt for a longer rod, but keep in mind you'll need to properly retrieve the lure you're using, so make sure your rod length doesn't cause the lure's action to suffer.
What is the best trout rod?
Trout fishing is generally done in smaller rivers and streams where anglers have little room to cast their lures due to overhanging tree limbs and other types of vegetation. Trout are also known to have incredibly good eyesight, which means anglers will be better off using smaller lures and baits. In order to cast these baits in a small space, you'll likely need to stick with a rod length from 5 foot to 7 foot in length.
There are a number of ultralight rods that are specially designed for trout fishing. As with any other piece of fishing gear, you're likely to get a better product if you're willing to spend a bit more money.
What is the best crappie rod?
The best crappie fishing rods will generally be ones with a sensitive tip and that will allow for longer casting of lighter lures. Professional crappie anglers generally use rods that have fast action and light to ultralight power which will allow them to cast jigs and other small lures a much farther distance than other rods that are longer and heavier.
Do longer fly rods cast further?
Short answer: yes. A fly rod is designed to function in the same way an ultralight rod does by propelling a small, lightweight lure a farther distance than heavier rods are able to. Having a longer fly rod will create more of a spring-loaded action and will allow the lure to be cast much farther than a shorter rod of similar power and action.
What is the best fishing line for ultralight rods?
Fluorocarbon is generally considered the best fishing line for most ultralight rods as it is under a four-pound test and it also has low visibility. A fluorocarbon line is also abrasion-resistant and is still flexible enough to cast a far distance. It is also preferred by trout anglers as it has a better ability to become camouflage in the water, making it harder for trout to see the line itself.
A monofilament is also a good option in some cases. Depending on the types of lures used, monofilament can be a more productive option than fluorocarbon due to its ability to stretch. Braided line is often not the most highly recommended, but can serve as a good option for some cases when a line strength over 10 pounds is needed.
Can you use a fly on and ultralight rod? 
Yes. Using flies on a spinning rod might sound crazy to anyone who hasn't tried it, but it can be highly effective. Some anglers have discovered the ability to cast flies on a spinning rod simply by experimentation. You'll likely need to add a small weight like a split shot to give your lure enough weight to be cast out to a considerable distance to unsuspecting trout. Many times, using flies can be a productive strategy for catching trout and other game fish species because it allows anglers to throw a more natural-looking lure.
Can you ice fish with an ultralight rod? 
Yes. In fact, ultralight rods are the most popular types of rods used in ice fishing as they allow anglers to feel the subtlest bites and to quickly begin reeling and set the hook in many cases. Ultralight rods are also shorter and therefore allow ice fishing enthusiasts to sit closer to their fishing spot to reel in a catch.
What are the best reels for ultralight spinning rods?
There are lots of reputable reel manufacturers that are also known for producing outstanding fishing reels including Shimano, Penn, Okuma, Cadence, Pflueger, Lews, and KastKing. Most ultralight rods and reels are designed for freshwater use, but there are a number of quality reels that are capable of being used for saltwater fishing. The best ultralight reel currently on the market are made by Shimano.
The Shimano Stella is arguably the best ultralight fishing reel, but the price tag makes it much more expensive than most anglers are willing to spend. This makes it a less viable option for the average angler. Other brands that produce great ultralight reels that offer more than 30 pounds of drag are Cadence and KastKing. Generally speaking, ultralight reels don't need to have high drag values though in order to be effective.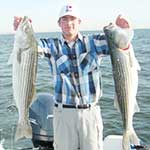 Captain Cody has worked on charter fishing boats in the Florida Keys, Virgin Islands, and Alaska. Growing up in Pennsylvania Cody has also done extensive freshwater fishing including bass fishing tournaments. Cody strives to provide detailed information about the best fishing gear and tactics to help both novice and experienced anglers have a more productive and enjoyable time on the water. Cody also has a background in aerospace engineering and neuroscience but really only takes pride in being good at one thing and that is fishing!