A good trolling motor battery is durable and can store a large amount of charge. How much a battery can store is measured in amp-hours.  I have highlighted there values in bold throughout the article. Battery weight is important when using small boats where it must be loaded and unloaded for each use.  More information about battery requirements for specific trolling motors is included in the guide.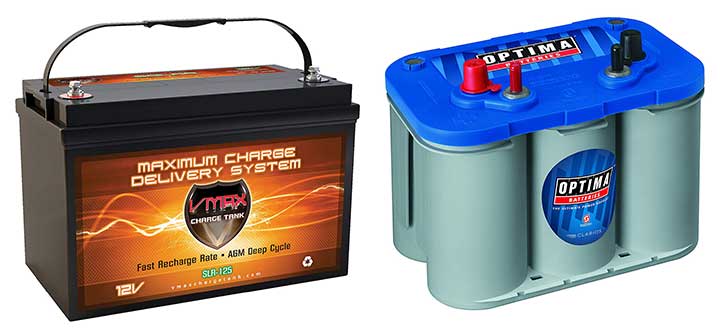 A battery not compatible with a trolling motor, such as car battery, can actually cause harm to your trolling motor so it's important that you choose batteries that are purpose-built for the power needs of your trolling motor. There are many options and of course, you'll want to get the most bang for your buck, so we'll discuss how to match a batteries capacity, power output, and type to your rig.
Keep in mind, buying a battery before learning the basics can very easily result in overspending on a battery far too powerful for what your motor needs or, vice versa, with spending not enough on a battery too weak to power your motor. It can be daunting to choose the perfect battery with all of the available different types, styles, and output levels. Let's get you set up with the proper power supply!
Here Are the Best Trolling Motor Batteries
---
1. Optima D34M Deep Cycle Marine Battery – Captain's Choice
Price: Around $280
My Review:  In the world of batteries, Optima Batteries carries a hefty reputation for reliability and performance. Before we get started and I express my love for all things Optima, let me clear something up that a lot of people ask about.
The Optima batteries with a blue top are signifying that they are usable to crank a motor and for a while, the blue top was only used for that reason. Along came the second version of the blue top, this time with a lighter gray case and a more suitable power output for using things like trolling motors.
If the dual purpose idea is what you're after, make sure you're grabbing the light gray case and not the dark gray case!
I'll be reviewing the YellowTop later, and I'll just come out and say that the BlueTop is purpose-built for marine use while the YellowTop is still good for marine use but not exactly designed for it.
This battery, the D43M version, is a 12V 870 cranking amps coil cell battery pack that weighs roughly 43.5lbs. The posts are SAE 5/16" steel stud posts located on the top of the battery and since this is an AGM, it's virtually spill proof even if it gets knocked over. Each of the six coil packs contains two lead plates that are coated in 99.9% lead oxide. This coil pack configuration is widely known as one of the best in the market, no one does it better than Optima Batteries!
All in all, if you absolutely need the dual purpose capabilities, this battery is probably the top choice for just about everyone. It's reasonably priced, backed with great customer support, and is more than capable of powering most low to mid-range trolling motors. It's important to note that this is the D34M model, which contains 55 amp-hours. While that's typically enough for me, if you plan on using this battery for extended trips or the most powerful trolling motor units, I'd go ahead and spend the extra money on the D31M.
Either way, expect this battery to be a top performer for small to mid powered trolling motors. If you plan on using a trolling motor that outputs more than 80 pounds, I'd recommend buying two and chaining them together.
Why I like it:
AGM battery capable of starting your boats motor and running the trolling motor
Excellent battery to run in tandem, providing 110AH which is more than enough for most trolling motors
Maintenance free design
---
2. Odyssey 34M-PC1500ST Trolling Thunder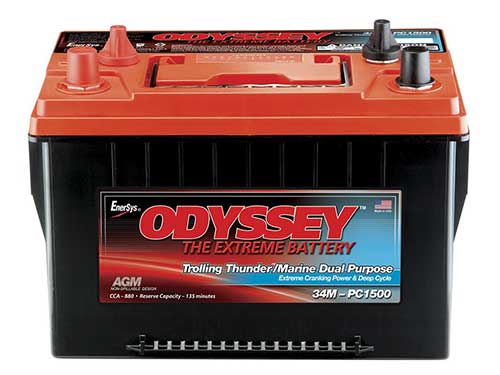 Shop or Read Reviews
Price: Around $300
My Review: This battery contains stores an impressive 68 amp-hours of power. This marine battery also has 800 cold-cranking amps.
This is a great trolling motor battery because it was made designed just for that.  This battery stores lots of change and still has a good lifespan. Odyssey batteries have always impressed me with how many cycles they can survive.
This one keeps on trucking even after 400 cycles, which is very competitive against the other batteries in its price range and category.
With this battery, you get the starting power, the trolling power, the accessory power, and the incredible lifespan we love Odyssey for, all at a decent price. There's not much to say, other than the fact that this battery is a downright workhorse.
Why I like it:
12V fully enclosed AGM style battery capable of 855 cold-cranking amps and 68 amp hours
One of the longest lifespans of any dual-purpose marine battery at an average of 400 cycles
Perfect for use as a primary motor cranker and an extended accessory battery
---
3. AC Delco M24AGM Voyager

Shop or Read Reviews
Price: Around $225
My Review: This purpose-built marine battery from AC Delco is a typical sealed up AGM battery that provides 80 amp-hours of power and can crank at 500 cold-cranking amps.
This battery will work great as a trolling motor battery but if you also have to start large motors than it would be better to select a battery with higher cranking amps.
As far as trolling motor capabilities go, it's great! 80AH is in that middle ground for most people and the price tag doesn't break two hundred bucks, so you could easily go with two chained together that would give you more than enough power for even the strongest trolling motors.
This battery comes with a dual terminal system and the AC Delco full-frame power path grids that allow for it to be a sort of dual purpose style battery. Again, I'd buy it with the intention of using it as a marine battery for trolling motors and accessories, but if you were in a pinch or your primary cranking battery died, you can easily swap this one in and it'll get the job done.
Why I like it:
This battery is an AGM marine battery with slight capabilities for cranking at a 500CCA and 80AH rating
Since it's an AGM style battery, it's leakproof and basically maintenance-free
Equipped with a power monitor
---
4. Vmaxtanks Vmaxslr125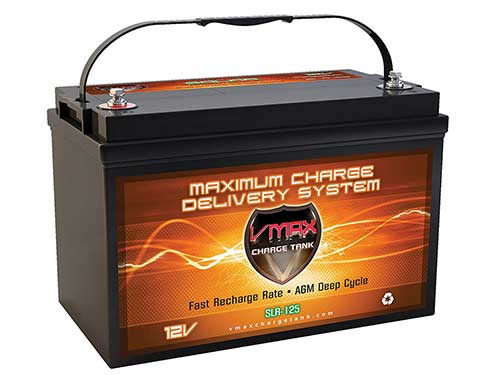 Shop or Read Reviews
Price: Around $280 My Review: The battery you Minn Kota Ultrex users have been waiting for! This battery stores an impressive 125 amp-hours of charge. This battery is capable of running some of the most powerful trolling motors for several hours by themselves without a single complaint! For those of you with smaller trolling motors, this battery will likely keep running longer than you do, so if peace of mind is what you're after, this may be the battery for you.
The battery you Minn Kota Ultrex users have been waiting for! This battery stores an impressive 125 amp hours of charge. This battery is capable of running some of the most powerful trolling motors for several hours by themselves without a single complaint!
For those of you with smaller trolling motors, this battery will likely keep running longer than you do, so if peace of mind is what you're after, this may be the battery for you.
Vmaxtanks prides themselves on their military-grade design utilizing custom deep cycle plates. In float mode, you'll get roughly 10 years of life, which is near unrivaled at the time of writing this. These batteries are flat out tough. I'd be a bad friend though if I didn't mention that they do have some smaller units available.
I like this battery because it's an all day kind of deal guaranteed. I don't need to fiddle around with multiple batteries and I know my trolling motor will have plenty of power even if I decide to burn a little midnight oil after a long day. Better yet, this battery will power your trolling motor all day and then power a few lights and the radio at camp all night.
It's 75lbs, though, so you better start hitting the gym if you plan on moving this bad boy several times a day.
Why I like it:
AGM design ensures it's spillproof and maintenance-free
125AH is downright more than enough for just about any trolling motor power requirements
A 10-year life span in float mode is top class
---
5. Mighty Max ML35-12

Shop or Read Reviews
Price: Around $70
My Review: This is really more of a budget option that I wanted to talk about because it's just so darn cheap with decent enough power output for some serious trolling around.
At only 35 amp-hours, it's one of the smaller batteries on this list, but since it's so cheap, you can pick up several of them and chain them together for whatever your needs may be.
Of course, this battery is not suitable to start up the boat motors, you'd be buying this with the full intention of using it only for trolling motors and accessories.
It's a sealed lead-acid (SLA) battery that is totally maintenance-free. I recommend this battery to those of you who didn't buy a powerful and expensive trolling motor.
These batteries are probably not the best if you have to buy four of them to power what you need, but if you have something small such as the Minn Kota Endura 30, you could use two of them for all day trolling and you'd barely break a hundred bucks.
Why I like it:
One of the best budget options and small form factors for chaining
12V AGM / LSA battery design with 35AH and weighs only 23lbs
Completely leak proof and maintenance-free
General Deep Cycle Batteries
These are general use deep cycle batteries that are good for just about anything that would require long term sustained energy. Absolutely not suitable to crank over a large motor but more than capable of running trolling motors all day long!
---
6. Optima Batteries D34/78 Dual Purpose Battery

Shop or Read Reviews
Price: Around $270
My Review: Another submission to the list from Optima Batteries is the good ol' YellowTop. This battery is actually quite similar to the light gray BlueTop from Optima but it focuses a little more on running accessories and less on starting motors, although it performs fairly well at both.
The D34 model, of course, gives us 55 amp-hours, which is a little on the low side but of course, you can simply buy two of them, which puts you at 110AH, typically more than enough for most people. This is also an AGM style battery which makes it maintenance-free and spill-proof.
I'd recommend the YellowTop when you're using the battery to power multiple things at once, such as for those of you planning to run your trolling motor, GPS, fish finders, spotlights, winches, etc all from your accessory battery. Compared to the BlueTop I've also reviewed in this guide, I think this battery performs better for those of you using it for multiple things, while the BlueTop is best used as a standalone power source for one thing at a time. Of course, you could use this to start your boat too but I think it's better suited as a backup in that regard.
All-in-all, this is an excellent enthusiast battery for those of you who would buy it and swap it from your ATV's to your boats to your RV's and so on. It's about as general-purpose as it gets and for people who would rather swap batteries into the toy they're currently using, this makes for a good buy.
Why I like it:
One of the best general usage batteries on the market today
12V 55 amp-hour capability with 750CCA, perfect for all weather usage
Dual SAE and GM posts, configured for use with multiple devices
---
7. Renogy RNG-BATT-AGM12-200

Shop or Read Reviews
Price: Around $360
My Review: What's that? Do you need more power than the previous monstrosity (Vmaxslr125)? Alright, no problem, let me introduce you to the 130lb 200AH beast battery by Renogy!
Of course, Renogy offers smaller variants of this marine battery, but for those prices and in those ranges, I'd recommend the other batteries on this list. However, in my experience, I have not found a suitable competitor for the AGM12-200, so here she is sitting pretty on the 200 amp-hours throne!
This battery will run any trolling motor, even the most powerful units constantly pretty much all day no matter the situation. 200AH is just a ton of potential power and I think you'd be hard-pressed to use it all with just a trolling motor. If you buy this, you better be running your accessories off of it too because it'll handle just about everything you throw at it.
In terms of trolling motor capability, if you want a buy once cry once kind of battery with absolutely no reason to chain in a second battery, I guess you could go with this. For probably 90% of the people reading this, this battery is overkill, but there's no law that says you can't bring along more power than you need, so if that's what you want, have at it!
Why I like it:
A massive 200AH stuffed into a petite but heavy (130lbs) AGM style battery
It'll power even the most powerful trolling motors for most of the day and then power a small camp through the night. Works very well with solar panels as well
Rated to 600 cycles, making this one of the most durable long-lasting batteries I've reviewed
---
8. Universal Power Group UB121000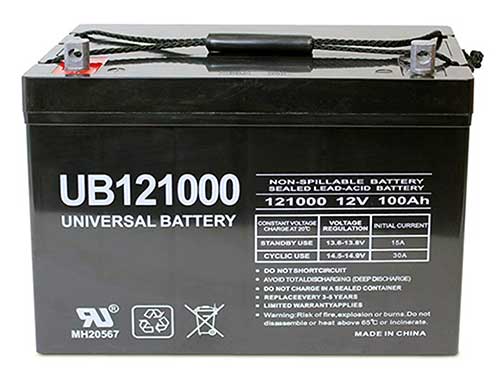 Shop or Read Reviews
Price: Around $170

My Review: I chose to add this battery to the list because they are flat out amazing for the price. They offer 100 amp-hours at a price tag lower than 200 bucks, which is absolutely exceptional. If that sounds too good to be true, you're protected by a 1-year warranty so that should clear up any concern.
This 60lb beast is certainly going to do well powering just about any trolling motor the majority of the day without hassle and if you really do somehow manage to deplete it, you could just buy two and chain them together since they're incredibly cheap.
I've mentioned them being cheap twice now and I don't want to give off the impression that these are just cheap throwaway batteries. Universal Power Group has been delivering underrated batteries since 1968. I'd fully expect reliability up into the 300s in terms of 80% charge cycles and overall, this is actually a fairly tough battery to beat.
Why I like it:
SLA/AGM deep cycle style battery with 100AH
Weighs roughly 64lbs and withstands over 300 cycles
Spill proof and maintenance free
---
9. Banshee Group 27M

Shop or Read Reviews
Price: Around $180

My Review: The Banshee 27M is an old school flooded style marine battery that encompasses dual terminals. Overall, it's a solid "get it done" kind of power solution. Since it isn't an AGM, it will require you to monitor the water levels and it is spill proof, however, it comes with a handy dandy hydrometer to make this easy!
This battery encompasses Enhanced Flooded Battery (EFB) technology that offers better charging acceptance and significantly higher cycle ratings than standard wet-cell batteries.
This battery is capable of 77 amp-hours which is a rather decent amount for most trolling motor setups. I generally prefer AGM style batteries, but if you prefer a wet-cell and you need the dual terminals, this is a very good value.
Why I like it:
Wet-cell EFB style battery with 77AH
Built-in hydrometer and plastic carry handle to better carry the roughly 40lb pack
Rated at 400 cycles with a 2-year warranty
---
10. Universal Power Group Wilderness Tarpon UB12350

Shop or Read Reviews
Price: Around $70
My Review: Since many of you are using trolling motors for kayaks and canoes, I   the Wilderness Tarpon. Obviously, most of the other batteries on this list are far too large for a kayak but not this tiny but mighty power pack. This AGM/SLA style battery pack that provides 35 amp-hours for kayak trolling motor usage
In fact, its so tiny it only weighs 22lbs and is roughly 8"x5"x7".
Of course, you can't be worried about your battery tipping over and losing all of its contents, so this battery is a fully sealed AGM spill-proof battery that is maintenance-free and mountable in any configuration.
I would go as far as to say this is the ultimate go-to for our kayakers out there using low powered trolling motors. It's not fancy and it's not the best battery ever made, but it is ridiculously cheap, super tiny, and comes with a 1-year warranty.
Why I like it:
Weighs only 22lbs and takes up less than a square foot of space
Fully enclosed spill-proof design with a 1-year warranty
---
Trolling Motors 
The trolling motor guide provides a detailed review of the best trolling motors. When fishing for bass, crappie, and tarpon in shallow water trolling motors are especially useful. Having the right size battery allows the boat to be able to fight the current and wind while quietly navigating to the best fishing locations.
Trolling Motor Battery Types
When it comes to battery type, there are three main titles you'll likely come across that actually mean pretty much the same thing. For powering a trolling motor, we're looking for a battery that releases the power in a steady and consistent manner at relatively low rates compared to something like a car battery.
Do NOT ever use a car battery or anything similar to that on a trolling motor. While it may work temporarily if you're in an emergency situation, you will greatly reduce the life and damage the electronic internals of your trolling motor. Car batteries are not meant to provide steady power output but instead, are built to provide a massive power jolt as to crank a large motor. Car batteries also degrade quickly when discharged to low levels, meaning you'll not only damage your trolling motor by using a car battery with it but you'll also be greatly reducing the life of the car battery too.
Batteries that are capable of these low-level outputs but steady power outputs are generally called Deep Cycle Batteries. For the purpose of trolling motors, some deep cycle batteries are dubbed as marine batteries or dual-purpose batteries. At the end of the day, they all pretty much do the same thing with some subtle differences, which we'll talk about and define now.
Deep Cycle Battery
These batteries are designed to be used under a steady load and have the capability of being used until most or all of its capacity is discharged. They typically come in the same form factor as what you'd expect to see a car battery to appear as, but don't be fooled, how they discharge and how they work are completely different.
Marine Battery
First and foremost, it's important to note that you can find marine batteries in three different categories: Starter, deep cycle, and dual purpose.
A starter marine battery is similar to what a car battery would be with the capability of cranking a boat motor. These are not what we are looking for to power our trolling motors, so steer clear of marine batteries that are purpose-built for starting a motor. Furthermore, if you do use these during an emergency situation to power your trolling motor, despite the danger of damage, you'll get a very low amount of time to use the battery until it no longer has the capabilities to provide steady power output.
A deep cycle marine battery is basically identical to deep cycle batteries, just that they are built specifically for usage with trolling motors and perhaps other boating-related applications such as running your GPS, fish finder units, spotlights, etc. These batteries allow the user to utilize pretty much all of the power inside the battery pack, meaning your trolling motor will be capable of using nearly 100% of the power the battery has to offer.
Again, a dual purpose marine battery is essentially the same as a regular dual-purpose battery, except it may come in a form factor more viable for use out on the water.
Dual Purpose Battery
A dual-purpose marine battery would be capable of both starting your boats motor and providing steady power to the trolling motor. While most people would benefit greatly by having a specific battery for each of the use cases, a dual-purpose might be helpful if you don't have much space for two separate battery packs. Since these are capable of providing power in both a heavy output and a steady output, they are versatile, but the tradeoff of this versatility is lower performance. Generally, these batteries will not have the same capability at lower levels of charge and will generally stop providing power or crank capabilities once they are discharged to low levels. Don't be surprised if your battery has 20% power left but cannot run the trolling motor or cannot crank the boats motor.
Battery Internal Makeup
These batteries may or may not come in configurations outside of the deep cycle. This means you'll need to ensure your choice is both a deep cycle and/or marine battery AND the specific type of battery you want, which is detailed below.
There are primarily two types of deep cycle batteries, either the Lead Acid Wet-Cell or an AGM battery.
The Lead-Acid Wet-Cell battery
These are the most common form and has been optimized to perform especially well under frequent draining and recharging applications. These have been the popular go-to option for trolling motor implementation for a very long time since they are among the best batteries to consistently use and recharge. These batteries typically come with a lifespan of one to two and a half years, usually depending on how they are stored and the quality of the battery.
Despite these being the cheapest and most common option available, they come with a few drawbacks. You'll need to top off the water inside the battery to keep the charge plates inside fully submerged and they are also prone to spillage, especially on rough waters. There are now some wet-cell offerings that don't require any maintenance, but of course, they are a bit more expensive and many people like being able to adjust the water levels themselves.
If you're tight on cash or need something only for one season, a wet-cell battery might be the way to go!
Absorbed Glass Mat. (AGM) batteries
This type is the most costly option to take but comes with some distinct advantages over Wet-Cell batteries. Spending more on an AGM battery will grant you a much higher lifespan, generally lasting roughly four years. Some people claim the higher cost is worth the extended lifespan alone, due to the theory that you'll need to buy half as many AGM batteries as Wet-Cell batteries over the course of several years.
AGM batteries are also completely sealed and do not require any maintenance other than proper storage. These batteries also dissipate power much less on average than wet-cell batteries, allowing them to hold their charge over long periods of time much better.
AGM batteries can also be called dry cell batteries, valve-regulated lead-acid, or non-spillable batteries.
These are widely accepted as the best in overall performance for marine uses and if you have the extra money to spend, I highly recommend buying an AGM battery.
Battery Output and Capacity
This one is tough because there are several different standards a manufacturer could use to explain their battery's output and capacity levels. You may see CCA, CA, MCA, HCA, AH, or RC as a unit of measurement.
Cold Cranking Amps (CCA) measures the number of amps a battery is capable of implementing at zero degrees Fahrenheit over the course of 30 seconds while not dipping under 7.2 volts. High CCA means the battery is especially good for cranking over a motor, which isn't really what we're looking for in terms of batteries for our trolling motor, however, some batteries built for trolling motors may contain this measurement anyways, despite it not being very relevant.
Cranking Amps (CA) is essentially the same thing as CCA but measured at a temperature of thirty-two degrees instead of zero.
Marine Cranking Amps (MCA) is basically the same idea as CA but formally used on marine specific batteries.
Hot Cranking Amps (HCA) is essentially the same thing as CCA but measured at a temperature of eighty degrees instead of zero.
Amp Hour (AH) is the most popular rating used for deep cycle batteries. This measurement displays information regarding its amp output over the course of 20 hours. For example, if a battery is rated at 50AH, it should provide 50 amps for 20 hours, or 5 amps per hour. Since deep cycle batteries are meant to be used with a relatively low load over long periods of time, as you increase the load, their efficiency becomes lower exponentially.
This gets a little confusing though and is not a linear measurement. If you draw more than 5 amps per hour in our example, the AH level will decrease, but not always by increments of 5 and it will depend on what load the battery is undertaking.
Reserve Capacity (RC) is a measurement in minutes that a completely charged battery can discharge 25 amps continually at eighty degrees until the battery drops below 10.5 volts. This is a rather important unit as it will allow you to make calculations to determine how long this battery will last with your trolling motor.
Battery Maintenance
The batteries you would use to power your trolling motor are fine pieces of engineering and require a lot of love and care. In return for extra attention, you'll get significantly more bang per buck in the form of longevity, durability, and performance. The types of batteries I mentioned above have slightly different methods of maintenance so pay attention to which type you have and follow the instructions carefully.
First and foremost, a brand new battery needs a good wake up call. Charge it up to 100% the first time you plug it in without any pauses, breaks, or usage in the charging cycle. New batteries have usually been used at least once before you get them, generally as a manufacturers test, which means they most likely have a complete charge cycle on them already and may even be close to 100%.
With that said, we can't know for sure and on the off chance you'd get a battery that's never been charged to the max before, you may reduce its performance by immediately discharging it. Charge it up to 100% out of the box each and every time you get a new battery and you'll never need to worry, with the guarantee it'll be at its top performance level.
Now that you've given your brand new battery a solid run up to 100% before using it, it's time to bust it out, but we need to be careful and go gentle on its first-time performances. Experts recommend cycling the battery 20-50 times down to the 50% area and back up to 100% to create a sort of battery memory and extend their lifespans. Batteries that are completely discharged in a "new" state often have trouble reaching 100% again, greatly reducing your future capacity and performance.
Remember, batteries should be charged to 100% each and every time anything pulls any amount of power from them, no matter how much they were used. In theory, even if you were to hook up small lightbulb and power it for a minute, ideally the battery should be topped off at 100% again. I see a lot of anglers who will leave their batteries uncharged after a day on the lake because they "didn't use the trolling motor much". If you want your batteries to survive and perform well, you have to charge them no matter what each and every single time.
Undercharging causes stratification, which basically means the internals of the battery are being damaged and overcharging causes gassing, which results in water to rapidly evaporate, leaving the plates exposed and allowing heat to build up, causing stratification. Never charge a battery at temperatures above 120 degrees.
If you have a wet-cell that isn't sealed, you'll need to water them like a plant. If the plates inside the battery are not fully submerged from the factory, you'll need to add water until the water exceeds them by roughly ⅛". Since there are many different types, form factors, sizes, etc, this is a general estimate and you should take the advice of the user manual if it says anything different. Distilled water should be used only and you should never overwater.
If you have a series of batteries, and one battery goes bad, it's ill-advised to replace one part of the series with a brand new battery. Batteries in a series work together to provide power and as the old saying goes, a system is only as good as its weakest link. In the case of deep cycle batteries, a brand new battery paired with one or more used batteries would likely lead to the new battery's performance being greatly diminished or the older batteries failing to keep up and wearing out even faster.
Never let a battery sit unused for several months. Back to our boxer metaphor from the beginning of this article, think of the muscles. If a boxer goes on vacation and does nothing but lay around and get drunk for several months, that boxer will lose muscle mass and a significant portion of their performance will be diminished.
If that boxer still trains and conditions his body while on vacation with periodic exercise, the muscles will degrade a lot less, or not at all. We can apply this with our batteries. If we know they'll be sitting around for a few months, we can schedule boost charges once a month. Just a quick little top up to get them in the 80-100% range will ensure they don't lose "muscle" so to speak.
If storing batteries, never store them discharged and if possible, keep them above 80% at all times. A battery under 80%, even when being used, is a battery whos struggling to stay alive and as a result, is trading in some of their longevity for the ability to perform under 80%.
The age-old myth of batteries being affected by being sat and/or stored on a concrete floor is not true. If a battery freezes, however, the battery will most likely be severely damaged beyond repair. Keeping the battery charged will protect it from freezing in most cases. On the flip side, heat above eighty degrees will accelerate the batteries discharge attributes and extreme temperatures can also damage the internals of the battery.
As a final note, batteries maintenance changes as they age. Age can be in the form of years after manufacturing and/or cycles. A battery that is several years old and/or has a lot of cycles on them will naturally degrade and require longer charging times for less capacity, may require more frequent watering, and a higher amperage to achieve the end of their charging cycle. Furthermore, the rods inside the battery will degrade and performance will diminish exponentially.
Pairing the Trolling Motor to a Battery
Alright, guys, it's time to talk real business here. You've stumbled upon this guide to figure out what battery you should buy with that fancy new trolling motor you've ordered. I've got answers for you, but I'll need a little help from you to finalize them!
Go back to the user manual or the product page for the trolling motor you've decided to go with and figure out how much amperage draw (AD) that bad boy is going to slurp up. The more powerful the unit is, the more amperage it's going to need to perform.
After you've got that figured out, it's time to do a little math. Since trolling motor batteries are rated in amperage per hour (AH), we can do a little number crunching to figure out what we're looking for.
The equation we need looks like this: AH / AD = run time. Simple division, so easy a caveman could do it!
So, for example, if we estimate that our average trolling time is roughly 5 hours and our trolling motor requires 20AD, we'll need something in the 100AH area to supply enough power over that period of time.
Now, normally I'd say you should budget additional funds for some overhead to ensure you have enough juice in case you end up staying out past your bedtime. However, most trolling motor manufacturers are providing the AD information based on its maximum output settings. If you're like me and you don't use the trolling motor as a primary means of movement, you likely won't be running your trolling motor at its maximum output the entire time, which means we have a little extra time in the battery bank!
If you do plan on running your trolling motor as your primary source of movement, I highly recommend getting a rather large battery or multiple batteries to offer plenty of overhead. There's nothing worse than being stranded with no power!
---
Popular Posts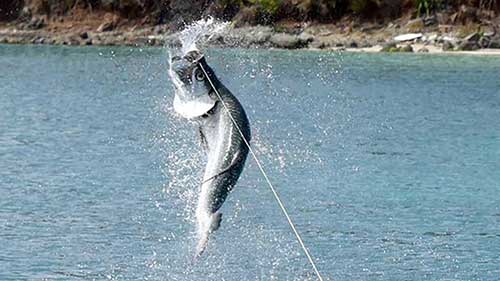 17 Best Tarpon Lures and Baits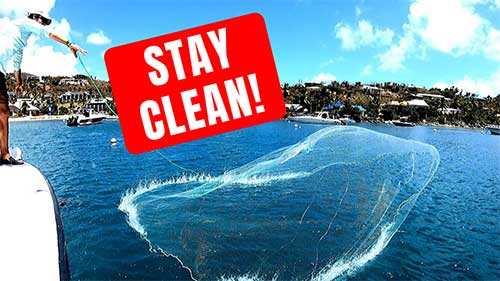 23 Best Cast Nets by Captain Cody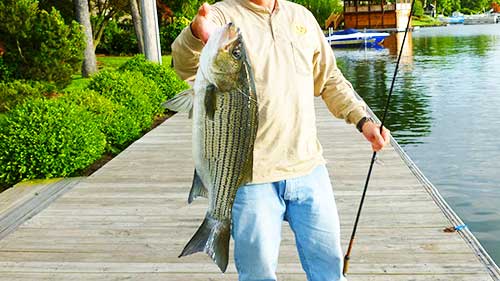 Best Hybrid Striped Bass Lures by Captain Cody
Captain Cody has worked on charter fishing boats in the Florida Keys, Virgin Islands and Alaska. Cody grew up in Pennsylvania and has also done extensive freshwater fishing including bass fishing tournaments. Cody strives to provide detailed information about the best fishing gear and tactics to help both novice and experienced anglers have a more productive and enjoyable time on the water. Cody also has a background in aerospace engineering and neuroscience but really only takes pride in being good at one thing and that is fishing!