Fluke also called summer flounder are a very fun fish to catch all summer long in the bays of New Jersey. In the winter fluke spend their time in 200 to 500 feet of water on the continental shelf. There are also winter flounder that are in shallow waters in the spring winter and fall. There will typically be a fleet of party boats and recreational fisherman just offshore in about 10 to 50 feet of water all summer long catching fluke. This type of fishing is relaxing and everyone on the boat can expect to catch a few fish if using the proper bait and techniques. Party boat give out dead minnows to use as bait. With these most people only catch 1 to 3 fluke all day. If a bucktail jig with a white gulp teaser are used people can expect to catch 5 to 10 fluke. When someone brings gulp with they seem like professional fisherman compared to everyone else! Fluke fishing is not overly complicated. If you are using white gulp and the bait is on the bottom fish can be consistently caught. Jigging and twitching the pole does help trigger bites.
A boat is not needed to catch fluke. Fluke hang out around ledges, sandbars, muddy bottoms, rocky bottoms, near inlets and under piers. Really if it is fluke season and the bait is on the bottom there is a decent chance a fluke will be caught. Fluke are good fish to eat but need to be over 18 inches in most states to keep. It is common to catch three or four short fluke for every keeper. I will discuss the top five fluke baits and explain the rig setup. These basic tips should help you catch more fluke.
White Gulp Minnow Grub

People that look into the best bait for fluke know that Berkley Gulp is the most recommend way to catch fluke! It is almost magical how much better it works than other baits!  When fishing in a tournament for large fluke only live bait might be an equal method but for the recreational fisherman trying to easily catch lots of fish, Gulp is the way to go. I use pearl white Gulp almost exclusively but chartreuse Gulp works great as well.
Three or four inch pearl white and chartreuse Gulp. Three inch is a good size for teasers or small hooks. Four inch is a good size to put on jigs.
back to menu ↑
Spro Bucktail Jig

My friend Ryan O showed me how to make the best setup for jigging for fluke. The rig consists of a Spro Bucktail Jig as the weight, a five foot 20 to 50 pound fluorocarbon leader and a white gulp used as a teaser bait about 18 inches above the jig. The teaser is tied by making a dropper loop where a number 3/0 or 4/0 bait hook  is attached. A three inch white gulp minnow to be added an the hook right before the line is dropped into the water. The leader line is tied line to line with the line on the reel. A  barrel swivel can be used if you do not know how to tie line to line. Gulp is also added to the bucktail jig. The jig needs to be 2 to 4 ounces to get to the bottom in average currents. Typically only large fluke bite the bucktail. About four out of ever five fluke are caught on the Gulp teaser.
Spro Bucktail Jig, 1/2 to 4 ounce sizes. These come in a variety of colors and should match the gulp that is used.
Gamakatsu baitholder hooks, size 3/0 or 4/0 size works great for holding the gulp teaser. Size 4/0 is needed when using leader line greater than 20 pound test.
Segauar fluorocarbon leader 20-50 pound. 20 pound line is standard and it is easier to fit the hook onto the dropper loop. If line heavier than 20 pound test is used the teaser hook will need to be large enough for the line to fit through the eye of the hook.
back to menu ↑
Berkley Gulp Darter Jig Head

Berkley Gulp Dater Jig Head, three per pack. 3/8 ounce is a good size. 3/0 hook for a three inch Gulp minnow and 4/0 hook size for a four inch Gulp minnow. These also work good for gulp shrimp but this is not typically used for fluke fishing. The gulp bait keeper holds the bait well.
This swim jig is is very light in terms of fluke jigs. These work great when in shallow water under  8 feet deep and when fishing form shore. Pulling it up and down of the bottom is a good method as well as contentious twitching while slowly retrieving the jig just off the bottom.
The cownose stingray above was caught off Sandy Hook in New Jersey the first week of August. I caught it near the bottom on a Gulp teaser and thought it was a giant fluke. We have also caught these using cut bunker. We always release them and I am not sure if they are legal to keep. In early August in New Jersey cownose rays swimming near the surface in the tens of thousands. There fins rising above the surface look like shark fins from a distance.
back to menu ↑
Gulp Grub

Gulp Grub six inch in length with a swimming tail comes in a variety of colors. Most common for fluke is white and chartreuse.
This grub is bit to long to use a teasers. It is commonly added to jigs and the action of the tail does a great job attracting fish. The grub portion can be cut short if used on smaller jigs or teaser hooks. The tail works good facing up or down.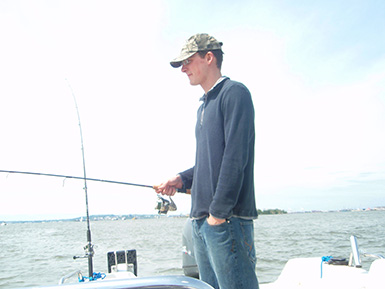 back to menu ↑
Bottom Fishing Rigs

Fin Strike Fluke Rig 557. Mustad Ryder hook with red beads and single hammered spinner blade and sinker snap.
The weight can be clipped directly on the sinker snap when jigging. In a fast drift or retrieve it would be a good idea to add a 20 to 30 inch leader to connect the weight to the sinker snap. This will keep the bait just of the bottom which is perfect for fluke.  This had two hooks it is recommend to put a three inch gulp on perpendicular to the hook shank. Then add two dead minnows to the larger hook. If minnows are not available just use the tail of a piece of gulp on the second larger hook to ensure that the fluke will get hooked.
Pyramid sinker weight, 2-4 ounce. A drop shape weight, round weight or egg sinker would be a good idea if you are frequently casting and retrieving the rig.
Sea striker pompano rig double hooks.
This is not intended to be used for fluke fishing but is a great setup for someone who only knows the basic fishing knot. Add a pyramid wight or jig to the snap swivel and tie the line with the barrel swivel to the pole. The snap swivel will make it easy to change weights if needed. Add three inch Gulp minnows to the hooks an you are ready to catch lots of fluke! Make sure enough hook is exposed out of the gulp to hook the fish.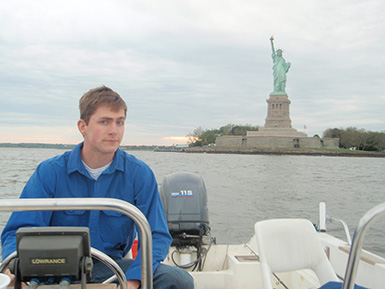 Thanks for visiting Global Fishing Reports. I hope these suggestions help you catch more fluke and flounder!
If you have any suggestions for top fluke lures and baits, leave a comment below!