Trout fishing is one of the most enjoyable activities imaginable. Fishing, hiking, and camping can all be done on the same weekend.
These are all the great outdoor activities! There are many facets to trout fishing and you can make it as complicated or as simple as you would like.
There are not many things more exciting than spot fishing a trout that won't bite and then bam the fish strikes and those few seconds of excitement are worth all time and effort put into the trip.
You can also just cast a hook and bobber out there and relax while waiting for a trout to find the bait. The first Saturday after Easter in mid-April is a family event for many people that live in Pennsylvania.
Many people camp out and get to the streams before light to get a good spot for the day.
For people that fish for steelhead in the great lakes Labor day often marks the start of the fall run. The first big rain will start large numbers of fish entering the streams. Stream fishing for steelhead can be done with the same techniques as trout fishing. The main difference is rather than spooling the reel with 3 or 4-pound test line, eight-pound test line is used with a 3 to 6-pound test fluorocarbon leader. For trout, 4-pound test line with a 4 pound test leader is typically used.
Fishing for wild trout in back-country steams is probably the best trout fishing experience. These areas do not get fished as heavily and the trout respond best to baits that mimic the natural food sources such as flies and bugs. For the best trout flies also read our best trout fly fishing lures page. Below is a list of the top five trout lures for typical situations. These are sound tactics that have been proven to be effective for trout and steelhead everywhere!
Here Are the Best Trout Lures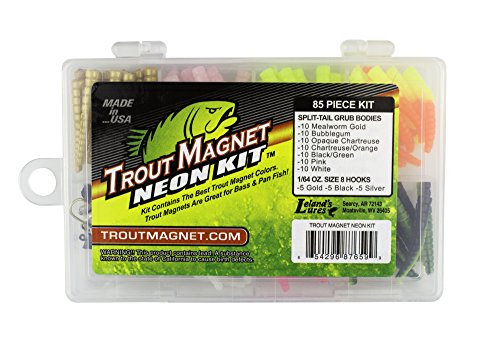 I first found about the trout magnet when fishing a small fundraising event with tagged trout in Pennsylvania.
After fishing most of the morning and only catching a few trout I switched to my friend Jason's go to lure.
The gold trout magnet. Then next hour I caught about six trout and became a believer.
When someone who catches lots of trout says this is the lure he uses all day and there is no reason to switch, you know it is a good bait! Many people rave about the trout magnet!
This defiantly works well on stocked trout using a gold jig and a Mealworm gold tail. This could be because it looks like the pellets trout are feed when being raised at the hatchery. The pellets are ground up fish that are then extruded into cylindrical pellets that look a lot like a gold trout magnet. Even if this is not why they work so good the important things is that they catch lots of trout. If you have not used a trout magnet before it is definitely worth trying these jigs out for yourself.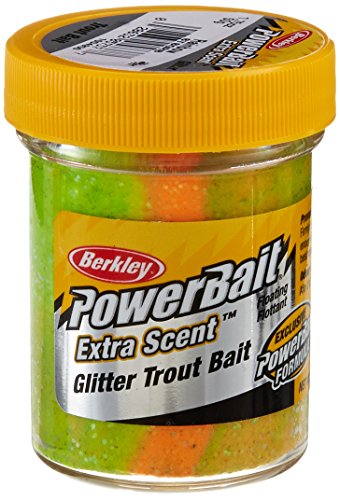 PowerBait is ranked two because it catches fish and does not disturb the fishing hole. Often when fishing for trout people will be fishing the same holes all day with lots of pressure.
A noising spinner can only be cast through the fishing hole so many times before you should get the hint that the fish are not interested.
Spinners can cross lines and make it a less enjoyable experience for other people fishing nearby.
PowerBait is a low-pressure technique that has been proven to work for trout and steelhead everywhere.
Rainbow Berkley PowerBait with extra scent and glitter. This is probably the most commonly used bait for trout.
The best way to use it is to make a round ball around a small treble hook.
Treble hooks size 14 – 18 are perfect for PowerBait. Size 18 is the smallest. Size 20 is the smallest trouble hook that they make.  Size 14 will make the PowerBait sink and size 16 and smaller will likely make the bait float. To make the bait float off the bottom when using a weight a size 16 hook or smaller would be recommended. The buoyancy of the rig depends on how big of a piece of PowerBait is being used. Some people say red hooks are invisible to the fish. Red and gold hooks are both good hook colors for trout.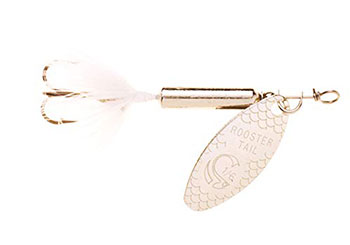 When I think of trout fishing I think Rooster Tails. These small spinners work well when casting down-stream and retrieving the lure upstream. Casting lures such as Rooster Tails work best when the streams are not crowded. If ten or so casts are made through a fishing hole it is time to give the spot an hour break while trying other fishing holes. That said these work well when traveling up and down streams and these lures produce fish!
Flash black and flash white are both great color Rooster Tails for trout. These have silver blades. The dark is good for low light and murky water. The white is good for sunny skies and clear water. Size 1/32 oz to 1/16 oz is best for trout.
4. Minnows, Eggs Sacks and Worms Trout Bait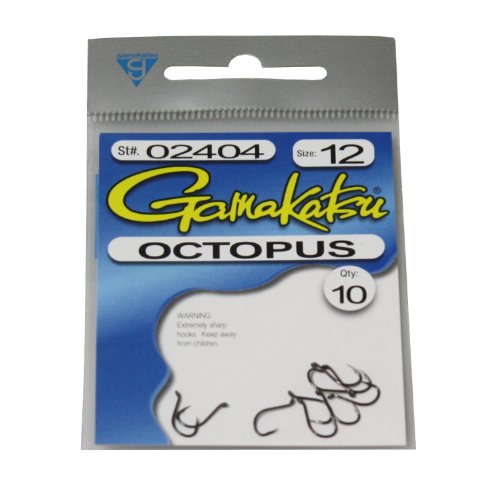 Standard hook size for trout is size 10 and size 12 with size 12 being the smaller hook. Gold and red are both great hook colors for trout. These are strong hooks and are able to catch big steelhead and salmon as well.
A small foam float bobber is a must when fishing for trout using live bait. The line depth can easily be adjusted to allow the fishermen to keep the bait suspended just off the bottom. The trout floats come in a 36 pack or 4 pack.
The best bait, in my opinion, is live minnows but minnows are often hard to come by. Other great choices are salmon eggs, egg sacks, mealworms, wax worms, maggots/grubs, redworms and don't forget PowerBait works on a normal J-hook as well.
5. Panther Martin Trout Spinner

I have had great success with Panther Martin Spinners for trout. The blade seems to spin around slower than a typical spinner which gives it more of an injured fish look.
Panther Martin Black Zebra and Gold with a silver spinner are great trout spinners. Black and red for low light and murky water and gold with a silver blade for sunny skies and clear water. Size 1/16 ounce is best for trout.
How to Catch Trout
Trout can be caught a variety of ways. Using small trout magnet jigs is a great way to catch trout in streams in Pennsylvania. However, there are are a large number of factors that come into play and using power bait or small trout spinners can be the most effective way to catch trout. I was recently fishing in Alaska and using trout beads that looked like salmon eggs was the best way to catch rainbow trout. Fly fishing can also be the most fun and effective way to catch trout so also read our best trout fly fishing lures page.
Thanks for visiting Global Fishing Reports. I hope these suggestions help you catch more trout!
Captain Cody has worked on charter fishing boats in the Florida Keys, Virgin Islands and Alaska. Cody grew up in Pennsylvania and has also done extensive freshwater fishing including bass fishing tournaments. Cody strives to provide detailed information about the best fishing gear and tactics to help both novice and experienced anglers have a more productive and enjoyable time on the water. Cody also has a background in aerospace engineering and neuroscience but really only takes pride in being good at one thing and that is fishing!