I have learned a lot about how to catch largemouth bass while preparing for and competing in bass fishing tournaments.
Below I have listed what I've found to be the best bass fishing lures for typical conditions.
I have done lots of freshwater fishing in Pennsylvania and New Jersey, so I am very familiar with largemouth bass fishing techniques.
In this guide, I'll share with you some very useful largemouth bass fishing tips, along with my favorite lures and baits.
Alright, lets get into the list!
Here Are the Best Largemouth Bass Lures
1. Baby Brush Hog with Red Specks
Price: Around $5
Fishing for bass with Baby Brush Hogs is the best way to catch big bass under most conditions. Brush Hogs work best in water that is less than 6ft deep and when casting near shore.
How to use it: The key to fishing with Brush Hogs is to be quiet. Very quietly approach an area and then realize that it is all about the "splash" literally.
This lure makes an awesome splashing noise and bass come into investigate and find this lure slowly sinking in the water and simply can not resist. Even when the bass are being lethargic and not hitting other lures, fish often still bite the Brush Hog.
Cast it out and keep a small amount of tension on the line so you can feel when the big bass engulfs the lure. If there is firm tug set the hook! If a bass does not bite while it is initially sinking, it is not likely that a bass will bite on the retrieve. Count to ten after the initial splash and then just crank the bait in fast to save time. Obviously, if there is good structure the bait can be paused and twitched to see if a bass will take it during the retrieve.
Lilly-pads are the best place to use the Brush Hogs. This is not a weedless setup though so using a 20lb braided line with 20lb fluorocarbon leader line is recommended. This way the pole has a strong light line that can be cast far while also remaining invisible to the bass. The three to five-foot leader is best tied line to line with the braided line.
When fishing tournaments we often show up with two poles with offset hooks on them and only fish with Brush Hogs all day. These creature baits are that good! The red specks are key.
Note: These are not the best colors to use at night, the blackberry color would be a better choice. Dark scented baits are the way to go at night.
A Green Pumpkin Red 4 inch Brush Hog is best for murky water and low light conditions.
You'll notice baby brush hogs look a lot like newts. These are more common in lakes than many people realize.
Offset Hooks for Baby Brush Hogs

Price: Around $5
I recommend Gamakatsu offset shank round bend worm hooks. Size 3/0 is recommended of average size bass. Size 2/0 for small bass and size 4/0 for big bass.
2. Mepps Spinner Number 3-5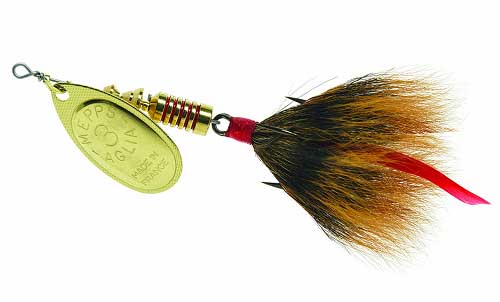 Price: Around $5
Mepps spinners are great bass fishing lures for people with low patience. Using spinners there is the constant action of casting and retrieving allowing for large areas of water to be fished quickly.
This lure is best for water under 8 feet deep. The slower the spinner is retrieved the more the lure will sink into the water.
It is a good idea to start reeling in as soon as the lure hits the water to get the blade spinning, the spinner can then immediately be reeled slower to get it to sink deeper.
How to use it: Casting perpendicular to the shore is my favorite way to fish for bass. Fish are on the edges, especially during a warm day in the springtime. The bass looks away from the shore and can easily chase down a spinner.
You can often watch the fish strike which makes it that much more fun. The advantage this lure has over soft plastics and most other lures is that it covers more water. If the bass feeding aggressively they will hit Mepps spinners! It is also easy to feel the bass bight and set the hook which makes this a great lure for kids. We have been using these spinners since we had the Zepco push button reels as young kids.
If there are toothy fish in the lake such as pickerel, pike, and musky using this lure can be a problem because these fish love to bite spinners as well. When a toothy fish bites and there is not a steel leader the fishing line can easily be cut. A steel-leader leader might cut down on the number of bass that bite. However, I have caught plenty of bass while using a steel leader.
Being a little old fashion we almost solely use silver and bronze colors with as much red as possible. Make sure if weeds get caught on the spinner they are removed before the next cast. Bass rarely hit a lure that has weeds on it.
The Bronze Mepps #5 with a tail weighs 1/2 ounce and is perfect for big bass, especially when casting far in murky water. A Silver Mepps #3 with a tail, 1/4 ounce is my go to spinner to use in clear water and on sunny days.
3. Jig with Crayfish Combo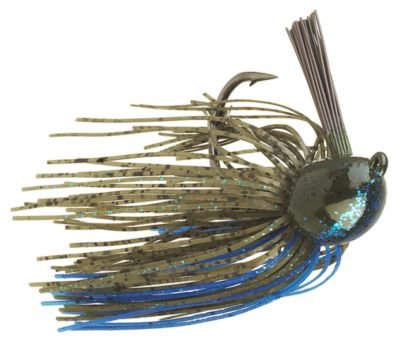 Price: Around $6
Crayfish Jigs were learned by watching our competition during bass tournaments. Teams would use this lure all day and only this lure, that is how you know it works well. This takes a lot of effort on the fisherman's part.
These jigs can be used for a few hours without getting a bite but when a big bass finally gets hooked it is worth all the work. Generally, this is jigged in water 6 to 12 feet deep with large patches of sod-grass. The thicker the better. Jigging around shoals also works well. The key is knowing where the grass beds, structure or ledges are located. This can be difficult if you are not familiar with the lake.
The technique is to be drifting over grass beds and pitching the jig about four feet in front of the boat (which is drifting sideways), let the lure sink to the bottom, generally the bass will bite while the lure is sinking, so be ready to set the hook when starting up with the jig. Pull the jig 1 to 4 feet of the bottom once or twice and then retrieve the jig and pitch it again.
For this setup, you'll need a Strike King Hack Attack Heavy Cover Jig Bait .375 ounce. Looks great with the red on the bottom the skirt! This is a swim jig so travels well horizontally in the water column. Gamakatsu black nickel heavy wire hook is strong and good for pulling hard on big bass. The color Bama Craw works great.
To build a crawfish jig, you'll need this jig along with the soft plastic below. Here is what we will be making.
This jig with a crawfish combo looks great and works like a charm once it's setup!
Green Pumpkin Crawfish Soft Plastic
Price: Around $7
Here is is the soft plastic you'll need to complete the Crayfish Jig.
It's a green Pumpkin, Zoom Super Speed Crawfish soft plastic, 3 3/4 inches. This is a great color as long as it matches the jig. Trim the first two notches off before putting it in the hook and the claws will extend out just past the skirt and flutter great in the water!
Price: Around $8
The green worm is fished similar to a Baby Brush-Hog. Advantages are that is sinks a little faster and is better to use when adding weight to target fish in 5 to 7 feet of water. This depth is a bit shallow for a jig and too deep for a baby brush-hog.
The power of the green worm became apparent to me when fishing against my friend Ryan O. We were fishing a big pond, perfect for a spinner so I thought. The water got deep quickly from the shore and had some grass and deep Lilly-pads. I had an advantage because I would cast in the good spots first.
He would then come and fish the already been fished water and catch one bass after another after another. Some time thee or four bass from the same small patch of Lilly-pads, it was ridiculous. Even though I lost the friendly fishing competition that day, I learned a good technique so I was not complaining.
I find Green Pumpkin, 9-inch length, is a perfect bass fishing lure to catch big bass. Fish this similar to a Baby Brushhog, it will sink a little faster so it works great in deep sections of Lilly-pads. The second best color is Junebug which works great in murky rivers.
Note: I recommend using Gamakatsu Offset Shank Round Bend Worm Hook, size 3/0 is recommended, size 2/0 for small bass and size 4/0 for big bass.
5. Strike King KVD Crank Bait
Crank baits are good at covering mid-depth water 5-10 feet and find out where the fish are located. When fishing rocky bottoms where there are not lots of weeds this is a good option. Although at that point you might be catching more smallmouth bass than largemouth bass. A perch color is a great choice but it depends what the bass are eating, try and match the bait with the natural food sources.
I really like Strike King KVD Square Bill Crainkbait, Color Chart Sexy Shad Size 1.5 ounce, swimming depth is 3 to 6 feet.
Thanks for visiting Global Fishing Reports. If you have any questions about how to catch largemouth bass feel free to leave them below.
If you have any largemouth bass lures you've found work great, feel free to leave them below so the rest of us can try them out!
Thank you,
Captain Cody
Captain Cody has worked on charter fishing boats in the Florida Keys, Virgin Islands and Alaska. Cody grew up in Pennsylvania and has also done extensive freshwater fishing including bass fishing tournaments. Cody strives to provide detailed information about the best fishing gear and tactics to help both novice and experienced anglers have a more productive and enjoyable time on the water. Cody also has a background in aerospace engineering and neuroscience but really only takes pride in being good at one thing and that is fishing!