Teaching a child to fish is a fun process. Using large fishing poles makes it very hard for kids to get involved even though they want to be fishing.
Little kids do not care if they are catching a 5 lb bass or three-inch bluegill, they just want to catch lots of fish! The key is to bring them to places where they can get bites immediately.
This is where pond fishing comes in. There are almost always loads of bluegill and sunfish right near the shore in most ponds and lakes and they will eat pretty much anything put in the water.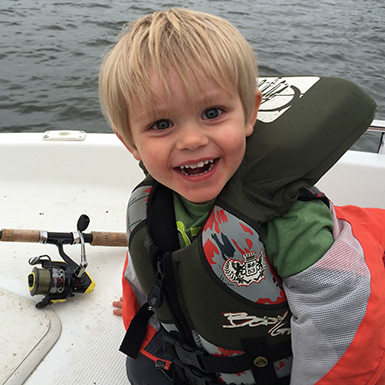 Starting out it is best to use scented baits such as a worm on a hook while using a bobber to keep the bait off the bottom. As kids get better at casting artificial lures can be used. At age two most kids can only help reel in a pole but by age seven they should be able to catch fish and tie on lures with little assistance. I still remember catching my first bass using Zebco reels and a Mepps spinner after practicing in the yard with yellow plastic plugs that did not have hooks. Below is a list of the best fishing poles for kids and associated gear to help kids catch tons of fish.
Along with using the right bait and lures, having the right size rod and reel makes fishing a lot more enjoyable for kids. Fishing gear for kids is cheap compared to most fishing equipment and will make for a much more enjoyable experience for young anglers.
Here Are the Best Kids Fishing Poles and Accessories
1. Shakespeare Spiderman Fishing Kit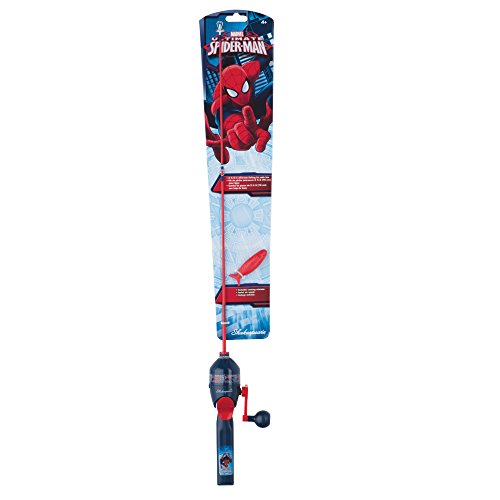 Price: Around $15
This Shakespeare youth fishing pole with push button reel is perfect for kids and toddlers. It's two and a half feet tall and includes a plastic practicing plug.
These come in a variety of awesome cartoon characters, so just choose one you think your child or the person you're buying it for will enjoy.
It says ages 4 plus but even two-year-olds like playing with the fishing pole.
2. Zebco ready tackle girls fishing pole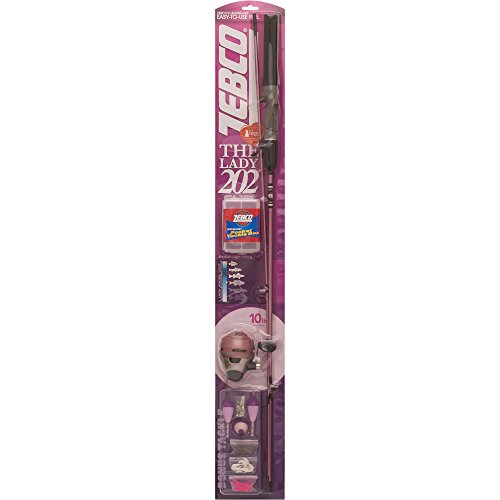 Price: Around $20
This is a classic pole that has been know to catch bigger fish than it's really intended to. The reel only has three or four-pound line which helps it get more bites than big poles with heavy line. This is a must-have item when fishing with kids under five years old. We have had to fish the barbie pole out of the lake a few times because big fish bite and pull this lightweight fishing pole right into the water.
Zebco the lady 202 combo girls fishing pole with push button reel. This 5 feet 6-inch pole comes spooled with fishing line. Also included are some nice accessories including bobbers, hooks, jigs and a small tackle box.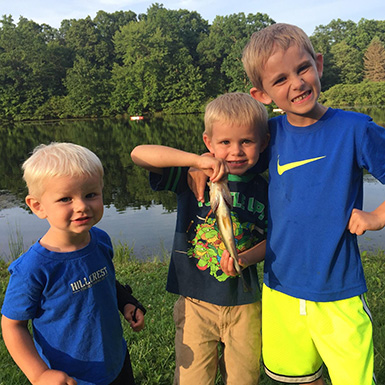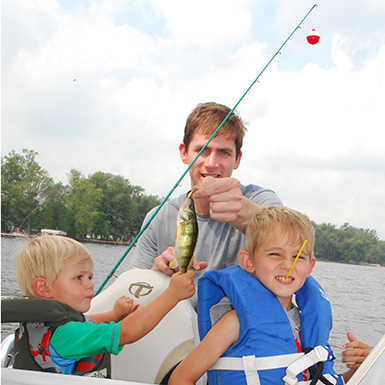 3. Uglystick GXT Two Piece Rod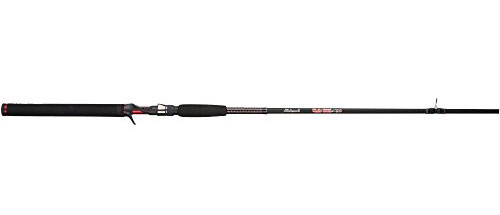 Price: Around $40
If you're looking to buy a rod and reel separately, pairing the next to items on this list is a great idea. As far as rods go, I really like the Ugly Stik GX2 casting two piece rod. There are several options here. A 6-foot medium light or medium action is good.
A one-piece rod would be good if you have a boat or truck to transport the fishing pole. A two-piece rod is nice so it easily fits in a car.
The Ugly Stick pole and Zebco Omega reel are for the avid youth fisherman. This is a quality setup that should last for many years.
The other poles are good for occasional trips but will surely break over time. After this rod and reel are used for a few years it will be time to upgrade to a quality spinning reel.
The 5 ft 6 in Zebco fishing poles with push-button reels are perfect for kids aged 4 to 10-years-old.
4. Zebco Push Button Fishing Reel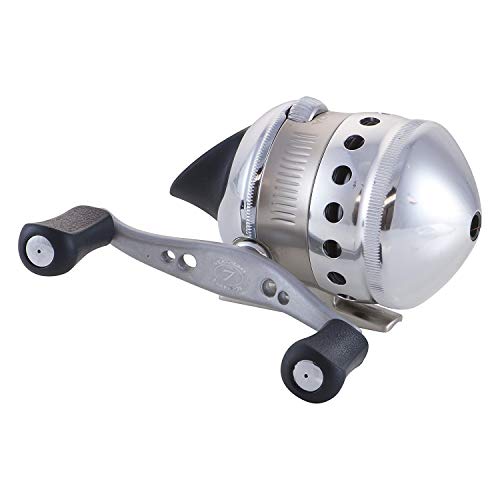 Price: Around $55
Using a push-button reel is much easier for kids than an open face spinning reel. This larger pole makes it easier to cast than the 2 ft 6-inch Barbie pole.
Zebco Omega Z03 7 bearing spin cast push-button reel. This reel comes spooled with 85 yards of 10-pound fishing line.
5. Kids Fishing Rod and Reel Combo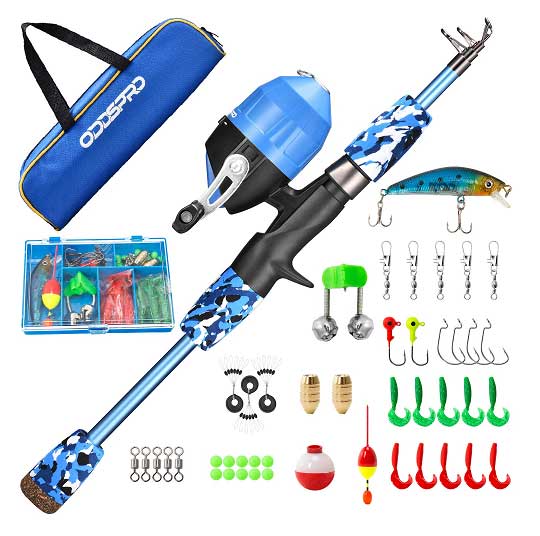 Price: Around $30
I really like this kids Fishing Rod and Reel Combo. The pole is telecopic. It also comes with hooks, floats, jigs and a small clear plastic tackle box.
This is a push-button reel which is easy for kids to use. The combo also comes with a carry bag which can help keep that tackle organized and can easily be brought with  when you are traveling or going for a walk. 
6. Eagle Claw Rubber Practice Plug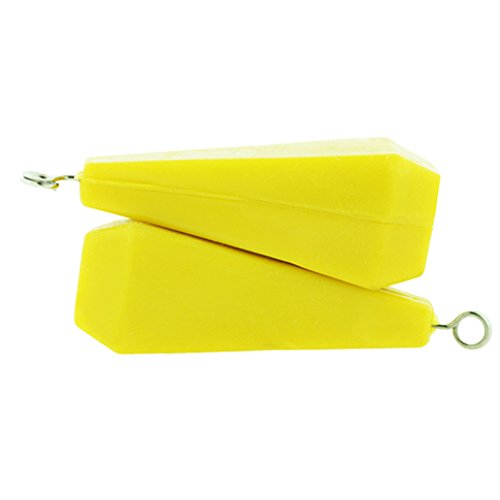 Price: Around $7
Eagle Claw Rubber Practice Plug, these say rubber but the ones I had were hard plastic. These are a great way for a kid to practice casting in the grass. This gives kids time to practice and speeds up the learning process because bad casts result in fewer snags and tangles.
7. Backyard Bass Casting Game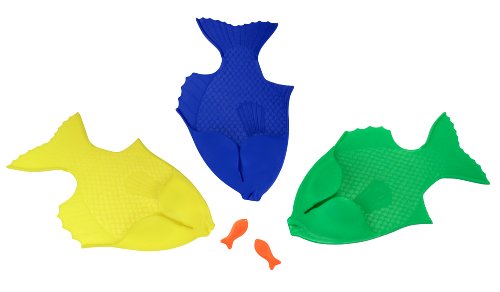 Price: Around $15
Backyard Bass Casting Game for kids is a great way to encourage kids to practice casting and reeling in fish.
If you have a competitive family or friends I see the casting game being lots of fun! If your kid's practice this could help avoid snagged lures in bushes, trees, and logs. Maybe to the point where kids will be telling you to go home and practice if you are the one getting snagged.
8.Plano Take Me Fishing Tackle Box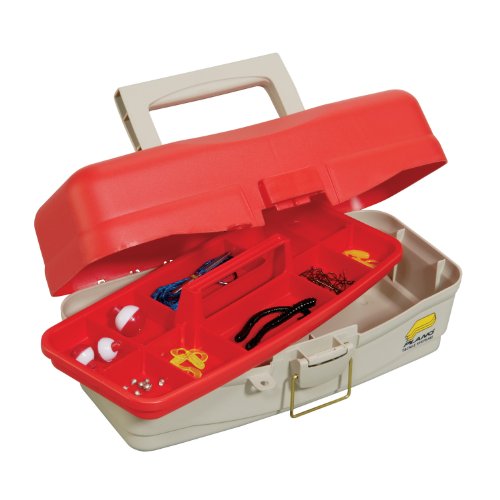 Price: Around $15
Kids love having their own tackle box and this makes a great gift.
There are a few other essential items needed for a tackle box which include a needle nose pliers for removing hooks and fingernail clipper to safely cut fishing line.
A lip gripper is a great tool to have when catching fish that have teeth such as pickerel, pike, trout, and walleye.
Plano Kids Tackle Box with dimensions of 13.5 x 7 x 6 inches. Tackle includes bobbers, hooks, jig tails, plastic worms, and a stringer.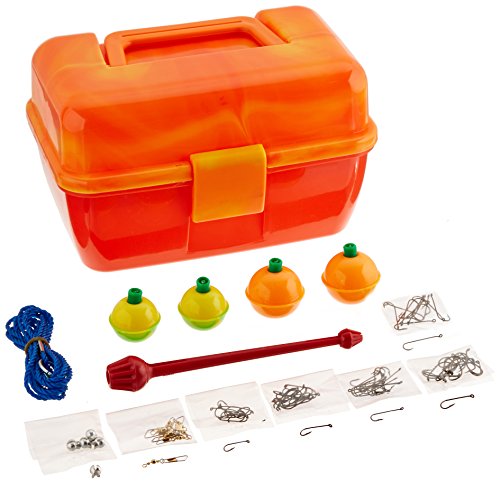 Price: Around $9
The Plano Kids Tackle Box with dimensions of 13.5 x 7 x 6 inches is a great starter tackle box for kids. Tackle includes bobbers, hooks, jig tails, plastic worms and a stringer.
10. Baitholder circle hooks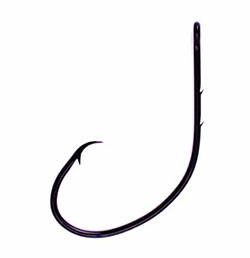 Price: Around $5
Baitholder circle hooks are perfect hooks to use on bobbers. The barbs hold on to the bait when the fish is tugging on it. With circle hooks, the hook is not supposed to set by jerking up on the pole but instead steady pressure should be applied slowly. The circle hook should get caught in the corner of the fishes mouth. When using j-hooks there is a greater chance of the fish getting hooked deep in the stomach where it is hard to remove and that can cause serious harm to the fish.
Eagle Claw Baitholder circle hook.  Size 4 to 12 with size 4 being the largest hook. Size 10 is good for bluegill and sunfish and size 4 is good for bass.
11. Eagle Claw Snap-on plastic bobber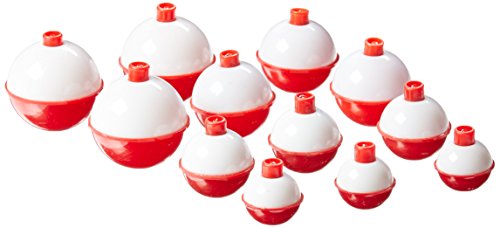 Price: Around $5
These bobbers are perfect for fishing with small kid fishing poles. The heavy weight of the bobber makes casting easier and allows the bait to be cast far from shore.
Large bobbers also make it easy for kids to see when they have a bite and the added resistance when submerged helps apply tension to the line to hook the fish.
Eagle Claw Snap-on plastic bobber floats in different sizes.
12. Gamakatsu Treble Hooks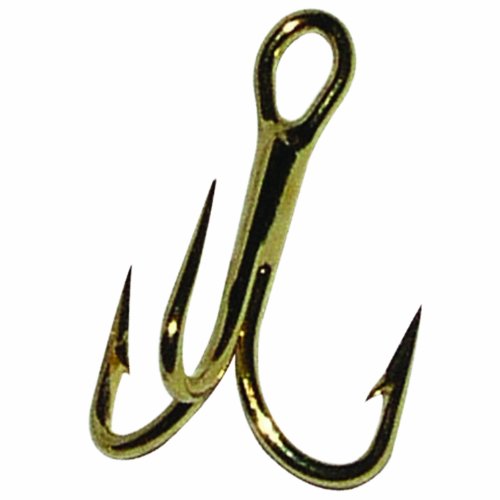 Price: Around $4
Treble hooks are another great hook to use with bobbers. These are the same hooks that are used when trout fishing with Powerbait.
The three hooks on the treble hook make it more likely that the hook will catch the corner of the mouth and not get swallowed. It also works great at holding and hiding small amounts of bait. Large amounts or bait are not needed for panfish as they will bite almost any scented bait even if it is really small.
Smaller baits allow more fish to be quickly hooked. This results in more fish being caught while also making it easier to remove the hooks.
Gamakatsu Treble Hook size 14 to 18 with size 14 being the larger hook. Size 14 and 16 are good for bluegill and sunfish.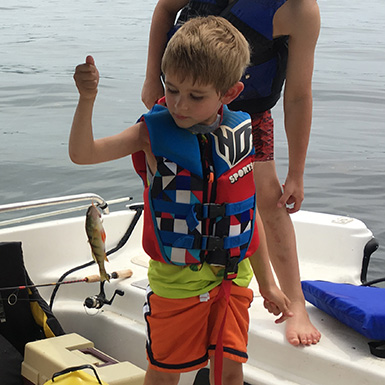 13. Mepps Silver Spinner (Number 3)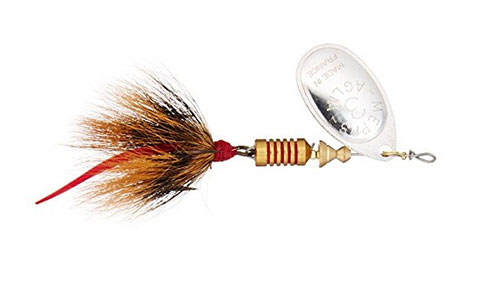 Price: Around $5
A Mepps silver spinner number 3 with a red and brass color body and tail, 1/4 ounce works great great for pond, stream, and lake fishing.
Using spinners is a great way for kids to fish. They are constantly busy reeling in the pole which makes fishing more fun. Before being able to use a spinner the fisherman needs to be good at casting and reeling. These practice plugs can speed up the process by being able to practice even when kids are not by water.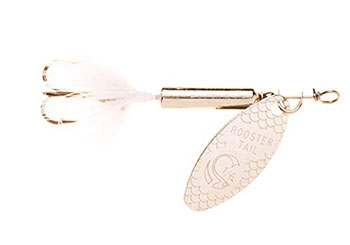 Price: Around $5
Rooster tail flash black and flash white. 1/16 or 1/18 ounce works well for panfish and 1/4 and larger works good for bass.
Bass will bite the smaller spinner but the lighter lure cannot cast as far which gives the heavier spinner the advantage of being able to cover more water.
15. Tekton Pliers for Kids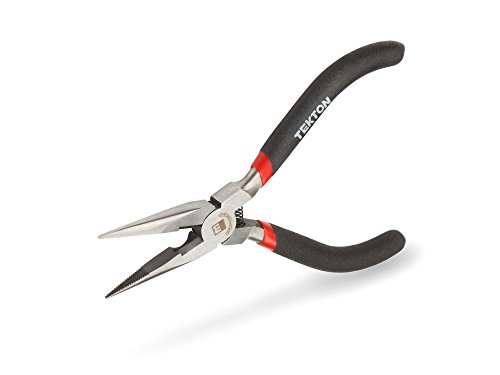 Price: Around $25
TEKTON 4-1/2-Inch Precision Needle Nose Plier. The small size of the pliers makes it great for kids to use.
The long tapered nose is good for reaching deep gut hooks. It also has a cutter that is good a cutting monofilament fishing line.
With braided line, it is better to use a fingernail clipper.
16. Mustad Big Game Fish Lip Grabber

Price: Around $30
Mustad Big Game Fish Lip Grabber, foam handle with strong string.
This locks tight on fish jaws and provides an easy way to hold the fish while removing hooks and taking pictures.
After using a fish grabber just once, it will quickly become apparent that this an essential fishing item. If fishing in saltwater make sure a good fresh water rinse is done at the end of the day because otherwise, it will rust quickly.
We have been through a few of these due to corrosion but this gripper is a great tool have when fishing.
17. Ready2fish Panfish Jig Kit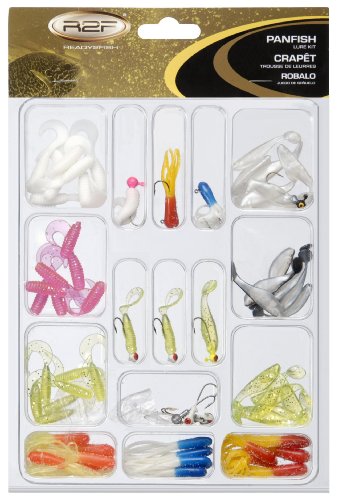 Price: Around $7
The Ready2fish Kit has lots for great jig tails in a variety of colors to try to see what gets the most aggressive bite.
The action of these tails often gets panfish to strike at least on the tails of the jigs.
The tube jigs can be filled with crappie nibbles or other scented bait to encourage fish to bite.
Ready2fish panfish jig kit comes with small tube, shad minnows, and twister jig tails.
Price: Around $6
Zoom green worms can catch little bass and big bass. This is great for kids because they do not need lots of action to catch fish. Casting them out and letting them sink for about 10 seconds is good. Twitching the bait on slow retrieve works best. Using the small worms with larger hooks makes it so there is a good chance the bass will get hooked. The worm is meant to run along the length of the hook, not through the hook. If you are not familiar with putting plastics worms on offset hooks watching a YouTube video would be a sufficient way to learn.
Zoom Bait Finesse Worm, 4 1/2 inches long, watermelon red and green pumpkin red are great colors for bass.
19. Powerbait Crappie Nibbles
Price: Around $7
Crappie Nibbles work great on other panfish as well such as bluegill and sunfish. These can be applied to the tip of a jig or used on a single hook or trouble hook. This is a good alternative to worms. All colors work good, it is really the scent that gets them to bite.
PowerBait Crappie Nibbles .9 ounce jar comes in pink, white, yellow and chartreuse.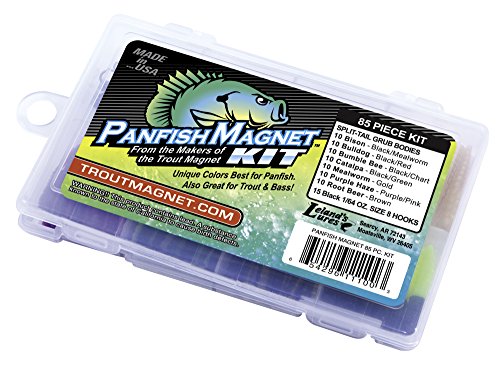 Price: Around $15
Panfish magnets are basically trout magnets with longer jigs. Either jig works great when targeting Panfish. The best way to fish these with kids is on a bobber or float. A small scented piece of bait such as a worm or crappie nibbles helps to get the fish to bite more quickly and aggressively.
Panfish Magnet Kit by Trout Magnet, 1/64 oz jigs with tails, 85 pieces total.
Thanks for visiting Global Fishing Reports. Shopping for tackle and a fishing pole for kids is a lot of fun. If you choose the proper equipment, the child your buying for will have a ton of fun learning how to fish.
If you have any suggestions for top lures to use with kids, leave a comment below!
Captain Cody has worked on charter fishing boats in the Florida Keys, Virgin Islands and Alaska. Cody grew up in Pennsylvania and has also done extensive freshwater fishing including bass fishing tournaments. Cody strives to provide detailed information about the best fishing gear and tactics to help both novice and experienced anglers have a more productive and enjoyable time on the water. Cody also has a background in aerospace engineering and neuroscience but really only takes pride in being good at one thing and that is fishing!